If you're in need for a quick dinner pasta fix with a fancy spin, this vegan sun dried tomato cream pasta is for you! It's silky smooth sauce is made with heart healthy hemp beverage for added goodness.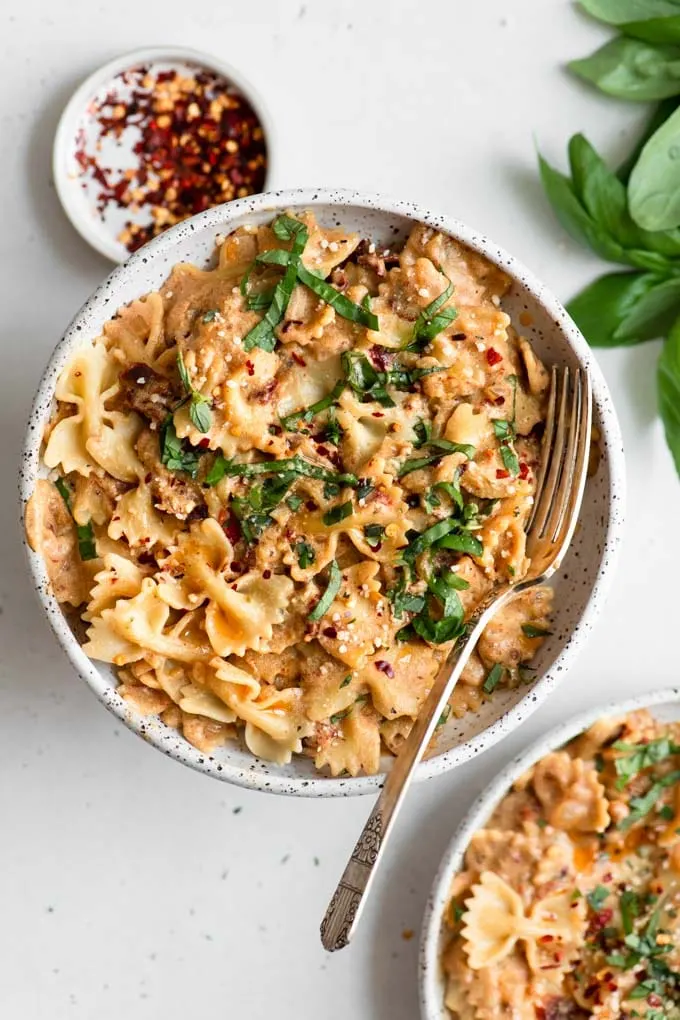 This recipe was sponsored by Pacific Foods.
---
If I could eat pasta 5 nights a week I would. Ok, let's be honest. When dinner is this easy, this quick, this tasty, well, sometimes I do!
This sun dried tomato cream sauce comes together in the time it takes for water to boil and pasta to cook. And you only need to do the teensiest bit of chopping and prep! It's that simple.
Trust me! In almost no time, a richly-flavored velvety-sauced bowl of noodles is before you. Serve it alongside a simple salad, or some steamed/roasted/flash fried veggies and you have yourself a perfect meal!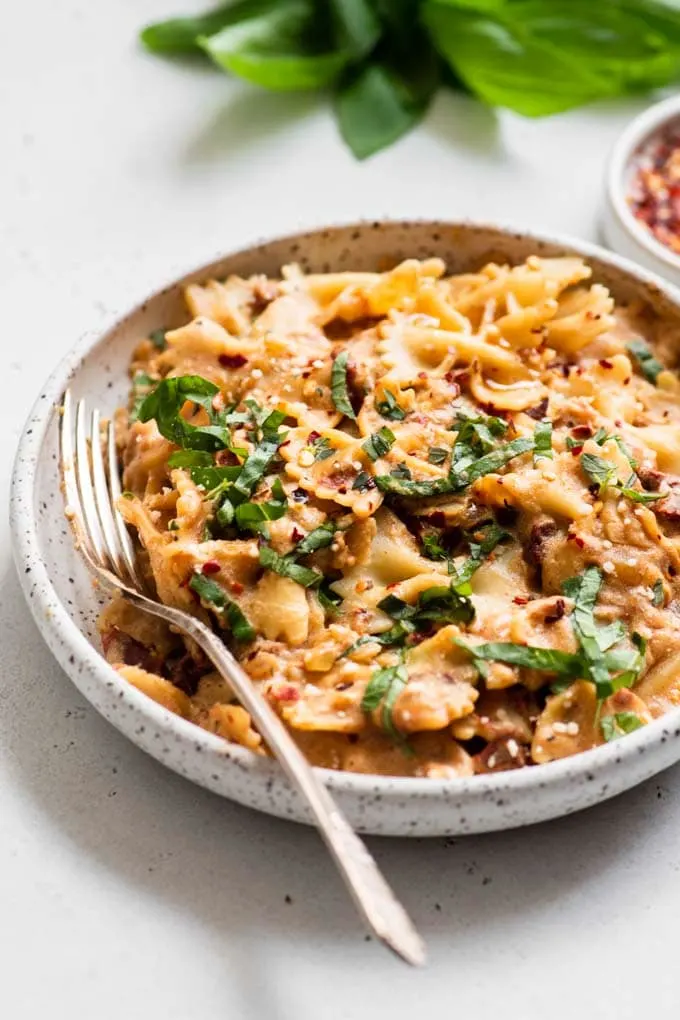 My favorite pasta shape to pair this sauce with is bowtie (also known as farfalle). I find this shape irresistible with sun dried tomatoes for whatever reason! But it's totally fine to use another shape if you prefer.
The Cream Sauce:
One of my favorite things about this recipe is how easy the sauce is and yet how fancy it tastes!
It builds off of a roux, which is a flour + fat mixture which adds flavor and then works to thicken the sauce to a luscious texture.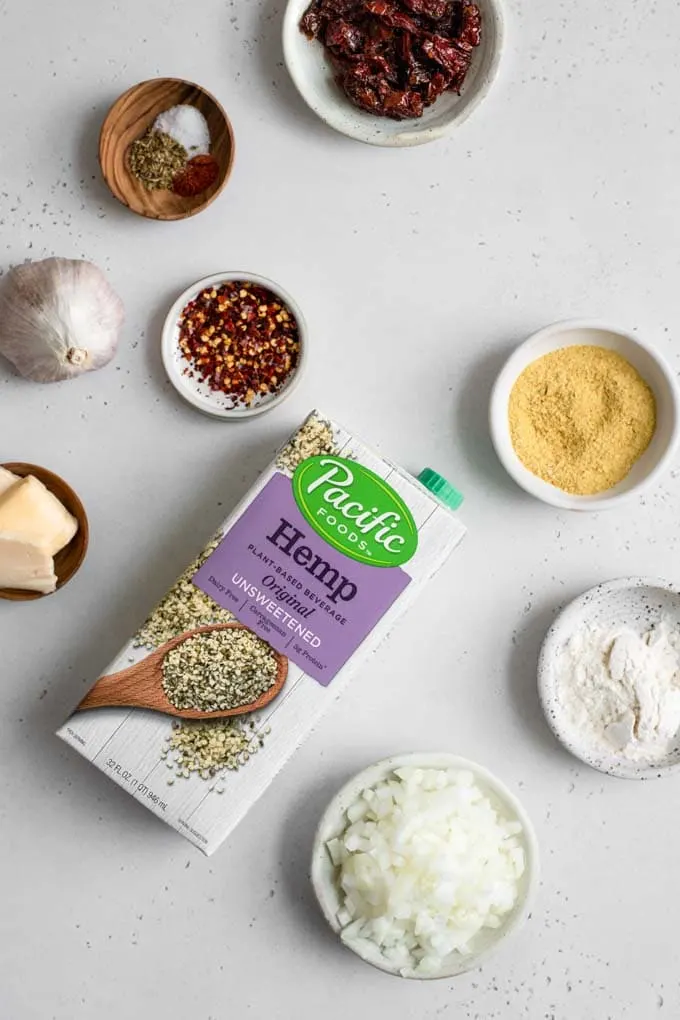 Since this is a vegan pasta, I use vegan butter to make my roux. It gives it such a nice flavor! If you prefer, you could use extra virgin olive oil.
Then I use all purpose flour to toast up. When it cooks in the vegan butter (or olive oil) it toasts slightly which lends the sauce a deeper flavor.
This roux plus Pacific Foods Unsweetened Original Hemp Plant-Based Beverage make up the cream sauce, but we've gotta flavor it up!
The seasoning:
To first build the flavor, I sauté finely diced onion into the vegan butter until it softens. This adds some texture to the sauce while enhancing it with the natural sweetness of onion.
Next I go heavy handed on the garlic. It's pasta after all! It demands liberal garlic use! But as always when it comes to garlic I give a range for the amount to use, because only you know how much garlic you like in your food and should adjust accordingly. Plus garlic cloves vary SO much in size!
For a bit of heat I toss in some crushed red pepper. A pinch adds some great flavor, but if you want it spicier add more!
Then comes paprika for its peppery goodness and oregano because what is pasta without oregano! I use dried oregano in this recipe, but also happen to have some fresh growing in my garden right now so added some on as garnish at the end. Feel free to do the same!
Now you're going to need to add salt because it makes your pasta taste good. And don't forget to salt that pasta water as well!
To amp up the savory, cheesy flavor, I toss in some nutritional yeast. If you prefer you can use vegan parmesan instead, or add both nutritional yeast and vegan parm!
Last but not least, we've got to include the sun dried tomato (it's in the name you guys)! I like the olive oil packed kind in this recipe best, the added richness of the oil soaked tomatoes complements the pasta so well.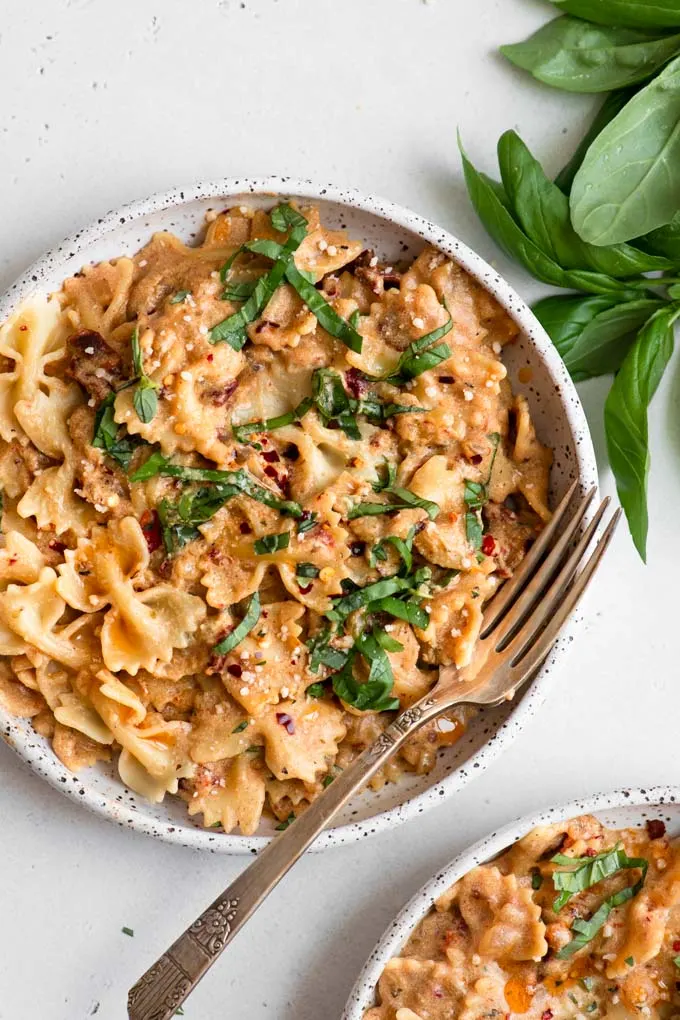 However, if you prefer to use the dry packed kind, then rehydrate the sun dried tomatoes in hot water to soften them before using.
That's it! This pasta is seriously so easy. I've even been cooking it for lunch! It's so quick that I can make it and eat it on my lunch break! Sure I am my own boss and can give myself a long lunch, but hey with this recipe I don't even need extra time.
To make this pasta gluten free:
Because I use hemp beverage in this recipe, it isn't as simple as switching out the all purpose flour for a gluten free blend and using gluten free noodles.
Yes, do both of those things if you want a gluten free recipe, but you also will need to switch the plant beverage.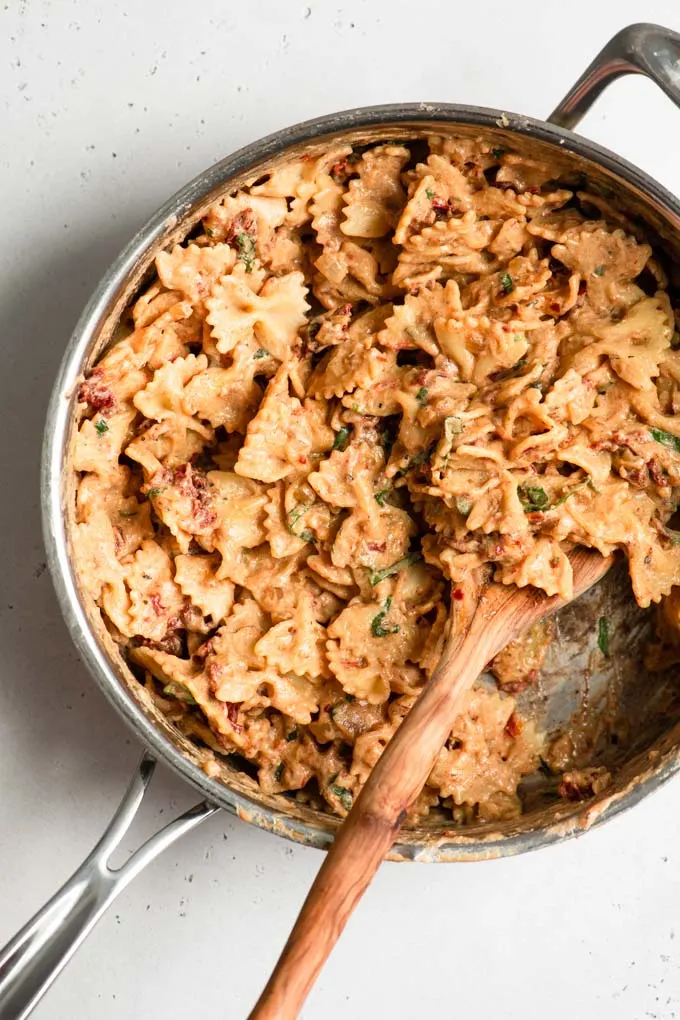 While hemp seeds are gluten free, common crop rotations means there is a chance of cross contamination with wheat. Because of this Pacific Foods (see the FAQ on the linked page for more info) does not claim their Hemp Beverage to be gluten free.
This makes me sad for you because I am obsessed with their Hemp Beverage (side note: really into the Unsweetened Vanilla Hemp Beverage in my tea)! But luckily you can just switch out the Unsweetened Original Hemp Beverage for Pacific Foods Unsweetened Original Cashew Beverage or Unsweetened Original Soy Beverage. Both of these are mild tasting and will go nicely in the sauce.
No matter what, I know you'll enjoy it! Just don't use sweetened plant beverage because you don't want a sweet pasta sauce.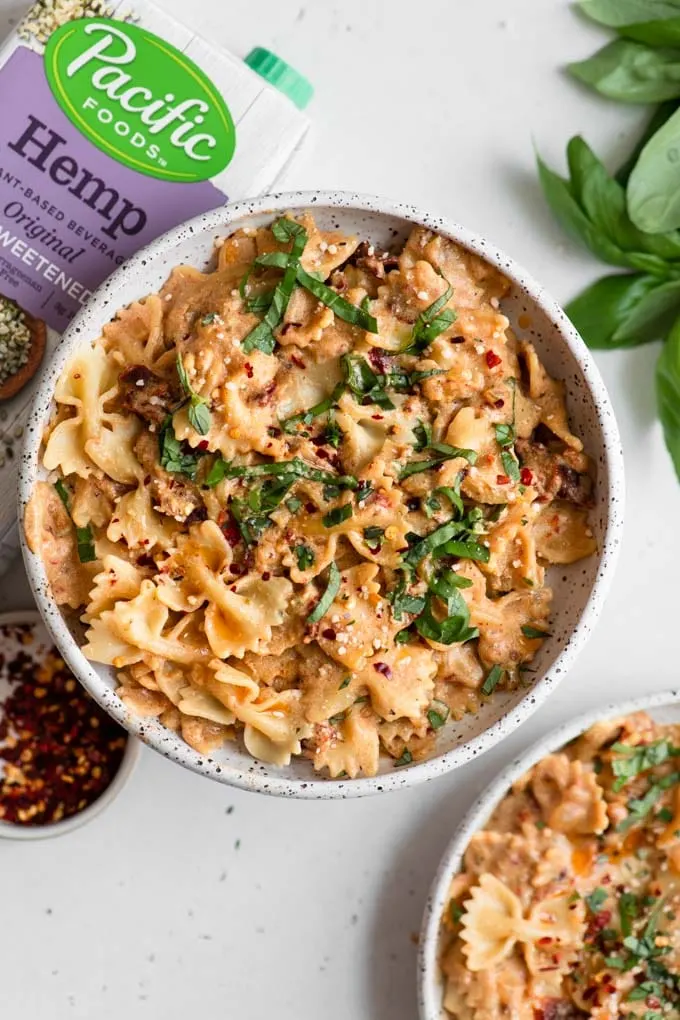 If you make this vegan sun dried tomato cream pasta, leave a comment below and rate the recipe on the recipe card. And please share your photos with me on Instagram, tag @thecuriouschickpea and #thecuriouschickpea. I love seeing your recreations!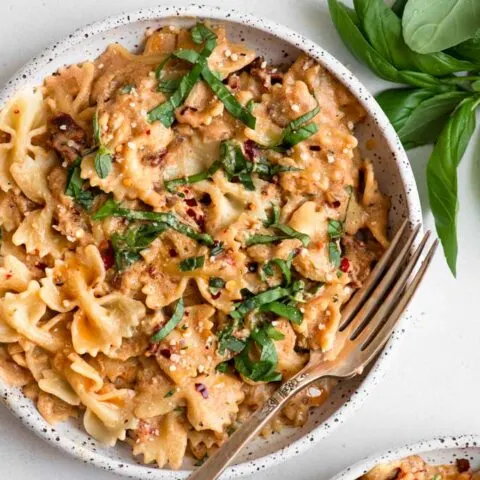 Vegan Sun Dried Tomato Cream Pasta
This easy pasta dish has the most deluxe tasting sun dried tomato cream sauce that comes together in the time your pasta takes to cook. Perfect for weeknight dinners! I love this recipe with bowtie pasta (farfalle) but it's great with any shape.
Ingredients
8oz pasta
2 tbsp vegan butter
1 cup finely diced yellow onion (1 small onion)
2-4 cloves garlic, minced
1/4 tsp crushed red pepper, more to taste
2 tbsp flour (all purpose or gluten free)
1/2 tsp paprika
1/2 tsp dried oregano
1/3 cup oil packed sun-dried tomatoes, chopped
2 tbsp nutritional yeast or vegan parmesan
2 tbsp fresh basil, to serve
salt and pepper to taste
Instructions
Cook pasta according to package directions, cooking 1 minute shy of perfectly done.
Melt the vegan butter in a large pan over medium heat and add the onion. Cook for 4-5 minutes or until the onion has softened.
Add the garlic and crushed red pepper and cook for 30-60 seconds until a shade darker.
Stir in the flour, paprika, oregano, and 1/2 teaspoon of salt (or to taste) and let cook until the flour smells slightly toasted, about 1 minute.
Stream in the Unsweetened Hemp Beverage while stirring, then mix in the sun dried tomatoes and nutritional yeast (or vegan parmesan).
Bring the sauce to a simmer, then turn the heat down to low and let simmer until thickened, about 3 minutes.
Add the pasta and let cook for the final minute. Salt and pepper to taste. Top with basil and add vegan parmesan to serve (optional).
Recommended Products
As an Amazon Associate and member of other affiliate programs, I earn from qualifying purchases.
Nutrition Information:
Yield:

4
Serving Size:

1
Amount Per Serving:
Calories:

262
Total Fat:

12g
Saturated Fat:

1g
Unsaturated Fat:

10g
Sodium:

307mg
Carbohydrates:

32g
Fiber:

4g
Sugar:

5g
Protein:

10g
Nutrition is calculated automatically so should be used as an estimate.