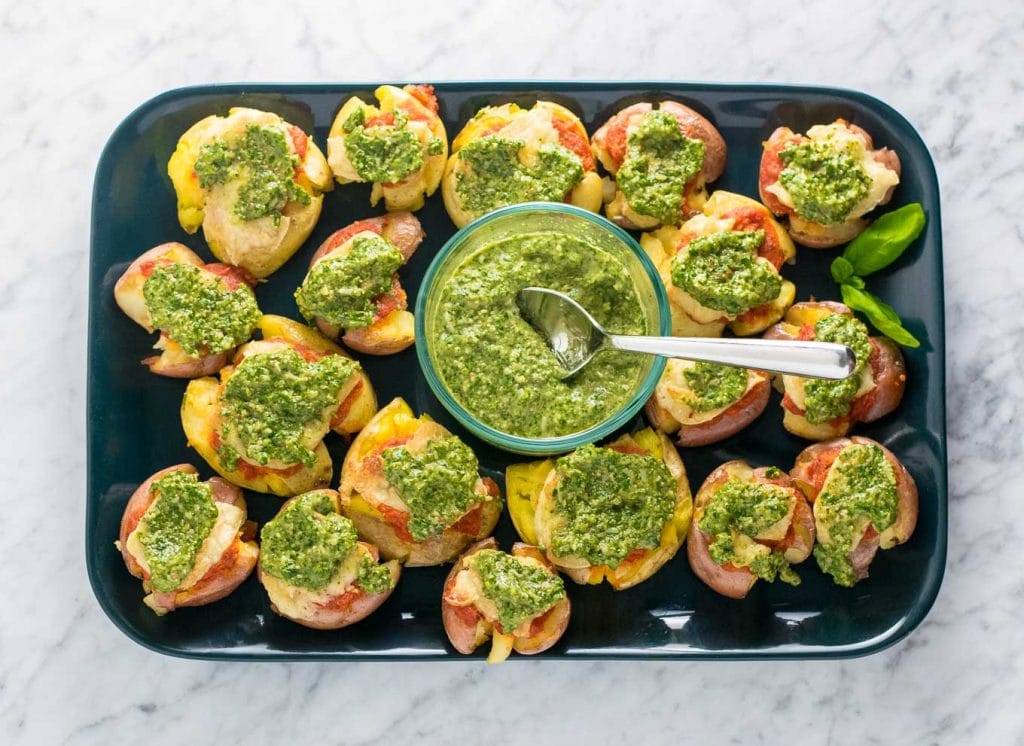 Are you looking for a fun party appetizer? Something you can bring to a picnic? A recipe for your gluten free or vegan friends? Something to munch on for a tasty and simple meal? I've got you covered with these super cute pesto smashed potato pizzas! You can enjoy them hot or at room temperature, which makes them a no stress option.
Baby potatoes are boiled then smashed, skins splitting to expose the soft custardy interior. A simple zippy marinara is spooned overtop and then some homemade vegan cheese. The potatoes are then baked in a hot oven until the edges get a little crispy, while the inside remains creamy and soft. Melty cheese atop a crispy baked potato is drool worthy on it's own, and you might be tempted to gobble them up immediately.. but, I promise you, the last step is so worth it. Dollop, smear, pour–whatever–some basil pesto on top and you've reached potato pizza heaven (a different kind than before).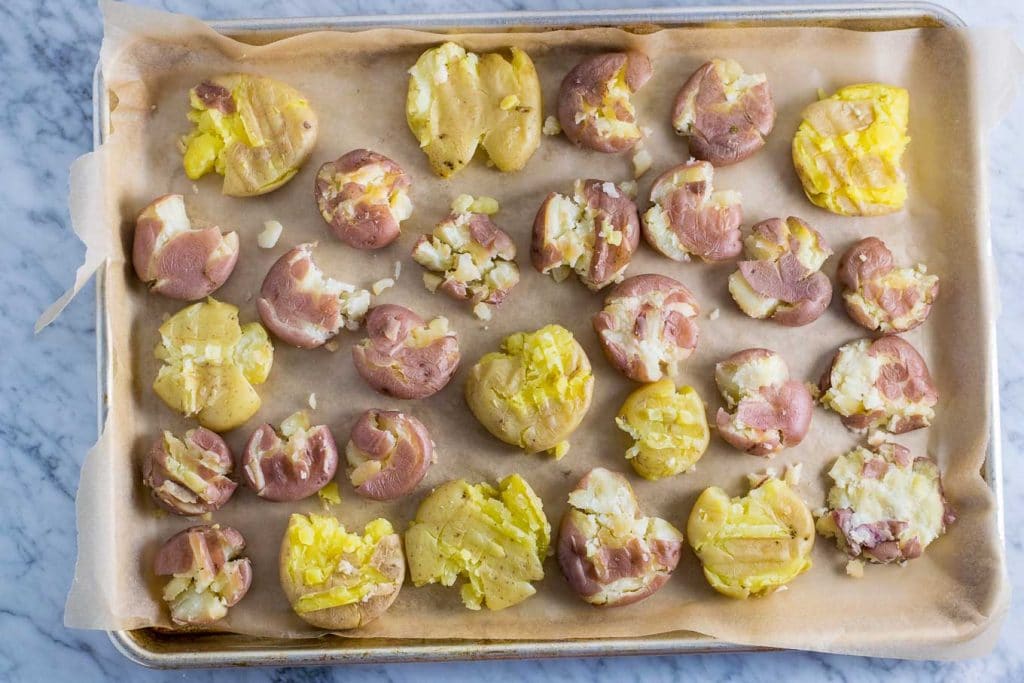 This recipe is quite easy. You can, of course, sub store bought versions of the marinara, pesto, and vegan cheese. But all of the components are really easy to make, and as a bonus, you'll have enough of them leftover to make a delicious sandwich (pizza grilled cheese anyone? Or try my chickpea meatballs and put together a sub). I love it when you get multiple meals for the effort of one!
The marinara is super quick to make, you could make it ahead or simply zip it together while the potatoes are boiling! It takes maybe 1 minute in your blender then it's ready. Because of how simple the recipe is, it's important to use good quality tomatoes. San Marzano tomatoes are nice, but certainly not required.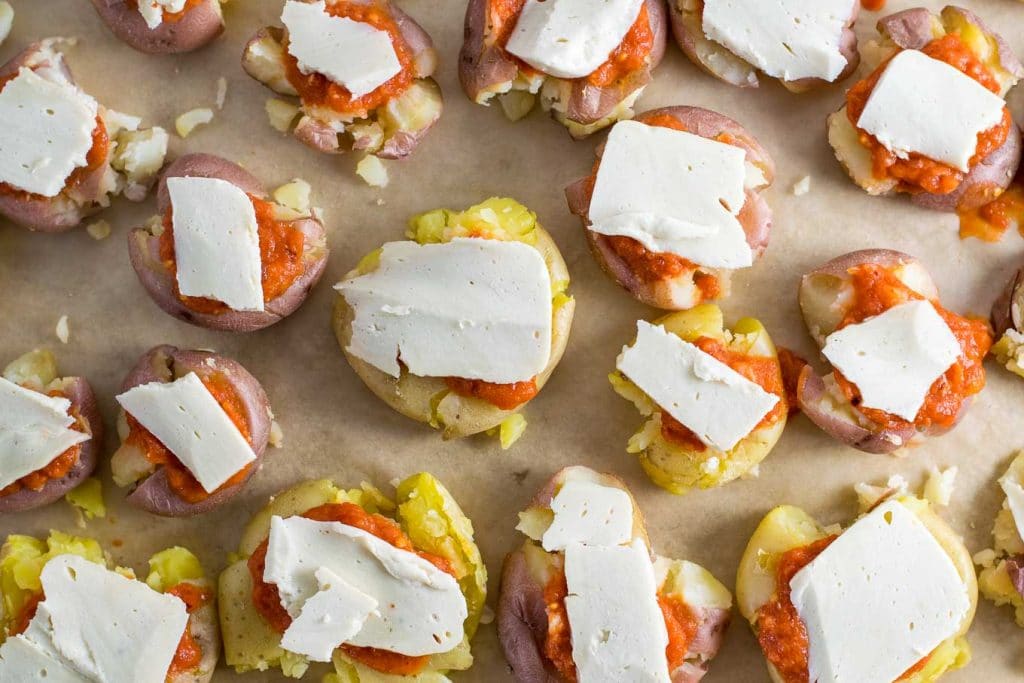 To take the basil pesto to the next level, you toast the nuts, which brings out the best possible flavor. When ground up with the garlic, salt, and nutritional yeast (or vegan parm) you'll want to dig straight in with a spoon. And maybe even sneak a bite for, you know, quality control. A handful of cilantro is snuck in with plenty of basil, and brightens the flavor of the pesto. Of course, if you're a cilantro hater leave it out. Lemon juice, squeezed from a fresh lemon, finishes the pesto off to perfection. Enjoy it on these potato pizzas, and any leftovers could always be tossed with some pasta for a quick dinner.
I hope you enjoy my pesto smashed potato pizzas! Let me know in the comments if you make this dish, rate it, or tag me on Instagram!

Notes:
Yellow baby potatoes are best for this application, but if you want the variety in color for presentation, just be more gentle and careful when you smash red or blue baby potatoes.
The marinara is easily doubled if you want extra leftovers for making more pizza later in the week. Just use a 30 oz can of whole tomatoes and double the remaining ingredients!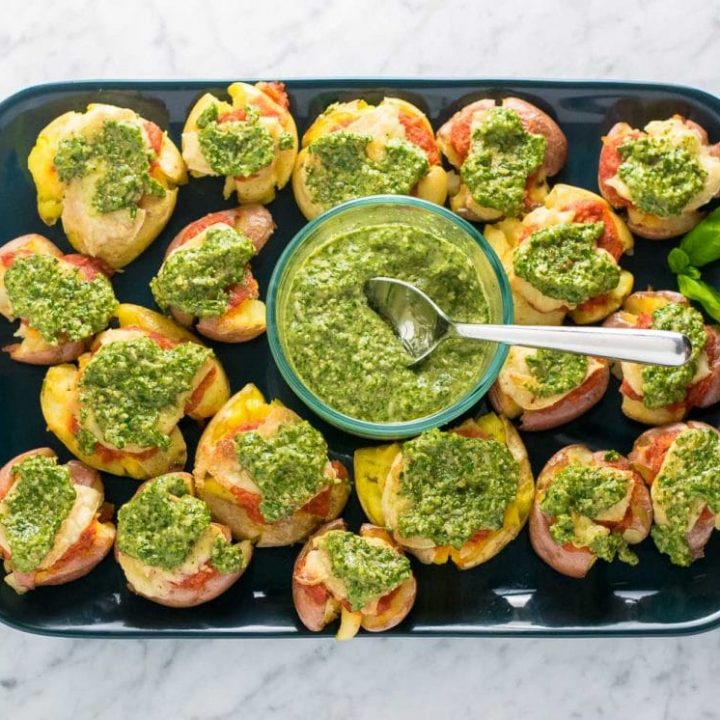 Smashed Potato Pesto Pizzas
Yield: ~28 potato pizzas

Prep Time: 10 minutes

Cook Time: 40 minutes

Total Time: 50 minutes

These cute two-bite pizzas are made with a smashed baby potatoes for a soft and crispy crust and are perfect for a party appetizer plate or a nibbly casual dinner.
Ingredients
Smashed Potato Pizzas
24-30 oz baby potatoes*
olive oil, for brushing
spicy marinara (recipe below)
easy basil pesto (recipe below)
Spicy Marinara
1 tbsp olive oil
1 clove garlic, peeled
1 tsp crushed red pepper*
1/4 tsp salt
15 oz can whole peeled tomatoes
Easy Basil Pesto
1/4 cup (25g) walnuts
1/4 cup (35g) pine nuts
2 cloves garlic
2 tbsp nutritional yeast or vegan parmesan
1/2 tsp salt
2 cups packed (36g) fresh basil
1/2 cup (12g) cilantro
1/4 cup olive oil
2 tbsp lemon juice
Instructions
To prepare the potato pizzas
Preheat oven to 425 ºF.
Thoroughly wash the potatoes and place in a medium pot. Fill the pot with water to cover with potatoes, and bring to a boil over high heat. Once boiling, lower the heat to maintain a simmer. Cook around 12-15 minutes (depending on the size of your potatoes it could take more or less time), until the potatoes are soft and no resistance is met when pierced with a knife. While the potatoes are cooking, prepare the marinara sauce and the pesto.
Drain the potatoes and let cool for a few minutes before turning on to a parchment lined baking sheet. Gently smash the potatoes with a flat implement such as a metal spatula, so that skin starts to split. Turn your spatula 90º and press again to further flatten. If using red or purple potatoes, be extra gentle in this step, possibly skipping the second press, as they are more delicate.
Brush or spray the smashed potatoes with some olive oil.
Spoon some spicy marinara onto the tops of the smashed potatoes and then cover with sliced cheese.
Bake for 20-25 minutes until the cheese is melted and potatoes are golden and crispy.
Remove from oven and top with some pesto. Serve hot or at room temperature. Enjoy!
To make the Spicy Marinara
In a blender combine the olive oil, garlic, red pepper, salt, and a couple spoonfuls of tomato and their juices. Blend until smooth and emulsified. Add the rest of the tomatoes and juice and pulse a few times. You want some texture in the final sauce.
To make the Easy Basil Pesto
Toast the nuts. Preheat the oven to 325 ºF. Spread walnuts in a small baking sheet. Bake for 5 minutes, stir, then add pine nuts and roast an additional 5-7 minutes until lightly golden and toasty.
In a food processor combine the nuts garlic, nutritional yeast or vegan parmesan, and salt, and grind until you have coarse crumbs. Add the basil and cilantro and blend until finely chopped. Drizze in the olive oil and process until your desired texture. Add the lemon juice and pulse to mix. Taste and adjust seasoning if desired.
Notes
*You can use any color of baby potato, but purple and red skinned potatoes are more crumbly and a bit harder to smash. The yellow potatoes are easiest to work with.

*Use more or less crushed red pepper to meet your desired level of spicy. To me, this is a subtle heat with 1 teaspoon in the sauce. It may be different for you!