Enjoy these mouth watering pesto smashed potato pizzas as an appetizer or snack! They're perfect for serving to company as they are as good room temperature as they are hot out of the oven!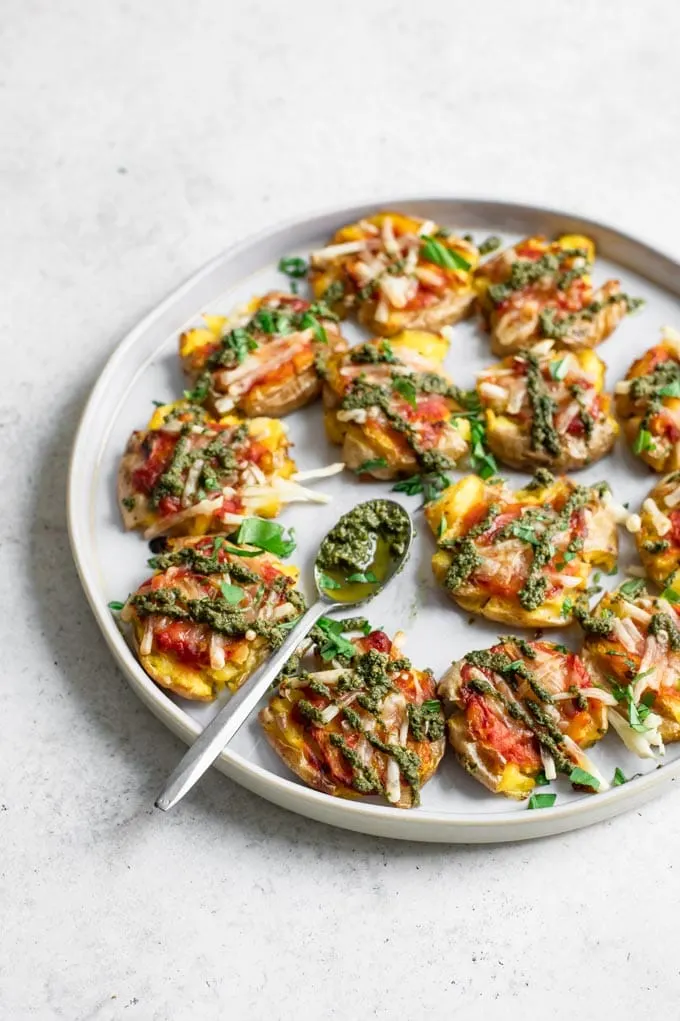 As far as I'm concerned, one can never tire of the humble potato. It's delicious in all it's forms, but we'd be lying to ourselves if we didn't admit the perfection that is the smashed potato.
It starts with the baby yellow skinned potatoes, with their creamy interiors and baked to crispy edged goodness.
But why stop there when you can turn your little potato appetizer into mini two-bite pizzas!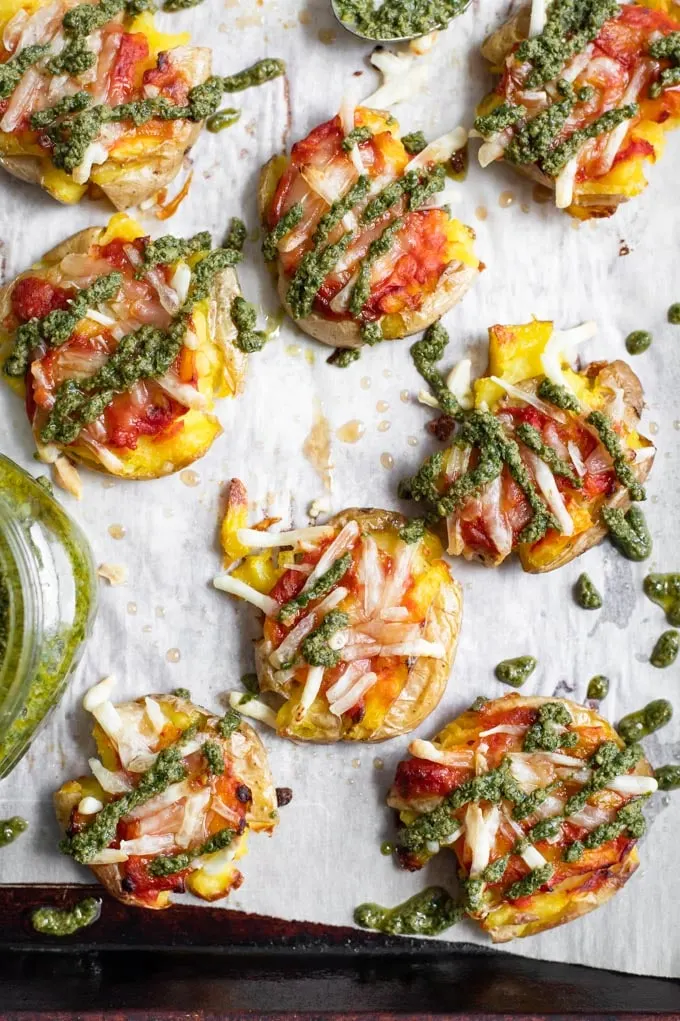 Top your smashed potatoes with some tomato sauce, a sprinkling of [vegan] mozzarella, and bake them until equal parts gooey and crispy. Hot out of the oven, drizzle some pesto overtop and then try not to eat them all at once by yourself (or do, my point is just that they're really good)!
These pesto smashed potato pizzas are the most adorable things ever–a perfect appetizer, a perfect nibbly meal, most delicious picnic fare or party fare. And they just happen to be vegan and gluten free, so really everyone can and should enjoy them!
While I love them hot, right from the oven (I mean, cool them down a minute or two so you don't burn your mouth, we aren't heathens!) they are also amazing at room temperature. Meaning it's totally fine to make these a bit in advance and only reheat them a little if you'd like!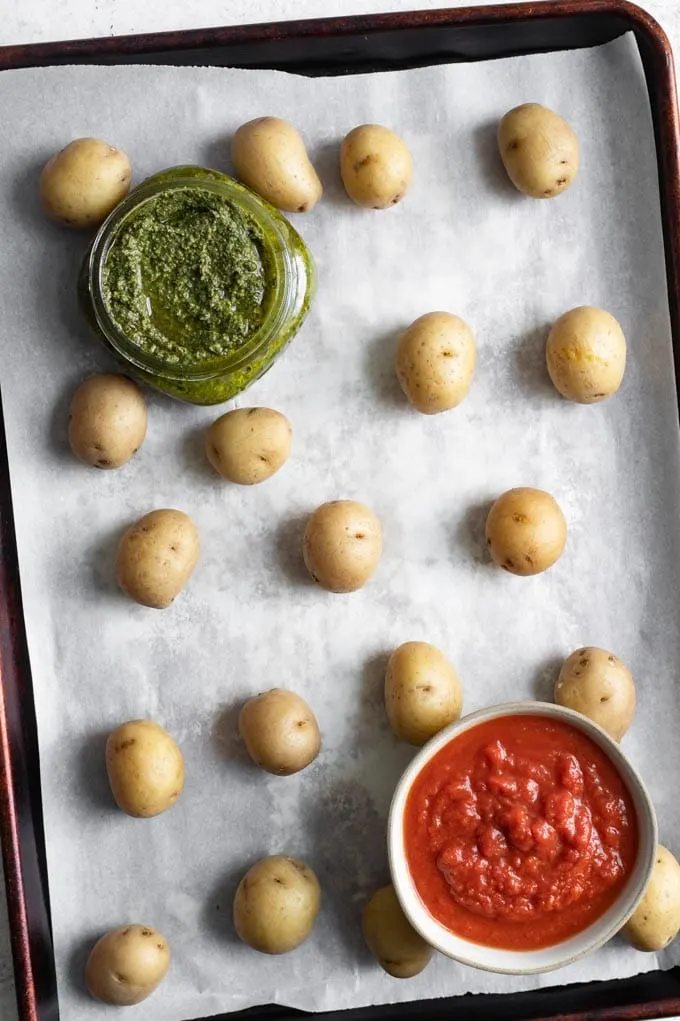 How to make smashed potatoes:
First choose your baby potatoes. You want generally round yellow skinned and yellow fleshed potatoes, about 1 to 2-inches in size. While you technically can smash red skinned potatoes or purple potatoes, they aren't as custardy and tend to be more delicate and fall apart more easily. For best results stick to yellow potatoes!
Then boil the potatoes until they are fork tender, drain and let cool slightly before arranging on a baking tray and smashing with the backside of a spatula or even the bottom of a glass.
I like to use a metal spatula with slats in it and first smash half way in one direction so the skin just splits, then rotate about 90º before smashing the rest of the way. You get a bit of a hashmark on top, but it also keeps the potato smashing evenly.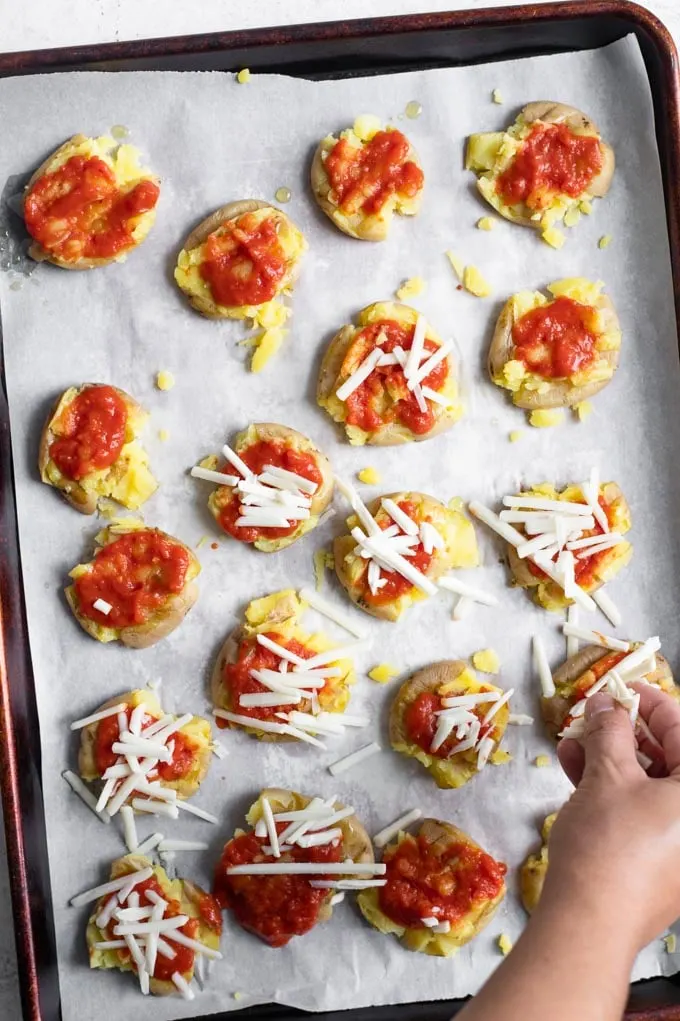 Spray or brush with a bit of oil then spoon on a bit of marinara and add your vegan mozzarella. Bake the potatoes until the cheese is melty and the edges of the potato are crispy.
The recipe is so simple! Transfer the smashed potato pizzas to a plate for serving, and then drizzle them with pesto. They're not ready to eat!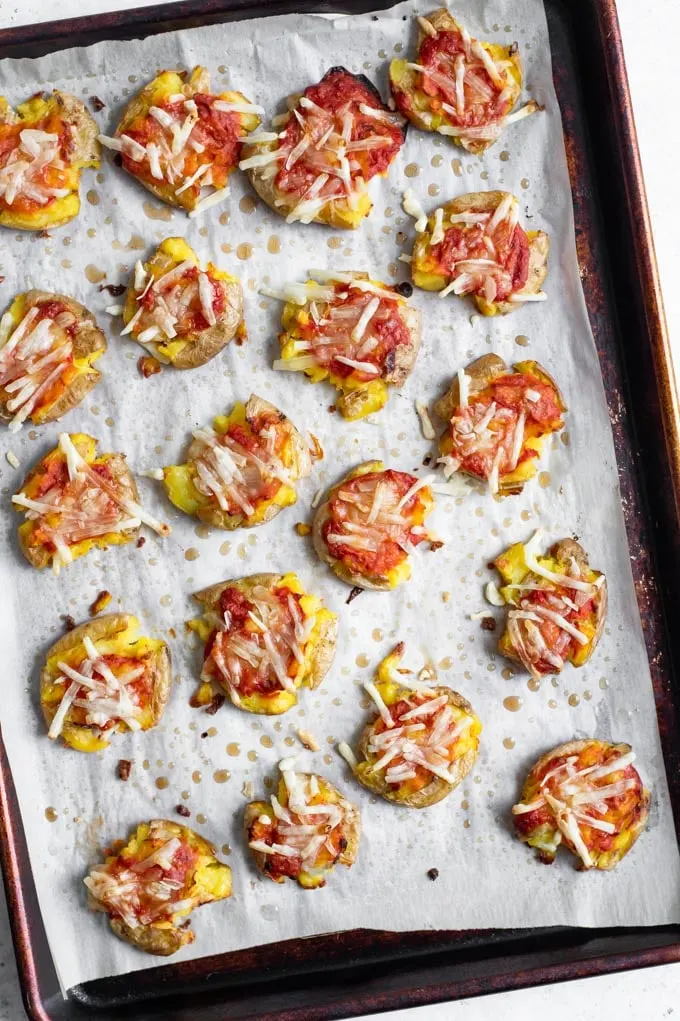 You can use homemade tomato sauce, cheese, and pesto, or use store bought versions!
I like to pair these little smashed potatoes with a zippy tomato sauce, and my no cook sauce is ready in no time! It makes plenty, and extras can be used on more potato pizzas, on regular pizza, or in my vegan meatball sub along with the leftover pesto! But feel free to substitute it with a store bought sauce.
My homemade tomato sauce takes just 1 minute to make in the blender, so you can quickly zip it together while the potatoes are boiling! You'll want to use good quality tomatoes, San Marzano are nice but certainly not required.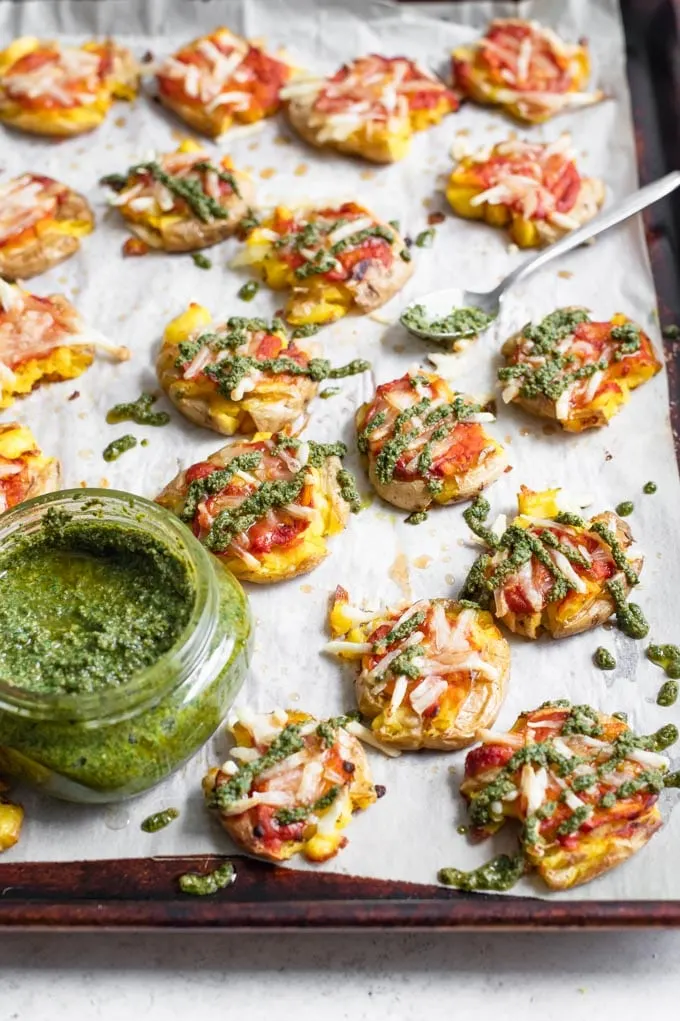 I've made these smashed potato pizzas with my homemade vegan mozzarella (see photo below) and with store bought vegan cheese. Use shreds or cut into thin slices.
For the pesto, any basil pesto will do. I have my easy pesto below but you can make your own or use store bought. If buying pesto, check the ingredients for cheese (typically parmesan) as it's often lurking there!
My homemade pesto is next level. The nuts are toasted (you can also make a nut free pesto using sunflower seeds if needed for allergy friendliness), which brings out the best possible flavor.
I also like to sneak in a handful of cilantro with the basil, as brightens the flavor of the pesto. Of course, if you're a cilantro hater leave it out.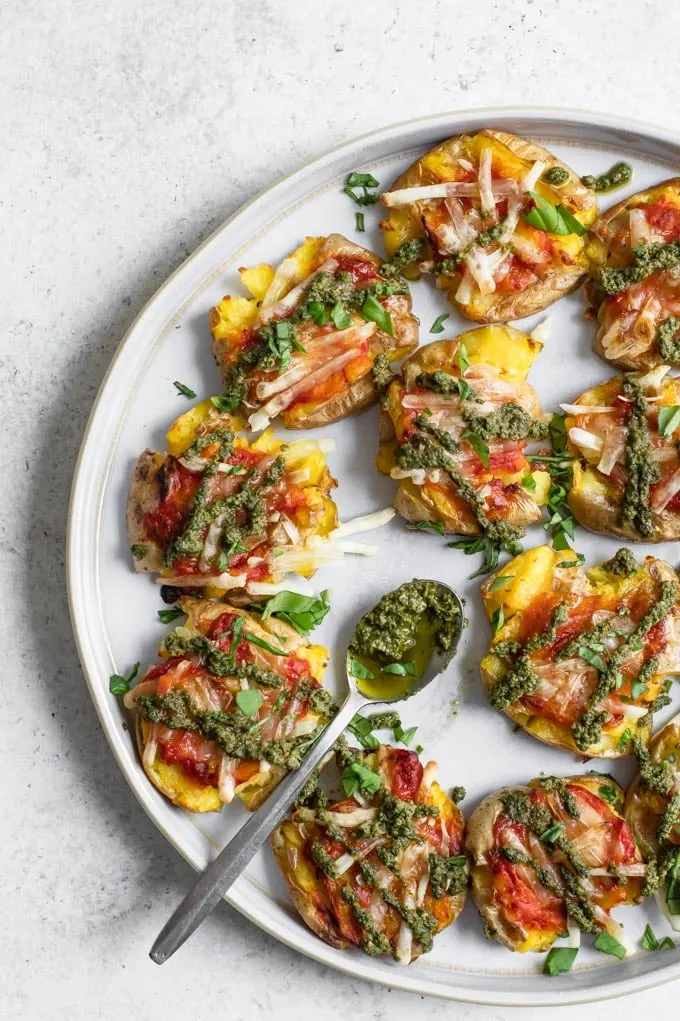 ---
If you make these pesto smashed potato pizzas, leave a comment below and rate the recipe on the recipe card. And please share your photos with me on Instagram, tag @thecuriouschickpea and #thecuriouschickpea. I love seeing your recreations!
---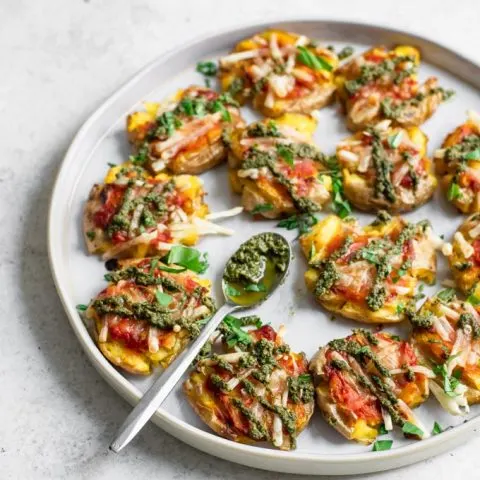 Smashed Potato Pesto Pizzas
These cute two-bite pizzas are made with a smashed baby potatoes for a soft and crispy crust and are perfect for a party appetizer plate or a nibbly casual dinner.
Ingredients
Smashed Potato Pizzas
24-30 oz baby potatoes*
olive oil, for brushing
spicy marinara (recipe below)
easy basil pesto (recipe below)
vegan mozzeralla, store bought or homemade
Spicy Marinara
1 tbsp olive oil
1 clove garlic, peeled
1 tsp crushed red pepper, or to taste*
1/4 tsp salt
15 oz can whole peeled tomatoes
Easy Basil Pesto
1/4 cup (25g) walnuts
1/4 cup (35g) pine nuts
2 cloves garlic
2 tbsp nutritional yeast or vegan parmesan
1/2 tsp salt
2 cups packed (36g) fresh basil
1/2 cup (12g) cilantro
1/4 cup olive oil
2 tbsp lemon juice
Instructions
To prepare the potato pizzas
Preheat oven to 425 ºF.
Thoroughly wash the potatoes and place in a medium pot. Fill the pot with water to cover with potatoes, and bring to a boil over high heat. Once boiling, lower the heat to maintain a simmer. Cook around 12-15 minutes (depending on the size of your potatoes it could take more or less time), until the potatoes are soft and no resistance is met when pierced with a knife. While the potatoes are cooking, prepare the marinara sauce and the pesto.
Drain the potatoes and let cool for a few minutes before turning on to a parchment lined baking sheet. Gently smash the potatoes with a flat implement such as a metal spatula, so that skin starts to split. Turn your spatula 90º and press again to further flatten.
Brush or spray the smashed potatoes with some olive oil.
Spoon some spicy marinara onto the tops of the smashed potatoes and then cover with sliced cheese.
Bake for 20-25 minutes until the cheese is melted and potatoes are golden and crispy.
Remove from oven and top with some pesto. Serve hot or at room temperature. Enjoy!
To make the Spicy Marinara
In a blender combine the olive oil, garlic, red pepper, salt, and a couple spoonfuls of tomato and their juices. Blend until smooth and emulsified. Add the rest of the tomatoes and juice and pulse a few times. You want some texture in the final sauce.
To make the Easy Basil Pesto
Toast the nuts. Preheat the oven to 325 ºF. Spread walnuts in a small baking sheet. Bake for 5 minutes, stir, then add pine nuts and roast an additional 5-7 minutes until lightly golden and toasty.
In a food processor combine the nuts garlic, nutritional yeast or vegan parmesan, and salt, and grind until you have coarse crumbs. Add the basil and cilantro and blend until finely chopped. Drizze in the olive oil and process until your desired texture. Add the lemon juice and pulse to mix. Taste and adjust seasoning if desired.
Notes
*Use more or less crushed red pepper to meet your desired level of spicy. To me, this is a subtle heat with 1 teaspoon in the sauce. It may be different for you!
This post was originally posted on June 1, 2017. Below are some photos from the original post! I use my homemade mozzarella in these photos as well as a combination of red skinned and yellow skinned baby potatoes. I recommend sticking to yellow skinned potatoes for best results!