This recipe for bhindi masala one of the most delicious ways to enjoy okra! It's a dry Indian curry that's quick and simple to make and takes almost no time!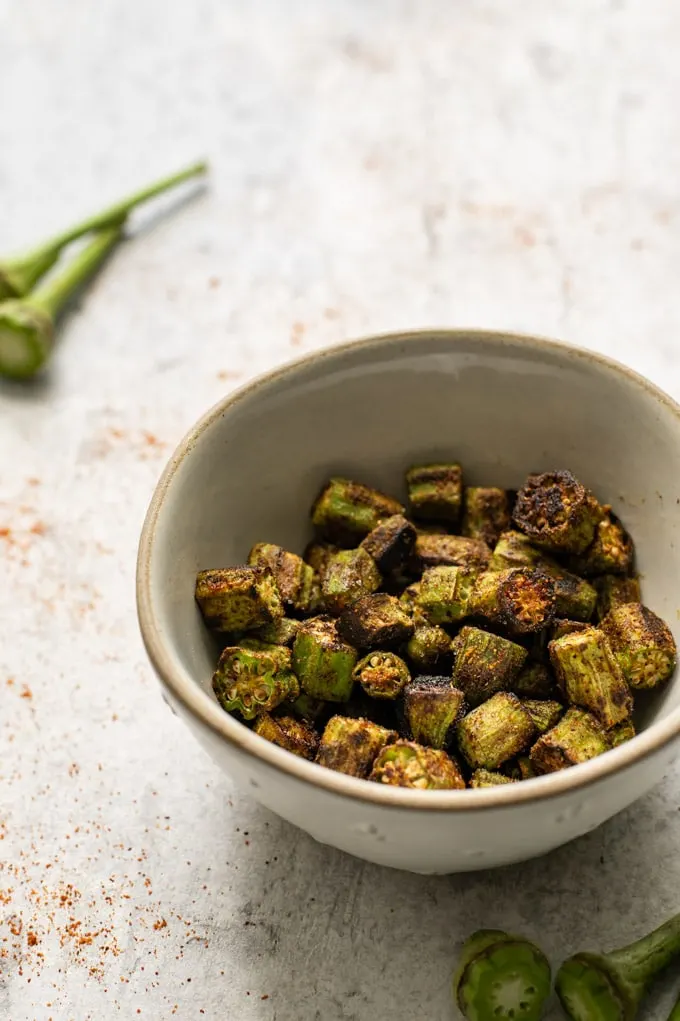 Okra, called bhindi in Hindi (or lady fingers in Indian English, which has to be the cutest name for them!), has to be one of the oddest vegetables. Shaped like a pepper, but tender and with a peach-like fuzzy skin. If you've ever cooked with it, you know it has a tendency to get very… for lack of a better word, slimy.
Some recipes take advantage of this characteristic, such as gumbo–which uses okra as a thickener for the stew. But if I'm being honest, I just can't lean into that kind of okra dish.
Instead I prefer the kind of okra recipe my dad would cook, a dry okra subzi (which is the Sindhi word for vegetable dish). Here, okra transforms into a delicious chewy vegetable, spiced simply with Indian flavors for maximum deliciousness.
The way my dad cooks it uses little to no oil, low amounts of heat, and lots of patience. I've sped up the process a bit so that you can have your okra in just 15 minutes! Which, by Indian food standards, might just be plain sorcery. I mean, definitely don't start cooking this dish until your guests have arrived approximately 1 hour late on Indian Standard Time ?.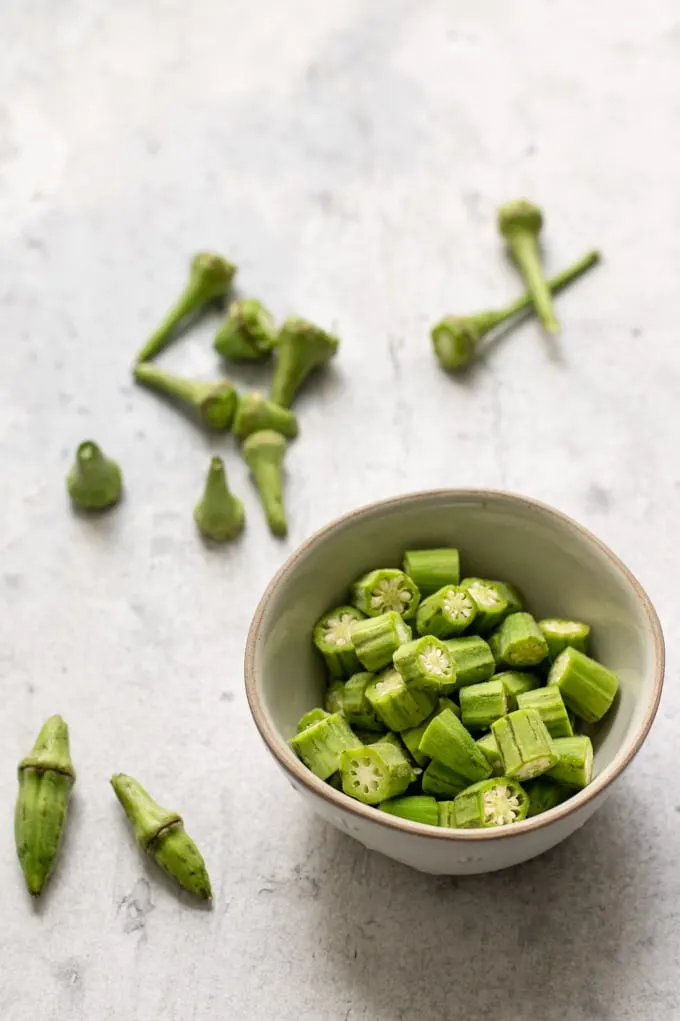 So we have my bhindi masala, which is a dry fry Indian okra. And in this case by dry fry, I don't mean no oil, though you can use little oil if you'd like, but I mean we're not adding any wet ingredients. This is a dish that will let the okra shine! Slime-free shine that is.
First, choose your okra:
I don't bother with okra unless I can buy the little ones. The large okra have unpleasantly large seeds, I find them less tasty, and they are better suited for long cooking methods such as stews.
Pick okra that are small in size (usually 2-3″, not including the stem at the top). Some okra are skinner and longer and some are short and squatter, so you'll have to use your best judgement on choosing the smaller ones. Practice helps!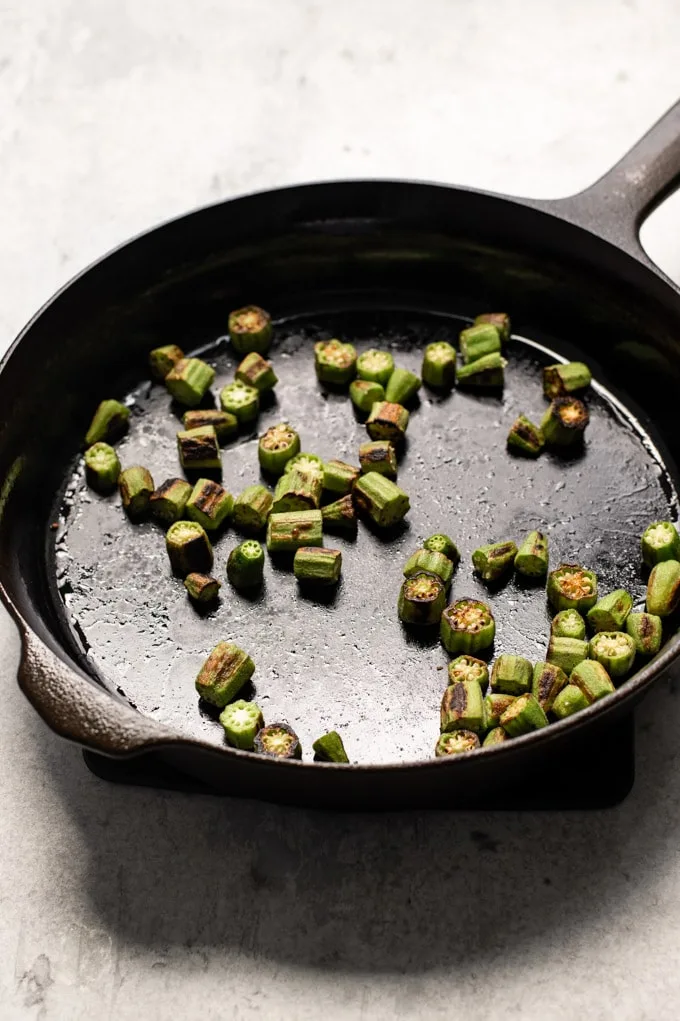 The okra should be bright green, smooth and blemish free, and firm to the touch (but not hard!). Ideally there will be no or very few brown spots to ensure freshness.
If there's a large basket of okra to pick from, don't be shy about sorting through for the best okra!
Now that you have your okra, you're ready to make the bhindi masala!
Cutting the okra:
Handle the okra as little as possible, especially while cutting and once the okra are cut. The more you touch it, the more they get tossed around, the slimier they get.
To start, rinse the okra to clean them, then let them air dry, or pat dry. They can still be damp, but you don't want to introduce much moisture to the okra in this process.
Slice off and discard the top stems of the okra as well as the tips (particularly if the tips are dry looking). Then, cut the okra into about 3/4 – 1-inch pieces, it doesn't have to be exact! Set aside and continue until you've chopped all the okra.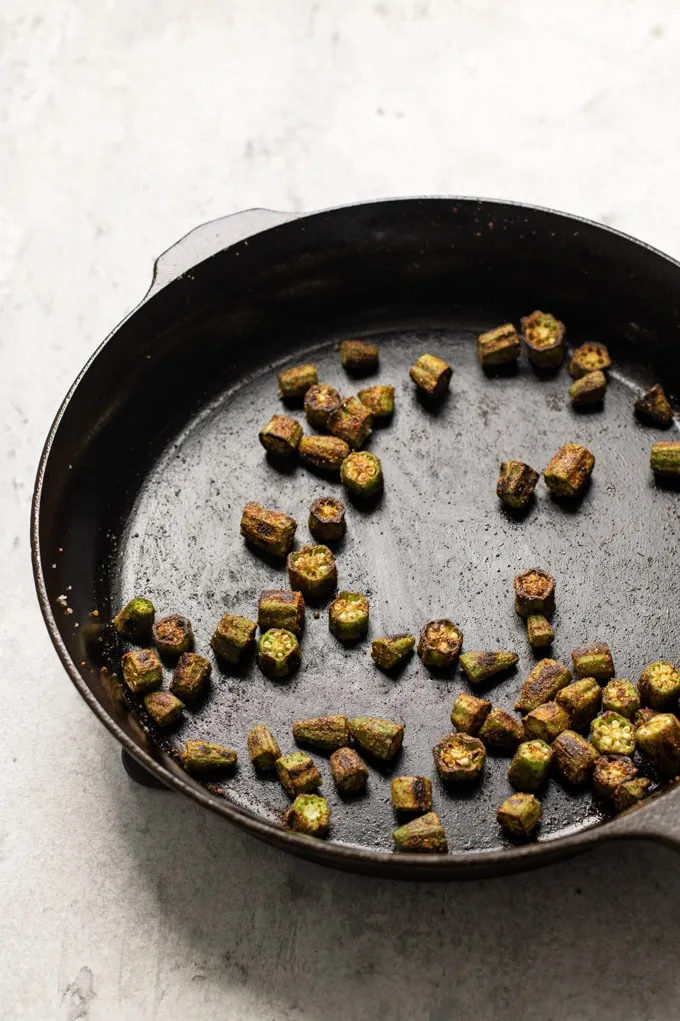 Cook the Indian okra:
Choose a skillet that can accommodate all of the cut okra with a bit of room to spare. You don't want to over crowd the pan, as the trick to this delicious bhindi masala is to stir as little as possible!
Heat the skillet over medium low, add a drizzle of oil and then the okra, arranging in a single layer. Let it cook about 8 minutes, and in that time the okra will turn a darker color and shrink in size. Stir it infrequently, about every couple of minutes. If the heat is too high and the okra is starting to burn, turn it down.
Now add the spices–garam masala, salt, and a pinch of cayenne, and let the okra cook a minute or two more. We add the spices at the end so they do not burn! There should still be enough moisture in the okra for the spices to stick to it, but you can always add a teensy bit more oil if needed to get the spices to stick.
And that's it! your dry fry bhindi masala is ready to enjoy!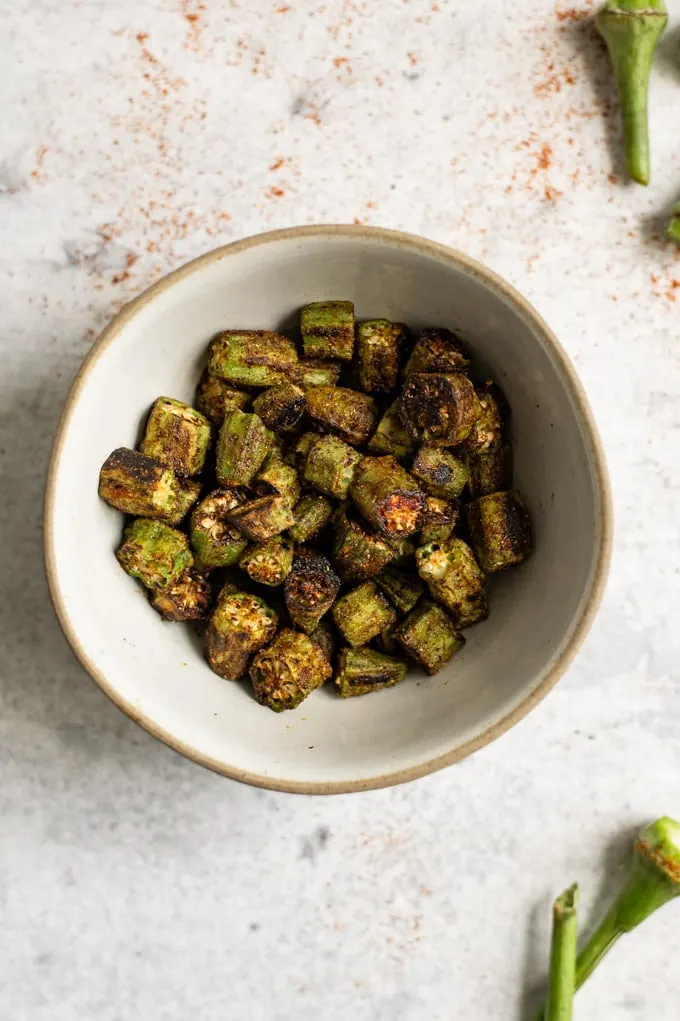 You can adjust the recipe as needed to cook more okra.
The recipe is written for about a 1/2 pound of okra, but that cooks down to just a couple of servings. A large skillet can fit more okra, and you can add more spices to adjust.
---
If you make this bhindi masala, leave a comment below and rate the recipe on the recipe card. And please share your photos with me on Instagram, tag @thecuriouschickpea and #thecuriouschickpea. I love seeing your recreations!
---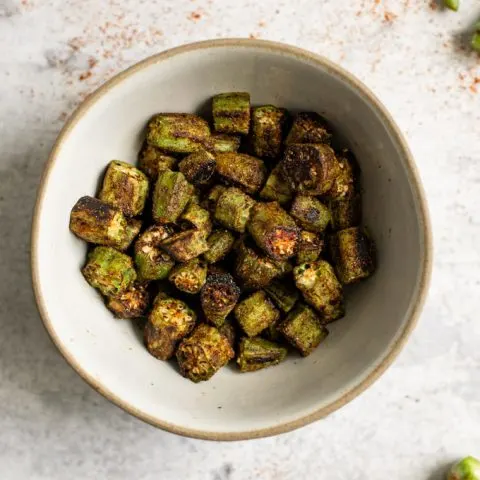 Bhindi Masala - Dry Fry Indian Okra
This is a dry fried Indian okra recipe, called bhindi masala. It's quick to make and delicious!
Ingredients
7-8oz okra
2 tsp oil
3/4 tsp garam masala
1/4 tsp salt, or to taste
1/8 tsp cayenne, or to taste
Instructions
Wash the okra and pat dry or let air dry slightly, this helps keep the okra from getting too slimy. Trim off the tops and tip, then slice into about 1-inch pieces.
Heat a large sillet over medium-low heat. Add the oil and the sliced okra. Cook, stirring minimally, until the okra is shrunken in size and golden in places, about 8 minutes.
Add the spices and salt and let fry 1-2 additional minutes. Turn off heat and enjoy!
Notes
Choose smaller okra if possible. Small okra have a better texture and taste, their seeds are smaller, and they tend to be less slimy.
Nutrition Information:
Yield:

2
Serving Size:

1
Amount Per Serving:
Calories:

150
Total Fat:

6g
Sodium:

320mg
Carbohydrates:

22g
Fiber:

12g
Sugar:

12g
Protein:

9g
Nutrition is calculated automatically so should be used as an estimate.
Okra on it's own isn't a complete meal, so enjoy it with some other Indian dishes! This recipe is so simple and easy that it's perfect to cook alongside dal, curries, and other Indian subzi.