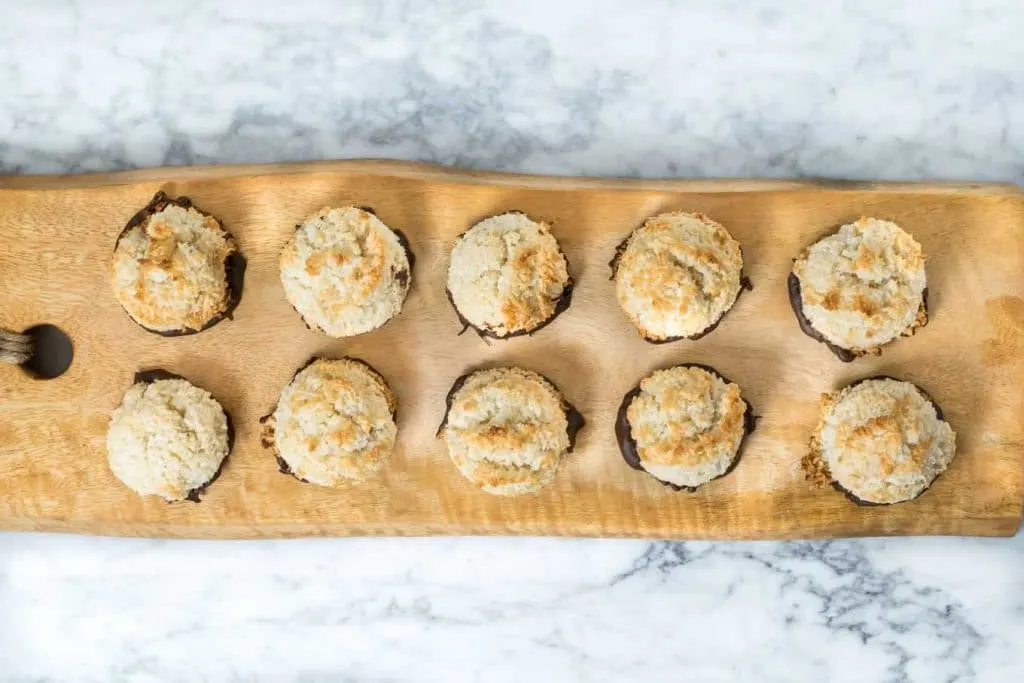 These cookies are so freaking good. Coconutty with hints of almond. A great chewy but delicate, melt-in-your mouth texture. The perfect level of sweetness. And dipped chocolatey perfection. A little trip to paradise with each cookie. They are accidentally gluten free, and magically vegan. Well, it's not really magic. It just required a secret ingredient…
A friend asked me about a week ago about making vegan macaroons for Passover. I first looked up my favorite (and previous to this, only) coconut macaroon recipe, only to realize they are nowhere near being Passover friendly! They contain flour, tofu (which, depending on what rules you follow, might not be allowed), and a leavener. All of these ingredients had to go.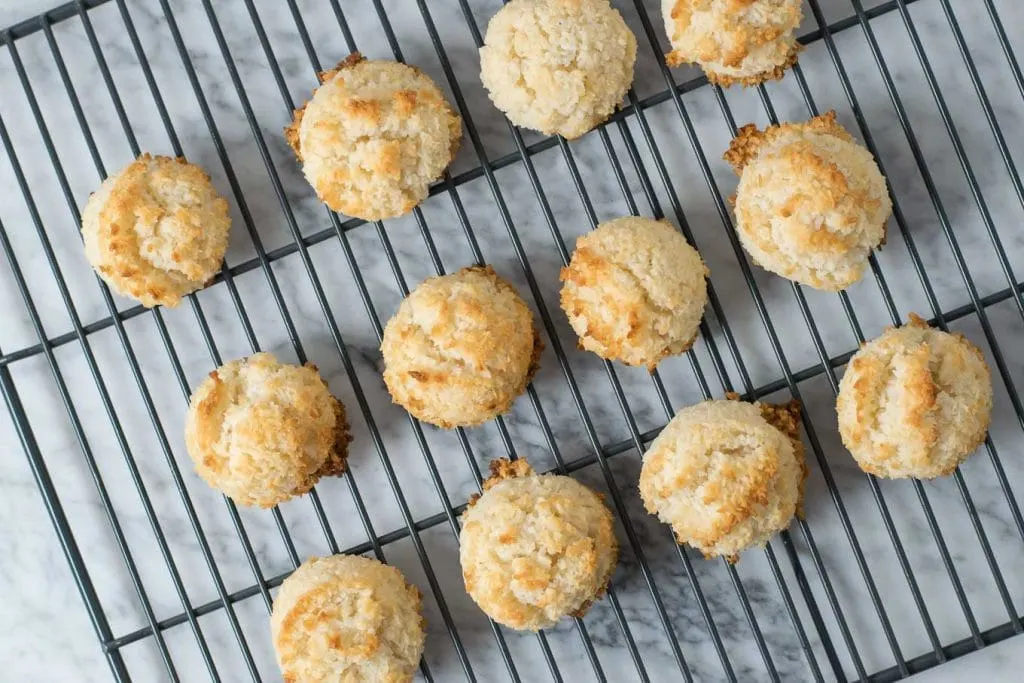 I went to the drawing board, and researched how traditional macaroons are made. I found recipes of whipped egg white, condensed milk, and shredded coconut. This is not an easy thing to veganize. The cookies depend on the egg white to provide leavening, by means of trapped air, and also to bind, as the protein structure of the egg sets when baked and provides the hold. No one vegan egg replacer can do that alone, especially when you take Passover rules into account.
I turned to the best vegan egg white whipping agent around, the starchy and protein filled liquid that comes from a can of beans. Named aquafaba by one of the early experimenters, this goopy liquid whips into a thick foam similar to egg whites. It doesn't behave exactly the same way, however, and one significant difference is that it won't bake into a protein structure the way that egg whites do. For the macaroon recipe, the best I could really hope for was for whipped aquafaba to provide non-chemical leavening, so that the cookies would not be overly dense.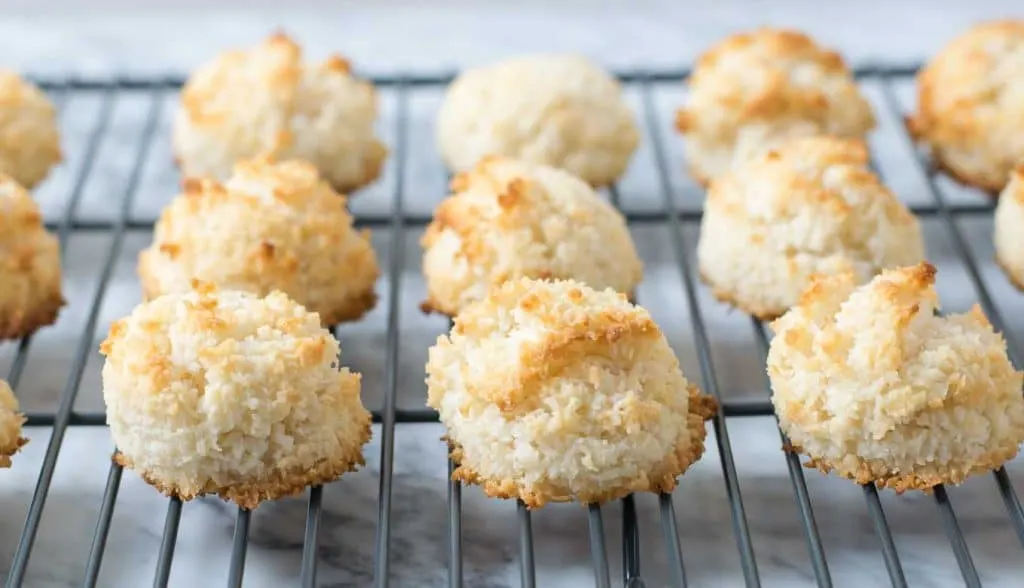 Condensed milk was the second ingredient I had to replace, and for this a simple syrupy coconut milk can be used. Coconut milk simmered with sugar for about half and hour turns into a viscous, sticky liquid. This stickiness would help bind the cookies. On it's own, however, I found it resulted in a delicate cookie, so I added almond flour to the mixture. This gives a little extra for the condensed coconut milk to stick together, and makes the cookies easier to handle. The almond flavor is boosted with a little almond extract, which can be omitted, but my family likes the extra sweet, nuttiness it brings to the macaroons. We extra-love these cookies when they are dipped in chocolate, but that additional step is up to you. It does look super impressive though.
Now, onto the recipe and method! Let me know in the comments if you have any questions, or make these cookies, or tag me on Instagram!

Notes:
For the condensed coconut milk, you could probably substitute a raw or less processed sugar, such as turbinado or coconut sugar, but I did not get a chance to test this.
I recommend using the liquid from chickpeas, as this has been found to be the most consistent and "strongest" aquafaba. But if you want to try this with the liquid from a can of light colored beans, go ahead. If it doesn't whip up into a thick foam, then don't use it and grab a back up can of chickpeas!
When separating the liquid from the can of beans, first shake the can to loosen and distribute the starches that settle on the bottom.
For whipping your aquafaba into stiff peaks, follow this very helpful video by Zsu Dever.
Here's a nice visual also by Zsu Dever of how to fold whipped aquafaba into your coconut almond mixture.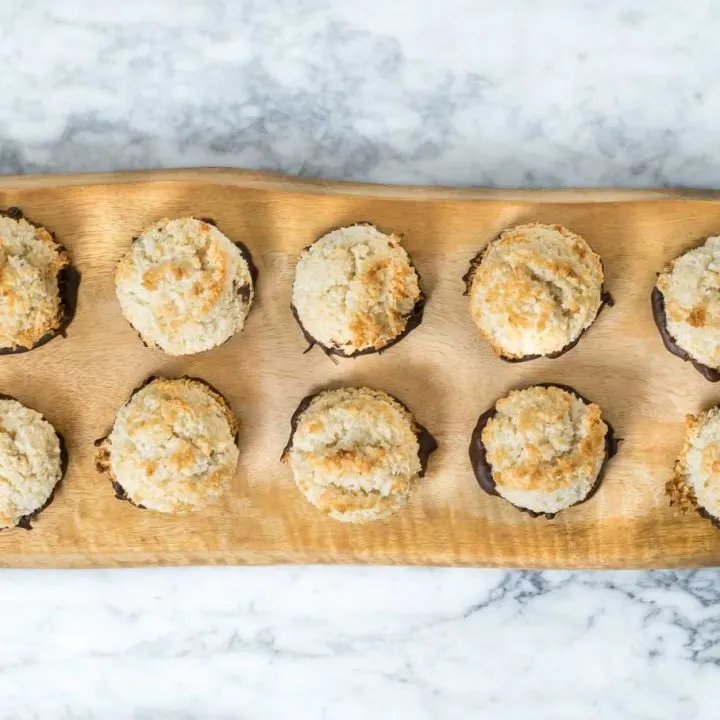 Vegan Coconut Macaroons
Total Time:
1 hour
15 minutes
A vegan Passover-friendly recipe for coconut macaroons.
Ingredients
For the condensed coconut milk*
1 15 oz can (1 1/2 cups) full fat coconut milk
1/2 cup sugar
pinch of salt
For the whipped aquafaba
2/3-3/4 cup aquafaba*
1/2 tsp cream of tartar
For the macaroons
12 oz (~4 1/3 cups) shredded coconut flakes
1/2 cup almond flour
1/4 tsp salt
1 tsp vanilla extract
1/2 tsp almond extract (optional)
1 cup condensed coconut milk
whipped aquafaba
For the chocolate dip
1 cup chocolate chips, melted
Instructions
To make the condensed coconut milk
In a wide and and ideally shallow pot whisk together the coconut milk, sugar, and the pinch of salt. Bring the mixture to a low boil over medium heat, then turn the heat down to an active simmer. Let simmer for 25-40 minutes, stirring occasionally, or until you are left with 1 cup of condensed coconut milk. How long it takes will depend on how high your heat is and how wide/shallow your pot is. Check with a measuring cup as you go until you have the correct volume. Set aside to cool to room temperature. This results in a viscous but pourable light caramel brown cream.
*Note: if you make the condensed coconut milk the day before and refrigerate, you might need to bring it back closer to room temperature and thin with water to achieve a pourable consistency.
To make the whipped aquafaba
First, preheat your oven to 350 ºF.
In a stand mixer or with a handheld electric beater, lightly beat together the aquafaba and cream of tartar until frothy. Then turn up the speed until high and beat until you have stiff peaks. This takes 10 minutes with my stand mixer but could take longer on yours, and will take more time with a handheld electric mixer. You cannot over whip aquafaba, and if you do this too far in advance and it starts to deflate you can rewhip it back up to stiff peaks at any time.
To make the coconut meringues
Prepare 2 parchment lined baking sheets, and make sure the oven is preheated to 350 ºF before beginning.
In a large bowl, mix together the shredded coconut, almond flour, salt, and extracts you are using with a wooden spoon or a silicon spatula. Then stir in the condensed milk until it coats everything. At this point if you squeeze some of the mixture it will stick together but otherwise it does not tend to hold together.
Take a large scoop of the whipped aquafaba (about 1/4-1/3 of the mixture), and using a silicon spatula, gently fold the aquafaba to incorporate it evenly in the coconut mixture. This step will help ensure more of the air stays trapped in the whip.
Once mixed evenly add the remainder of the whipped aquafaba and gently fold that in.
On a parchment lined baking sheet scoop 1 1/2" (walnut sized) balls. You can either form them with your hands, or using a cookie scoop. Leave the balls rougher around the edges for more a uneven golden effect, or smooth them in your hands for a more evenly browned look. Place them on the baking sheets about 2" apart.
Bake for 25-30 minutes, checking towards the end, until you have reached your desired level of golden. I like to bake mine bold for more caramel rich flavor.
Leave to cool completely, they will continue to firm as they cool. If you are dipping in chocolate, chilling the cooled cookies in the fridge will help make them a bit sturdier.
For chocolate bottomed macaroons
Take each cookie and set it in the melted chocolate, and using a spoon or spatula, help lift it out from underneath the cookie so it doesn't get stuck in the chocolate. Alternatively, you can spoon some chocolate onto the bottom of each cookie.
Place chocolate dipped cookies on a parchment lined baking sheet, and set in the fridge until chocolate is set, 30-60 minutes.
Chilled the cookies should keep about a week, but they don't last that long in our house!
Notes
*condensed coconut milk is lightly adapted from a Fran Costigan recipe
*amount from one can chickpeas, shake the can of chickpeas before draining the aquafaba to loosen the starches that settle at the bottom