These quick pickled radishes are made with rice vinegar, ginger, and chile for a delicious and easy pickle! It's the perfect accompaniment to your meal!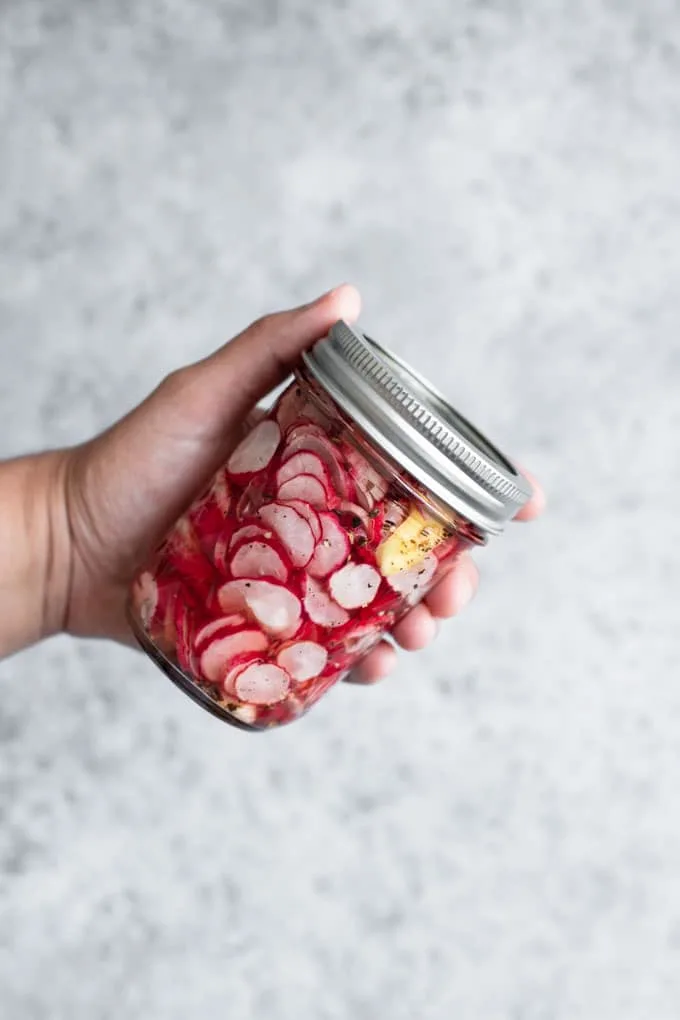 Quick pickled radishes are some of the most quick and easy home pickles to make. They're ready in a matter of hours (minimum about 1 1/2 hours), jazz up a meal or cheese plate, and last for weeks in the fridge–theoretically anyway!
When it comes to quick pickles, the possibilities are endless. You can switch out the variety of radishes for different flavors and textures, change the vinegar you use, add spices or herbs as you like.
For me the features of a good quick pickle are 1) a zippy radish, 2) a mildly sweet vinegar, 3) a bit of added spice. This recipe reflects all of that, but feel free to play around with it once you get the hang of making your own quick pickled radishes!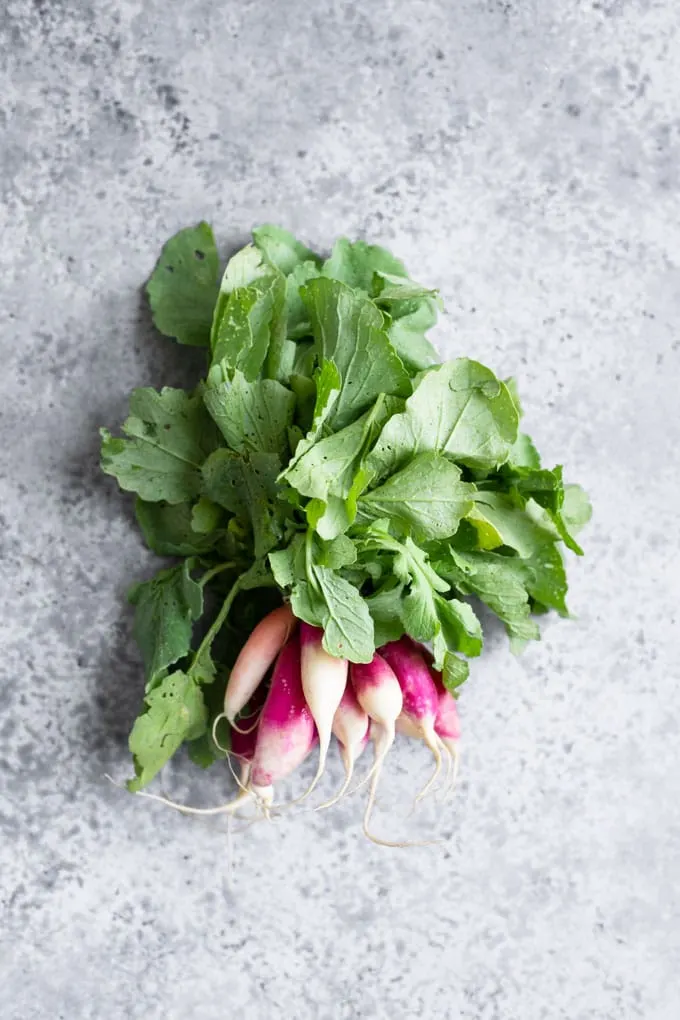 Quick Pickle vs. Fermented Pickle
So what is a quick pickle? It's a vegetable that's been bathed in a vinegar-based bath to take on some of that tangy, sour vinegar flavor. It helps preserve the vegetables for a few weeks, but ideally should be enjoyed over the course of the first week.
Quick pickles are best made with crisp vegetables, including most root vegetables. Some of my favorites are radishes, carrots, cauliflower, turnips, and onion.
A more surprising quick pickle that I also enjoy are quick pickled grapes, a recipe I shared on here a couple years ago!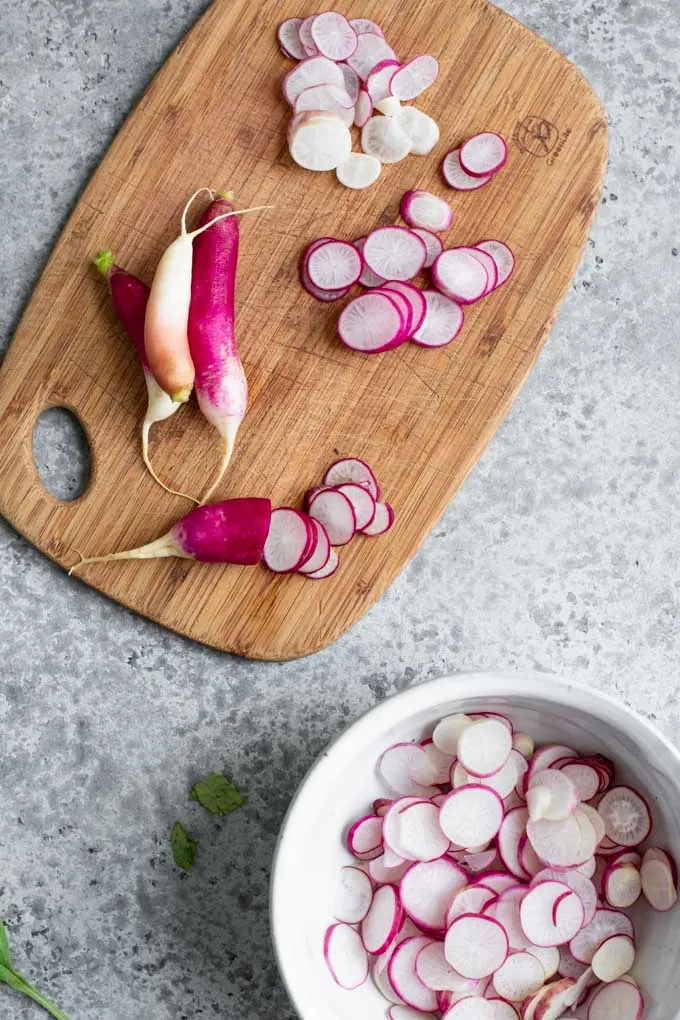 Now that's a quick pickle. A fermented pickle, sometimes referred to a lacto-fermented pickle, gets its sour flavor by developing the natural and good bacteria that sits on the surface of all fruits, vegetables, and even our skin. No vinegar involved.
Popular fermented pickles include the actual cucumber pickle, but you can use the same techniques to pickle all sorts of other vegetables (often the same list as ones you can quick pickle), including radishes.
If you're interested in delving into lacto-fermented vegetables then you should check out my savadoran curtido recipe.
There's a place for both quick and fermented pickles in my heart and stomach, but if you want quick pickled radishes then this is your recipe!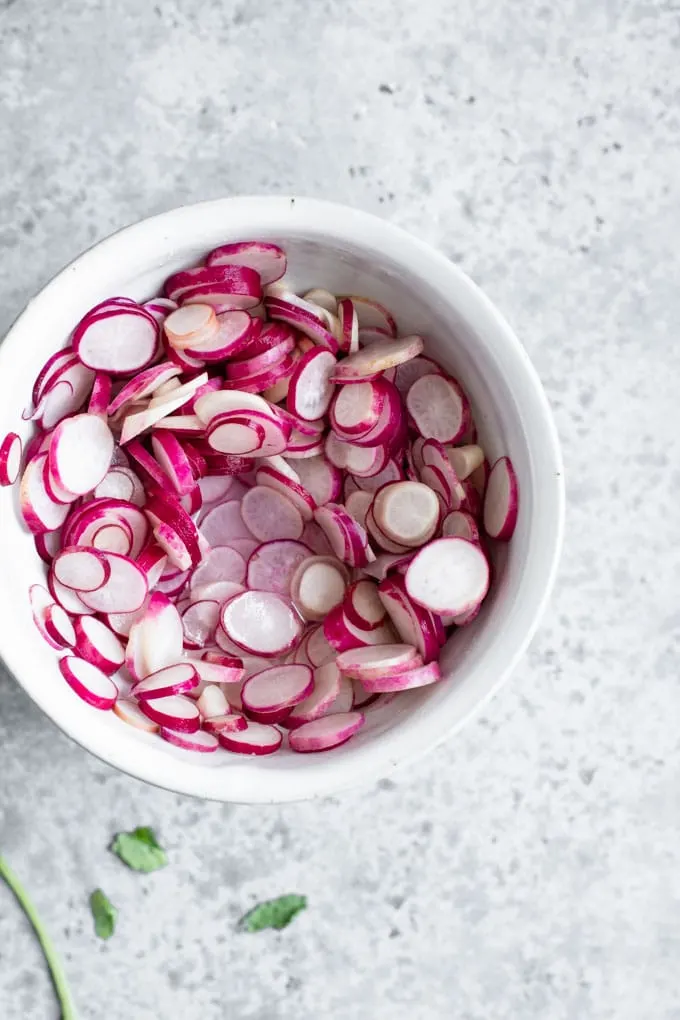 How to make quick pickled radishes:
First, thinly slice your radishes. You can use a mandolin if you have one (be careful!) or just thinly slice them with a knife.
Next, I salt the radish slices. Tossing them with salt and letting them sit for about half an hour draws out the water in the radishes which helps the final pickle stay nice and crisp.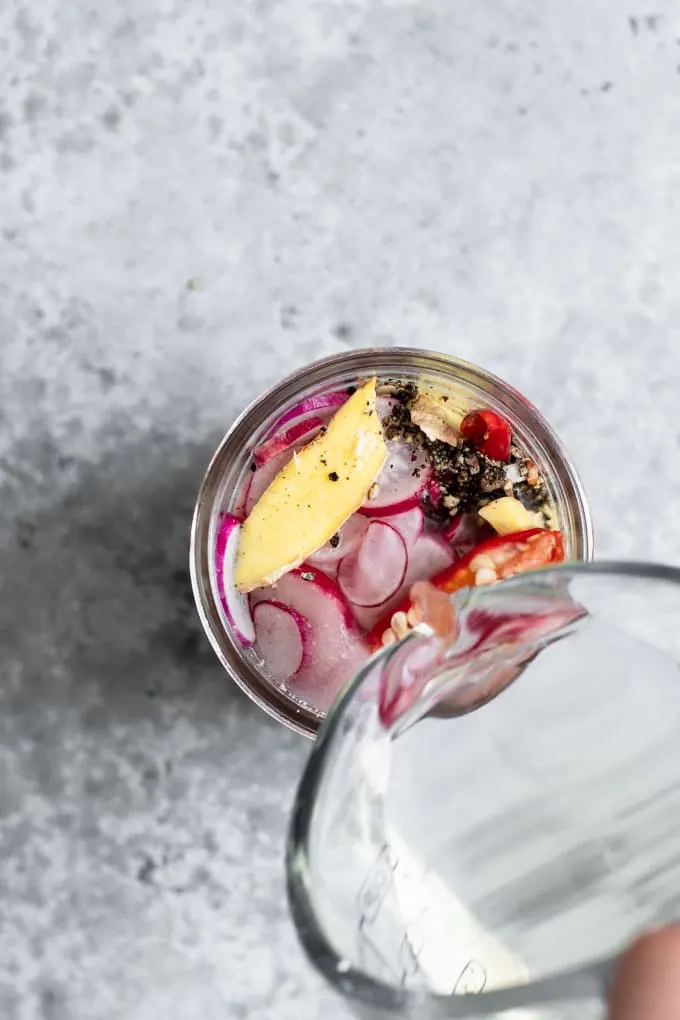 You can see by the end of the salting step there's a puddle of water in the bottom of the bowl. Dump this out, but there's no need to rinse the radishes.
Transfer them to a clean small mason jar with a watertight lid. You can reuse an old glass jar (say from an old jar of mayo or someething) for this, but make sure its lid is watertight!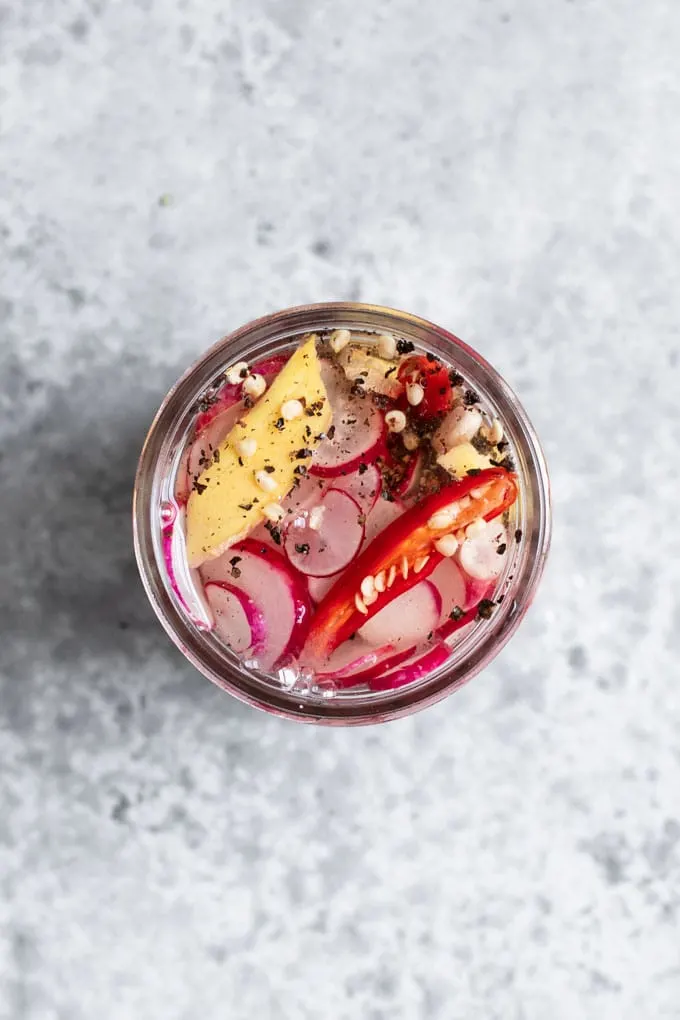 Add your spices and seasonings, then cover with rice vinegar–I prefer to use the unseasoned kind as it doesn't have added sugar. Put that lid on (and this is where water tight is so important) and shake it to disperse the spices and get everything well mixed.
Stick the pickles in the fridge and let them chill for a minimum of one hour before using!
The seasonings:
All pickles have vinegar, sugar, and salt. But that's kind of boring on it's own and you can make even better tasting pickles by adding some additional spices.
I like adding some ginger to these pickles. It complements the rice vinegar really nicely and adds a fresh zingy flavor and a bit of ginger-spiciness.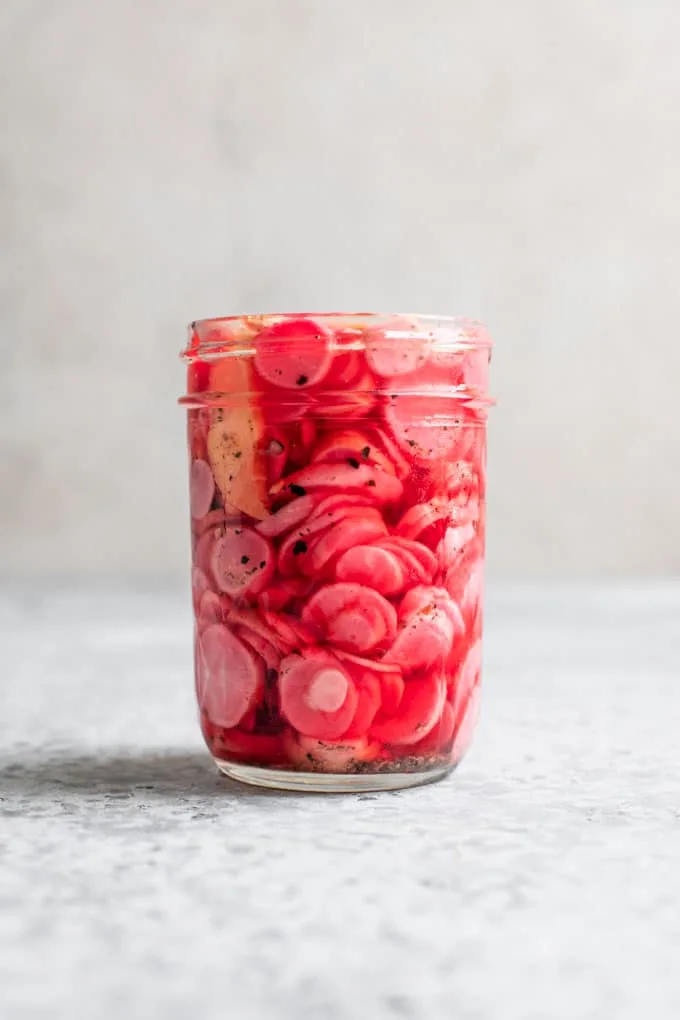 Along with that I like to add some chile in the form of crushed peppercorn (or red pepper flakes) and a fresh chili pepper cut in half. Any hot pepper would work, but I used a Thai chile. For less heat you could leave the pepper whole, this will keep the seeds and membranes (the spiciest part of the pepper) from getting exposed directly to the vinegar.
How to enjoy quick pickled radishes:
There is a plethora of ways to enjoy pickled radishes. You can put them over salads, add them to a [vegan] cheese platter, stick them in a sandwich or wrap, top tacos with them. They're great on veggie burgers and hot dogs! You can eat them plain from the jar, or pair them with spicy Indian or Thai curries.
Basically anywhere a crisp and juicy pickle would be a nice cooling accompaniment to your dish is where you should add them!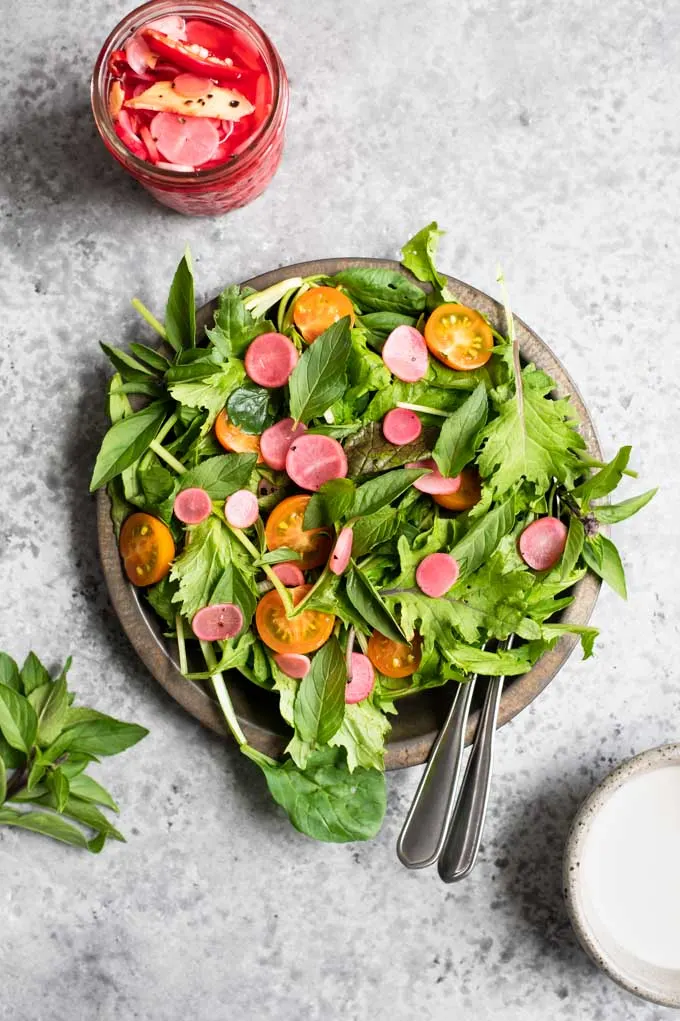 You can change the seasonings for different flavors of pickles.
A lot of modifications are possible to make these quick pickles your own.
You can use a combination of vegetables. Add some carrots for sweetness, or onion for an oniony pickle. A mix of radishes and turnips is always nice as well!
Change the vinegar you use. I like rice vinegar, but any milder vinegar that has some natural sweetness is a great bet. This includes apple cider vinegar and any of the wine vinegars: e.g. red wine vinegar, white wine vinegar, champagne vinegar.
You can use white vinegar to keep things neutral, but I would avoid stronger tasting vinegars such as balsamic vinegar which can over power the vegetables.
Switch up the spices. Skip the ginger and chiles, or try adding garlic cloves. Dried chiles are great in here too!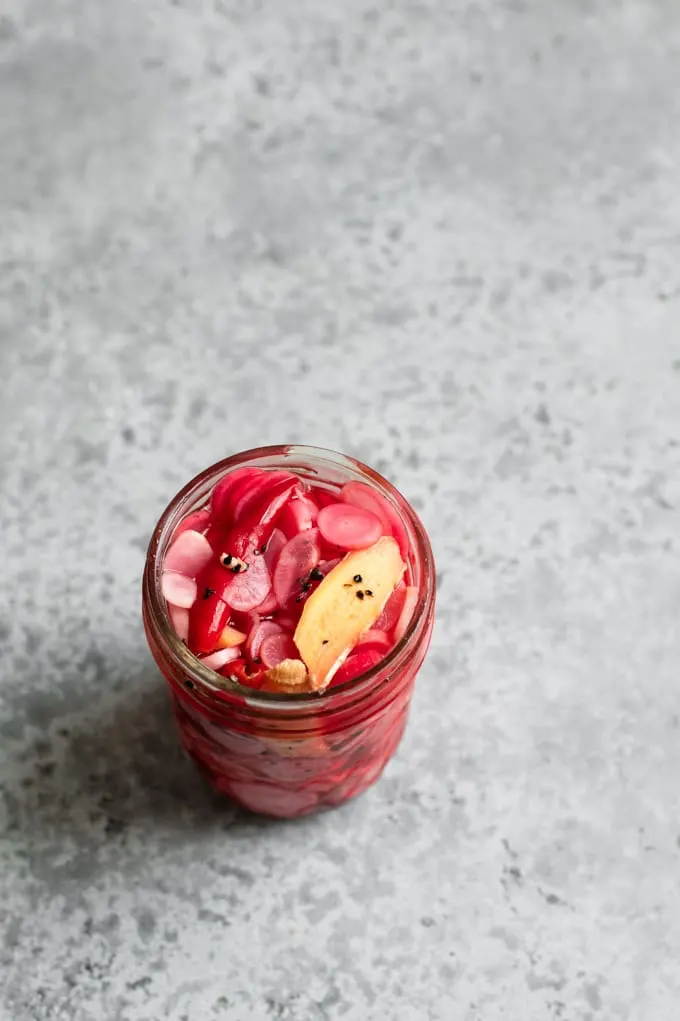 That's all there is to it! I hope you give these quick pickled radishes a try, they're really versatile and fancy up any meal!
If you make these quick pickled radishes, leave a comment below and rate the recipe on the recipe card. And please share your photos with me on Instagram, tag @thecuriouschickpea and #thecuriouschickpea. I love seeing your recreations!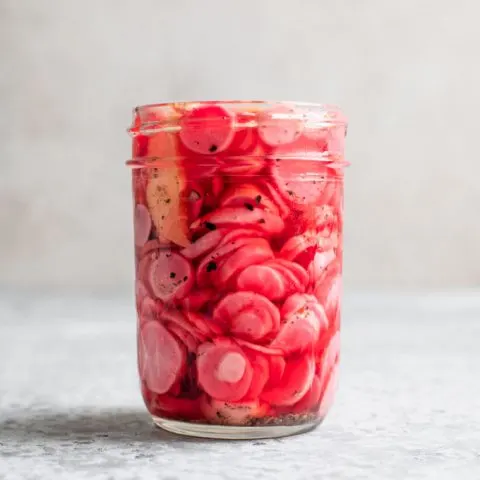 Quick Pickled Radishes
Inactive Time:
1 hour
30 minutes
Total Time:
1 hour
40 minutes
Quick pickled radishes are quick and easy to make, and this version includes ginger, chiles, and rice vinegar to make them extra delicious!
Ingredients
1 bunch radishes
1 tsp sea salt
2-4 slices of fresh ginger
1 fresh chile, sliced in half or left whole for less heat
1 tsp sugar
1/2 tsp cracked peppercorn or red pepper flakes
1/4-3/4 cup rice vinegar
Instructions
Wash and thinly slice the radishes. Place in a bowl and toss with the salt. Let sit for 30 minutes. Drain the water that collects at the bottom of the bowl and transfer the radishes into a clean pint sized mason jar or similarly small jar. Pack them in to fit.
Add the ginger, chile, sugar, and peppercorn, then fill the glass with rice vinegar, typically 1/4-1/2 cup but add more as needed.
Tightly close the lid and shake the jar to combine. Put the radishes in the fridge and let chill for a minimum of one hour.
Best enjoyed in the first week, but will last up to a month in the fridge. The spices will get stronger in flavor as it sits in the fridge, so feel free to remove the chile and/or ginger when it reaches the level of spice and ginger you prefer.
Notes
I used French breakfast radishes, but any radishes would be nice in this recipe.
Adapted from Serious Eats.
Recommended Products
As an Amazon Associate and member of other affiliate programs, I earn from qualifying purchases.
Nutrition Information:
Yield:

16
Serving Size:

1
Amount Per Serving:
Calories:

13
Nutrition is calculated automatically so should be used as an estimate.