Making Chinese steamed buns is easy with my recipe for hoisin eggplant bao! They're a delicious snack or light meal with a soft and puffy dough and easy homemade hoisin sauce!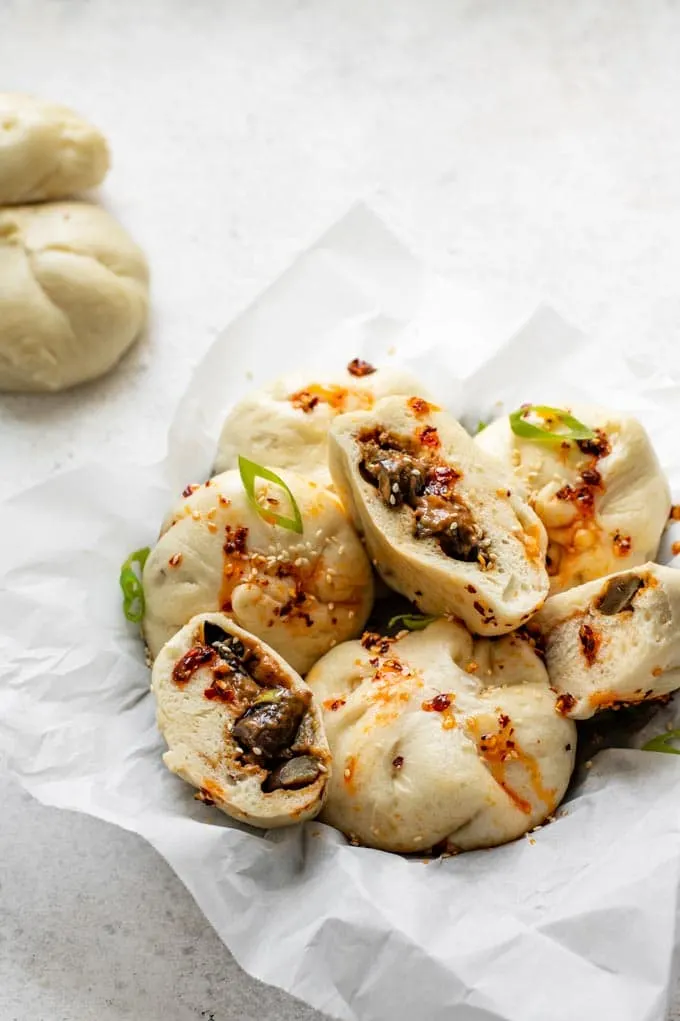 These Chinese-inspired steamed buns have it all–fluffy dough, tender eggplant, and a mouth watering hoisin sauce. They're so delicious!
Bao are absolutely scrumptious, but in my experience it's rare to find vegan friendly ones. Thankfully they're simple enough to make at home!
There are two components to bao, the filling and the dough. The dough is yeasted which makes for a extra soft and puffy bun.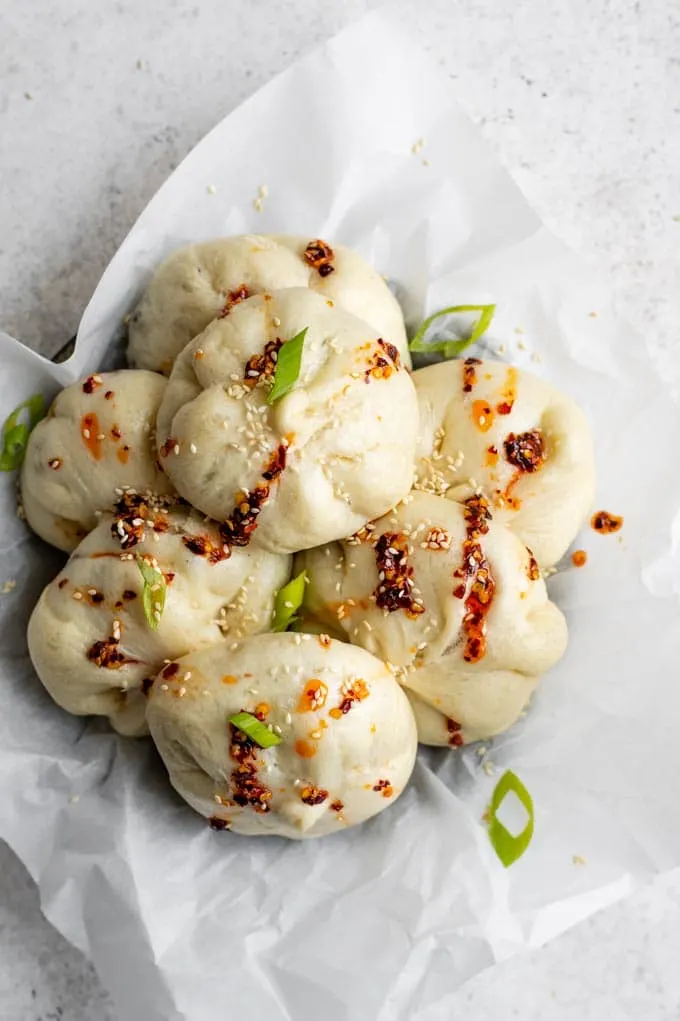 The dough can be folded into a pocket, such as in gua bao (Taiwanese pork belly buns), or can be wrapped into a bun/round dumpling shape as I've done here. The round ones are commonly stuffed with savory meat fillings or sweet bean paste (which are typically vegan, though it never hurts to ask to make sure).
Who needs meat when you can make delicious bao with eggplant!
Japanese eggplant is cooked until perfectly tender, then tossed in a savory and flavorful hoisin. It's delicious enough to eat on it's own–the sign of any great filling–but is even better when stuffed into bao!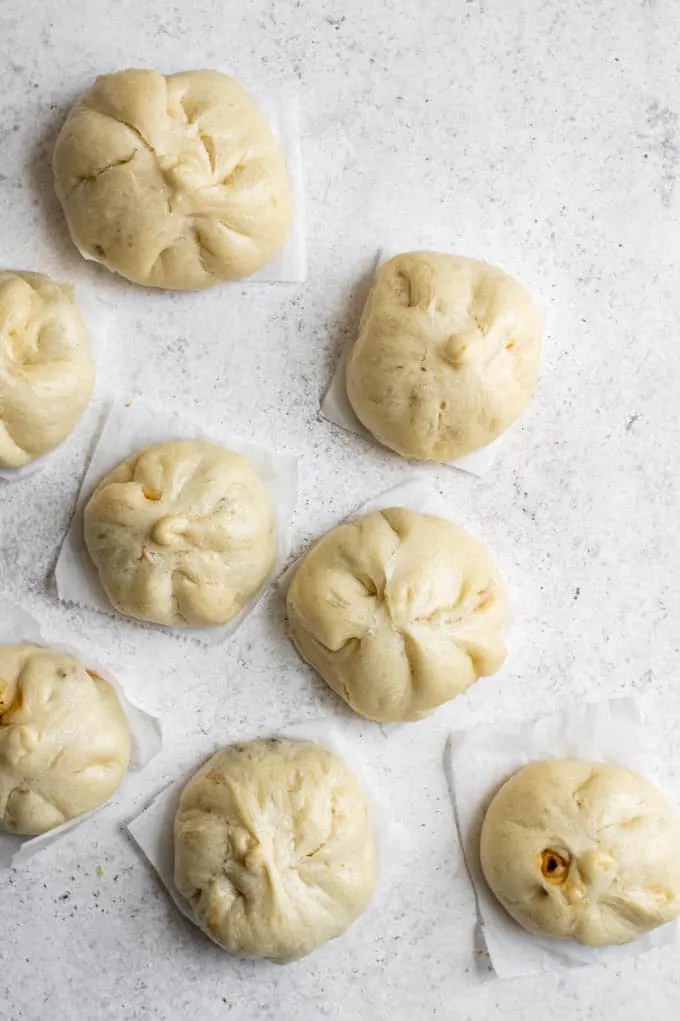 Bao make the perfect snack or appetizer, or enjoy a few of them for a light meal! They're tasty enough on their own, or you can serve them with a dipping or drizzling sauce such as chili oil (my personal fave) or a soy sauce-rice vinegar-toasted sesame oil combo.
One last note: My bao dough got a bit over proofed while I was juggling the photos and cooking and so the resulting buns aren't as defined in their shapes as they could be. They're still delicious and I'm still obsessed, but visually they're not as perfect as they could be. I'm sure you can do better, as I usually do as well, but at least you know if you run into any struggles you'll still get some awesome bao to show for it!
How to make bao dough:
Since bao is made with a yeasted dough, we start on this first.
For the most part bao dough looks like any other bread dough–flour, water, yeast, salt, plus a drizzle of oil and bit of sugar to enrich it. The biggest, and really only, difference between bao dough and your traditional western bread doughs is the addition of baking powder. It gives the dough a bit of an oomph when steaming for a super fluffy bread!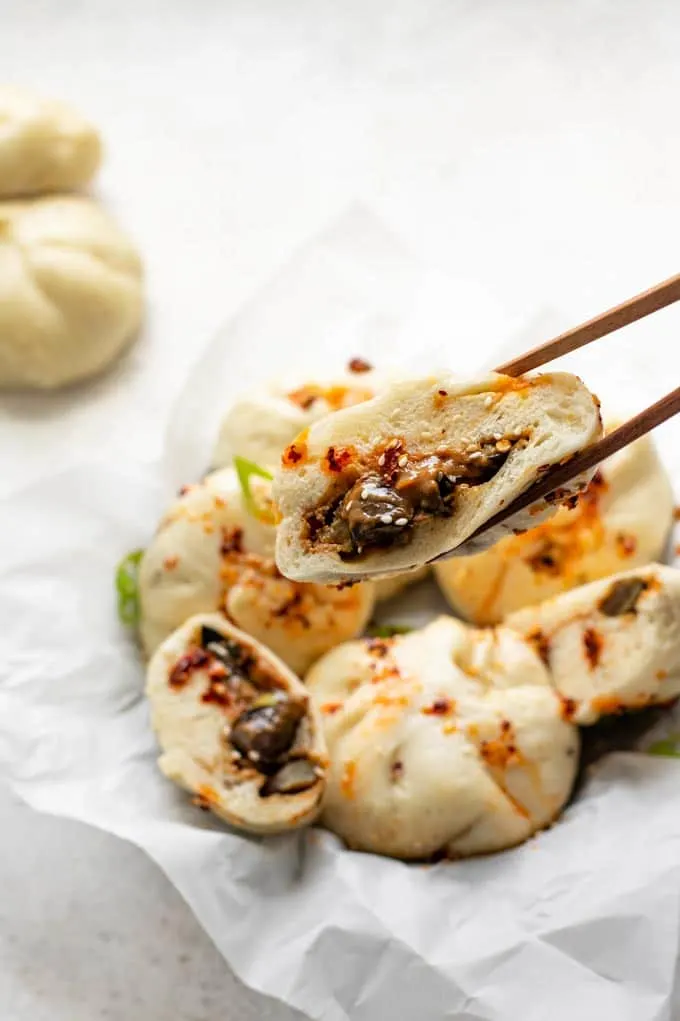 The method for bao dough is also similar to other bread doughs. Stir together the yeast, warm water, and sugar and let sit for a few minutes to proof the yeast. This isn't strictly a necessary step if you're using instant yeast as the recipe requests. However, if you are using active dry yeast–this is totally fine! But you will get best results from letting it prove for about 5-10 minutes before adding it to the dry ingredients.
Mix together the dry ingredients, then add the wet to dry and knead for a few minutes! This can be done by hand or by stand mixer. Set your dough aside in a covered oil bowl to let rise.
Prepare the eggplant:
This step is super easy. Trim the top and bottoms of the eggplant off, slice it in half lengthwise, brush the eggplant with a bit of oil, then plop it on a grill or grill pan (a broiler works as well, but you won't get grill lines) and cook it until tender.
Take the eggplant off the heat and let it cool down until you can chop it into cubes.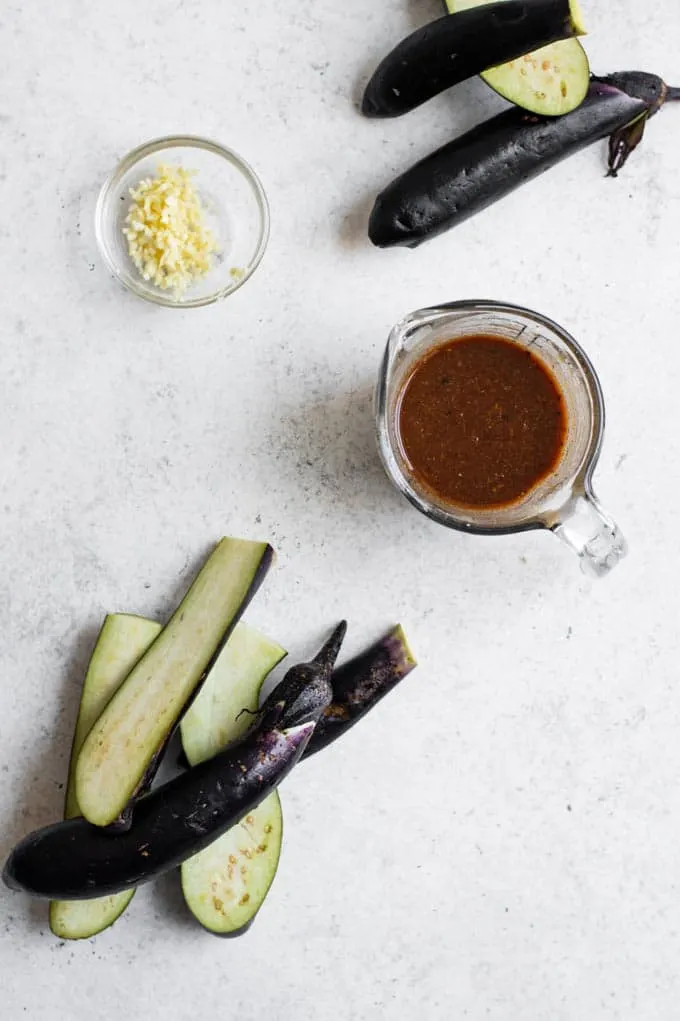 Make the hoisin sauce:
This part is optional. If you want to use a store bought hoisin sauce–go ahead! You'll need about 1/2 cup of hoisin.
But if you want to make the best possible hoisin eggplant bao of your life (and I'm sure you do!) you'll want to make your own hoisin sauce. Because man if this wasn't the best hoisin of my life… it was, ok? ?
This homemade hoisin is pantry friendly and super quick to throw together. It starts with garlic which is flash fried in a bit of oil until a pale shade of golden.
Next we add the liquids: soy sauce, maple syrup, rice vinegar, tahini, sriracha or chili oil, and toasted sesame oil. A bit of tahini lends a nutty earthy flavor to the sauce. If you have Chinese sesame paste substitute that, otherwise tahini makes for a delicious sauce! You can also substitute peanut butter for tahini if you'd like.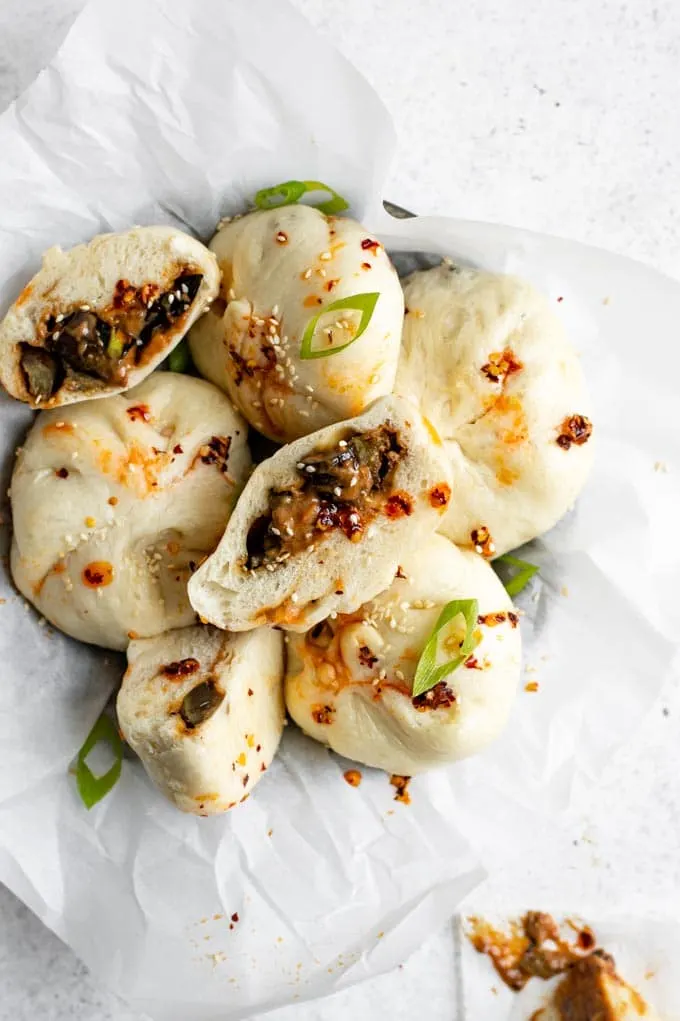 Last we add miso and a pinch of black pepper. If you are able to find it, feel free to use doubanjiang instead of miso. Doubanjiang is a Chinese fermented broadbean paste, so it's pretty similar in concept to miso. There are spicy and non-spicy versions of it, so if you're seeking out this ingredient either is ok, though obviously adjust it to your own spice preferences. If using miso, any is fine! I chose a red miso for it's stronger flavor.
Stir all of the sauce ingredients together then let simmer for a handful of minutes. Remove from heat and toss with the cubed eggplant.
Shape the buns:
Once the dough has finished rising, it's time to shape the buns. Lightly punch the dough down, then divide it into 12 more or less equal pieces. Pat each out into a large about 5″ disk. Then holding the dough in your non dominant hand, and add a heaping tablespoon of filling to the center.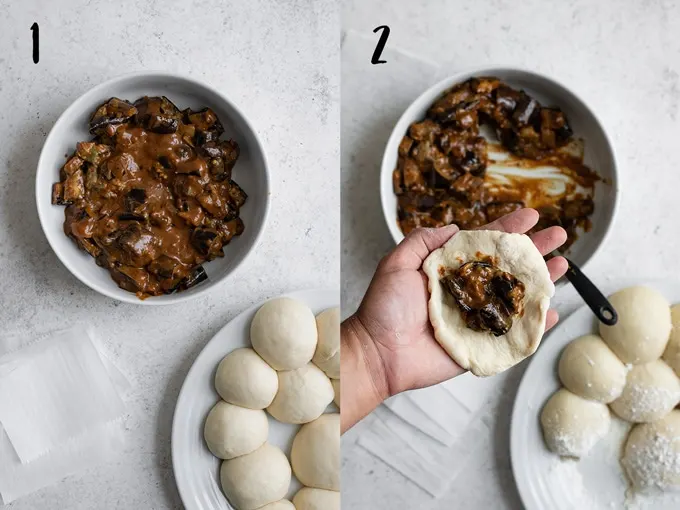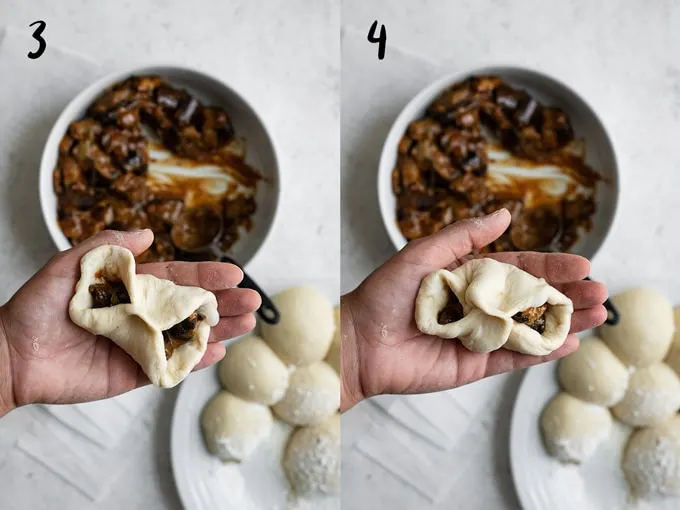 Use your dominant hand to pinch the opposite sides of the dough to meet in the center, then repeat at 90º to make a little parcel. You'll have 4 edges gaping, so pinch together those opposing sides into the center.
Take the top of the buns between the fingers of your dominant hand and twist to seal everything in. Place the finished buns onto either a square of parchment paper or a parchment lined pan.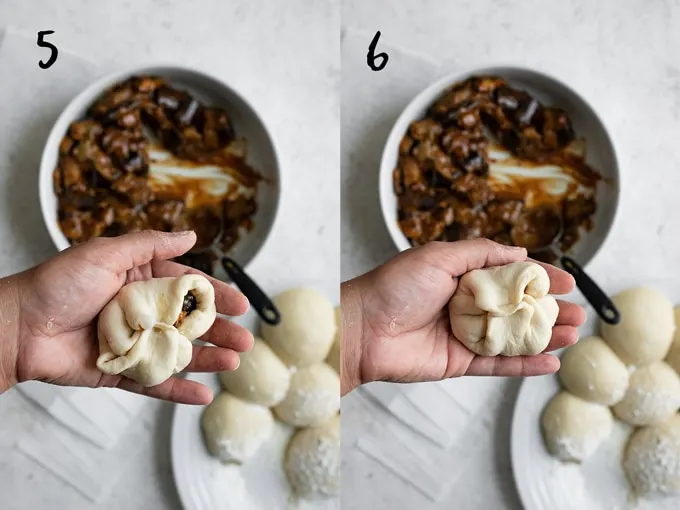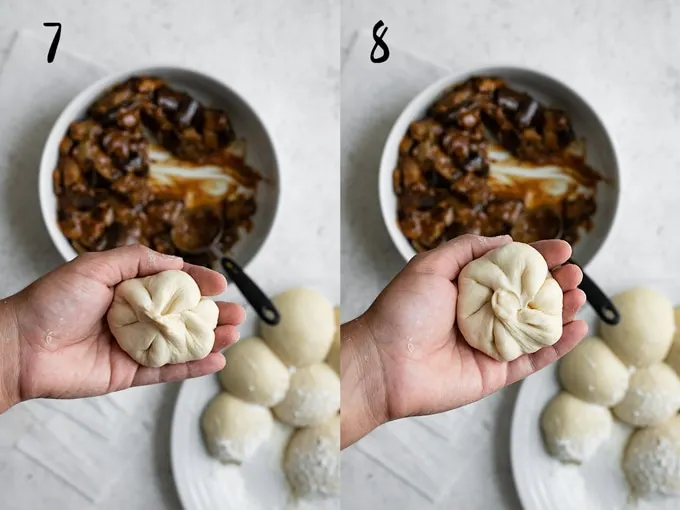 Repeat with the remaining buns.
Cook the buns:
Bao are steamed, and this gives them their quintessential texture. Prepare a steamer basket and cook in batches, leaving plenty of space between the buns as they expand a lot as they steam.
The steaming of the buns is the slowest step of the whole process. If you have a double steamer definitely take advantage of that as it will really cut down on the time!
Because it takes awhile, keep the shaped buns in the fridge until ready to steam so that they don't get over-proofed.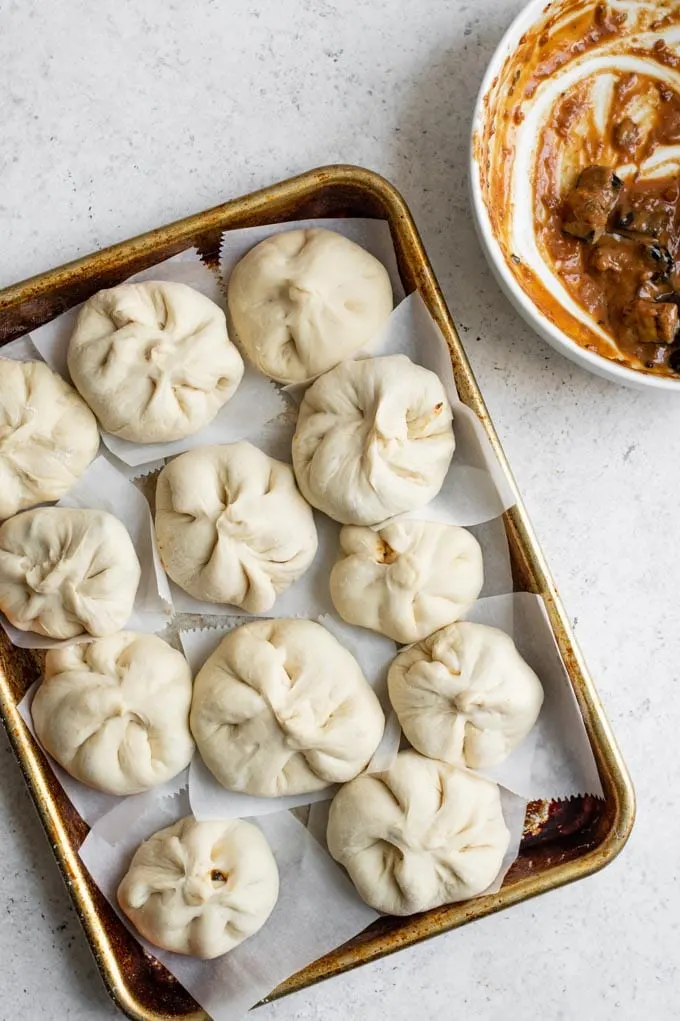 ---
If you make these hoisin eggplant bao, leave a comment below and rate the recipe on the recipe card. And please share your photos with me on Instagram, tag @thecuriouschickpea and #thecuriouschickpea. I love seeing your recreations!
---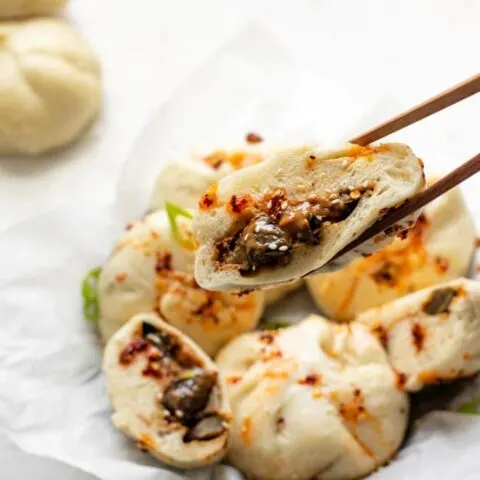 Hoisin Eggplant Bao (Chinese Steamed Buns)
Prep Time (Some Inactive):
1 hour
15 minutes
Cook Time (per batch of buns):
15 minutes
Total Time:
1 hour
30 minutes
Chinese steamed buns are easy to make with this recipe for hoisin eggplant bao! They're a delicious snack with the fluffiest of dough and a mouthwatering savory filling! Make your own hoisin or substitute store bought.
Ingredients
Bao Dough
1 cup (226 mL) warm water, 115 ºF
2 tbsp (27 g) sugar
2 tsp (7 g) instant yeast
2 tbsp (22 g) vegetable oil
3 cups (380 g) all purpose flour
1 1/2 tsp (7 g) baking powder
1/4 tsp salt
Filling
Hoisin Sauce
1 tbsp oil
2-3 cloves garlic, minced
1/4 cup soy sauce
2 tbsp maple syrup
1 1/2 tbsp rice vinegar
2 tbsp tahini
2 tsp sriracha or chili oil (to taste)
1 tsp doubanjiang or miso
1 tsp toasted sesame oil
1/4 tsp black pepper
Instructions
Make the Bao Dough
Add the sugar and yeast to the warm water in a large liquid measuring cup or mixing bowl. Stir and let sit for a few minutes to get foamy. Add the oil.
In a large mixing bowl whisk together the flour, baking powder, and salt. Add the yeast mixture and mix together with a wooden spoon or by hand (wetting your hand to prevent sticking), until you have a coarse dough. Turn the dough onto a lightly floured counter and knead by hand around 5 minutes until the dough is smooth and elastic. Add flour if necessary, though give it a minute before adding as it takes time for the flour to absorb the moisture. You should have a soft and lightly tacky dough (not sticky). Alternatively you can knead in a stand mixer on low speed for 4-5 minutes.
Transfer the dough ball to a lightly oiled mixing bowl and cover with plastic wrap. Let rise for 45 minutes - 1 hour until doubled in size.
Make the Filling
Trim the ends of the eggplant and cut them in half. Brush with oil, then grill over medium-high heat (using grill pan or outdoor grill) until the eggplant is tender when pierced with a fork, about 4-5 minutes each side, but this depends on size of eggplant. When cool enough to handle, cut grilled eggplant into ~3/4" cubes
Heat the oil and garlic in a small pot over low heat. When the garlic turns a pale golden--not too dark or it will taste burnt--carefully add the liquids and whisk to combine. Bring to a simmer and let simmer for about 5 minutes, stirring occasionally until the sauce is thickened.
Toss the eggplant in the sauce.
Shape and Steam the Bao
Punch down the dough and divide into 12 (~54 g) balls of dough. Let rest a few minutes before shaping so the gluten has a chance to relax.
Prepare your steaming apparatus and bring water to a boil. Line the steamer with parchment to prevent sticking and/or cut 12 ~2.5" squares of parchment paper to use with each bun.
Pat or roll out each piece of dough into a ~5" round. Place in your non-dominant hand, and a heaping tablespoon of the eggplant to the center. Take opposing sides of the dough and pinch together over the filling with your thumb and forefinger. Repeat pinching the dough together as you go around the bun until all of the dough meets in the center. Pinch and twist the top to seal it off. Place the bun on a piece of parchment paper and repeat with the remaining dough.
When the water is boiling place the buns in batches in the steamer basket. Be careful not to overcrowd as they double in size while steaming. In my steamer I can make 4 at a time. Keep the remaining shaped buns in the refrigerator while you steam so that they do not get over proofed.
Steam each batch 12-15 minutes. Best enjoyed warm or on the same day. Store leftovers in a tightly sealed container in the fridge and reheat in the microwave until warm. Cover with a damp paper towel while microwaving if they feel dry.
Notes
You can substitute 1/2 cup of prepared hoisin sauce for the homemade.
If at any point the dough is rising too quickly, stick it in the fridge to slow down the rising.
Bao adapted from my vegan siopao (curry seitan steamed buns).
Recommended Products
As an Amazon Associate and member of other affiliate programs, I earn from qualifying purchases.
Nutrition Information:
Yield:

12
Serving Size:

1
Amount Per Serving:
Calories:

206
Total Fat:

7g
Sodium:

449mg
Carbohydrates:

31g
Fiber:

2g
Sugar:

4g
Protein:

5g
Nutrition is calculated automatically so should be used as an estimate.