Thinly sliced potatoes and zucchini make this vegan and gluten free potato and zucchini gratin. It's a creamy, cheesy casserole perfect alongside soups, crusty bread, and more!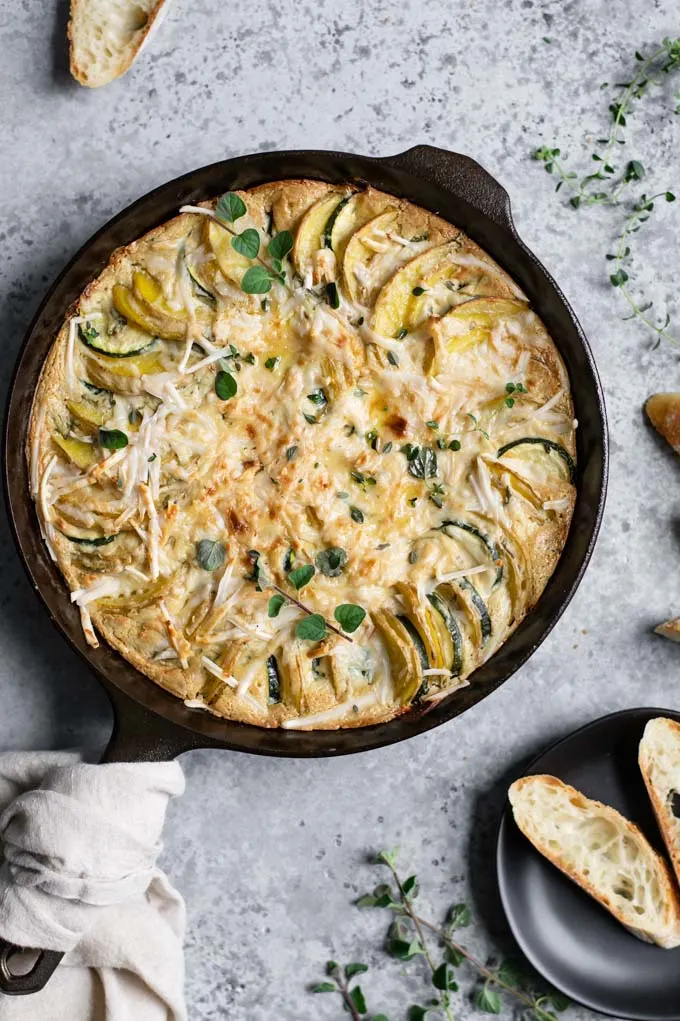 This potato and zucchini bake is one of those cosy, belly warming, nostalgia-filled dishes. Albeit one that's elevated, made beautiful, and completely vegan!
It's a hearty casserole that is meant to be a side dish, but hard to not just devour as an entree.
Layers of thinly sliced buttery potato and tender summer squash, smothered in an easy homemade cashew cream sauce. Amped up with summery fresh herbs like tarragon and oregano. Finished with a sprinkling of vegan mozzarella.
The gratin is then baked until everything is tender, hot, and bubbly, with crispy edges and a golden brown top.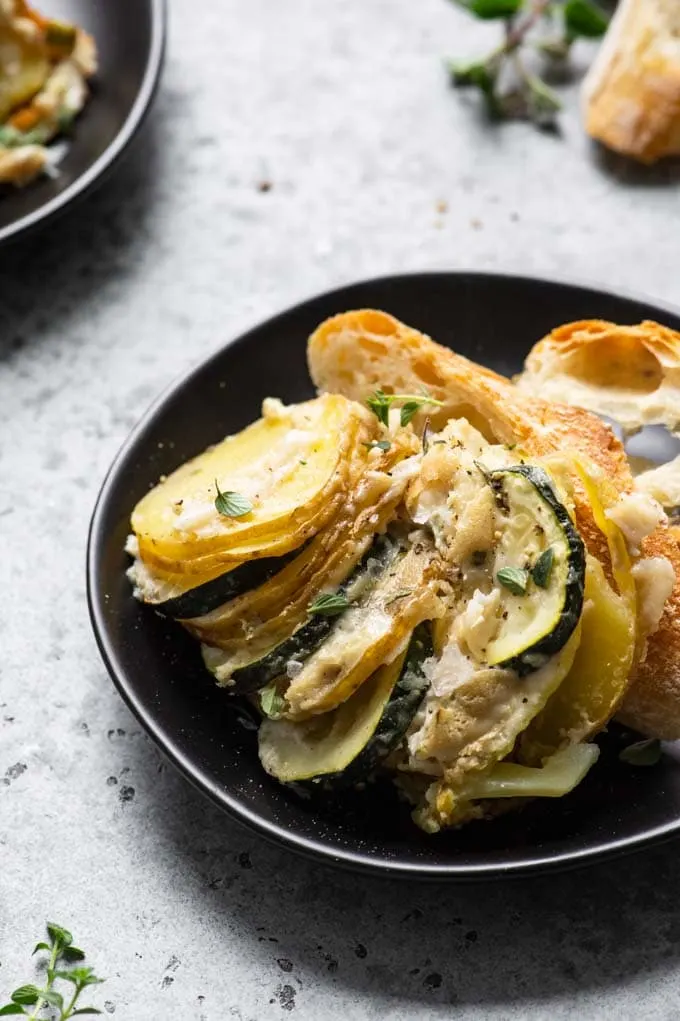 A gratin is a French casserole with a browned cheesy or bread crump topping, typically served up in a shallow dish. If you'd rather call this a potato and zucchini bake or casserole, that's totally cool!
This is a simple recipe, but what really makes it shine is the technique behind it!
The potatoes and zucchini:
Choose smaller yellow skinned Yukon Gold potatoes, no bigger than the size of your fist!
You don't want the diameter of the potatoes to be wildly different than the diameter of the zucchini, though this is more of a guideline than a rule. My potatoes were about half as large as the zucchini and it still came out beautifully!
For the zucchini, you can use any summer squash! Yellow squash or even patty pan squash. As with all squash choose ones that are smooth skinned, unblemished, and firm to the touch. I will always have a soft spot for young petite squash, but often all you can find are the standard larger zucchini and that's fine too.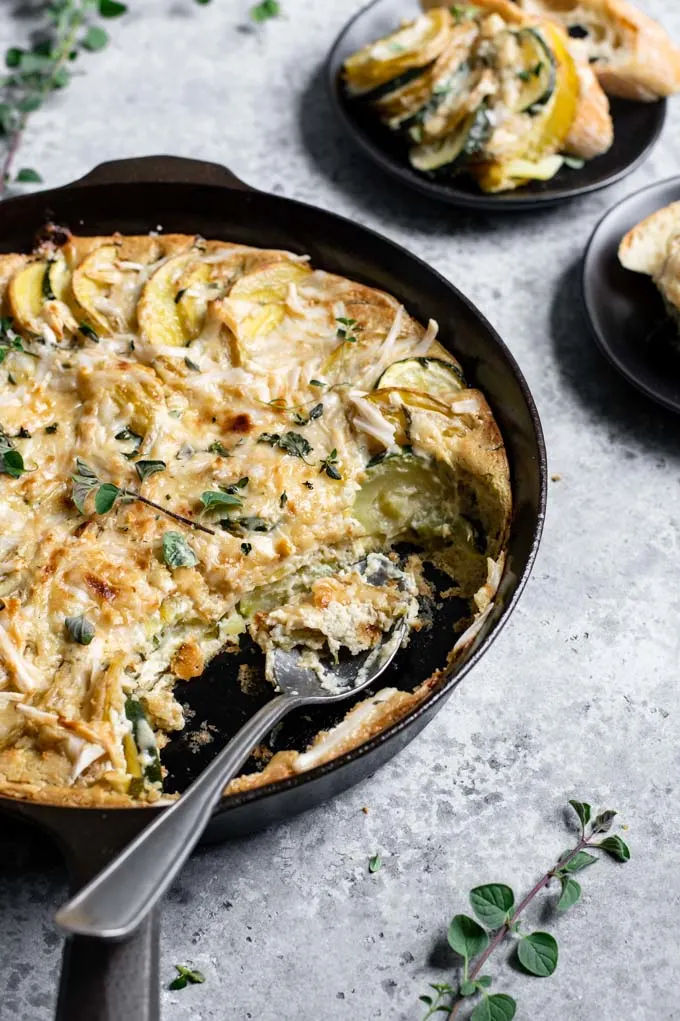 If you have a mandoline (affiliate link), then it makes quick work of the slicing. But use it with care, and it never hurts to wear some cut resistant gloves (affiliate link)!
If you don't have a mandoline then do your best to cut as consistently as possible. When the vegetables are cut the same size they cook at the same rate, meaning no undercooked or overcooked spots in your dish!
Cut the potatoes super thinly (~1/16-inch), and the zucchini about double (~1/8-inch) the size of the potatoes.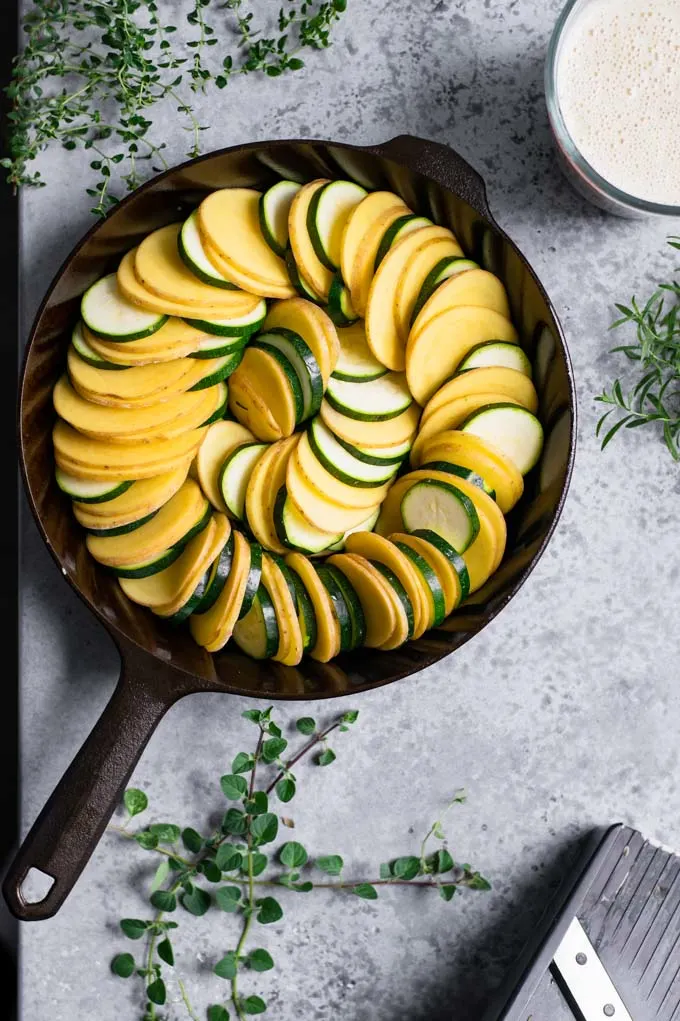 Arrange the vegetables in a shallow casserole dish or a large cast iron skillet.
You can divide it between multiple casserole dishes if you prefer, or if you end up with extra vegetables.
Layer the zucchini and potato slices in a pattern of your choosing, I like to do 2 slices of each, or if the zucchini is wider than 1 slice of zucchini per 2 slices of potato. It doesn't matter too much though!
Tightly pack the vegetables so that they fan at an angle. and work from the outer circle to the inner circles until you've filled every bit of the pan.
If you prefer, you can always leave more room between the slices so that they lay flatter, and then you can stack a second or possibly even third layer of potatoes and zucchini on top. This is a bit less artful looking, but it comes out tasting the same!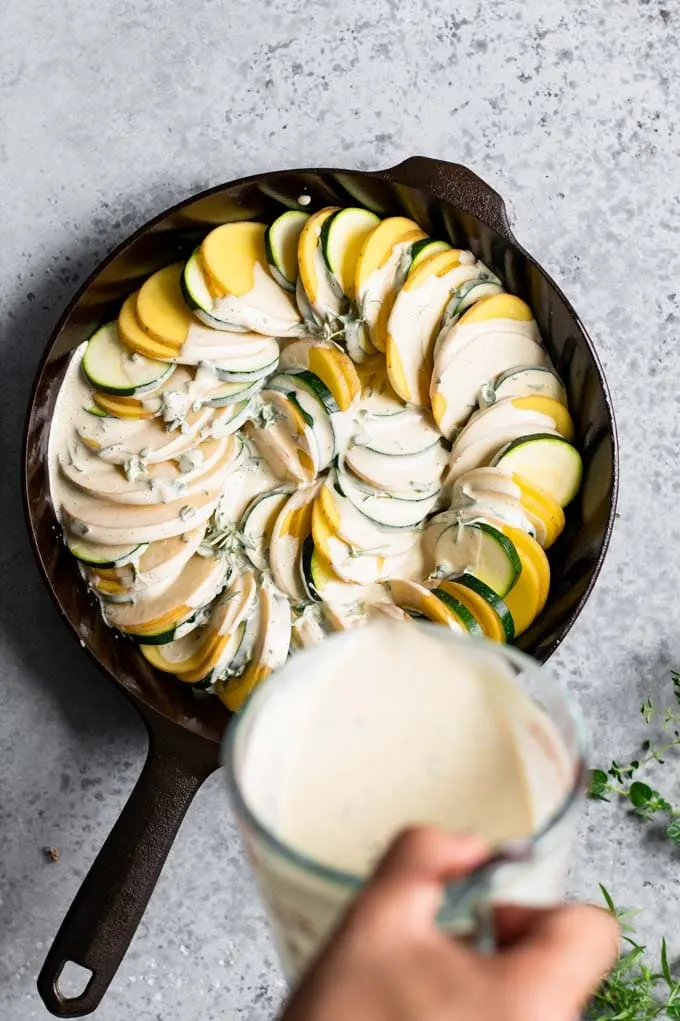 Make the cream sauce:
Cashew cream is my cream of choice for this casserole. It's rich and mild in flavor, and complements the vegetables wonderfully.
It's easy enough to make, particularly if you have a high powered blender such as a Vitamix or Blendtec. If so, your cashew cream will be ready in under 5 minutes!
If not, you need to plan ahead a little and soak you cashews in water to soften them before blending. There are many ways to do this, but I'll give you two options: cover the cashews in cold water and let soak for ~2 hours, or cover in boiling hot water and let soak for ~30 minutes. No matter the method drain the cashews at the end.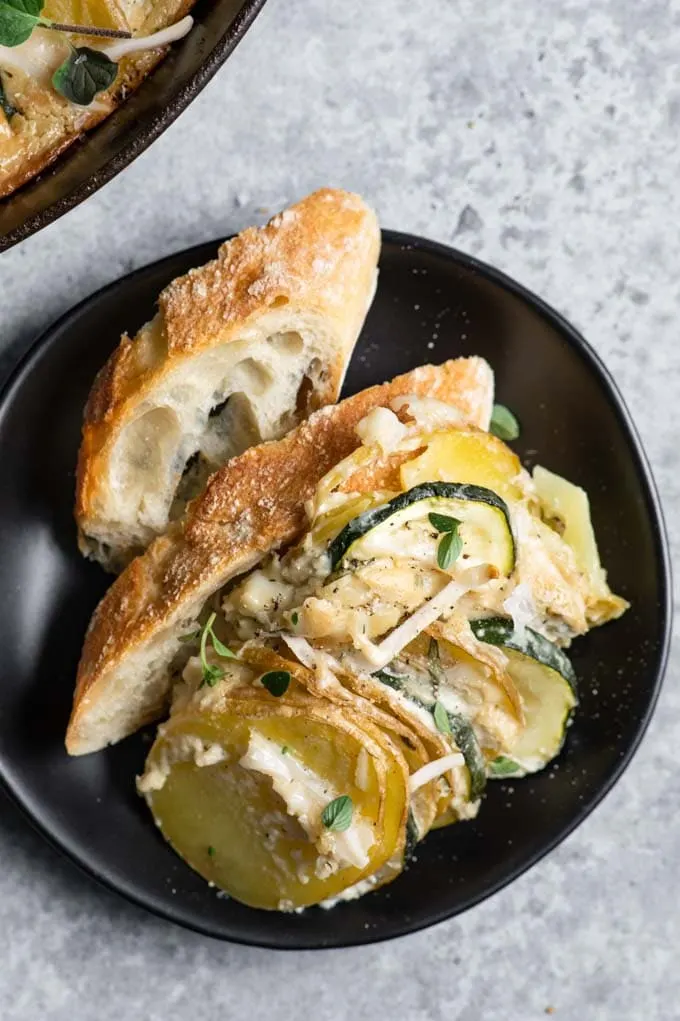 Blend the cashews with a 1:1 ratio with water (fresh water, don't use the soaking water), and some nutritional yeast for a bit of umami cheesiness, garlic, salt and pepper.
Once blended, stir in some chopped herbs. This gratin is French inspired so tarragon is my herb of choice! It adds a lovely mild licorice-like flavor to the dish, and there's really no substitute for it.
To make this almost an herbs de provence blend, I also add a bit of fresh thyme and fresh oregano to the dish. I do happen to grow all of these in my garden which makes it easy, but if you only want to buy one fresh herb, make it the tarragon. The thyme and oregano can be substituted for dried if needed.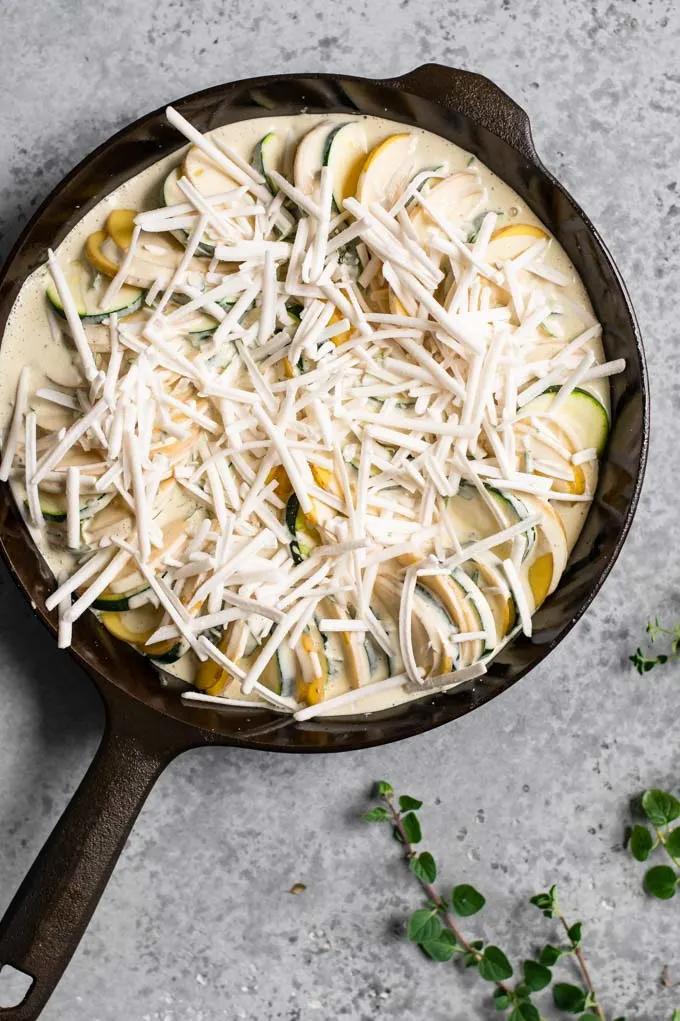 Bake the gratin:
Pour the cream sauce over the potato and zucchini.
This will more or less cover the veggies, but it doesn't need to. If there's a bit of a higher veggie to cream sauce ratio, or a bit of a lower one, it'll still taste amazing! This potato and zucchini casserole is highly adaptable and not overly fussy.
Sprinkle on some vegan mozzarella to cover the top, then cover the dish with aluminum foil or an oven safe lid and bake. At the end take off the cover and let bake for a bit more to brown the top!
Serve the gratin warm from the oven. It's delicious alongside crusty bread, would go great with pasta, or is the perfect accompaniment to soup! We enjoyed ours with some summery tomato soup, but my roasted carrot soup would be excellent as well.
Leftovers can be warmed in the microwave or the oven.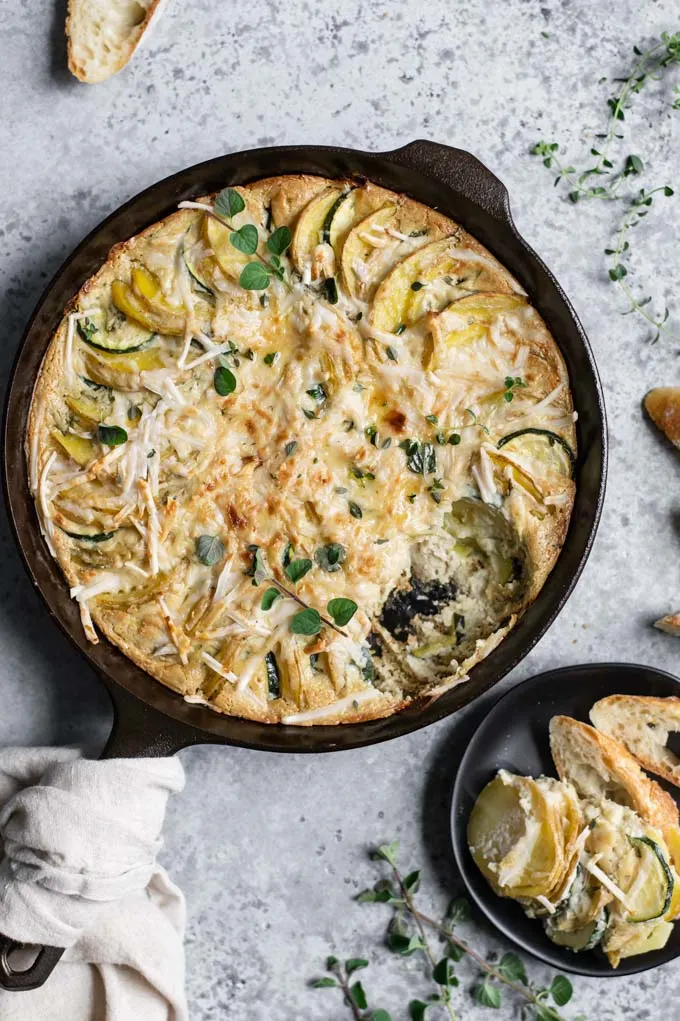 ---
If you make this potato and zucchini gratin, leave a comment below and rate the recipe on the recipe card. And please share your photos with me on Instagram, tag @thecuriouschickpea and #thecuriouschickpea. I love seeing your recreations!
---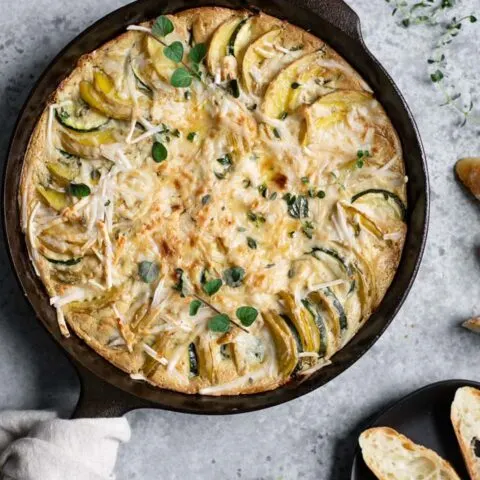 Vegan Potato and Zucchini Gratin
This French inspired potato and zucchini bake is the perfect side dish or light meal. Enjoy it with some crusty bread, alongside a soup, or even as a light meal. Vegan and gluten free recipe.
Ingredients
1 1/2 lbs yukon gold potatoes (3-4), cut into thin 1/16-inch slices
1 lb zucchini or summer squash (3-5), cut into 1/8-inch slices
1 1/2 cups cashews*
1 1/2 cups water
2-4 cloves garlic
2 tbsp nutritional yeast
1 tsp salt
freshly ground black pepper to taste
1 tbsp fresh tarragon, minced
1 tsp fresh thyme (or 1/2 tsp dried)
1 tsp fresh oregano (or 1/2 tsp dried)
1 cup vegan mozzarella
Instructions
Preheat the oven to 425 ºF.
Lightly oil a large cast iron skillet or shallow casserole dish (~10 to 12-inches) with olive oil. Arrange the sliced potatoes and zucchini in concentric circles.
In a blender combine the cashews (see note if not using high powered blender), water, garlic, nutritional yeast, salt, and pepper to taste. Blend until smooth and creamy, pausing to scrape down sides as necessary.
Stir in the herbs to the cream sauce then pour over the vegetables. Sprinkle the mozzarella over the top, then cover the baking dish.
Bake covered for 30-35 minutes or until the potatoes are tender when pierced with a knife. Remove the cover and bake an additional 10 minutes to brown the top. If needed move the dish to under the broiler at the end for additional browning. Garnish with fresh herbs and serve warm.
Notes
*If not using a high-powered blender then soak the cashews to soften them. Either soak in cold water for 2 hours or boiling hot water for 30 minutes, then drain before using.
Recommended Products
As an Amazon Associate and member of other affiliate programs, I earn from qualifying purchases.
Nutrition Information:
Yield:

6
Serving Size:

1
Amount Per Serving:
Calories:

386
Total Fat:

19g
Sodium:

755mg
Carbohydrates:

46g
Fiber:

6g
Sugar:

10g
Protein:

13g
Nutrition is calculated automatically so should be used as an estimate.