This easy homemade vegan chili is the best vegan chili! This protein packed recipe is pantry friendly and quick to make, and also gluten free!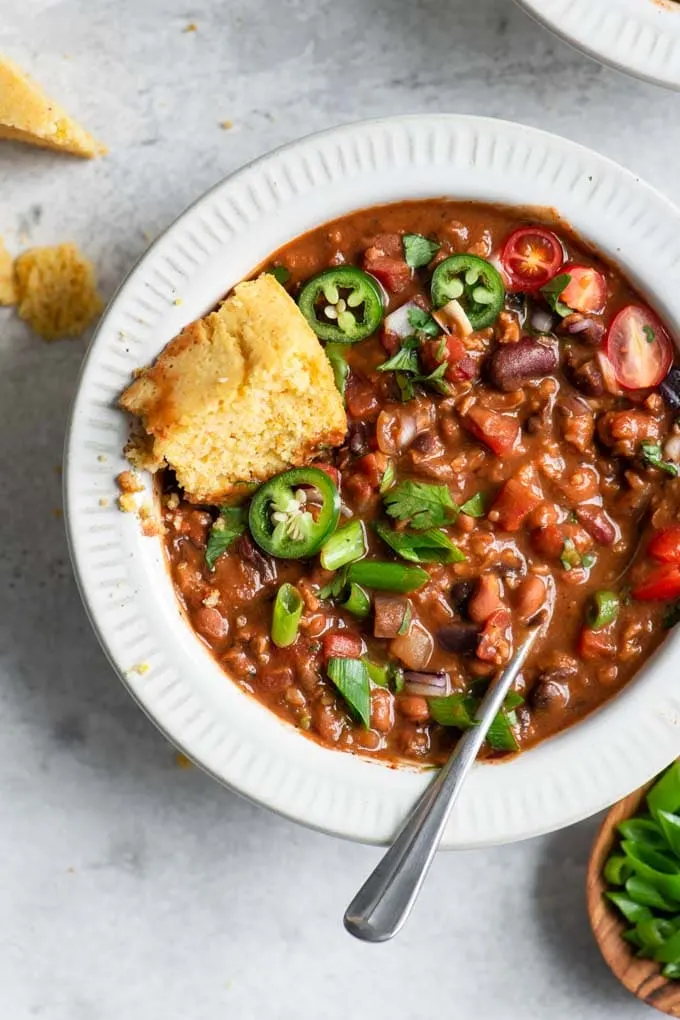 If there exists a dish that's equally perfect for feeding a crowd and enjoying as a cozy meal for one or two–it's chili. Hearty, nourishing, flavorful, and belly-warming.
My meaty vegan chili is quite an easy meal to make. It's pantry friendly, and the only perishable ingredients you need are onion and garlic.
It's extra delicious when made a day in advance, as it gives a chance for the flavors to meld, but it's also to die for the day it's made!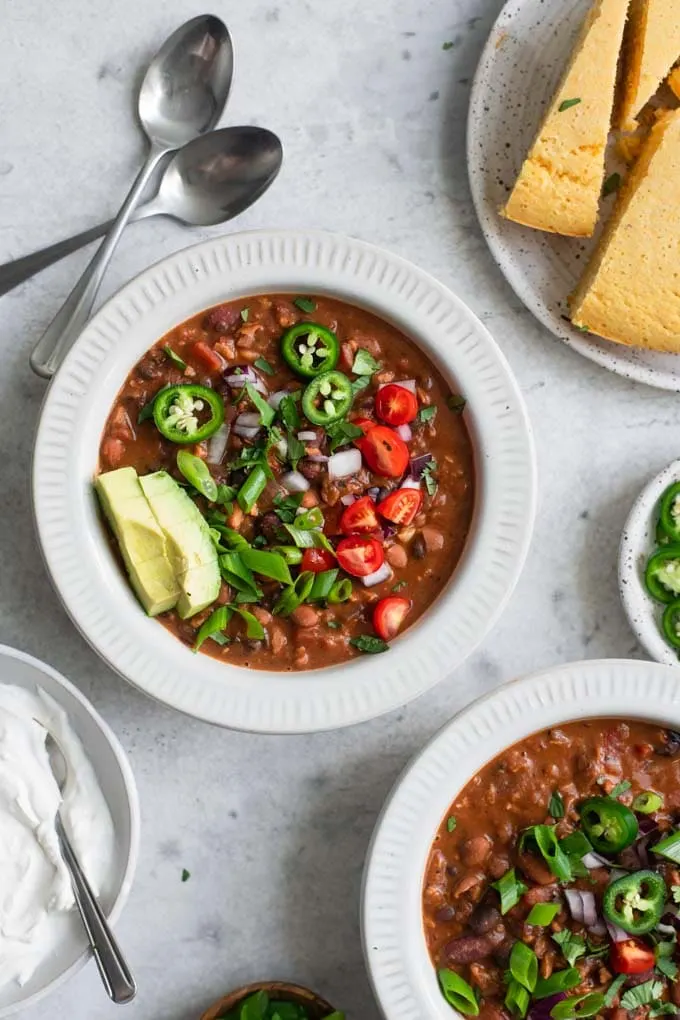 You don't need to get fancy when making chili. Keep it classic, just make it vegan! ?
Oh yeah, and you'll definitely want to make some of my vegan cornbread to go alongside it!
If not meat, what goes into a vegan chili?
I mean, ok, everyone knows about bean chili already right?
In my chili I like to have a mix of three different kinds of beans for their complementary textures and flavors. Beans make for a deliciously earthy stew, and I love the combo of buttery kidney beans, creamy pinto beans, and toothsome black beans.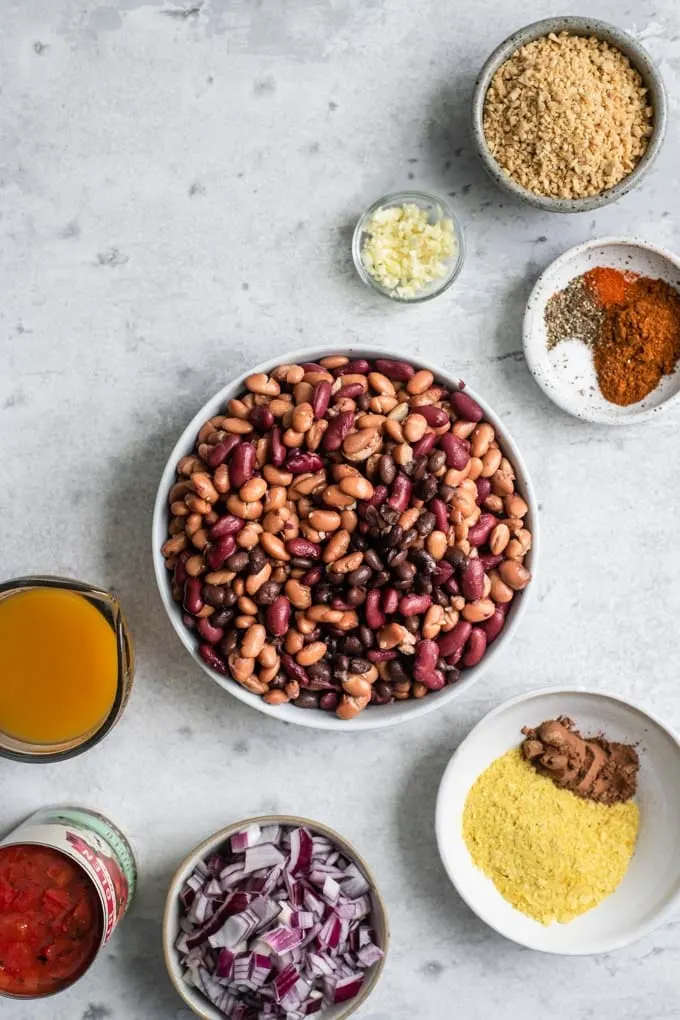 Along with the three kinds of beans, I like to add TVP to my chili recipe. TVP, or texturized vegetable protein, is a dehydrated and de-fatted soy or pea-based protein that hydrates up to deliciously chewy and mild tasting morsels.
Its adds a great chewiness and ground meat sort of texture to chili. While it's not essential for the flavor of this recipe and can be left out* it does make for a better textured and just overall better chili in my opinion.
*If leaving out the tvp, you'll want to reduce the broth by a cup or so unless you want a thinner chili.
TVP is also gluten free and low in fat if those are things you care about! Substitutes are any vegan ground beef product, like Yves ground round or Gardein beefless crumbles for example. If using those you may want to add them after the garlic and fry for a few minutes to brown before adding the beans and liquid.
What else goes into chili?
When making chili, start with the aromatics. Fry onion until softened, the sweetness of red onion complements the beans really nicely.
Next up comes the garlic. You don't want to skimp on the garlic! It adds so much depth to the stew.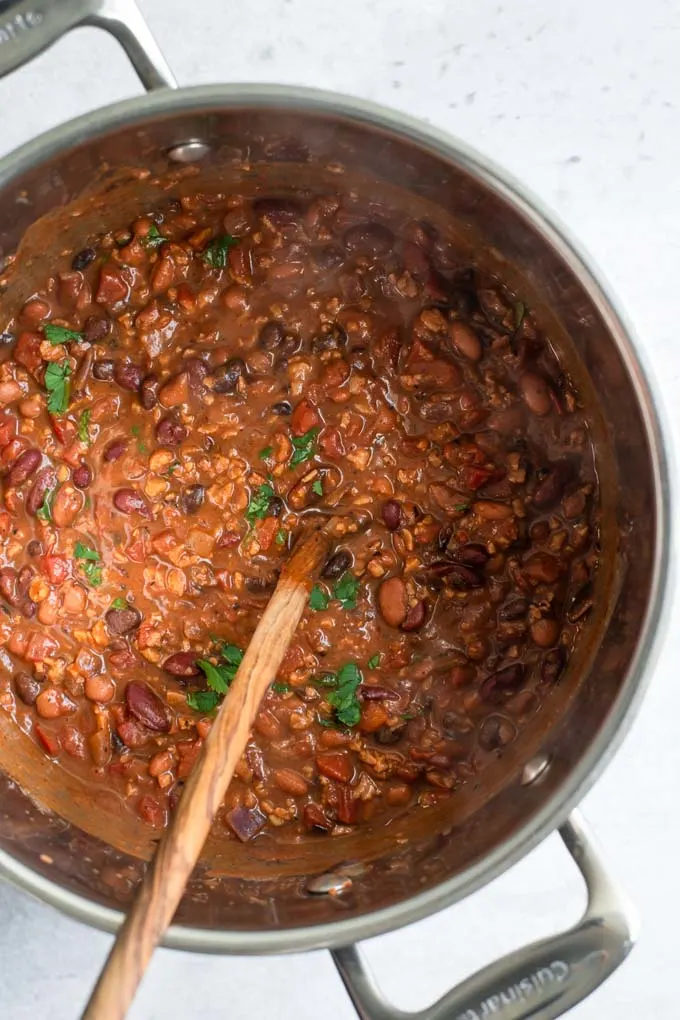 Chili should be quite tomatoey in flavor. I like to use canned tomatoes, they're easy and consistently good. My preference is to use fire roasted tomatoes in chili for that bit of smokiness they add. Tomato & green chili is also great!
For the spices we keep it simple: chili powder and cayenne. Chili powder is a mild spice blend that is mainly ground chilies but also has cumin and other spices mixed in.
You can also use ancho chili powder, but then you'll want to add a bit of cumin and a pinch of oregano to the dish to round out the flavors.
For the cayenne, you can use more or less to make a mild to spicy chili. You can also amp up the heat with some fresh jalapeños or serranos–add these with the garlic!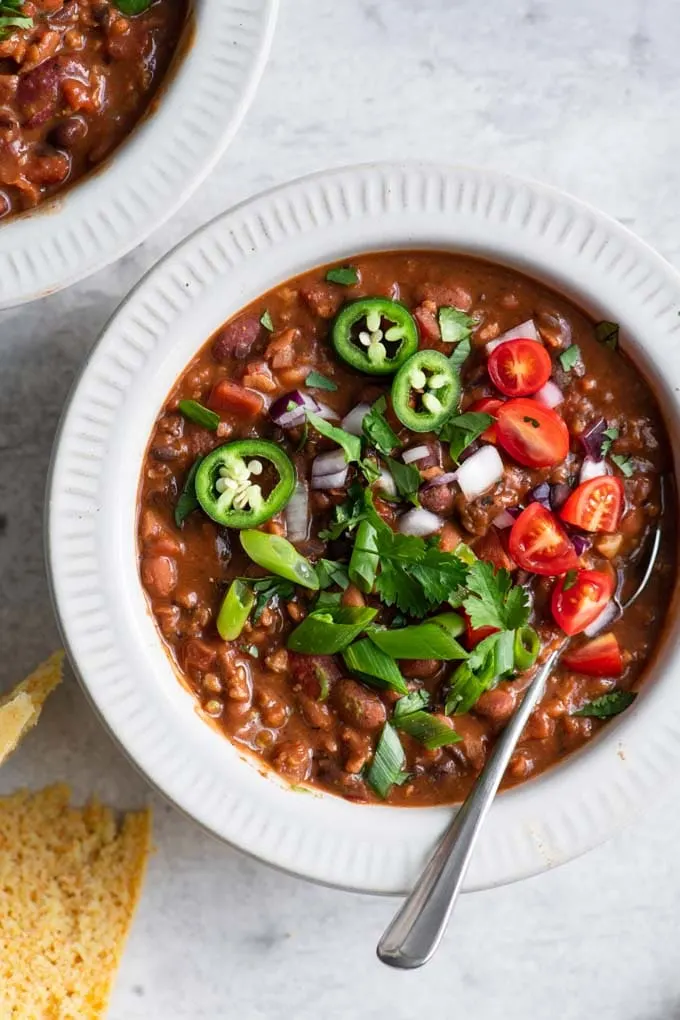 Now comes two ingredients you may not expect in a chili. The first is nutritional yeast, an umami rich deactivated yeast that has a cheesy, nutty flavor. As an added bonus it's full of vitamins and minerals!
Then we have cocoa powder. The rich chocolate notes go nicely with the earthy beans and add that extra oomph you didn't even realize your chili was missing!
How to serve chili:
Chili is all about the toppings is it not? Well no, definitely not when it tastes that good on it's own!
But it's certainly a lot of fun to set out a toppings bar and load up each bowl with plenty of add ons!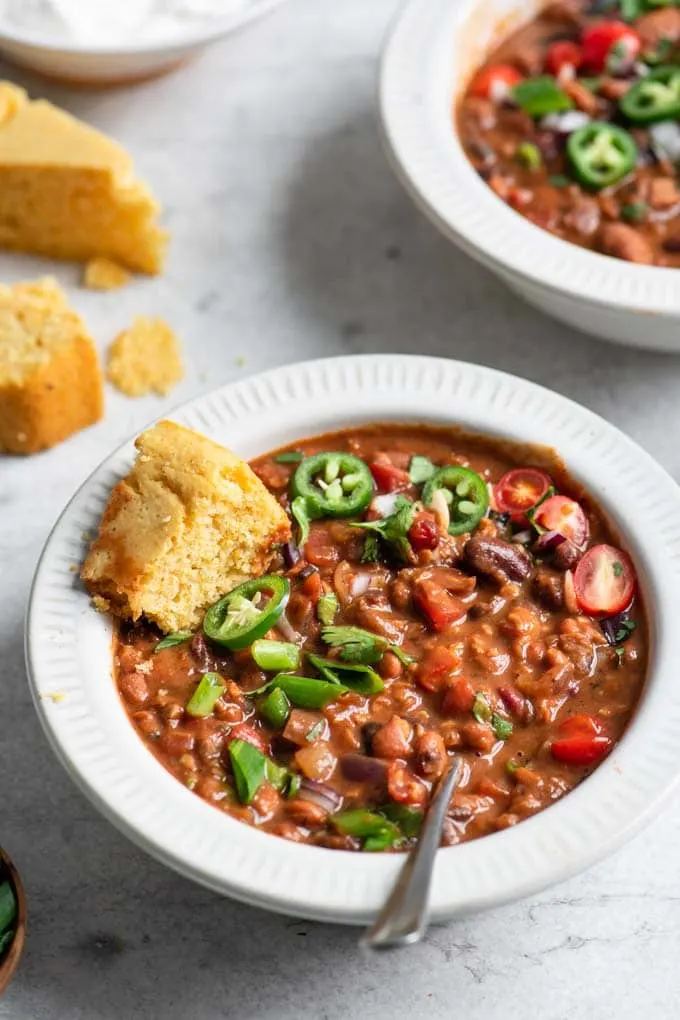 Some of our favorite toppings include:
sliced or minced jalapeño
scallion greens and/or minced red onion–fresh or pickled!
diced cherry tomatoes
cilantro
avocado
vegan sour cream
vegan shredded cheddar cheese
Other toppings could include:
crushed tortilla chips or tortilla strips (particularly if you're not having cornbread on the side),
pico de gallo–it could replace the cherry tomatoes, jalapeño, cilantro, and onion
lime wedges
chives
And that's it–all you need to make some great vegan chili! Homemade *is* better, particularly when its my meaty ultra flavorful recipe!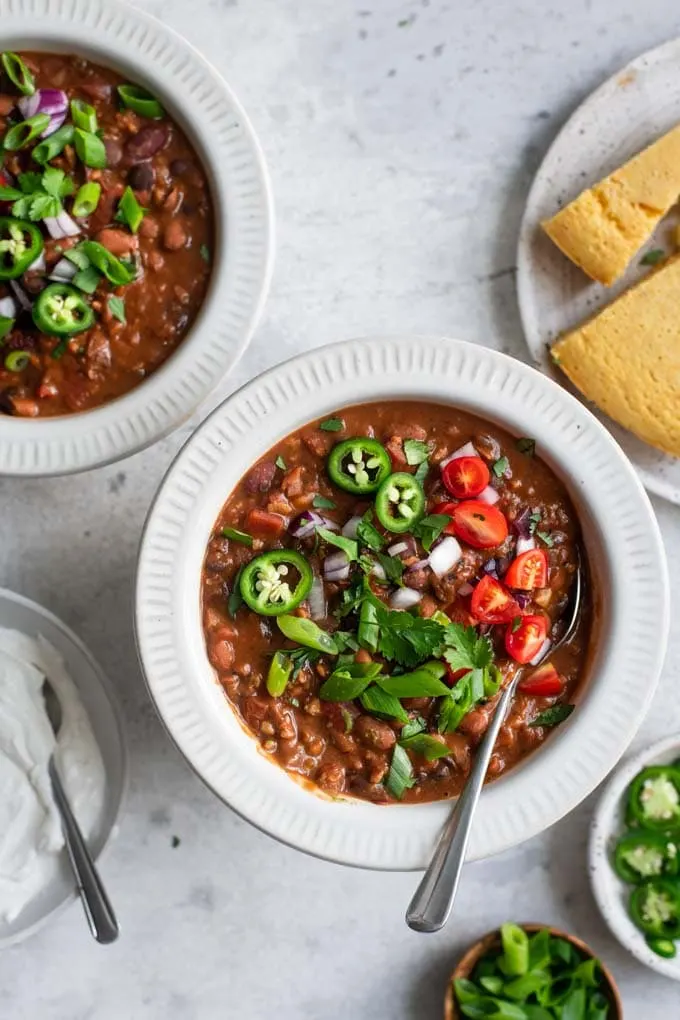 If you make this easy vegan chili, leave a comment below and rate the recipe on the recipe card. And please share your photos with me on Instagram, tag @thecuriouschickpea and #thecuriouschickpea. I love seeing your recreations!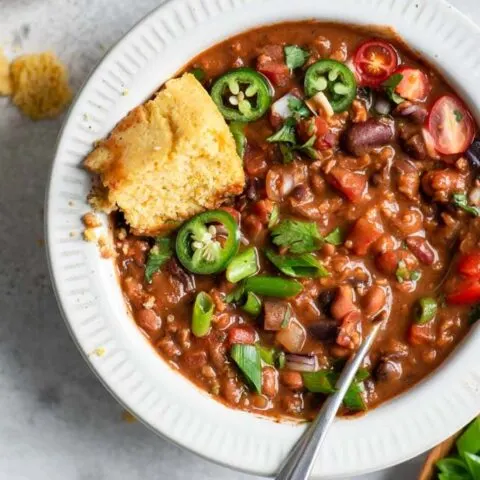 Easy Vegan Chili
This meat-free meaty chili is full of beans and TVP for a hearty stew. Enjoy it with cornbread for a perfect vegan meal!
Ingredients
1 tbsp oil
1 red onion, finely diced
3-4 cloves garlic
2 15oz cans pinto beans, drained and rinsed (3 1/2 cups cooked)
1 15oz can black beans, drained and rinsed (1 3/4 cups cooked)
1 15oz can kidney beans, drained and rinsed (1 3/4 cups cooked)
1 cup TVP
2 15oz cans diced fire roasted tomatoes
3 cups vegetable broth
1/4 cup nutritional yeast
1 tbsp cocoa powder
1 tbsp chili powder
1/8-1 tsp cayenne pepper, to taste
1 1/2 tsp salt, or to taste
Optional toppings
Jalapeños
Scallions
Red onion
Cherry tomatoes
Cilantro
Avocado
Vegan sour cream
Vegan shredded cheddar cheese
Instructions
Heat oil in a large pot over medium heat. Add the onion and a pinch of salt and sauté until soft, about 5-7 minutes. Add the garlic and let cook for about 30 seconds.
Add the pinto, black, and kidney beans along with the dehydrated TVP, canned tomatoes, broth, nutritional yeast, cocoa powder, chili powder, cayenne pepper and a teaspoon of salt.
Turn the heat up and bring to a simmer, lower the heat and let simmer covered for about 15 minutes, stirring occasionally. Taste and add salt to taste.
Serve hot with cornbread (optional) and toppings of your choice.
Recommended Products
As an Amazon Associate and member of other affiliate programs, I earn from qualifying purchases.
Nutrition Information:
Yield:

6
Serving Size:

1
Amount Per Serving:
Calories:

451
Total Fat:

5g
Saturated Fat:

1g
Unsaturated Fat:

4g
Cholesterol:

0mg
Sodium:

1126mg
Carbohydrates:

74g
Fiber:

27g
Sugar:

8g
Protein:

33g
Nutrition is calculated automatically so should be used as an estimate.