These homemade scallion pancakes are easy to make and so addictively good! They're perfectly flaky and tender, with just the right amount of chewiness! Full of scallions and amazing when dipped into a soy dipping sauce!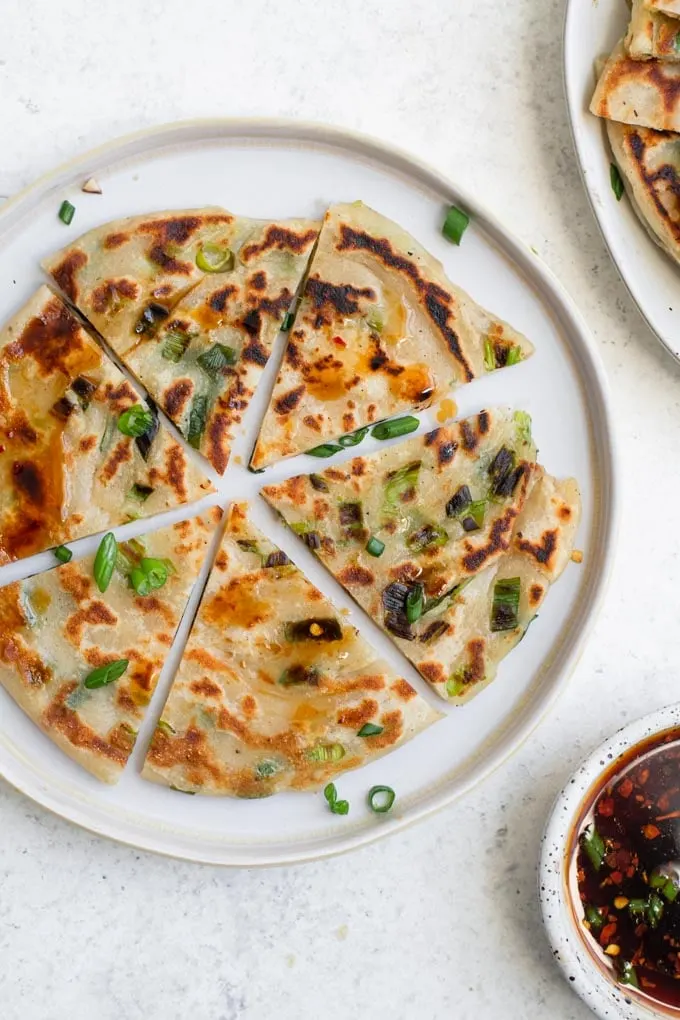 On those lucky days you're out to eat and you spy scallion pancakes on the menu, it's hard to not want to order them–and let's be real, make your whole meal out of them!
Imagine how you're going to feel when you realize just how simple it is to make them yourself at home! Will your diet become 100% scallion pancake?
I don't know. But you should have the opportunity to find out, don't you think?
To the uninitiated, welcome, scallion pancakes are these irresistible flaky flat breads stuffed full of–you guessed it–scallions!
They're full of beautiful layers thanks to the unique shaping method and cooked on a skillet for a crisp exterior and chewy interior.
They can be sliced and served with a dipping sauce, or plated whole for tearing into as you like. There is something to be said for just how satisfying it is to tear apart a scallion pancake and eat it with your hands!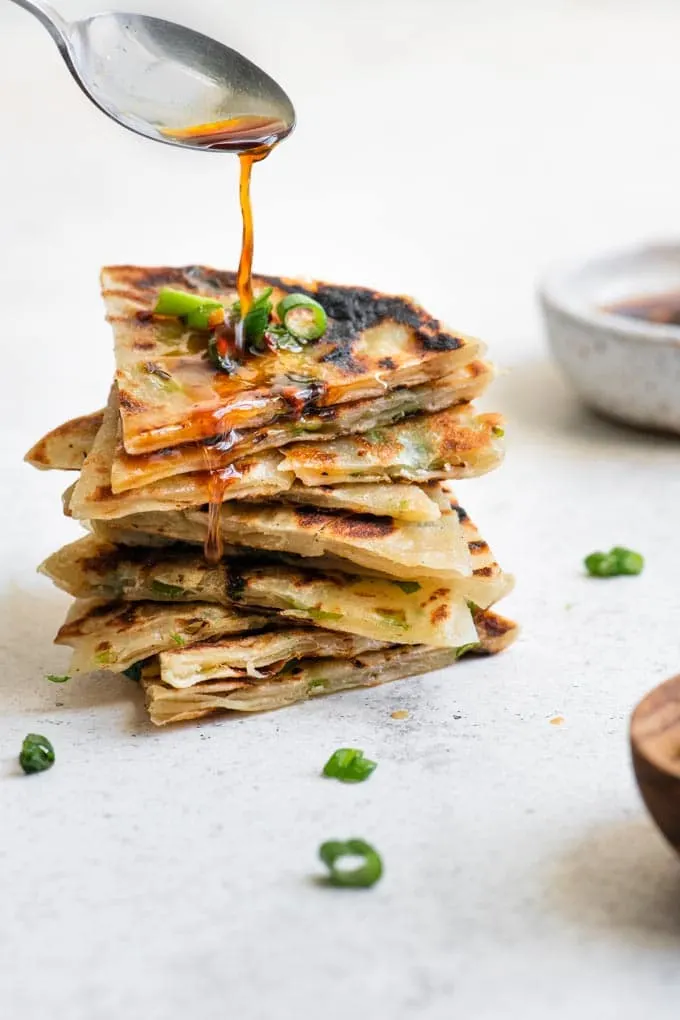 The dough:
I know the term pancake might make it seem like you'd be cooking up a batter, but actually to make scallion pancakes you use a dough.
Scallion pancakes are quite similar to the Indian paratha (a stuffed or unstuffed flaky flatbread), but of course with a different filling.
There are lots of ways to make the dough, you can use hot water or cold water, make it softer or less sticky, and use it after a short room temperature rest or an overnight in the fridge.
I'm not going to pretend like there is one correct way to make dough, but my recipe should keep it easy for beginners to work with (i.e. not too sticky) and the results are a fabulously flaky, chewy pancake!
It's a 3 ingredient dough: flour, salt, and water.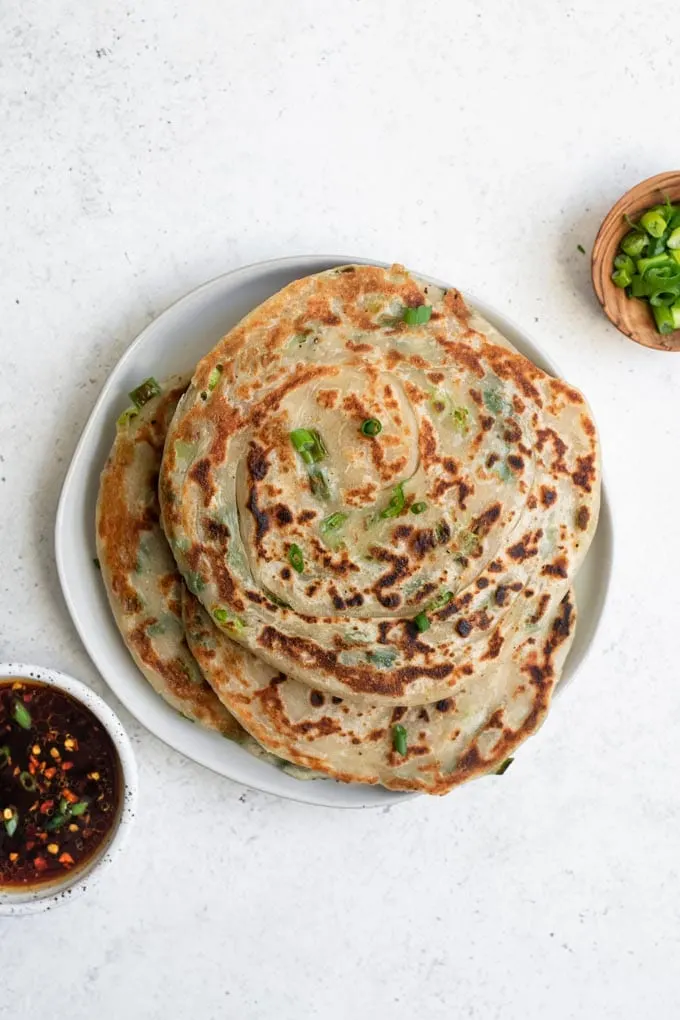 For the flour you want to use all purpose flour. Apparently Chinese all purpose flour is lower in gluten than your average American all purpose flour, but I'm a big believer in using what you have when possible so I went ahead with all purpose for this recipe.
A solid rest-time will help the gluten relax and help you shape your dough!
For the water I use boiling hot water. This hydrates the flour quickly, and makes for a less sticky dough that is easier to work with.
Because the water is boiling hot, I recommend kneading the dough with a stand mixer or using a food processor to make your dough.
If kneading by hand, you'll just need to let the dough cool enough so you can knead it without burning yourself.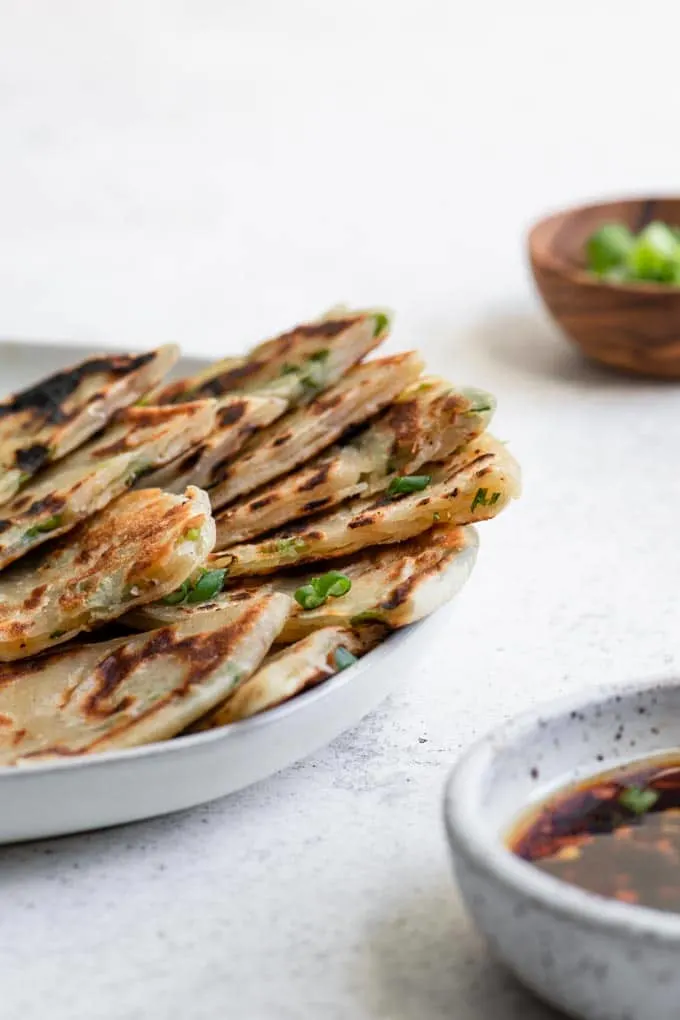 The dough gets kneaded until supple, and if should be tacky but not a sticky mess. Then it's time for the dough to rest, in which time the gluten will relax and make it rollable for pancake shaping.
You have two options for the rest: coat a bowl with oil, and roll the dough ball in the bowl to coat the dough with oil, then place a damp towel or plastic wrap (or reusable wraps!) overtop and let sit for a minimum of 30 minutes, but 1-2 hours is better.
The second option is to coat the dough in oil, then wrap in plastic wrap or place in a ziplock bag or well sealed container (the idea is you don't want air touching the dough or it will get dried out in parts) and place in the fridge to rest overnight, or for a couple of days.
The filling:
Having dough and scallions is not enough to make a good scallion pancake. Traditional recipes use a flour and fat mixture to brush the rolled dough before topping with scallions and rolling up.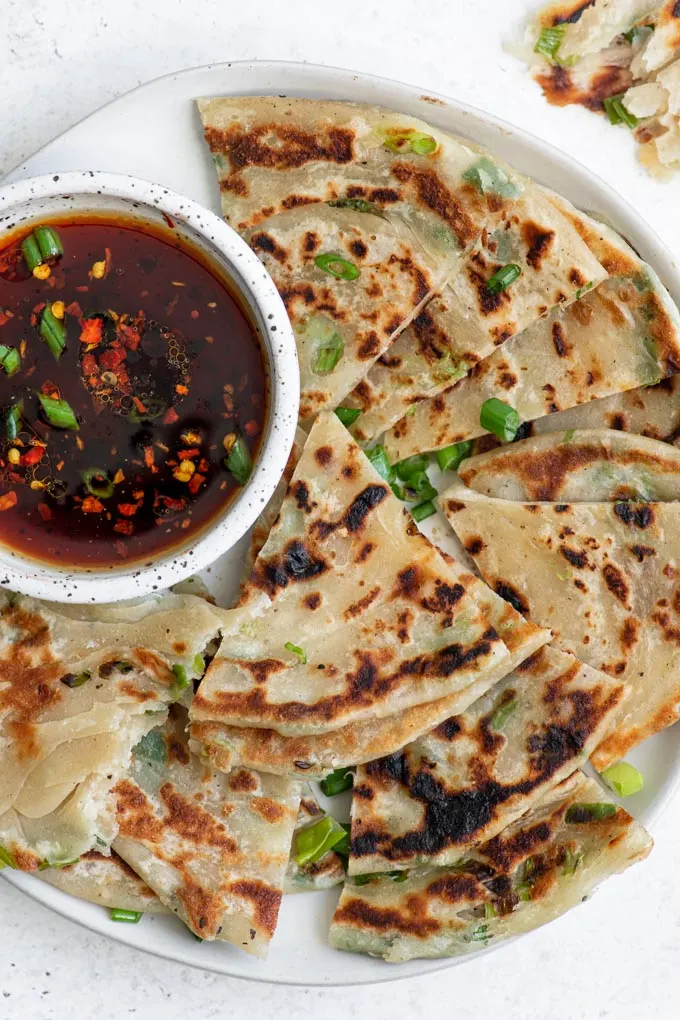 The flour and fat helps create those extra flakey pockets when the pancakes are cooked.
Now traditional recipes will often use animal fat, so if you're vegan like me, be wary of that! You can also use vegetable shortening, but I went ahead with a vegetable oil.
To make this oil paste, mix hot vegetable oil (use canola, safflower, sunflower, or another neutral flavored oil) with flour. The oil can be heated over the stove until hot, or very carefully in short 10-15 second bursts in the microwave.
I like to add some seasonings to my oil-flour paste: black pepper, red pepper flakes, and salt. If you want to keep things mild, skip the crushed red pepper.
Shaping the scallion pancakes:
Here's what it comes down to: shaping the dough!
This recipe makes 6 smaller sized scallion pancakes, but you could make bigger ones if you wanted. After dividing the dough, keep the unused balls under a damp towel or covered so that they stay nice and moist.
Roll out the dough into an oblong rectangle shape. It should be quite thin, and about 10-12 inches long by 4-5 inches wide, but no need to measure, just roll it out until the dough is thin into a rectangle shape.
The size of your rectangles may vary if you didn't weigh each ball while dividing the dough for exacting precision. Don't worry about it, neither did I! ?
To make rolling easier I like to roll on a silicon mat. It's the perfect balance of sticky and slippery. If the dough sticks, lightly oil the surface–you don't want to add extra flour at this point!
Once rolled out, brush the flour-oil mixture over the dough. You'll want to give a good stir to the mixture before brushing each time, it settles quickly.
Sprinkle with thinly sliced scallions, then roll the long edge away from you, trying to press as much air out as you roll without losing your scallions. You'll finish with a long thin rope.
Arrange the rope so the seam is at the bottom, then starting at one end, roll the dough into a spiral shape–like a snail's shell.
Once you've rolled all the way across, take the end and tuck it underneath the pancake.
Now press down on the tight spiral with your hands to flatten it into a disk. This primes the pancake for rolling and presses out some air without bursting the pancake.
Roll the pancake into a circle, then set aside on a piece of parchment paper. You'll likely find some resistance as you roll, this is normal.
The gluten just needs a chance to relax again before it can roll fully. Just come back to the pancake after 5-10 minutes to finish rolling out. Your final pancakes will be about 6-8″ in diameter [a range because life happens and we don't need to divide this dough perfectly].
Repeat with the remaining pieces of dough. You'll want to store each shaped scallion pancake between pieces of parchment paper (they can be stacked).
It may happen that has you roll some scallions escape from the pancake. It's okay.
Cooking the scallion pancakes:
Once you've shaped all of your pancakes it's time to cook them!
Cooking your scallion pancakes is as easy as heating a skillet over medium, adding a layer of oil to the pan (hey I never said these were a low fat treat), and frying the pancakes for a few minutes on each side until golden.
You can flip the pancakes several times while cooking to prevent burning–but each side should add up to about 3-5 minutes. If they start to brown too quickly, turn down the heat!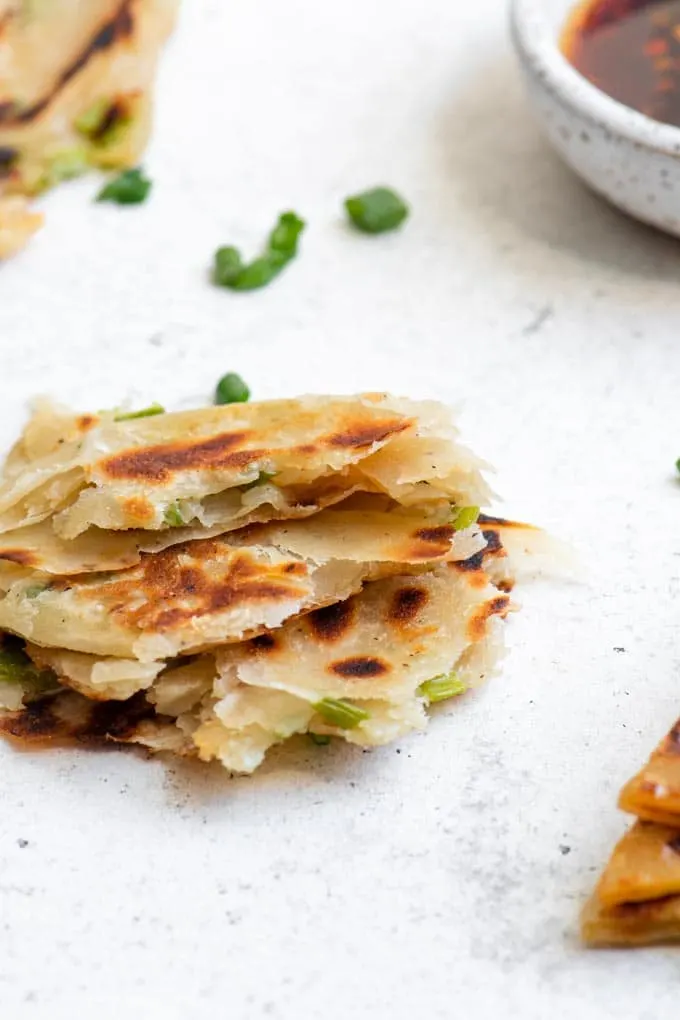 Put the cooked pancakes on a paper towel lined plate or a cooling rack to let rest for a few minutes before enjoying!
You can slice the pancake into wedges, or while the pancakes are finishing cooking squeeze the sides together slightly (use a couple of spatulas, tongs, or some chopsticks to do so) to release the layers. Then serve these pancakes whole on the plate, they are primed for tearing!
To serve:
A well made scallion pancake is delicious on its own, but gets even better when dipped into a salty soy sauce dip.
A bit of soy sauce (I like to use low sodium tamari), an approximately equal bit of rice vinegar, a drizzle of toasted sesame oil -or- chili oil, and a few scallion greens to finish it off.
I never measure my sauce exactly, though I'll regularly mix it together in a liquid measuring cup to get the approximate proportions correct.
The best thing to do is just to taste it and make adjustments until you hit those perfect salty sour notes!
A good starting place: 2 tbsp low sodium tamari, 2 tbsp rice vinegar, 1 tsp chili oil or toasted sesame oil. Add sesame seeds and/or chili flakes and/or scallions to make it your own!
Making in advance and storing the scallion pancakes:
Scallion pancakes can be prepared in advance, take the rolled and uncooked pancakes, make sure both sides are sandwiched between sheets of parchment paper or wrapped in plastic.
Then place them into a large freezer safe bag. They can be stored uncooked for about a month.
To cook them, take them out and let defrost for a few minutes, then cook them the same way, but they may take another minute or two to cook fully.
If you make these homemade scallion pancakes, leave a comment below and rate the recipe on the recipe card. And please share your photos with me on Instagram, tag @thecuriouschickpea and #thecuriouschickpea. I love seeing your recreations!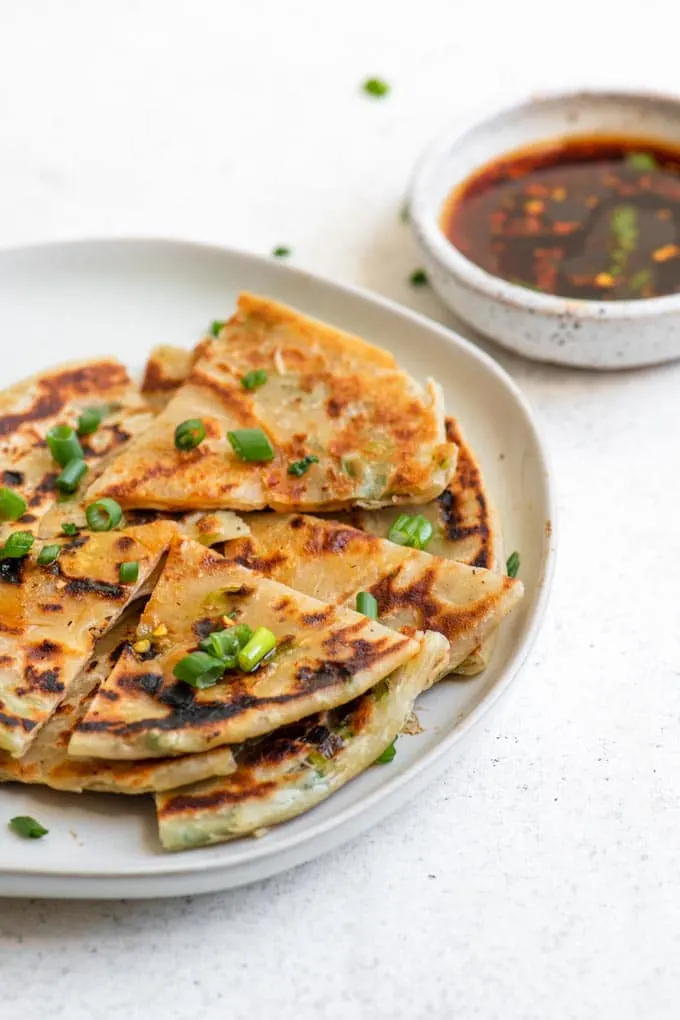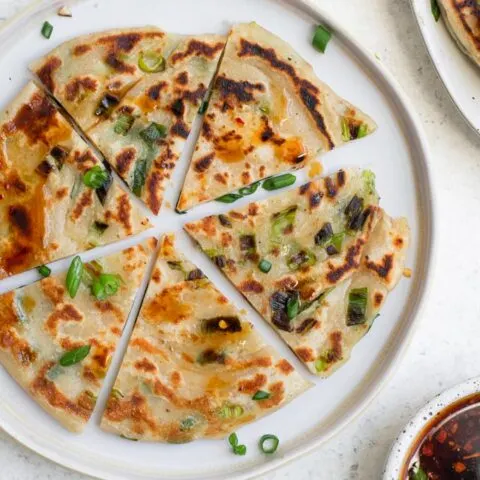 Homemade Scallion Pancakes
Total Time:
1 hour
35 minutes
These homemade scallion pancakes are an irresistible appetizer or snack! They're a flaky scallion stuffed flatbread, tender with the perfect amount of chew. They're so easy to make at home you'll wonder why you haven't before!
Ingredients
Dough
2 1/4 - 2 1/2 cups (310-345g) all purpose flour
1 cup (235g) boiling water
1 tsp (5g) salt
Filling
2 tbsp all purpose flour
1 tsp black pepper
1/4 tsp salt
1/2 tsp red pepper flakes (optional)
3 tbsp hot vegetable oil
1 bunch scallions, dark and light green parts thinly sliced
Oil, to cook
Instructions
Mix the flour and salt together for the dough, pour in the boiling hot water and mix together with chopsticks or a wooden spoon to make a dough. Then, knead the dough using a stand mixer (if kneading by hand let cool enough to handle without burning yourself) for 5-8 minutes to make a supple and slightly tacky dough.
Oil a mixing bowl and place the dough ball in the bowl, turning to coat the dough with oil. Cover with a damp towel or plastic wrap and let sit at room temperature for at least 30 minutes but ideally 1-2 hours. Alternatively, wrap dough in plastic and place in fridge to rest overnight.
When ready to shape the pancakes, mix together the flour, salt, pepper, and red pepper flakes if using in a small dish. Carefully add the hot oil and stir together.
Lightly oil a silicon mat or a clean countertop and turn out the dough. Divide into 6 pieces, and place them back in their covered bowl or under a damp towel.
Take out one piece of dough at a time and roll until the dough is thin into large rectangle shape. Brush the dough with the flour-oil mixture and sprinkle with sliced scallions.
Roll the long edge of the dough over the scallions to make a rope, then roll the rope starting at one end to make a spiral shape. Tuck the second end of the rope under the spiral to hold it in place.
Flatten the spiral with your hand to make a disk, then roll out until the pancake is about 6-7" in diameter. Place the rolled pancake on parchment paper and top with a second piece of parchment paper. Repeat the shaping with the remaining pieces of dough. You can stack the shaped pancakes, sandwiching them between parchment paper.
To cook the pancakes: heat a skillet (two to make it go faster) or griddle over medium heat. Add a layer of oil and once hot fry the pancakes. Cook the pancakes 3-5 minutes on each side, flipping as needed to keep them from burning (turn down the heat if cooking too fast). Add more oil or use a silicon brush to push the oil back into the center as needed.
Place the cooked pancakes on a paper towel lined plate or cooling rack and let rest for a few minutes before eating!
Notes
You can store uncooked pancakes stacked between parchment paper and in a freezer safe zip lock bag for up to 1 month. Remove pancakes as you want to cook them, and let defrost for a few minutes before cooking. They may take a couple of minutes longer to cook.
You can reheat cooked pancakes on a dry skillet until toasty and warm.
Nutrition Information:
Yield:

6
Serving Size:

1
Amount Per Serving:
Calories:

319
Total Fat:

14g
Sodium:

488mg
Carbohydrates:

42g
Fiber:

2g
Protein:

6g
Nutrition information is calculated automatically and assumes 3 tablespoons of oil are used to cook the pancakes. Use as an estimate only.