Kaukswe is a delicious Burmese dish with curry and noodles and an array of toppings that make it extra special and extra delicious! It's such an easy dish to make with only a few spices needed (that you probably already have) to make it! It's a very pantry friendly recipe. The main dish is gluten free, and you can choose gluten free toppings to keep the whole recipe gluten free!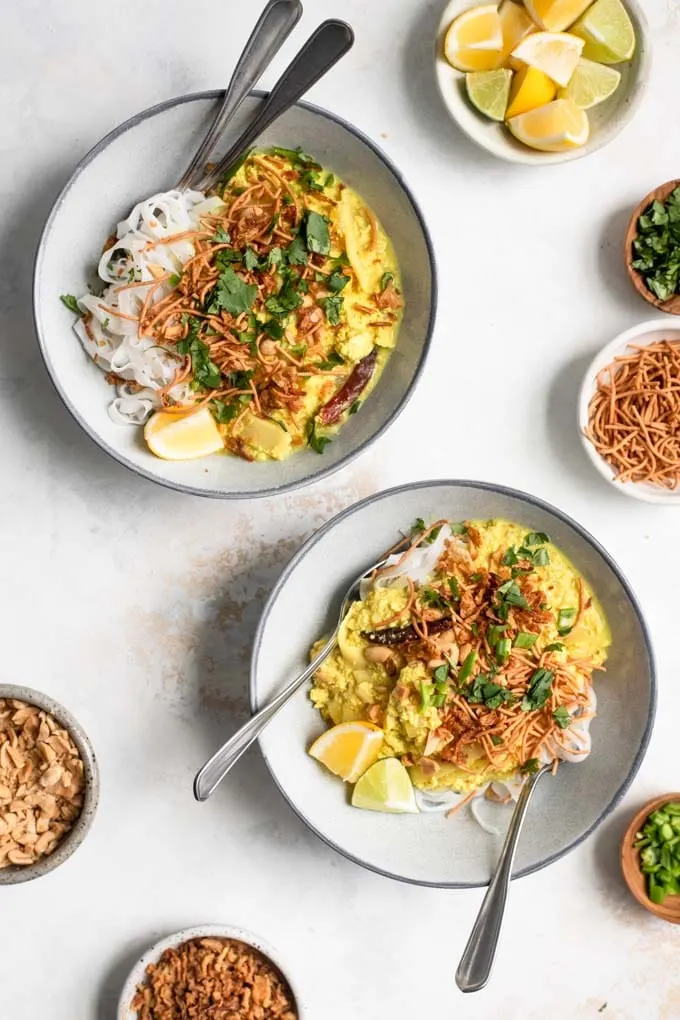 There's this dish I love ordering at a local Burmese restaurant–you guessed it–kaukswe (also spelled khao suey, khow suey, khao soi, and khow soi–you get the idea).
It's one of those dishes that has a hundred and one different versions, and some may be barely recognizable from others. Kuakswe means noodles, but the term is also used to refer to this curry style of noodle dish.
The spelling khao soi is more commonly used when talking about the Thai and Laotian versions, and khao means noodles and khao soi referring to cut noodles (often egg noodles).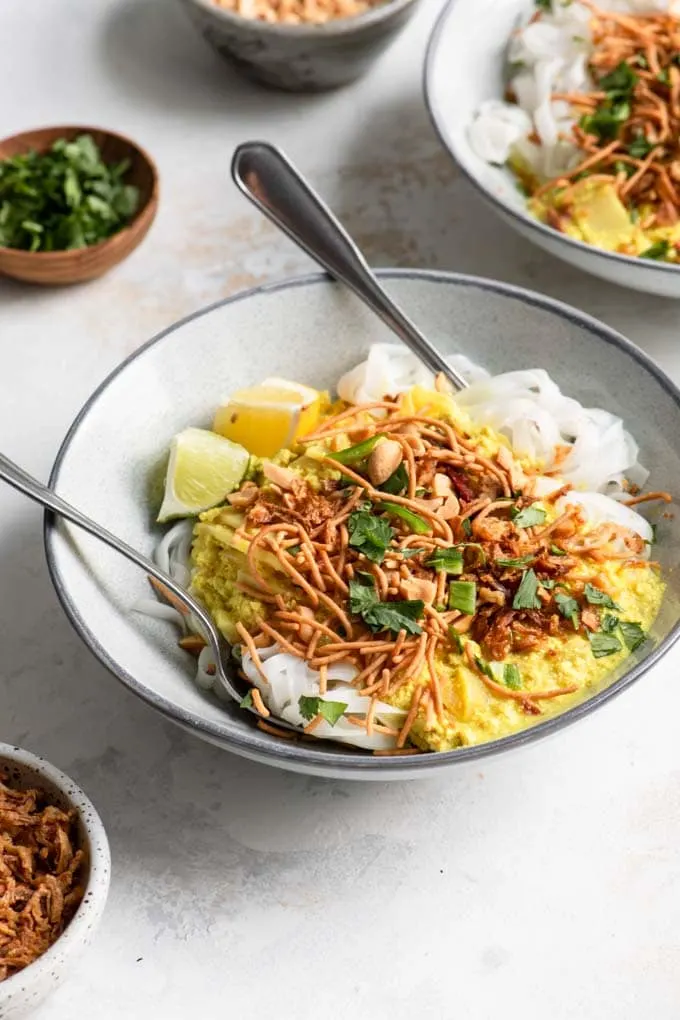 Thai and Laotian khao soi is made with Thai curry paste. But the version I've enjoyed most frequently and wanted to recreate is the Burmese version which has more Indian influences.
In Burmese kaukswe, the curry comes from Indian 'curry' spices and not Thai.
My local Burmese (/Myanmar, they refer to themselves as Burmese) serves their dish with rice noodles in a thick curry broth with tofu, bean sprouts, romaine hearts, and crushed peanuts.
When served kaukswe by Indian people (it's a popular dish in India too, and is my and my husband's other main experience with this Burmese dish) it's always had as a build your own bowl and that's how I'm presenting the recipe here!
You start with a yellow coconut milk curry to which you add noodles and toppings including: crispy onions, crispy noodles, cilantro, peppers, and lime.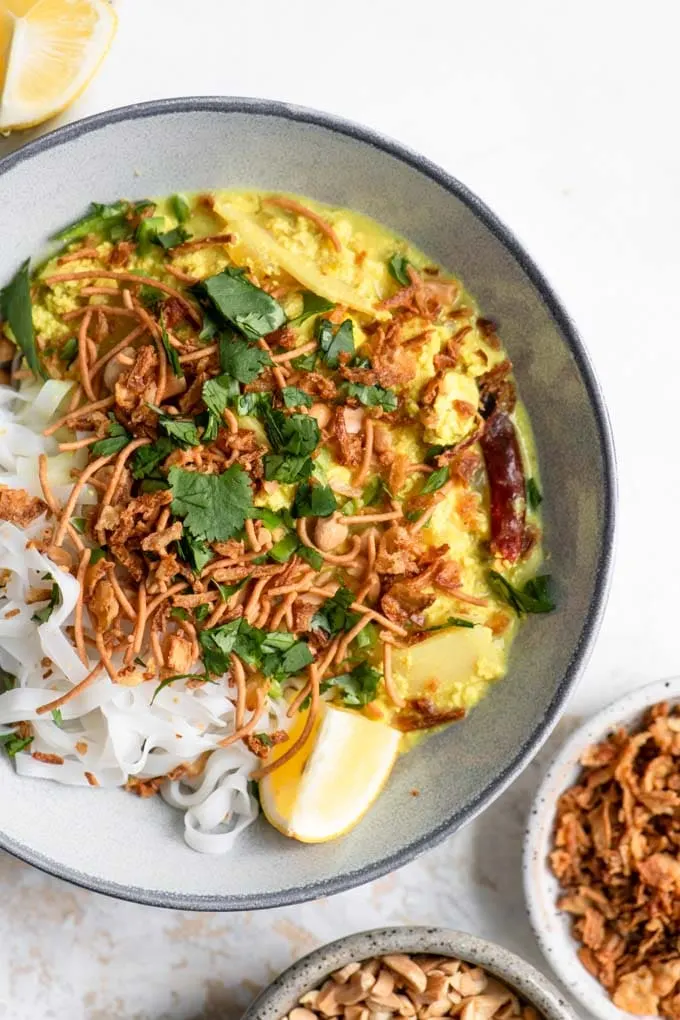 It's this combination of chickpea flour thickened curry and the stations of toppings that make this dish really special.
So if you've had this dish before and it looks a little different, know that there are many ways to prepare and enjoy it! And if you're new to this dish then welcome, you'll never turn back!
The yellow coconut curry:
The kaukswe curry is made with an onion, garlic, ginger, and coconut milk base. It's thickened with chickpea flour (besan), and flavored with turmeric, cumin, coriander, and dried chiles.
It has to be one of the easiest curries! Sauté the aromatics, add the spices and chickpea flour, and then add the coconut milk and broth (or water). Then finished with lots of freshly squeezed citrus (either limes or lemons).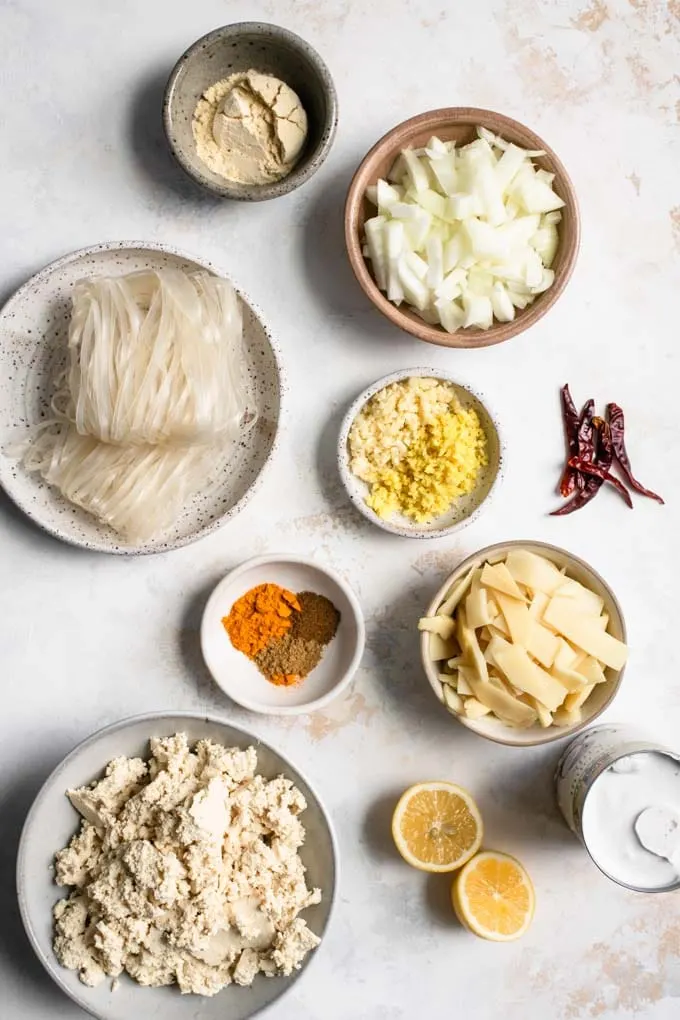 This is often a non-veg dish and meat is added to the curry, but I crumble up tofu into mine!
I like to choose an extra firm or super firm tofu (pressing out extra water from the tofu if extra firm) and then crumble it straight into the curry.
One could also use fried tofu with its golden hued skin (an option at my local Burmese restaurant) or pan fry cubes of tofu before adding it.
To add some veggie and extra bulk to my curry, I also add some bamboo shoots. I just love the texture of them with the noodles! It's also a popular ingredient in Burmese cuisine.
I like my curry to be thick, but it's also ok to make it soupier, just add additional coconut milk (for a richer stew) or broth (for a thinner stew) to your liking. You may need to adjust the spices and salt if adding more liquid.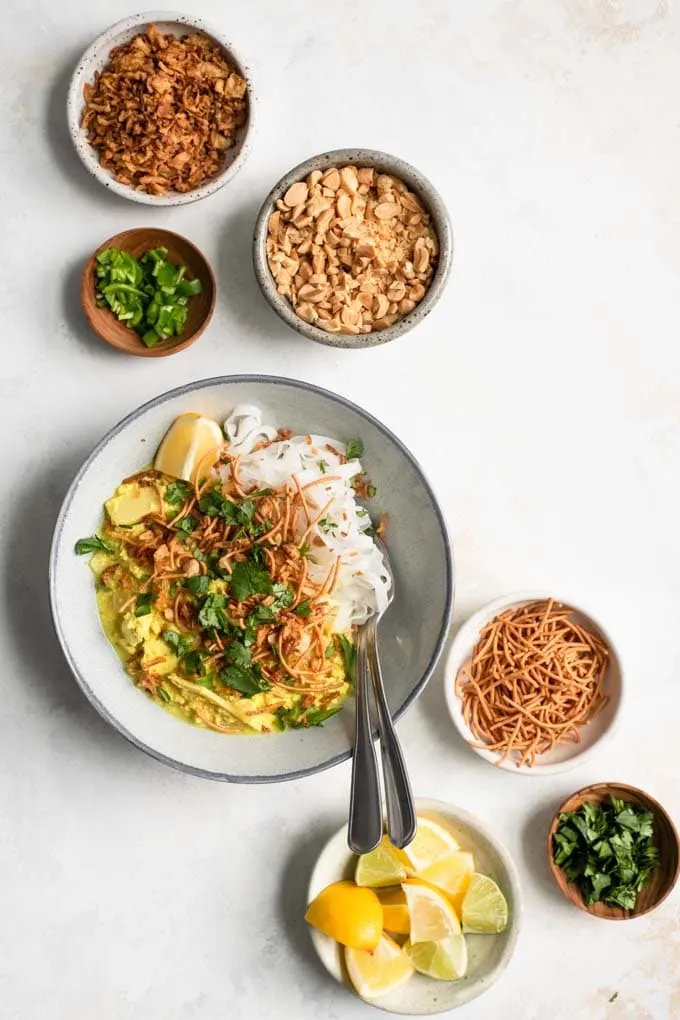 The noodles:
Fresh rice noodles are amazing in this recipe, either the thick kind you may be familiar with in pad kee mao or pad see ew, or the thinner kind that's usually easier to source.
I used dried noodles here, and they rehydrate really nicely to make good chewy noodles!
If you're not gluten free you can also use wheat noodles for this recipe.
The toppings:
As I mentioned the toppings are key when it comes to this recipe! The most common and important ones are:
Crispy Fried Onions
Crispy Fried Noodles
Chopped Peanuts
Minced hot chiles (e.g. serrano, thai chile)
Chopped cilantro
Lemon or lime wedges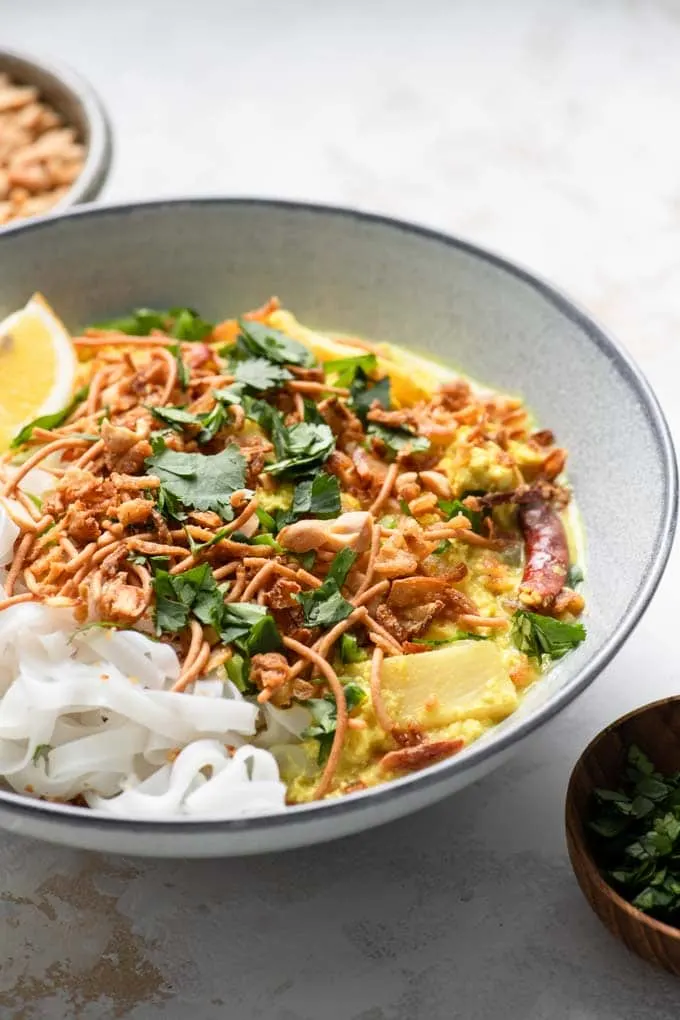 I use store bought versions of the crispy fried onions and noodles for ease and convenience. Note that if you eat gluten free, these ingredients are often not–so you'll want to find gluten free ones or make your own!
If you're going to skip one I'd forgo the crispy noodles, but the onions are so important for the flavor of the recipe! Sweet, caramelized, richly flavored bits of goodness you don't want to miss. You could try using some fried garlic instead if that's more to your liking.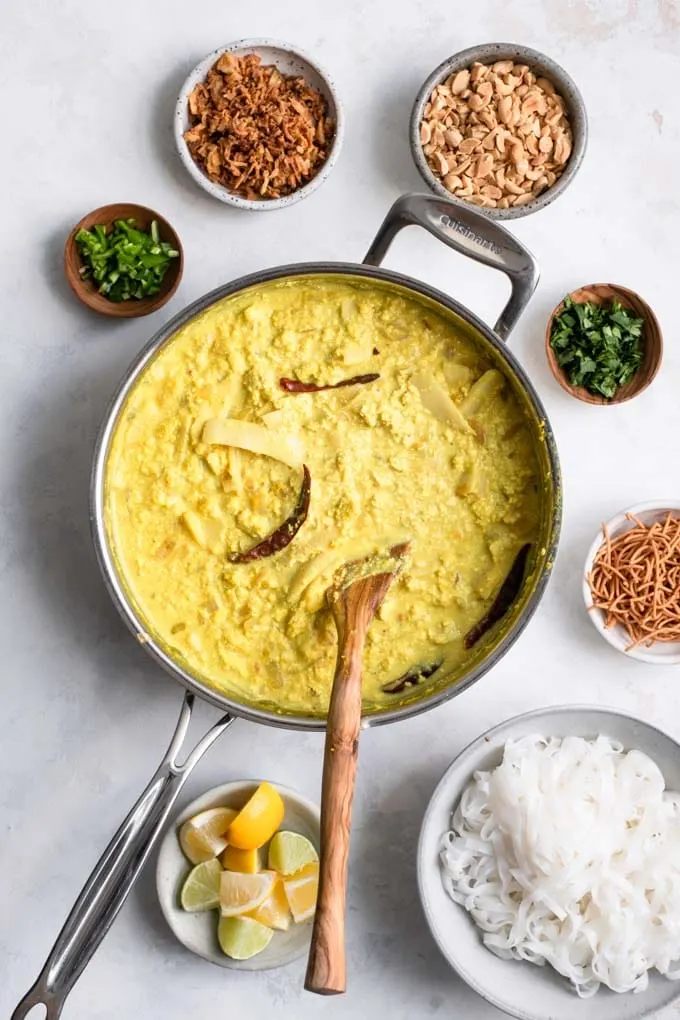 How to serve Burmese Kaukswe:
The nice part about this recipe is everyone chooses for themselves how much of each portion to take! Set up an array of dishes with the curry, noodles, and each of the toppings you're offering.
Then everyone goes with their bowl and fills it how they want! More fried onion? not a problem! Don't want noodles, ok crazy person (jk-ish) have it your way!
This dish is sure to win your hearts just like it has won mine–over and over again!
It's such an easy recipe to make and quite quick to come together as well. And you can have so much fun making and serving different variations of it! It's my kind of fun anyway!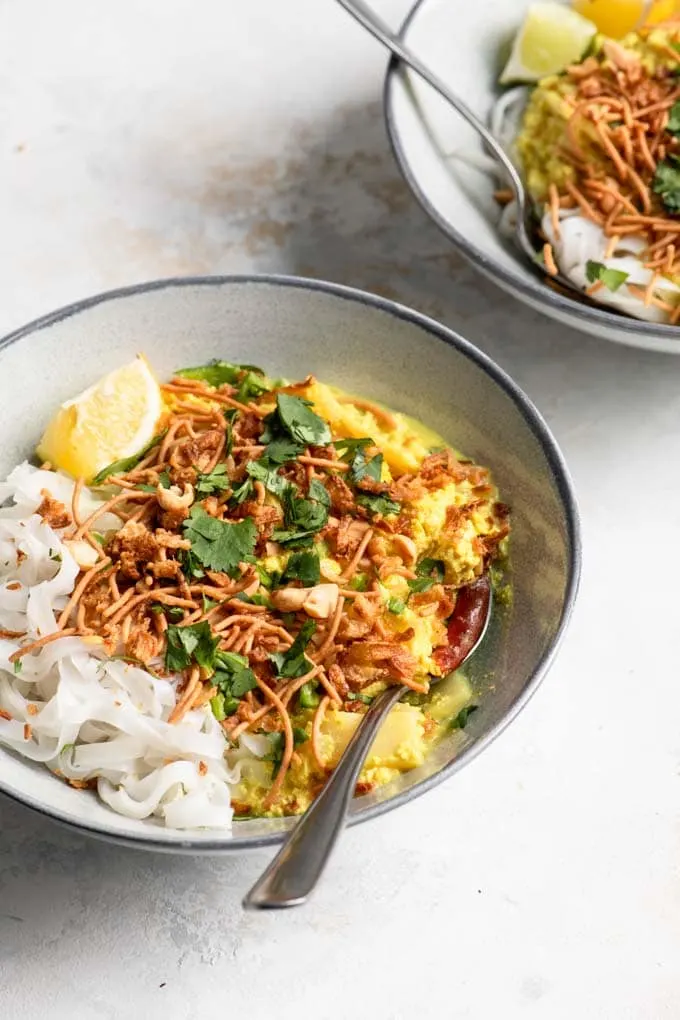 If you make my Burmese kaukswe recipe, leave a comment below and rate the recipe on the recipe card. And please share your photos with me on Instagram, tag @thecuriouschickpea and #thecuriouschickpea. I love seeing your recreations!
Enjoy curry? I've got curry recipes from all around Asia!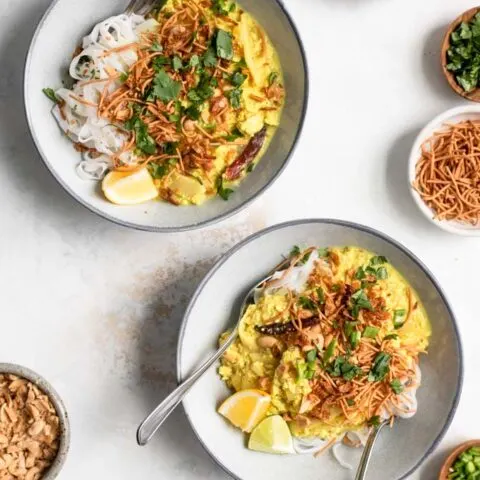 Burmese Kaukswe
Kaukswe is a Burmese dish with a delicious yellow curry served with rice noodles and an assortment of toppings to add to each serving. It's easy to make, pantry friendly, and addictively delicious! The recipe is gluten free if all toppings chosen are gluten free.
Ingredients
1 tsp oil
1 yellow onion, finely diced
4-6 cloves garlic, minced
1 1/2 tbsp fresh minced ginger
2-10 dried red chiles to taste, or use cayenne pepper
2 14oz blocks extra firm tofu, extra water squeezed out and crumbled
1/4 cup chickpea flour (besan)
1 tsp turmeric powder
1 1/2 tsp ground coriander powder
1 tsp ground cumin
1 tsp salt, more to taste
1 15oz can full fat coconut milk
1 1/2 cups vegetable broth or water
1 14oz can bamboo shoots, drained
1/4 cup fresh squeezed lemon or lime juice, more to taste
14oz dried rice noodles, cooked according to package directions
Toppings
Crispy fried onions
Crispy fried noodles
Chopped dry roasted peanuts
Minced cilantro
Minced hot chiles (jalapeño, serrano, or thai chiles)
lemon or lime wedges to serve
Instructions
Heat the oil in a large pot over medium. Add the onion and sauté until soft, about 5 minutes. Add the garlic, ginger, and dried chiles and cook another 1 minute to mellow.
Add the tofu, chickpea flour, spices, and salt and stir to combine. Add the coconut milk and broth or water, followed by the bamboo shoots.
Turn the heat up and bring the curry to a boil, then turn the heat down and let simmer for 10-15 minutes for the chickpea flour to cook and flavors to meld. Taste and adjust spices.
Turn off heat and add the lemon or lime juice.
Serve with the cooked rice noodles and toppings arranged in bowls. Pile noodles, curry, and desired toppings into each bowl, and squeeze in the extra lemon or lime wedges before eating!
Notes
Nutrition information is calculated without the added toppings.
Recommended Products
As an Amazon Associate and member of other affiliate programs, I earn from qualifying purchases.
Nutrition Information:
Yield:

8
Serving Size:

1
Amount Per Serving:
Calories:

421
Total Fat:

18g
Sodium:

551mg
Carbohydrates:

52g
Fiber:

4g
Sugar:

5g
Protein:

17g
Nutrition is calculated automatically so should be used as an estimate.