This vegan shakshuka is an easy to make tomato stew topped with dollops of vegan ricotta. It's a great and nutritious breakfast, as well as a favorite breakfast-for-dinner recipe! Make sure you serve it with some kind of bread so you can sop up every last bit of sauce.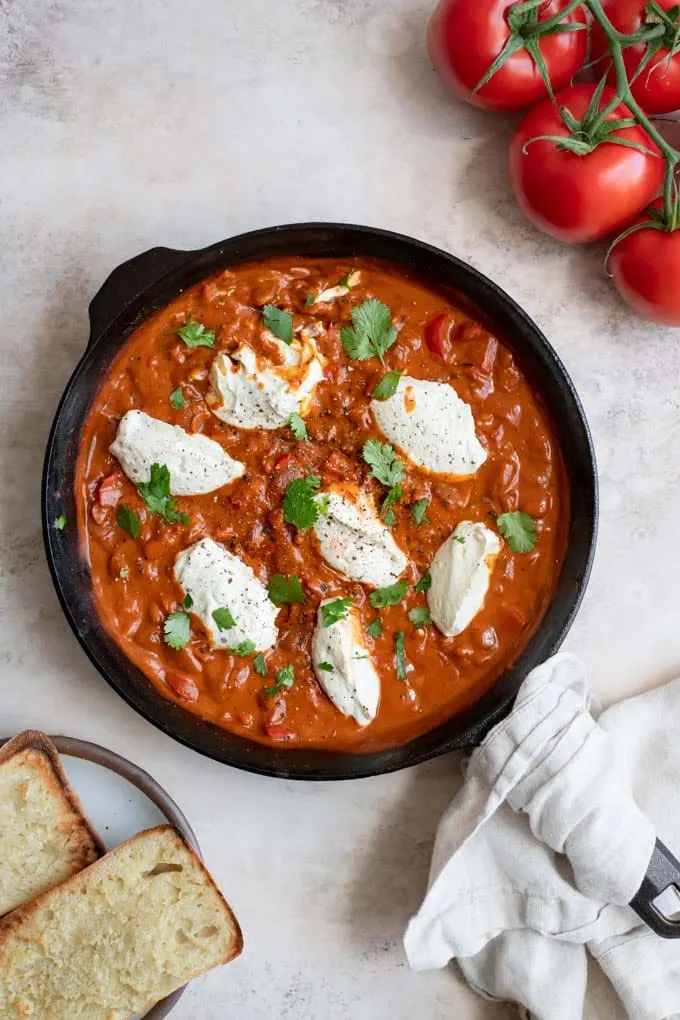 This recipe was sponsored by Pacific Foods.
To the uninitiated, shakshuka is a popular breakfasty dish made of a spiced tomato sauce, typically with poached eggs.
Shakshuka is popular across the Middle East, North Africa, and Mediterranean and while its origins are disputed it is thought to date back to at least the Ottoman Empire.
My vegan shakshuka is inspired by its most iconic modern day version with a richly flavored tomatoey base laced with cumin, coriander, paprika, and a hint of nutmeg.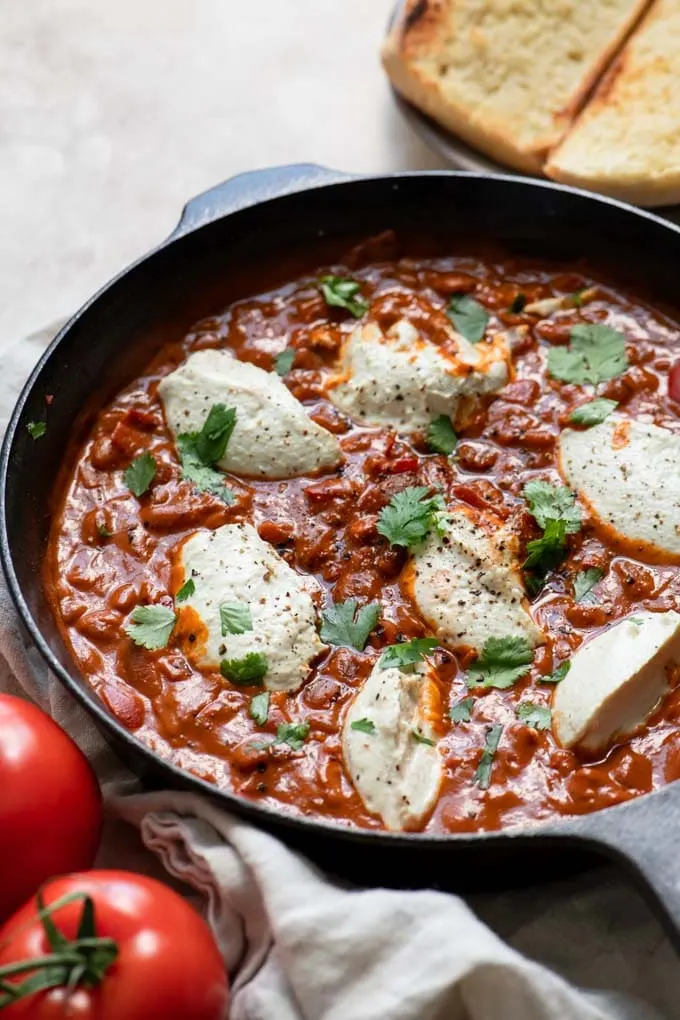 Instead of egg I add dollops of vegan ricotta. Bites of the creamy, lightly lemony, vegan cheese complement the flavorful tomato base beautifully.
It's a simple recipe made easier with my shortcut of adding Pacific Foods Organic Creamy Tomato Basil Soup. It boosts the tomato flavor and lets you cut back on the cooking time significantly while still getting those deep tomatoey notes that are only possible from long cooking times.
Make the spiced tomato sauce:
Using the soup in the shakshuka makes for a flavorful base, but we build on that flavor and add texture by cooking onion, bell pepper, and fresh tomato into the stew.
As is the case with many savory dishes, we start with browning the onion. Onion adds naturally sweet notes and depth of flavor to the stew.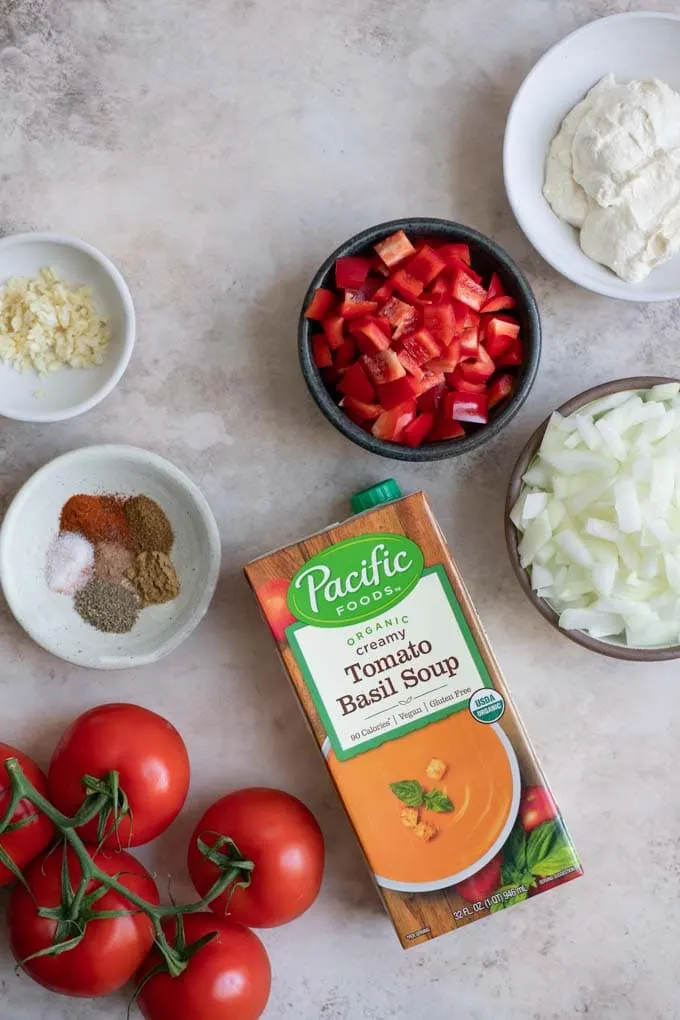 Next up add in garlic and bell pepper. I like to use red bell peppers because not only do I think they taste better than green bell peppers, but they also are more nutritious and have more vitamins. They're actually just the ripe version of green peppers!
If you're not a bell pepper lover then you can leave it out or add in a spicier pepper (poblano would be great, or add in a jalapeño or serrano if you want some heat).
Obviously if you use a smaller spicy pepper it won't add the same texture to the stew but will add some nice flavor! But you could always add the spicy pepper alongside the bell pepper for the best of both worlds.
Now come the spices. Coriander, cumin, and paprika amp up the flavor of the stew and make your kitchen smell amazing! A pinch of nutmeg is the finishing touch.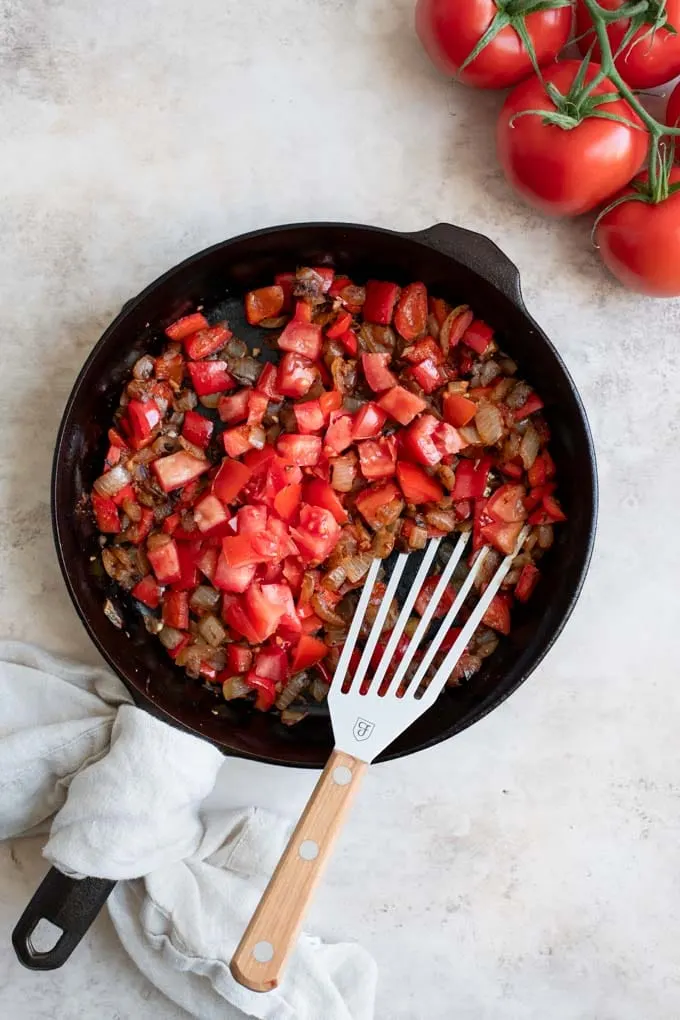 With the spices added in, it's time to add the tomato. I add a chopped tomato along with the Organic Creamy Tomato Basil Soup because I like the stew to have a bit of chunkiness and we want all the tomatoey goodness in here.
All that's left is letting the stew simmer for 5-10 minutes to bring the flavors together and reduce the liquid a bit, and adjust the salt and pepper to your own tastes.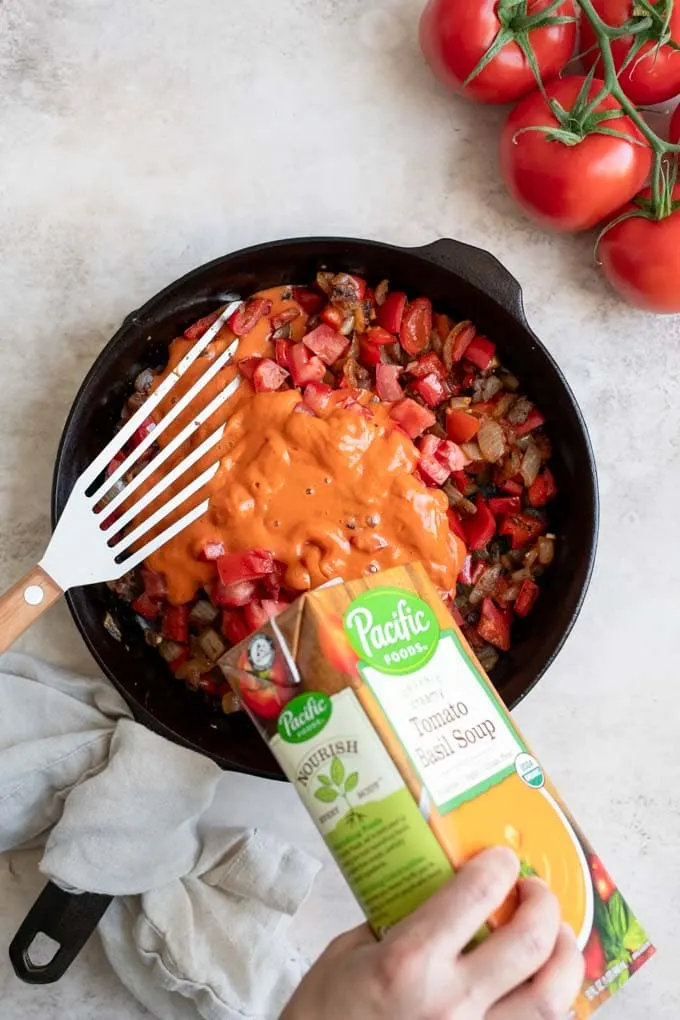 What to use instead of egg?
So shakshuka is usually made by poaching egg directly in the tomato sauce. But shakshuka doesn't have to contain egg at all!
You can add vegetables, tofu, potato, lentils, really whatever you want to make it!
For my vegan shakshuka I wanted to add creamy and mild flavored dollops of vegan ricotta.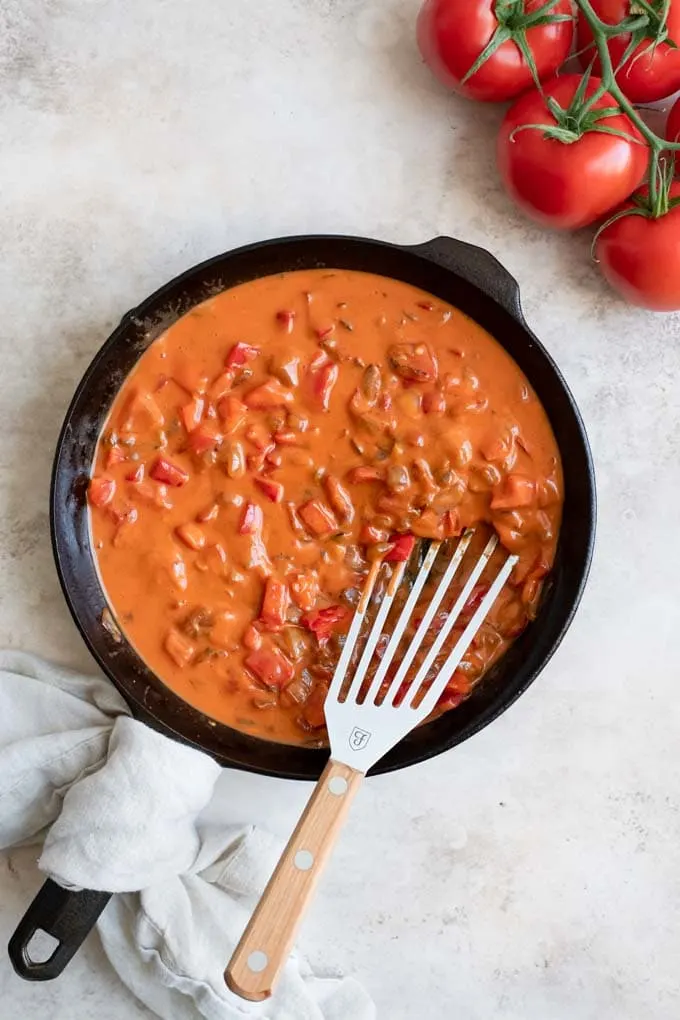 I used a homemade vegan ricotta which is made mainly of tofu and cashews. The ricotta is flavored with a bit of garlic, lemon juice, and salt, plus olive oil for that touch of richness.
If you want to avoid nuts you can either (a) skip the cashews, or (b) use shelled raw sunflower seeds instead. Almonds or macadamia nuts make a great substitute for cashews if there is a specific cashew allergy or other reason to avoid them.
Of course a store bought vegan ricotta works just as well if you want to make your life super easy!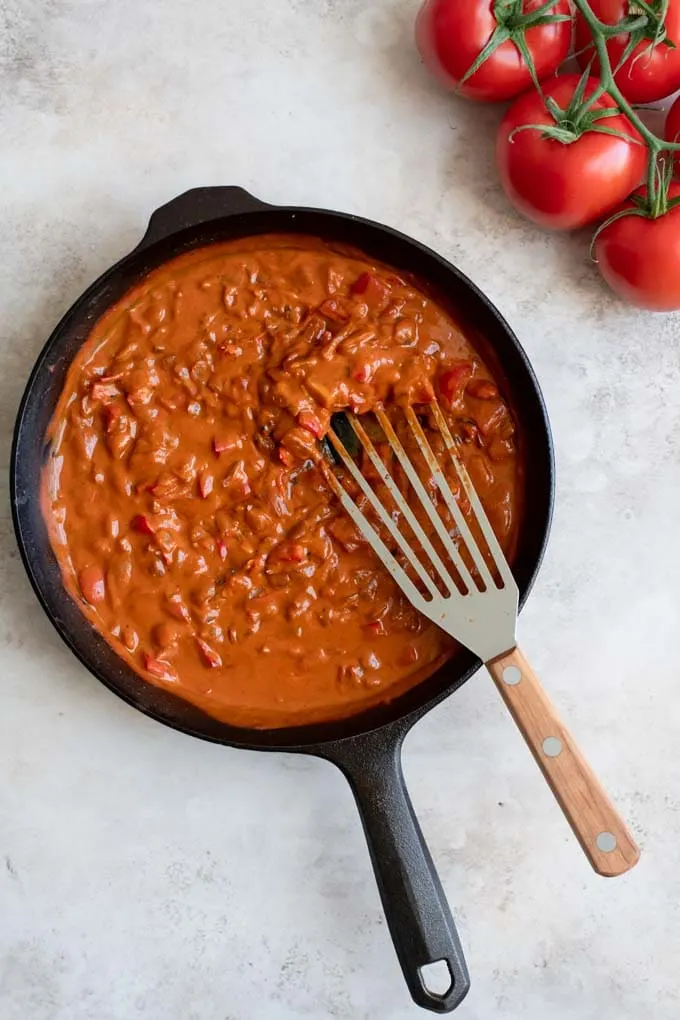 If you want to go big on the tofu you can also lightly pan fry pieces of extra firm tofu until golden with a sprinkling of salt and pepper and then simmer that fried tofu in the shakshuka stew when you add the soup.
How to serve shakshuka:
It's so fun to serve shakshuka directly in the skillet you cooked it in! It makes you look fancy, keeps clean up to a minimum, and helps the dish stay warm!
I use cast iron skillets, but you can use any non stick skillet for this. If using cast iron make sure it has a well developed non-stick coating (called seasoning) because tomatoes are acidic and can damage the seasoning on newer cast iron pans.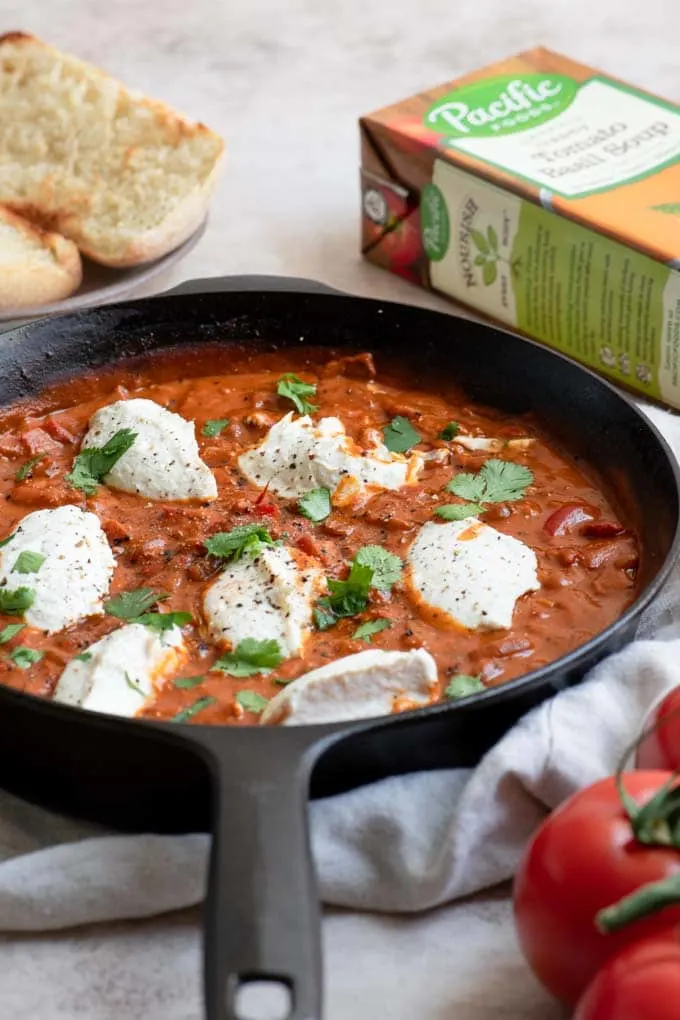 Garnish your vegan shakshuka with chopped cilantro or parsley (your call, maybe both) and serve with a side of bread.
You can use a flatbread like pita or naan, or a yeasted bread like ciabatta or rolls. The key here is to have something to scoop up and soak up all that delicious tomato sauce.
It's such a satisfying meal!
And perhaps the best part is, a single recipe leaves you with half a container of soup leftover so you might as well make more the next day!
One recipe feeds 2 hungry people or 4 less ravenous eaters. Depending on how much bread and ricotta you eat, of course! ?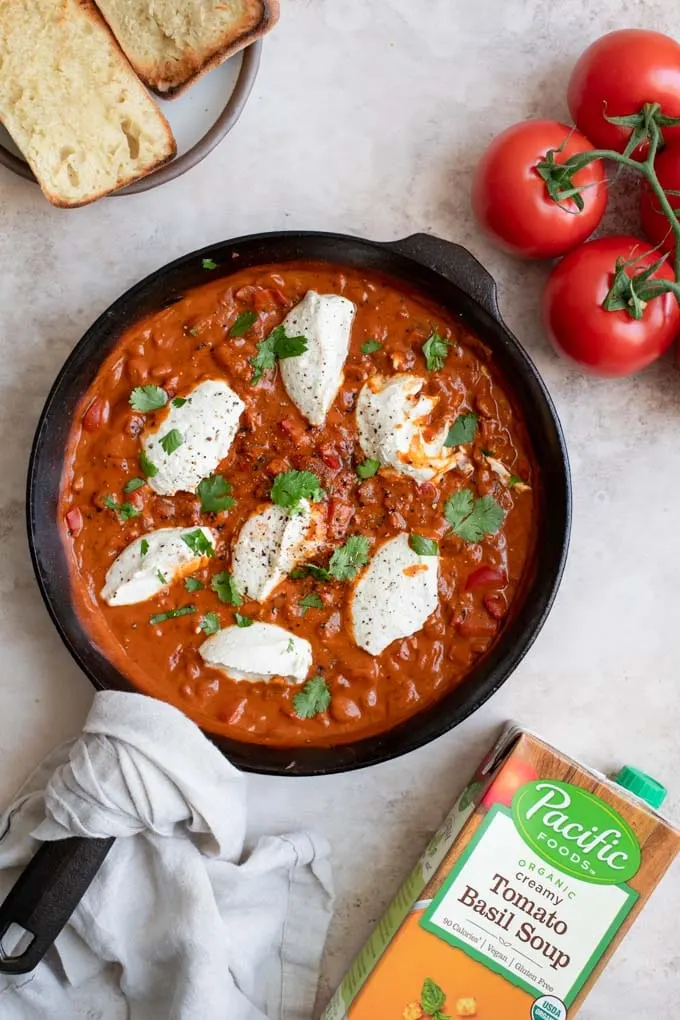 If you make this vegan shakshuka, leave a comment below and rate the recipe on the recipe card. And please share your photos with me on Instagram, tag @thecuriouschickpea and #thecuriouschickpea. I love seeing your recreations!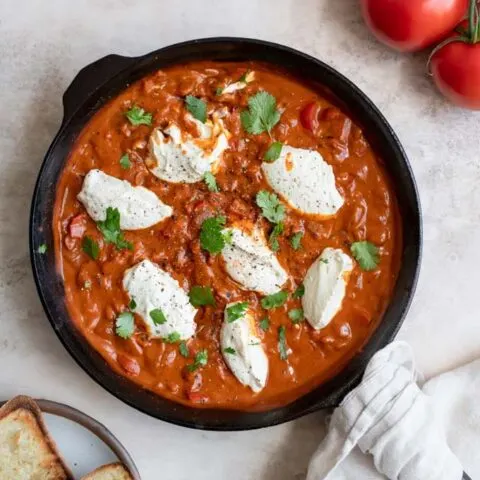 Vegan Shakshuka
Shakshuka is a spiced tomato stew served for breakfast or a breakfast-for-dinner style meal. This vegan version has dollops of dairy-free ricotta and is delicious served with a side of toast.
Ingredients
1 tsp extra virgin olive oil
1 yellow onion, diced
3-4 cloves garlic, minced
1 red bell pepper, diced
1/2 tsp ground coriander
1/2 tsp ground cumin
1/2 tsp paprika
pinch of ground nutmeg
1 tomato, chopped (~1 cup chopped)
salt and pepper to taste
cilantro or parsley for garnish
Instructions
Heat a skillet over medium and add the olive oil and onion. Sauté until the onions are translucent and lightly browned, about 6 minutes.
Add the bell pepper and garlic to the onion and cook for 4-5 minutes to soften. Stir in the ground coriander, cumin, paprika, and nutmeg and stir in.
Add the chopped tomato and creamy tomato soup and let come to a simmer. Simmer until reduced and thickened slightly and the tomato has broken down, about 5-10 minutes. Add salt and pepper to taste (I used 1/2 tsp salt).
Dollop on the vegan ricotta and garnish with herbs. Serve with toast or pita on the side!
Recommended Products
As an Amazon Associate and member of other affiliate programs, I earn from qualifying purchases.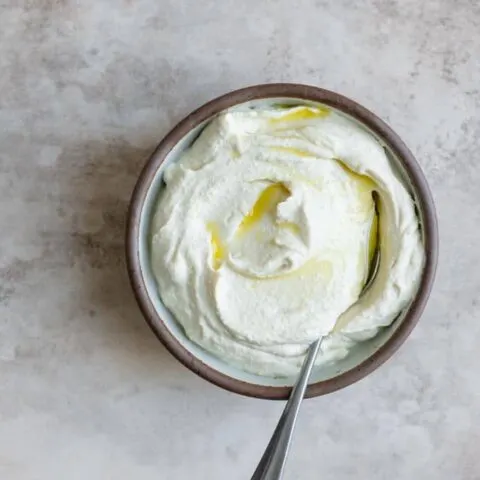 Easy Vegan Ricotta
This vegan ricotta is quick and easy to make. Use it in place of dairy ricotta in any recipe!
Ingredients
1 14-16oz package firm or extra firm tofu
1/2 cup raw cashews
2 cloves garlic, peeled and coarsely chopped
1/4 cup extra virgin olive oil
1/4 cup lemon juice
1 tsp salt
Instructions
Combine all ingredients in a food processor or blender and process until fairly smooth, some grainy texture is ok. Pause to scrape down as needed.
Transfer to a sealed container and store in the fridge until ready to use. It lasts about 7-10 days. It can be frozen, but the texture may change slightly.
Notes
You can substitute almonds (use slivered almonds to avoid the flecks from the skins) or macadamia nuts for the cashews. For nut free either use hulled raw sunflower seeds or leave out the cashews.
Recommended Products
As an Amazon Associate and member of other affiliate programs, I earn from qualifying purchases.
Nutrition Information:
Yield:

24
Serving Size:

1
Amount Per Serving:
Calories:

51
Total Fat:

4g
Saturated Fat:

1g
Trans Fat:

0g
Unsaturated Fat:

4g
Cholesterol:

0mg
Sodium:

117mg
Carbohydrates:

1g
Fiber:

0g
Sugar:

0g
Protein:

2g
Nutrition is calculated automatically so should be used as an estimate.