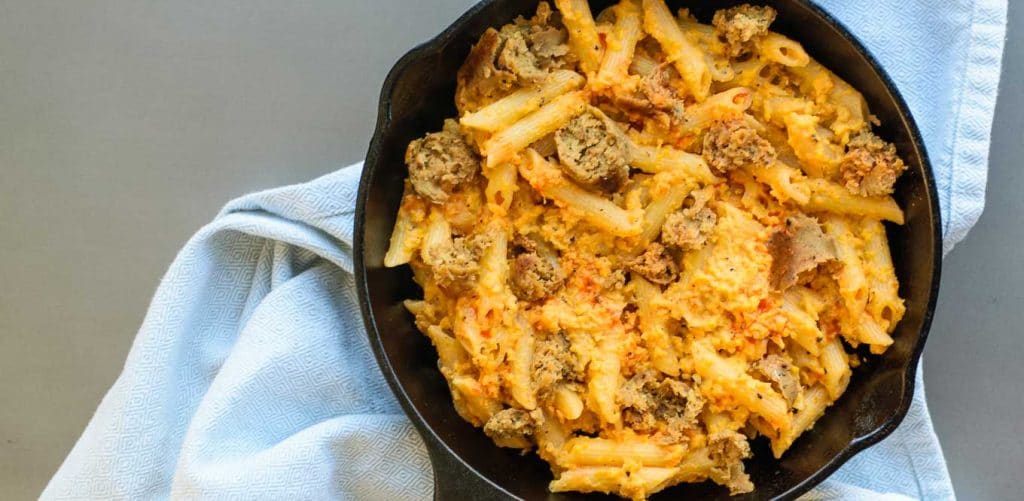 I have an unofficial countdown running in my head, as I wait for mid-August to arrive. What happens in mid-August? Well, my best friend from college is moving to DC! She's going to be right across the street from us! I'm so excited I can't wait for us to eat all the vegan pizza-I mean all the food-together (did I mention she's vegan too?)!
She came to visit last month to scope out the area, and while she was here we went out to eat at DC's newer vegan diner Fare Well. It's run by the same people of Sticky Fingers and opened last fall. To be honest, I've had mixed experiences at the restaurant, while I think the food has been steadily improving, the service has been super hit or miss for us. Nevertheless, while my friend was in town we went there for dinner and ordered an INSANE amount of food for three people. We ordered my favorite appetizer, a house-made vegan burrata that comes with a delicious caper and pesto salad and grilled buttery bread. But we couldn't help ourselves and ordered a second appetizer that I had been eyeing for months (I just couldn't bring myself to ever order it over the burrata, ya know?): a whipped cauliflower and cashew buffalo dip. And guys. OMG. The dip was SO GOOD. It was served in this mini-cast iron dish and insanely smokey and deliciously buffalo-y. Like, I'm definitely going to have to take turns with my appetizer ordering in the future.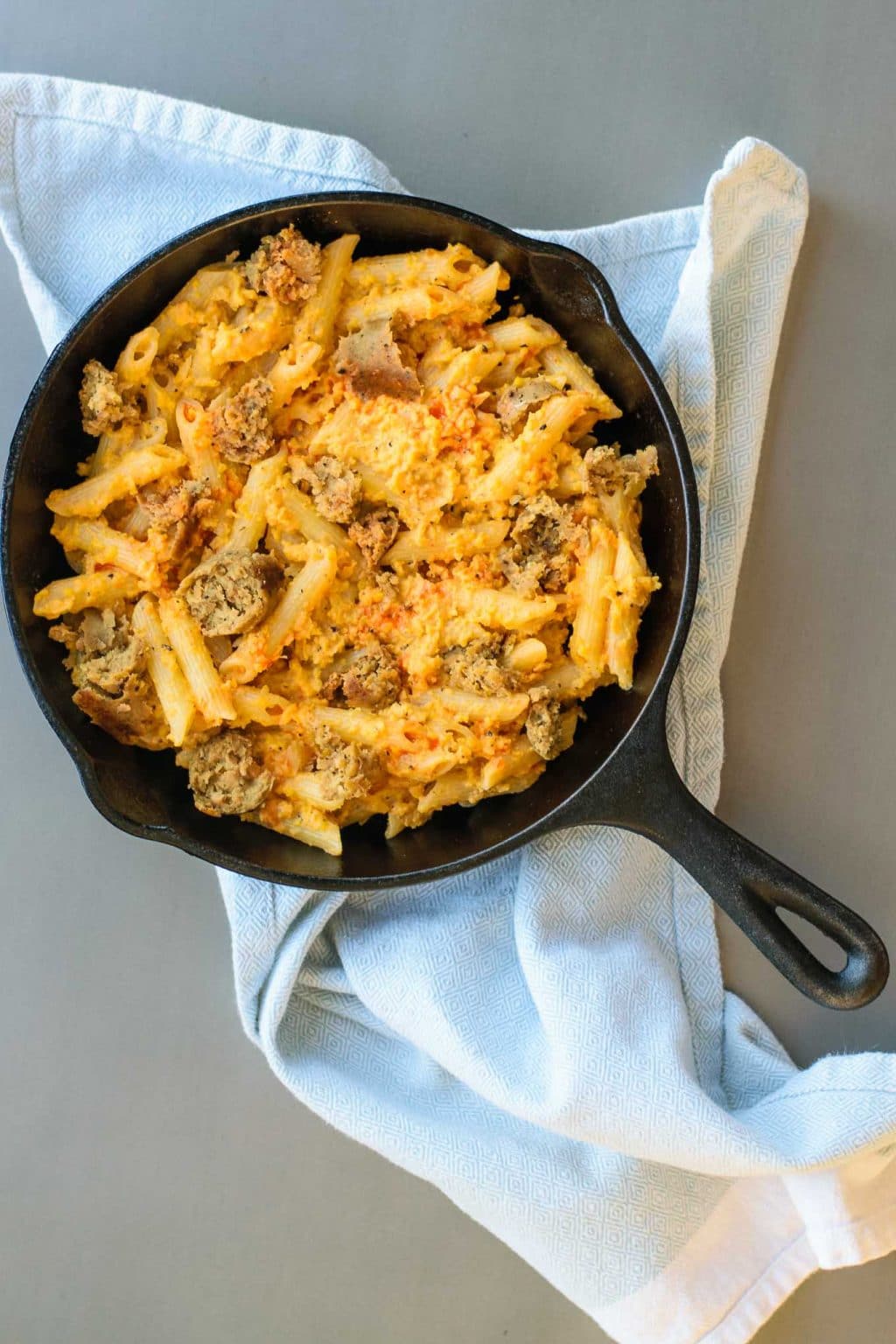 Well, clearly, this appetizer stayed with me, and it inspired this recipe. I initially thought I was going to copy cat the dip, but I also needed to cook and eat dinner. So, I figured, hey, why not make this a complete entrée? Well, it's genius I tell you. The buffalo cauliflower cream pairs as well with chewy pasta as it does with crispy crostini. Now, this isn't one of those recipes that takes cauliflower and blends it smooth to replace heavier creams. Instead, chunks of roasted spiced cauliflower are added to a smooth cashew cream and pulsed until ground. It makes for a delightful texture that coats the noodles oh so perfectly.
And did I mention–this recipe only contains TWELVE INGREDIENTS (and I'm including water, salt, pepper, and the optional sausage in that count). That's insane! It's so easy to throw together, making it super weeknight friendly. Plus it reheats beautifully for your lunch the next day! It has everything you need, veggies, carbs, and if you add the optional vegan sausage–protein! You'll be full for hours. It's the perfect recipe for the buffalo sauce lovers in your life. It's not crazy spicy as written, but has a nice heat that won't over power you by the end of your meal. If you're heat sensitive though of course you can always start with less. Or, if you love the heat, add a bit extra when you serve!
Let me know if you make this pasta dish. I love seeing & hearing about it when you guys make my recipes! Leave a comment and/or rate the recipe below, tag me on Instagram, or share with me on Facebook!
If pasta in all of it's forms is one of your favorite foods (understandable), and you want more inspiration, check out more of my pasta recipes!

Notes:
I served this with some Field Roast Smoked Apple Sage Sausages and it was really good that way, though that's certainly not necessary to make a delicious meal.
I bet orange cauliflower would be really pretty in this dish if you can find it! 🙂
Penne with Ground Cauliflower and Buffalo Cream Sauce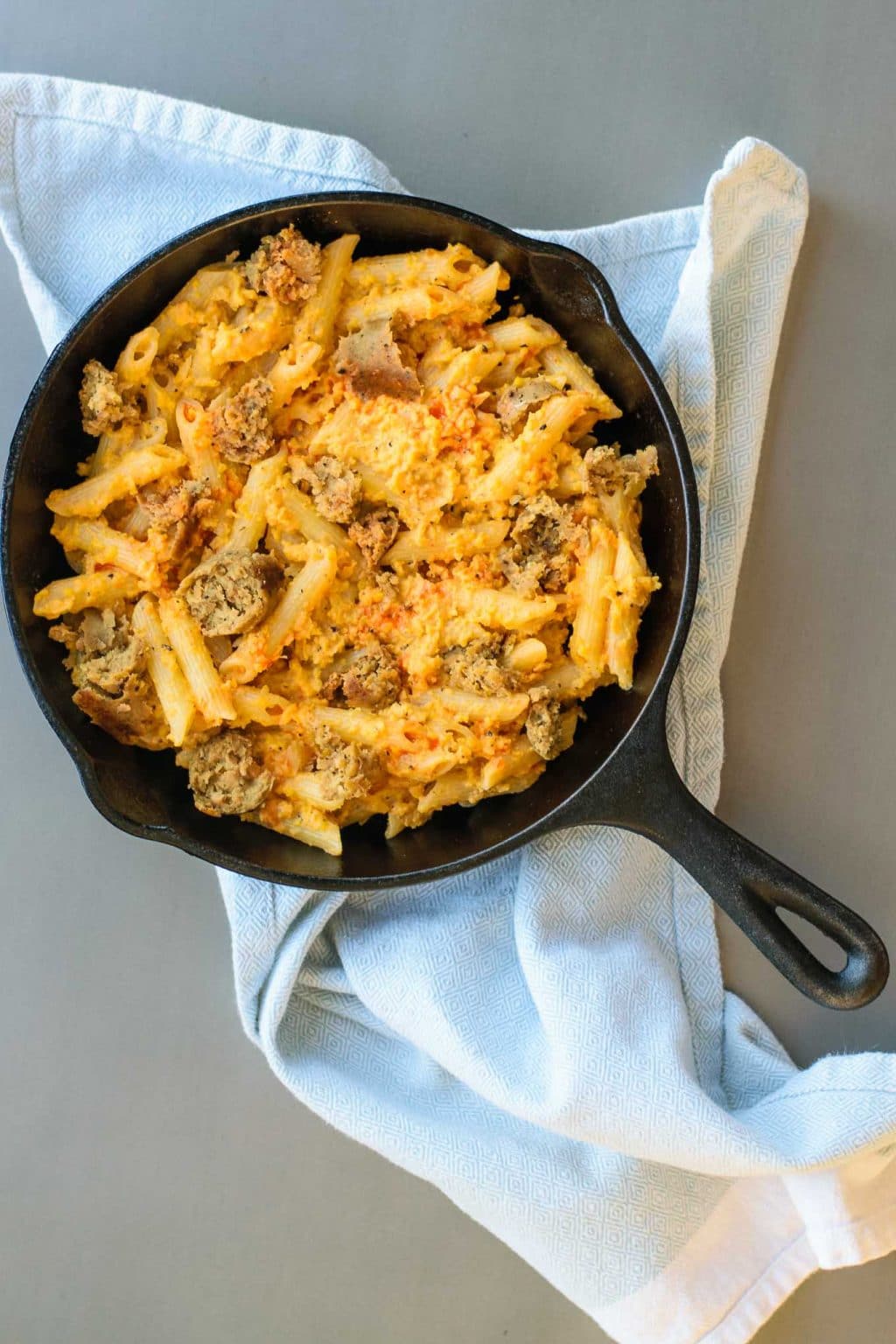 Pasta is tossed in a creamy buffalo cauliflower and cashew cream sauce for a delicious dinner. The sauce is also great served on it's own as a tasty dip!
Ingredients
1 tbsp oil
1 head cauliflower, cut into 1" slices
1 cup cashews, soaked and drained if not using a high speed blender
1½ cup water
¼ cup Louisiana style hot sauce, e.g. Franks
1 tsp smoked paprika
1 tsp onion powder
½ tsp granulated garlic
½ tsp salt
freshly ground black pepper
1 lb penne pasta, gluten free if desired
vegan sausage, pan fried and crumbled (optional & choose gluten free if desired)
Directions
Bring a large pot of salted water to a boil and cook pasta according to package directions leaving it just 1 minute shy of perfectly cooked. You'll finish it off with the sauce. Drain the pasta and return to the pot.
While the water is heating and pasta is cooking, heat a large nonstick skillet over medium heat. Add the oil and add the cauliflower in one layer. Sprinkle a little salt over top. Cook for 8 minutes, flipping halfway through when charred on each side. Turn off heat.
In a blender add the cashews, water, hot sauce, smoked paprika, onion powder, granulated garlic, and salt. Blend until smooth. Add the roasted cauliflower and pulse until the cauliflower is ground into crumbles, stopping to scrape down as necessary.
Pour the sauce into the pot with the pasta and stir to combine, heating over low for 1 minute. Add the ground pepper, taste and adjust seasoning if desired.
Optional: serve with cooked and torn vegan sausage mixed in!