Buffalo cauliflower penne makes a delicious vegan entree. The sauce is made of a buffalo cashew cream, stuffed with ground cauliflower for texture and body. It's quick and easy to make, and can be made gluten free!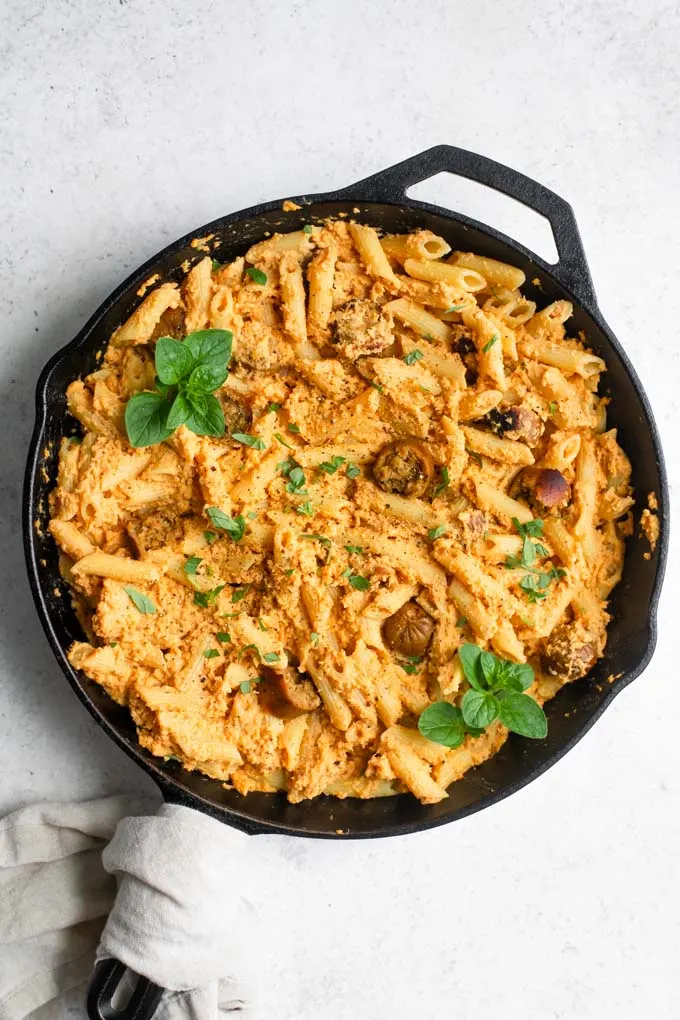 So you've probably heard of buffalo cauliflower, at least in terms of cauliflower wings. But instead of dredging individual florets of cauliflower, hear me out–let's combine cauliflower into a delicious buffalo cream sauce and toss it with pasta.
Who's in?!
This recipe is deliciously smoky, it's peppery, some may even call it spicy (you know if that's you), and it will be ready and on your plate in just about 30 minutes.
If you're like me and always keep pasta, cauliflower, and Franks RedHot stocked in your home at all times then this recipe is even pantry friendly!
This buffalo cauliflower penne was inspired by a tasty buffalo cauliflower dip at a local DC vegan restaurant, Fare Well. And as good as buffalo dip is piled atop crostini, well, imagine it on pasta!
This buffalo cauliflower penne is ready in 3 basic steps: Make the buffalo cream sauce. Add charred cauliflower and blend it in. Toss with penne.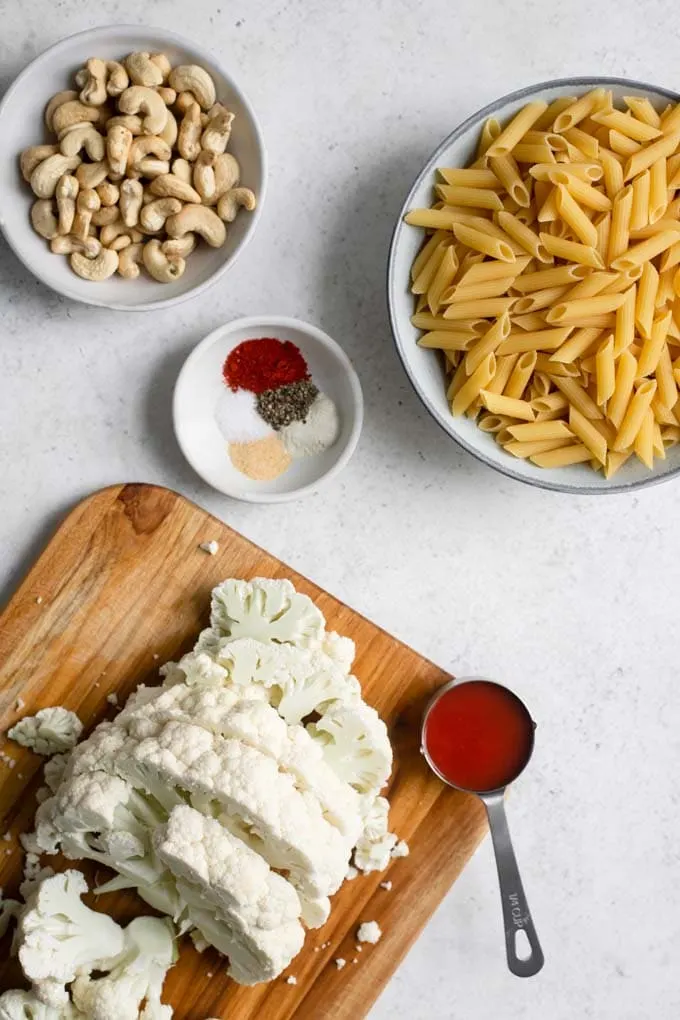 Let's start with the buffalo cream:
A buffalo cream sauce is essentially a cashew cream sauce with hot sauce. Not just any hot sauce, but a hot sauce you'd use for making buffalo sauce.
My personal favorite is Franks RedHot, but any Louisiana style hot sauce works!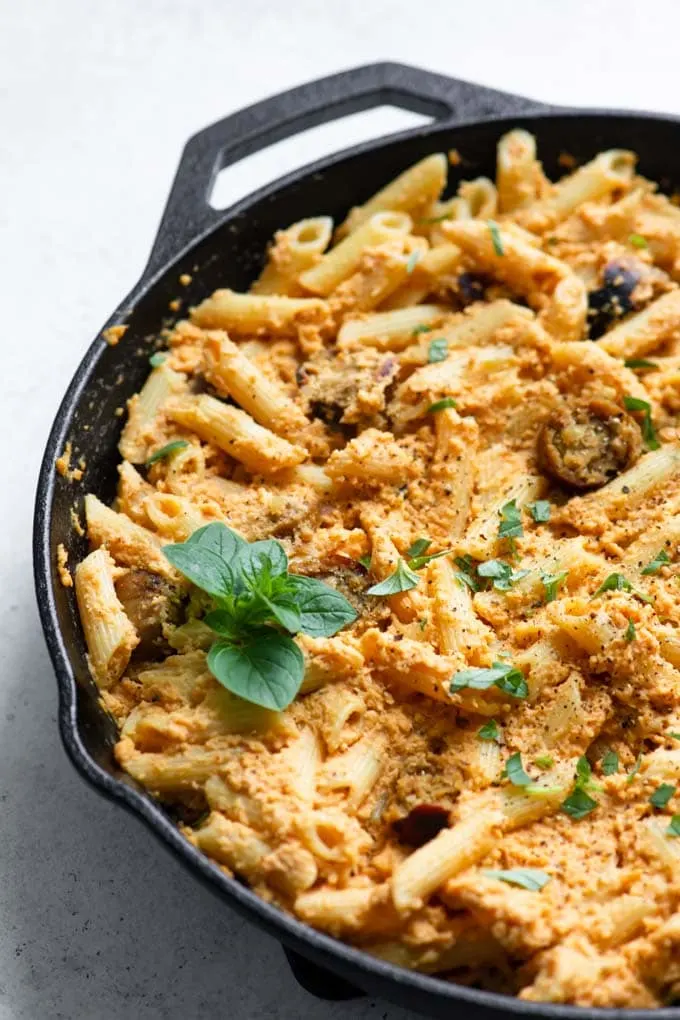 So we take cashews + water to make the cream, and add to that hot sauce spices, and salt and pepper.
The spices are: smoked paprika, granulated onion, and granulated garlic. The smoked paprika adds smokiness, but if you're not a big fan of smoked flavor, or just don't have any around, then use regular paprika instead.
Everything gets blended together until creamy smooth. And while this alone would make a really tasty pasta sauce, let's not stop there!
Next up, the cauliflower:
The cauliflower is cooked a bit differently for this recipe. I use a skillet like a grill (but a grill pan or outdoor grill would work as well) to char and tenderize the cauliflower.
The cauliflower is sliced into 1-inch thick slabs. The ends will inevitably fall apart and crumble, but don't worry about it we'll cook those the same way.
Remove any of the tough section of the stem and any leaves before cutting.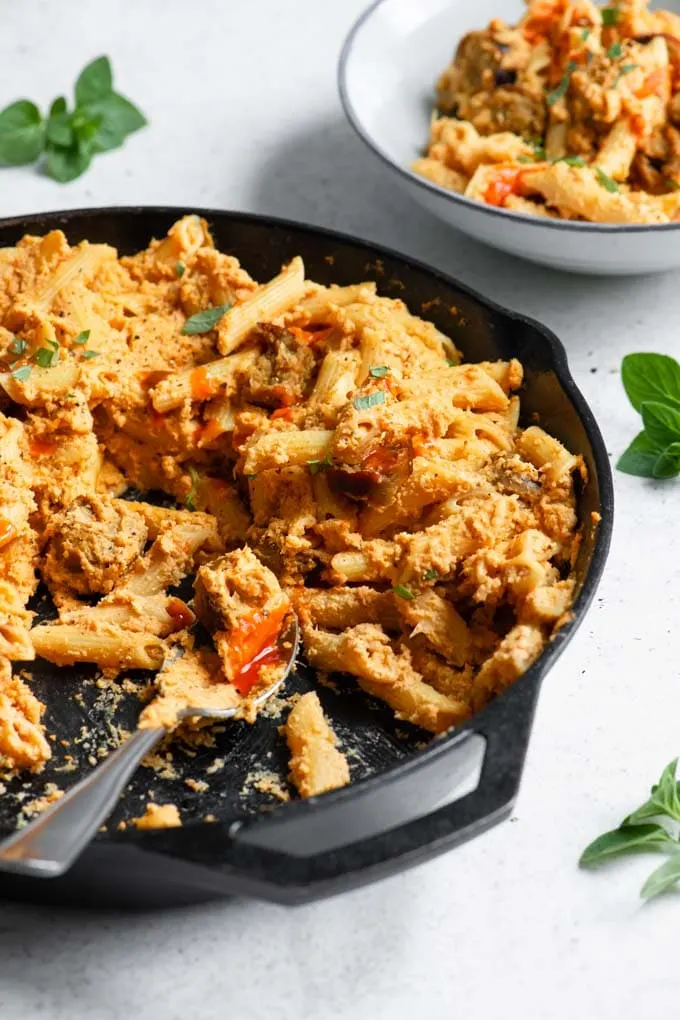 Heat up your largest skillet (like, 12-inches) over medium heat and add enough oil to coat. Arrange the cauliflower in a single layer or as close to that as you can get and let it cook untouched for several minutes (~4) before flipping.
It gets lightly charred on each side, more charred if you prefer extra smokiness. The cauliflower itself is left semi-tender but still toothsome.
If you want it to have a softer texture and blend more silkily into the sauce, then splash in about 1/4 cup of water towards the end and let the steam cook it further.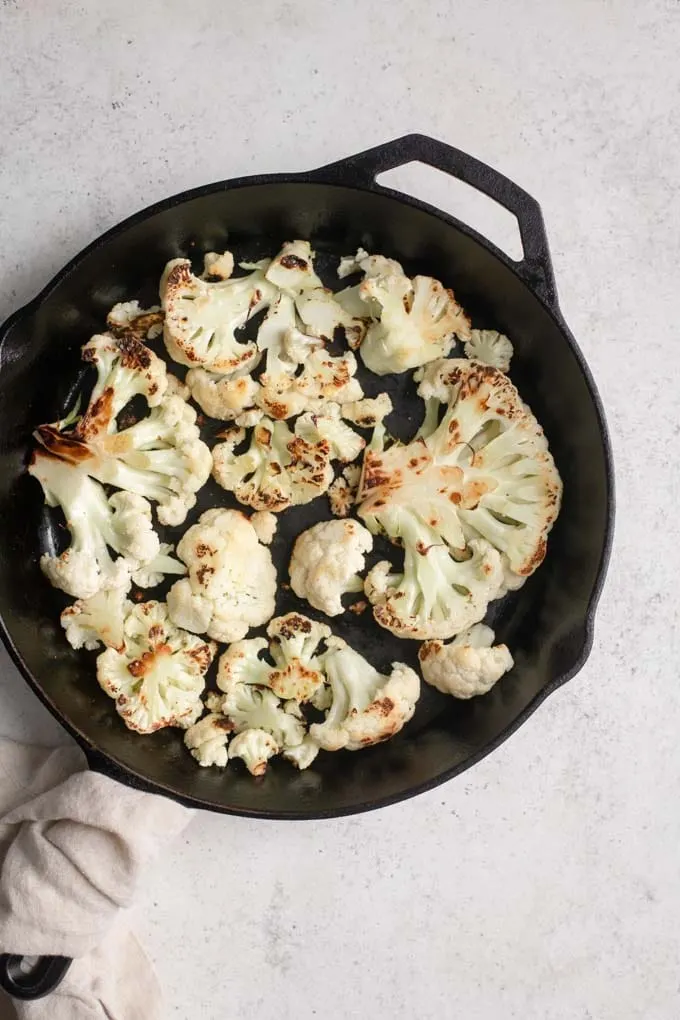 Once our cauliflower is cooked, add it to the sauce in the blender and blend it until it's finely chopped.
I leave mine with a textured ground consistency, but if you want to blend it smoother add water (pasta cooking water is perfect here) and let your blender go wild. Well not really wild, but blend until it's as smooth as you want it.
Your sauce is now ready.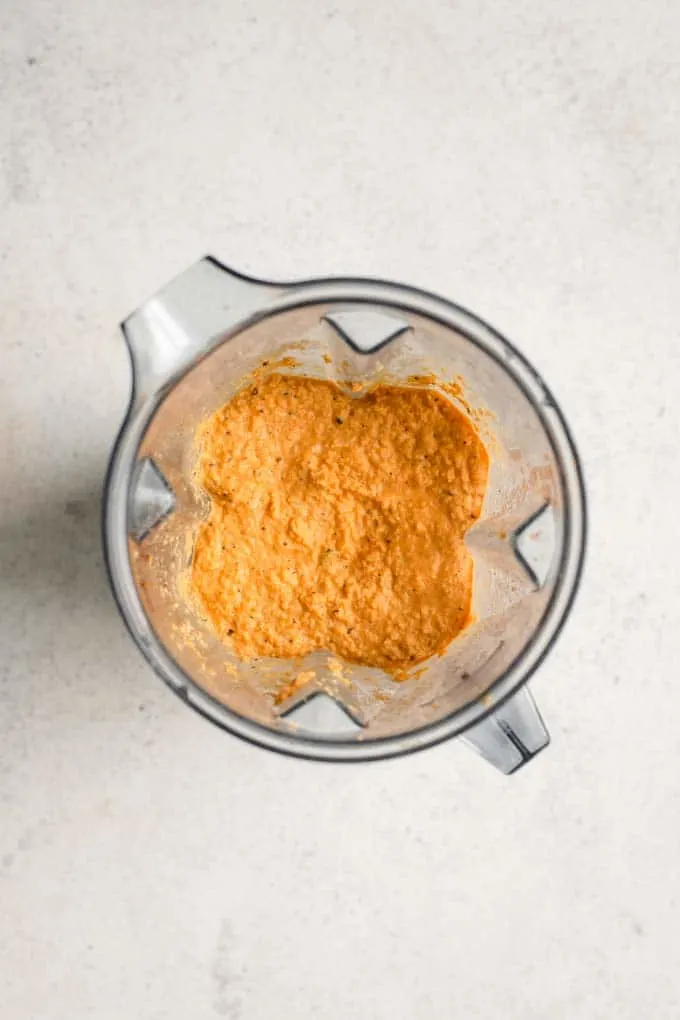 Combine the buffalo cauliflower sauce with penne:
Your pasta should be cooked at this point. Toss it together with the buffalo cauliflower sauce and let cook over low heat for a minute to come together.
If the sauce needs some loosening, add in some reserved pasta cooking water.
If you're adding some vegan protein, this is also when you add that! I cooked a couple of vegan sausages and tore them up with my hands like the wild woman I am. You could chop them if you'd rather be civilized.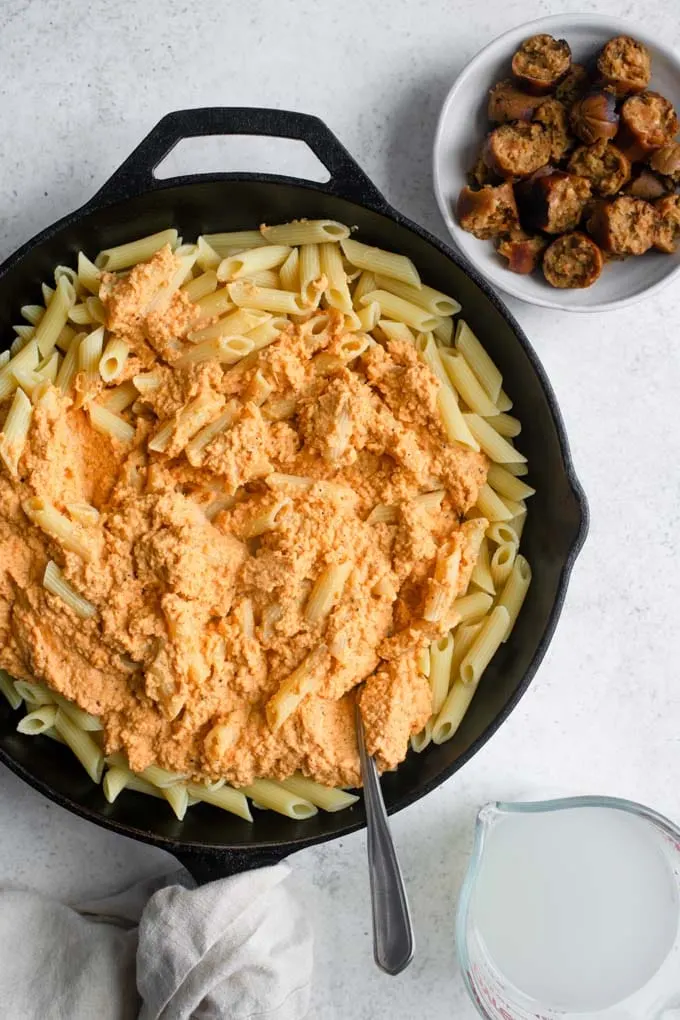 And you guys, that's it. Your pasta is ready!
As always when you cook, you should taste it at this point (and well at every step along the way) and adjust any seasonings to your own taste.
You might want to up the spice or add salt and pepper.
If you have it, a garnish of fresh herbs always sets it off! I have fresh oregano growing in my garden so tossed some of that in, but basil or fresh thyme would be tasty as well!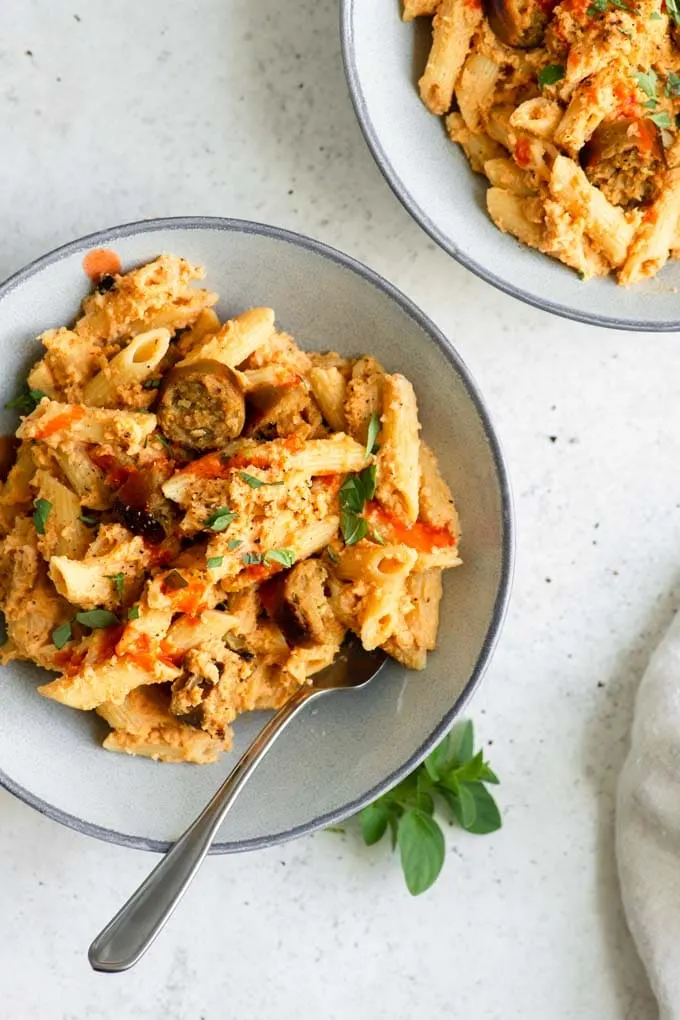 What if I hate smoky flavors but still want to make this?
So first things first, don't cook your cauliflower in a way that causes it to get crispy burnt bits of flavor. Instead, steam your cauliflower or boil it, or cook it in whatever way makes you happy!
This will also help the cauliflower turn into a creamier sauce, so be careful not to overcook it if you want to have that same texture as I have in my final dish. It's really up to you! Taste will be the same either way.
Secondly, use regular paprika instead of smoked paprika.
And that's it! You can have a non smoky buffalo cauliflower pasta if you skip the things that make it smoky!
I want this but I'm a spice wimp:
This one is easy, use less hot sauce! Only you know your taste buds and how hot the hot sauce you're using is. So just remember–you can always add more hot sauce later on. Start with less if you're unsure.
And put the hot sauce bottle out on the table so spice lovers can add more to taste!
If you make this buffalo cauliflower penne, leave a comment below and rate the recipe on the recipe card. And please share your photos with me on Instagram, tag @thecuriouschickpea and #thecuriouschickpea. I love seeing your recreations!
And pasta in all of it's forms is one of your favorite foods (understandable), and you want more inspiration, check out more of my pasta recipes!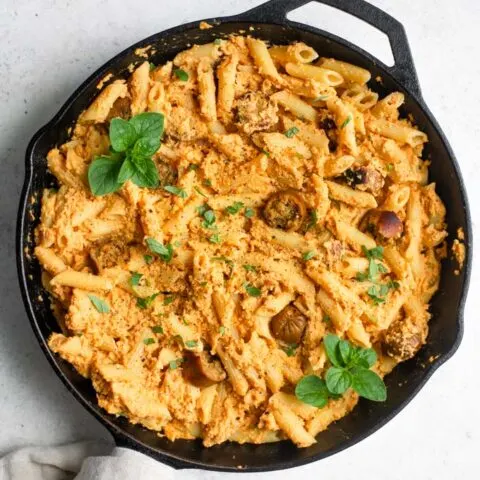 Buffalo Cauliflower Penne
Pasta is tossed in a creamy buffalo cauliflower and cashew cream sauce for a delicious dinner. The sauce is also great served on it's own as a tasty dip! For gluten free, use gluten free pasta.
Ingredients
1 lb penne pasta
2 vegan sausages, cooked and torn into bite sized pieces (optional)
1 tbsp oil
1 head cauliflower, cut into 1" slices
1 cup cashews*
1 1/2 cup water
1/4 cup Louisiana-style hot sauce, e.g. Franks, extra to serve
1 tsp smoked paprika
1 tsp onion powder
1/2 tsp granulated garlic
1/2 tsp salt
Freshly ground black pepper
Chopped fresh oregano, for garnish (optional)
Instructions
Bring a large pot of salted water to a boil and cook pasta according to package directions. Reserve 1 cup of pasta cooking water, then drain the pasta and return to the pot.
Meanwhile, heat a large nonstick skillet over medium heat. Cook the vegan sausage until browned on a few sides, then remove and let cool enough to handle. Tear into bite sized pieces.
Add 1 tbsp oil to the skillet along with the cauliflower. Sprinkle a little salt over top. Cook for 8 minutes, flipping halfway through, or until charred lightly on each side.
In a blender add the cashews, water, hot sauce, smoked paprika, onion powder, granulated garlic, salt, and ground pepper. Blend until creamy and smooth.
Add the roasted cauliflower, chopping any larger sections, and blend until the cauliflower is ground into crumbles, or your desired level of smoothness.
Pour the sauce into the pot with the pasta and vegan sausage and stir to combine. Cook over low heat for 1 minute, adding reserved pasta water as needed. Adjust seasonings to taste. Serve garnished with fresh oregano and extra hot sauce.
Notes
*If not using a high powered blender, soak your cashews. Soak them in cold water for 2 hours (or longer in the fridge) and drain and rinse before use, or quick soak them in boiling hot water for about 30 minutes.
Recommended Products
As an Amazon Associate and member of other affiliate programs, I earn from qualifying purchases.
Nutrition Information:
Yield:

8
Serving Size:

1
Amount Per Serving:
Calories:

254
Total Fat:

11g
Saturated Fat:

2g
Trans Fat:

0g
Unsaturated Fat:

8g
Cholesterol:

0mg
Sodium:

460mg
Carbohydrates:

28g
Fiber:

3g
Sugar:

3g
Protein:

14g
Nutrition is calculated automatically so should be used as an estimate.
This recipe was originally posted July 13, 2017.