This cashew ranch dressing is a dream! It's lusciously creamy and deliciously flavored. It makes a great salad dressing or dip for your vegan wings, really anywhere you'd enjoy the traditional non-vegan version!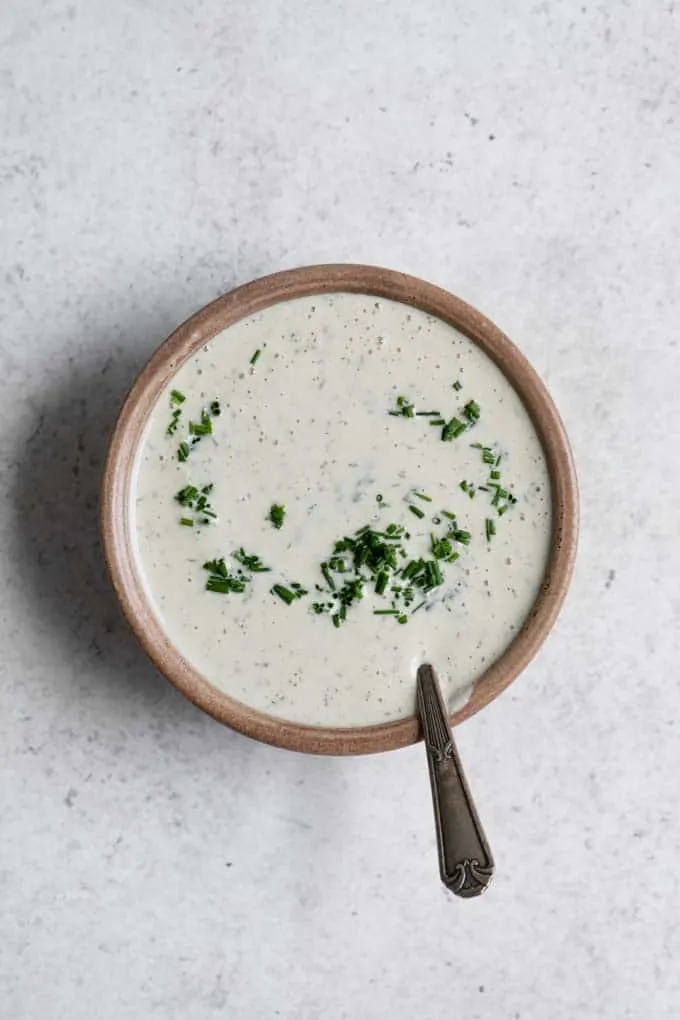 When it comes down to it, I'm team creamy dressings. Creamy everything if we're heading down the road of full honesty.
Ranch dressing is a traditional American dressing made typically from buttermilk, mayo, and some iconic spices and herbs.
When it comes to making a vegan version of the dressing you can approach it in different ways. Certainly one of the ways could be swapping out the exact dairy/non-vegan products for their vegan counterparts.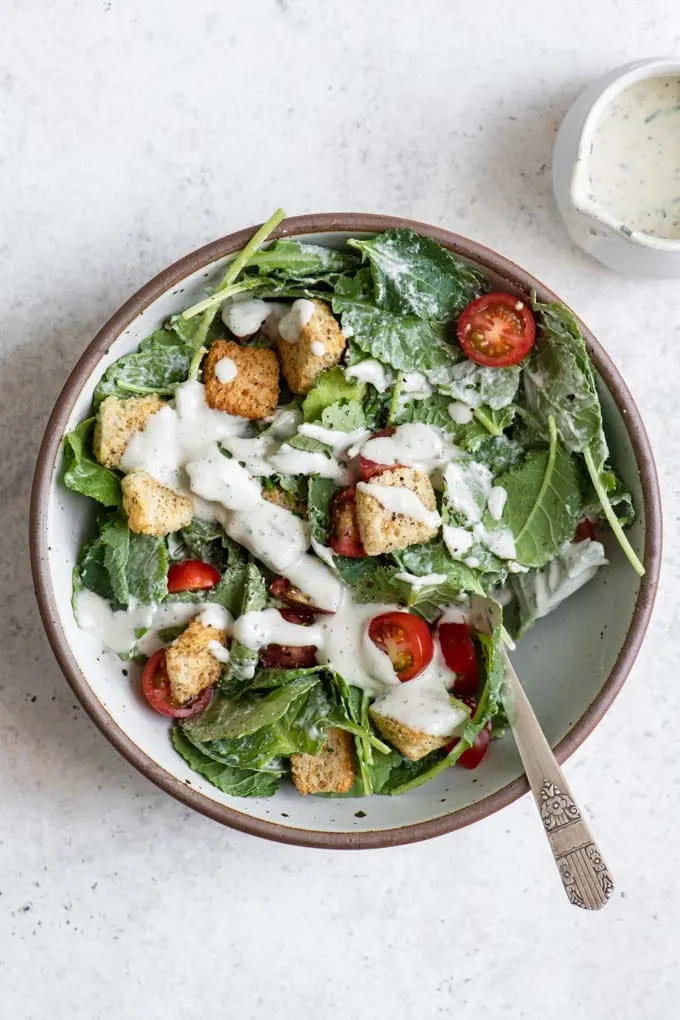 But this recipe goes in a different direction. I'm focusing on whole foods and the naturally creamy base that is cashew cream.
So what are the ingredients for this cashew ranch dressing?
Well, cashews, of course. Cashews blend with water to make the cashew cream that is the base of this recipe.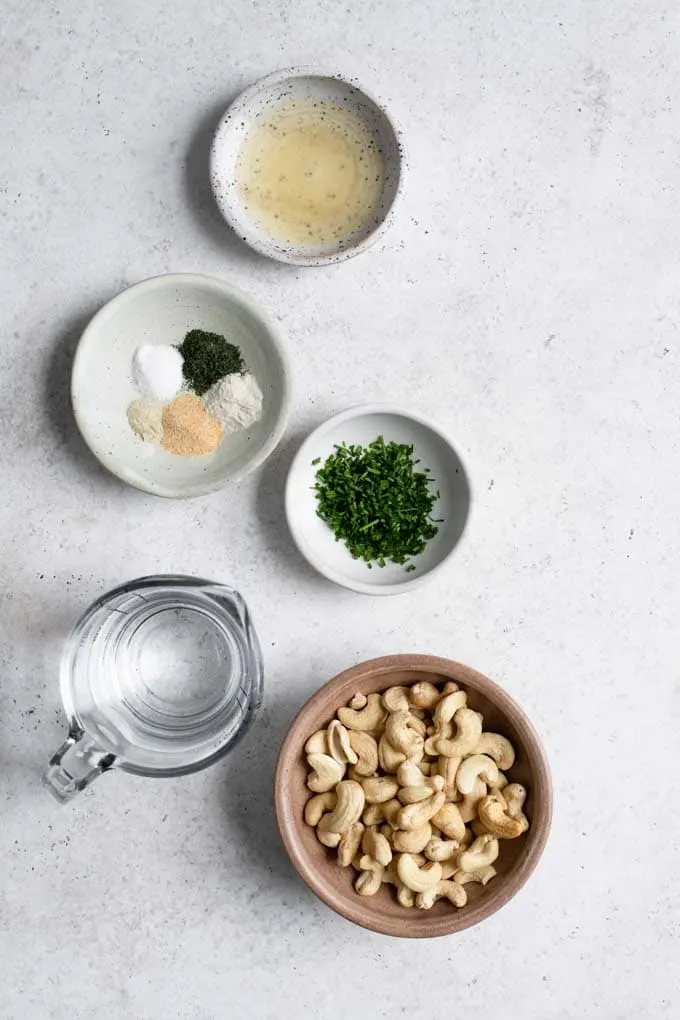 Apple cider vinegar. Because buttermilk is an ingredient in the original ranch dressing, we need to add some of those same sour notes into our cashew version. A big splash of vinegar does the trick!
I like apple cider vinegar because it is mild tasting while having more flavor than say just plain white vinegar.
All that's left is adding the spices!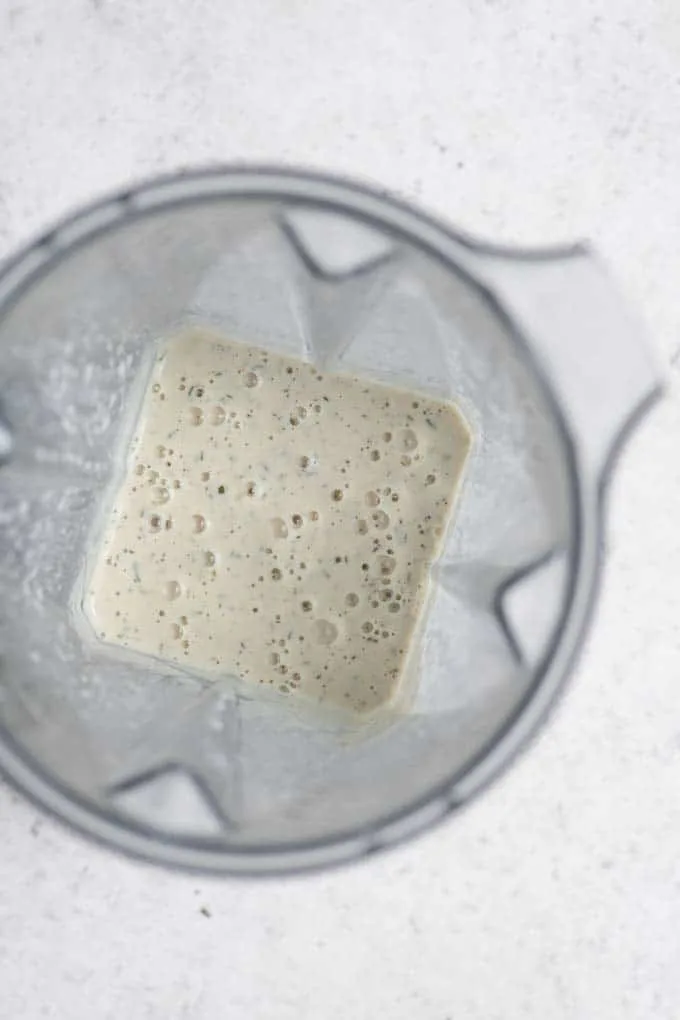 This includes dried onion powder and granulated garlic. The dried versions of these are perfectly pungent and just the right level of mellowed. Dried onion in particular has a delicious sweetness to it that you don't want to skip in this dressing.
For herbs I add dried dill and fresh chives. You can use dried chives if you prefer, but do not use fresh dill for the dill. The quintessential taste of ranch dressing comes from the dried herb!
Lastly add salt and pepper–I like to use white pepper because it's mild in flavor while still being nicely peppery. It's fine to use black pepper if that's what you have.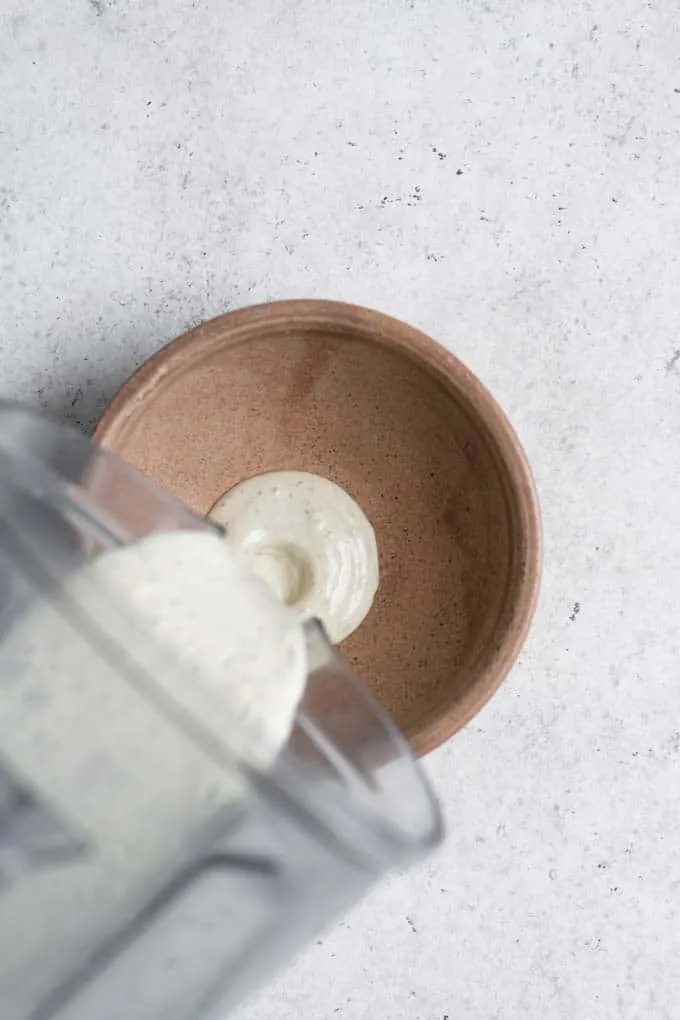 Tips for making the best dressing:
You need your cashew cream to be silky smooth. So, if you're not using a high powered blender such as but not limited to a Vitamix or Blendtec then you should soak your cashews.
To soak your cashews, cover them in cool water and let sit at room temperature for 2 hours. Drain, then rinse and use the cashews in the recipe. Another option is to quick soak using boiling hot water for 30 minutes.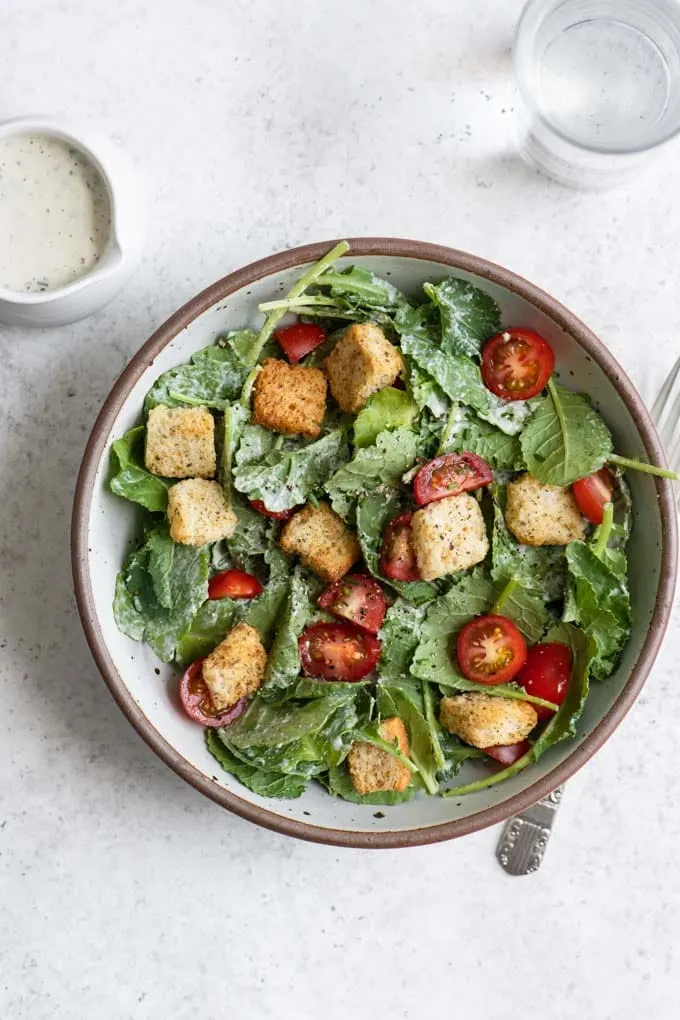 If possible, make the dressing in advance. The flavors of the cashew ranch dressing will marinate and develop as the dressing chills in the fridge.
It also thickens as it chills, so that's an added benefit! You can always thin it out with water or a splash of plain non-dairy milk if it thickens a bit more than you wanted.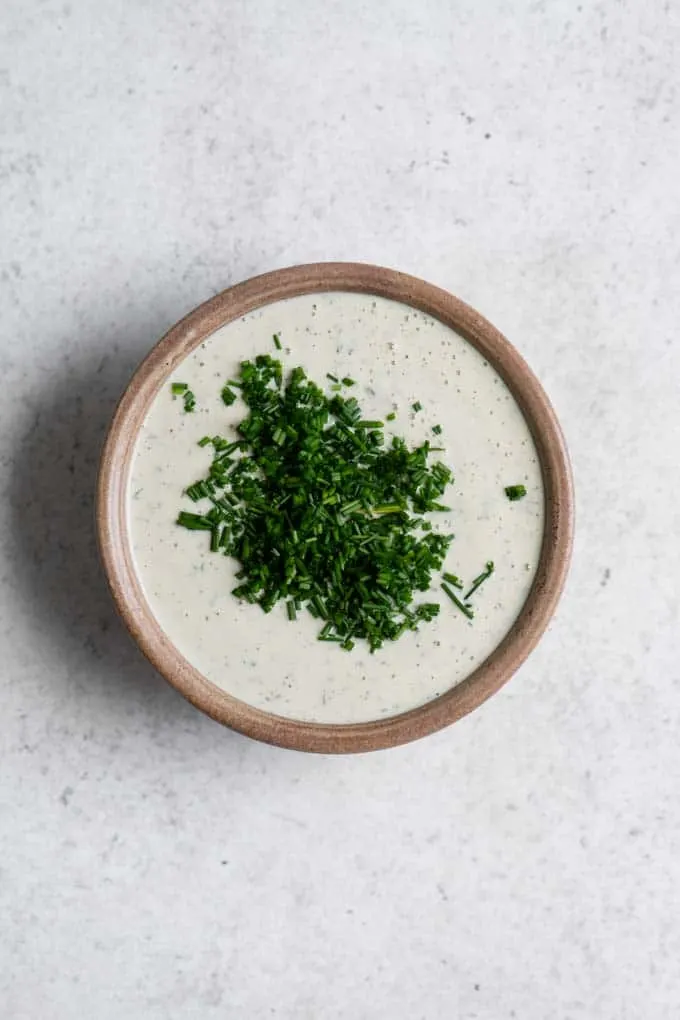 How to use this vegan ranch dressing:
Ok, so use it anywhere you'd normally use ranch dressing!
But these are some of my favorite recipes that are perfect with ranch beyond the typical salad: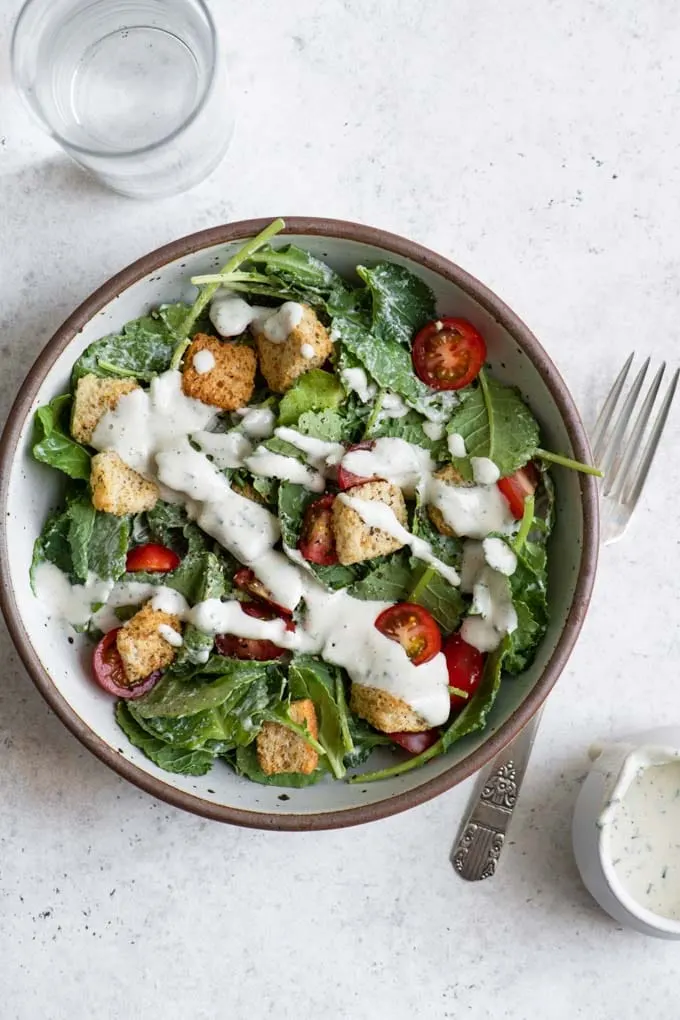 I hope you enjoy this cashew ranch dressing! If you make it, leave a comment below and rate the recipe on the recipe card. And please share your photos with me on Instagram, tag @thecuriouschickpea and #thecuriouschickpea. I love seeing your recreations!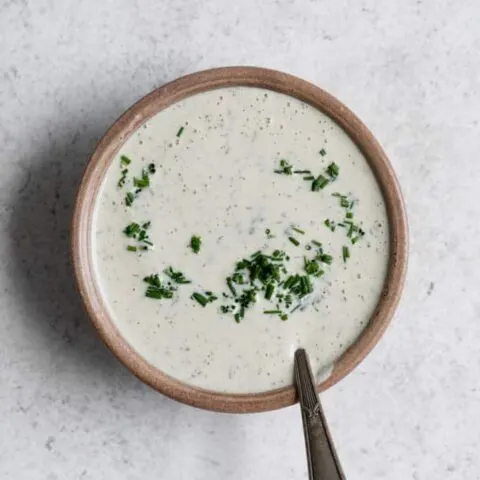 Cashew Ranch Dressing
This cashew ranch dressing is a delicious creamy dressing that's easy to make at home. Use anywhere you'd typically enjoy ranch dressing!
Ingredients
1 cup (125g) raw cashews
3/4 cups (175g) water
1 tbsp (15g) apple cider vinegar
3/4 tsp onion powder
1/2 tsp granulated garlic
1/2 tsp dried dill
1/2 tsp salt
1/8 tsp white pepper
2 tbsp minced fresh chives
Instructions
If not using a high speed blender, soak your cashews in boiling hot water for 30 minutes or in cold water for 2 hours. Drain, then use the cashews. If using a high speed blender you can skip soaking!
Add the cashews, water, and apple cider vinegar to a blender and and blend until smooth and creamy. Pause to scrape down as needed.
Add the onion powder, granulated garlic, dried dill, and salt, and white pepper and blend the spices in.
Stir in the chives with a spoon (do not blend). Transfer the dressing to a sealed container and chill for at least 1 hour before using. It will thicken as it chills. Enjoy within 1-2 weeks.
Nutrition Information:
Yield:

8
Serving Size:

1
Amount Per Serving:
Calories:

101
Total Fat:

8g
Saturated Fat:

2g
Trans Fat:

0g
Unsaturated Fat:

6g
Cholesterol:

0mg
Sodium:

256mg
Carbohydrates:

6g
Fiber:

1g
Sugar:

1g
Protein:

3g
Nutrition is calculated automatically so should be used as an estimate.