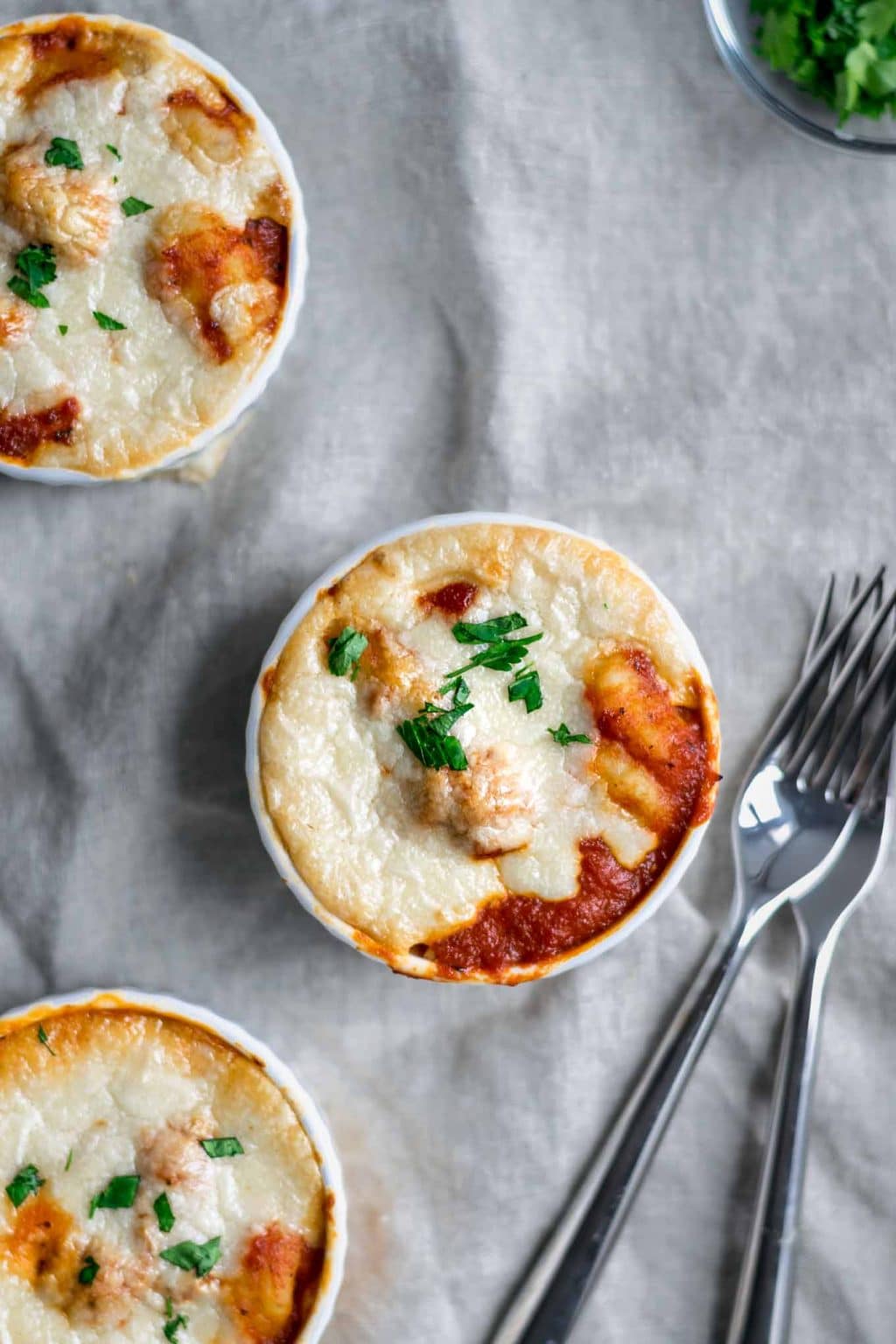 I love having gnocchi in the fridge, because it means quick and easy meals are a hop and a skip away. Like sure, usually gnocchi in the fridge means that I've put in a little (and I do mean that literally) effort to make it, because 1) homemade gnocchi is easy and tastes better, and 2) I'm very mistrusting* of the monoglycerides and diglycerides found in most store bought versions.
*And that's just because those ingredients are often animal-derived, their chemistry in cooking and baking is actually pretty cool.
Anyway back to the important things–gnocchi in the fridge means I get to make baked gnocchi, which is one of the most delicious dishes. Pillowy gnocchi is tossed in a spicy marinara (arrabbiata) and smothered with a creamy scrumptious vegan mozzarella sauce and baked until the sauce is hot and bubbly and the cheese is browned to perfection.
If you have the gnocchi already, the whole dish is ready in under 45 minutes, including making the mozz sauce and arrabbiata from scratch and 15 minutes of oven-time.
The arrabbiata is my go-to tomato sauce. It cooks up in no time with the chili and garlic providing depth of flavor without needing an hour long simmer.
I have versions of it in a few places, including to go with the homemade breadsticks (which would make an excellent side to this gnocchi, don't you think?) and on these cute smashed potato pizzas. I just keep coming back to it because it's incredibly easy and delicious.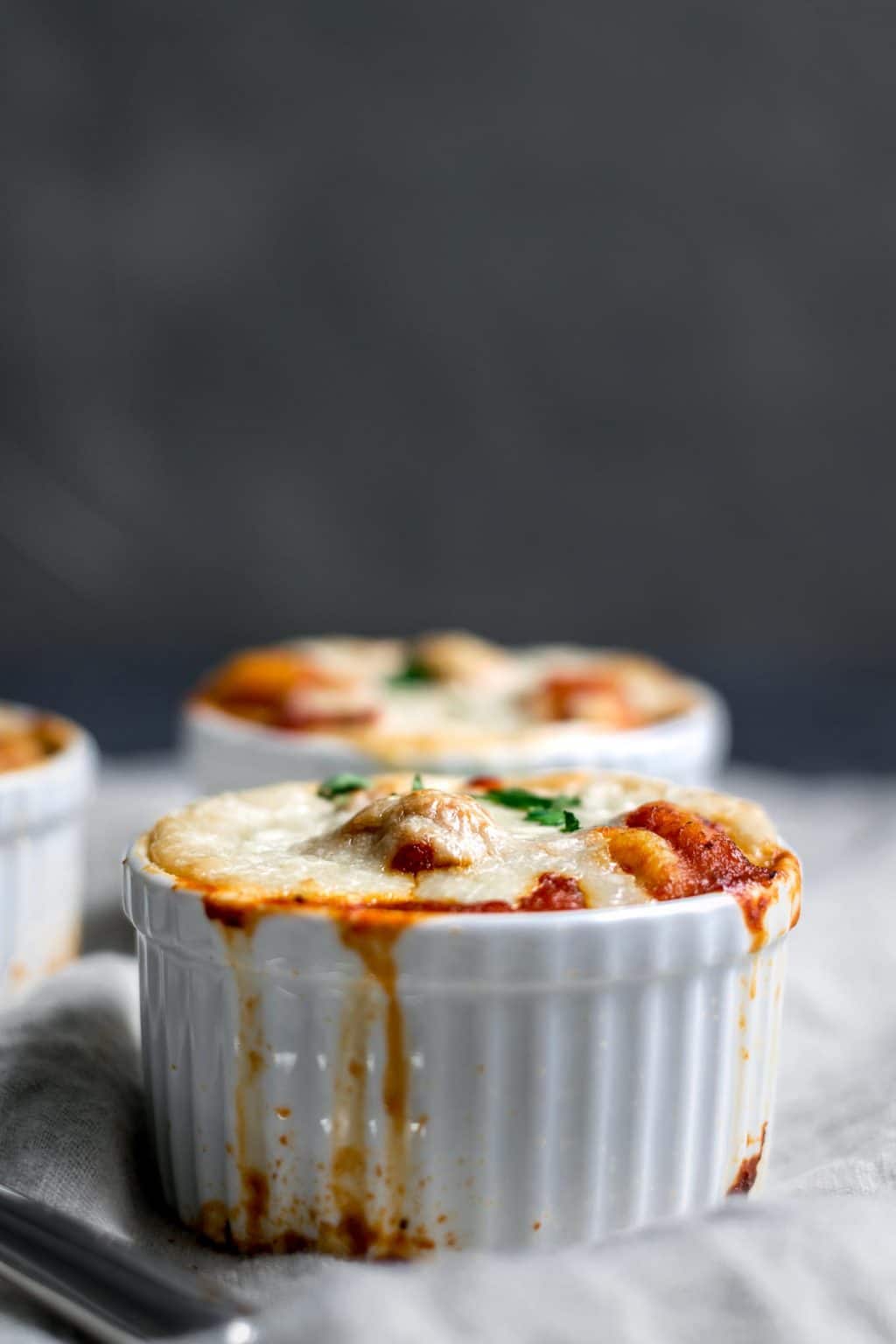 This version of my spicy marinara is sweetened a bit with some lightly caramelized onions. A generous dose of crushed red pepper and minced garlic are flash fried to deepen their flavors before a can of tomatoes is dumped in with some dried basil for an extra sweet flavor and simmered for 15 minutes to allow all the flavors to mellow and meld.
I love canned tomatoes. They make delicious tomatoey sauces accessible all year round. The key is to buy good quality tomatoes–organic and san marzano tomatoes are extra nice, if a bit more expensive. Buying whole peeled tomatoes guarantees the best quality, but are a little extra work as you need to tear up the tomatoes a bit without spraying yourself with their juices.
Typically I'll use a spatula or spoon to cut them into large pieces and a deep pot to protect myself. That being said, crushed or diced tomatoes make a tasty sauce as well, so use what you have on hand. At the end of the simmer, the sauce is blended until smooth.
The mozzarella sauce is adapted from my same day vegan mozzarella cheese recipe, which is my go-to homemade pizza cheese. I leave the mozz in sauce form as the starches will activate in the oven, cooking and thickening under heat. It's not necessary to gel the cheese using agar agar or carrageenan for the melty, creamy result in this recipe.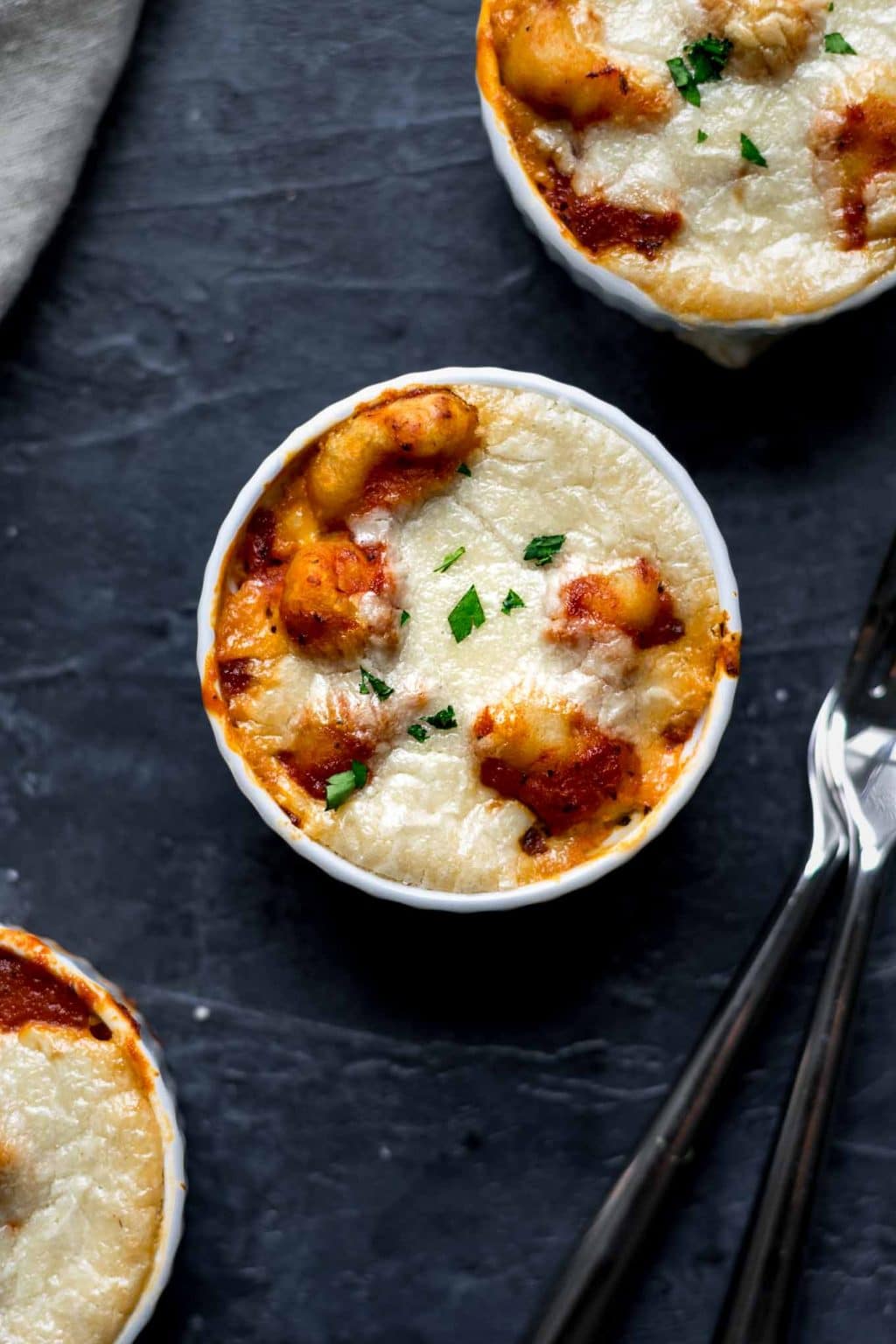 Skipping the gelling step makes whipping up this cheese sauce a snap. Cashews are blended with water, coconut oil, apple cider vinegar, garlic, tapioca starch, nutritional yeast and salt and the resulting sauce is poured straight over the filled ramekins.
Cashews provide the creaminess of the cheese, particularly when combined with coconut oil which gives a similar mouth feel to cheese as they are both higher in saturated fats. Apple cider vinegar gives a little acidic tang, adding some of that cheesy funk.
Garlic also adds a bit of a bite and some depth of flavor, but really I also really like garlic and it makes savory foods better. Tapioca starch thickens the sauce when heated, but also makes for a almost stretchy texture when activated. So while you can thicken with arrowroot or corn starch, tapioca is my go-to for cheese making.
Last but not least, a sprinkling of nutritional yeast gives some mildly nutty and cheesy flavor and rounds out the sauce with its delicious savory flavor.
To finish the recipe, toss cooked gnocchi in the arrabbiata and spoon into individual ramekins or one larger casserole baking dish. Pour a generous portion of the mozzarella sauce to cover the top and then bake the gnocchi for 10 minutes, or until the sauces are hot and bubbly.
Turn the oven to broil and let it bake the tops until they're nicely browned. Serving up the gnocchi in individual ramekins makes for a super cute presentation, perfect for dinner parties or date night but not portion control (because you can always grab a second one 😉 ).
I hope you guys enjoy these adorable ramekins of baked gnocchi with arrabbiata and vegan mozzarella. They really taste even better than they look! If you make them leave a rating and comment below and don't forget to tag your recreations @thecuriouschickpea and #thecuriouschickpea on Instagram, or share with me on Facebook!

Notes:
Both the arrabbiata and the mozzarella sauce can be made in advance and assembled to bake and serve. The mozzarella sauce will thicken in the fridge as the coconut oil chills, but it can be scooped and placed on top and will still melt nicely.
Use any leftover mozzarella sauce on pizza, or any recipe where it will be cooked before consumption.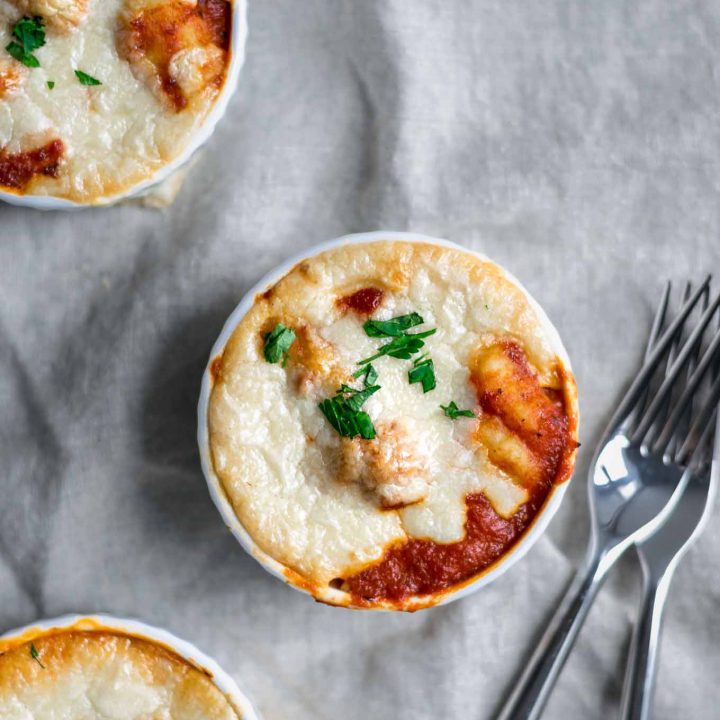 Baked Gnocchi with Arrabbiata and Vegan Mozzarella
Fluffy gnocchi are smothered with an easy, spicy arrabbiata sauce and topped with a quick homemade vegan mozzarella sauce and baked up to to a steamy, bubbly entree with crispy edges and perfectly browned cheese.
Ingredients
Mozzarella Sauce
1 cup cashews, soaked*
1 cup water
1/2 cup refined coconut oil, melted
1 tsp apple cider vinegar
1 clove garlic
2 tbsp tapioca starch or arrowroot starch
1 tbsp nutritional yeast
1 tsp salt
Arrabbiata Sauce
1 tbsp olive oil
1 small onion, small dice
1/2-1 tsp crushed red pepper, to taste
2 cloves garlic, minced
1/4 tsp salt, or to taste
32 oz canned tomatoes
1 tsp dried basil
For the ramekins
5-6 4oz ramekins, or an oven safe casserole dish
minced parsley for garnish
Instructions
To make the mozzarella sauce
Put everything in the blender and blend until smooth and creamy, scraping down the sides as necessary.
To make the arrabbiata sauce
Heat a heavy bottomed pot over medium-low heat and add the olive oil. Add the onion and cook for 6-8 minutes, stirring occasionally, until the onions are soft, lightly caramelized, and golden.
Add the crushed red pepper, minced garlic, and salt and cook for 1 minute.
Add the tomatoes and their juices and the dried basil. Bring to a simmer and let cook for 15 minutes. Blend with an immersion blender or traditional blender (but make sure to vent), until a smooth sauce is formed.
Make the ramekins
Preheat the oven to 425 ºF.
Toss the cooked gnocchi in the desired amount of arrabbiata sauce and divide between the ramekins, or put in the single casserole dish.
Pour 2 tbsp of mozzarella sauce over top each ramekin, or your desired amount over the casserole dish.
Place the ramekins or casserole dish onto a baking tray to catch any spillover and bake for 10 minutes. Then turn the broiler on and broil for 3-5 minutes until the cheese has browned in spots.
Notes
*Soak the cashews in cold water for 2 hours or boiling hot water for 30 minutes, drain then rinse. This step can be skipped if you have a high powered blender.
Mozzarella sauce adapted from Same Day Vegan Mozzarella Cheese