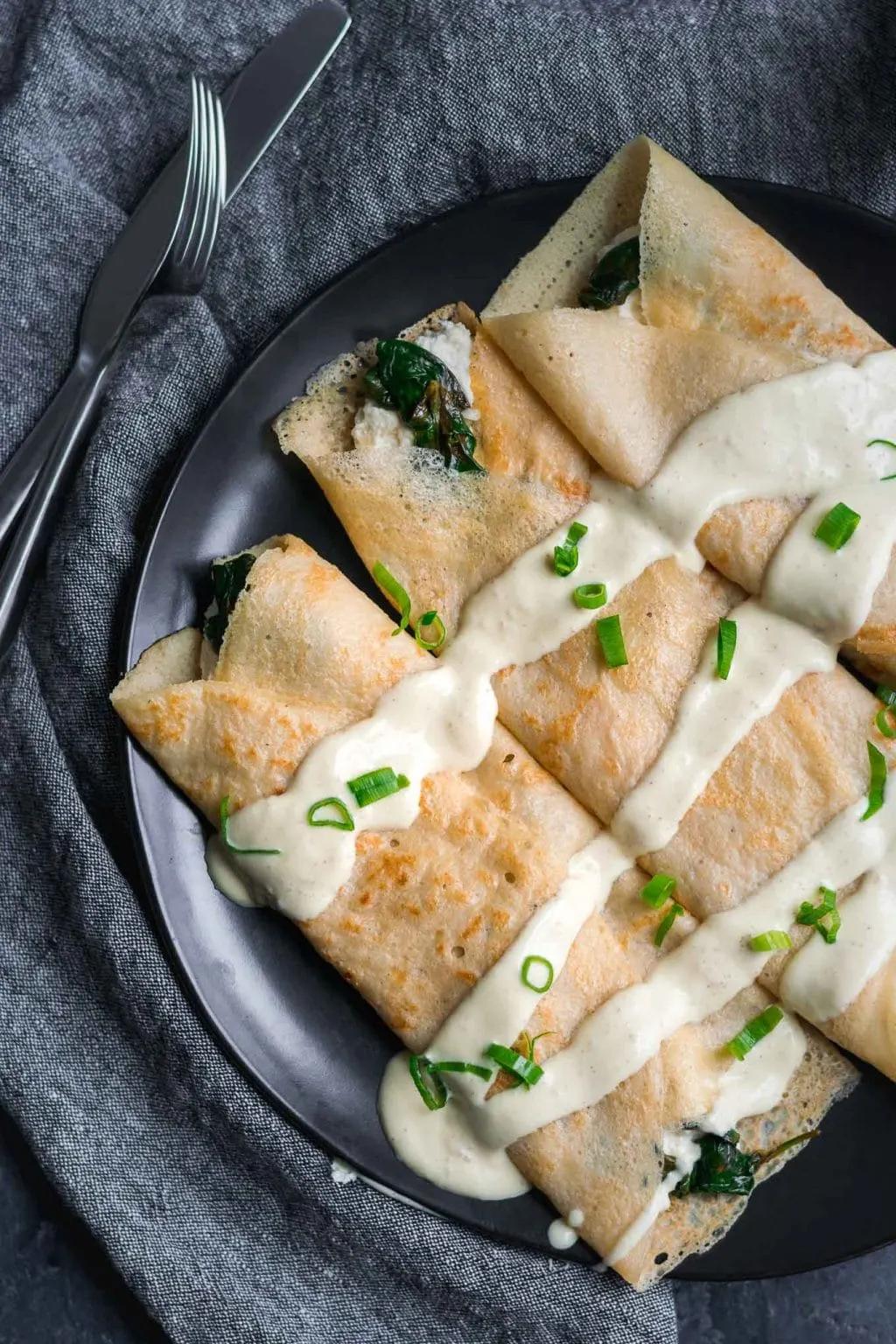 Are you more a savory or sweet crepe person? I was always more of a sweet crepe person growing up. Sweet fillings helped mask the eggy flavor of the crepes, which was definitely my least favorite thing about them. That's all changed now though, as my vegan crepes do not taste eggy at all (obviously)!
Don't get me wrong, I still love chocolate filled crepes, but I'd rather start my day with savory ones (though, breakfast deserves a dessert finish too, don't you think?)! These savory crepes are a perfect hearty start to your day, stuffed full of soft vegan cheese, garlicky sautéed spinach, and doused with an easy creamy vegan hollandaise.
I start with my easy vegan crepes, and you can either make the crepes in advance and just reheat them on a hot skillet before filling, or you can make them to order. I love this crepe recipe! It makes the perfect thin and chewy pancakes with crispy lacy edges. The crepes themselves aren't sweetened so they can be enjoyed with sweet or savory fillings.
For the filling I love my creamy vegan almond cheese, it's tangy and salty and has a little garlicky bite to it. It's also nice and rich, just like any good cheese should be. Feel free to substitute another creamy vegan cheese, like a vegan ricotta or a soft and mild nut cheese spread. Alternatively you could use your favorite vegan mozzarella.
Paired with the creamy cheese is some lemony and garlicky sautéed spinach. I use baby spinach as it's extra tender, quick to cook up, and comes already washed.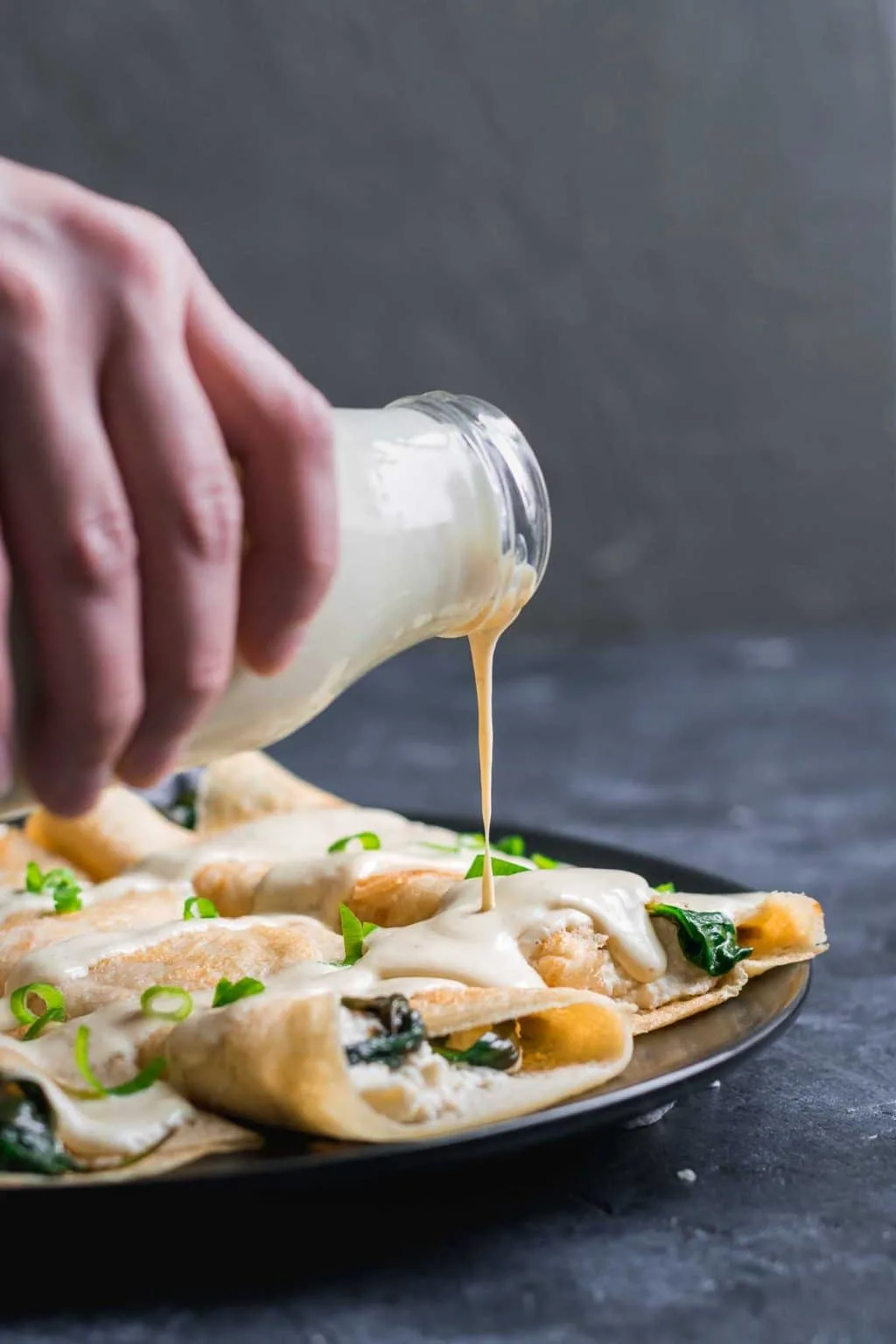 To serve the crepes, I blend together an easy vegan hollandaise sauce. Hollandaise is a sauce traditionally made of egg yolks and butter with a squeeze of lemon juice and a dash of cayenne or black pepper.
It's a rather tricky to make as you have to emulsify the egg yolks with the rest of the ingredients (which are mainly butter) over heat without scrambling them. Luckily, the vegan version is not only much heart healthier, but it's one of the easiest things to make.
I use silken tofu for a creamy base. Silken tofu blends up super easily even if you have a non-powerful blender. It's rich and creamy enough on it's own that you don't need to add gobs of butter, just a couple tablespoons of your favorite vegan butter is perfect. Coconut oil (use refined unless you don't mind a coconutty flavor) works beautifully as well.
I add a little nutritional yeast, which performs a double duty of giving some extra nutty and umami flavor to the sauce while adding a subtle yellow color. Ground mustard seed adds a bit more flavor, giving the sauce a bit of a bite.
For some spice I use white pepper and ground cayenne. White pepper adds some peppery heat without much flavor, and also leaves the sauce speckle free. Lastly a pinch of turmeric turns the sauce a beautiful pale yellow.
All these components add up to the most delicious and indulgent tasting crepes that are perfect for breakfast, brunch, lunch, or even dinner! I know, I literally just listed all the meals.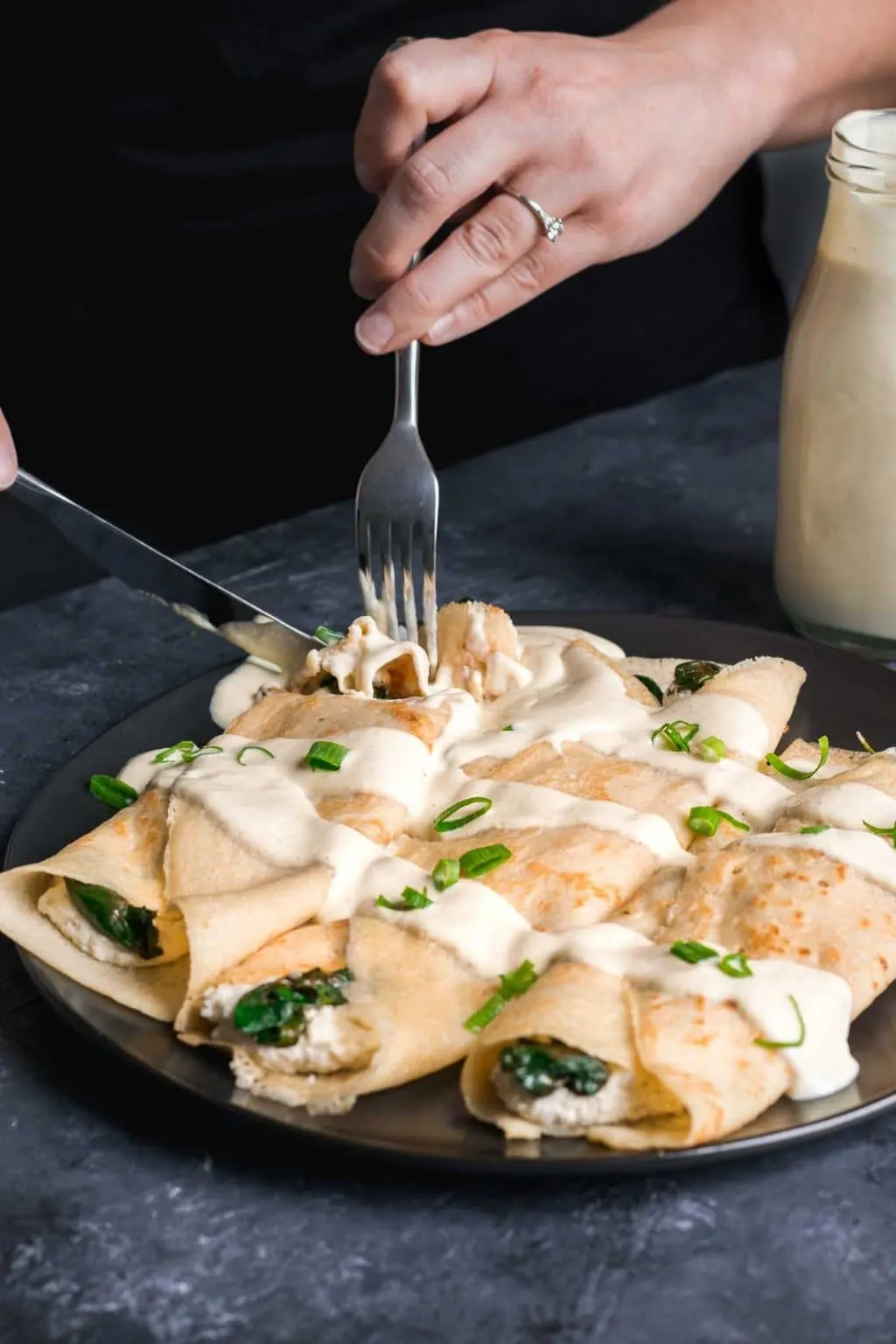 To prep everything in advance:
Everything can be made or prepared in advance for a pretty quick meal. For the crepes you can blend up the batter the night before to make fresh crepes in the morning, or make the crepes in advance and reheat to fill and serve.
For the cheese, I love making a big batch and having it on hand for a host of different uses (cheese and crackers, cheese on toast, cheese on pizza, cheese on pasta, um, you get it). The hollandaise can be made in advance as well and just heated to serve. It may need to be thinned with a little water if it has thickened in the fridge.
You could even sauté the spinach in advance, but it will brown a little from oxidizing. It's so quick and easy to make though that I probably wouldn't bother making it in advance.
Are you ready to impress yourself or some guests with your vegan crepe skills? Let me know if you make these savory crepes! Comment and rate the recipe below and tag recreations @thecuriouschickpea and #thecuriouschickpea on Instagram, or share with me on Facebook!

Notes:
If you want to avoid tofu in the hollandaise you can substitute cashews. Substitute 1/2 cup of soaked and drained cashews with 1/2 cup of plain non-dairy milk for the tofu and blend for longer to get a smooth and creamy sauce.