These homemade vegan seitan steaks are protein rich, flavorful and have a great chewy-but-tender texture. You can fry or grill them up for a "meat and potatoes" type meal, or cut up and use the savory seitan in any recipe that calls for some vegan beef.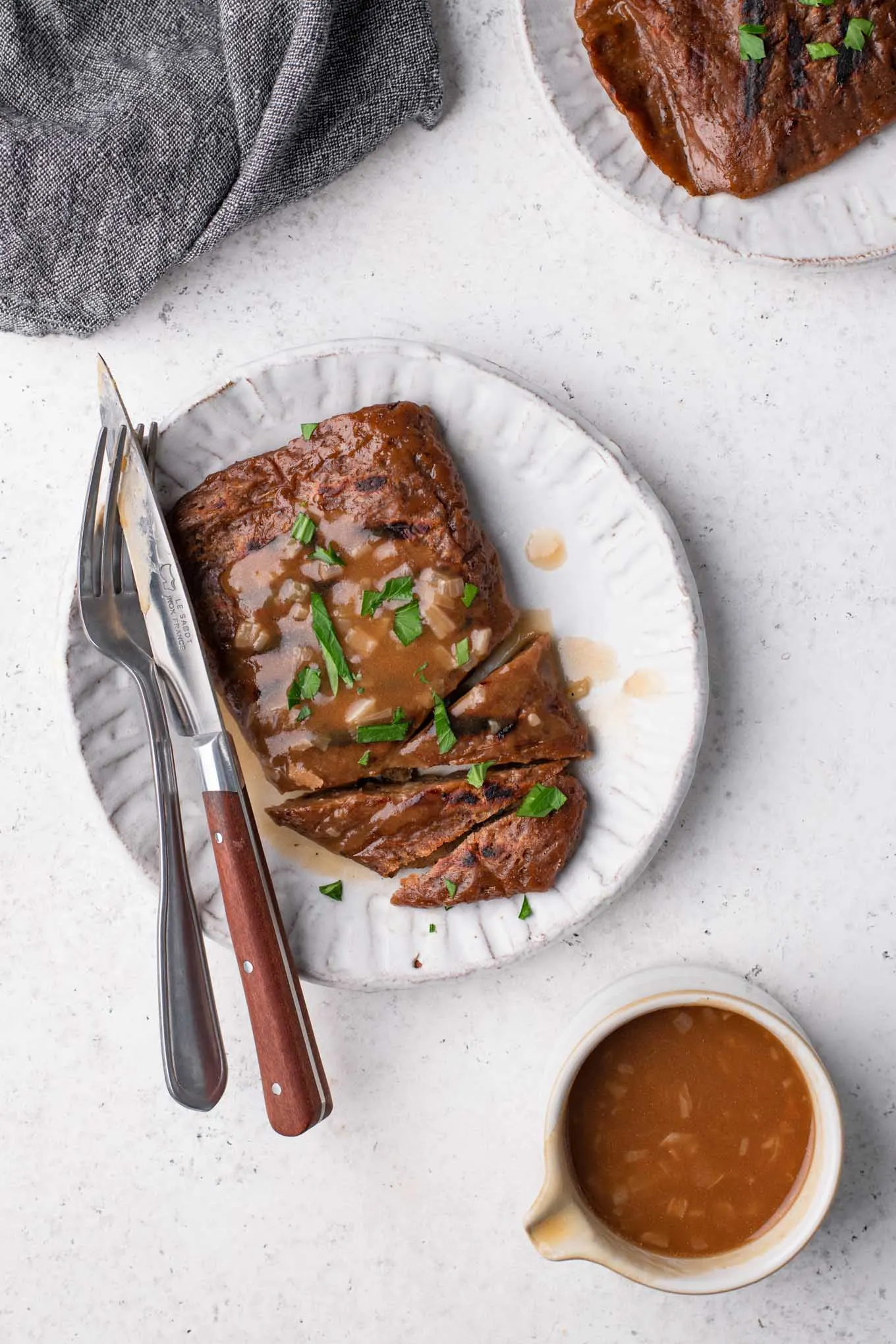 I love how versatile these vegan steaks are. I sauté them to throw into pasta dishes, use them in stir fries, season them to be fantastic taco 'meat,' and use them finely diced in tofu scrambles.
They're really high in protein and quite easy and cheap to make. One recipe makes 2 pounds of seitan. That can be used to make many meals! And any extra seitan freezes beautifully for future meals.
You can buy seitan, but it's a bit on the pricier side and usually sold in smaller amounts. I love making it at home where I can control the seasoning and texture of the seitan.
You can leave these seitan steaks whole, cut or tear them into large pieces, slice them into strips, chop them into small bite sized pieces, finely dice them, or even grind it up in a food processor for a "ground meat" texture. The possibilities are endless!
You can bread or batter the vegan seitan steaks, pan fry them, grill them or even just eat them without any extra cooking! The seitan is fully cooked during the steaming step, so any extra preparation is simply gravy. Also, really good eaten with gravy!
Use this seitan recipe as the base for my vegan seitan carne asada tacos. Or cook a grilled seitan steak, mashed potatoes, shallot gravy, and zucchini meal.
Will you confuse this seitan for meat? Nah, I highly doubt that. But it tastes great and is super versatile and hopefully can satisfy those cravings!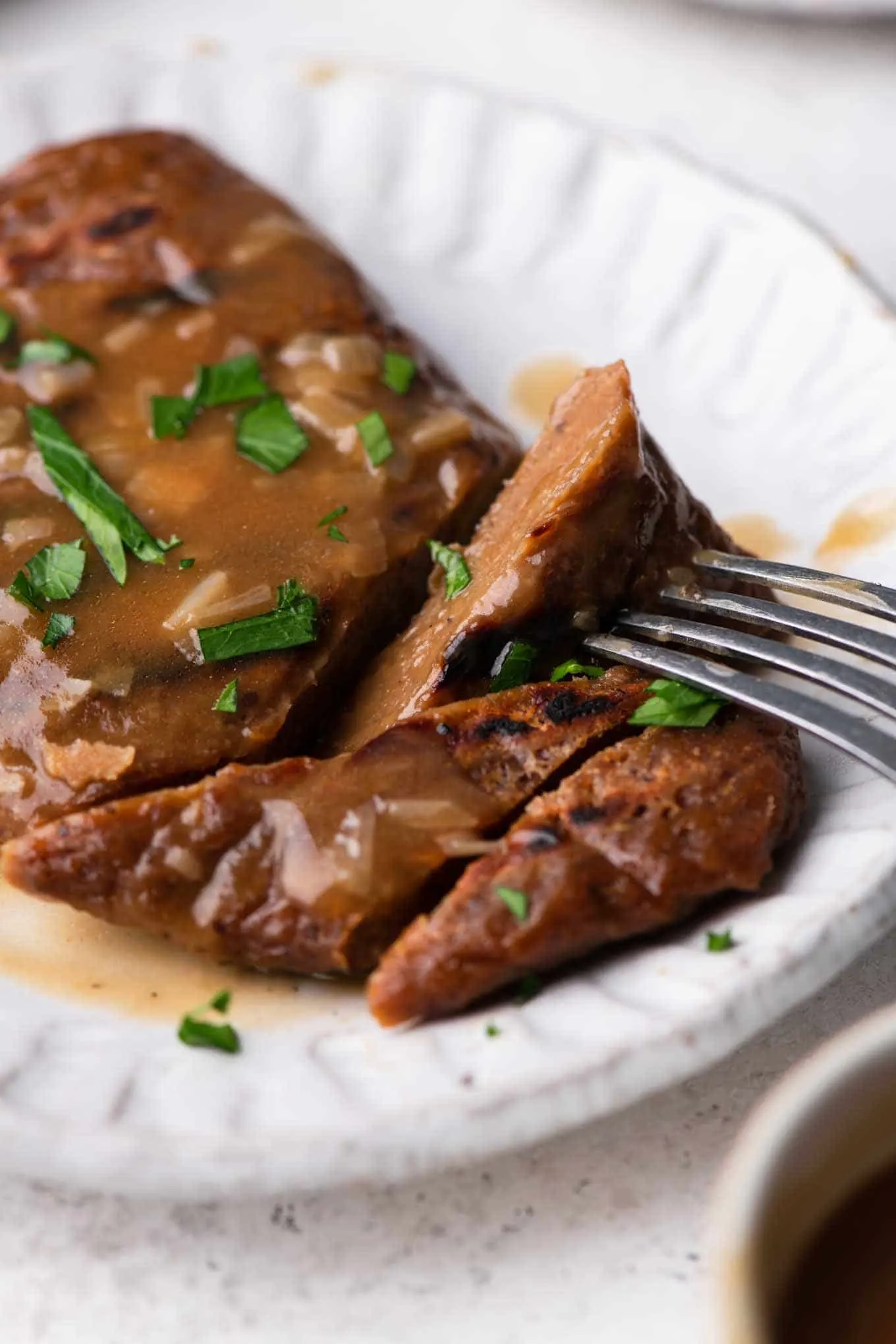 What is seitan?
Seitan is a protein dense food that dates back to ancient China. The first records of using seitan are from the 6th century!
Seitan is made from gluten, which is the protein in wheat flour. The classic preparation involves making a dough of whole wheat flour and water then washing the starches out of the dough so you're left with just the protein. This is a somewhat intensive process, and results in an unseasoned seitan (which can be seasoned before cooking).
Luckily these days it's much simpler to make seitan because you can buy the wheat protein separately. It's called wheat gluten or vital wheat gluten and you can use this as a flour to make homemade seitan.
You can change the flavors and textures of the seitan by adding seasonings, cutting the dough with other high protein flours like chickpea flour or soy flour, or adding mashed beans or blended tofu.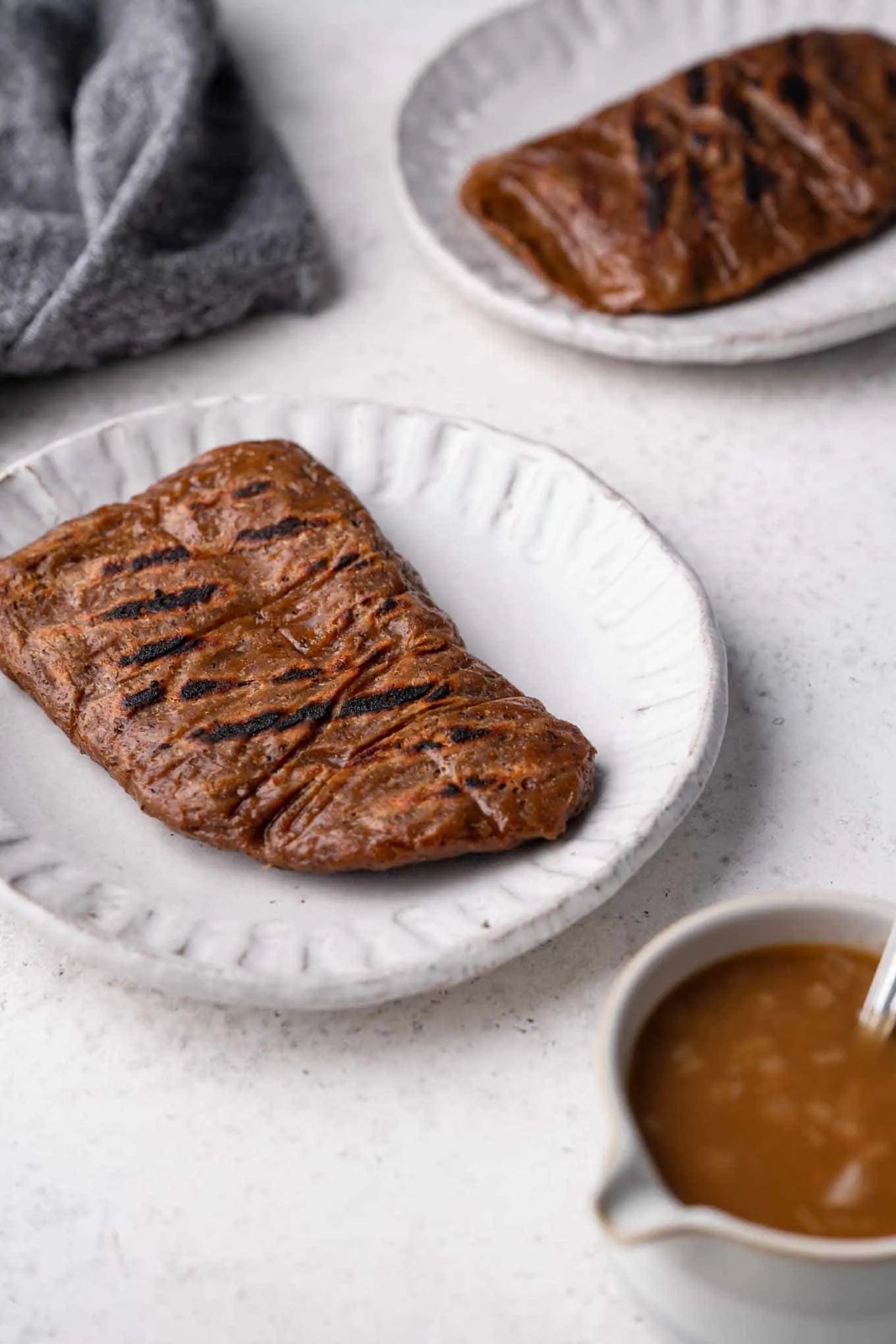 Ingredients for vegan steaks:
This recipe builds a lot of flavor into the vegan steaks, so that the seitan is delicious enough to eat plain.
For aromatics, I sauté onion until sweetened and soft, then add garlic to cook off its rawness. The cooked onion and garlic are blended til fairly smooth with salty and umami rich ingredients–vegetable broth, red wine, soy sauce, vegan Worcestershire sauce, and tomato paste.
These ingredients lend a savory meatiness to the final seitan steaks.
The dough is enriched with oil, which gives a really nice texture to the seitan. Fat keeps the gluten from developing too tough and inhibits any rubbery texture.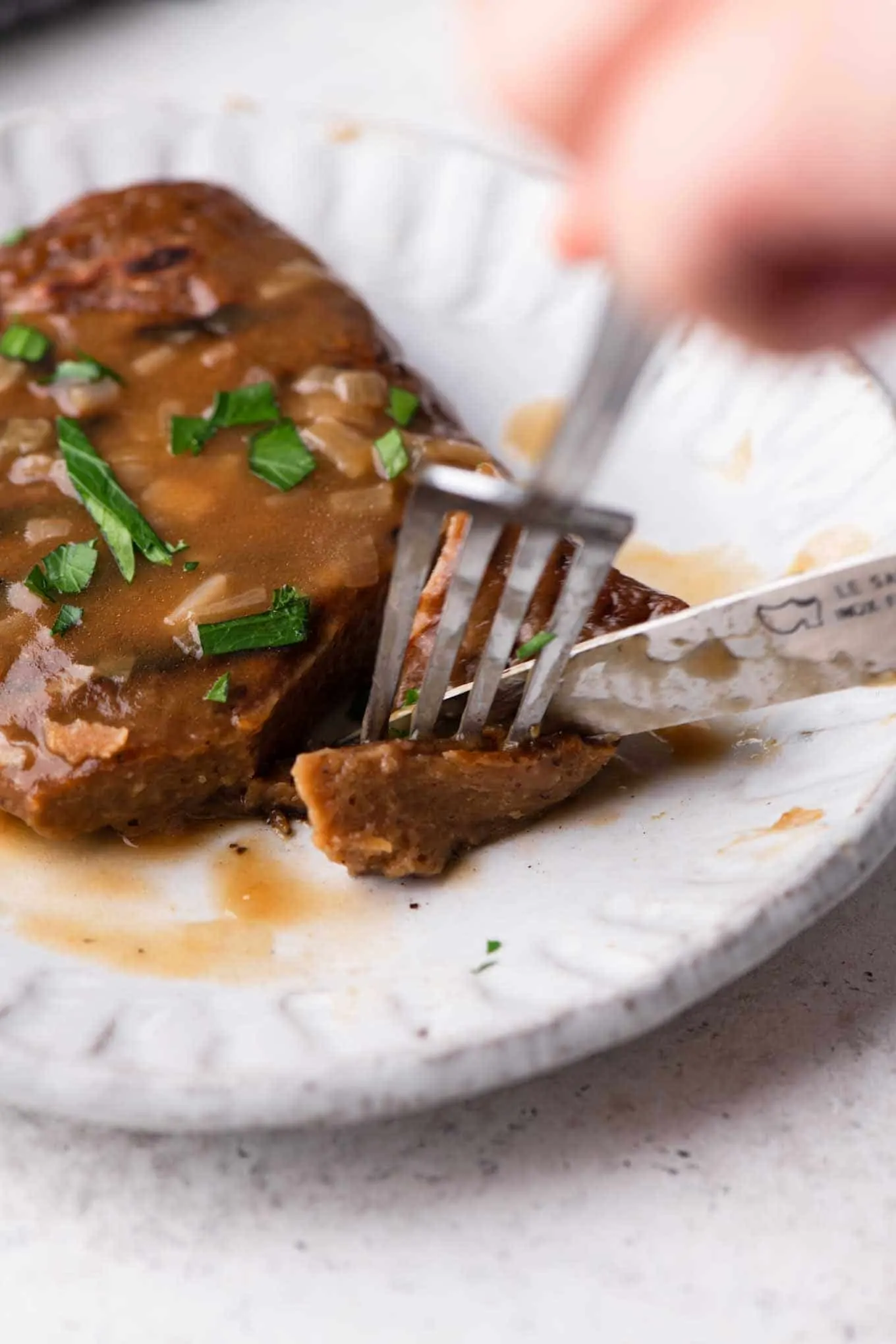 To further improve the texture I add black beans and chickpea flour. Black beans also help the seitan turn a darker color, making them visually 'steak'-like.
And of course you cannot make seitan without vital wheat gluten! Yes, that does mean there are no substitutes for this ingredient. Unfortunately this recipe is not appropriate for anyone sensitive to gluten.
How to make Seitan Steaks:
Add the blended wet ingredients to the combined wheat gluten and chickpea flours.
These ingredients are combined to make a soft dough, and this dough is kneaded to develop the protein structure. You can do this by hand or using a stand mixer.
I recommend kneading in 2 stages. First, knead for 3 minutes and feel the dough go from a squishy sticky mess to one that starts to provide some resistance.
Then let the dough rest for 5 minutes. In this time the wheat gluten and chickpea flour will continue to hydrate and the gluten will relax. While the dough relaxes, the protein network you've been been working on developing through kneading will continue to align and develop.
Finally, knead again for another 3 minutes. The final dough will be slightly stiff and have quite a bit of resistance when kneading.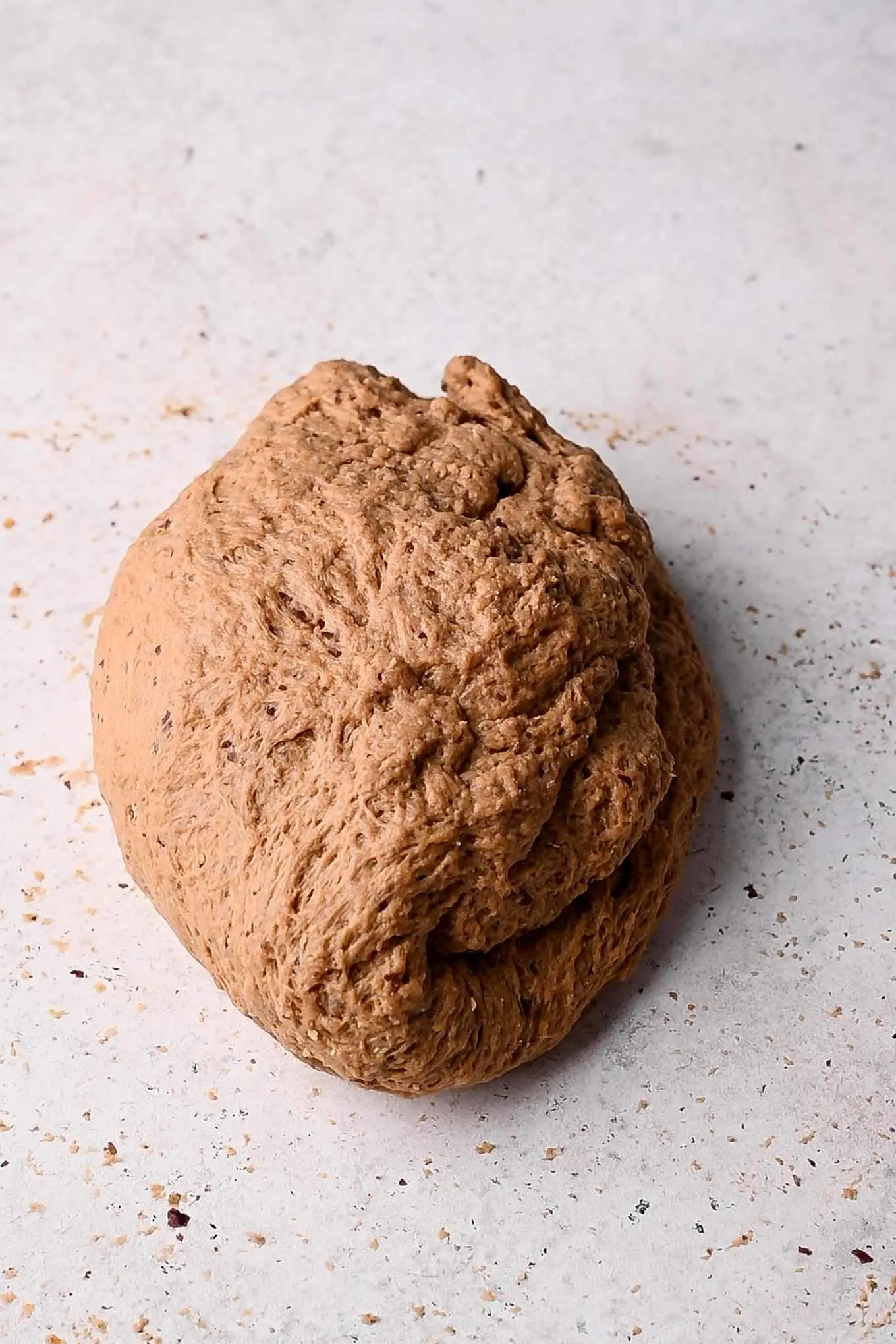 At this point the dough is divided and shaped into the "steaks," wrapped in foil packets, and steamed. Steaming the seitan in foil allows the seitan to expand, cook, and firm up without getting the spongier texture you can get from simmering (particularly if you don't babysit the stove and let the broth come to a boil).
The texture of seitan improves after cooling and chilling fully. For this reason I recommend making the seitan a day before you plan on eating it. It will be softer and less toothsome immediately after cooking, and you may not be happy with them if you eat them before refrigerating!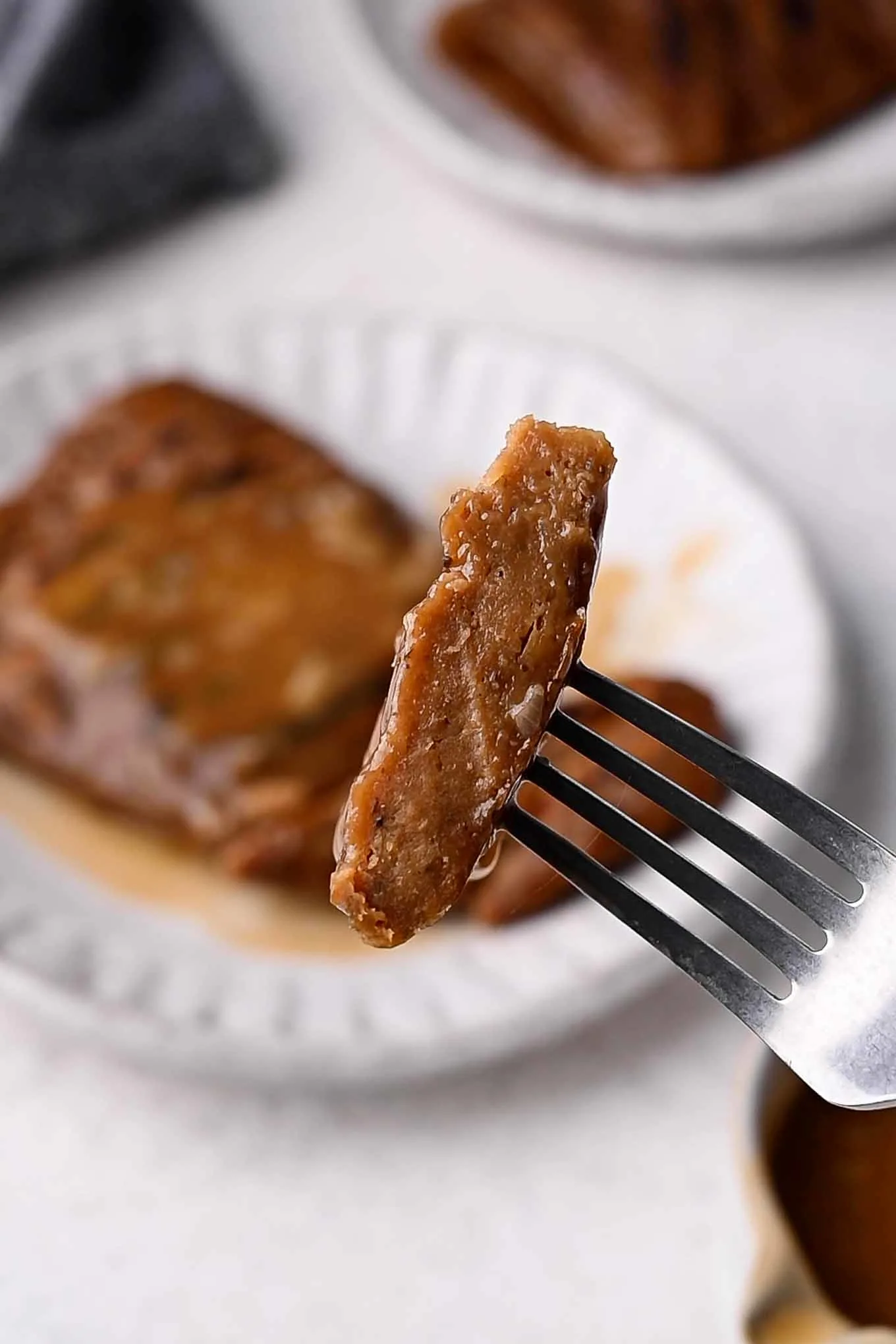 The foil packets:
To wrap each piece of seitan in foil, take a 10 to 12-inch piece of aluminum foil and then place a 6 inch strip of parchment paper in the center.
The parchment paper is optional, but prevents the foil from being in direct contact with the seitan.
Place a shaped piece of dough into the center and wrap with parchment paper before folding in the sides of the aluminum foil to overlap in the center. Then fold in each end of the foil like you are wrapping a present. Make triangles, then fold the triangles into the foil to make a fairly tightly wrapped package. See photos or video for clarification!
It's important to properly measure the wheat gluten for this recipe.
Wheat gluten is such a light flour that the amount can vastly vary depending on how it's measured. For this reason, I recommend weighing the gluten if you can. If that's not an option, then scoop the flour–DO NOT pour into measuring cup. This is because to measure by volume I scooped flour and you want to measure the same way I do.
Substitute for the wine?
You can substitute additional vegetable broth for the wine and add 1 teaspoon of red wine vinegar or apple cider vinegar.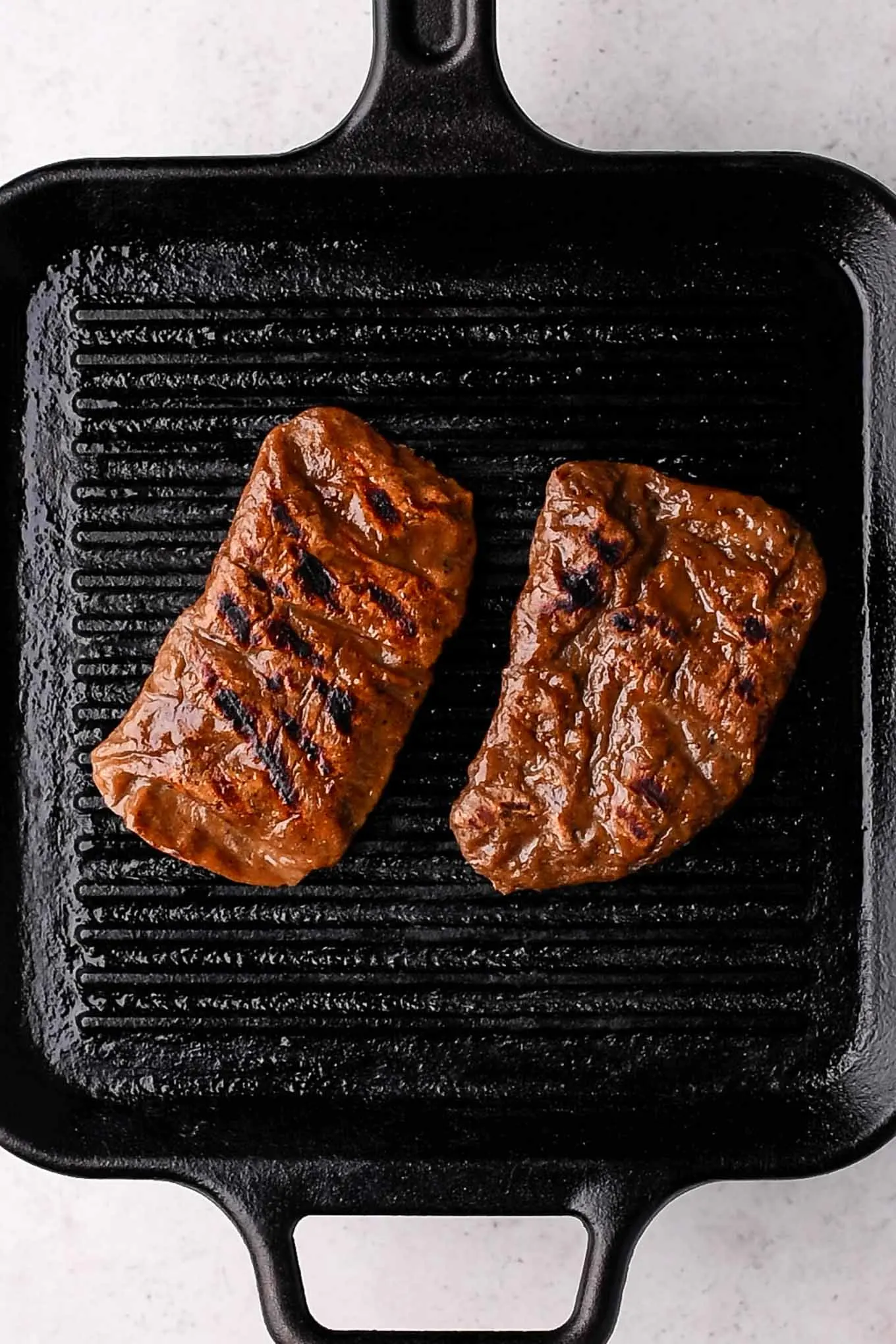 But Worcestershire sauce isn't vegan?!
Well sure most Worcestershire sauce at the grocery store will have anchovies. But not ALL Worcestershire sauce is made that way! Buy a vegan Worcestershire sauce like The Wizard's or Annie's.
If you cannot find vegan Worcestershire sauce, substitute A1 steak sauce. Or use another brand of steak sauce, but please double check the ingredients to ensure that it is vegan!
Just how high in protein are these vegan seitan steaks?
Now, I personally don't think you need to worry about getting protein as a vegan as long as you eat enough calories and a varied diet. But it's a pretty cool to see that these vegan "steaks" come in at about 65 grams of protein and just 9 grams of fat while (according to google) a 5oz beef steak has 35g of protein and 27 grams of fat.
So basically you can get the same amount of protein and a LOT less fat and have a delicious meal with no animals harmed! That's pretty cool.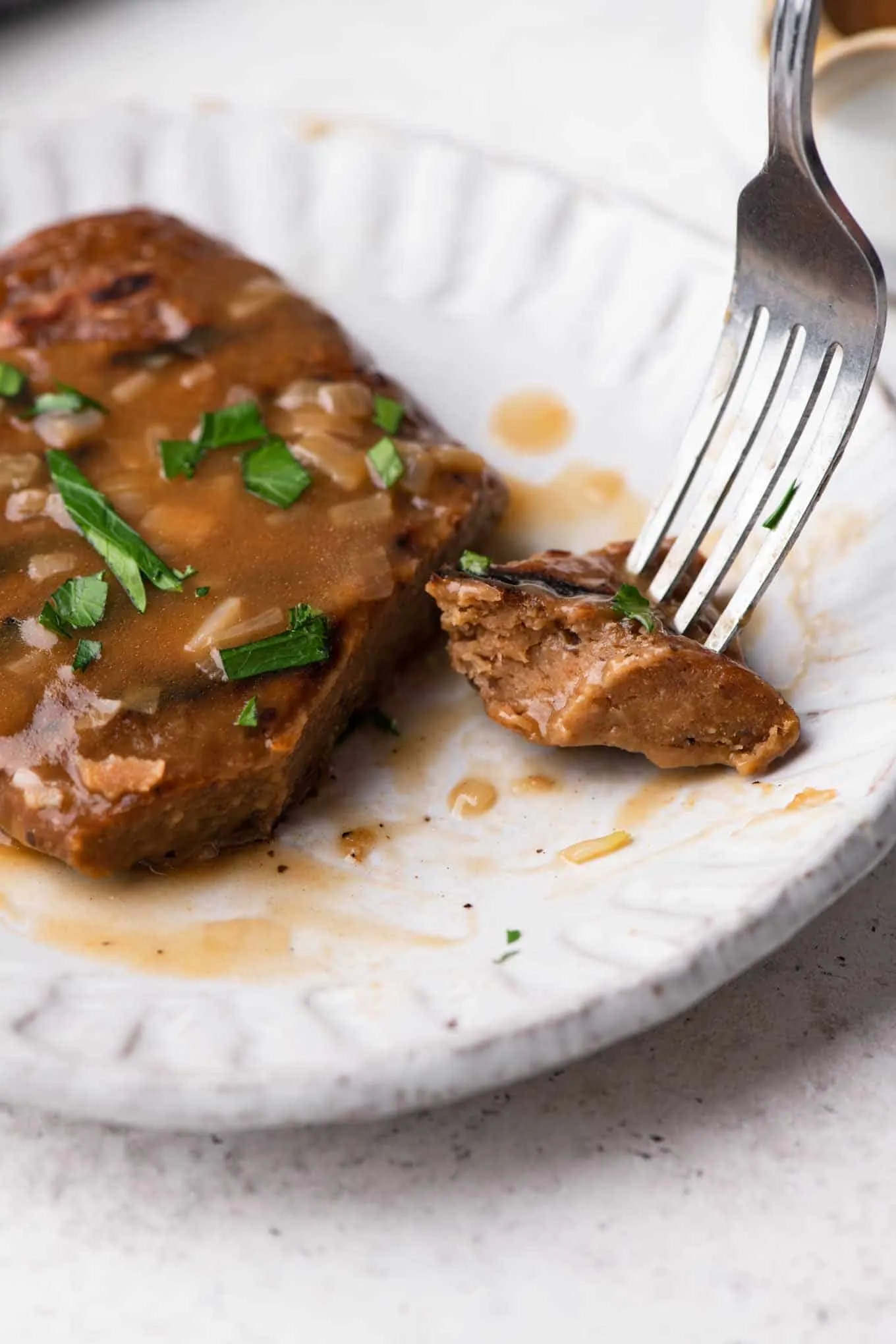 How long do the seitan steaks last in the refrigerator?
The seitan can be stored in a sealed container in the fridge (feel free to unwrap from the foil packages first) for up to 2 weeks.
If you know that you may not get to them for a week then I recommend freezing them for longer storage. To freeze, unwrap the seitan from the foil and freeze the seitan in a ziplock freezer bag or reusable stasher bag. Defrost before using.
Do not freeze the seitan in foil, as the foil can stick to the steaks if you do so.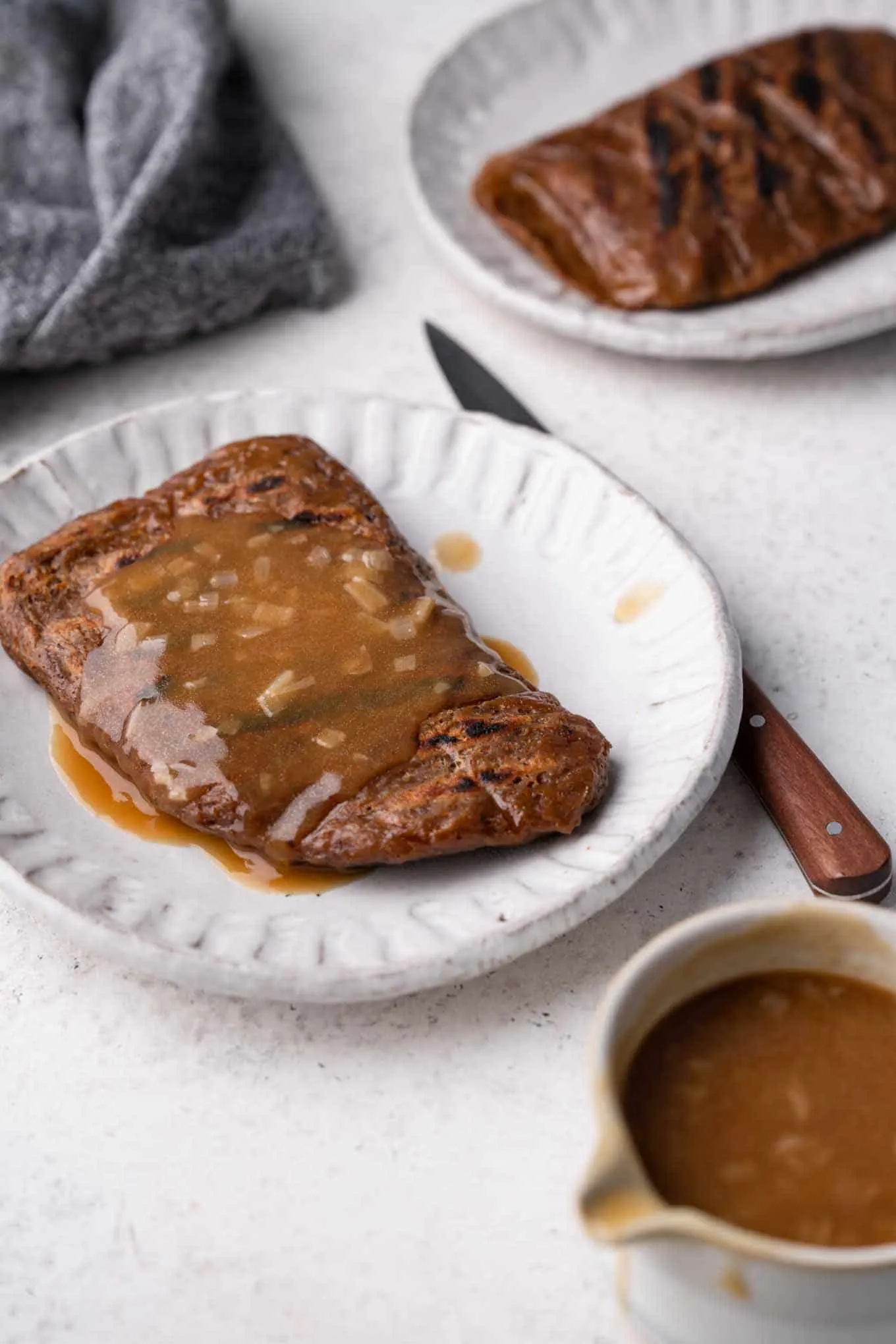 If you make these homemade vegan seitan steaks, leave a comment below and rate the recipe on the recipe card. And please share your photos with me on Instagram, tag @thecuriouschickpea and #thecuriouschickpea. I love seeing your recreations!
If you make these homemade vegan biscuits, leave a comment below and rate the recipe on the recipe card. And please share your photos with me on Instagram, tag @thecuriouschickpea and #thecuriouschickpea. I love seeing your recreations!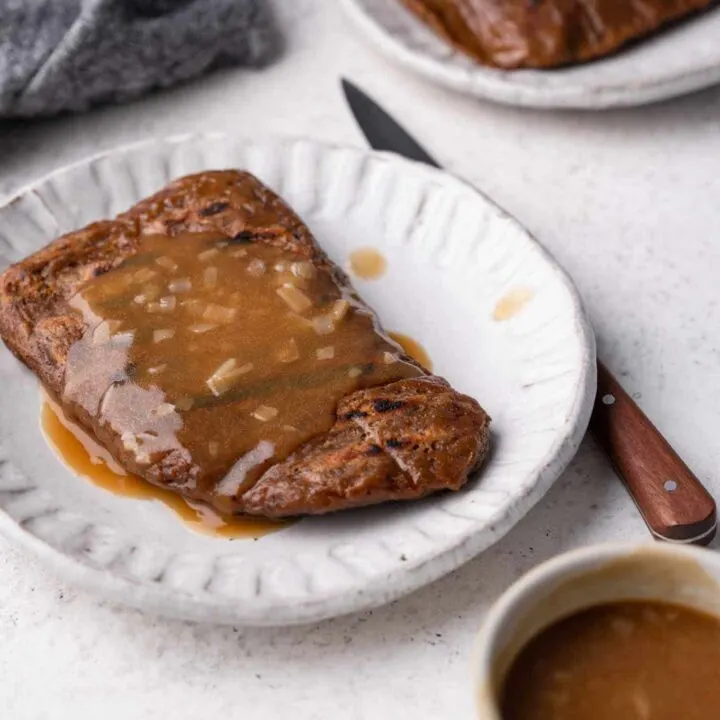 Vegan Seitan Steaks
Total Time:
1 hour
25 minutes
These vegan steaks are tender yet chewy, great served as a meat and potaotes meal or chopped up and cooked into other dishes. It's really flavorful on it's own, but lends itsself nicely to added seasoning! This recipe makes 2 pounds of seitan (six 5 1/3 oz steaks). Make it a day in advance for best texture.
Ingredients
1 tbsp olive oil
1 small red onion, chopped (~1 heaping cup)
2 garlic cloves, smashed and peeled
1 cup vegetable broth
1/2 cup red wine
1/2 cup cooked black beans, drained and rinsed
2 tbsp olive oil
2 tbsp soy sauce
1 tbsp vegan Worcestershire sauce
1 tbsp tomato paste
1/2 tsp salt
2 1/4 cups (320g) vital wheat gluten
1/4 cup (35g) chickpea flour
Instructions
Heat a skillet over medium low. Add 1 tbsp of olive oil and the onions and the peeled garlic and cook until the onions are soft and translucent, about 5-6 minutes.
Transfer the cooked onions and garlic to a blender and add the vegetable broth, red wine, black beans, 2 tbsp olive oil, soy sauce, Worcestershire sauce, tomato paste, and salt. Blend the mixture until smooth.
In a large mixing bowl whisk together the vital wheat gluten and chickpea flour. Add the wet ingredients and mix together with a wooden spoon to make a shaggy dough.
Turn the dough out onto a clean counter and knead by hand for 3 minutes. Then, let the dough rest for 5 minutes, before kneading an additional 3 minutes. The dough will go from soft and somewhat sticky to developed and a bit tough.
Prepare six 10-inch long sheets of aluminum foil. Place 6-inch wide pieces of parchment paper in the center of the foil.
Divide the dough into 6 pieces and press and stretch each piece of dough into a rectangular steak, about 4x6". If the dough won't hold it's shape, let it rest for a few minutes before stretching.
Place each steak in the center of a sheet of aluminum foil and wrap with parchment paper before folding in the sides of the foil to meet in the center. Fold the ends in to make a triangle, then fold the triangle over until it reaches the seitan. Repeat with the remaining pieces of dough.
Bring a pot of water with a steamer insert to a boil, when boiling add the wrapped seitan dough to the steamer basket. Steam for 35 minutes over medium-low heat to maintain a low boil, checking to make sure the pot doesn't boil dry.
After 35 minutes turn the heat off and let the seitan cool in the pot for another 10 minutes or so. When they've cooled off a little you can take them out and let them cool to room temperature before placing in a sealed container and letting chill in the fridge overnight. While you can eat them right away, the texture is much better the next day.
Recommended Products
As an Amazon Associate and member of other affiliate programs, I earn from qualifying purchases.
Nutrition Information:
Yield:

6
Serving Size:

1
Amount Per Serving:
Calories:

452
Total Fat:

9g
Sodium:

657mg
Carbohydrates:

24g
Fiber:

3g
Sugar:

3g
Protein:

67g
Nutrition is calculated automatically so should be used as an estimate.