This smashed potato herbed salad is the perfect summery dish! It's a must make for your next cookout, a delicious accompaniment to your meal that just happens to be vegan and gluten free. It's made with smashed potatoes and a mouth watering lemon herbed cashew dressing.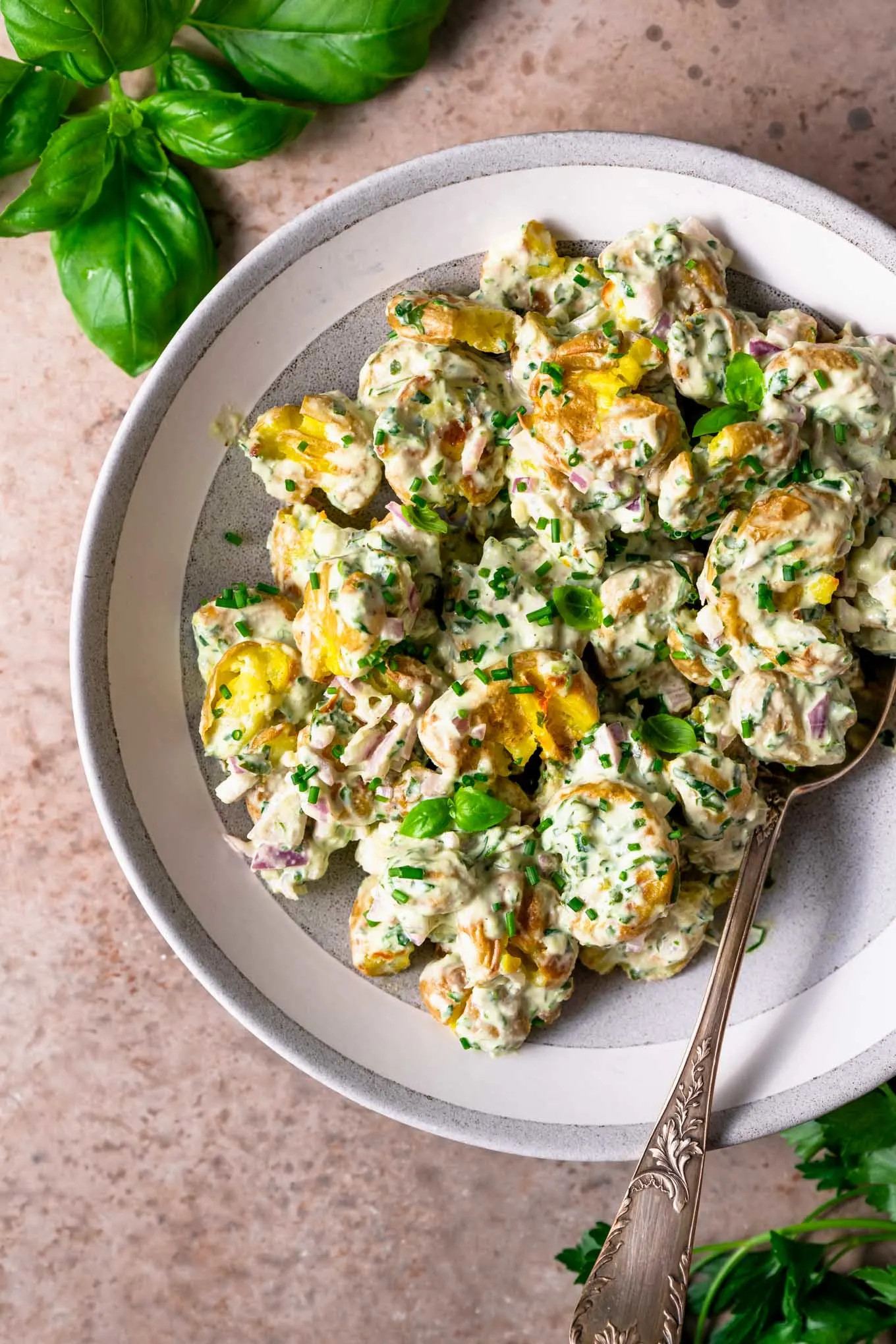 I love potato salad, with its buttery soft potatoes and creamy dressings. In all other circumstances I'm team hot potato, but when it comes to potato salad I love chowing down on cold potatoes! There's something about potato salad that I find so irresistibly good!
This potato salad is extra special, because it uses smashed baby potatoes instead of your regular plain boiled potatoes. This means you get that creamy potatoey interior, but with a touch of crispness.
And instead of your regular mayo-based dressing, I've made a rich tasting creamy lemon herbed cashew dressing. It's so crazy good I just can't get enough!
Look, I'm all for a classic potato salad, vegan of course, but sometimes great things result when you try something new! And this smashed potato herbed salad is sure to impress. Bring it to your next potluck, make it for your next family barbecue, or simply make it to enjoy for yourself!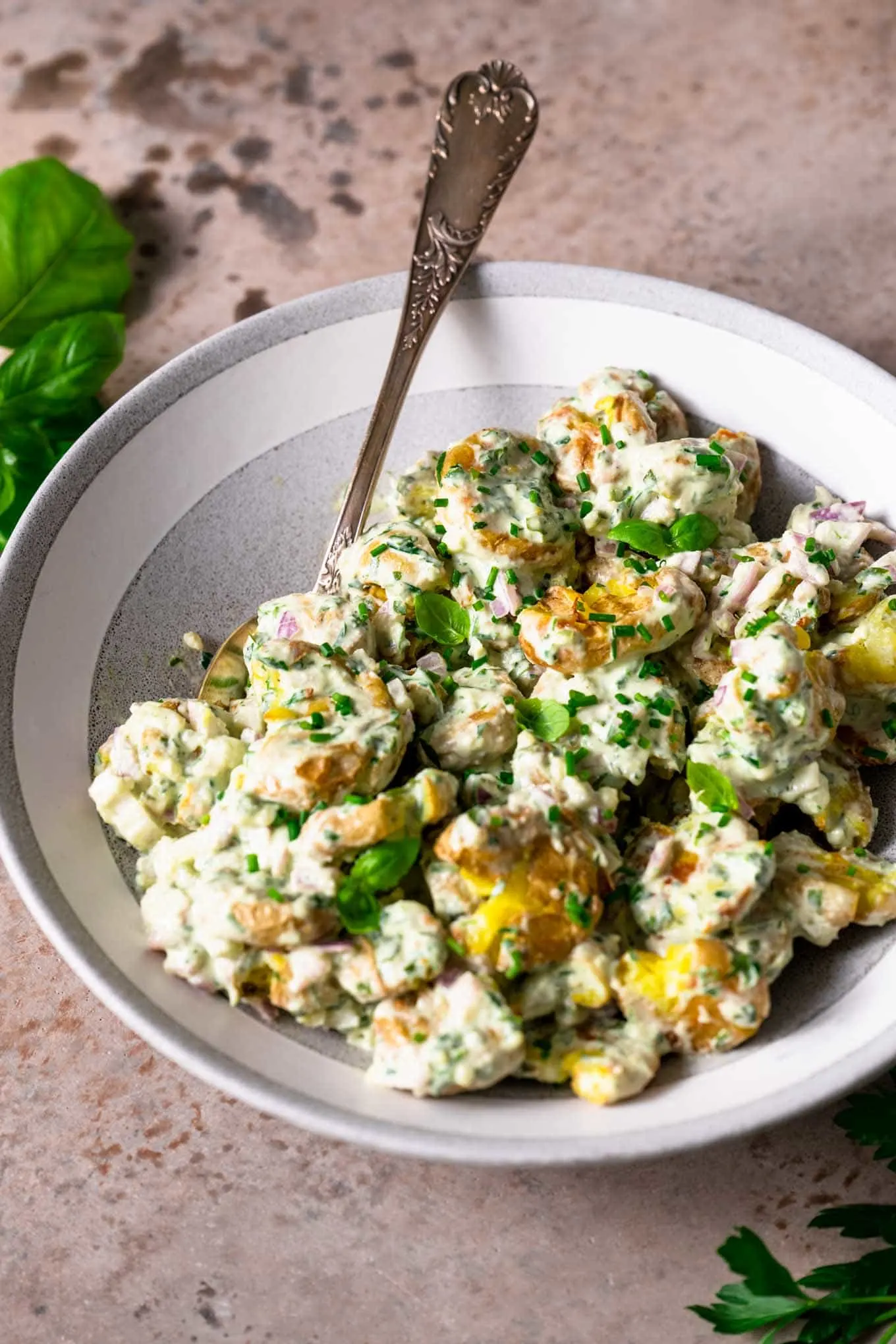 The Lemon Herbed Cashew Dressing:
I could bottle this stuff. Eat it by the spoonful. Pour it over salads and pasta. Pretty much anything because it is summery, fresh, and delicious!
The base is a thick cashew cream, and this is as simple as blending cashews and water together until it's fairly smooth!
If you're using a high powered blender (e.g. Vitamix or Blendtec) then there's no planning ahead to make ultra smooth cashew cream. If your blender needs some assistance, boil the cashews in water for 15 minutes or soak in cold water for a couple of hours to soften the nuts. Then drain and rinse the nuts and proceed!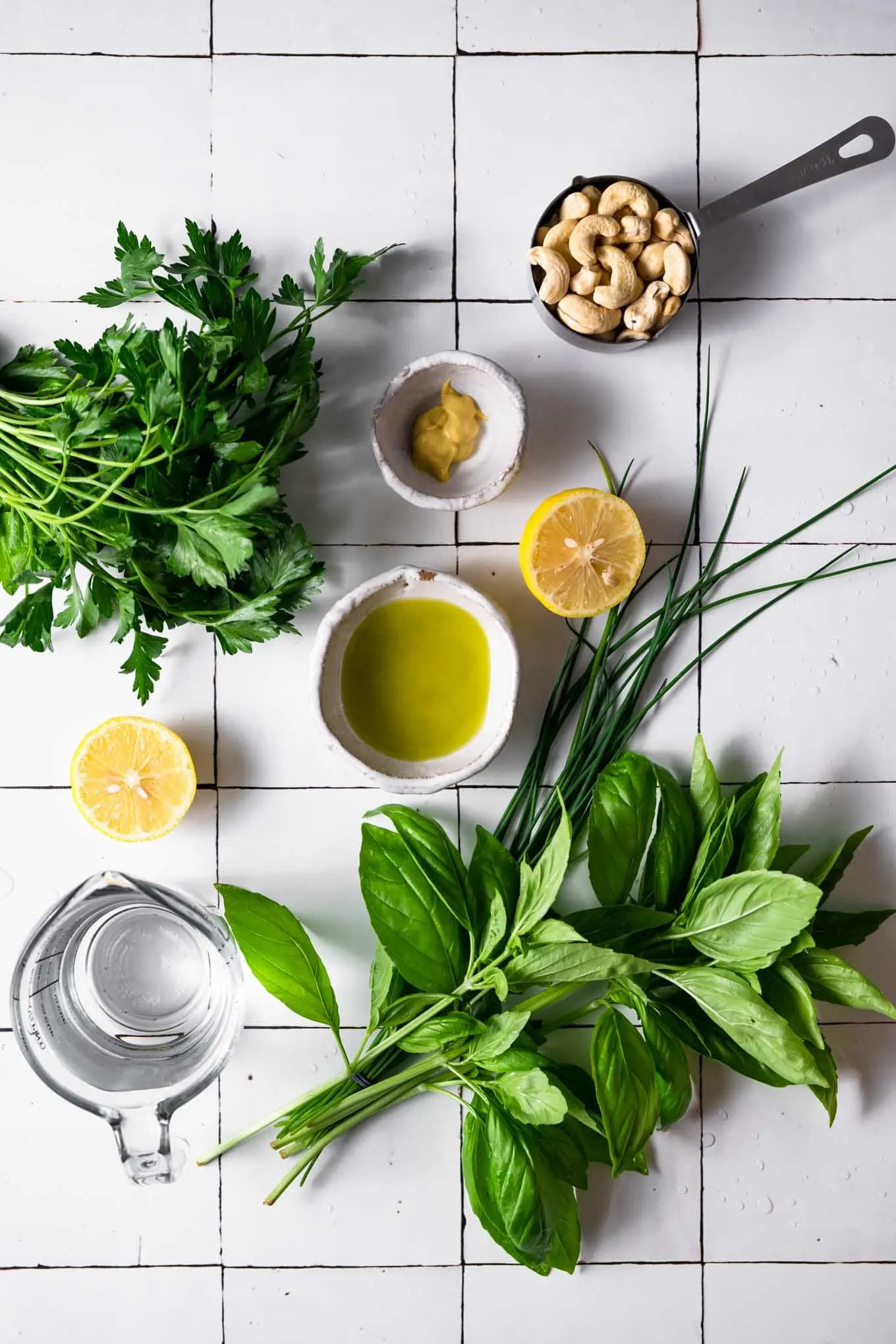 It's okay if the cashew cream doesn't come out as perfectly smooth. A little texture is going to be good in a potato salad!
To the cashew cream we blend in extra virgin olive oil for richness, lemon juice for a bright tangy flavor, and dijon mustard (because it's not potato salad without a healthy dose of mustard). Plus salt and pepper of course!
Once the creamy base is complete it's time to load it up with herbs! I've used a combination of basil, flat leaf parsley, and chives. It's pesto adjacent, with a oniony kick thanks to the chives. I like to blend it on medium-low speed until the herbed are minced, but still show some texture. If you prefer, you can blend it smooth or leave it less finely chopped.
The lemon herbed cashew dressing will thicken as it chills, thanks to the the starches in the nuts.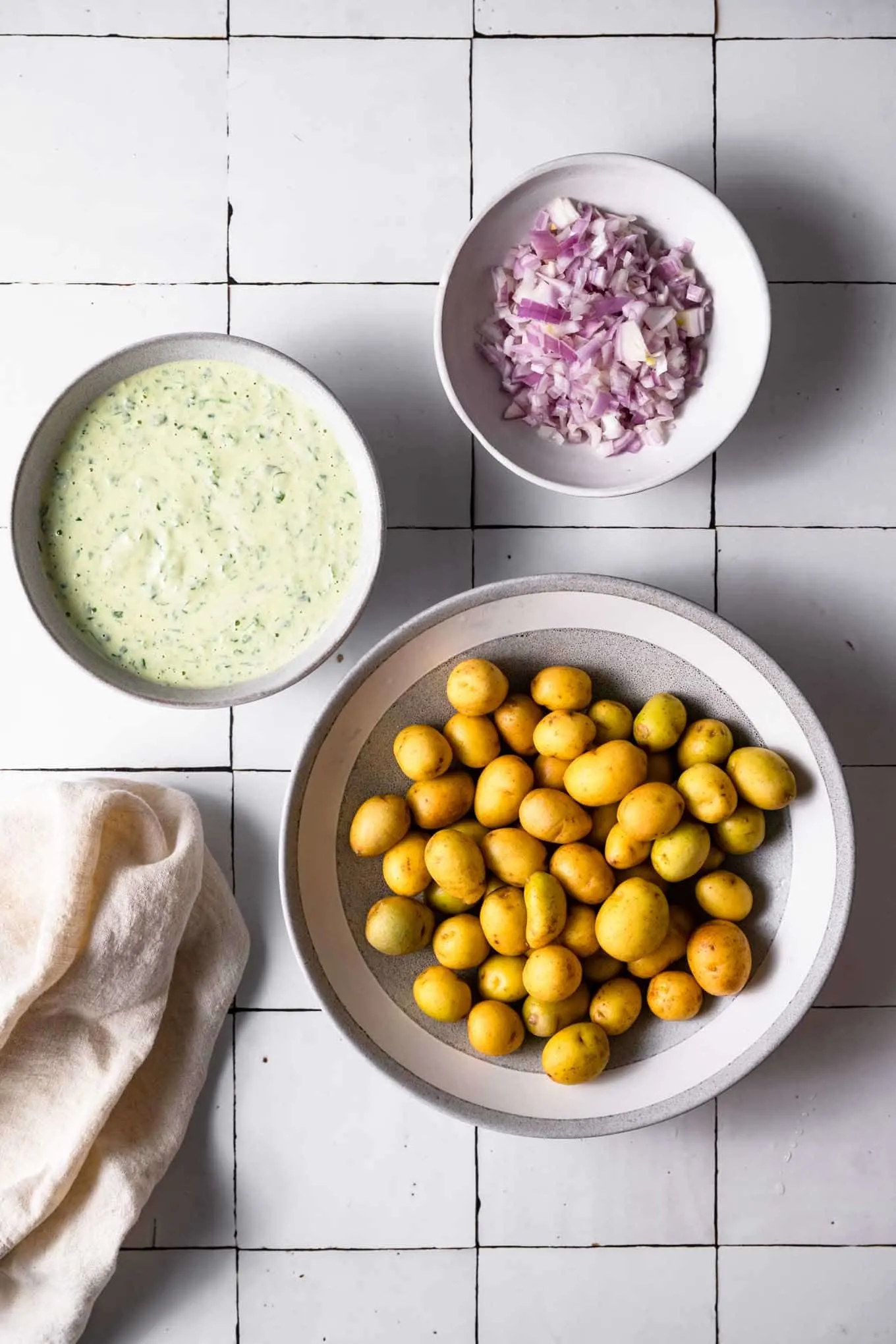 Smashed Potatoes:
This potato salad is special for two reasons. The first is it's unique and delicious dressing, creamy and herby and lemony good. And the second is the preparation of the potatoes.
Smashed potatoes are incredible in their own right. They're snackably good, and amazing when dressed. Sometimes I even make them into mini pizzas (like my pesto smashed potato pizzas)!
You want to choose small potatoes for this, in part because you always want small potatoes for smashed potatoes but also because we are not cutting these potatoes up so having them be bite sized is pretty important!
Pick baby potatoes, ideally in the 1 inch to 1 1/2 inches long range. Larger can work, just keep in mind cooking times will increase with larger potatoes.
I recommend using waxy yellow potatoes for this recipe, as they hold their shape better when smashed. But red skinned potatoes are also a great choice if you prefer those.
Cooking smashed potatoes is a two part process: first you boil them until they are tender and offer no resistance when pierced with a knife, then you smash them and bake them until golden.
Smashing them is exactly how it sounds–use a spatula, fork, or the bottom of a glass or measuring cup and gently press down on the cooked potatoes until their skin splits and they are flattened. Don't flatten too much or you'll lose the structural integrity of the potatoes, but you'll quickly get the hang of how much you need to press down.
I find the flavor and texture of potatoes improves from a run through the hot oven, sweetening slightly and developing some crispy edges. It makes for such a great potatoey base for the salad, and honestly they might find themselves in all of my future potato salads!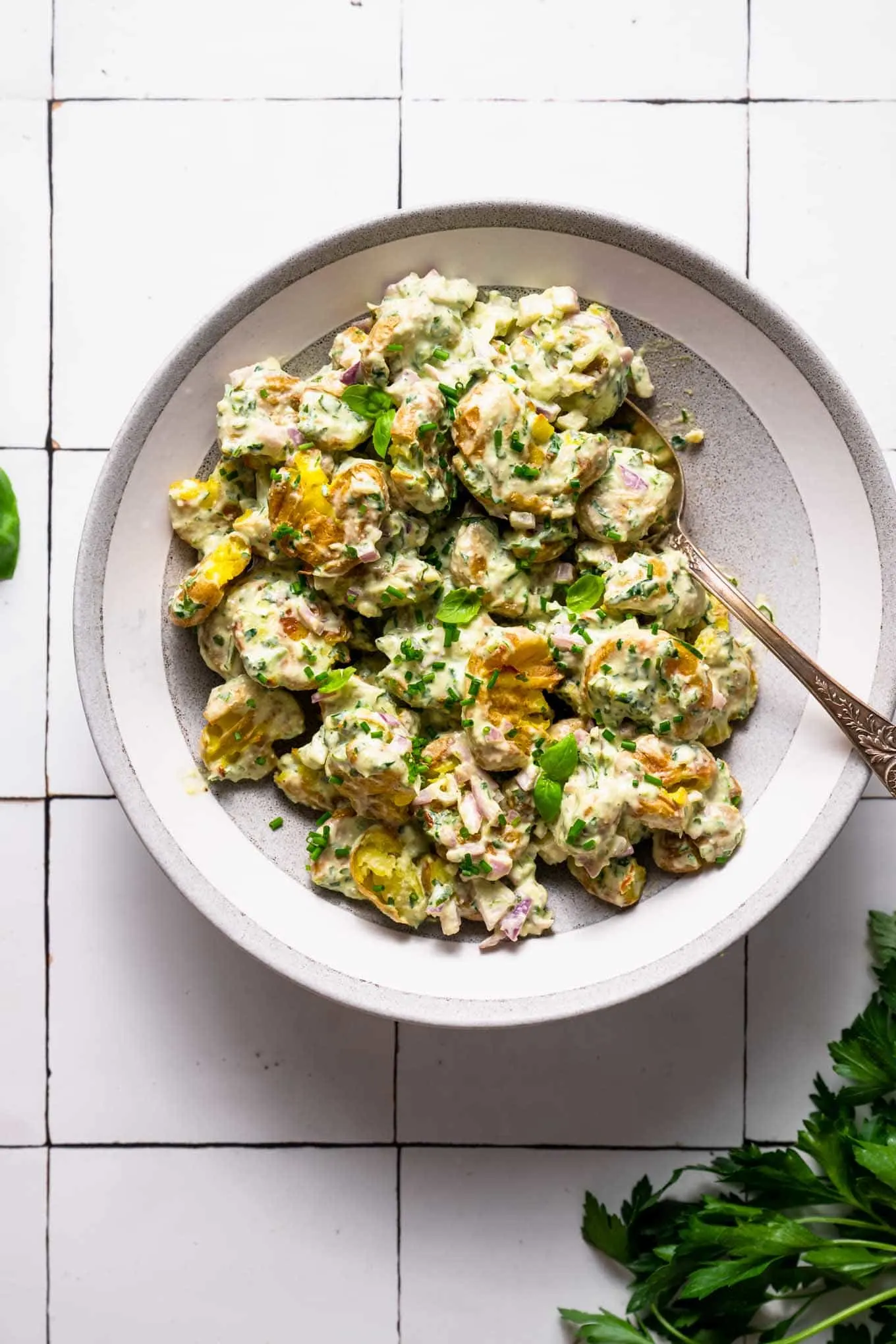 Putting it together to make Smashed Potato Herbed Salad!
This is the easiest part! Simply gently mix together the smashed potatoes and thick dressing in a large mixing bowl. I also add some minced shallot for crunch. If you prefer, you can use minced celery for that crunch (without the raw onion bite).
Some smashed potatoes may fall apart slightly as you stir the salad together and this is a-okay!
Now most potato salads need to be thoroughly chilled before eating, because who wants warm mayo…. but with this one, while it is incredible cold, it also tastes quite good at room temperature when just mixed together.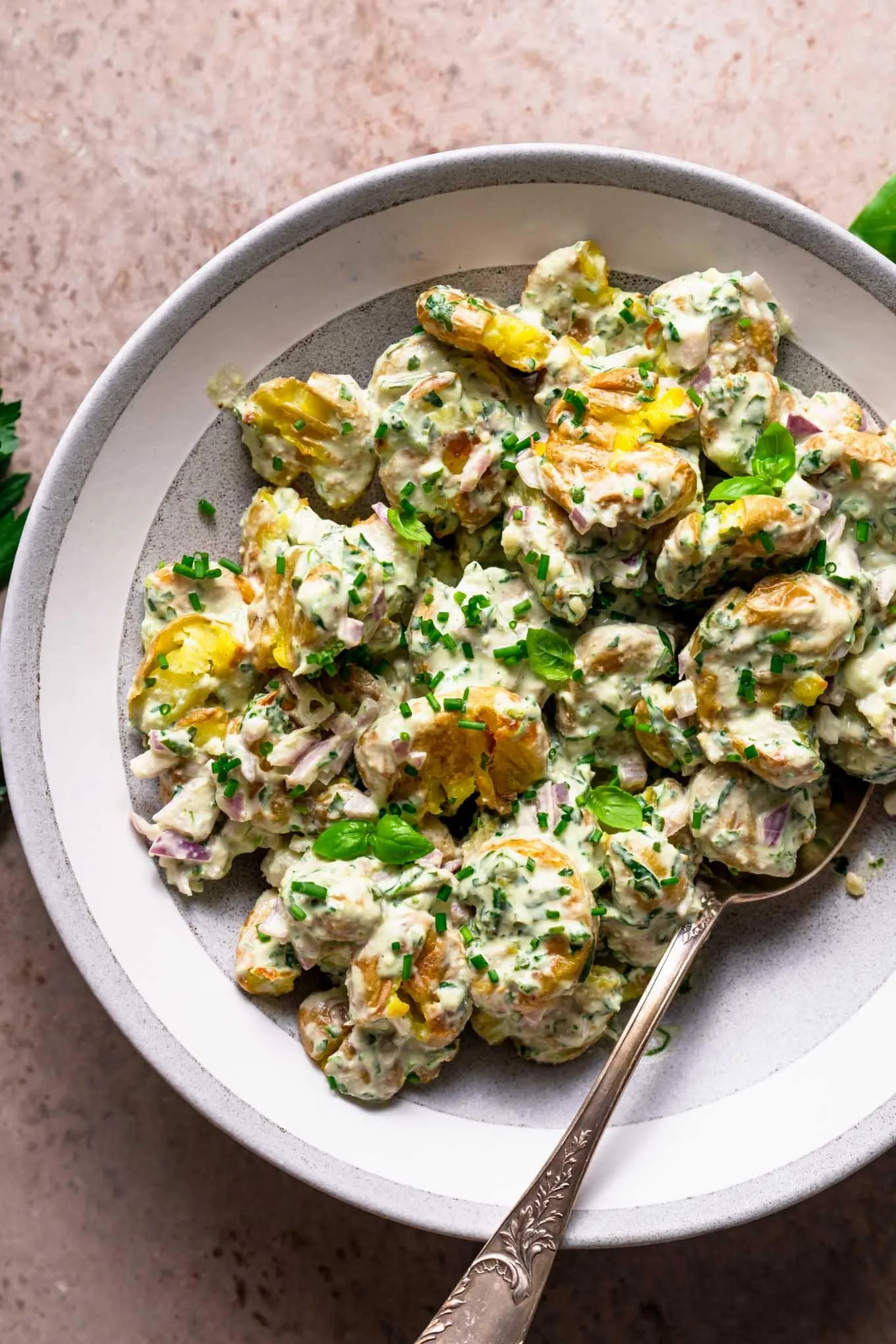 I'd avoid mixing together the dressing and potatoes while the potatoes are still hot, simply so the herbs don't wilt. But once the potatoes have cooled to lukewarm or room temperature you can mix the salad together and enjoy right away! Or make it in advance and keep in the fridge until ready to eat (it'll stay good for several days).
Substituting the cashews:
If you can't eat cashews, then I recommend trying either slivered almonds or hulled raw sunflower seeds. Both of these options will need to be soaked same as cashews if you do not have a high powered blender.
Sunflower seeds will have a stronger flavor, but I personally love the flavor so don't think this is a problem! They just aren't as neutral tasting as cashews.
If you want to skip the nut base all together you can use vegan mayo instead. If you do so, leave out the cashews, water, and olive oil and use with a cup to a cup and a half of vegan mayonnaise. There's no need to use a blender in this case, but if you don't you'll have to finely mince up the herbs by hand. You may also want to decrease the lemon juice if using mayo, so start with 2 tablespoons and add more to taste if needed.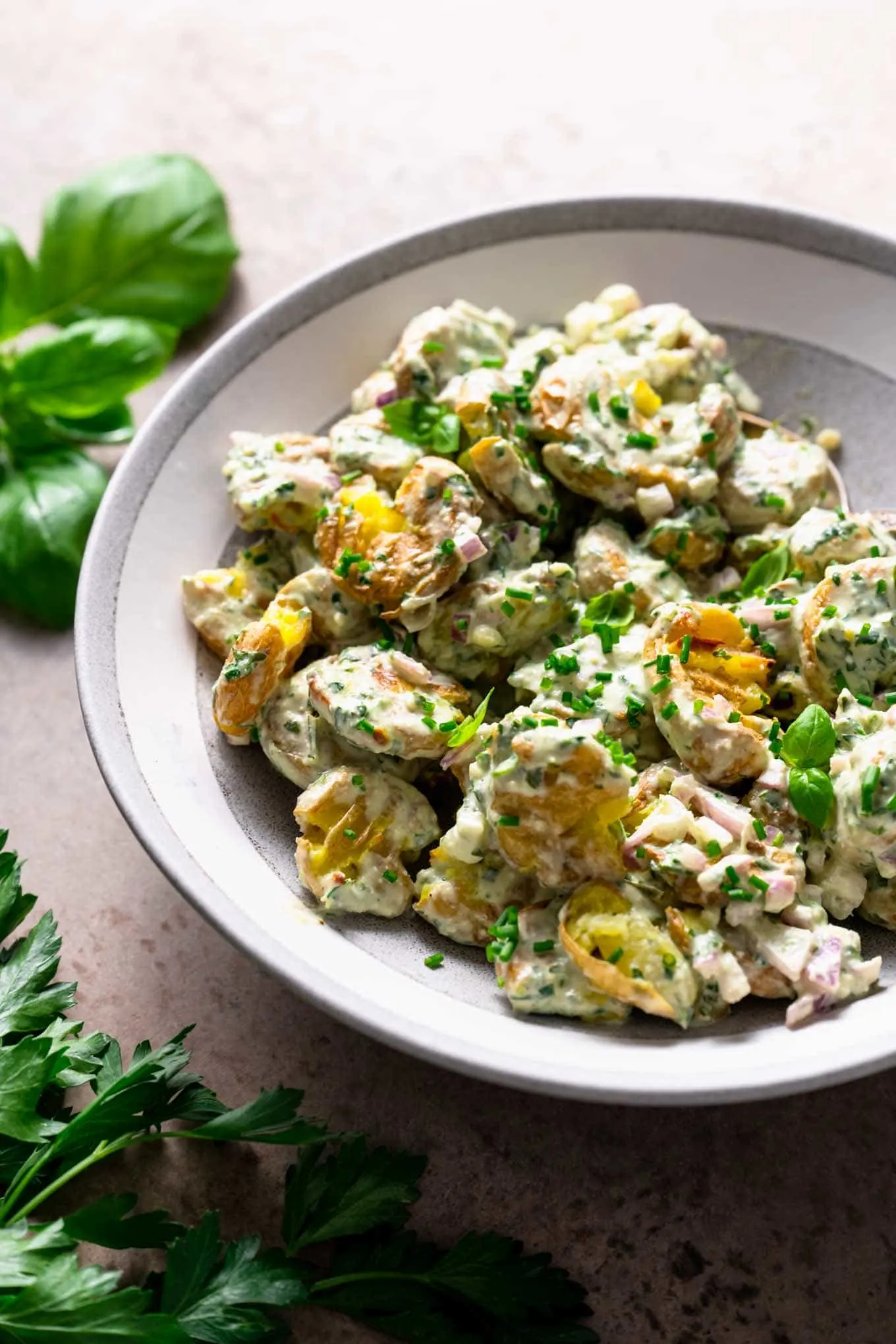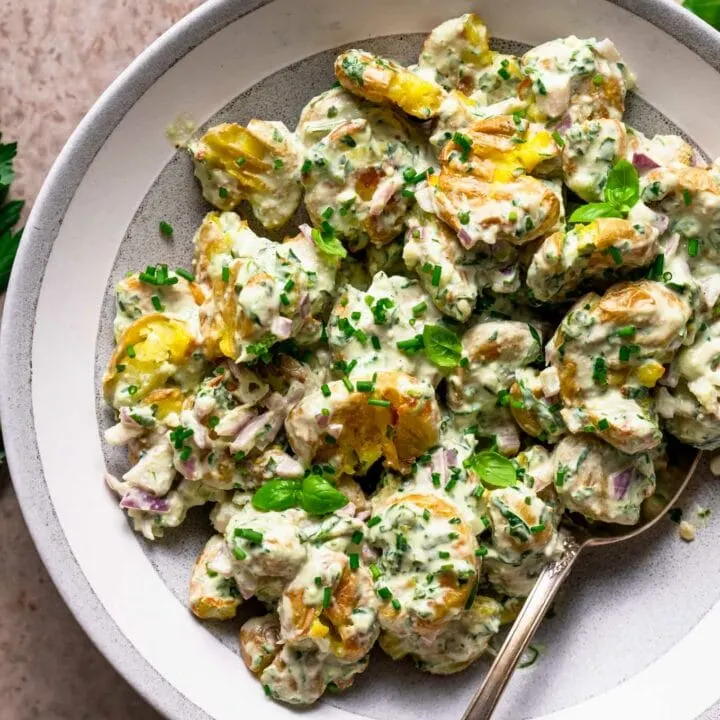 Smashed Potato Herbed Salad
This potato salad is made with smashed potatoes and a lemon herbed cashew dressing for a delicious twist on the classic dish! It's vegan and gluten free, and can be enjoyed room temperature or cold!
Ingredients
2 lbs baby potatoes*
1/2 cup minced shallot
1 tbsp olive oil
salt, to taste
Lemon Herbed Cashew Dressing
1 cup raw cashews*
1/2 cup water
3-4 tbsp fresh squeezed lemon juice
2 tbsp extra virgin olive oil
1 tbsp dijon mustard
1 tsp salt, or to taste
black pepper to taste
1 cup basil, coarsely chopped
1/4 cup flat leaf parsley, coarsely chopped
1/4 cup chopped chives
Instructions
Preheat the oven to 425 ºF and line two half sheet pans with parchment paper or brush with oil.
Wash the potaotes and add them to a pot and cover with water. Cover the pot and bring to a boil, then lower the heat to maintain a simmer. Cook until the potatoes are tender and offer no resistence when pierced with a knife, 5-15 minutes (depends on size of potatoes). Drain and let cool slightly.
Transfer the potatoes to the prepared baking trays, and gently smash each potato with either a fork, spatula, or the bottom of a glass or measuring cup. Ideally smash them until they are 1/2 inch thick or a bit thinner, but not so thin that they fall apart (some small pieces breaking off are okay).
Drizzle or brush the smashed potatoes with oil and sprinkle with salt. Bake for 18-25 minutes, or until the potatoes are golden (baking time depends on size of potatoes). Let cool until lukewarm or room temperature.
Meanwhile, make the dressing: In a blender combine the cashews and water and blend on high speed until fairly smooth. Pause to scrape down the sides as needed.
Add three tablespoons of lemon juice, the extra virgin olive oil, dijon mustard, 1 teaspoon of salt, and black pepper to taste. Blend until smooth.
Add the herbs and blend on low to medium speed until the herbs are finely chopped.
In a large mixing bowl combine the cooled smashed potatoes, the dressing, and the minced shallot. Gently stir to combine, and add the extra lemon juice or salt and pepper to taste (if needed). Enjoy right away or refrigerate until ready to eat and serve chilled.
Notes
*Choose yellow or red skinned potatoes that are 1 to 1 1/2 inches long.
*If not using a high powered blender, soften the cashews by boiling in water for 15 minutes or soaking in cold water for 2 hours, then drain and use in recipe. See recipe post for cashew substitutions.
Recommended Products
As an Amazon Associate and member of other affiliate programs, I earn from qualifying purchases.
Nutrition Information:
Yield:

8
Serving Size:

1
Amount Per Serving:
Calories:

260
Total Fat:

13g
Saturated Fat:

2g
Trans Fat:

0g
Unsaturated Fat:

10g
Cholesterol:

0mg
Sodium:

539mg
Carbohydrates:

32g
Fiber:

4g
Sugar:

3g
Protein:

6g
Nutrition is calculated automatically so should be used as an estimate.