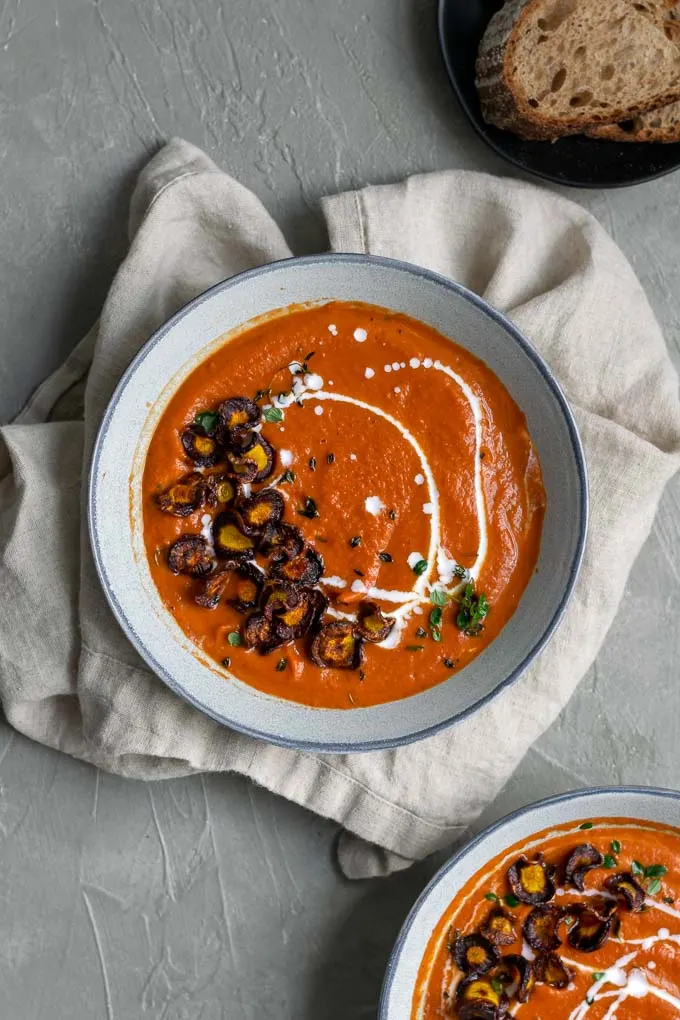 I always buy produce with the best of intentions: to consume as quickly as possible and eat many fruits and veggies as I can. But, it happens sometimes that I don't get to something right away–I'll get distracted by last minute cravings, other cooking projects, or over estimate how much food we can eat in a week (whoops).

And so it happened that I ended up with a sad bunch of carrots, their crispness just a faded memory. There was no way I'd snack on them, and I didn't think they could even be salvaged in stew through a mirepoix (plus, let's be honest, I almost never buy celery). I didn't want to throw them away, so instead I thought I'd roast them and blend them up to a smooth creamy soup, and boy am I glad I did!
This soup was everything I wanted. Fresh thyme from my herb garden, all the carrots I never get around to eating, garlic, onion and about an hour of my time and I had one of the best soups of my life.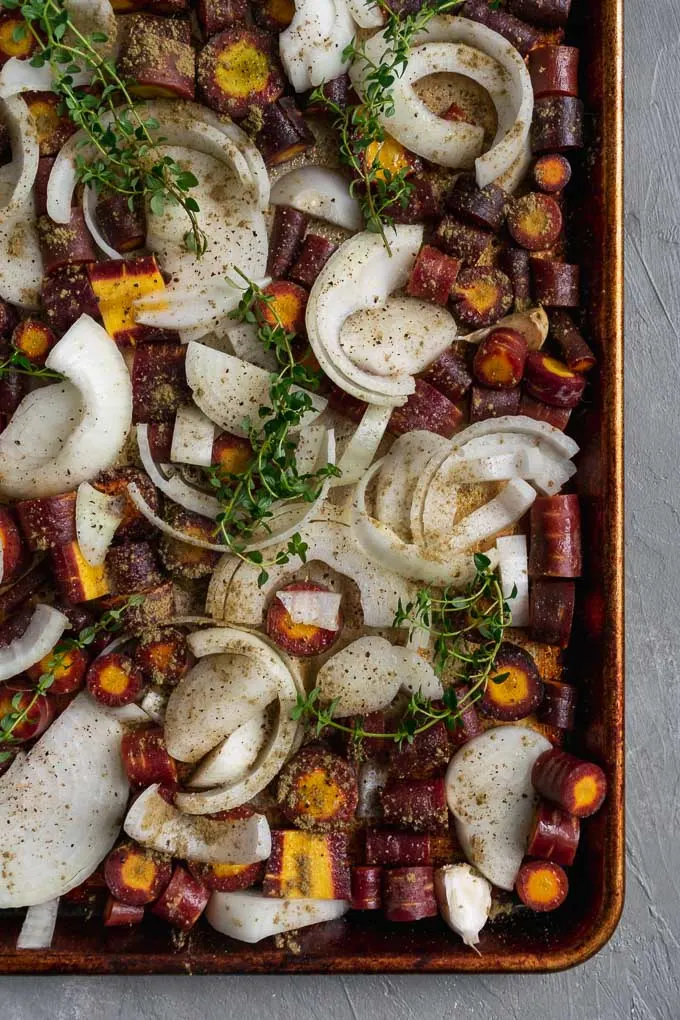 So much so that I actually bought carrots to make the soup again! Like, within a week. Which, ya know, is kind of a big deal. But, can you blame me? There's 11-ingredients in this recipe and it's super simple and straight forward to make!
This second time I made more, cooking for 8 (9? 10? 12?) instead of 4-6. Because I'll never learn that we are a family of 2. But that's ok, we had no problem polishing off those leftovers! Well, we were such fans of this soup at chez Chickpea, I knew I had to share it with you guys too!
Now I know it's still technically summer, and it might be a bit early in the season for you to even think about turning on your oven to roast some veggies. But it's pouring down rain approximately every other day where I live right now, and sometimes that just means soup is in order!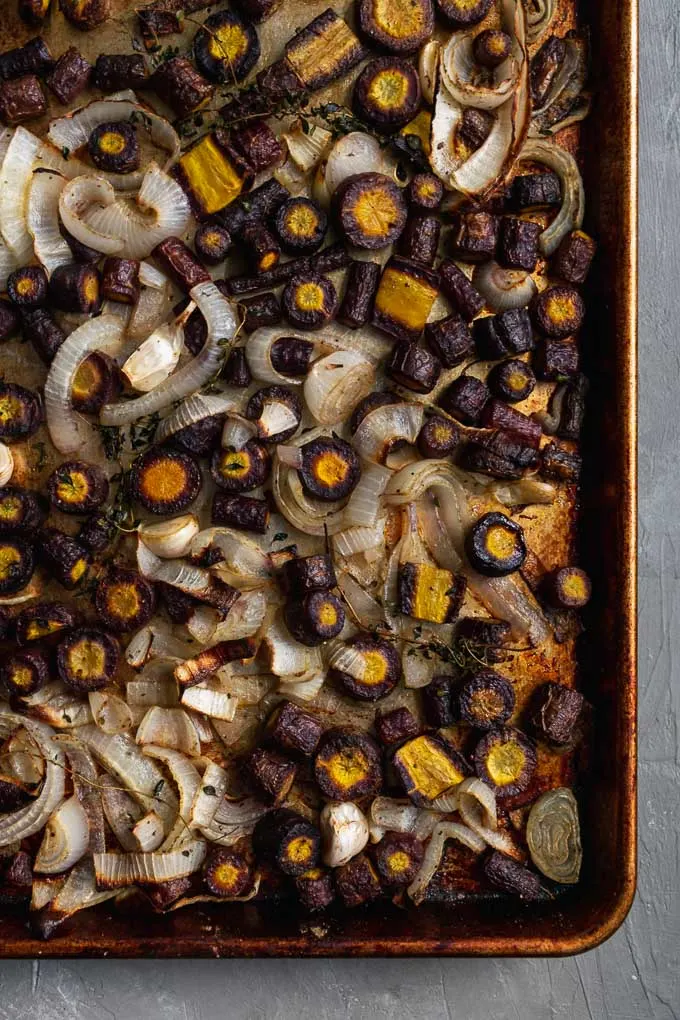 For this easy vegan roasted carrot soup, any color of carrots will do. Those purples carrots happen to jump off the shelf in my basket whenever I see them, but I'll admit orange carrots make for the prettiest final color of this soup.
When chopping up the carrots I like to cut thin slices off the tops of some of them to roast separately to make carrot chips for garnish. I say chip but unless you're really meticulous about slicing the carrots and use a mandolin or have ninja skills, the variation of thickness and the higher temperature I roast at means not all of them turn out crisp. Still, I love the sweet and salty bursts of flavor and contrasts of texture they provide the soup.
Roasted carrots caramelize to a deliciously sweet flavor, but the soup is perfectly savory with deeply roasted onion and garlic. Not to mention the sage and thyme, salt and pepper. Mmmm…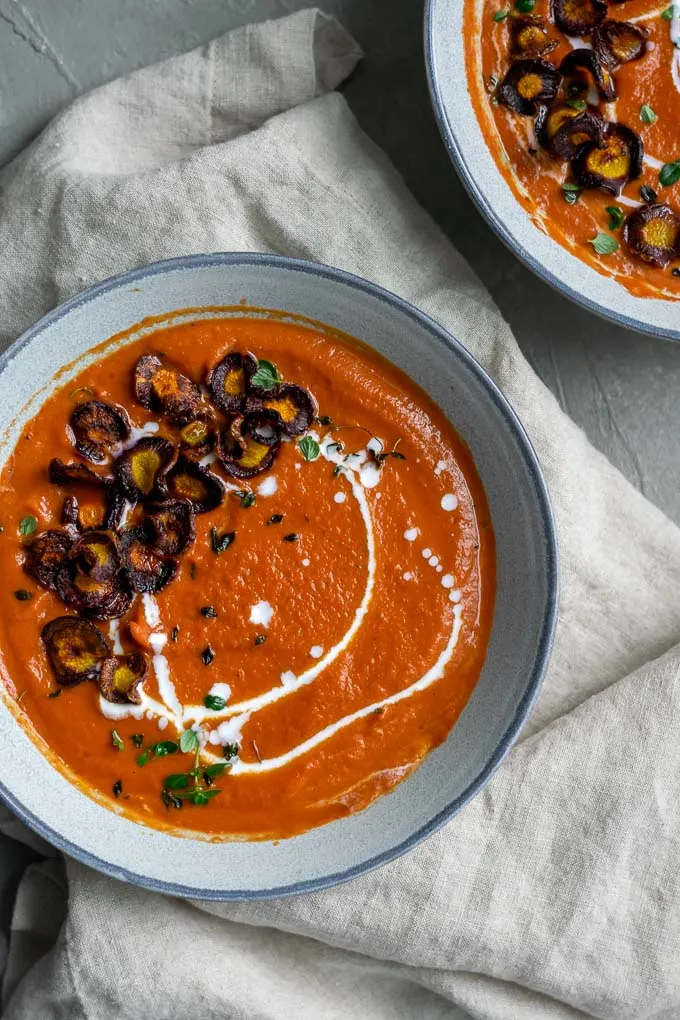 Tomatoes balance out the sweetness with their lip smacking acidity, and I always have some sort of canned tomatoes in the pantry. Just a bit of creamy coconut milk rounds out the edges and brings all the flavors together in harmony.
Blended to a smooth, luscious texture and simmered for a matter of minutes. There's so much flavor that water is all you need to thin the soup out.
One bite (um, slurp?) in and I can't help but think, this soup is perfection <3 .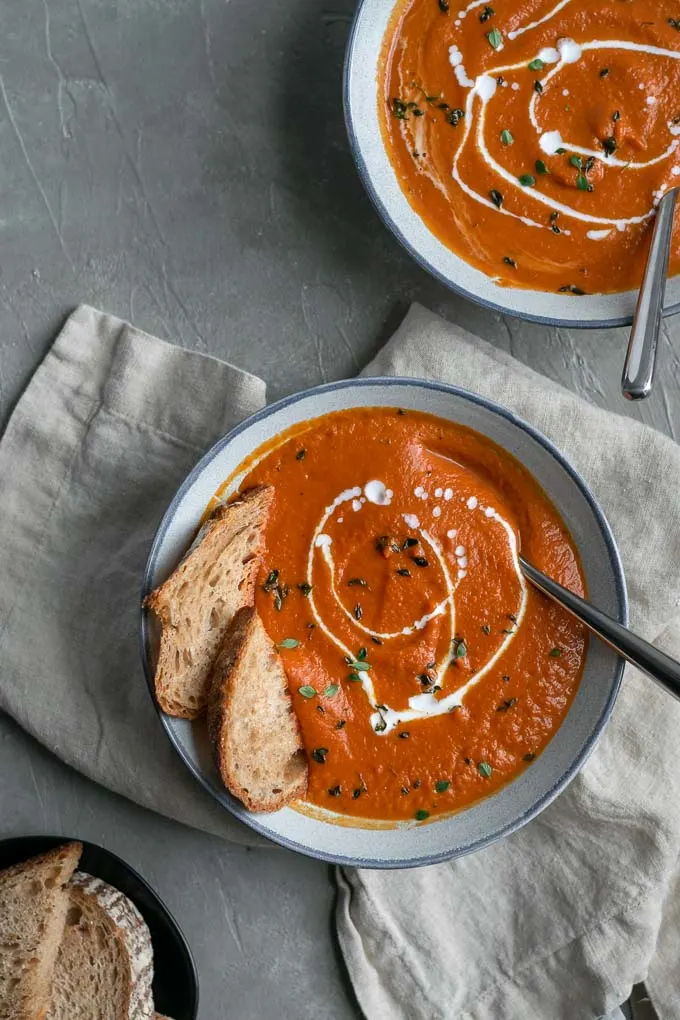 You know me, I can't not serve this up with a slice of toasty bread. Homemade sourdough or my artisan walnut bread. Come to think of it, garlicky croutons are an excellent crunchy topping as well!
And don't forget those pretty carrot chips. This time the more unusually colorful carrots really are best.
Now go make your soup then come back and thank me later!
If you do make this easy vegan roasted carrot soup, please leave a comment and rate it below! And don't forget to tag your recreations @thecuriouschickpea and #thecuriouschickpea on Instagram! I love seeing your photos!
Like what you see? Follow along on Instagram, Facebook, and Pinterest!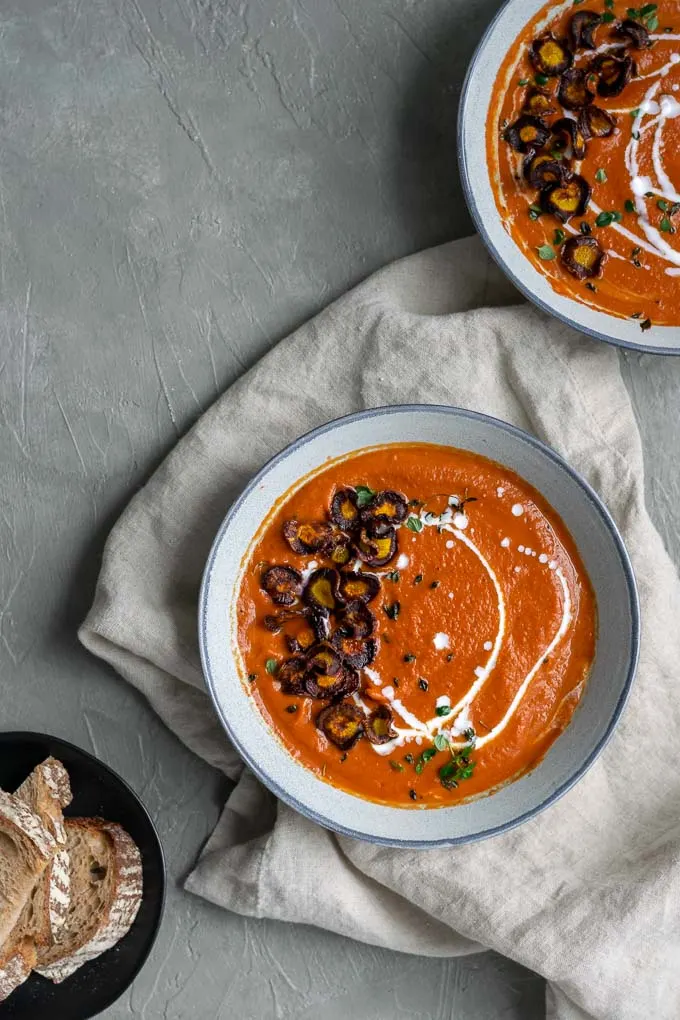 Notes:
This recipe is fairly flexible in the amount of carrots you use! If you're a bit short don't worry about it and just roast up what you have.
If you don't want to use coconut milk, try a plain and unsweetened nondairy creamer. Cashew cream, soy creamer, almond cream, any of it works!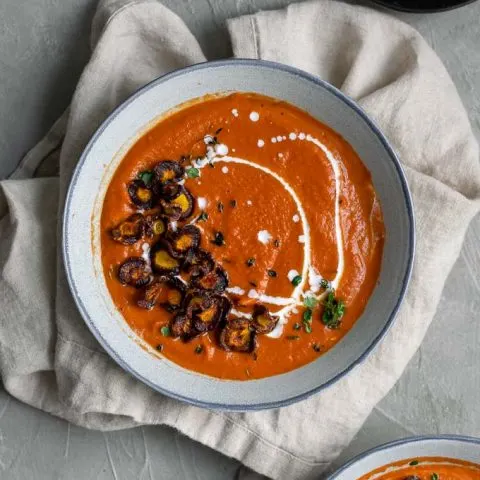 Easy Vegan Roasted Carrot Soup
Total Time:
1 hour
5 minutes
This creamy, flavorful soup is so easy to make! Carrots, onions, and garlic are roasted until sweet and caramelized, then blended with tomatoes and coconut milk for a delicious vegan and gluten free meal.
Ingredients
2 lbs carrots, cut into 1" pieces*
1 large yellow onion, cut into half moon slices
8 garlic cloves, unpeeled
1 1/2 tsp salt
freshly ground black pepper
1 tsp dried sage
6 sprigs fresh thyme
2 tbsp olive oil
28oz canned tomatoes
4-6 cups water
1/2 cup coconut milk
Instructions
Preheat the oven to 400 ºF.
In a large mixing bowl add the cut carrots, onion, unpeeled garlic cloves, salt, pepper, dried sage, and fresh thyme. Drizzle in the olive oil and toss everything together. Spread the veggies in a single layer on a large baking tray (or 2 if needed).
Roast for 35-45 minutes, stirring once halfway through, until the carrots are very tender and easily pierced with a fork. Let cool for several minutes and remove thyme sprigs and garlic cloves, setting aside.
Working in batches if needed, transfer the roasted carrots and onion to a blender. Squeeze out the roasted garlic cloves from their papery skin and add them to the blender along with the can of tomatoes and enough of the water for the blender to process. Blend the mixture until smooth.
Transfer to a large heavy bottomed pot, add more water until you reach your desired thickness and stir in the coconut milk. Remove the leaves from the roasted thyme and stir into the soup. Let simmer for 10 minutes for flavors to meld. Taste and add salt and pepper as needed.
Garnish soup with a drizzle of coconut milk, fresh thyme, and carrot chips*.
Notes
*To make the carrot chips thinly slice a carrot and toss in a drizzle of olive oil and sprinkle of salt. Arrange in a single layer on a baking tray and bake at 400 ºF for about 10 minutes. Keep a close eye towards the end as they can burn quickly.