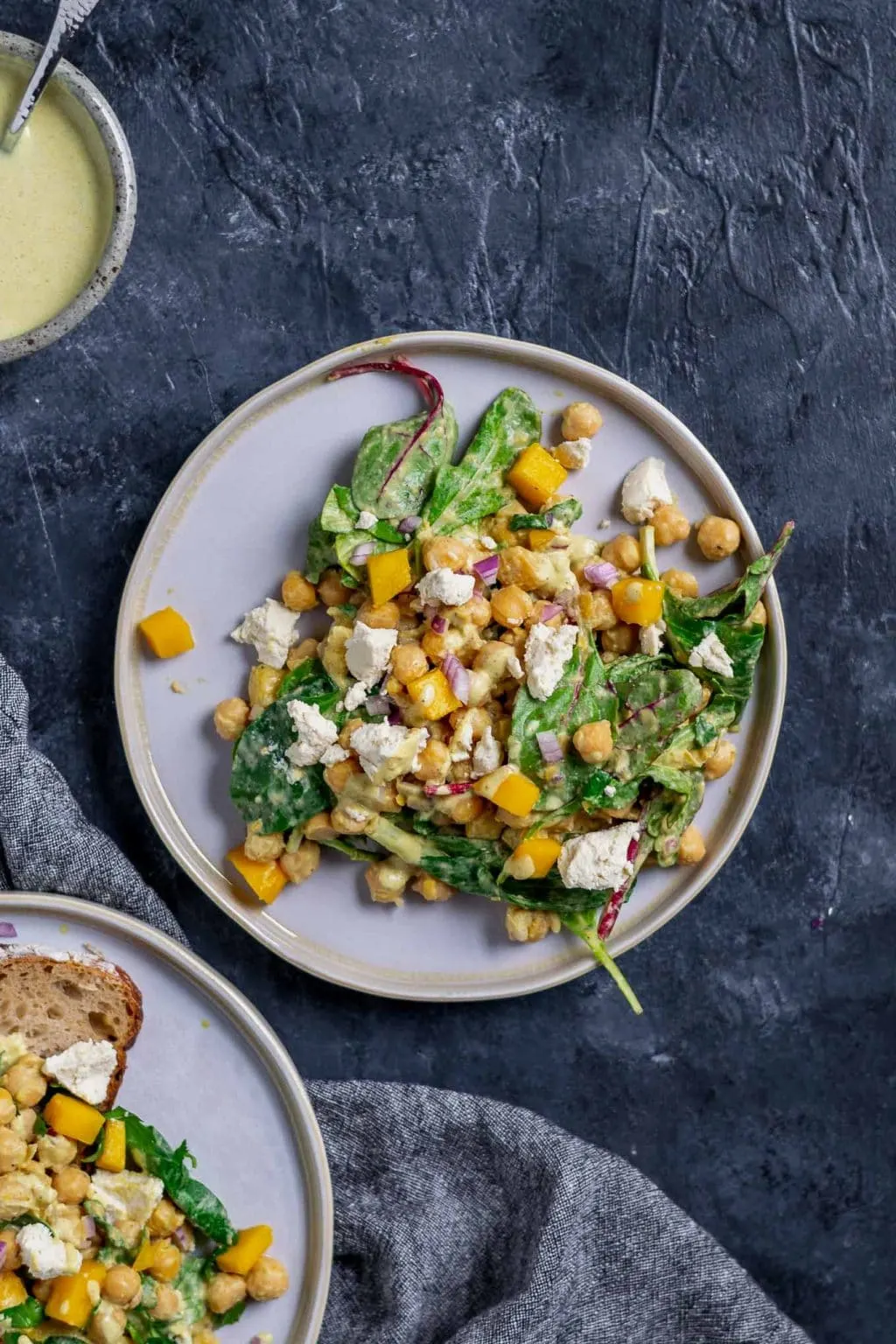 There's nothing quite like the pairing of cool sweet mango and curry-spiced cream. Throw in some chickpeas, minced red onion, and baby greens and you have a delicious protein-packed salad. It's perfect for stuffing in a wrap, or layering with some fresh summer tomatoes to make a sandwich, or having as a side to your burgers.
This curried chickpea and mango salad with vegan queso fresco is easy to throw together and is easily made in advance. Perfect for meal prepping, picnicking, quick meals, and for bringing to potlucks or cookouts. Or just, you know, a lazy Tuesday night.
Cashews and water make the perfect creamy dressing base. High speed blenders make quick work of turning the nuts into cream, no soaking required. Otherwise a quick soak in boiling hot water softens the nuts for the average blender to tackle. Or you can always go old school and soak your nuts in cold water for 2+ hours.
Once we have our creamy cashew base, we add in some olive oil to up the richness factor and improve the mouthfeel, fresh lime juice to brighten the flavors and add some acidity, and the spices. Curry powder gives most of the flavor we need in one fell swoop, onion powder for a subtle flavor and sweetening, and garlic powder for a mild garlicky flavor. Just a little bit of salt enhances the spices, and white pepper adds a bit of a bite.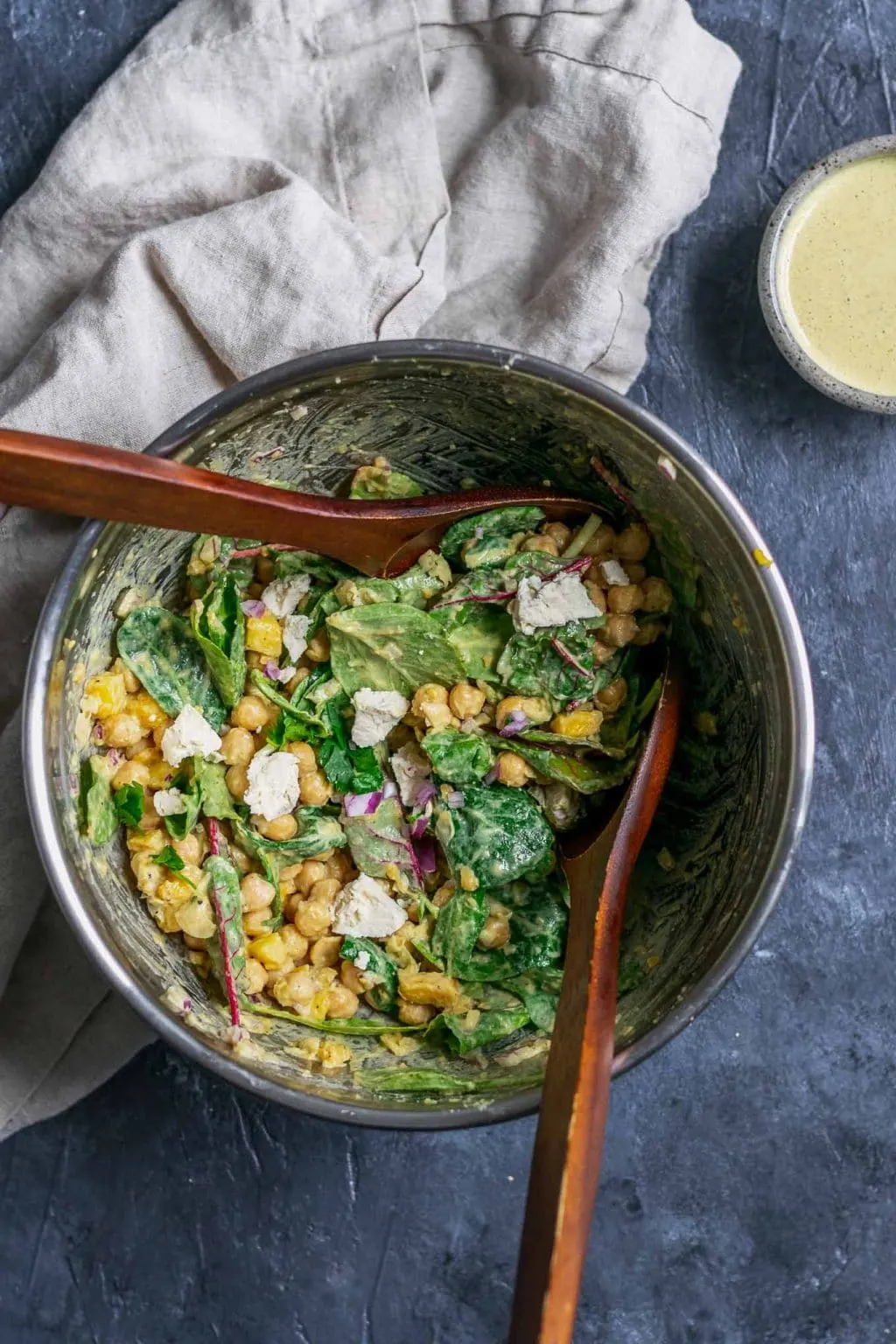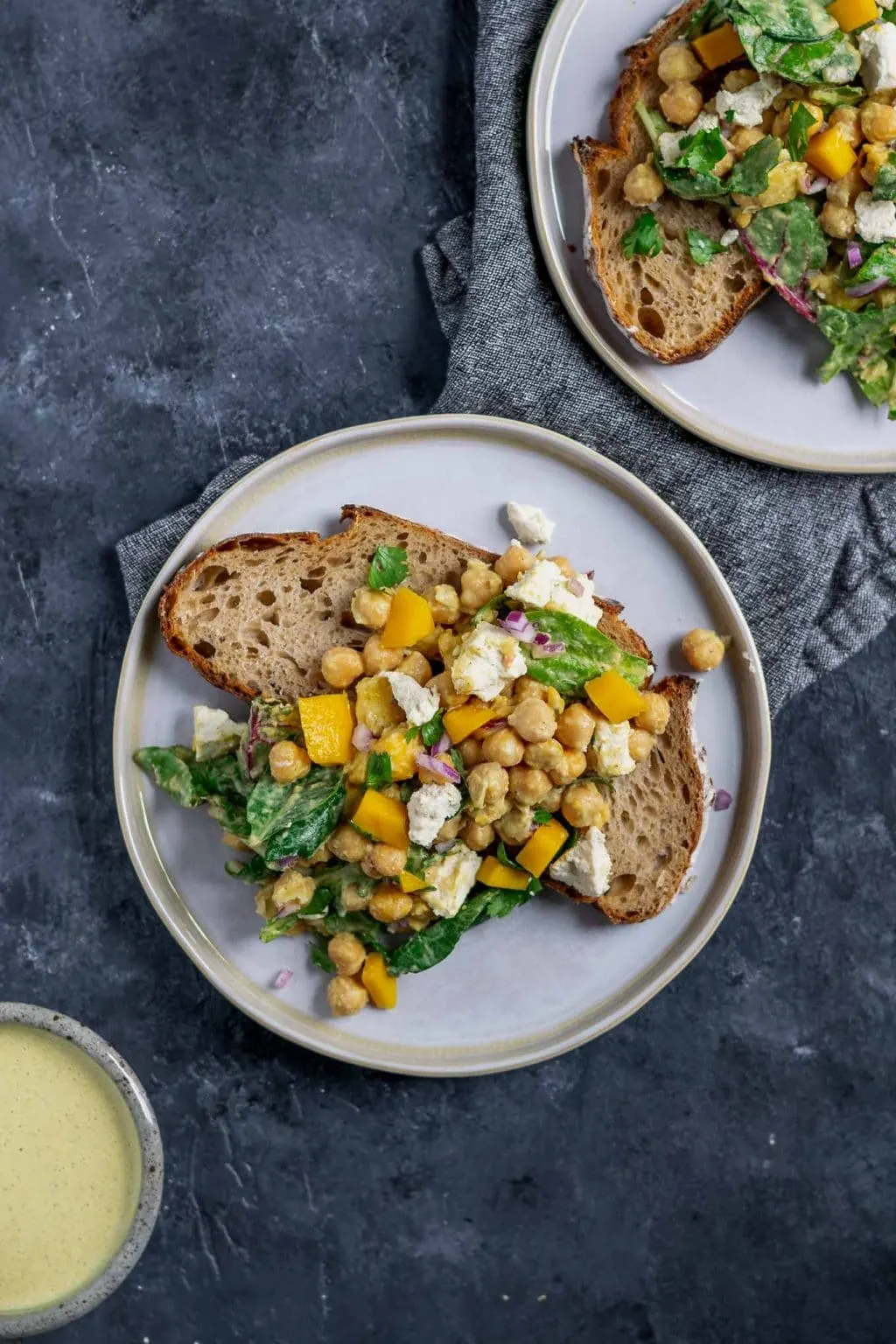 Any curry powder will work in this recipe. I typically use madras curry powder, but use your favorite curry blend! Or try making your own. Just note that some prepared curry powders contain salt, so if yours is very salty you may want to either cut back or take out the salt in the dressing. This isn't necessarily needed, as the dressing is very mildly salty as is.
The dressing needs a bit of chilling before you eat it so the flavors have a chance to meld, and to bring the temperature down so you're not eating hot salad. Unless you want hot salad, haha! Let it hang in the fridge for at least 20 minutes, or make a day or so in advance if you'd rather.
The salad is mainly chickpeas, which is great because chickpeas are delicious (are you surprised I think so? 😉 ).Mashed slightly, just to create a bit of stickiness so the salad doesn't consist of only free rolling chickpeas, which are forever trying to escape your fork. Add a smattering of minced red onion, for sharp juicy bites.
Next comes the soft and buttery mango. Sweet, ripe, fruity mango. Bursts of sweetness which balance the savory flavors of curry. Diced to be about chickpea-sized, give or take, they are a perfect seasonal twist.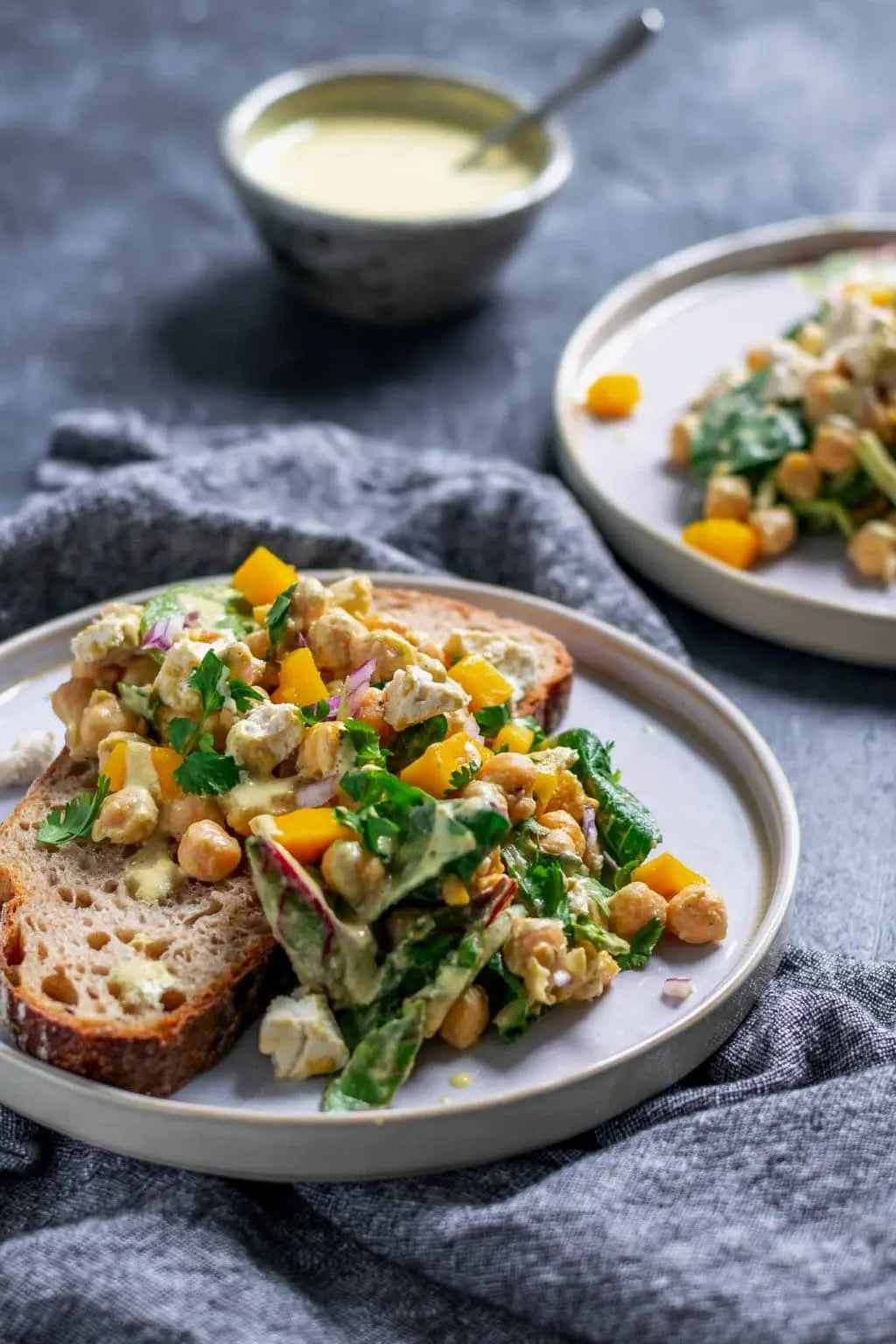 Bitter baby greens come next. I like to add just enough to have a scattering of green here and there throughout the shades of orange, but it's your salad and you can always add more if you'd prefer! Baby "power" greens like kale, chard, spinach, collards, and arugula work perfectly in this salad. They are a bit sturdier than the rest of the lettuces which means the salad can be dressed in advance and enjoyed for at least a day. I found it to be still crisp enough after two days, and it didn't last 3 so couldn't say about that! Or just dress to serve.
I add salt and pepper to taste over the final salad. There's something extra satisfying about cracking black pepper directly over your plate. A garnish of chopped cilantro adds a nice freshness to the salad. But if you are a cilantro hater you could try using flat leafed parsley or maybe a little mint.
This salad wouldn't be complete without tangy, creamy bites of my homemade vegan queso fresco, so don't even think about skipping it! It practically melts in your mouth, so ideally you get a little bit in every bite of salad. This queso fresco is my favorite and I'm using it in everything right now.. like my other favorite: seitan carne asada tacos.
Well, I hope I've convinced you to throw together a little or lotta this curried chickpea and mango salad with vegan queso fresco! It's really satisfying to eat and so, so delicious!
If you make this salad, leave a comment and rate the recipe below! And as always, don't forget to tag your recreations @thecuriouschickpea and #thecuriouschickpea on Instagram!
Like what you see? Follow along on Instagram, Facebook, and Pinterest!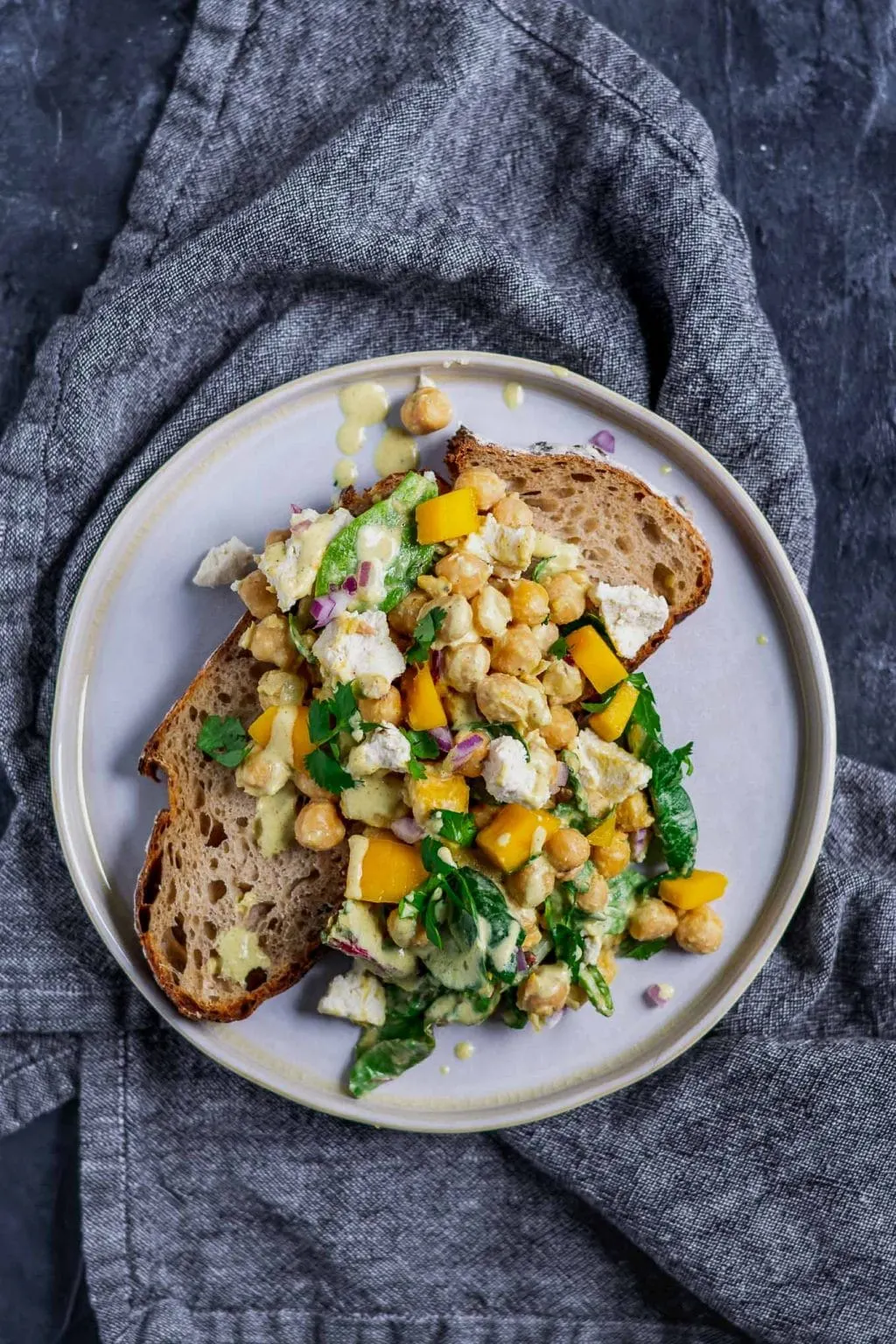 Notes:
For a nut-free dressing try swap out the cashews and water for 1 cup of coconut milk.
Add a pinch (like 1/8 tsp) of turmeric for a deeper and brighter yellow dressing, but too much and the dressing will get a bit bitter.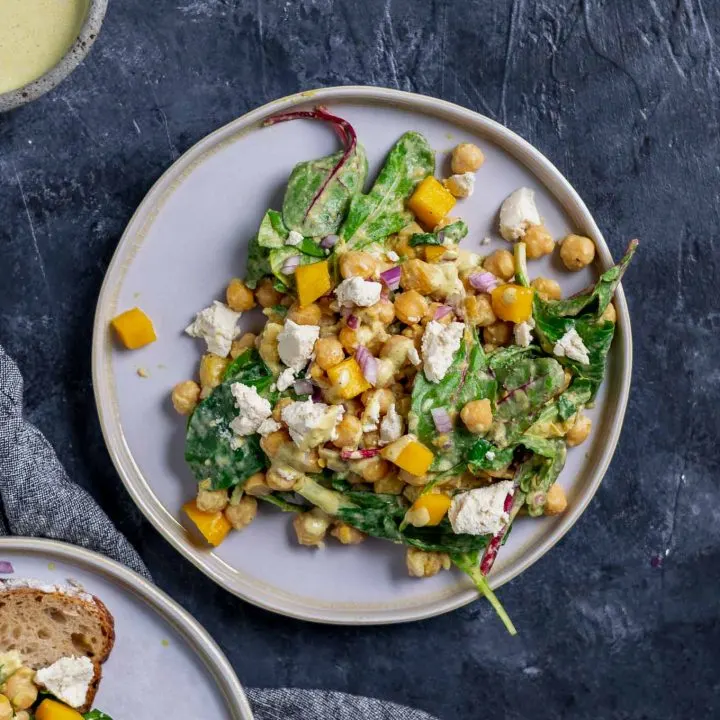 Curried Chickpea and Mango Salad with Vegan Queso Fresco
Chickpeas and ripe mango are tossed in a creamy curry dressing along with some baby greens and vegan queso fresco. Perfect for serving alongside some crusty bread, in a sandwich, or as a side salad.
Ingredients
Creamy Curry Dressing
1/2 cup cashews
3/4 cup boiling water
2 tbsp fresh lime juice
1 tbsp olive oil
2 tsp curry powder
1 tsp onion powder
1/2 tsp garlic powder
1/4 tsp white pepper
1/4 tsp salt, more to taste
pinch of turmeric, optional, for color
Salad
28oz can (3 cups) chickpeas, drained and rinsed
1/4 cup minced red onion
1 1/2 cups diced mango, 1-2 mangoes
2 cups baby greens
salt and pepper to taste
1/4 cup chopped cilantro
Instructions
Pour the boiling water over the cashews and let soak for 30 minutes (you can skip this step if you have a high speed blender), alternatively you can soak the cashews in cold water for 2+ hours.
Transfer the soaked cashews to a blender and blend until smooth and creamy. Add the lime juice, olive oil, curry powder, onion powder, garlic powder, white pepper, salt, and a pinch of turmeric and blend to combine. Taste and adjust seasoning if desired. Set aside to chill in the refrigerator for at least 20 minutes for the flavors to meld and the dressing to cool. Makes ~1 1/4 cups dressing.
Put the chickpeas in a large mixing bowl and mash slightly. We want most of the chickpeas to remain whole, but mashing a small portion of them helps the salad hold together while eating. Add the minced red onion, mango, and baby greens. Add 1/2 cup of the dressing and toss to combine. Add salt and pepper to taste, and more dressing if desired.
Top with cilantro and crumbed vegan queso fresco to serve. Enjoy at room temperature or chilled. The salad lasts 2-3 days in the fridge if using sturdier baby greens (like spinach, kale, chard, etc.).
Notes
*Most of the prep time is inactive, as it includes the time for the cashews to soak and the dressing to chill. Total active time is about 10 minutes.