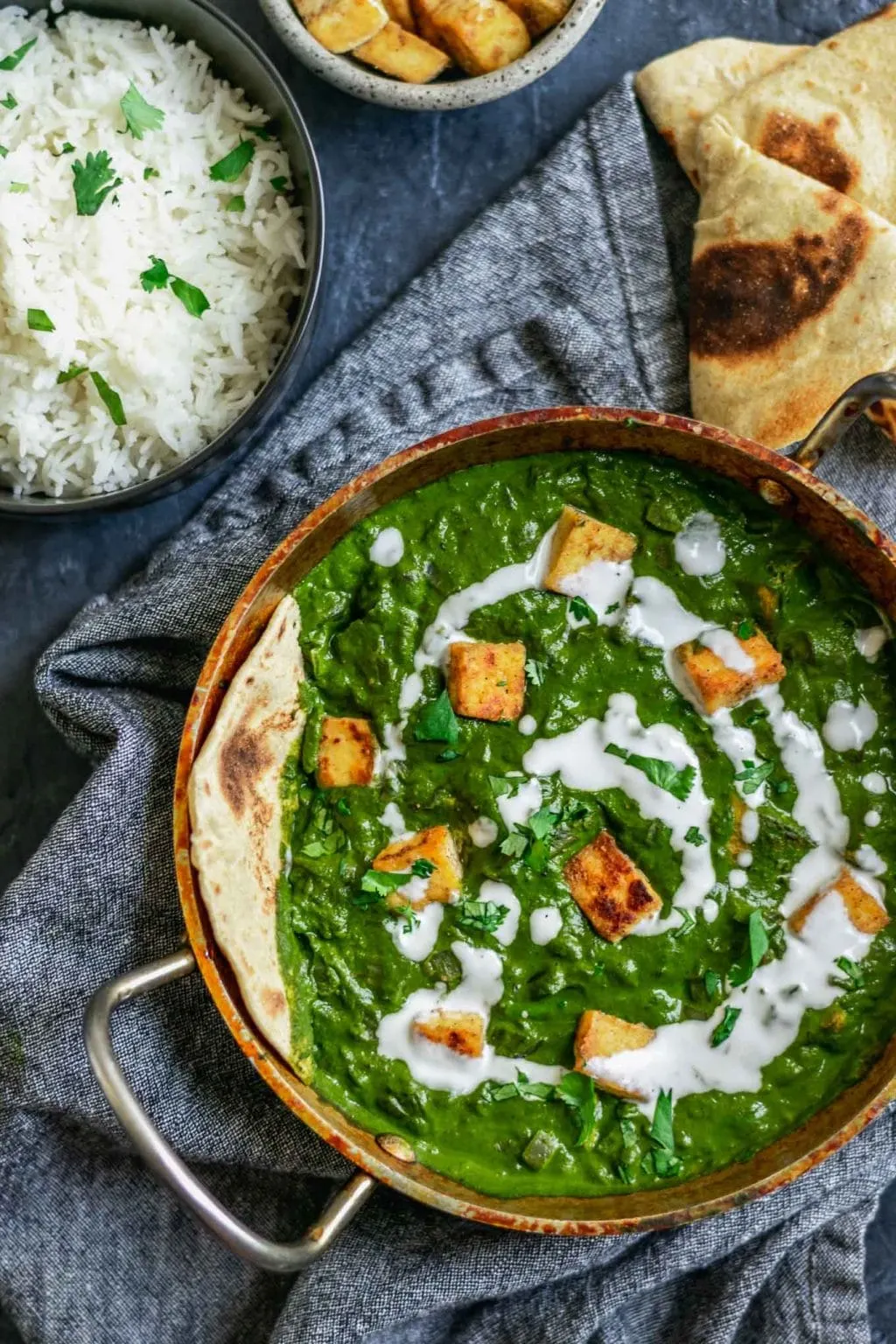 If you're craving comfort in the form of an Indian curry, this vegan palak tofu paneer is the recipe for you! It has a beautiful vibrantly green (like, you know this stuff is going to be good for you), creamy, and super flavorful spinach gravy base and crispy-edged, soft inside, crumbly tofu, which stands in for the soft farmers cheese that is paneer.
It's perfect when served with fragrant basmati rice and scooped up with some Indian flatbread. This curry is easy to make and by Indian standards comes together quickly. The hardest part is probably washing all the sandy dirt out of the spinach (which is not that hard!).
The spinach curries (as an aside, we actually call vegetable dishes subzi and not curry) I grew up with were a far cry from this recipe. I actually didn't grow up eating palak paneer [or as we more likely would have called it: saag paneer (in Urdu), saai or paalaka paneer (in Sindhi)] or much paneer in general, because, like I've mentioned before, my parents tried to keep a mainly vegan household.
What we did grow up eating was aloo palak/saag/saai, that is, potato and spinach curry as well as saai bhaji (a spinach, potato, and lentil one pot meal that is a specialty of Sindhi cuisine). And if we're being honest, the spinach curries were never my favorite.
My parents would chop up the greens before cooking them down to that super soft consistency, and so the final dish would have clumps of mushy spinach around cubes of potato. Yeah.. sorry guys. [Side note: I do love this preparation with leafy greens that hold up their texture better than spinach when cooked!]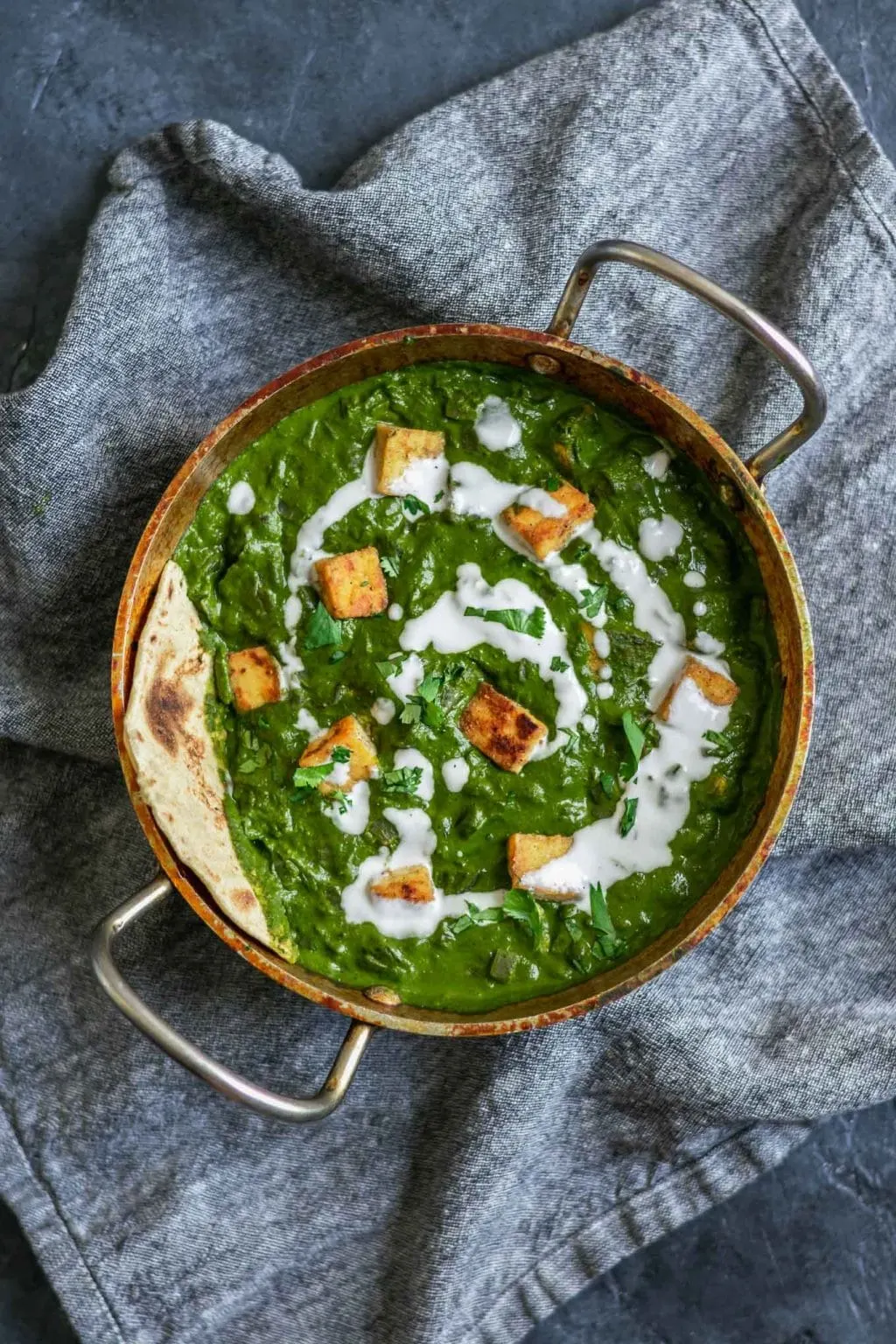 Today the recipe I'm sharing is going to be familiar to Indian food lovers of the Western world. This curry has a flavorful, creamy spinach base with mild tasting cheesy morsels tucked inside. Palak paneer is an easy recipe to veganize. First we swap out cow's milk cream for coconut cream. The nutty and rich flavor of coconut complements the curry perfectly. You won't miss the dairy, promise.
For the paneer I use tofu, which is my go to substitution in both my mattar tofu paneer recipe and my malai kofta recipe. Tofu is made exactly the same way that paneer, or cheese in general, is made.
To make tofu you coagulate soy milk, breaking the suspension and separating the solids from the liquids. You then drain out the solids and press them into a cake until you've reached your desired firmness. You can do this with salts like calcium chloride or magnesium chloride or acids like lemon juice. Paneer is made exactly the same way.
Tofu really is the perfect substitute for paneer! It also has the side benefit for being healthier than cheese. Paneer is mild tasting, but not as mild tasting as tofu, so I like to infuse some extra richness and cheesy flavor into the tofu.
I toss cubes of tofu with salt, garam masala, and nutritional yeast before frying up until golden. Nutritional yeast is an optional ingredient here, but it does give a little extra cheesy taste to the dish.
Northern Indian dishes like palak paneer are often cooked with ghee, or clarified butter. I like to use coconut oil (unrefined is particularly good in this application, but I'll admit I usually just have refined on hand). Coconut oil has a lot of flavor that enhances the dish while making it taste more authentic. That being said, feel free to use a neutral flavored vegetable oil instead. And that's it! We've veganized the dish! So easy, right?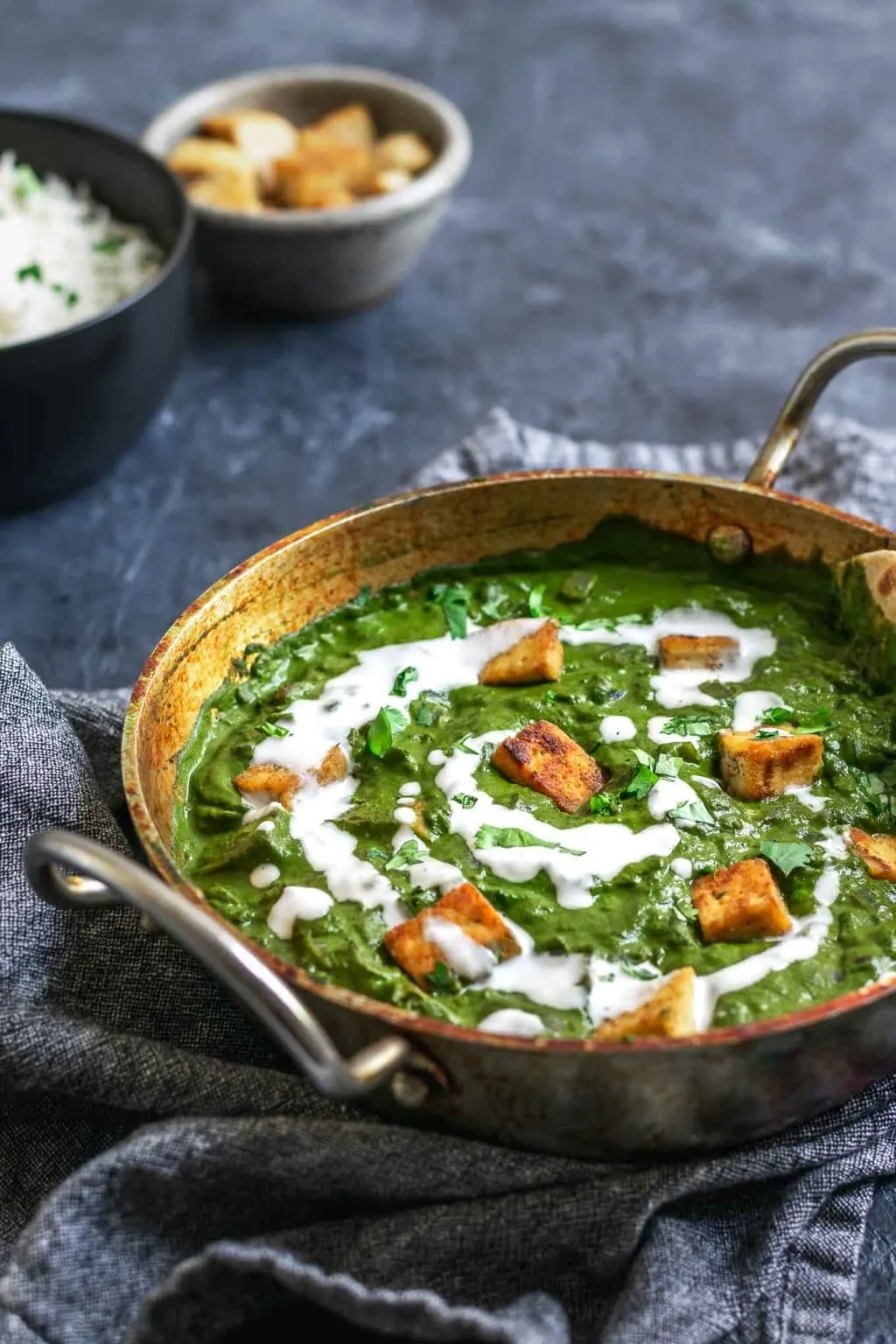 The rest of recipe is straight forward. First, the spinach is blanched in boiling water then quenched in a bowl of ice water before being blended into a puree. Blanching removes some of the bitterness while making the most of spinach's soft texture when cooked, and blending turns it into a silky sauce to coat the tofu paneer.
To make the spinach gravy, we start by tempering some of the spices. Tempering spices by cooking them in oil brings out the deepest flavors, but is best reserved for whole spices as ground spices will burn quickly. Here we temper cumin and bay leaf in hot oil for a matter of seconds before adding finely diced onion.
When the onion is soft and lightly caramelized, add the garlic and ginger. These cook just until their rawness departs, about 60 seconds. Any longer and you have to worry about them burning. At this point we add the remaining spices.
Garam masala is a spice mix that makes quick work of flavoring the curry in one easy go. Coriander is an ingredient in garam masala, but I love it's citrusy and floral-y favor so add extra for oomph.
Cayenne (or the hot red chili powder you'll find in Indian grocery stores) adds the heat, and you can go as little or as crazy as you'd like with the stuff. Black pepper adds some more peppery flavor, and this recipe used copious amounts of it.
A pinch of turmeric adds some earthy notes and salt enhances the flavor. I've said it before and I'll say it again, if you're ever cooking Indian food and it tastes flat, add more salt!
The last spice I add is kasoori methi, which is dried fenugreek leaves. They're a bit of a specialty ingredient, but worth tracking down. Besides, if you buy them it's a good excuse to also make my vegan malai kofta, which is one of my favorite dishes ever (and yours too, apparently).
If you can't find them either leave them out, or add a 1/2 tsp of ground fenugreek seeds. It won't be quite the same, but will still be delicious! Methi is a little bit bitter and a bit sweet, and when used in curries enhances the savory flavors while also bringing the complexity of flavor that you find in restaurant and authentic Indian food.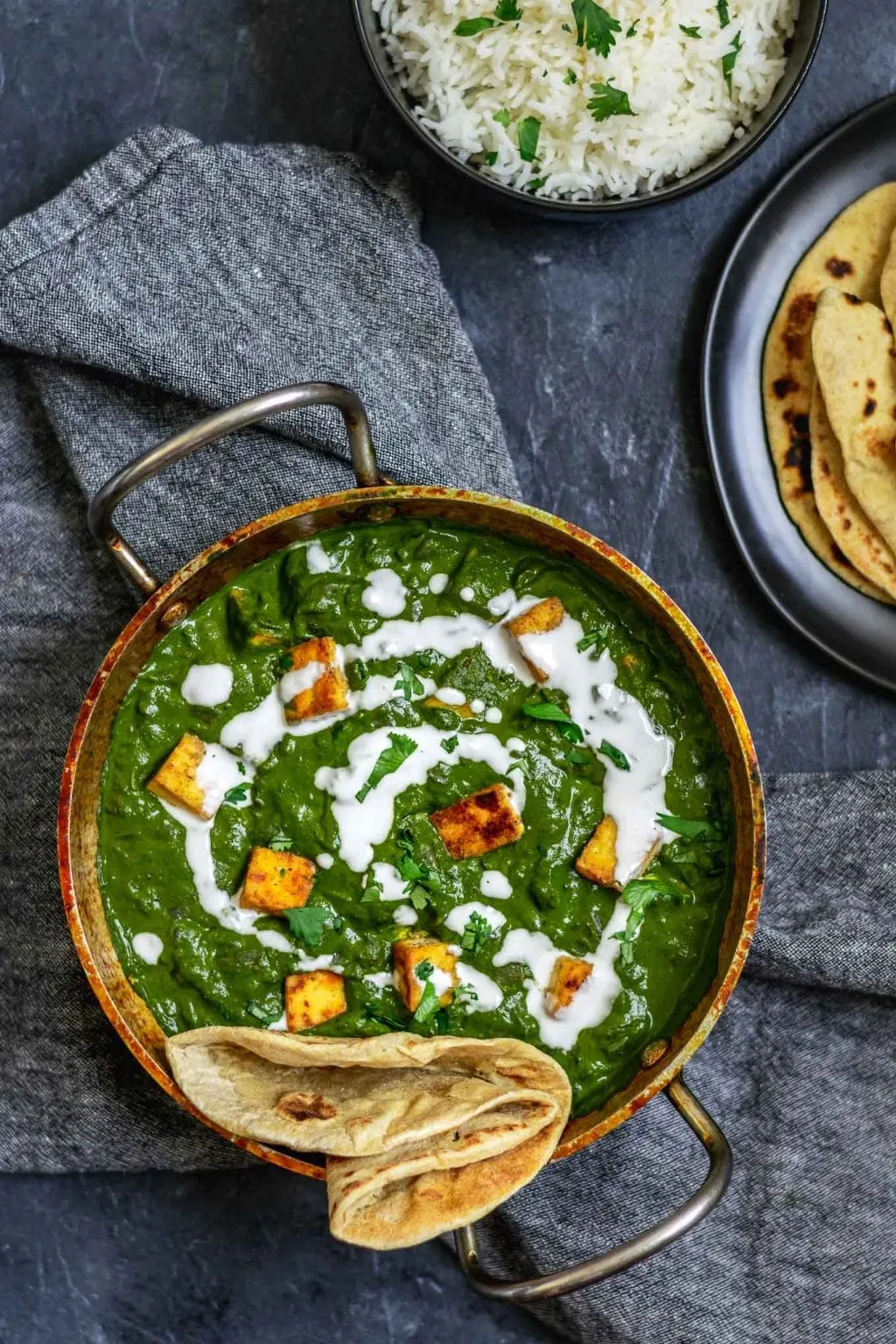 Once the spices have been added and flash fried for half a minute to activate their flavors, stir in the spinach puree. Cooked for a few minutes the grassy flavor of spinach is mellowed and the spices infuse into the puree. To finish the recipe add some coconut cream and squeeze in fresh lemon juice. Lemon juice brightens the flavors and makes the dish shine. Don't be afraid to be generous with your citrus!
I served this vegan palak tofu paneer with basmati rice and homemade chapatis. Maybe eventually I'll feel confident enough in my chapati making abilities to share a recipe, but in the meantime I recommend getting frozen parathas at the Indian grocery store. These are typically vegan, unlike naan. If there's interest I'd be happy to share a vegan naan recipe!
I do hope that you guys enjoy this recipe! It's a one stop Indian meal for your veggies, protein, and carbs (assuming you serve it with rice or bread). Delicious and nutritious! Let me know if you try it, leave a comment and rate the recipe below! And as always, don't forget to tag your recreations @thecuriouschickpea and #thecuriouschickpea on Instagram, or share with me on Facebook! Happy cooking!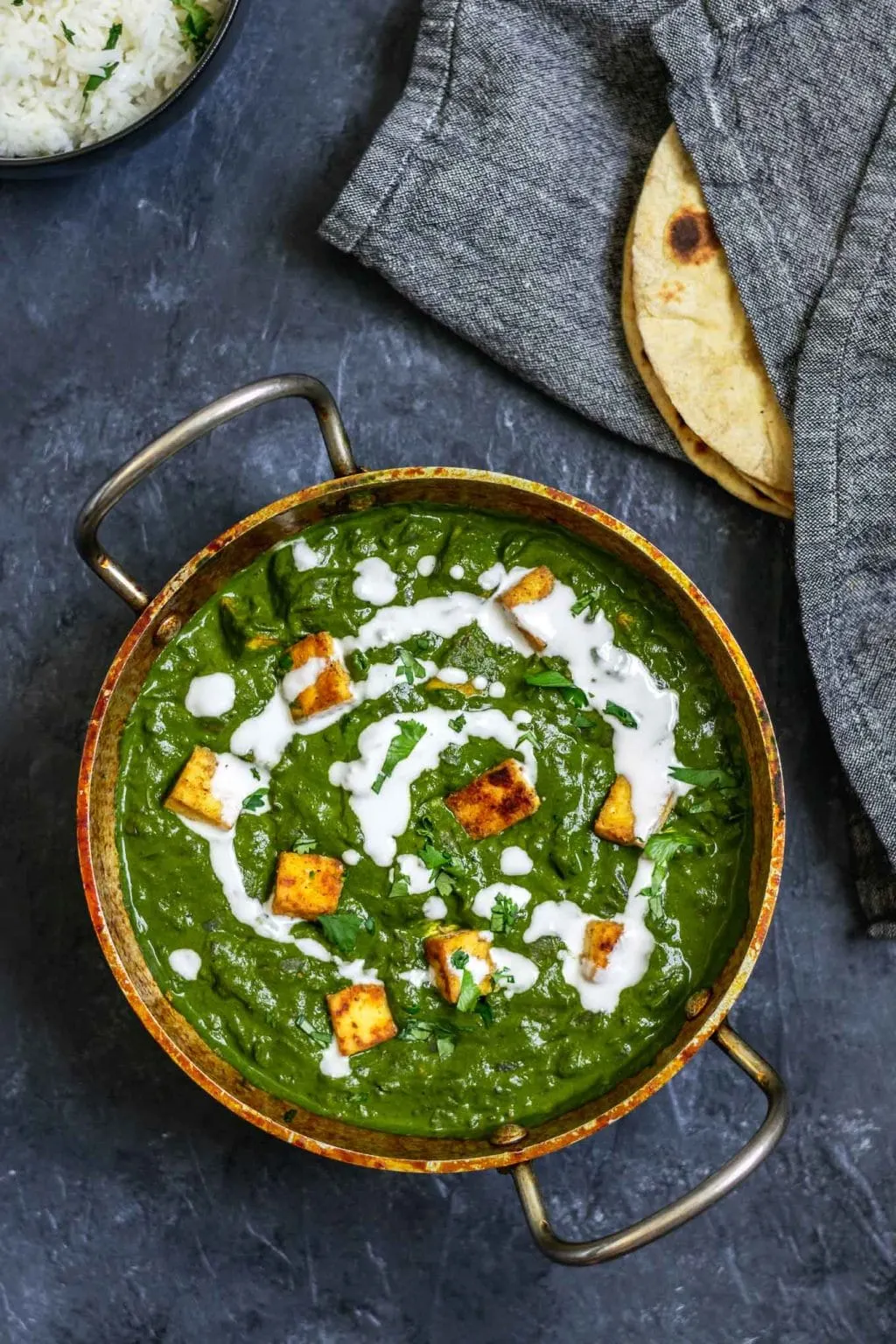 Notes:
Read the recipe through before starting and have everything chopped and the spices measured out (with the cumin seeds and bay leaf separate from the rest of the spices) before starting the spinach gravy. Once you get going, it moves quickly and the ginger and garlic as well as the spices have very short cooking times before they start burning! Having everything ready to go will keep this from happening.
Substitute a cashew cream (1:1 water to cashews) for the coconut milk or a store bought plain, unsweetened plant milk creamer if desired.
You can always add more coconut milk to temper the spices for a milder flavor.
If you have Indian bay leaves, feel free to substitute those!
And if you're trying to serve a gluten free meal, skip the wheat-based flatbreads!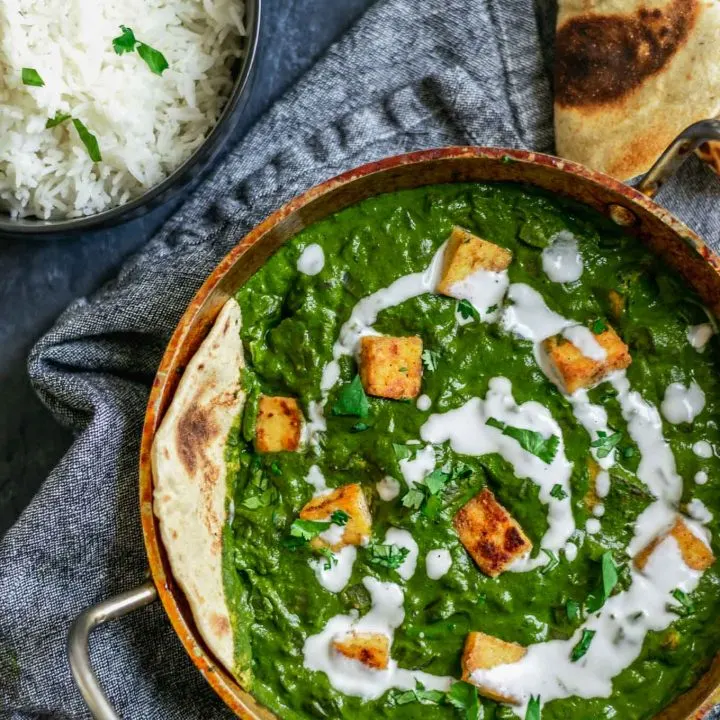 Vegan Palak Tofu Paneer
Cheesy tofu is fried until golden and smothered in a creamy spiced spinach gravy in this veganized version of the Indian dish palak paneer. It's easy to make and sure to impress!
Ingredients
Tofu paneer
14-16 oz tofu, cut into 1/2" cubes
1 tbsp nutritional yeast (optional)
1/2 tsp garam masala
1/2 tsp salt
1 tsp coconut oil or vegetable oil
Spinach gravy
1 lb spinach, washed well and fibrous ends of the stems trimmed
boiling water
ice water in a large mixing bowl
2 tsp coconut oil or vegetable oil
1 tsp cumin seeds
1 bay leaf
1 large onion, small dice
1" piece of ginger, minced (~1 tbsp)
2 cloves garlic, minced (~1 tbsp)
2 tsp fenugreek leaves (methi), crushed*
1 tsp garam masala
1 tsp freshly ground black pepper
1/2 tsp ground coriander
1/2 - 1 tsp cayenne or hot chile pepper, to taste
1/4 tsp turmeric
1/2 - 1 tsp salt, to taste
1/2 cup coconut cream*
lemon wedges for serving
cilantro for garnish
basmati rice, to serve
Indian flat bread, to serve
Instructions
Toss the cubed tofu with the nutritional yeast (if using), garam masala, and salt.
Heat a large skillet over medium and add the oil. When hot, add the tofu in a single layer and fry 8-10 minutes, flipping every ~2 minutes as the sides turn golden. The tofu will release from the pan as the edges sear. When golden all over remove the seasoned tofu paneer from the pan and set aside.
Blanch the spinach. Bring a large pot of water to a boil, with enough water to submerge the spinach in. Meanwhile, fill a large mixing bowl with water and some ice. Once boiling add the spinach and let cook for about 2 minutes until wilted and bright green. Drain the spinach and immediately douse it into the ice water to stop further cooking. Let the spinach cool then drain it.
Transfer the spinach to a blender or food processor and blend to a puree. It shouldn't be necessary to add liquid, but if it is, add up to 1/4 cup of water to get the spinach moving. Set aside.
In a large heavy bottomed pot heat the 2 tsp of oil over medium-low. Add the cumin seeds and bay leaf when hot and cook for about 1 minute until fragrant and a shade darker. Add the onion and turn the heat up to medium. Cook for 5-7 minutes, stirring occasionally, until the onion is soft and starting to turn golden. Add the ginger and garlic and fry for about 1 minute.
Add the spices: crushed methi, garam masala, black pepper, ground coriander, cayenne, turmeric, and 1/2 tsp salt. Cook those, stirring constantly for about 30 seconds, then add the spinach puree. Cook the gravy on medium heat for about 5-6 minutes, stirring occasionally, to mellow the spinach and allow the flavors to meld. If it gets too dry, add splashes of water.
Add the coconut cream and the tofu paneer. Let cook for another minute or so to heat through, then taste and add salt or adjust seasonings as desired. Add a squeeze of lemon juice here, or at the table to taste.
Garnish the curry with a drizzle of extra coconut milk and some minced cilantro (optional) and serve with basmati rice and/or Indian flat bread and extra wedges of lemon to squeeze overtop.
Notes
*the fenugreek leaves (methi) can be easily crushed in your fingers or by using a mortar and pestle.
*scoop the cream from the top of a can of coconut milk or use coconut cream. You can use regular canned coconut milk (as in when the cream and water are blended) for a less rich result.
Tofu paneer adapted from Vegan Mattar Tofu Paneer.
Palak paneer adapted from Veg Recipes of India.