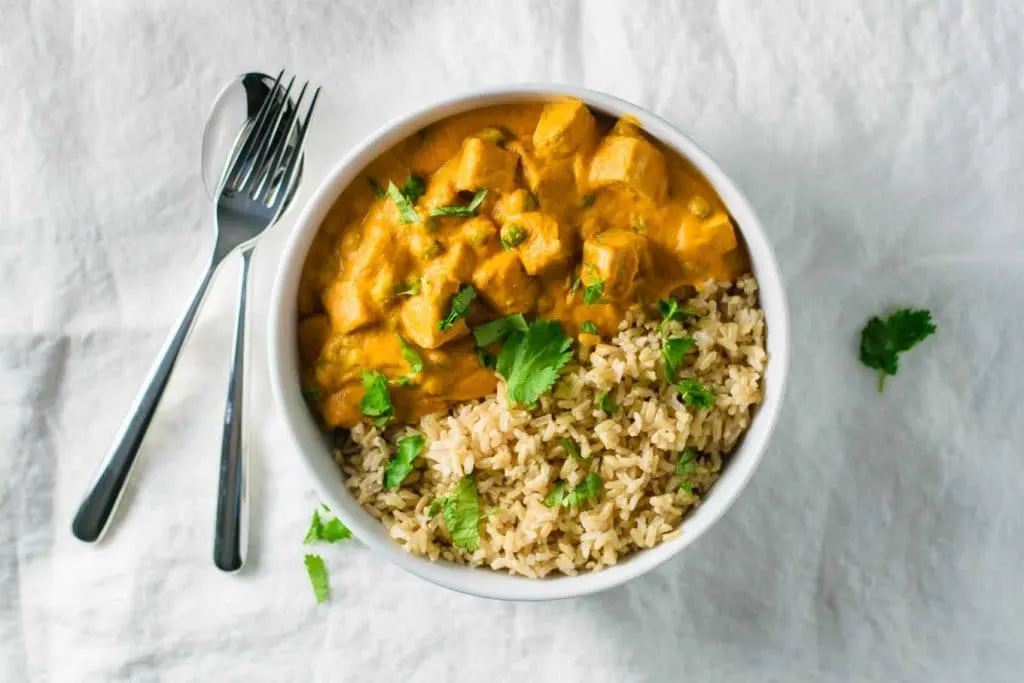 I didn't set out to create a veganized mattar paneer when I made this dish. I was craving a rich tasting and creamy Indian curry, and didn't want to break out a second pot to make a vegetable dish. Tofu was my first choice for the protein, I just love the tender morsels tucked into a thick creamy sauce, and its mild flavor doesn't compete with the strong Indian spices. I don't always love the heavily cooked texture of vegetables in traditional Indian cuisine (depends on my mood), so this time I decided to blend the cauliflower into the sauce to add to the creaminess of the dish while lightening it up a bit. Green peas provided extra texture and that burst of juicy sweetness, the perfect counter balance to the rich and spicy sauce. To be honest, I don't know if this recipe fully qualifies as a vegan mattar paneer, but there are a hundred and more variations of the dish across the various cultures and cuisines of the Indian subcontinent, so what's one more?
Mattar paneer translates to green peas paneer, paneer being a soft, unaged, fresh dairy cheese made in India. Extra firm tofu is a perfect substitution for paneer, with its mild flavor and soft and slightly crumbly texture (probably why tofu is so good in Indian curries). Here it's lightly pan fried with salt and garam masala until the edges take on a light golden hue while the insides remain delectably tender. Mattar paneer is traditionally made with a garam masala spiced tomato sauce, sometimes with added cream and sometimes without. Adding cream, or in this case coconut cream, tempers the spiciness of the dish, while also infusing those fat-soluble flavor molecules throughout the entire dish.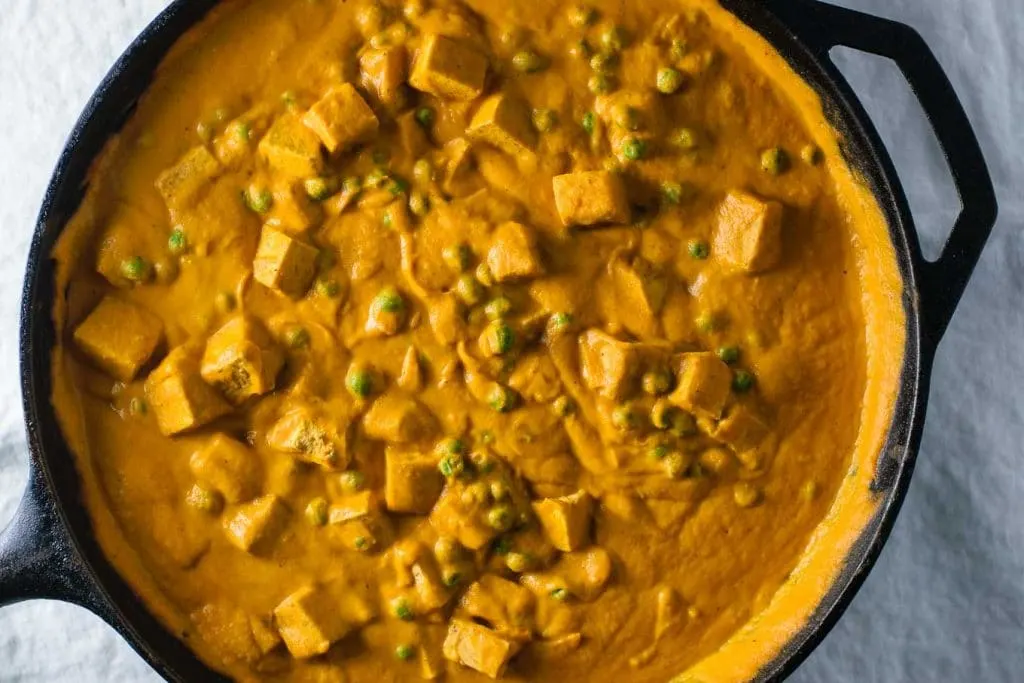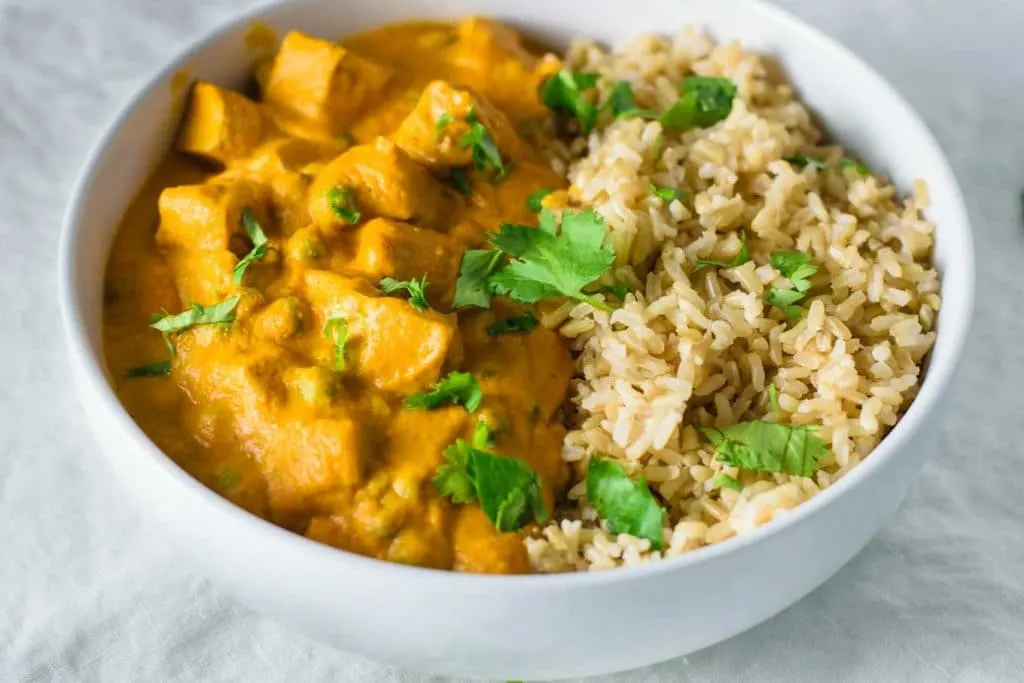 Did you know cauliflower can be blended to a creamy consistency? Well you might if you've made my Thai curry cauliflower lentil soup (ugh, I want more of it ASAP), but when cooked until soft then blended it turns into a healthier cream. It also disguises the cauliflower from any cauliflower haters or pickier eaters out there. The strong flavors of the curry hide that cruciferous vegetable taste, and the ending luscious and creamy texture has so much to love. Using cauliflower to increase the creaminess of the sauce lightens the sauce a bit, though I'll admit I wasn't trying to make a super low fat dish when I added a can of coconut milk to the mix.
The flavor of the sauce is built up in layers. Onion, garlic and ginger to start, then a generous amount of spices. Garam masala is a delicious and well balanced spice blend that provides most of the flavor in the dish, and though it includes cumin already, extra is added for a deeper, earthier taste. Turmeric is added for it's beautiful yellow color as well as the earthy and citrusy aroma, and cayenne is added for heat. The dish is finished with a squeeze of a lemon wedge for that final acidic brightness you didn't know it was missing. Cilantro adds to the citrusy and bright flavor for those who are fans (me!).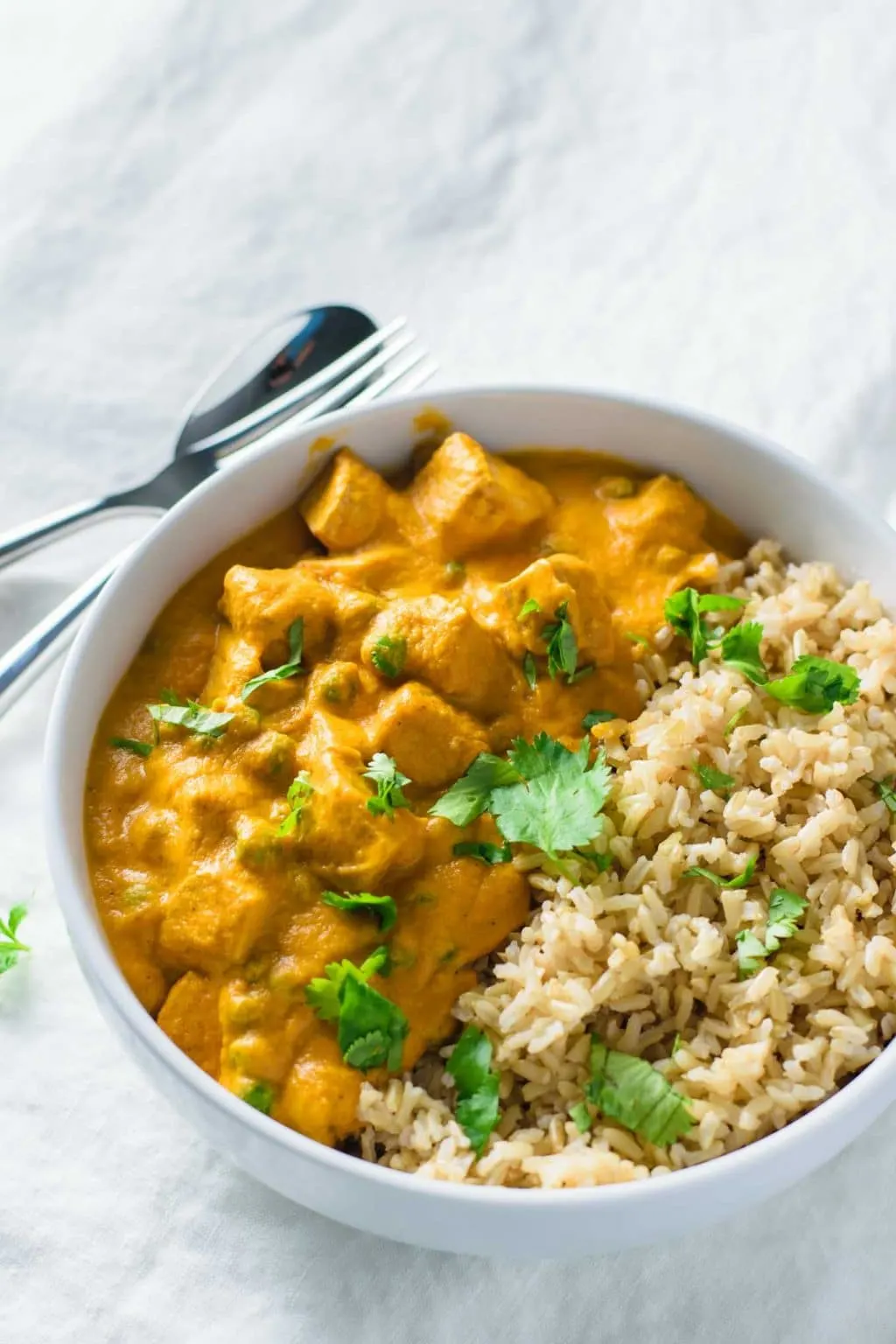 Its quite an easy recipe to make with a simple premise, lightly fry up your tofu, then cook your aromatics (onion, garlic, ginger, and spices). Add the cauliflower, tomatoes, and coconut milk and simmer until the cauliflower is soft, then blend the sauce until thick and creamy. Pour the sauce back into the same pan along with the tofu and some frozen green peas, then cover and simmer for 10 minutes to meld flavors and cook the peas. The recipe also conveniently takes the perfect amount of time for brown basmati rice to cook. I like to start a pot of rice before I start the recipe, and by the time the final simmer is over the rice is done and waiting for a fluffing, and you have yourself a delicious meal ready to go!
This recipe is SO GOOD. Creamy and bursting with flavor, with tender tofu and juicy green peas. Omar singlehandedly ate enough for about 3 people before packing himself a lunch enough for 2. Despite that we still have plenty of leftovers (which is a win in my book). Whether you want to call it vegan mattar paneer or not (Omar didn't, despite being the one to first declare the similarity, as it was apparently not his favorite growing up and he was obsessed with this version), it is a new favorite in our house that I foresee being requested regularly. And, I mean, I do still have half a head of cauliflower sitting in my fridge just begging to be used…
If you do try this recipe for vegan mattar tofu paneer (or whatever you fancy calling it), let us know! Leave a comment and/or rate the recipe below, tag me on Instagram (or #thecuriouschickpea), or share with me on Facebook! Happy eating!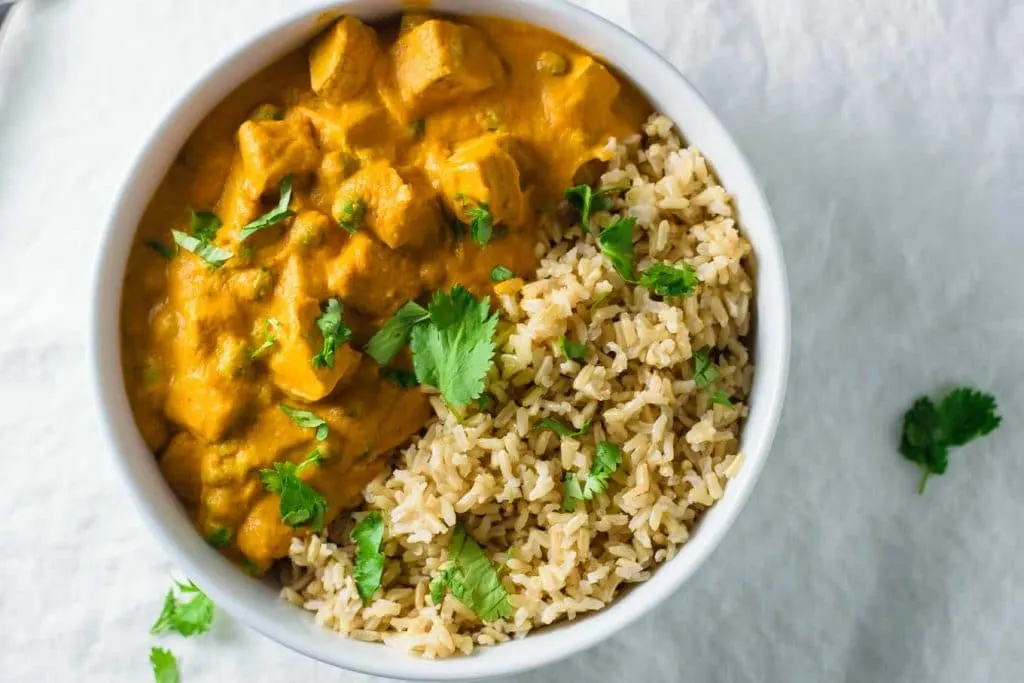 Notes:
As written this is a mild to medium amount of heat (depending on who you're asking). Increase or decrease the cayenne pepper to your liking. You can always add extra at the end!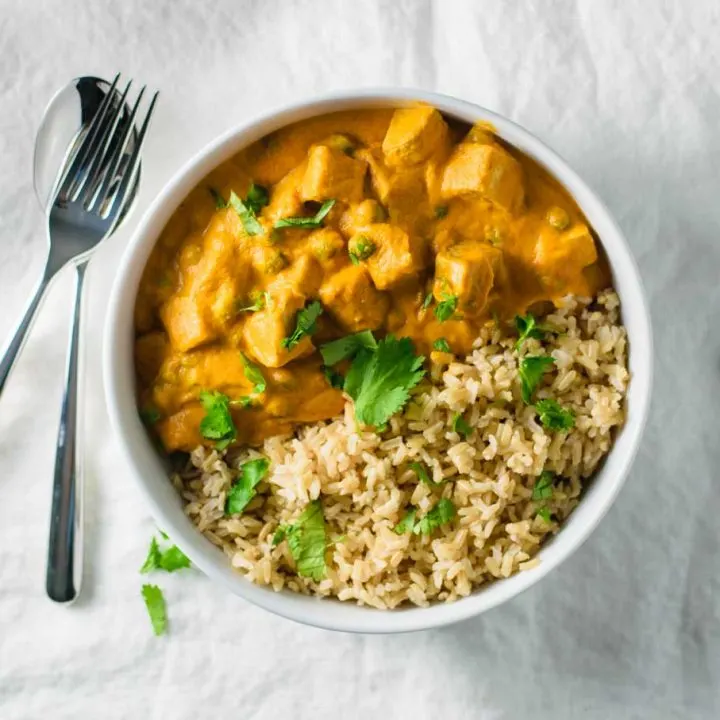 Vegan Mattar Tofu Paneer
A garam masala spiced tomato sauce is made creamy with cauliflower and coconut milk and is simmered with tofu and green peas for a delicious, medium spicy, Indian dish reminiscent of mattar paneer.
Ingredients
2 tsp vegetable oil
14 oz extra firm tofu, cut into 3/4" cubes
1 tsp garam masala
1/4 tsp salt
Tomato-Cauliflower Cream Sauce
1 tsp vegetable oil
1 large (315g/11oz) onion, medium diced
4 cloves garlic, minced (heaping tablespoon)
1" piece ginger, peeled and minced (scant tablespoon)
1 tsp salt
1 tsp ground cumin
1 tsp garam masala
1/2 tsp turmeric
1/2 tsp ground cayenne, more or less to taste
1/2 large head of cauliflower, cut into florets (415g/15oz, 4 1/2 cups)
1 15oz can whole or diced tomatoes (1 1/2 cups diced fresh)
1 15oz can coconut milk, substitute 1 1/2 cups plant milk for lighter sauce
1 cup frozen green peas
lemon wedges, to serve
cilantro, for garnish (optional)
brown basmati rice, to serve
Instructions
Heat a large non stick (such as cast iron) skillet over medium heat. Add the oil then tofu and sprinkle with the salt and garam masala. Stir to coat and fry for about 5 minutes, stirring 2-3 times in that time, until the tofu is lightly golden on some sides. Remove the tofu from the pan and set aside.
In the same pan over medium heat, add another teaspoon of oil. Add the onion and cook until softened and lightly golden, 4-5 minutes. Add the minced garlic, ginger, salt, ground cumin, garam masala, turmeric, and cayenne and stir, cooking for 1 minute.
Add the cauliflower, tomatoes and their juices, and the coconut milk and stir to combine. Let simmer over medium heat for 10-12 minutes, or until the cauliflower is soft and no resistance is met when pierced with a fork. Turn off heat and let cool for a few minutes before transferring to a blender. Blend the sauce until smooth, venting out steam as it blends so pressure doesn't build up.
Add the sauce back to the pan along with the tofu and the green peas, stirring to coat. Cover, and turn the heat on and back on to medium low. Let simmer for about 10 minutes to cook the peas and meld the flavors. Taste and add salt or more cayenne if desired.
Serve with brown rice, a garnish of chopped cilantro, and finish with a squeeze of fresh lemon on the plate. Enjoy!