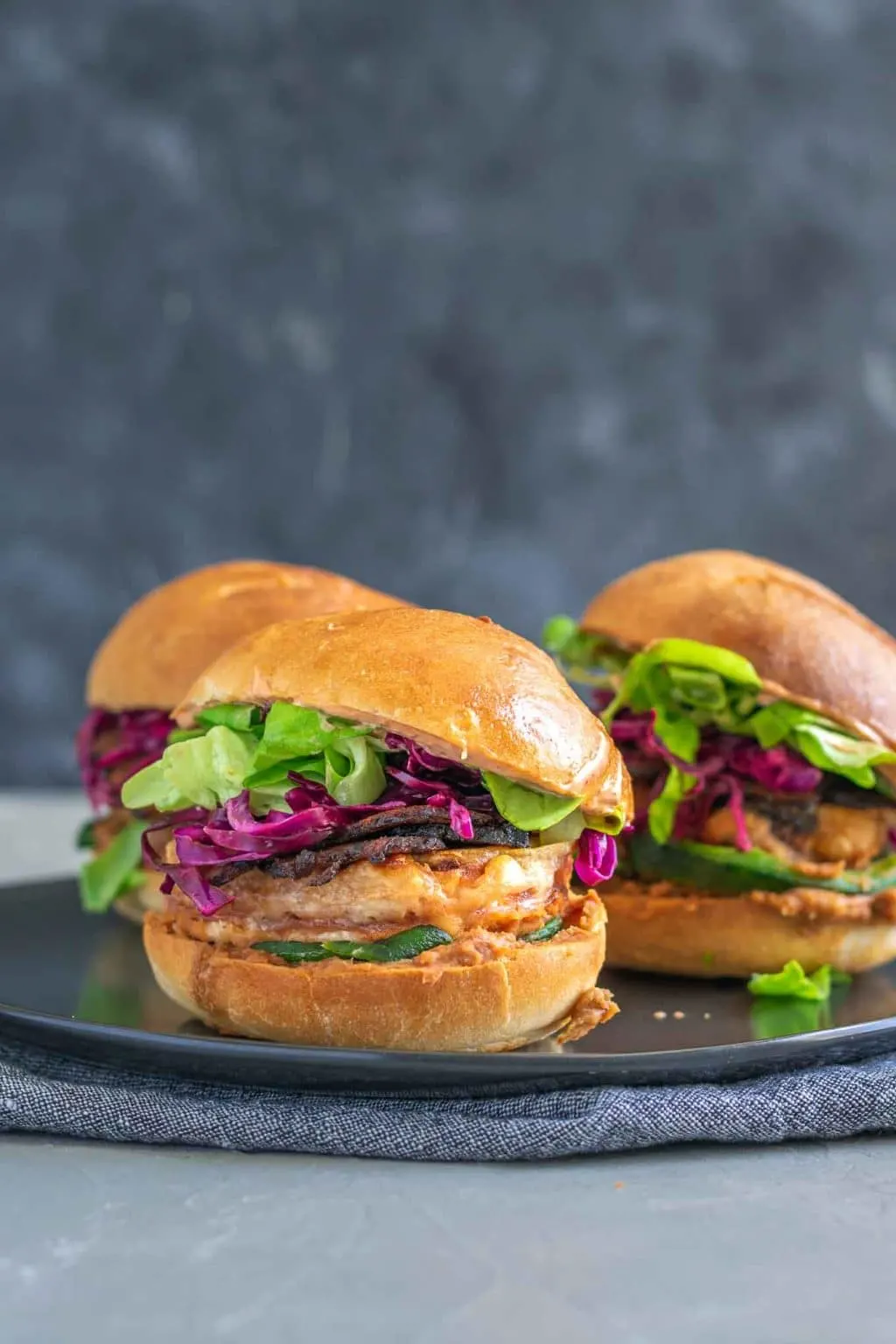 You guys. I think I'm in love with a sandwich. But not just any sandwich! Oh no, my love is reserved for this battered tofu torta. I also have a really hard time with not typing beer before battered tofu, but there is no beer in here! Though there could be, and that would be extra tasty, just sayin.
Have you heard of tortas? Tortas are a Mexican sandwich, and can be served hot, cold, or pressed like a panini. They use a crusty white sandwich roll, telera or bolillo, which sometimes is slathered with red sauce (torta ahogada). Fillings vary by region and person making it, but they commonly include, refried beans, some kind of chile pepper, meats and cheeses.
I didn't have my first torta until grad school and my early 20s, when I first had the veggie cubana at Quesadilla La Reina del Sur in Chicago. And I have never wanted to look back. These sandwiches have so much going on in them, with layers of flavor and texture, that it's hard to say no to them if they're on a menu. This battered tofu torta is nothing like that veggie cubana, and yet, I'm even crazier for it.
You've gotta start with the bread. Now any soft and crusty sandwich roll will work, but I have a particular soft spot for my homemade sandwich rolls and that's what you'll see pictured here. These rolls are similar to bolillo or telera, which are essentially the French baguette adaption of Central America. They're softer and doughier than baguettes as well as less crusty, which makes them ideal for sandwich eating.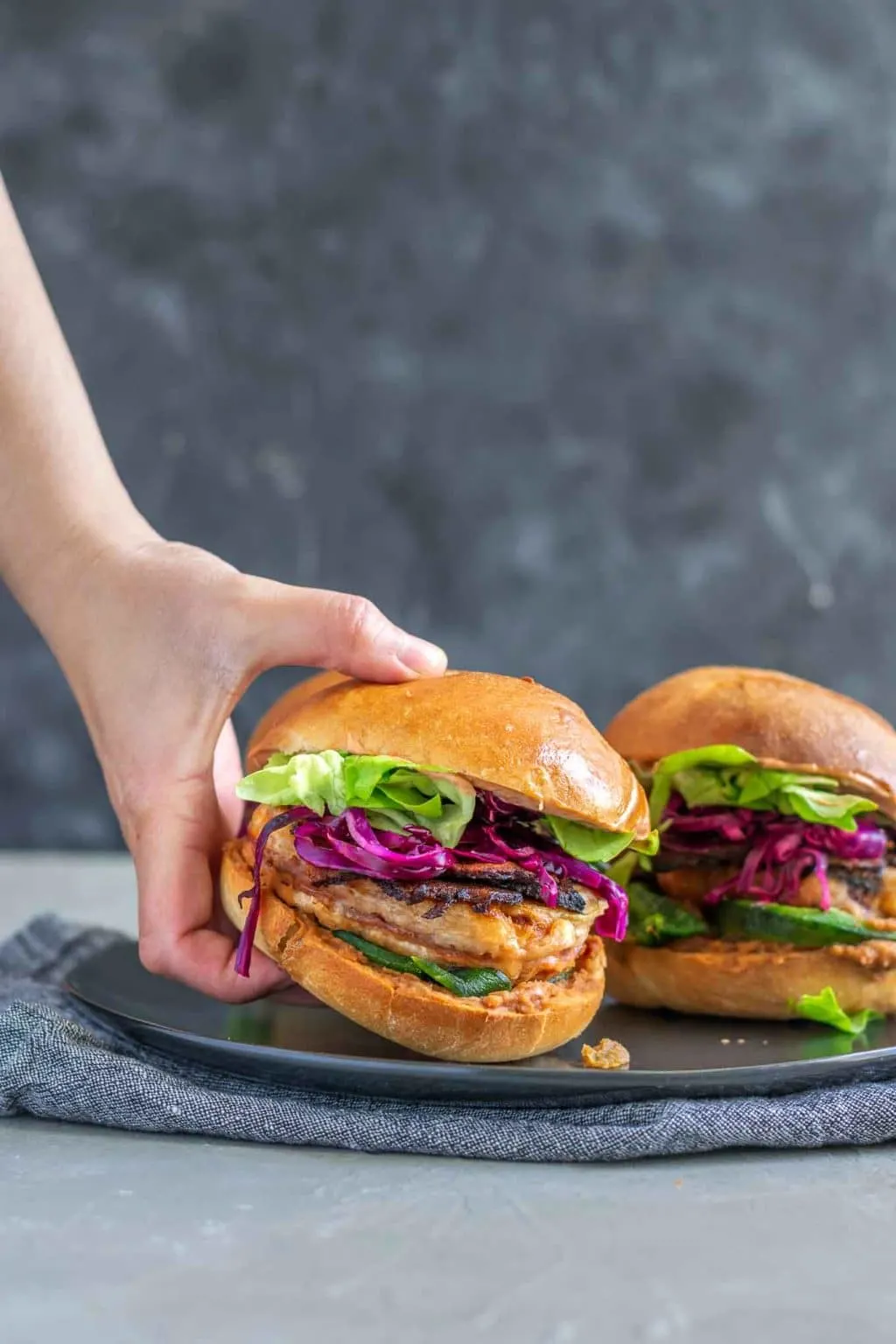 Now if we were being more authentic, I'd have flattened my sandwich rolls more when shaping and rolled them out larger. I would also have sliced one stroke down the center of the rolls lengthwise a la bolillo -or- used a dowel to press two parallel lengthwise divots the dough to make 3 sections a la telera. I'm not that fussed, but if you are, make these adjustments if making your own bread!
If you're buying bread for these tortas, then pick a soft and crusty roll, and try to find one that has been freshly baked! Bread is just so much better freshly baked. If you live somewhere with a panadería (Mexican bakery) then try to find the bread there! Just watch out for pambazo, which are similar sandwich rolls that are typically enriched with eggs and lard.
Ok, moving on to the filling, which is the real hero of the tortas. [That being said, you should know that I think that no matter how delicious the insides, a sandwich can't be good without having good bread.] For the meat of this sandwich I made a battered tofu steak. I'm not going to pretend this is a traditional filling, but I think that ship sailed as soon as we took the meat out of the sandwich. Despite that, it is freaking delicious.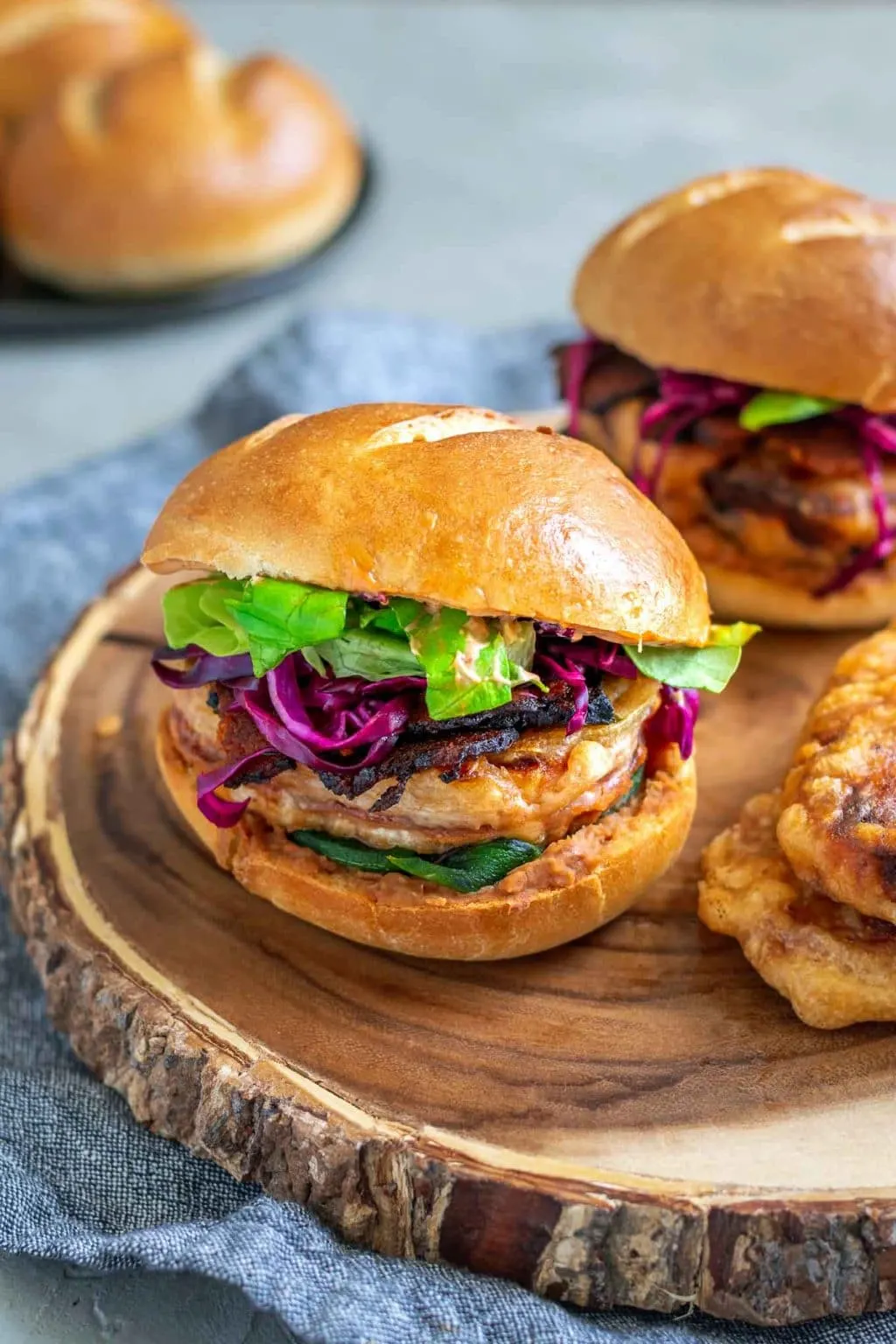 The battered tofu steaks are super simple to make. First we press the extra water out of the tofu for a better texture, then brush the tofu with some flavorful Mexican red chile sauce. Feel free to keep it simple and substitute adobo from a can of chipotles or a chipotle in adobo puree. This layer of chile sauce adds a nice kick of flavor to the tofu, and complements the creamy mild taste of tofu.
The tofu is then dipped in an easy batter, which is made of all purpose flour and corn starch (or substitute tapioca starch or arrowroot) with just a little salt for flavor. Instead of water I like to use sparkling water, though as I mentioned before beer would also make a nice batter (just choose a Mexican beer, or any mild lager). Using a fizzy beverage gives extra lightness and crispiness to the fried batter. Once the chile sauce-slathered tofu is dipped in batter it can be deep fried or pan fried in a thin layer of oil. I did not test baking and I suspect that the batter wouldn't come out so deliciously crispy if baked.
To accompany the battered tofu steaks we have some of the usual suspects. Roasted poblanos cut into thin strips. Refried beans slathered over the bottom side of the bun. A tangy cabbage slaw that's tossed together in no time. Some crispy vegan bacon as an homage to my first torta, the veggie cubana. Lettuce because it's a nice cool contrast to the rest of the filling. And a smear of vegan mayo over the top bun.
Now, with regards to the vegan mayo, I like to mix in some of the red chile sauce for a chile mayo. But you do you! You could also not doctor your mayo but drizzle some of that delicious chile sauce over top the rest of the fillings. Or go ahogada style and brush your bread with the red sauce!
Well, I hope you guys like your sandwiches epic, because then this will be right up your alley! It's like, is it a work of art or is it a sandwich? You probably should make it and decide for yourself.
Alrighty, that's that. Let me know if you have any questions, and as always let me know if you try this recipe! Leave a comment below, tag me on Instagram (@thecuriouschickpea or #thecuriouschickpea), or share with me on Facebook! Happy sandwiching friends 🙂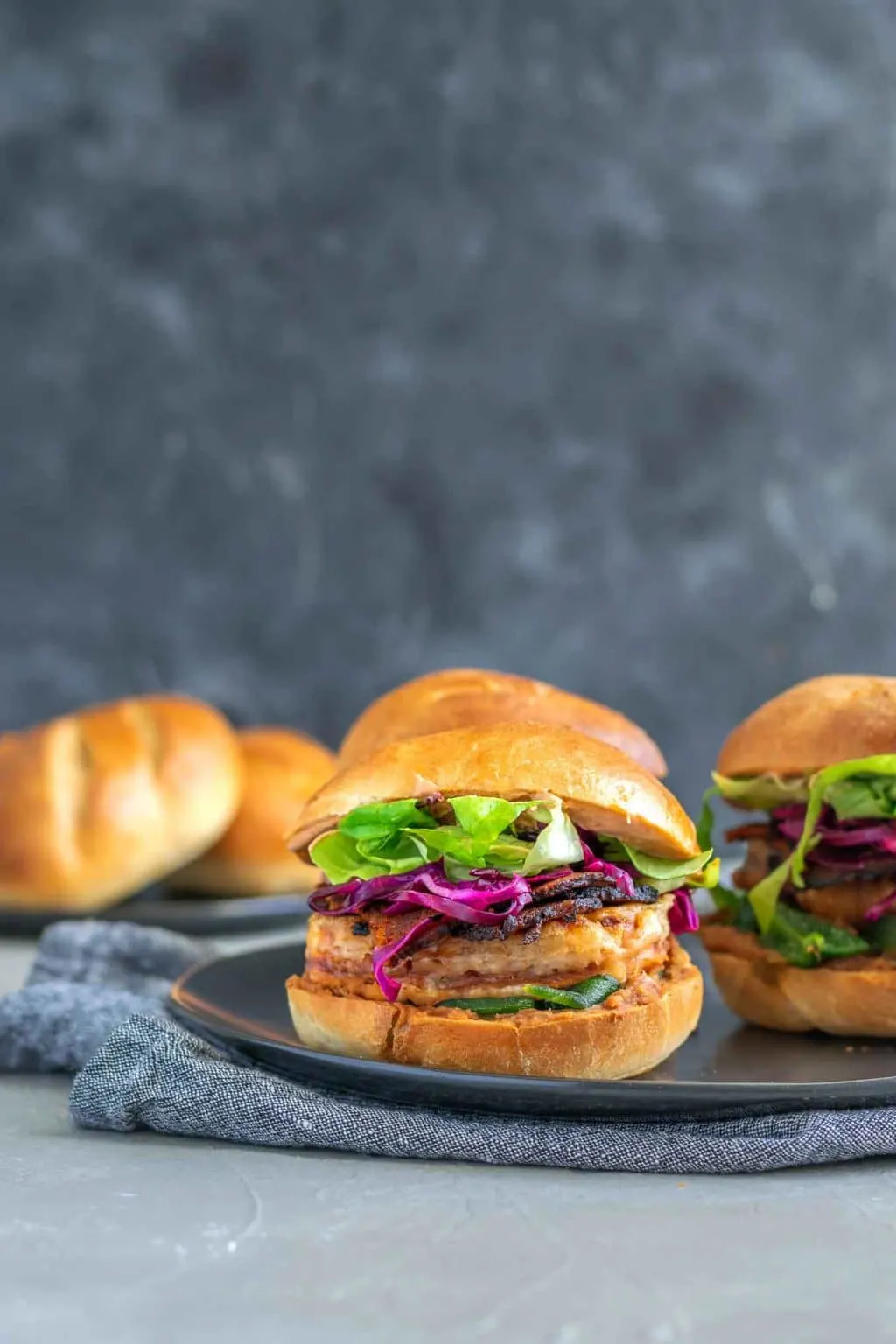 Notes:
Use your favorite vegan bacon. I like seitan bacon.
Other tasty adaptations include broiling some vegan cheese to melt on one side of the sandwich. You know I'm a fan of my roasted jalapeño cheese.
Feel free to get creative with your sandwich fillings, but don't blame me if you do weird things like put peanut butter instead of mayo in your sandwich. But also, just try it as is, because it's awesome!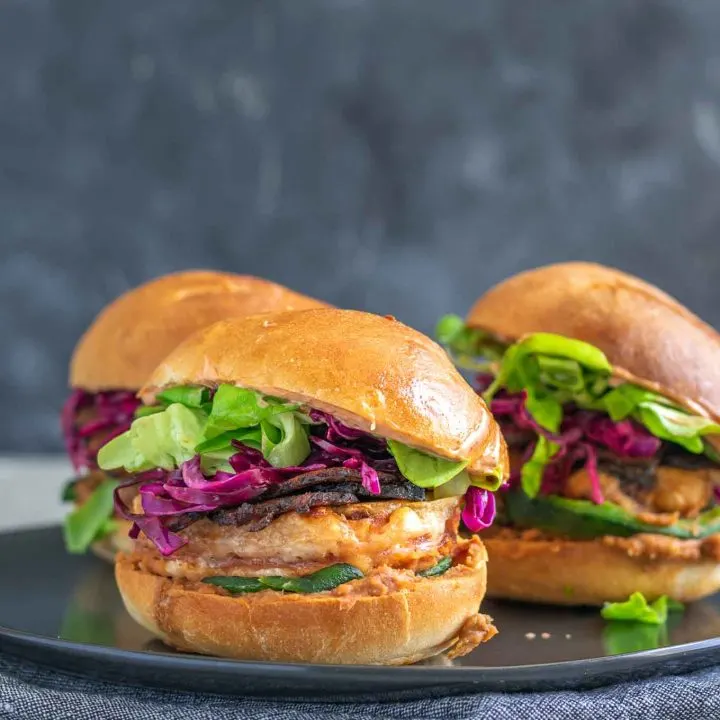 Vegan Battered Tofu Mexican Tortas
Tortas are a Mexican sandwich and this delicious version is filled with refried beans, vegan mayo, shredded lettuce, seitan bacon, roasted poblanos, cabbage slaw, and battered tofu steaks. It makes for a filling and protein-packed vegan sandwich.
Ingredients
Poblano rajas
Cabbage slaw
1/4 head red cabbage, finely shredded
2 tbsp lime juice (juice from 1 lime)
1/2 tsp salt, or to taste
Battered tofu steaks
1 1lb block of extra firm tofu, cut into 8 slices widthwise
1/2 cup (65g) flour
1/4 cup (30g) corn starch
1/2 tsp (3g) salt
1/2 cup (120g) sparkling water or beer
oil for frying
Everything else
refried beans
vegan mayonnaise*
shredded lettuce
vegan bacon, pan fried until crispy
Instructions
Roast the poblanos: Do this over a gas flame until the skins have blackened and burnt all over, or do this under the broiler, turning every few minutes until you achieve the same blackening and burning of the skin. Place in a heat safe bowl, cover, and let cool. Once cool, peel off the blackened skin and remove the seeds and stem. Slice the poblanos into thin strips. Set aside.
Prepare the cabbage slaw: In a small mixing bowl toss together the cabbage, lime juice and salt. Taste and adjust salt and lime juice as desired. Set aside in fridge until ready to use, it's best after 30 or more minutes.
Prepare the battered tofu: Wrap sliced tofu in a paper towel or clean kitchen towel and place something heavy on top to press out excess liquid. Let it sit for a few minutes while you prepare the batter.
In a small mixing bowl whisk together the flour, corn starch, and salt and then add the sparkling water. The final batter should be thick enough to coat the tofu in a thin layer without running off it. Add more water or flour if needed.
If pan frying, heat a (relatively) thin layer of oil in a cast iron skillet over medium heat. If semi-deep frying, heat 1/2-1" of oil in a heavy bottomed pot over medium to medium high heat.
Brush the pressed tofu with a thin layer of Mexican red chile sauce (or adobo), then dip each side into the batter to coat. Fry in the hot oil (if deep frying oil should be around 360 ºF) until golden brown, about 3 minutes, then flip and cook on other side until golden, another 2-3 minutes. Drain finished battered steaks on a paper towel lined plate.
Prepare the sandwiches: Slice the sandwich rolls in half, and scoop out some of the bread from the center if desired, or squish it down a little bit. Spread refried beans on one the bottom side and vegan mayo on the top. Add the sliced roasted poblanos, the battered tofu steak, vegan seitan bacon, cabbage slaw, and shredded lettuce. Cover with the top bun and enjoy your sandwich!
Leftover battered tofu steaks reheat really well on a dry skillet or in the oven.
Notes
*If you want a chile mayo, add some of the Mexican red chile sauce into the mayo. About 1 tbsp chile sauce per 1/4 cup of mayo.