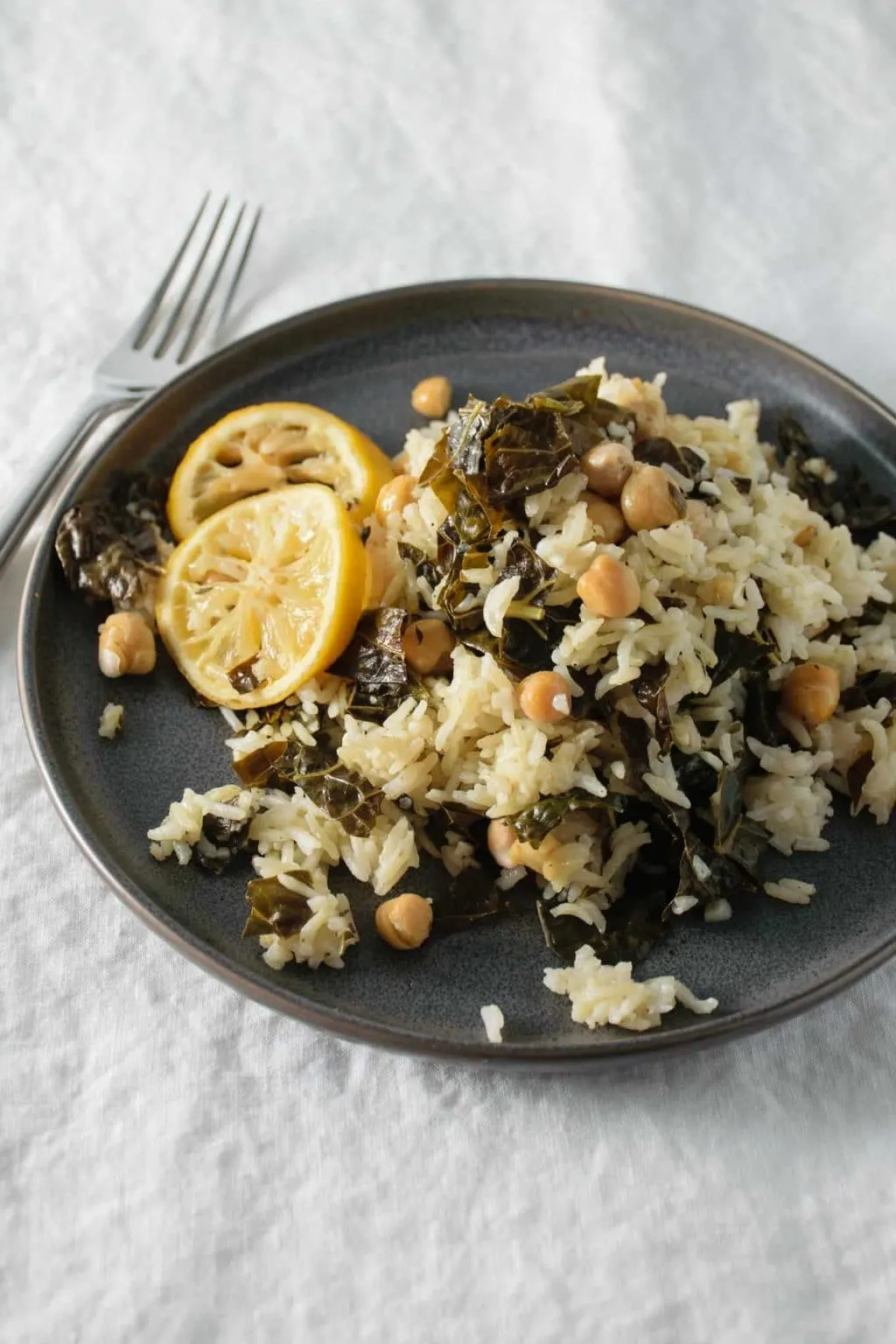 We all need an arsenal of easy, healthy, and comforting meals to pull out at the end of a long day. For me, nothing spells comfort food more than a big plate of beans and rice.
I love beans, which I suppose makes me a good vegan and extra environmentally friendly. Seriously, everyone should eat more beans and legumes! This recipe has it all, protein, green vegetables, comforting Italian herbs, bright citrusy flavor, and carbohydrates to leave you well satiated.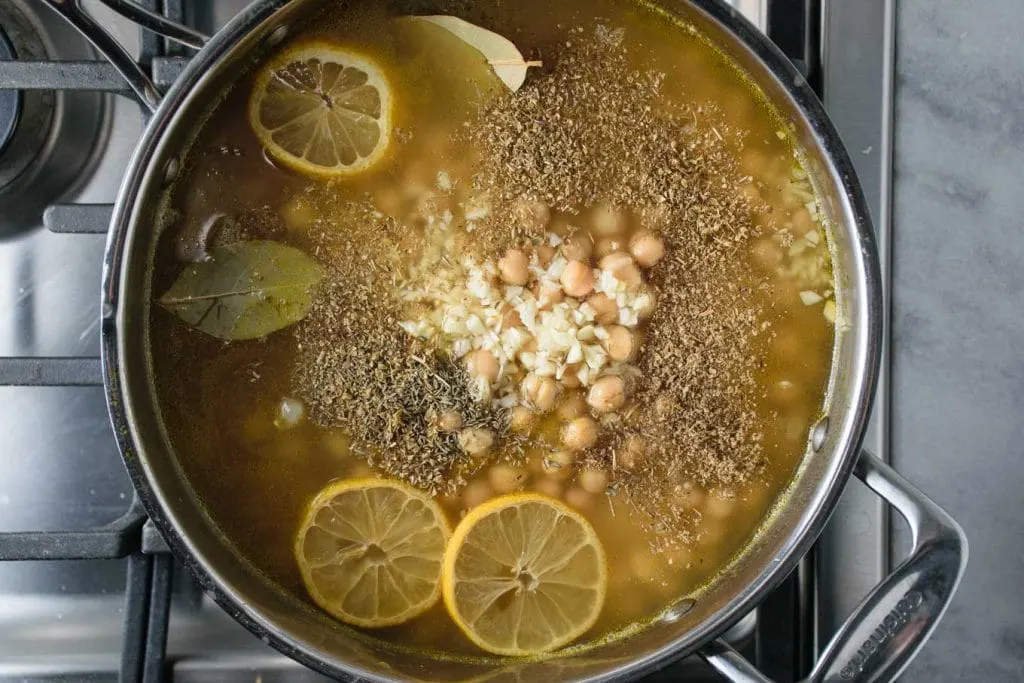 These lemony chickpeas and rice are so easy to make. All you do is throw everything into a pot heat it up, then cover and walk away while the rice cooks. I often use white rice, and did so here, because I want my food sooner rather than later.
I tend not to feel too guilty about choosing white over brown rice, as there's that pesky arsenic problem in brown rice (this is not a clear cut issue, as it may be the case that the arsenic in brown rice is less bioavailable). I guess the bottom line is, use the rice you feel like using, and make sure to give it a good rinse before using.
If you do substitute brown rice, make sure to increase the cooking time accordingly. Brown basmati typically cooks in 35-40 minutes, while a short grain brown rice could take 45-50 minutes. You may also find that you need a bit more water or broth, I'd add an extra 1/2 cup to start.
This recipe is so adaptable to what you have in your pantry. You can substitute the beans for white beans, kidney beans, even pinto or black beans. I always seem to have chickpeas on hand, especially after a bout of recipe testing that involves aquafaba, and they're one of my favorite legumes 😛 .
You can also use whatever green vegetable you have available. I often keep a bunch of flat leafed kale in my fridge, but other varieties of kale, as well as collard greens, Swiss chard, or spinach would also be delicious in this recipe. Chard and spinach will cook down even further than collard greens or kale, and practically disappear into the dish.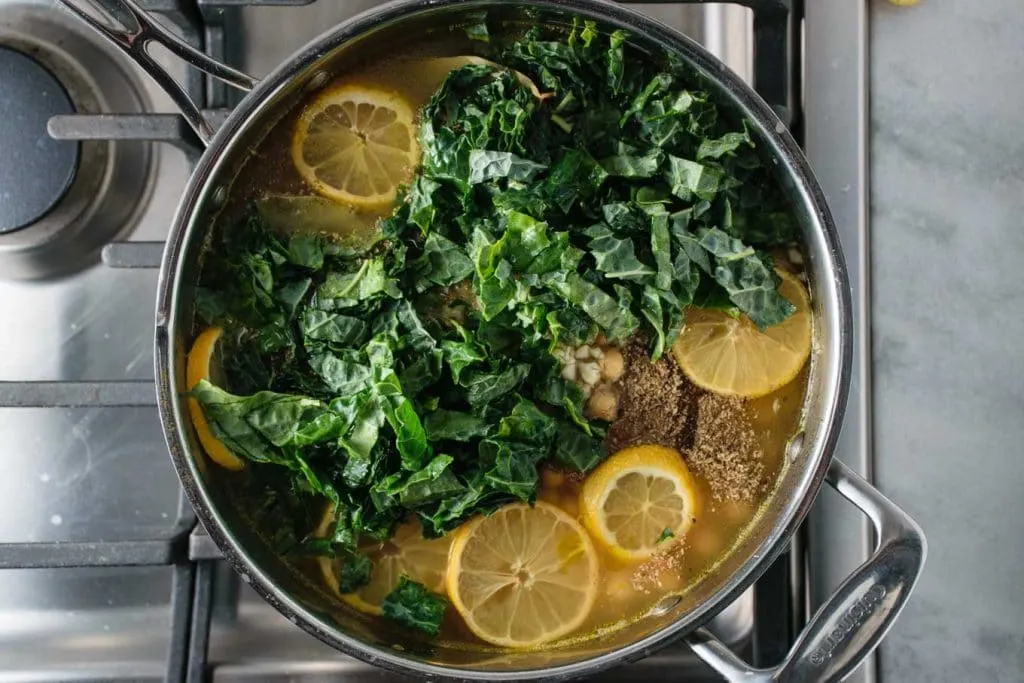 To serve, I like to douse the dish in hot sauce. A sprinkling of fresh herbs, like parsley or chives would be a delicious finish as well. My favorite part about this recipe is how simple it is, and how little preparation is needed!
Just 12 super pantry friendly ingredients (+ the optional hot sauce) and the shortest and easiest instructions of all time. This is the kind of comfort meal I like to enjoy all winter long, it's stick to your ribs good while being a healthy meal. It also reheats really well, making for the perfect leftovers lunch.
Let me know if you make this recipe for lemon chickpeas and rice! Leave a comment and/or rate the recipe below, tag me on Instagram (or #thecuriouschickpea), or share with me on Facebook! Happy eating!

Notes:
You could substitute 1 1/2 – 2 tsp of an Italian herb blend for the thyme, sage, and oregano if you have some on hand.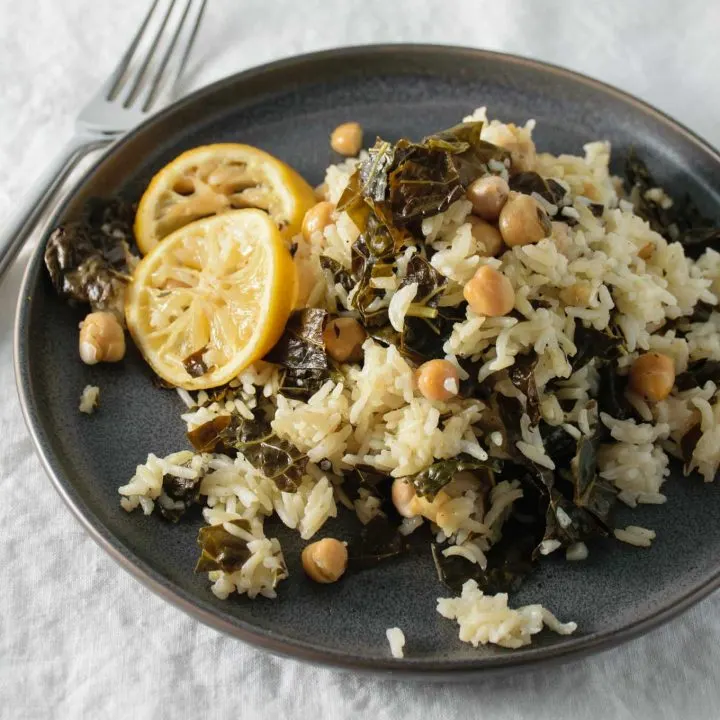 Lemon Chickpeas and Rice
A delicious and healthy one pot meal made of chickpeas, rice, and kale. Simply throw everything into a pot and it's ready once the rice is cooked!
Ingredients
4 1/2 cups vegetable broth, no-chicken style is great here
2 1/2 cups long grain white rice*
28 oz can (3 cups) chickpeas, drained and rinsed
1 tbsp olive oil
4 cloves garlic, minced
2 bay leaves
1/2 tsp dried thyme
1/2 tsp dried sage
1 tsp dried oregano
1 small organic lemon, washed and sliced into 1/4" rounds
1 small bunch (~5 oz) kale, diced
3/4 tsp salt*
freshly ground black pepper
hot sauce, to serve (optional)
Instructions
Place everything (except the hot sauce) into a large pot. Stir gently to distribute. Bring the mixture to a boil, then turn the heat to low and cover. Cook on low for 20 minutes.
Taste a few grains of rice to make sure it's cooked, then turn the heat off and leave covered and undisturbed for 10 minutes. After that, stir to fluff the rice and distribute the kale and chickpeas. Remove the bay leaves.
Serve warm and top with hot sauce if desired. Enjoy!
Notes
*You can substitute brown rice, but you will need to increase the cook time and add another 1/2 cup to 1 cup of broth or water
*If your broth is very salty you may want to use only 1/2 tsp, or if you have a low salt broth you may want to increase the amount to 1 tsp. You can always add more salt on your plate if needed.