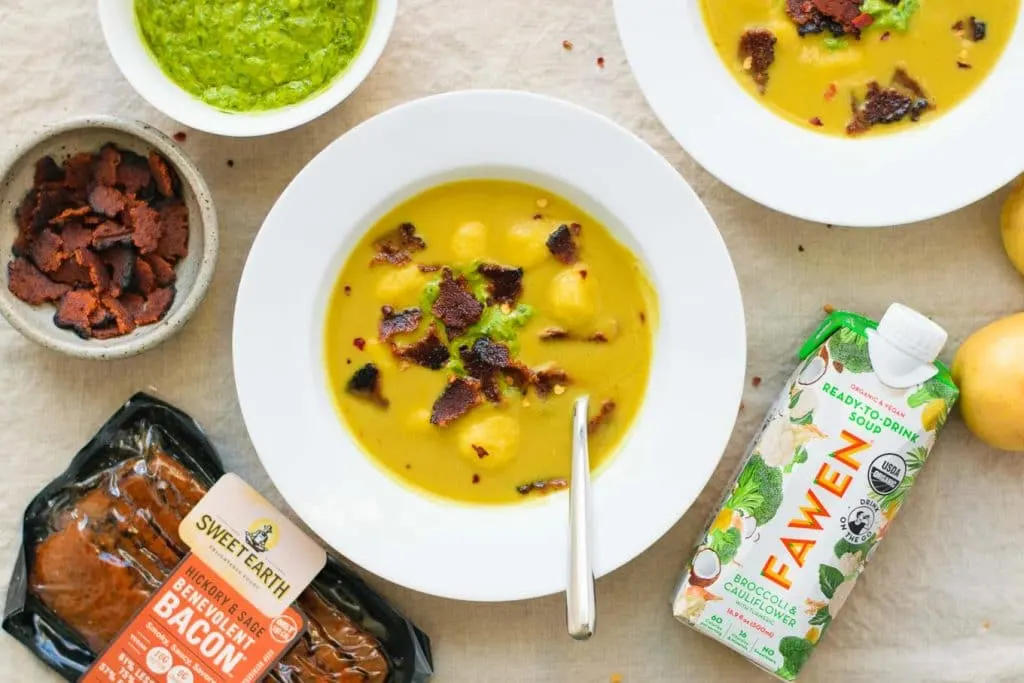 This recipe was created in partnership with Fawen and Sweet Earth Foods. All opinions are my own.
It's that time of the year when you've probably been overindulging in food, are about to overindulge in food, and have certainly no time to spare for cooking. Personally, I have 3 dinner parties under my belt (4 if we count second thanksgiving separately) and we haven't even reached December yet. I'm ready for some healthy and vegetable-forward comfort food, ideally something that would just appear in front of me with the snap of my fingers. And it can't just be me that feels this way! I've basically solved all your woes with this one recipe for ultra creamy Broccoli and Cauliflower soup, spiced with turmeric, swirled with garlicky pistou, with pillows of potato-y dumplings tucked in, and bites of crispy torn seitan bacon. That sounds fancy doesn't it, like something you'd be served at a nice restaurant. But what if I told you could make this yourself with only 9 ingredients and have it on the table in just 30 minutes! Crazy, right?
I'm pretty convinced that dumplings make everything better, and judging by the way Omar scarfs them down, I think this must be a widely held opinion (2 extrapolates to many, right?). And they're especially great when stuffed full of potatoes (obviously). Tender and toothsome, these potato dumplings are reminiscent of gnocchi, and are so perfectly satisfying when tucked into a creamy soup.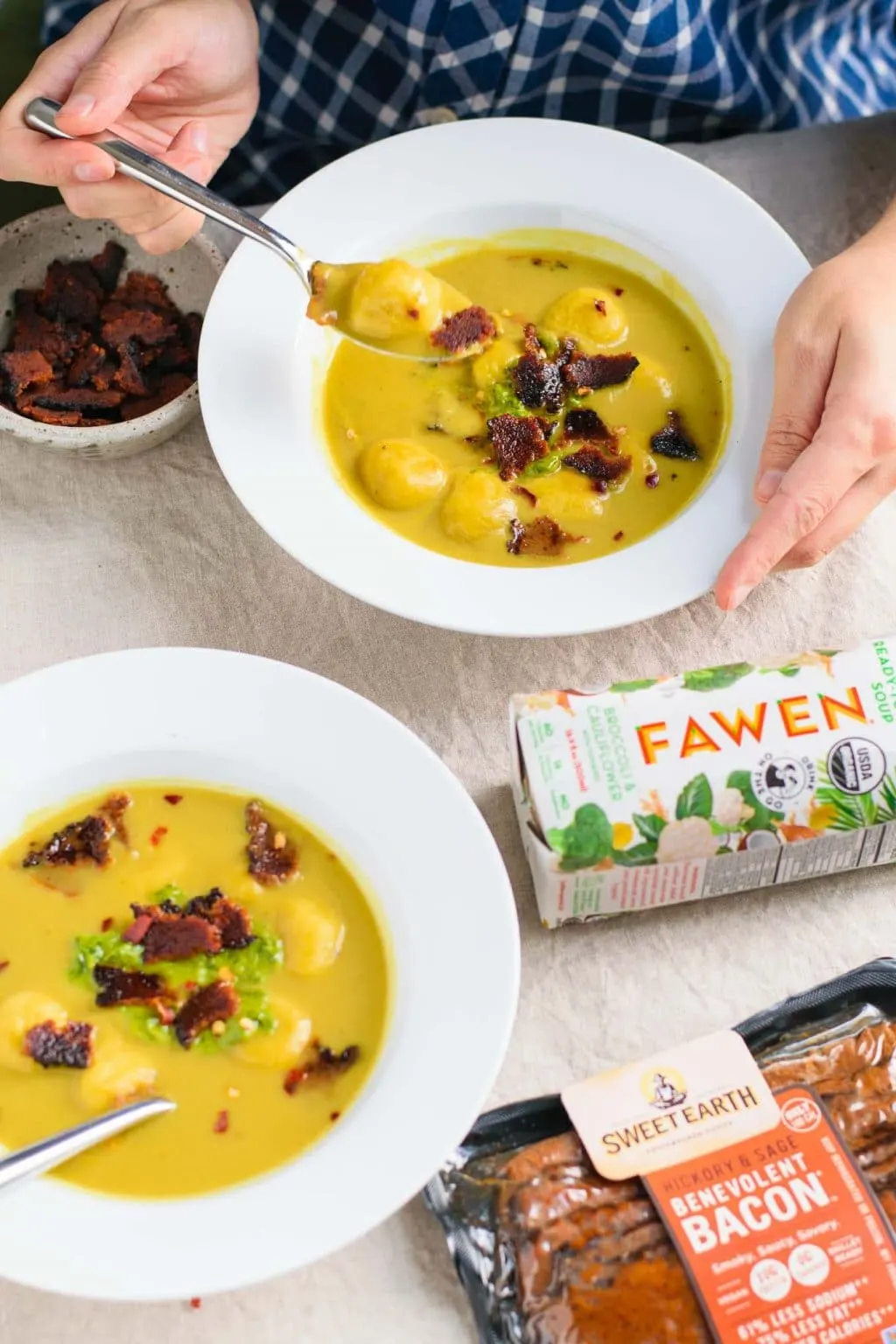 Only 4 ingredients are needed for the dumplings: baked potato, all purpose flour, olive oil, and a pinch of salt. Microwaving small Yukon gold potatoes makes quick work of 'baking' them, finishing the job in about 4 minutes (depending on the size of the potato/es and the strength of your microwave). If you're using a potato ricer, you barely have to let them cool before cutting them in half and sending them through the device, skins and all. Otherwise, give them a couple of minutes to cool then peel and mash the potatoes as smoothly as you can. Ricing potatoes is the way to go for the most evenly textured dumplings, however, I also have successfully made them with fork-mashed potatoes and they turn out nicely, albeit with the occasional chunk of potato.
The trick to the perfect potato dumplings is to get hands on when mixing them up, which I think this makes this recipe extra fun. First, combine all the dumpling ingredients by crumbling the potato through your fingers and working it through the flour, along with the salt and olive oil (make sure the potato isn't piping hot when you do this!). It's almost like making biscuit or pie dough, only with small pebbly bits of potato dotting the mixture instead of vegan butter and you don't have to worry about any fat melting. Once the mixture is nice and pebbly, switch from crumbling the dough with your fingers to squeezing it in your hand. This gently kneads the dough, and as you squeeze the mixture in your hand it will start to come together into a cohesive mass. If there are dry and floury parts of the dough not coming together drizzle on a little more olive oil. There's no need to add water, as there is plenty of moisture in the potato. Once all the dumpling dough has come together to form a cohesive and relatively smooth ball of dough, shape teaspoon sized pieces into small rounds by rolling them between your palms, or squeeze and roll them into mini-footballs.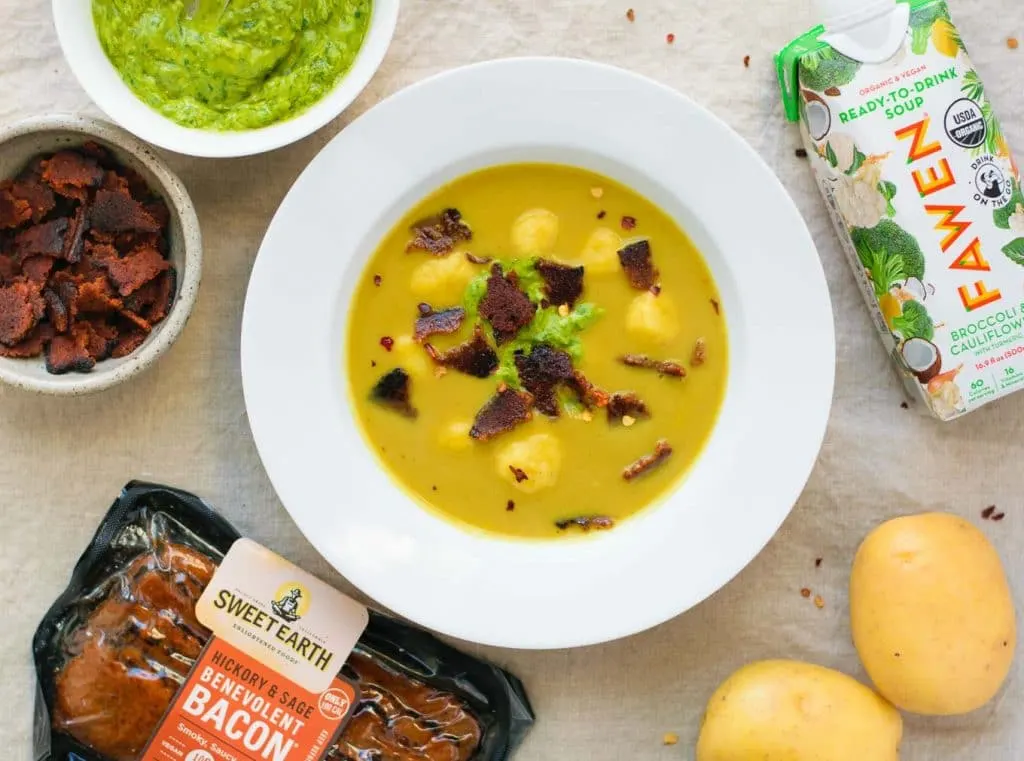 At this point you're probably wondering how on earth you could pull out this meal in just 30 minutes if you're cooking a potato and hand-making dumplings. Well, the secret here is to take advantage of the mouth-watering Fawen Ready-to-Drink Broccoli and Cauliflower Soup. All of Fawen's soups are SO GOOD you guys. They are lusciously creamy soups stuffed full of 1-3 servings of your daily vegetable needs, high in fiber, and chock full of important vitamins and minerals. The ingredients used read as if it's something you'd make in your own kitchen, full of whole foods and organic spices. While their soups are super enjoyable cold or at room temperature, warming them up brings out their flavors and turns the soup into the ultimate comfort food—which is exactly what you need this winter!
Fawen's Broccoli and Cauliflower Soup with Turmeric has this almost cheesy rich flavor, which pairs perfectly with the smokey sweetness of Sweet Earth Food's Benevolent Bacon. Now, you guys might have noticed that I'm a huge fan of Sweet Earth Foods and regularly purchase their seitan to use in my recipes. Their Benevolent Bacon is one of my favorite products. Thinly sliced, they cook up to a wonderfully crispy texture when pan fried over a medium-low heat, and they give off the most tantalizing aroma. Cooked until crispy then torn into pieces, it's the perfect topping to the broccoli and cauliflower soup.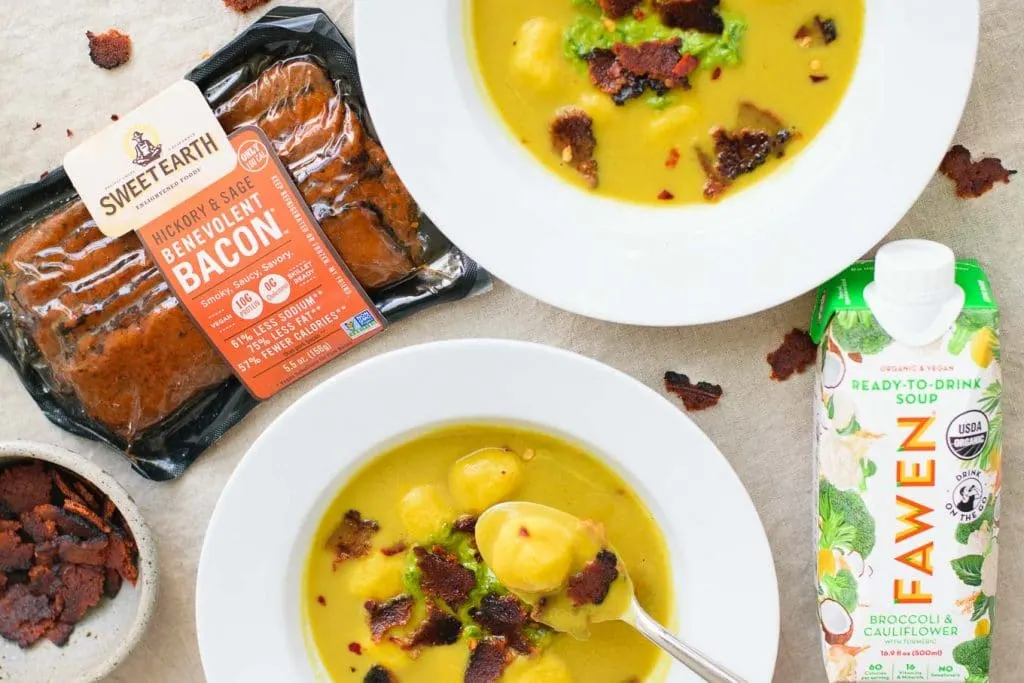 The velvety smooth soup plays perfectly with the tender potato dumplings. A swirl of nut-free pistou turns the meal extra fancy (store bought pesto works too), and adds the delicious fresh flavors of basil and lemon that I start to crave about this time of year. Topped with the shredded seitan bacon, each mouthful just sings with flavor. This recipe is just so good, and we can't stop making and eating this dish. At this point, we've consumed what's bordering on scary amounts of these guilt free bowls. But can you blame us? It's an easy enough recipe to throw together on a busy weeknight, but is fancy enough to serve to company. You've got everything you need for a filling and complete meal: veggies, protein, carbs, and just enough healthy fats.
I really hope you guys enjoy this recipe! If you make it, leave a comment and/or rate the recipe below, tag me on Instagram (or #thecuriouschickpea), or share with me on Facebook! Happy eating!
Fawen Ready-to-Drink Soups are available in some grocery stores around the United States, but you can also order the soups directly from their website or from Amazon (affiliate link) by the variety pack or by the case, which is super convenient! They are offering a promotion on their website (DrinkFawen.com) for 20% off and free shipping from 12/1 through 12/15 to support healthy holiday gifts, use the code HEALTHYHOLIDAYS at checkout! I won't tell if you just want to buy them for yourself! 😉
Sweet Earth Foods can be found at grocery stores all over the United States, but check out their store locator for where you can find the Benevolent Bacon, or any other product, and for any current offers (as of writing this post there is a coupon available to print!).

Notes:
Substitute store bought pesto and save yourself even more time! Just check the ingredients for Parmesan or other sneaky cheese/dairy.
You can prepare the potato dumplings in advance, and cook them in boiling salted water (like how you would cook pasta) for 5 minutes, drain, then store in the refrigerator until ready to use. Then simply heat the soup and add the dumplings to reheat for a couple of minutes.
You can use russet potatoes to make the dumplings, but I prefer the taste of Yukon gold in the end product.
This recipe is easily scaled to feed more or less people, though will take more time if you double or triple the recipe.
Creamy Broccoli Cauliflower Soup with Potato Dumplings and Crispy Vegan Bacon
Lusciously creamy Fawen Broccoli and Cauliflower Soup with tender potato dumplings topped with crispy vegan Sweet Earth Foods Benevolent Bacon and a swirl of nut-free basil pistou.
Ingredients
Potato Dumplings
3oz/85g baked Yukon gold potato* (~3/4 cups unpacked riced potato, or a scant ½ cup packed mashed potato)
½ cup (65g) all purpose flour
1/8 tsp salt
1 ½ tsp (8g) olive oil
Pistou
2 cups packed (2 ½ oz, 75g) basil
2 cloves garlic
½ tsp salt
¾ cup olive oil
1 tbsp freshly squeezed lemon juice
To Serve
Instructions
Cook the potato
First cook the potato in the microwave. Wash and dry the potato, then pierce it in several places with a fork to allow steam to escape while it cooks. Wrap the potato loosely in a paper towel, then microwave on high for about 4 minutes. Time can vary depending on your microwave and the size and shape of the potato. The potato is done when the insides are completely soft and no resistance is met when piercing with a fork. Let the potato cool until you can handle it, and then peel off the skin (it should easily rub off under your fingers, but you can use the edge of a spoon to assist). If using a potato ricer, you can skip the peeling step and cut the potato in half and place cut side down on the ricer, the ricer will separate the flesh from the peel and you can discard the peel after pressing. If you do not wish to use the microwave, you can bake the potato in the oven, but this will take a lot longer.
Make the pistou
While the potatoes cook make the pistou. In a small food processor, pulse the garlic to mince it. Then add the washed basil and salt and process to finely chop the basil. Add the olive oil and process to combine to your desired texture. Add the lemon juice and pulse to distribute. Taste and adjust the flavor if desired.
Heat the soup and make the dumplings
At this point your potatoes should be done cooking. While they cool for a couple of minutes, pour 2 cartons of Fawen Broccoli & Sweet Potato Soup into a large pot. Cover and bring the soup to a low boil over medium-high heat.
Meanwhile, make the dumpling dough. For the best results, send the cooked potato through a potato ricer into a large mixing bowl. Otherwise mash the potato with a potato masher or a fork until fairly smooth. This second method will leave small lumps of potato in your final dumpling, but that's ok, it will still be delicious. Sprinkle the flour, salt, and olive oil over the riced or mashed potato. Using your fingers crumble the potato and distribute throughout the mixture. The mixture will begin to form small crumbles. When you have an even looking pebbly mixture start squeezing handfuls of the dumpling dough in your hand as a way to knead the mixture into a cohesive mass. Continue until you form a smooth dough. If the dough feels dry, drizzle in additional olive oil. If the dough feels wet and at all sticky, sprinkle on more flour. Form the dough into 1 tsp sized dumplings. You should make around 16-18 dumplings.
When the soup reaches a low boil, add the dumplings to the soup. Let cook for around 5 minutes, stirring occasionally so they don't stick to the bottom of the pot. The dumplings will float to the top in about 4 minutes, and then let them cook about 1 additional minute before turning off the heat. Leave the pot covered to keep warm.
Cook the benevolent bacon
While the dumplings are cooking, you can fry up the seitan bacon. Heat a large non-stick (such as cast iron) skillet over medium low heat. Add the oil when hot so that a thin film covers the entire pan. You can use less oil, for a less crispy result. Lay down a single layer of Sweet Earth Foods Benevolent Bacon and fry about 4 minutes, flipping every minute, or until the seitan bacon is a shade or two darker and the edges are a little black. Transfer to a paper towel lined plate to absorb any extra oil, then chop or tear into small pieces.
Serve
To serve, Divide soup between 2 bowls, spoon some pistou over the soup, and sprinkle on the torn seitan bacon. Add crushed red pepper or freshly ground black pepper as desired and enjoy your easy and delicious gourmet meal!
Notes
*3oz of cooked potato comes from to approximately 1 medium (~5oz/140g) Yukon gold potato before cooking, but potatoes should be weighed after cooking for accuracy as they can lose varying amounts of water when they cook. It's the final weight/volume that matters in the recipe.
Thank you to
Sweet Earth Foods
and
Fawen Soup
for sponsoring this recipe!