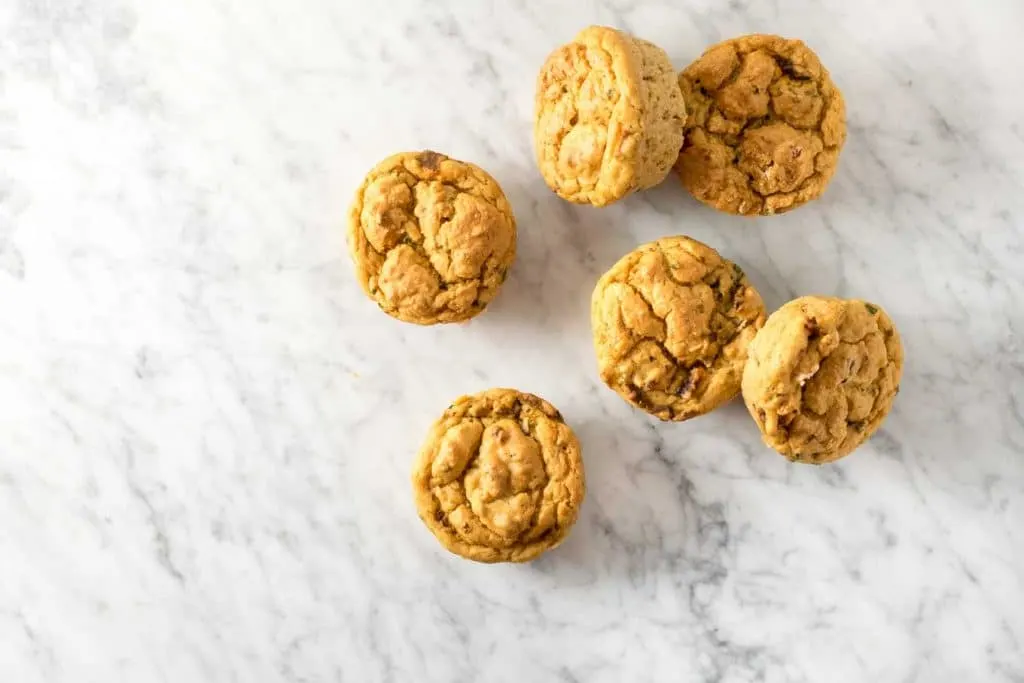 Are you a sweet or savory breakfast person? I can go either way, but these days most of my breakfasts are savory. Typically I have toast, as I'm always baking bread. But sometimes you need to switch it up, and these vegan eggy bacon and chive muffins are perfect for that. They are easy to make and bake up soft and custardy inside, and they contain the perfect breakfast trio: eggy tofu, seitan bacon, and chives.
Tofu and chickpea flour work together to act as egg replacer in these muffins, and provide their soft and eggy texture. They also pack a punch of protein. Actually, protein accounts for over 20% of the calories, which is an impressive 6 grams of protein in 112 calories per muffin* (if anyone keeps track at home). I used whole wheat pastry flour for the extra protein content and higher fiber which keeps these extra healthy. But I have also successfully made the muffins with all purpose flour, and a blend of all purpose and whole wheat flour. While you could probably use all whole wheat flour in the muffins, the texture would suffer somewhat.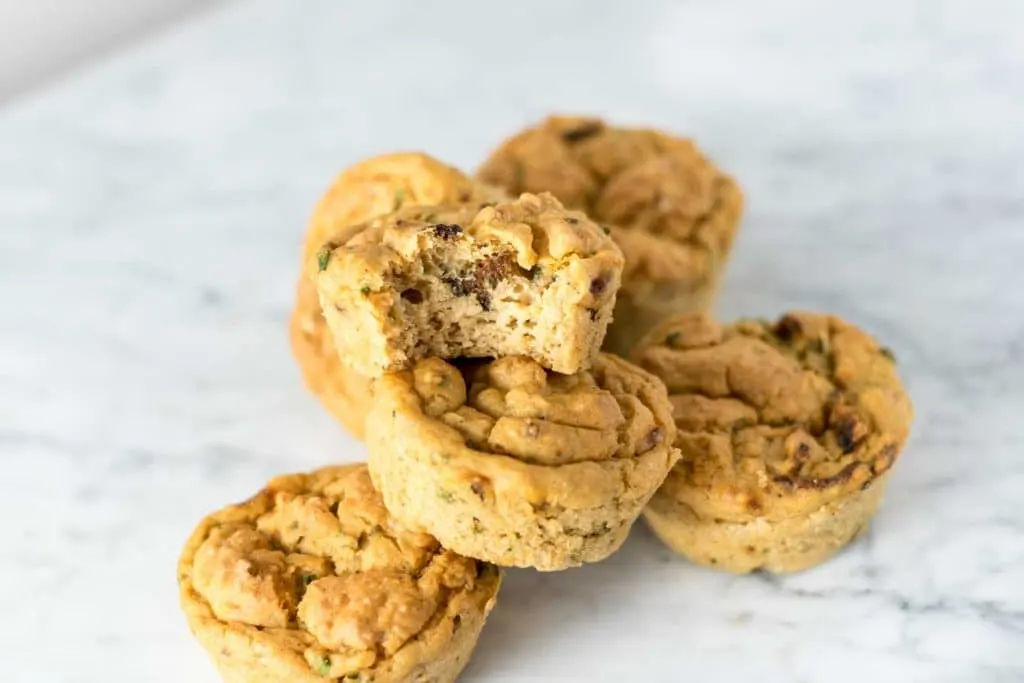 The muffins make the perfect breakfast on the go, or a healthy choice for a midday snack. They also deserve a spot in your brunch spread. It's my hope that I'll get to go hiking this weekend and if so I'm definitely bringing some of these muffins along for fuel! They are versatile, in that you can switch up the mix-ins to suit your mood/pantry, and they are not very fussy to make–seemingly unheard of as far as baked goods are concerned.
I'm rather enamored of these vegan eggy muffins. They are so filling and delicious. And I love that they are good for you. I know that if you try these you'll love them too!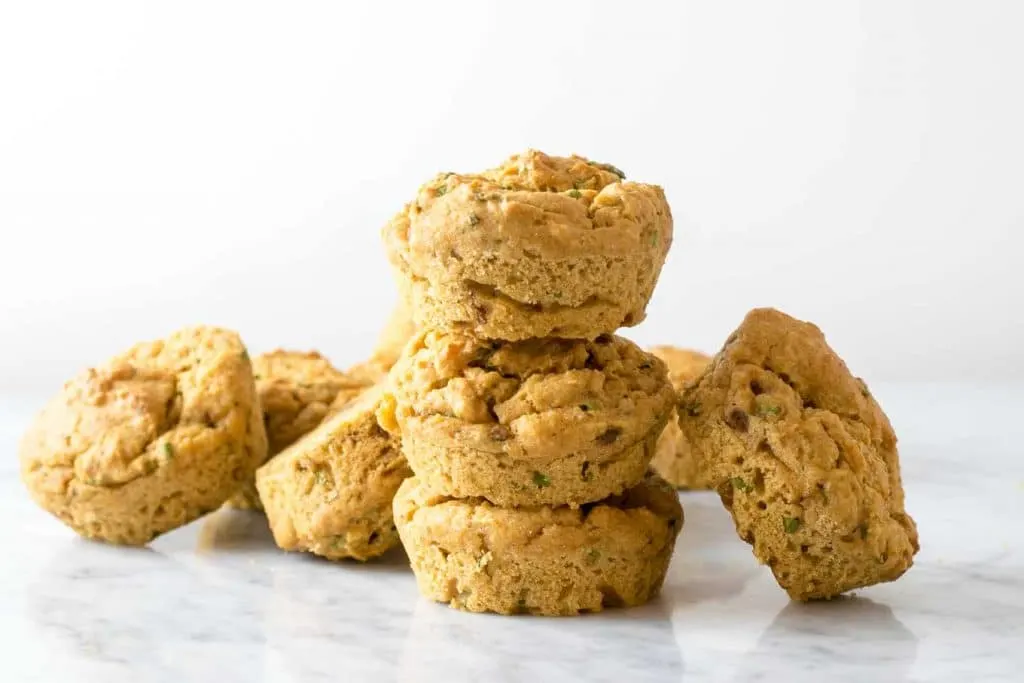 Let me know in the comments if you make this dish, rate it, or tag me on Instagram!
*nutrition calculation is based on using soy milk and sweet earth foods benevolent bacon
Notes:
Either vacuum packed silken tofu or refrigerated silken tofu will work for these muffins.
Any seitan bacon would work in this recipe, I even used diced deli slices once for a tasty effect. Crumbled veggie sausage would also be nice in the muffins.
I have a feeling that you could substitute a gluten free all purpose flour blend for the whole wheat pastry flour, but I have not tried it. If you do, please comment and let everyone know! And of course, don't use seitan if you are trying to keep it gluten-free!
Use muffin tin liners for easy, stress free clean up.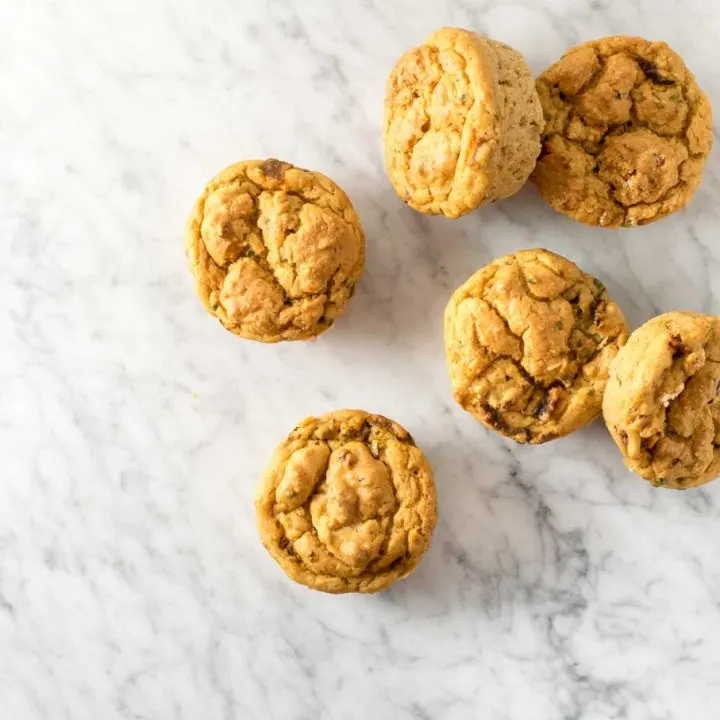 Vegan Eggy Bacon and Chive Muffins
Soft and custardy muffins studded with vegan bacon and chives makes for a healthy and delicious snack or breakfast on the go.
Ingredients
12 oz (1 1/2 cups) firm or extra firm silken tofu
3/4 cup plain non dairy milk
2 tbsp canola oil
1 tbsp apple cider vinegar
1/2 cup chickpea flour
1 cup whole wheat pastry flour*
1 1/2 tsp salt
1 tsp smoked paprika
1 tsp onion powder
1 tsp baking powder
1/2 tsp baking soda
1/2 cup (~4 slices) seitan bacon, diced
1/4 cup chives, minced
Instructions
Preheat the oven to 400 ºF and grease a 12 cup muffin tin, or use liners for easier cleanup.
First mash the silken tofu with a fork, or blend with an immersion blender until relatively smooth. If using a fork it won't get as perfectly smooth, but that is okay, any tiny lumps left behind just add extra eggy texture to the muffin.
In a medium mixing bowl, add the mashed tofu, the non dairy milk, canola oil, and apple cider vinegar. Mix together until relatively smooth and set aside.
In a large mixing bowl, add the chickpea flour and whole wheat pastry flour, the salt and spices, baking powder, and baking soda. Whisk everything together.
When the oven is fully preheated, add your wet ingredients to your dry, and mix to combine. Fold the diced seitan bacon and chives into the mixture.
Divide evenly between the muffins, filling about 90%. Put in the middle of the oven and bake for 35-40 minutes until a tester comes out clean.
Remove from oven and let cool for 10 minutes, then loosen the edges and gently remove the muffins from pan and place on cooling rack.
Allow to cool to room temperature before enjoying for best texture. Serve at room temperature or reheated.
Notes
*If you don't have whole wheat pastry flour, it can also be made with all purpose flour, or a mixture of whole wheat and all purpose flour
Nutrition Information:
Yield:

12
Serving Size:

1
Amount Per Serving:
Calories:

194
Total Fat:

6g
Saturated Fat:

2g
Trans Fat:

0g
Unsaturated Fat:

4g
Cholesterol:

0mg
Sodium:

469mg
Carbohydrates:

26g
Fiber:

3g
Sugar:

2g
Protein:

10g