This queso is so delicious, ultra creamy, and layered with flavor. Butternut squash gives it a fun fall and winter twist, while adding a bit of extra nutrition to our queso.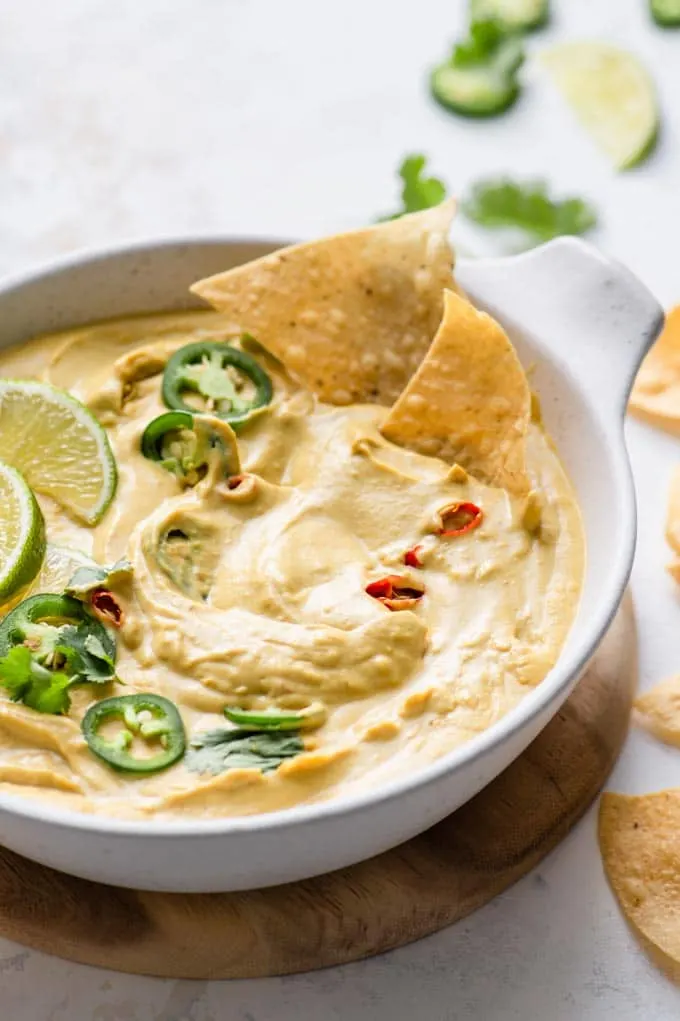 There are many ways one can make vegan queso, but my favorite way is with a cashew cream base. Nothing gets as silky and luscious as cashew cream, which makes it irresistible.
I've been in the mood for all things queso lately, and have been making it a lot. And eating a lot. Queso bowls, enchiladas, nachos, tatchos (tater tot nachos), tortilla chips and queso–you name it I've probably eaten in this past month!
It also means that I've made vegan queso half a dozen ways recently, but this butternut queso blew my socks off and I had to drop everything and share!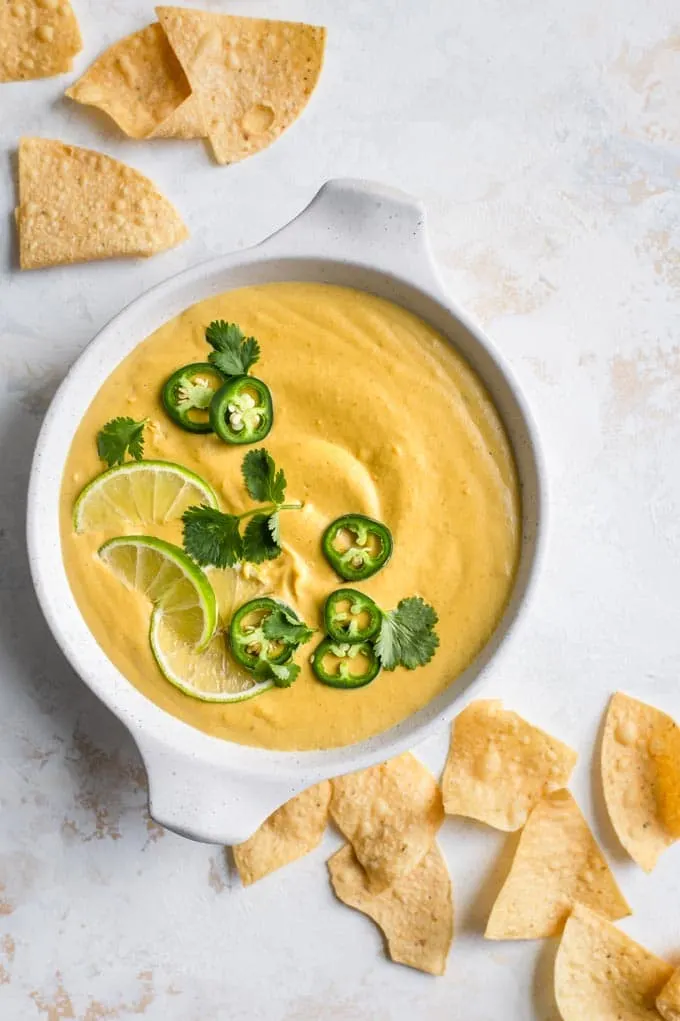 This creamy, cheesy sauce was made for smothering and eating by the bowlful. It makes a generous amount, which is great for meal prep and snack preparedness.
So what goes into a cheesy vegan sauce?
First we need a creamy base. My favorite is cashews as they blend to such a beautiful texture. This recipe also takes advantage of butternut squash, it adds body and extra creaminess to the queso, along with hints of butternut flavor.
Next we need to build the flavor. Onion, garlic, and jalapeño pepper start us off. They're sautéed in some oil to soften and mellow, then the squash is added along with the cashews to get a bit of color and mild roasty flavor.
For spices we have ground cumin, which adds an earthiness to the queso, and chili powder for its chili flavor, essential to Mexican food–however Americanized it may be!
I typically use ancho chili powder here, as it's pure ground chili (and a mild one at that, so not too overpowering). If you use "chili powder" found at American grocery stores this is actually a blend of ground chilis and some spices. Either works in this recipe!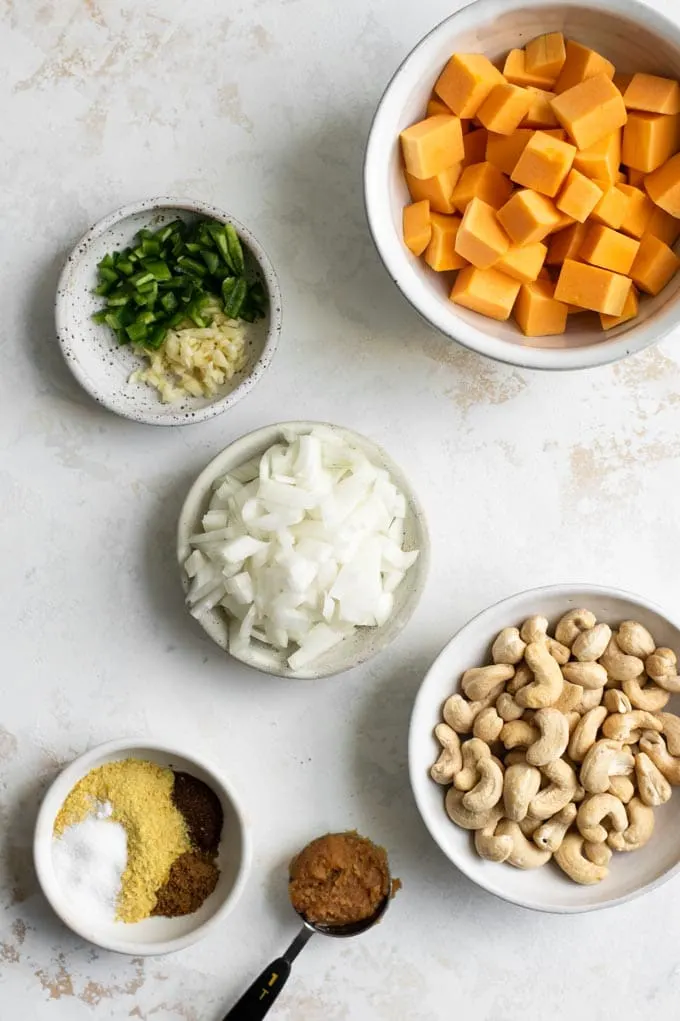 Fair warning, if you use chili powder bought at an Indian grocery store, this is going to be a fiery ground chili. And in the amount this recipe calls for it will overpower the cheese.
One of my favorite ingredients for adding cheesy flavor is nutritional yeast. It's a deactivated yeast that's packed with, you guessed it, nutrition! Full of vitamins, minerals, and protein, nutritional yeast has a nutty cheesy flavor that I'm a big fan of.
This recipe uses a small amount of nutritional yeast so it can be left out, though I find it just adds another layer of flavor for a more robust and delicious queso!
Next up is another ingredient you may not expect to see in a queso–miso paste. Miso is a fermented soybean paste and used in Japanese cuisines. Adding a tablespoon to your cheesy sauces adds a salty fermented depth, without having to go through the trouble of culturing it yourself.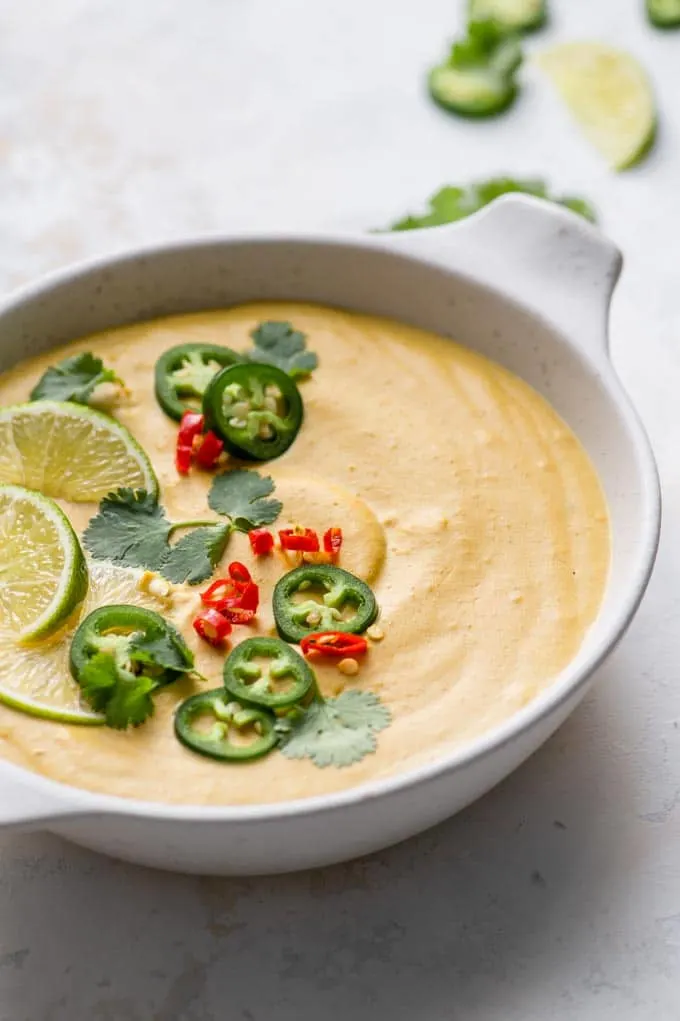 Though, [sidebar,] if you are interested in culturing your own cheeses, do check out my homemade cultured cashew cream cheese! It's life changing.
Lastly for flavor, we add a bit of freshly squeezed lime juice (lemon works too, as does the brine of jarred jalapeños). This adds a bit of tang and brightness to the cheesy sauce. Don't skip it!
Then all that's needed is a bit of starch to thicken the sauce. With this butternut queso you don't need a lot as it already has a lot of body.
But a little bit of starch gives it a lush thickness, and if you use tapioca starch it gives it the teeniest bit of stretchy quality (teensy because we only use a small amount of starch).
The method:
Making your vegan queso is so easy. Sauté onion, garlic, and jalapeño. Add cashews and butternut squash to the pot. Add spices and seasonings. Cover with water.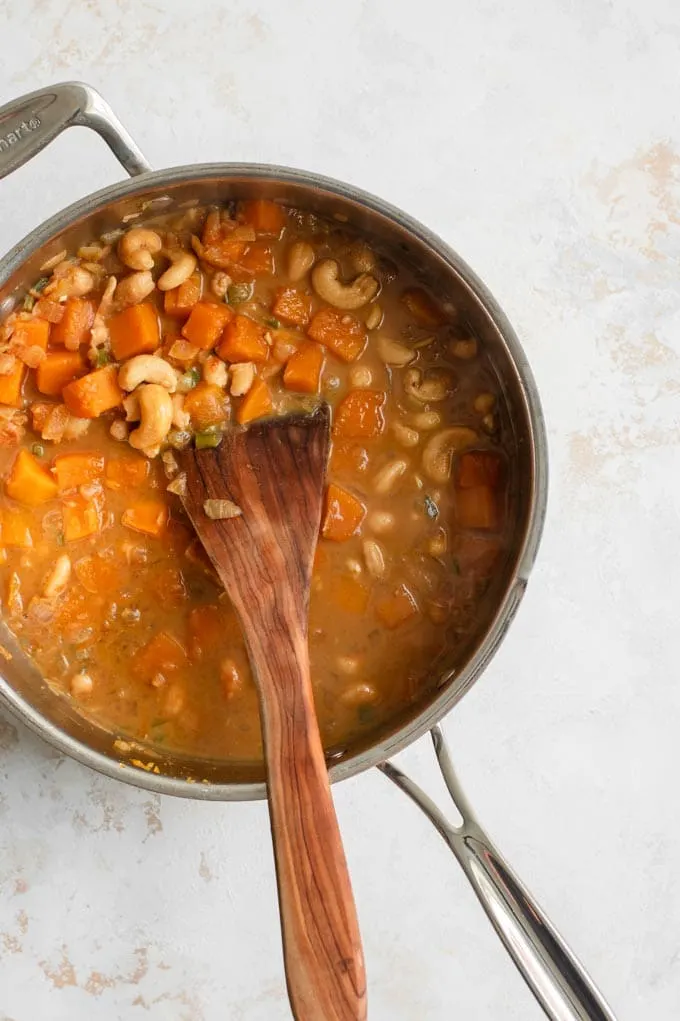 Bring to a simmer and cook until the squash is soft. Then, blend everything up until smooth! Add your lime juice and starch and return to the stove to simmer a few minutes to finish it off.
Enjoy your queso right away, or store it for reheating later, whenever the mood for a cheesy sauce strikes!
You may need to add water when reheating to loosen the sauce again, or to get it to the texture you prefer.
If you make this vegan butternut squash queso, leave a comment below and rate the recipe on the recipe card. And please share your photos with me on Instagram, tag @thecuriouschickpea and #thecuriouschickpea. I love seeing your recreations!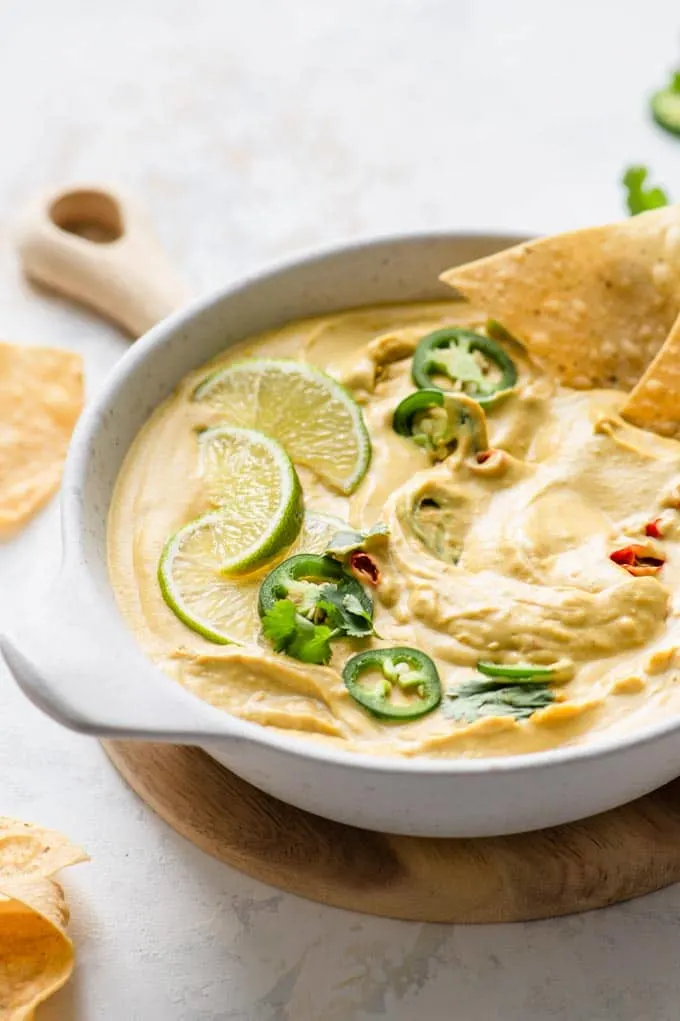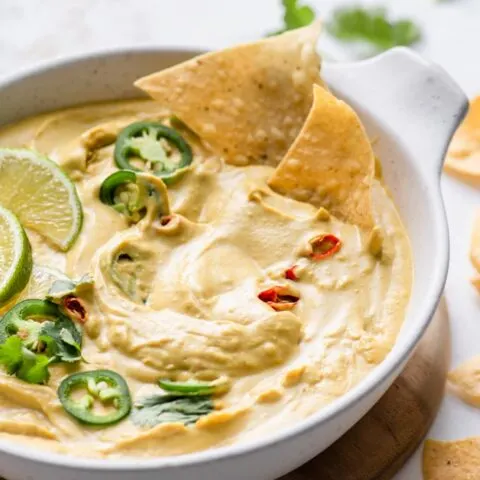 Vegan Butternut Squash Queso
This ultra creamy queso is made with butternut squash and loaded with flavor. Use it to make nachos, smothered burritos, bean dips, for chips and queso, or to top enchiladas! Recipe is vegan and gluten free.
Ingredients
2 tbsp oil
1 small onion, diced
3-4 cloves garlic, minced
2 jalapeños, minced (seeded for less heat)
2 cups (~8 oz) cubed butternut squash
1 cup cashews
2 tsp ground cumin
1 tsp chili powder
2 tbsp nutritional yeast (optional)
1 tsp salt, more to taste
2 cups water
1 tbsp miso (certified gluten free if needed)
1 tbsp lime juice
1 tsp cornstarch, arrowroot, or tapioca starch
Instructions
Heat the oil in a large pot over medium. Add the onion, garlic, and jalapeño and sauté for about 5 minutes, or until soft.
Add the butternut squash and cashews and sauté about 5 minutes to get a bit of color on them.
Stir in the spices, nutritional yeast, and salt. Add the water and miso, cover and bring to a simmer. Let simmer until the squash is tender, about 10 minutes.
Transfer the mixture to a blender (be careful as it is hot), add the starch and lime juice and and blend until smooth, pausing to vent the heat and scrape down the sides as needed.
Return to the pot and turn on low heat. Adjust salt and lime to taste. Let simmer for 2-3 minutes to activate the starch.
Nutrition Information:
Yield:

12
Serving Size:

1
Amount Per Serving:
Calories:

109
Total Fat:

8g
Sodium:

330mg
Carbohydrates:

8g
Fiber:

2g
Sugar:

1g
Protein:

3g
Nutrition is calculated automatically so should be used as an estimate.