Making your own homemade cultured cashew cream cheese is easy! This thick and creamy vegan cheese is delicious spread over bagels and toast, and it's a recipe I can't get enough of.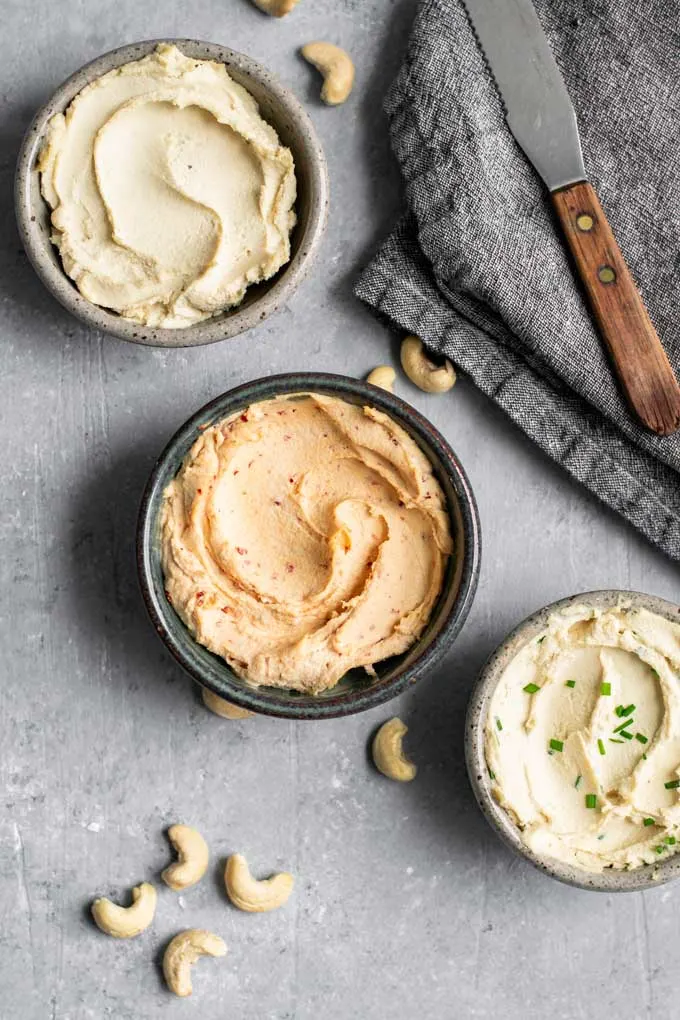 If you want your vegan cheese to taste cheesy, you need to culture it. Through culturing we can get that tang, developed flavor, and funk which will hit the spot for all your cheesy cravings.
I'm so excited to share this recipe with you, and it's actually my 200th blog recipe! I honestly can't think of anything more appropriate than celebrating with some vegan cheese.
If you're only ever going to make one homemade cultured vegan cheese, let this cashew cream cheese be the one. It's so creamy, flavorful, and delicious!
This cultured cashew cheese feeds my most tasty and never ending toast and cream cheese breakfast habit. And trust me, once you start smearing this cashew cream cheese over bread or bagels, you might find your way into becoming a cheesy breakfast bread aficionado!
I've been making this cheese for the better part of a decade, and over that time I have refined my technique. From the cultures I choose to the when and how of adding the ingredients, I've got the recipe down!
First make the plain cream cheese base, then you can turn it into you favorite flavored cream cheeses! Here we have one dish of plain cream cheese, one chipotle cream cheese, and the third is a chive cream cheese. All are so delicious!
A quick note before we get into the making of this cheese: this cashew cheese is a gluten free recipe. Those Homemade New York Style Bagels it's served with are not gluten free. I trust that you can make the cheese and use it on the appropriate breads, crackers, or in recipes that fit your needs, gluten free or not!
Why culture the cashew cheese?
Well, I will be the first one to tell you that you can make delicious vegan cheeses without culturing anything. I've got a whole section of vegan cheese on this blog and most are not cultured!
And if you want a creamy spread without culturing then I recommend my creamy almond cheese, vegan chipotle cheese spread, or my vegan queso fresco.
That being said, for the cheesiest of vegan cheeses, you're going to want to culture it.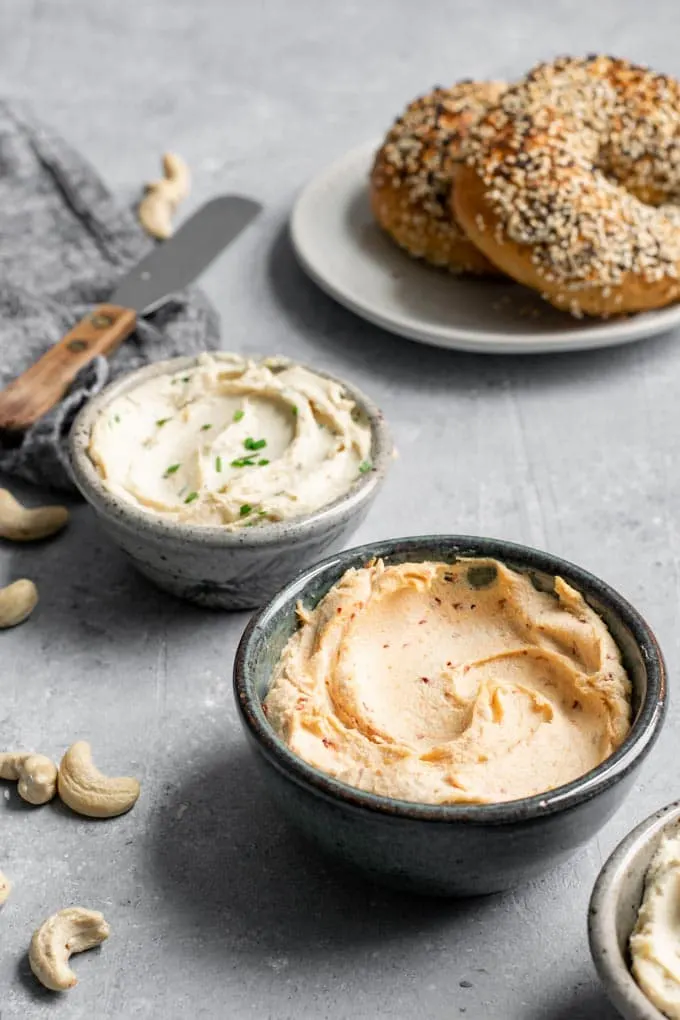 Culturing is done by adding a probiotic (i.e. healthy bacteria) to a thick cashew cream. It proliferates and develops the sour and funky flavor you would recognize in yogurt and cheeses. Store bought probiotics produce consistent results and are easy to work with. Simply open up the capsules and pour out the powdered cultures.
When purchasing your probiotics keep the following in mind:
If you're vegan, make sure they are veggie friendly capsules.
You're looking for active cultures (usually refrigerated), and want as many as you can find. I have used anywhere from 3 billion cultures per capsule to 10 billion cultures per capsule.
It can have a variety of probiotic strains in it, but you want to make sure it includes L. acidophilus.
Do not get a probiotic that contains any strains of prebiotics as this can prevent the culturing from occurring.
I've successfully used different brands over the years, but currently recommend Jarro Formulas brand, which conveniently labels their vegan offerings as certified vegan. Over the past couple years I've been using both Jarro-Dophilus with 10 billion per capsule and with 3.4 billion per capsule and have had success culturing lots of vegan cheese with both (not sponsored, but those are Amazon affiliate links).
If using capsules with more live cultures you will not need the same volume as they are more potent than the ones with less active cultures.
You can purchase probiotics at health food stores as well as online (Amazon linked above).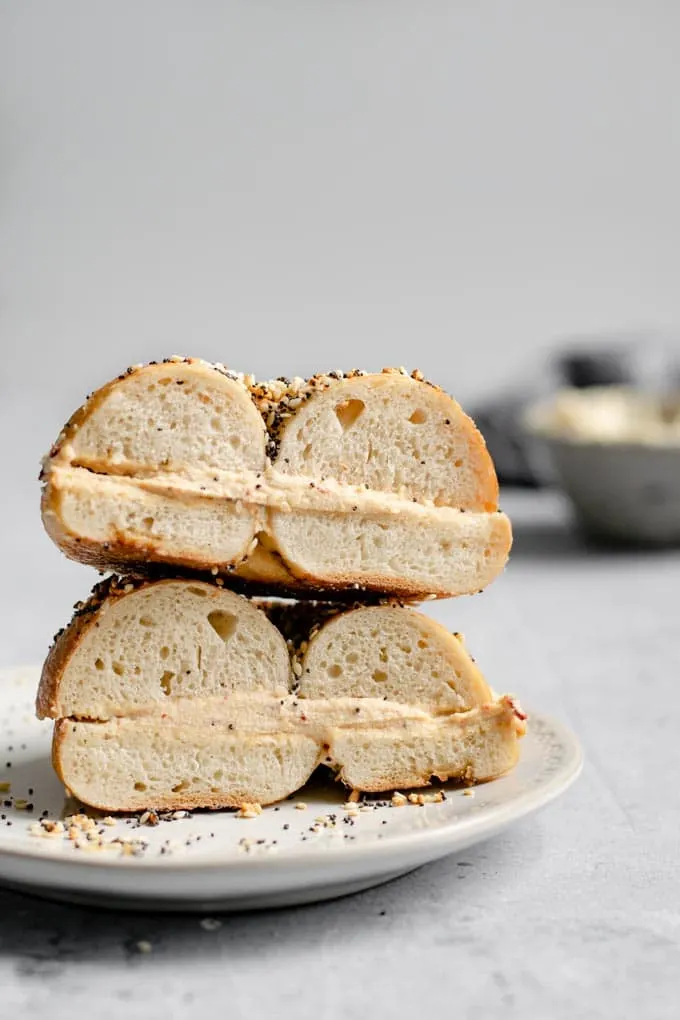 How to culture the cheese:
First, soak your cashews. Soaking the cashews in cold water softens them and makes it easier for your blender to turn them into an ultra smooth cream. I prefer to soak the cashews in filtered water. I also prefer to use organic whole cashews, as these are of the highest quality.
Soak the nuts in cold water on the counter for 2-4 hours, or stick it in the fridge and let soak up to overnight. Drain and rinse the cashews. If they've been soaking overnight rinse them with boiling water. We only want to encourage the probiotic cultures that we're adding, so this will kill any undesirable enzymes.
Next, sanitize everything that is going to come into contact with the cashew cheese. Boil a bunch of water then rinse everything with that boiling water. This includes the blender (jug, lid, and tamper), the glass bowl to culture the cheese in, spoons, spatulas, and measuring cups.
Add the cashews into the blender (or food processor) along with distilled water and a pinch of salt. If you can't find/don't want to buy bottled distilled water then boil water for a few minutes and let it cool completely and use that water.
Blend, blend blend, using the tamper if your blender has one or pausing to scrape down the sides as needed. If you have a high powered blender like a Vitamix or Blendtec then this will only take a couple of minutes. Otherwise this could take 10 minutes. A food processor can work instead of a blender, but it won't get as perfectly smooth of a cheese.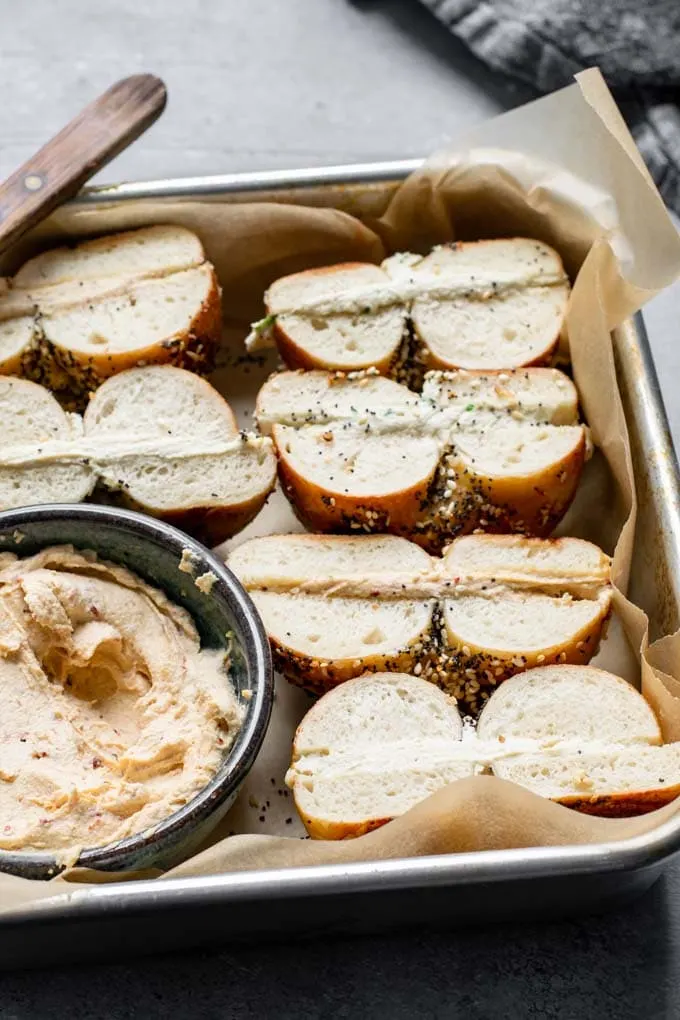 If needed you can add a little more water to blend. But keep in mind that the thicker your cashew cream is, the thicker the final cheese will be. Once your cashew cheese is smooth, transfer it to a sanitized glass mixing bowl using a sanitized silicon spatula.
Ideally no metal should come into contact with the cheese once the cultures are added. This means use a glass/pyrex bowl (ceramic would work as well) and wooden spoons and silicon spatulas only.
Add the probiotic and stir it into the thick cashew cream using that sanitized wooden spoon or silicon spatula. Sprinkle some salt over the top to discourage unwanted cultures, and then cover.
A note about the salt. I recommend using non-iodized salt. This is because there might be some affect the iodine has on the culture and its ability to proliferate. Now, it's not completely conclusive as far as the research is concerned, but this is a case where I say better safe than sorry. Especially when sorry looks like throwing out expensive cashews.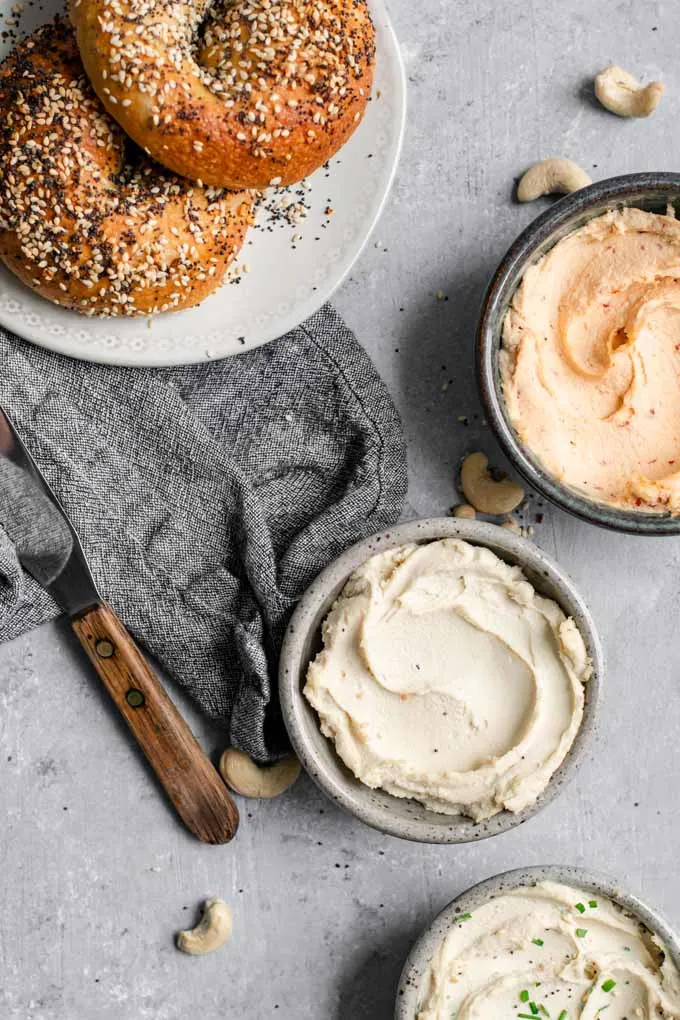 Culturing takes anytime between 1-3 days.
The time it takes depends on ambient temperature and humidity. In the summer I find culturing time to be 24-36 hours. In the winter that creeps up closer to 48-72 hours.
Stir the cheese with a clean (sanitized with some boiling water) wooden or silicon spoon/spatula after the first 12 hours, then stir every 12-24 hours after that.
Start tasting it after the first 12-24 hours to see how it's coming along. Once it reaches the desired level of funky and tangy (and again you don't want to go too far, cream cheese is mild tasting!) it's ready to mix together with the rest of the flavors and any add ins you'd like to include.
The cheese will thicken as it cultures, and continue to thicken after it goes into the fridge. Because of this I recommend mixing in the rest of the ingredients before sticking it in the fridge, as it becomes harder to stir after!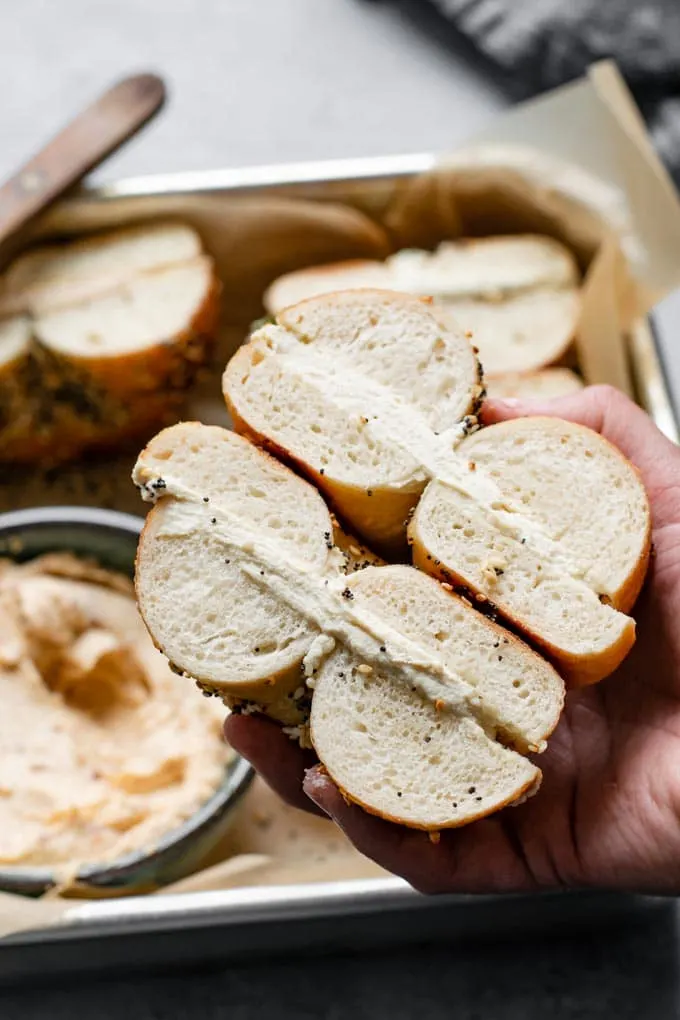 Have it as a plain cream cheese or make it into a flavored cream cheese.
When the cheese is as cultured as you'd like it to be, mix in the nutritional yeast and salt to taste. At this point you are safe to use metal in contact with the cheese.
Nutritional yeast is a deactivated yeast, and is full of cheesy, nutty flavor as well as vitamins and minerals. I like to use just a little of it in my cultured cashew cream cheese to turn up the cheesy flavor.
One tablespoon of it per cup of cashews is enough to get a bit of cheesy flavor without having it taste like nutritional yeast. If you are sensitive to the taste, you can always use less or don't use it at all.
At this point it'll be a delicious plain cashew cream cheese. Use it as is, or doctor it up to make your favorite flavored cream cheese!
Here I've left one portion plain, mixed in seeded and minced chipotles in adobo to one, and minced chives to the third. How much you want to add is kind of up to you, note that flavors will meld as it chills in the fridge.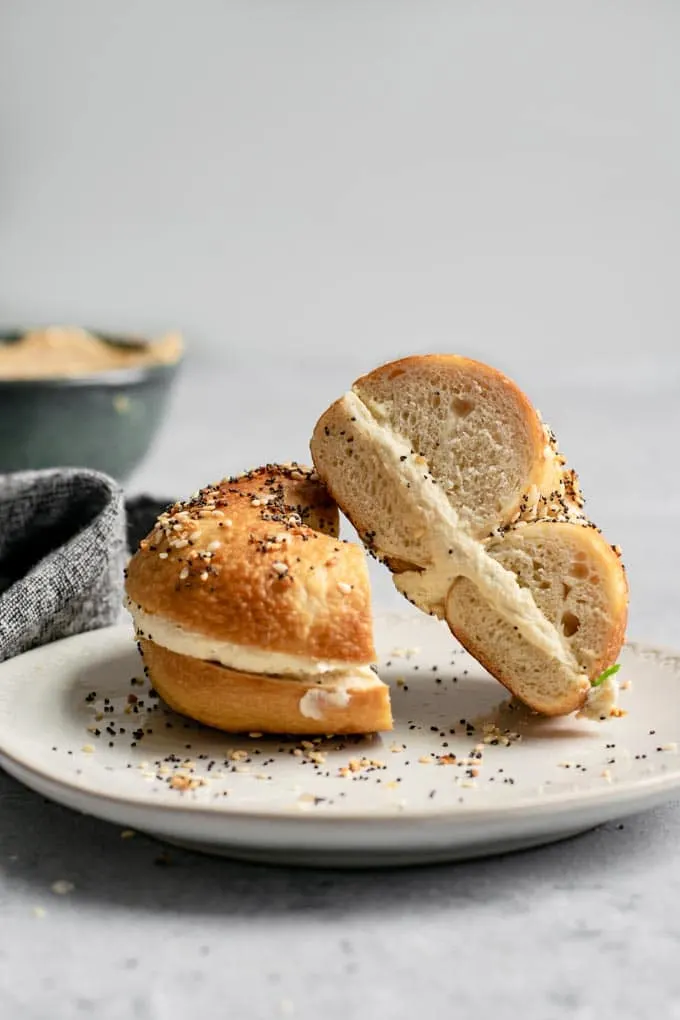 I hope that making your own cultured cashew cream cheese isn't too daunting because it is life changing! I love having some on hand at all times, it's so delicious.
I've shared this cashew cream cheese with so many people over the years, vegan and not, and everyone has loved it. Now, you can make it too!
---
If you make this vegan cultured cashew cream cheese, leave a comment below and rate the recipe on the recipe card. And please share your photos with me on Instagram, tag @thecuriouschickpea and #thecuriouschickpea. I love seeing your recreations!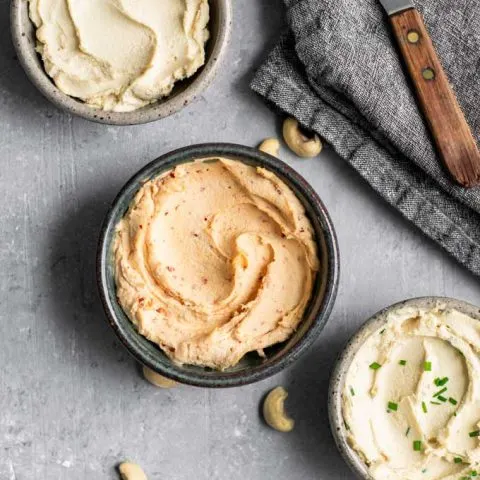 Homemade Cultured Cashew Cream Cheese
Yield:
~3 cups (1 1/2 lbs)
Total Time:
2 days
2 hours
15 minutes
Making your own homemade cultured cashew cream cheese is easy! This thick and creamy vegan cheese is delicious as a spread over bagels or toast, and will quickly become a staple!
Ingredients
3 cups cashews
1/2 cup distilled water, more if needed
pinch of non-iodized salt
9 probiotic capsules, vegan certified, minimum 3.4 billion cultures per capsule
3 tbsp nutritional yeast
1/2 tsp salt, or to taste
Instructions
Soak your cashews in cold filtered water for 2-4 hours. If using a less powerful blender, soak for longer. You can soak up to overnight, but keep in the refrigerator if soaking for longer than 4 hours. Drain the soaking water and rinse the cashews.
Sanitize everything that will come into contact with the cheese mixture by rinsing with boiling hot water. Pour it over the blender or food processor, including the blades, lid, and tamper stick--anything that will touch the cashew cheese. Pour it over the measuring cups, the silicon spatula (ideally with a wooden or silicon handle), and the glass bowl you will culture in, including its lid if it has one. Pour off the boiling hot water once it's rinsed and scalded every surface and let the steam mostly evaporate (its ok if a little water is left behind). Be careful not to burn yourself with the water when you do this.
Add the soaked cashews to the sanitized blender or food processor along with 1/2 cup of distilled water and a pinch of salt. Blend or process until smooth, using the tamper to keep the mixture moving if applicable, or pausing to scrape down periodically. If needed add up to 1/4 cup extra distilled water to make a smooth and thick cream.
Transfer the thick cashew cream to the sanitized glass bowl using the sanitized silicon spatula. Add the probiotic and mix in to combine using the spatula. Sprinkle a small amount of salt over the top (this inhibits any undesirable mold) and cover using the lid of the glass bowl or plastic wrap.
Leave out on the counter to culture for 1-3 days. Stir once every 12-24 hours using a sanitized rubber spatula, sprinkling a bit of salt over the top after each time. Taste after 1 day, and let culture until you reach your desired level of tangy-sourness. The cheese will thicken as it cultures. Culturing will take longer when the kitchen is cold and shorter when the kitchen is very warm.
Once cultured to taste, add in the nutritional yeast and salt. It's ok for metal to touch the mixture at this point. Taste and add more salt if desired.
At this point add in any mix-ins you like, then refrigerate. It will firm up after being refrigerated for several hours. The cheese will keep for at least 1-2 weeks.
Notes
For culturing the cheese, do not let any metal touch the mixture as it can inhibit the probiotics. Use a glass (pyrex) mixing bowl and silicon spatulas with either wooden or silicon handles. Make sure everything is clean and sanitized with boiling hot water. Use non-iodized salt as iodine can also inhibit the cultures.
If using probiotics with a lot more than 3.4 billion cultures per capsule (like 10 billion), use about half as much probiotic.
The nutritional yeast won't have a strong flavor in the final cheese, but adds some cheesy flavor. If you don't like nutritional yeast you can use less.
If followed exactly, there shouldn't be any growth of undesirable mold. However, in very warm and humid environments occasionally a small amount of fuzzy white mold can grow on top. I will scoop off this mold to get to the cheese below and then stop the fermentation, but will eat the cheese. If the mold color is pink or anything other than white, or if the cashew cheese develops an off taste, do not eat it. In any case, use your best judgement.
Recommended Products
As an Amazon Associate and member of other affiliate programs, I earn from qualifying purchases.
Nutrition Information:
Yield:

24
Serving Size:

1
Amount Per Serving:
Calories:

102
Total Fat:

8g
Saturated Fat:

2g
Sodium:

164mg
Carbohydrates:

6g
Fiber:

1g
Sugar:

1g
Protein:

3g