Meet the fiery red pepper paste hailing from North Africa that will alight your tastebuds and spice up your recipes. This homemade Tunisian harissa has deliciously bold and complex flavors, and is adaptable to suit your tastes.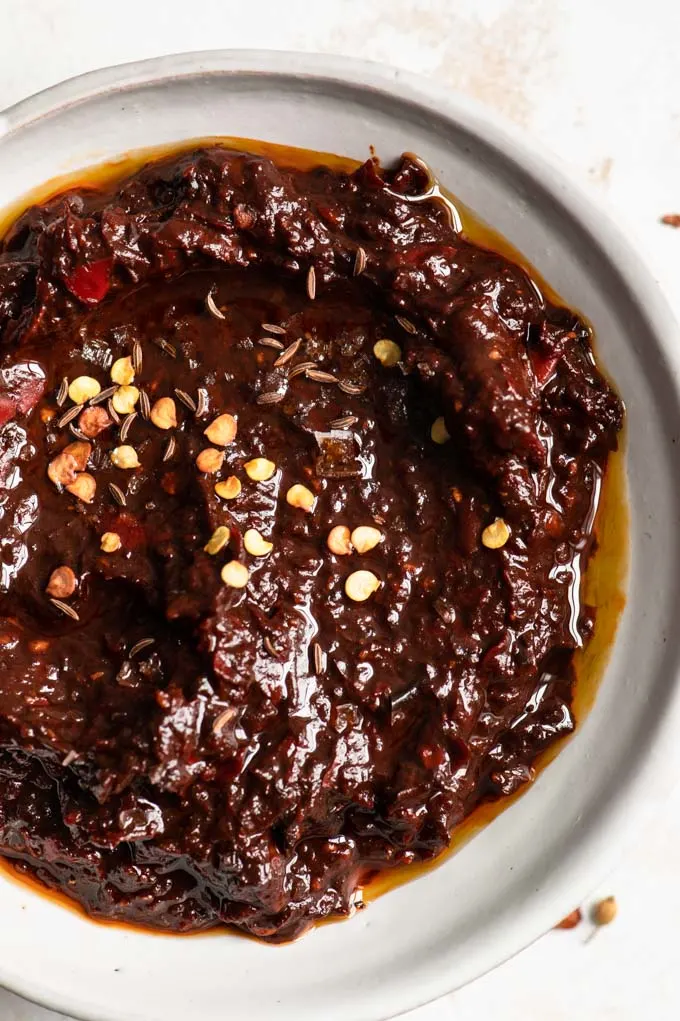 Harissa is a chile paste made from sun-dried peppers and a few other ingredients. It can be a simple combination of dried peppers, garlic, salt, and oil, or have added spices for a more flavorful sauce.
It's a popular condiment or sauce across Northern Africa, with likely infinite variations across countries and inside homes. If there's any take away when it comes to harissa, it's that there's not a wrong way to make it, and there are many ways to enjoy this pepper sauce.
In fact, harissa doesn't need to be spicy! It can be made from sweet peppers, either removing the spicier chiles or cutting way down on them.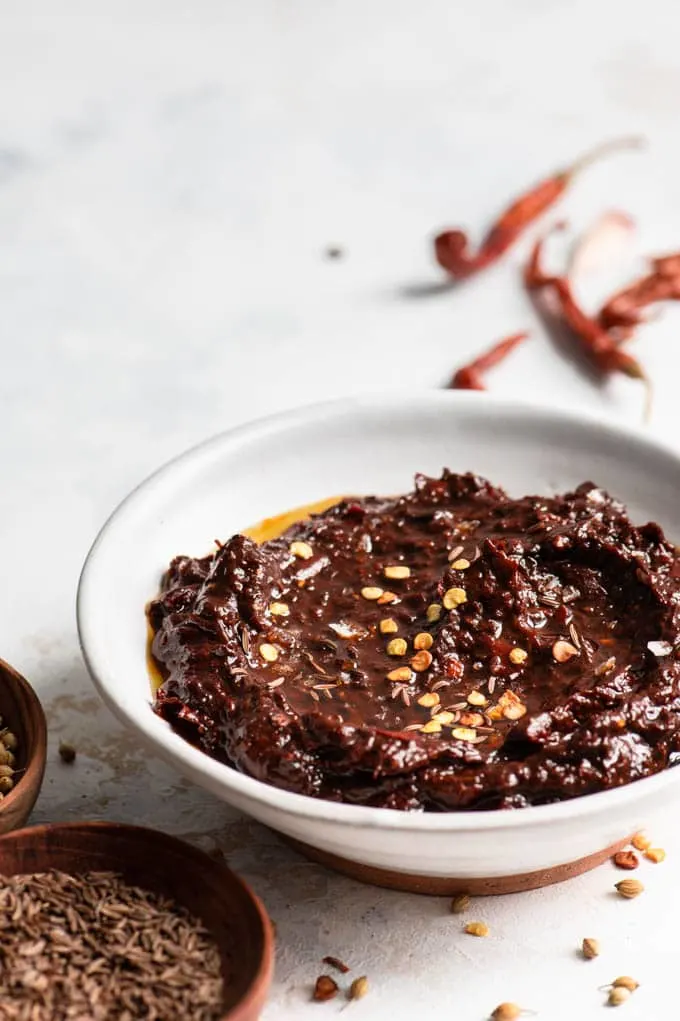 The only note here is that I have yet to come across dried sweet peppers, so unless you want to dehydrate your own (ideally they should be sun-dried) you'll have to stick with roasted red peppers and the like.
While there are options for buying harissa from your local grocery store, it's easy to make your own, cheaper to make your own, and you can control the flavor and spice level if making your own!
The peppers in harissa:
Like I said before, harissa is a paste made of sun dried chilies. The exact varieties of chilies you use and in what combinations is completely up to you. Changing the ratio or the chiles used will change the flavor and heat of the harissa.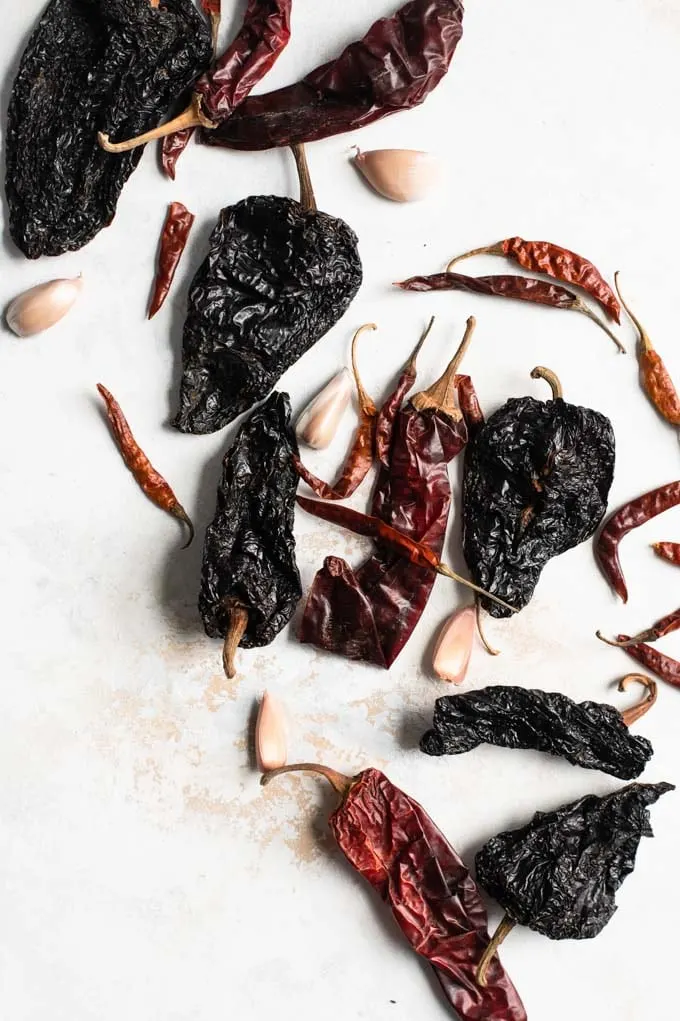 Spicier Dried Chilies Include:
Chilies de Arbol
Piri Piri Chilies
Thai Chilies
Birds-eye Chilies
Japones Chilies
Indian Red Chilies
Medium Dried Chilies Include:
Guajillo Chilies
Chipotle Chilies
Kashmiri Chilies
Milder Dried Chilies Include:
New Mexico Chilies
Ancho Chilies
Mulato Chilies
Cascabel Chilies
Now you may be noticing that I'm listing a lot of chiles from Mexico and Asia. Well, guess what, peppers are native to Mexico, Central America, and Northern South America.
They also happen to be the peppers I (and most North Americans) have access to in local grocery stores/are easy bought online. I see no problem with making some delicious harissa with the peppers you have access to!
For my harissa I use a mix of the milder chilies, medium, and hot. I use more of the mild and less of the hot by weight (though a greater number by volume), as the hot chilies tend to be smaller and pack a mighty punch!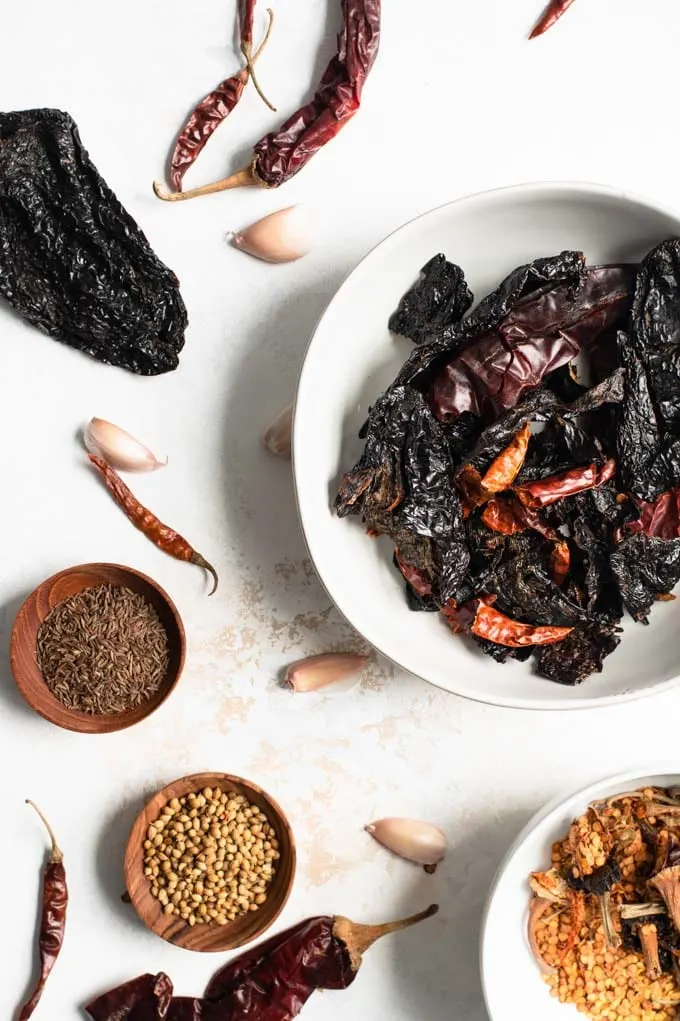 For a mild harissa that still has a bite focus on milder chiles like New Mexico chile and ancho chile. Use less to none of the hotter chiles like birds eye chile or chile de arbol.
If you want your harissa to have some sweetness, you can even add some red bell pepper to it (red because it keeps the red color of the paste). Since dried red bell peppers are hard to come by, I use roasted red pepper.
Making the harissa:
Once you've chosen your chile peppers it's time to prepare your harissa. You'll want to put food safe gloves on for this first step to protect your hands from the chile oils (which then will protect your face/eyes/anything you may touch that will then burn and hurt).
Remove the stems and seeds from the dried peppers. The seeds will add extra heat, but for the most part the paste is going to be plenty spicy even without the seeds. Plus a lot of these dried peppers do not have nice seeds for eating!
Rinse off your your stemmed and seeded dried chiles to clean them, then transfer to a large heat safe bowl and add boiling hot water to cover. Put a lid on the bowl and let the chilies soak for about a half an hour until they're very soft.
Drain this spicy water when done.
While the chiles are soaking, toast the spices. For my harissa I like to use some spices, but in smaller amounts to keep the flavor profile more neutral. You can always add more spices to the dish you use it in, but leaving the harissa itself less spiced keeps it versatile to fit the flavors of any recipe.
If you prefer a more spiced harissa, then you can increase the spices, and/or add additional ones such as smoked paprika or cumin.
Using whole spices and toasting them before grinding makes for richer and better flavors. If you're using ground spices skip the toasting step.
Combine the soaked and drained chiles, spices, and salt in a food processor or blender and process until you form a smooth paste (or to your desired level of smooth).
Add olive oil and blend once more to combine.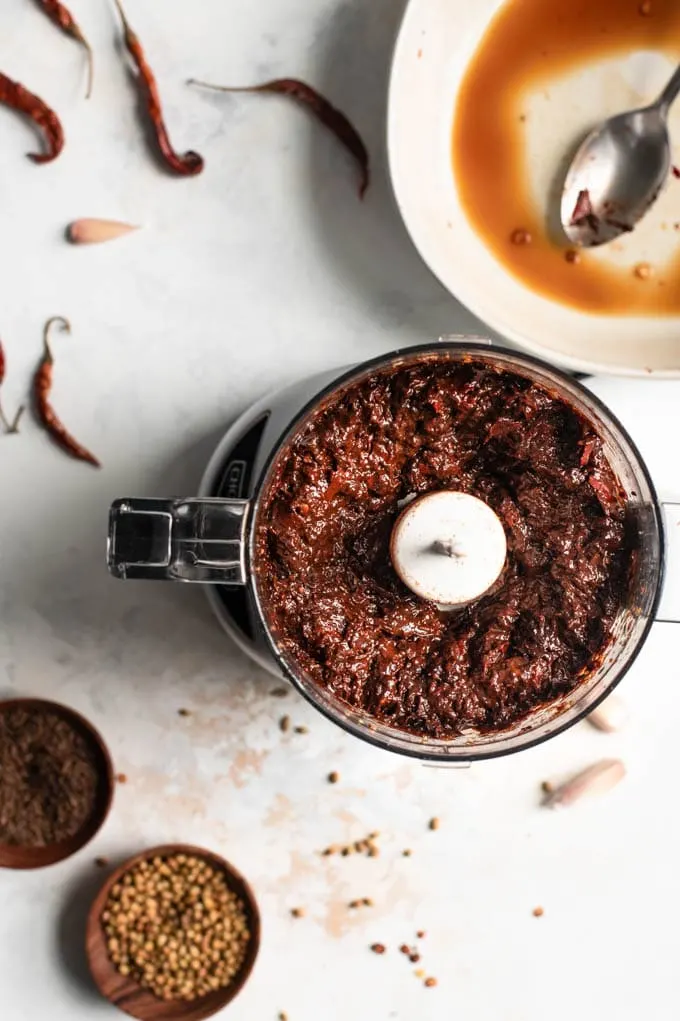 How to use harissa:
This recipe makes plenty of delicious harissa that can be used in a variety of ways.
Stir it into soups or stews, use it to roast vegetables (e.g. harissa roasted brussels sprouts), enjoy with couscous or pasta.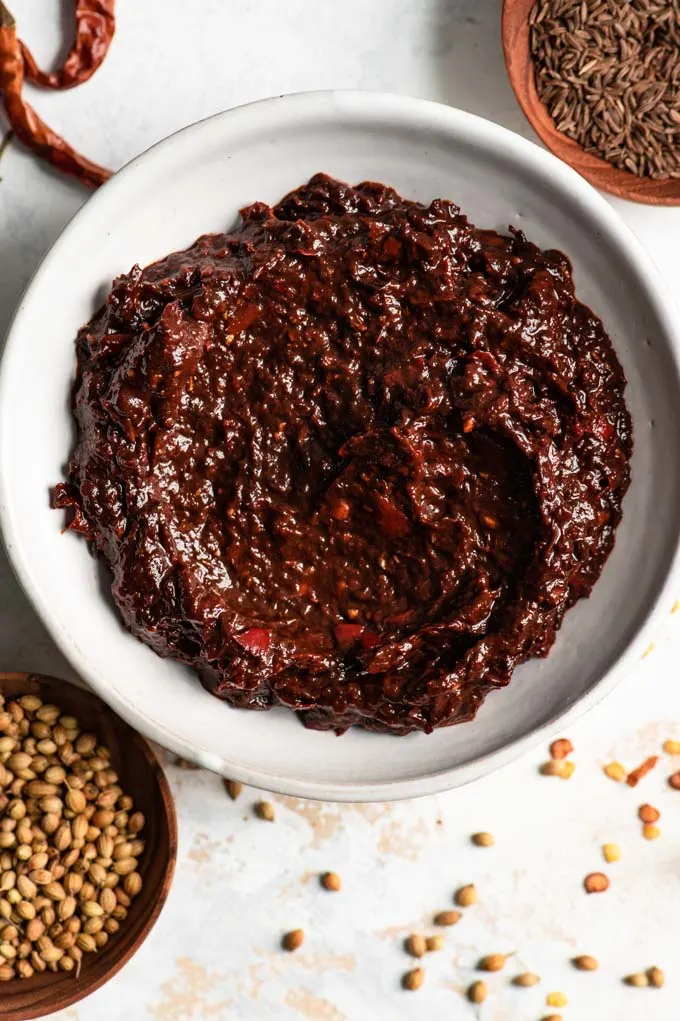 Add it to beans or lentils for easy flavor, use it as a sandwich spread, in dressings, or serve alongside your meal for people to add heat and flavor to their own liking!
It goes wonderfully with scrambled tofu, spooned atop hummus, baba ganoush, or favosalata.
Make a yogurt sauce or a tahini sauce by adding harissa to the mix. Then use this to temper your savory dishes.
The possibilities are endless, and if you enjoy complex tasting pepper sauces with a kick, you'll find you don't run out of ways to use harissa! You'll just run out of harissa. But that's ok! It's easy to make more!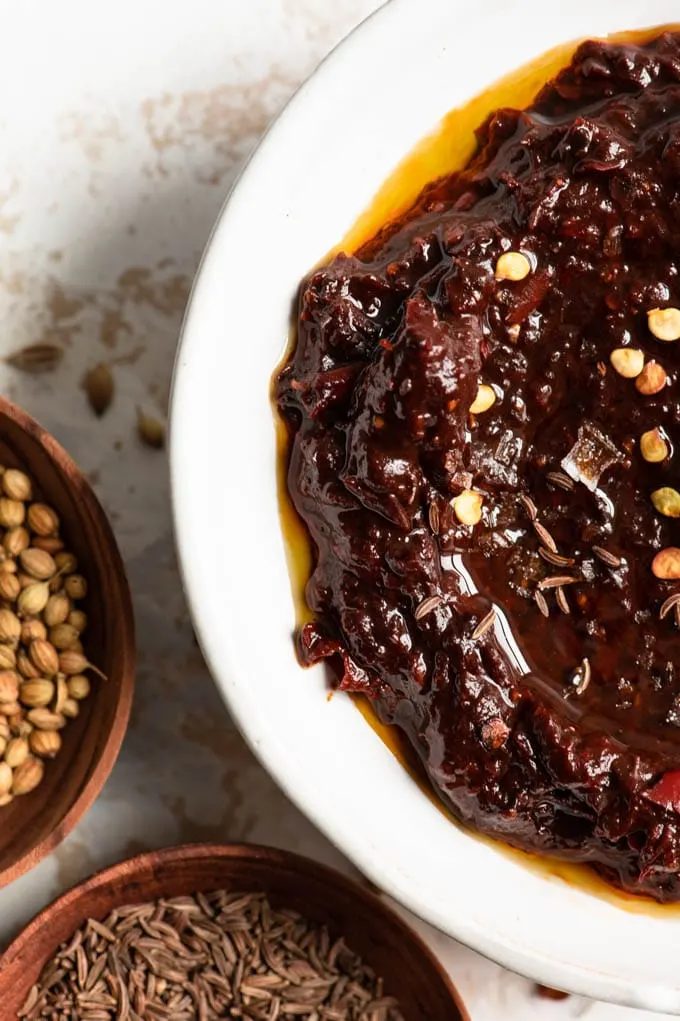 If you make this homemade Tunisian harissa, leave a comment below and rate the recipe on the recipe card. And please share your photos with me on Instagram, tag @thecuriouschickpea and #thecuriouschickpea. I love seeing your recreations!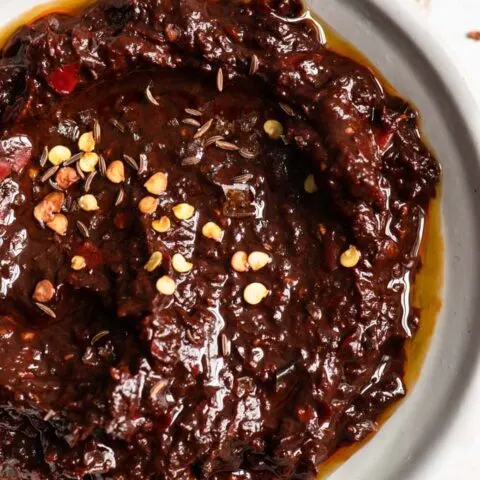 Homemade Tunisian Harissa
Harissa is a North African chile paste made from sun dried chile peppers and a few other ingredients. It can be simple, just chiles, garlic, salt, and oil, or can have added spices for a more flavorful sauce. Stir it into soups and stews, use it to roast vegetables, enjoy with couscous and pasta, as a sandwich spread, in dressings, or as a side to spice up any meal!
Ingredients
4oz dried chiles*
1 tsp whole coriander seed
1/2 tsp caraway seed
4 garlic cloves
1/2 tsp salt
1/4 cup olive oil
Instructions
Remove stems and seeds from the dried chiles while wearing food gloves. Rinse the peppers, drain, then submerge in boiling hot water. Let soften for 30 minutes, then drain.
In a dry skillet over low heat, toast the coriander seed and caraway seed until fragrant and a shade darker. Grind to a coarse powder.
In a food processor or blender, add the spices, garlic cloves, and salt. Pulse to mince the garlic. Add the soaked and drained chiles and blend until the peppers are minced or pureed (whichever you prefer). Add the olive oil and blend once more to combine.
Notes
*Use chiles you have available to you, and choose more or less spicy chiles depending on your preference. I used about 1 oz New Mexican chiles, 2 1/2 oz ancho chiles, and 1/3 oz chiles de arbol. Using a mix of dried chiles makes for a more complex tasting sauce.
For a milder sauce, substitute half of the chiles for a roasted red pepper. For a medium sauce, use only mild to medium dried chiles.
Nutrition Information:
Yield:

12
Serving Size:

1
Amount Per Serving:
Calories:

46
Total Fat:

5g
Sodium:

98mg
Sugar:

1g
Nutrition is calculated automatically so should be used as an estimate.