These vegan broccoli fritters make the perfect appetizer or snack, especially when dipped into a mouth watering smokey red pepper buffalo cheddar dip!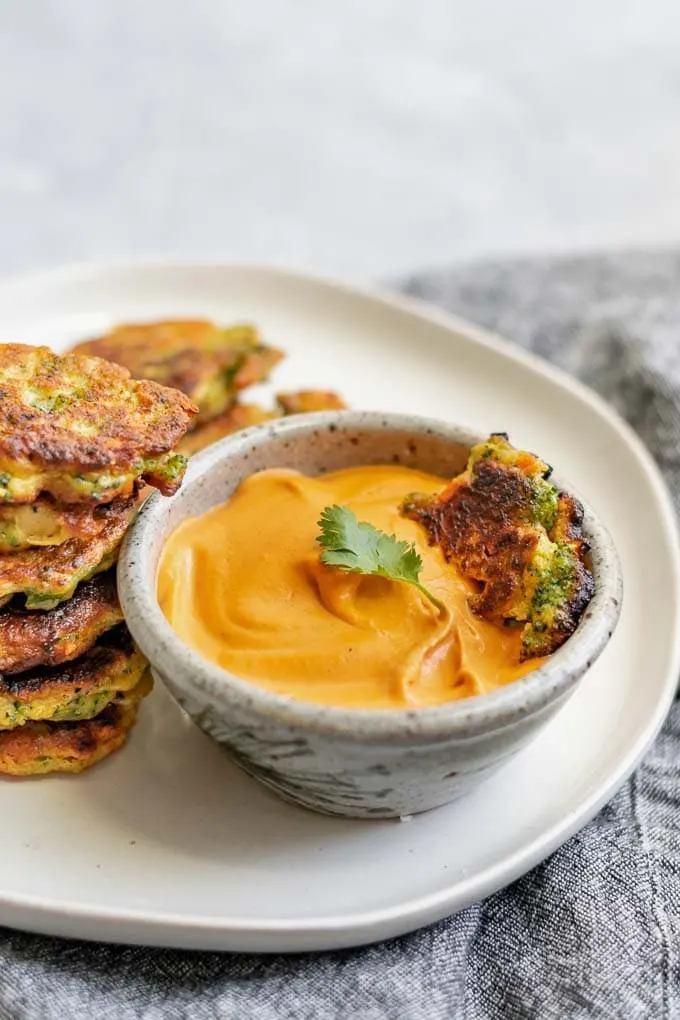 I've got the perfect recipe for that broccoli sitting in your fridge right now. If there's no broccoli, run out and get some, I'll wait (but like, also pick up the rest of the ingredients you need for this recipe at the same time)! Ok, are we all on the same broccoli in fridge page now?
Fritters have to be the most perfect vehicle for inhaling your veggies. The little crispy cakes stuffed with the green vegetable are addictive. Like eat them all in one sitting good!
And let's face it, no one cares if they're eating broccoli or not when it's dipped in the flavorful and creamy smokey red pepper buffalo cheddar dip. I mean, don't get me wrong, I love broccoli and have a lot of broccoli recipes to prove it! But even if you didn't, you will love these broccoli fritters!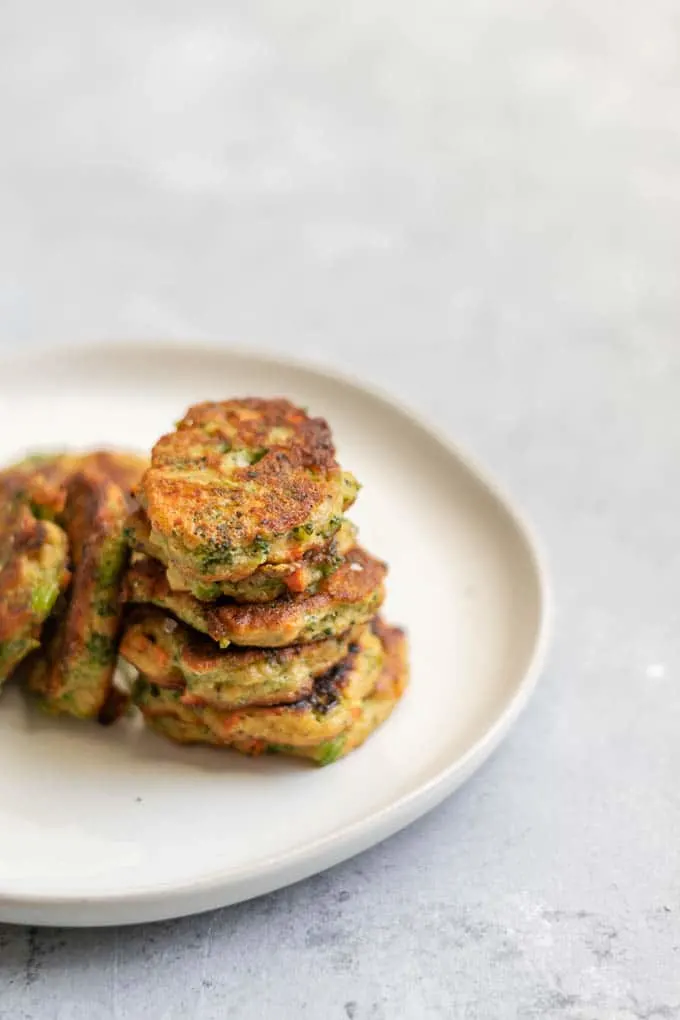 Making the broccoli fritters
The veggie fritters are super easy to make as is that delectable dip. To make the fritters you first chop up the broccoli into petite florets and dice the stems, then steam them just for a few minutes until they're *just* tender. I don't like mushy broccoli and do not want mushy waterlogged fritters. Once tender remove the broccoli from the pot and let cool so they don't overcook.
Then we make the fritter batter. Whisk together ground flax (I prefer to use golden flaxseed, but it doesn't really matter) and your choice of nondairy milk until frothy. You can do this with a handheld stick blender in about 30 seconds, or whisk vigorously by hand for 1-2 minutes.
In a bowl and by hand whisk together the flax mixture, flour, nutritional yeast, and spices. You should have a thick and somewhat sticky batter. Fold in the steamed broccoli and some finely chopped carrots. And that's it! Fritter batter is ready!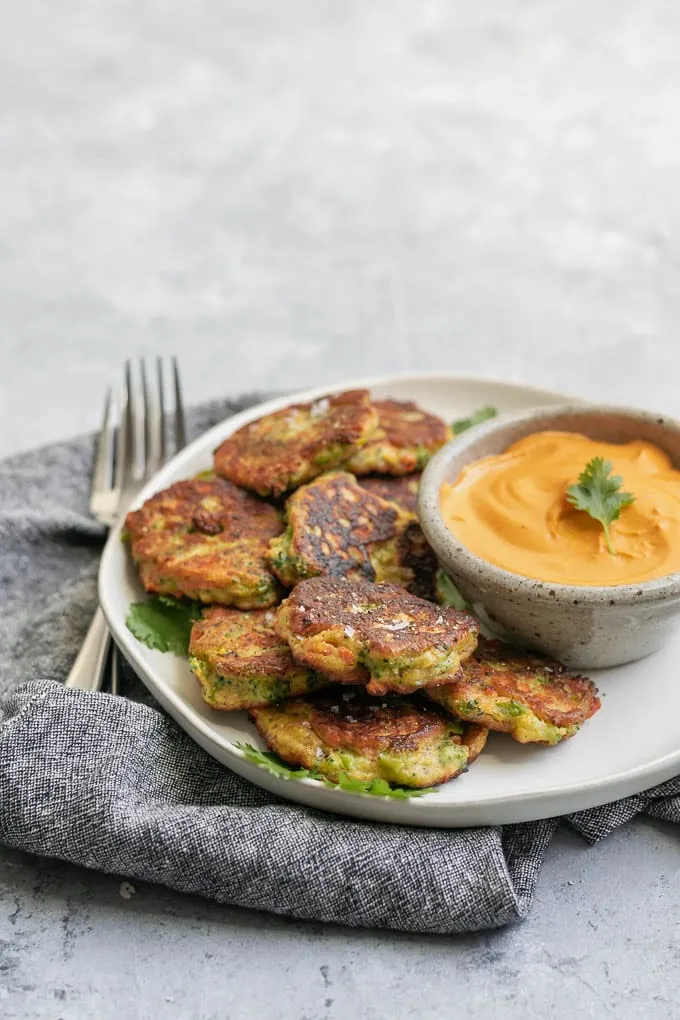 To cook the fritters, heat up a layer of oil in a skillet and plop the batter down by the heaping tablespoon full. I used my cookie scoop filled part way for an easy squeeze release. Cook the fritters for at least 3 minutes on each side. Any less and you might end up with an undercooked inside.
Leave the fritters on a paper towel to drain while you repeat to finish the cooking. Add more oil as needed between batches.
Making the smokey red pepper buffalo cheddar dip
Now you can't serve fritters without a dip, and might I just recommend this buffalo cheddar dip??? It's seriously amazing and I think I could just drink it straight. Mmm… The dip can be made in advance or just simultaneously to the fritters, though you want it ready to go by the time you're done frying as fritters are best (and crispiest) hot off the skillet!
Take a roasted pepper (you can roast your own or use jarred) and blend it up with cashews (soaked for a couple hours is best but not necessary if using a high powered blender), garlic, nutritional yeast for cheesiness, oil for richness, smoked paprika for smokey peppery flavor, hot sauce for the buffalo flavor, salt, and water to get it going.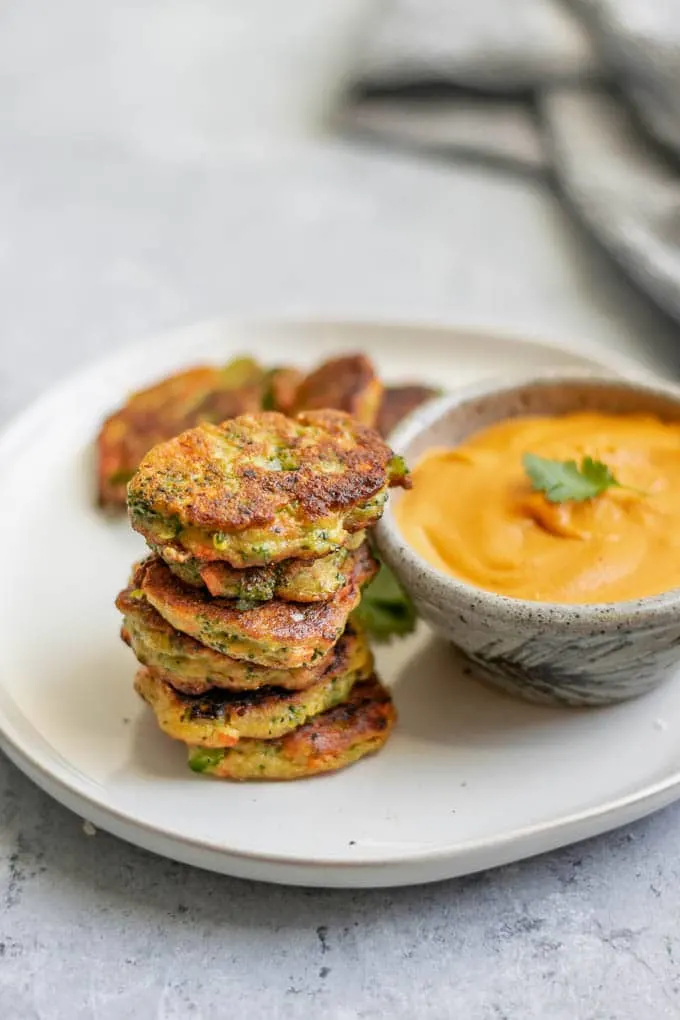 Yep, just 9 easy and pantry friendly ingredients to make this delectable dip! And that's it. Make it early and stick it in the fridge, serve it warm or cold, make it your own!
The dip recipe does make more than you need for one batch of broccoli fritters, so probably that means you should double or triple your fritters.. or just dip everything into the cheesy dip! It's also great spread on toast, or thinned and tossed with pasta.
Enjoy your fritters & dip!
These fritters are perfect for serving to guests and are great as a snack or an appetizer. They also are great for serving just to yourself, maybe double the recipe if there are two or three of you 😉 . I think the key here is to enjoy frequently, I mean, who doesn't love finger food!
Now, I do think you should make the smokey red pepper buffalo cheddar dip to pair with the broccoli fritters, but also understand life can be busy. So, in the case of busy, store bought vegan ranch would also be delicious for dipping if you need a shortcut!
No matter how you enjoy these, your belly and/or your guests will thank you!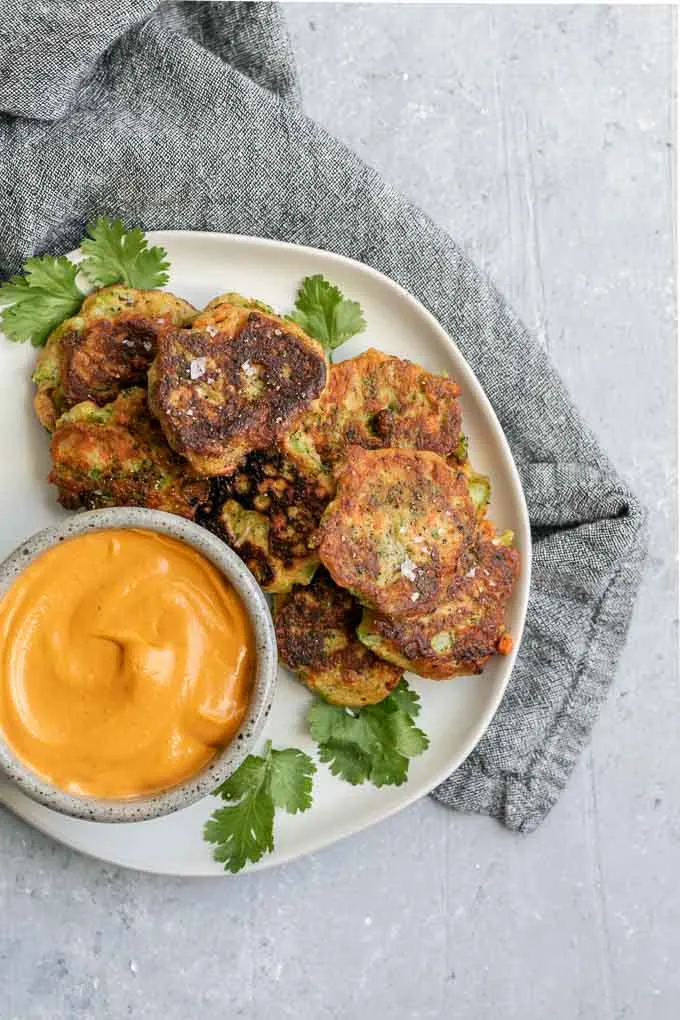 Let us know how you liked the fritters and give the recipe a rating on the recipe card below! Also don't forget to share your creations with me on Instagram, tag @thecuriouschickpea and #thecuriouschickpea, I absolutely love seeing your photos!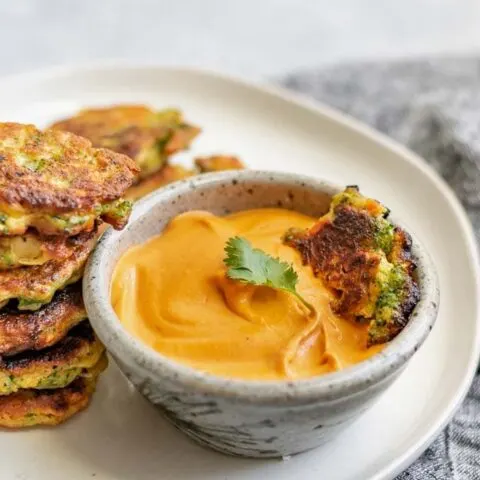 Vegan Broccoli Fritters with Smokey Red Pepper Buffalo Cheddar Dip
Cheesy vegan broccoli fritters make the perfect appetizer or snack, especially when dipped into an easy and mouth watering smokey red pepper buffalo cheddar dip!
Ingredients
Broccoli Fritters
1 1/2 cups broccoli, cut into mini-florets & stems diced
1/2 cup plant milk
2 tbsp ground golden flax
1/4 cup flour, gluten free if needed
2 tbsp nutritional yeast
1 tsp onion powder
1/2 tsp garlic powder
1/2 tsp salt
freshly ground black pepper
1 small carrot, minced (~1/3 cup)
oil to fry
Smokey Red Pepper Buffalo Cheddar Dip
1 roasted red bell pepper
1 cup cashews, soaked
1 clove garlic
1/4 cup water
2 tbsp hot sauce like Franks RedHot
1 tbsp mild tasting oil
2 tbsp nutritional yeast
1/2 tsp smoked paprika
1/2 tsp salt
Instructions
Broccoli Fritters
Steam the broccoli: set up a steamer basket or just bring a small amount of water to a boil in a pot, add the broccoli and steam for about 3 minutes, or until the broccoli is just barely fork tender. Remove from heat and let cool.
In an immersion blender or using a whisk, vigorously whisk the plant milk and ground flax until it's frothy--about 30 seconds with the blender or longer by hand.
Pour the milk-flax mixture into a large mixing bowl and add the flour, nutritional yeast, onion powder, garlic powder, salt, black pepper and whisk until smooth. Fold in the steamed broccoli and carrots.
Heat a thin layer of oil in a frying pan over medium-low to medium heat and when hot dollop heaping tablespoons of fritter batter onto the pan. Fry for 3-4 minutes on each side. Turn down the heat if needed so they don't burn. Enjoy hot with the smokey red pepper buffalo cheddar dip.
Smokey Red Pepper Buffalo Cheddar Dip
In a blender combine all ingredients and blend until smooth. Can be enjoyed hot or cold.
Notes
You can use brown flaxseed, but I prefer golden for its mild flavor and less noticeable color. Ideally you should grind your whole flaxseed as you need it, but if you buy pre-ground store in freezer.
Recommended Products
As an Amazon Associate and member of other affiliate programs, I earn from qualifying purchases.