Making the perfect pie dough is all about the technique, but this easy handmade vegan pie dough is straight forward to follow and makes a super flaky crust!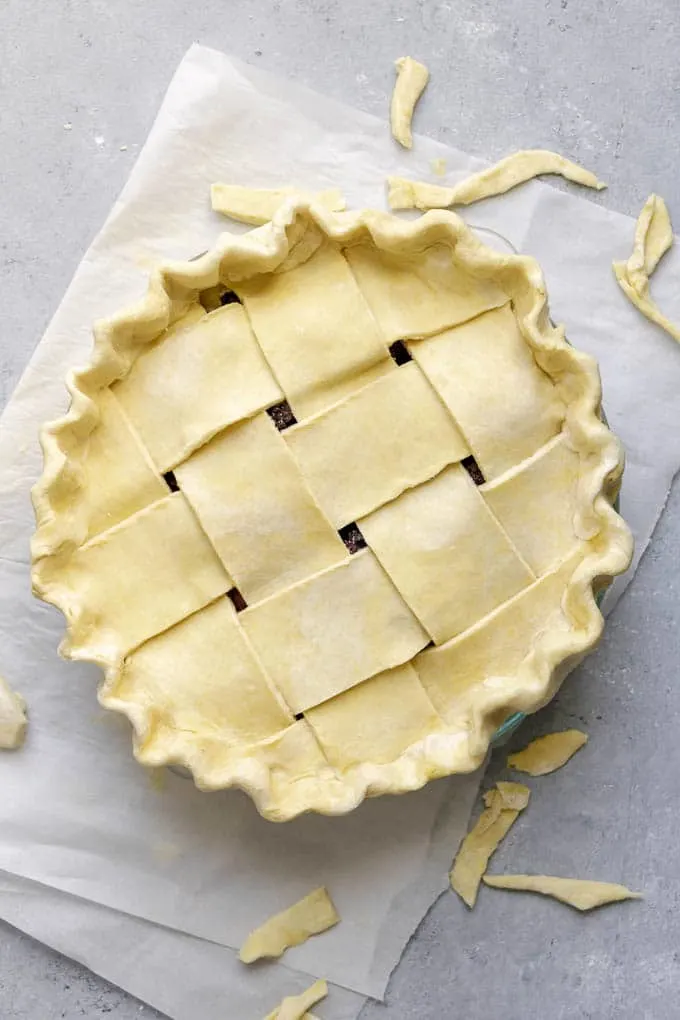 I have a confession to make. I have never once bought pie dough. And that's 1) thanks to my mom and grandmother and 2) because it's easy to make homemade pie dough and the results are infinitely superior. In my easy vegan pie dough recipe, my goal is to break it down for you in manageable and easy to follow steps.
When it comes to pie dough it's more about the technique than the recipe. Overworked dough turns tough and loses it's flakiness. Underworked dough can be tricky to roll out and work with. But there's a lot of room between those two extremes for very good to excellent pie crust, all you need is a bit of patience and some guidance.
I've tried a lot of different pie dough recipes over the years, variations with alcohol or vinegar, different ratios of flour to fat to water, making dough by hand or with a food processor. But I keep coming back to this classic dough. It has a slightly higher ratio of flour to fat, takes advantage of the superior flakiness of shortening, a sprinkling of sugar to help with the browning of the crust, salt to balance the flavors, and just enough water to bring it all together.
For this recipe I take inspiration from J. Kenji López-Alt and his Easy Pie Dough. But while I appreciate the ease and almost foolproof-ness of his recipe, I find the crust to be a bit more crumbly in its flakiness than I like. And what can I say, I'm a sucker for making it by hand, it's almost as fast as using a food processor, you have full control over the dough, and the clean up is 1000x easier.
A note about the ingredients:
You've probably heard this before about pie dough but it bears repeating. All of your ingredients should be very cold! The vegan butter should come straight from the fridge as should the shortening. I keep my shortening in the pantry so this means a little forethought the night before. If I do forget, I'll measure out the shortening and stick it in the fridge for at least an hour or until I can feel that it's very cold and solid to the touch.
Some recipes tell you to refrigerate your flour before but I don't find that to be necessary, unless it's over 80 ºF in your kitchen room temperature is fine. You do want to have your water ice cold. You can do this by literally making ice water and then pouring out the water only, or grab super cold water straight from your fridge.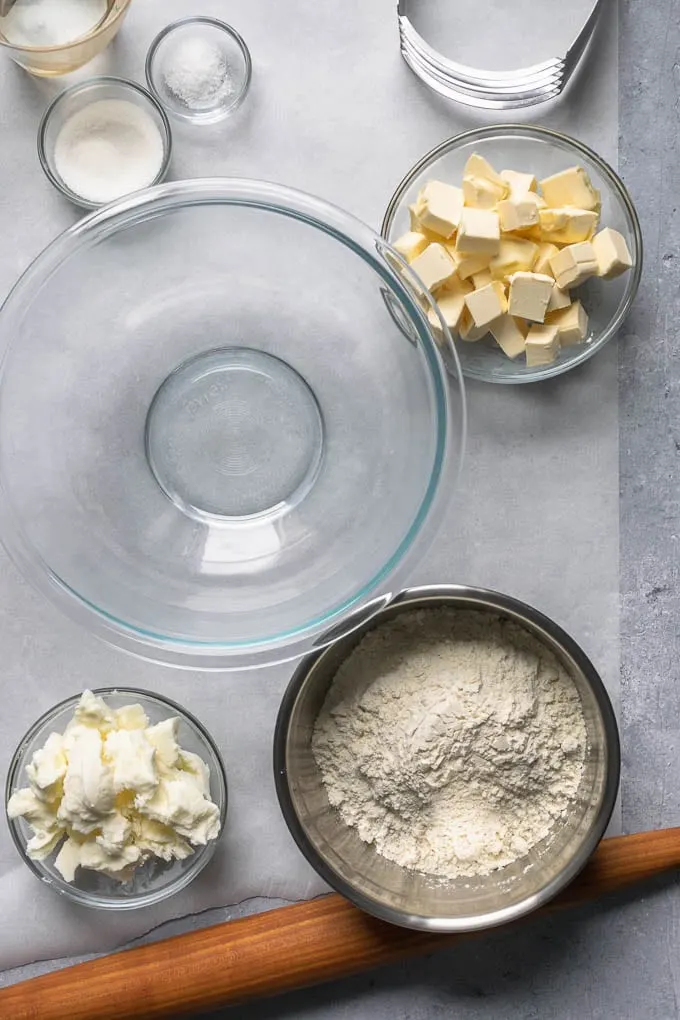 For the vegan butter, you will need to use the sticks of butter. The buttery spreads in tubs have too high of a water content to work well in pie dough. But whether you want to use Earth Balance (or similar brand if not in the US) or a luxury vegan butter like Miyoko's is up to you. Note that vegan butter made with coconut oil (like Miyoko's) will melt at a lower temperature, so just be a bit quicker and more careful when working with it.
Also, for vegan pie dough, using a recipe with 100% [vegan] butter does not work as well. So even though you'll see non vegan recipes encouraging you to make an all butter crust, I don't recommend the same with the vegan stuff.
You can make the recipe using half vegan butter and half shortening, or increase the vegan butter by 2oz for a 60% vegan butter and 40% vegetable shortening ratio. However, the higher the fat content in the dough, the trickier it is to work with. I find you can get good flakiness with less vegan butter so have updated my recipe to reflect that!
Step by step instructions:
First, whisk together the dry ingredients to combine them. Take about 1 1/2 cups of the all purpose flour, leaving 1 cup behind to add later. This method helps ensure that you don't overwork the dough when cutting the fat into the flour. To the 1 1/2 cups of flour add the sugar and salt and whisk to combine.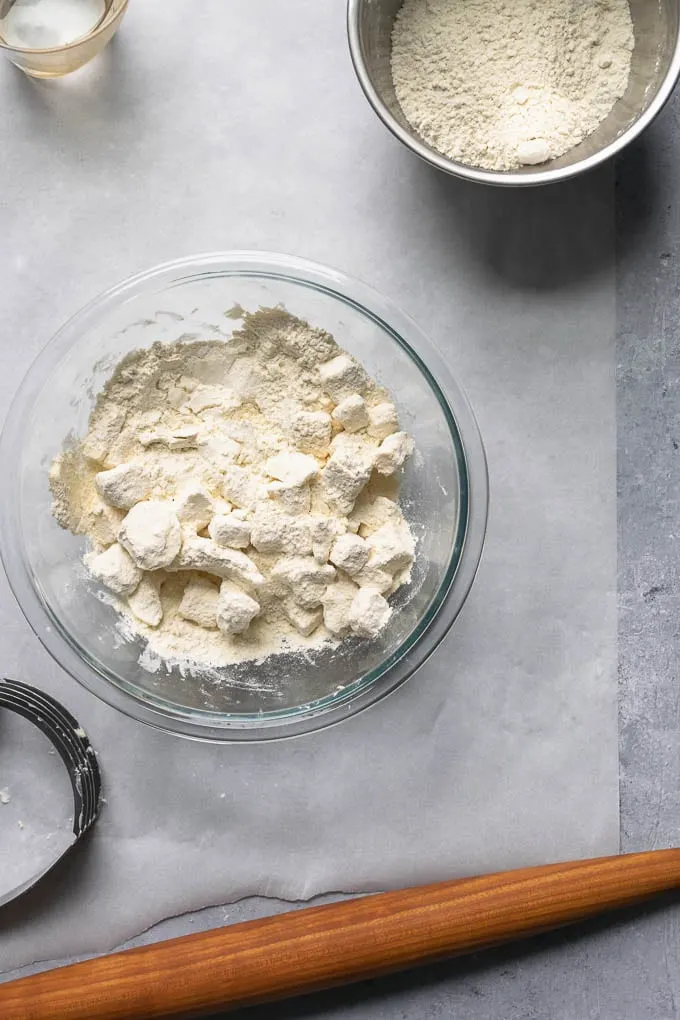 Pre-cut your fat into chunks, I'll do about 1/2″ cubes of vegan butter and scoop up a generous teaspoon of shortening. Add this proportioned butter and shortening to the flour and gently stir to coat it in flour. Next using a handheld pastry blender work the dough, cutting the fat into the flour until you get a pebbly mixture that's even starting to clump together a bit. Then add the rest of the flour and briefly cut it into the dough.
If you don't have a pastry blender, I recommend picking one up, they're cheap and useful! But if you don't want to do that you can use two butter knives and cut across the dough in opposition to create the same effect. It is, of course, more work. I've done it though when traveling and when in less well-appointed kitchens.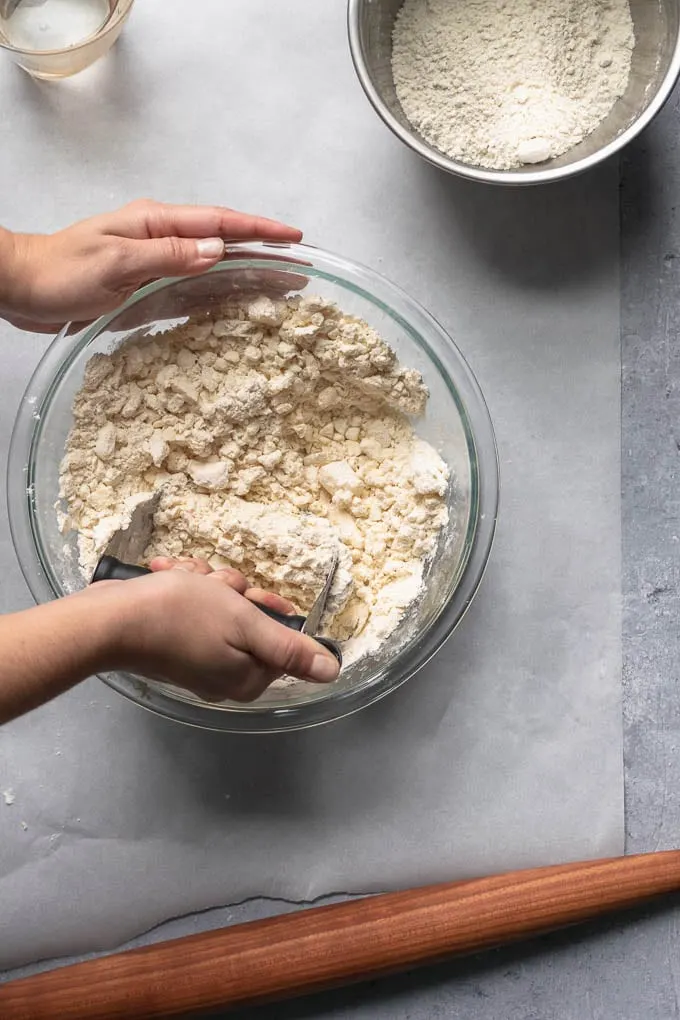 Next add the ice cold water. I like to start with just 4 tablespoons (2 oz or 1/4 cup) of water. Sprinkle it over the dough and use a wooden spoon or silicon spatula to start to gently work the water into the dough. You're likely to still have dry dough, and so if that's the case add the additional water, 1 tablespoon at a time, until it comes together.
Fold the dough with the spatula or spoon until it mostly comes together. Some unincorporated clumps of dough are fine, but if you still have dusty dry flour mixture then sprinkle a little more water (1 tbsp or less at at time), until no flour is left. At this point drop the spatula and briefly go in with your hands to combine the dough into a ball–some unincorporated crumbles are still ok at this point! They just shouldn't be dry.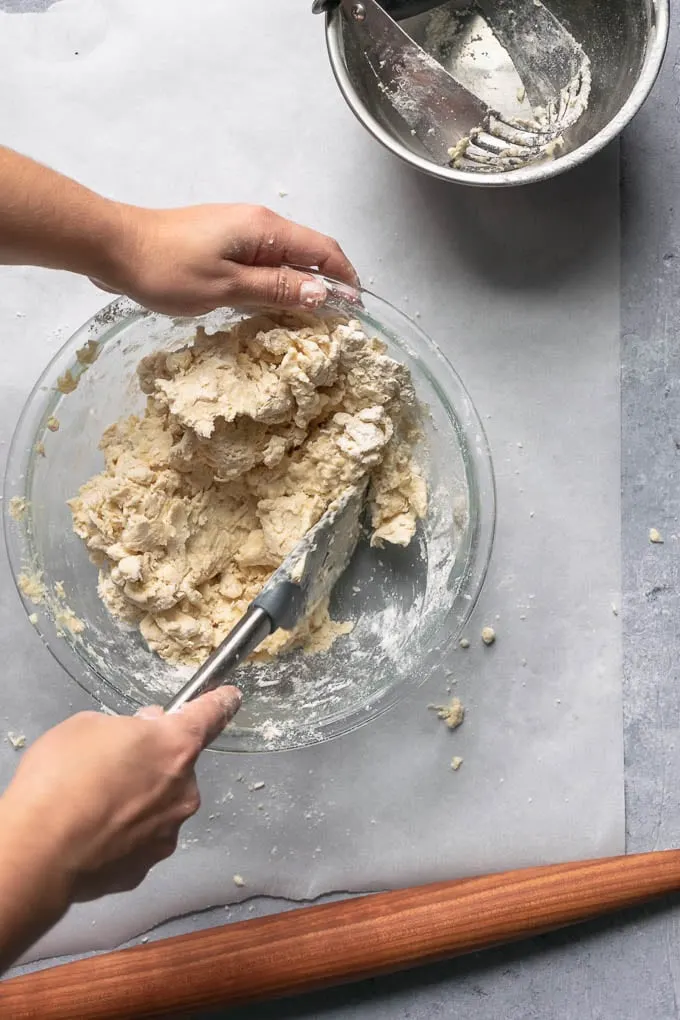 Cut the ball of dough into two equal portions and wrap each half in plastic wrap. At this point work any unincorporated dough into the rest of the dough and shape the halves into disks, about 1″ thick. Put the dough in the fridge where it needs to rest for at least 2 hours. This resting time ensures that the gluten in the dough has a chance to relax so the dough can be rolled out when cold and maintain its flakey layers.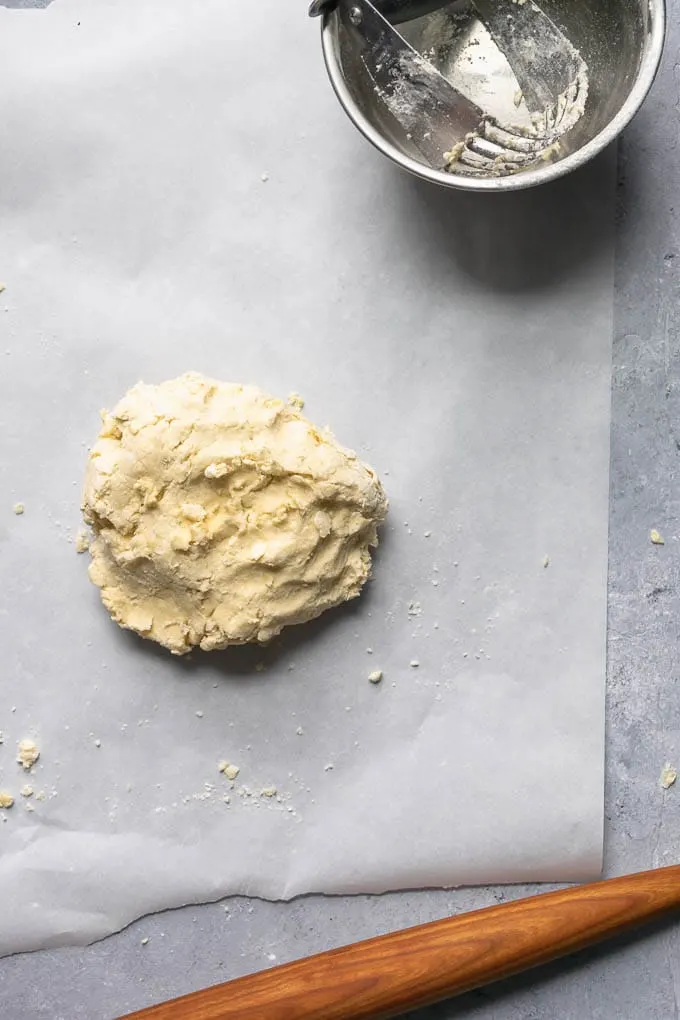 At this point the dough can be made a few days in advance, and extra dough can be kept in a freezer safe bag in the freezer for longer storage. Defrost the dough in the fridge before using.

Tips on using the dough:
You can use this dough for either two single crusted pies, or one double crusted pie. Roll it out on parchment paper with a light dusting of flour so that it does not stick. Flour the top of the dough and the rolling pin as needed. For a round crust, roll consistently from the center of the dough away from you, turning the dough with each roll.
By rotating the dough with each roll and turning it you ensure an evenly rolled out dough as well as one that doesn't stick to the counter (or parchment paper) when it comes times to move it. If the dough does start to stick during the rolling process, just sprinkle on a bit more flour where it's needed.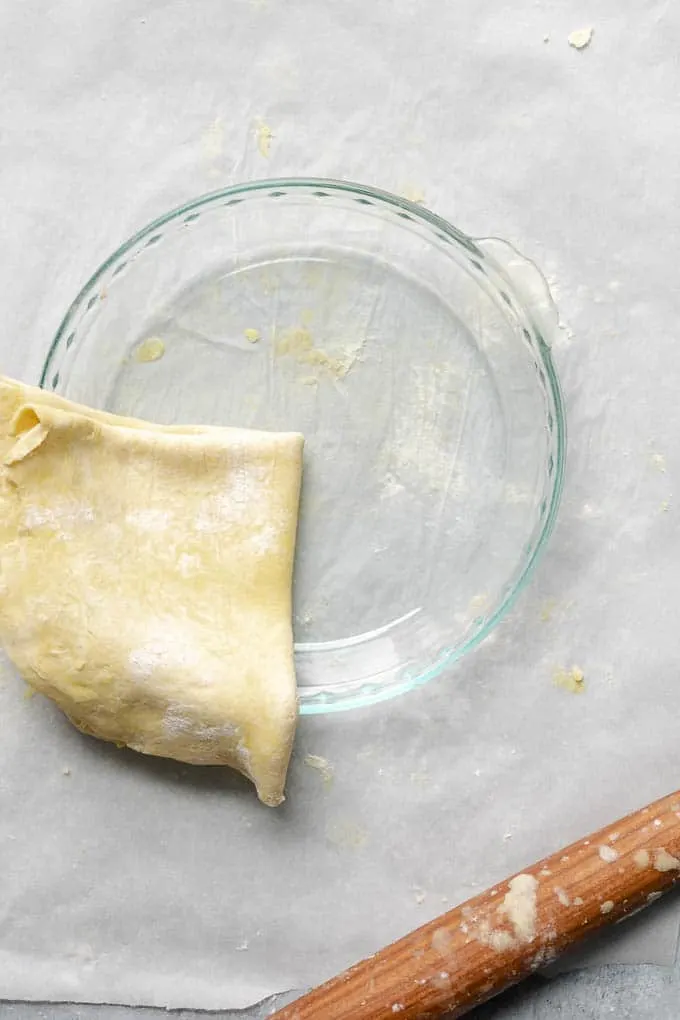 To transfer the dough to a pan, fold it in half, then half again to make a triangle. Pick it up and place the center of the triangle in the center of the pie dish, then unfold the dough and gently ease it into the edges of the pan. Be careful not to pull and stretch at the dough. Trim off excess dough leaving about 1/2″ around the edge. Fold the dough under and if making a single crust pie, crimp or flute the edges of the dough to make a pretty border or use a fork to press it against the edges of the pan.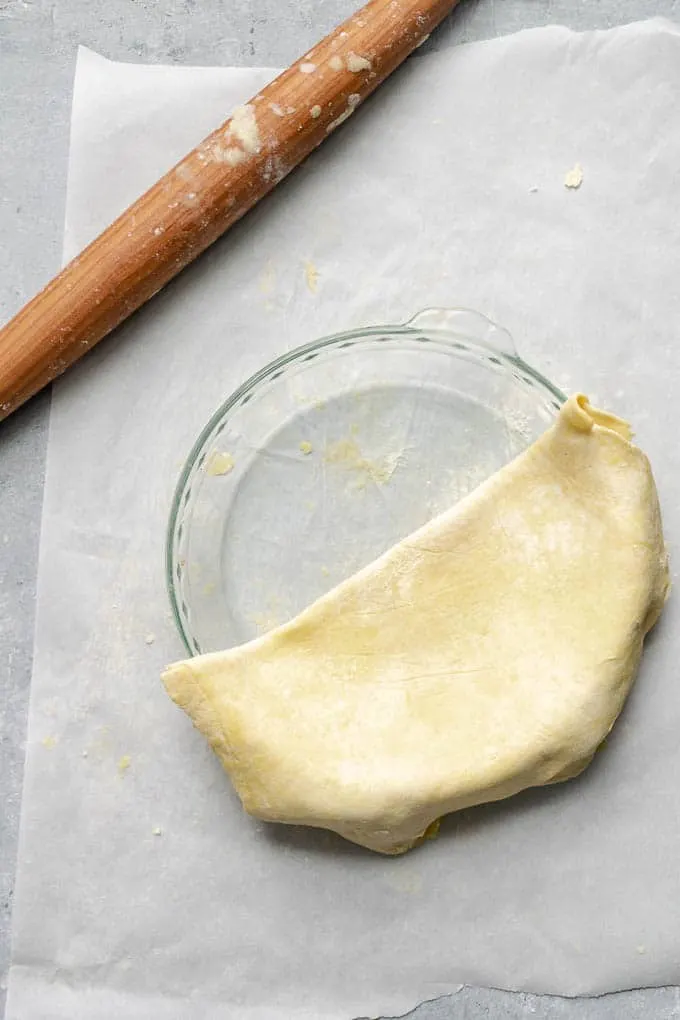 Otherwise, roll out a second piece of dough and you can cut it into a lattice or place the entire piece of dough on top and poke holes in it with a fork or cut slits with a knife for ventilation. Trim the edges of the dough and make a decorative border (or just crimp with a fork to seal).
In situations you want the pie to hold a decorative shape or if the dough has warmed up over the course of shaping it (which it tends to do), I recommend chilling the pie before baking. This is true for blind baking a pie as well, just chill before filling. You want to cover the pie and refrigerate until the dough is firm to the touch.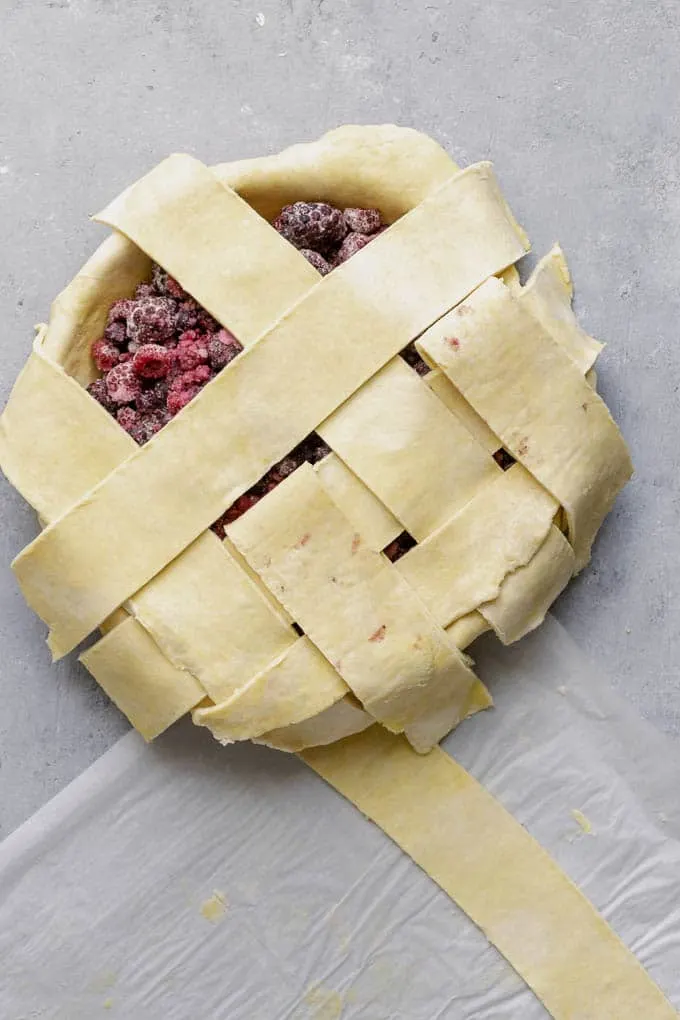 If you're pie dough does lose some of it's shape while it bakes, don't stress it, it's natural for that to happen and it doesn't mean you won't have a beautifully flaky pie crust at the end! In full honesty, I tried to rush the entire chilling process of my dough for the lattice pie pictured here to try to get same day photos and ended up with a droopy side as a result. But those flakey layers in the dough were spectacular! It just wasn't a photo worthy finish.
If you need to blind bake your pie dough, I'm a fan of this blind baking method by Stella Parks. You can also use pie weights or dried beans or rice though the sugar method is pretty cool and accessible! I used it on the pie I'm sharing later this week 🙂 .
When it comes to pie dough, just relax, practice a little, and know that it's going to be delicious! This dough is perfect for sweet pies or savory, delicious with a vegan quiche and makes great hand pies or galettes.
I do hope I've inspired you to try and make your own pie dough. It's really quite simple and there's something extra satisfying in making it by hand!
Let me know if you have any questions or leave a rating and comment if you've tried the recipe! I'd love to hear what pies you make with this delicious easy vegan pie dough! Also don't forget to share your creations with me on Instagram, tag @thecuriouschickpea and #thecuriouschickpea, I absolutely love seeing your photos!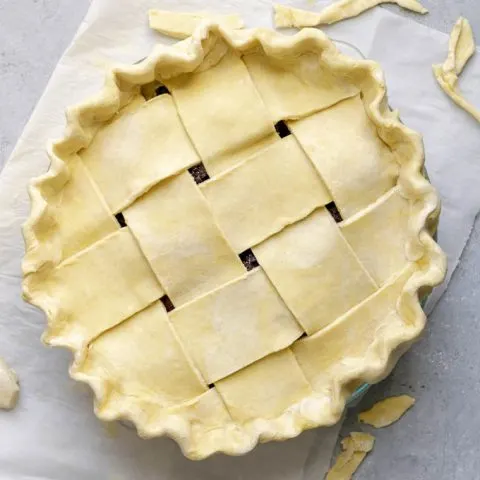 Easy Vegan Pie Dough
Yield:
1 double crust or 2 single crusts
Total Time:
2 hours
15 minutes
Making the perfect pie dough is all about the technique, but this easy handmade vegan pie dough is straight forward to follow and makes a super flaky and crisp crust!
Ingredients
2 1/2 cups (330g) all purpose flour
1 tbsp (12g) sugar
1/2 tsp (3g) salt
4 oz (113g) cold vegan butter*, cut into 1/2" pieces
4 oz (113g) cold vegetable shortening, in heaping tbsp pieces
4-6 tbsp (60-90g) ice cold water, more if needed
Instructions
Whisk together 1 1/2 cups (198g) flour, the sugar, and salt. Add the vegan butter and shortening and cut it into the flour using a pastry blender or with two knife cutting in opposition. Cut the fats into the flour until you have a well combined mixture. It should be pebbly and starting to clump together.
Add the last cup (132g) of flour and briefly cut into the dough to combine. Pour in 4 tbsp (60g) of ice cold water and use a wooden spoon or silicon spatula to combine and gently knead/press the dough together. If there are any dry crumbs left on the bottom of the bowl, sprinkle in the additional cold water, a tablespoon or so at a time until it's able to form a dough. Do not make a smooth dough at this point, you can leave it a bit crumbly.
Using your hands press the dough together and cut in half. Wrap each half in plastic wrap and form a 1" thick disk. Refrigerate the dough for at least 2 hours to chill before rolling out. You can refrigerate for up to a week, or freeze for longer storage, defrosting in the refrigerator before use.
Notes
All of your ingredients need to be very cold! Butter and shortening should be kept in the fridge until use.
*Use stick vegan butter, as the spreadable kind in a tub contains too much water.
Recommended Products
As an Amazon Associate and member of other affiliate programs, I earn from qualifying purchases.
Need some pie inspiration? Then I need to recommend my
chocolate bourbon pecan pie
! It's amazing and delicious.