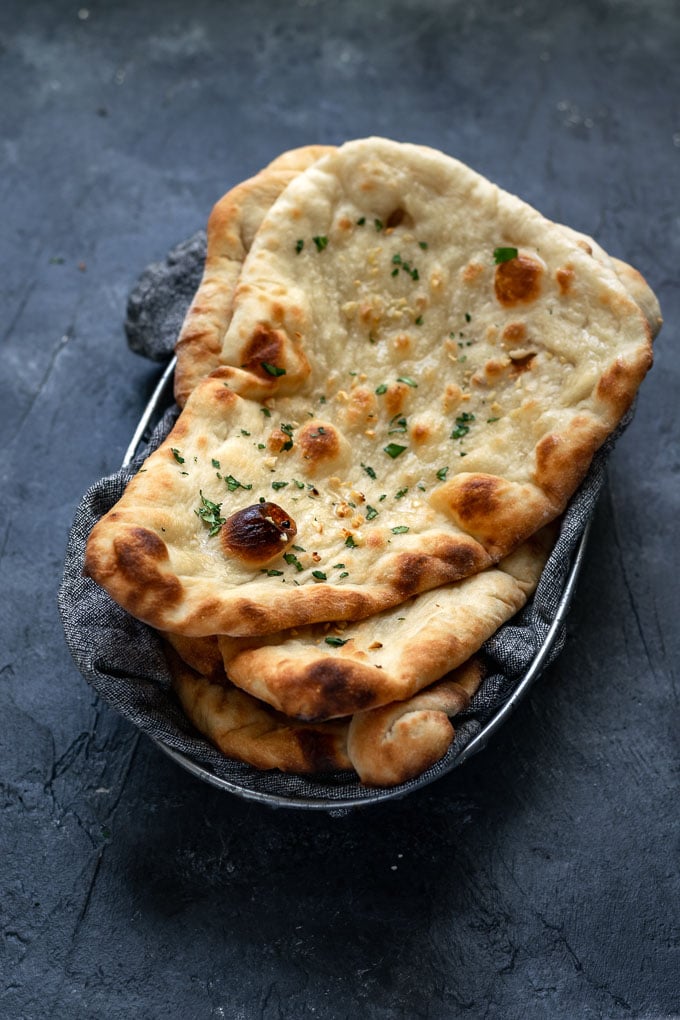 Who doesn't love naan? You know, that soft pillowy Indian flatbread that's perfect for scooping up spicy curries. Well I've got good news for you! That doughy restaurant favorite is now something you can make from home! And it's easy.
Naan is made from an enriched dough. Meaning there are other ingredients added beyond the flour, water, yeast, and salt to tenderize the bread. With naan this means you usually find some form of dairy–yogurt, milk, ghee/butter–in the dough. Sometimes it even has egg in it.
Now, you might have thought that naan was a casualty of going vegan. Thankfully, while you might not be able to order it at most restaurants, it's easy to make at home!
If making yeasted dough intimidates you, this is one recipe it's hard to mess up. In fact, the messier you get with it, the better the bread comes out!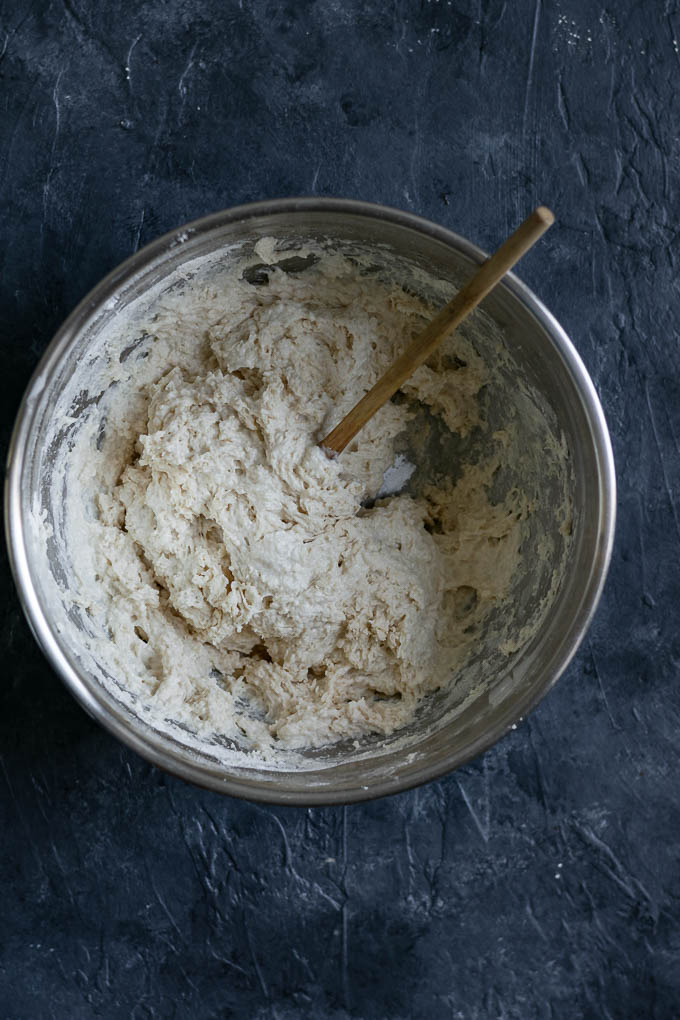 Good naan should be super flavorful. It should be soft and bubbly, filled with air pockets and crisp spots on the bottom. The dough should taste rich and buttery, but mild enough to accompany flavorful Indian dishes.
Naan is delicious plain, on it's own. But you can take it up a notch with a sprinkling of minced garlic (garlic naan) or seeds (e.g. nigella seeds) on top, or by stuffing it with spiced potato (aloo naan) or onion (kulcha naan). I'll admit when I'm making this at home, I have a hard time not adding some minced garlic–as can be seen from these photos!
Traditionally the best naan is made in a tandoor oven, and is called tandoori naan or tandoori roti (roti generally means bread). Tandoor ovens are cylindrical ovens that are open on the top and they are heated to 900ºF and above. Tandoori bread is cooked by being slapped against the side where they stick on until cooked through. Then they unseal from side of the oven are removed, and brushed with butter or ghee to serve.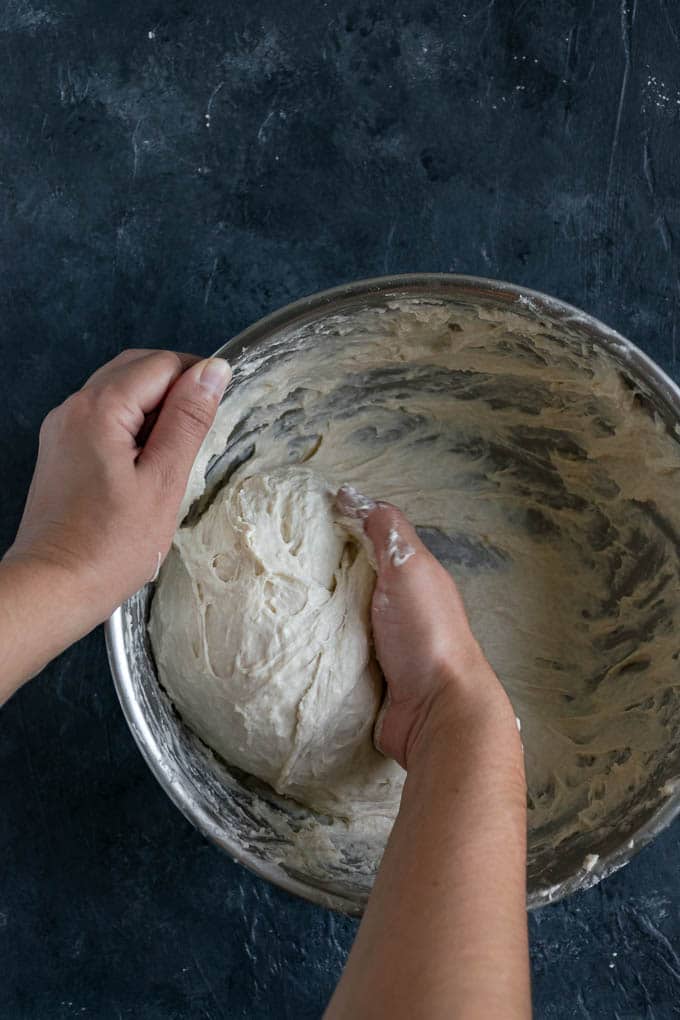 We can't achieve those same oven conditions in our home ovens, but that doesn't mean we can't make great naan!
Since we are going to bake the naan at a much lower temperature the dough needs to be a lot wetter. This is because the dough will take longer to cook, so more of the moisture will evaporate. Too much lost moisture and we end up with a tough final flatbread.
This means the dough is very sticky to work with, especially at the beginning when trying to mix and knead it. If it's not sticking to your hands, the dough is too dry.
We also can combat the tendency for our baked naan to dry out by adding a generous amount of plant based yogurt as well as melted coconut oil or vegan butter to the dough. Yogurt or milk is commonly used in naan alongside butter or ghee as the fats act to tenderize the gluten (protein) structure. This will prevent the dough from becoming tough and keeps the bread softer.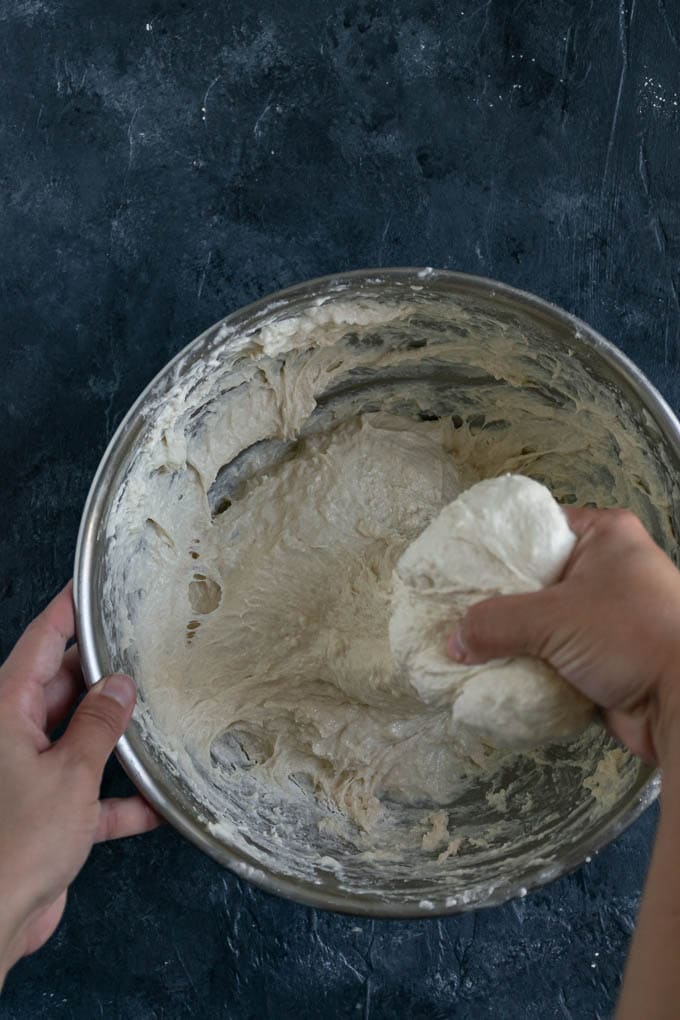 Naan is a yeasted bread, so the leavening of the bread comes from yeast and not baking soda or powder. Because the dough is so wet, and there is plenty of sugar around for the yeast to feed on, naan doesn't actually take very long to rise.
After first mixing the ingredients together and kneading, the dough takes about 30-40 minutes to rise. In a very cold environment this could take longer, but I'll usually just pop the covered mixing bowl in a cold oven with the light turned on to combat this.
Sometimes, if I want to make the dough ahead, I'll stick the whole thing in the fridge as soon as I've kneaded it and leave it in there for at least 2 or 3 hours, and up to 24 hours before making the flatbread.
After the first rise, we shape the dough into balls, using as much flour as you need to keep them from sticking to you and the counter. Refrigerated dough is a little less sticky and easier to work with. The dough balls rise for about 45 minutes while the oven preheats.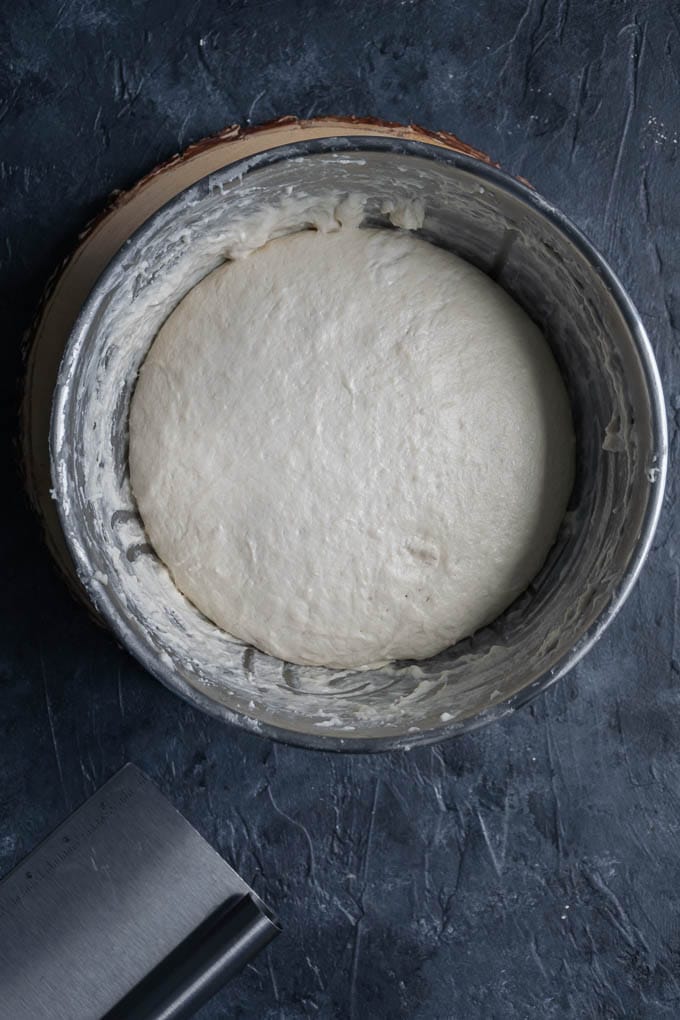 Making naan is a lot like making pizza at home. You want the oven to be heated as hot as possible, and you want the quickest transfer of heat to the dough as you can. This will create a perfectly cooked crust with a doughy interior.
To help this transfer of heat, I highly recommend that you use a baking steel or baking stone and preheat that in your oven. But if you don't have one, you can use a baking tray, just line it with parchment paper so the dough doesn't stick. Also place the oven rack 1/3 of the way down from the top burner so the dough is close to the heating element.
When the oven is hot, we roll out the naan. A traditional tandoori naan is shaped into a teardrop and this is from when the dough is slapped onto the side of the tandoor. To mimic this shape, I first roll the dough into a rough circle, then either stretch or roll one part of the circle to a teardrop or triangular shape.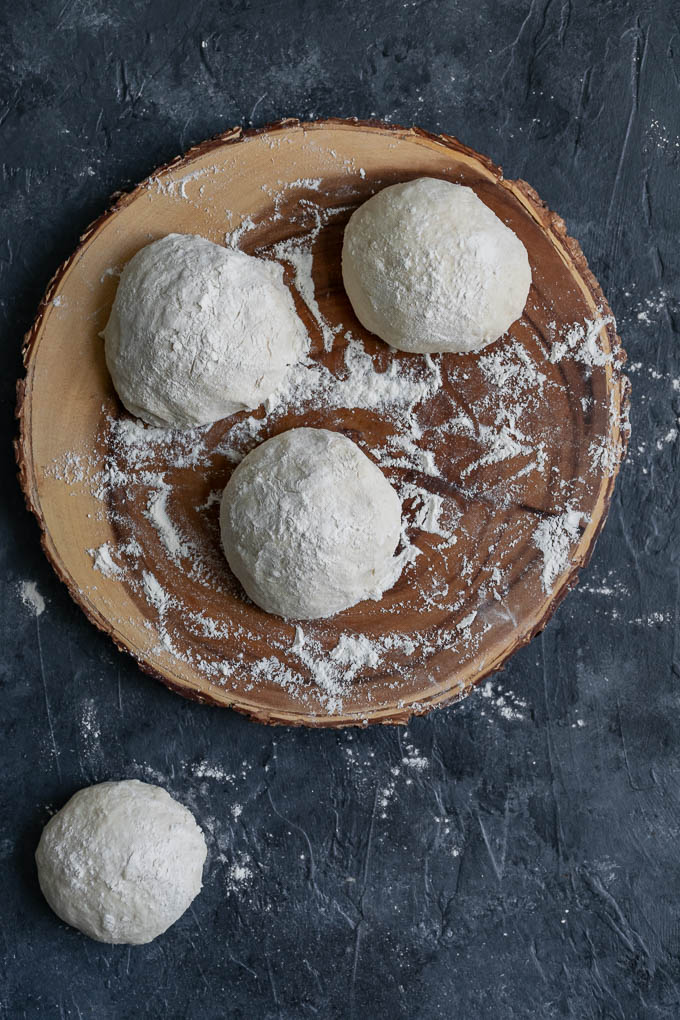 Instead of using a rolling pin, you can shape the dough simply by stretching and tossing it by hand. However, I found the bread formed this way a little harder to transfer into the oven versus the ones rolled with a rolling pin. This is less of an issue if you're baking it on a tray.
Optionally, but traditionally, before the dough gets into the oven you brush it with melted [vegan] butter and if you're adding garlic or seeds this is the time to do it.
To transfer I lift up one naan at a time and with the oven racked pulled out as far as possible I gently place the dough on the stone. Then repeat with a second piece of dough, or more, until my baking steel is covered. Be very careful not to burn yourself. It's ok if the dough doesn't fall nicely. You can try to lift and readjust if you work quickly, but it can also bake with a twist or misshapen.
I'm very comfortable with working with dough and transferring it to the oven, but if you're less confident, put it on a piece of parchment then slide it (and the parchment paper) on top of the steel or stone using a pizza peel or a flat baking sheet. Or if baking on a tray, just slide that into the oven.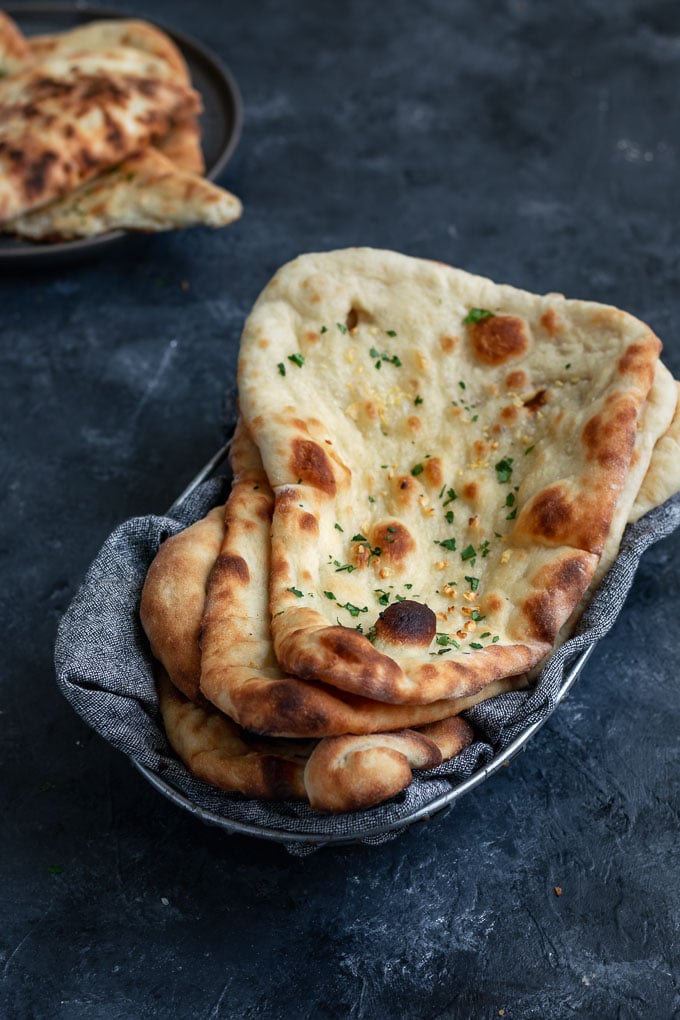 Either way, the naan bakes up in just a few minutes. Once you get golden spots on the bubbled surface, pull the dough out of the oven and bake up the remaining pieces of naan.
If not serving immediately, keep the naan supple by wrapping it in a clean and lint-free towel. This will keep the steam in and keep it from drying out.
For longer storage, keep your naan partially wrapped with a piece of paper towel in a sealed container, like a large ziplock bag (wash and reuse them!). I'll leave them sealed on the counter for 2 days (if they last that long!).
Reheat them on a hot and dry skillet, covering the skillet with a lid to keep the moisture in. If they're a bit dried out you can add a little splash of water before covering. The steam will soften them back up perfectly.
I hope you guys try this vegan homemade restaurant style naan! It came out so well, that my husband after eating at one of the best Indian restaurants in the country came home to say my naan was better. I'll take the compliment 😛 .
If you make it, leave a comment and rate the recipe below! And tag your recreations @thecuriouschickpea and #thecuriouschickpea on Instagram, I love seeing your photos!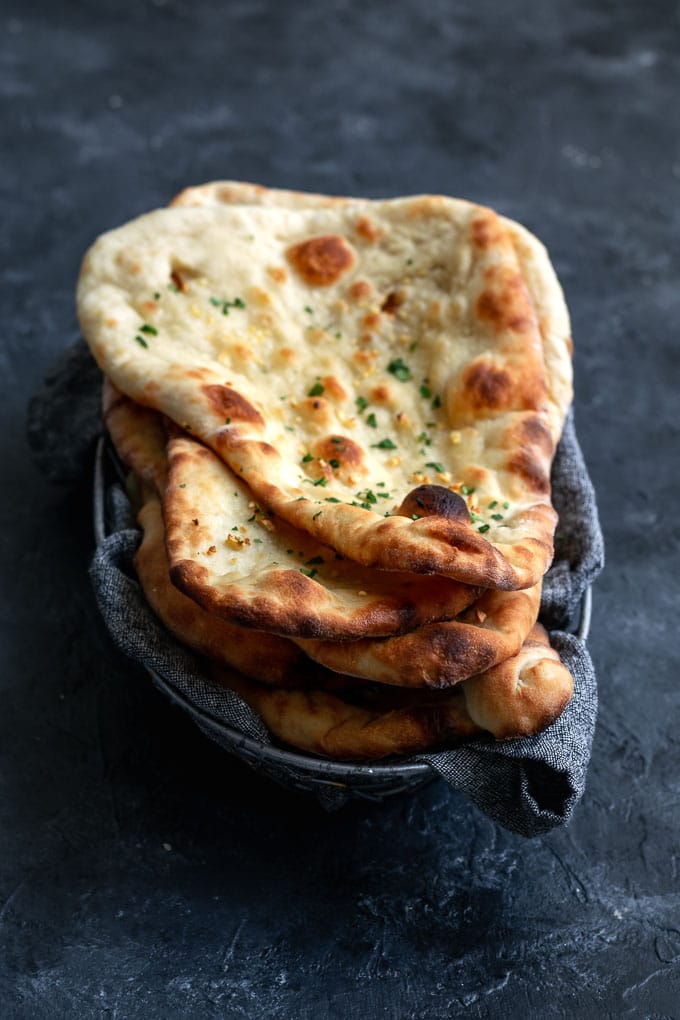 Notes:
You can make 4-8 pieces of naan with this recipe. Dividing it into 4 naan makes large, restaurant style naan pictured here. Each large naan can serve 1-2 people.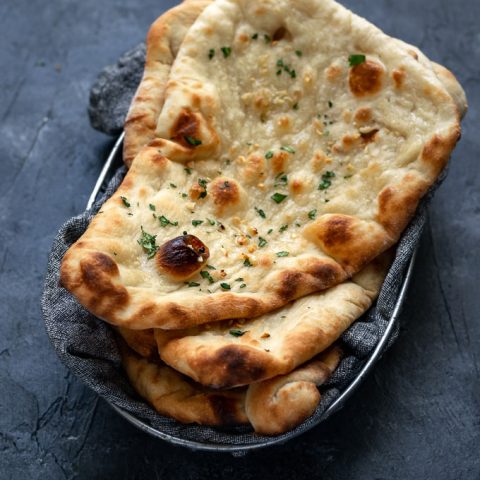 Homemade Vegan Naan
Prep Time:
2 hours
10 minutes
Total Time:
2 hours
20 minutes
This vegan homemade restaurant style naan is incredibly easy to make. The flatbread comes out soft and bubbly and is perfect for scooping up delicious Indian curry!
Ingredients
3 cups (420g) all purpose flour, extra if needed
1 tbsp (16g) sugar
1 1/2 tsp (3g) instant yeast*
1 1/2 tsp (6g) salt
1 cup (225g) nondairy plain unsweetened yogurt
1/2 cup (120g) warm water
3 tbsp (42g) melted vegan butter or coconut oil*, extra to bake and serve
minced garlic, optional
minced cilantro, optional
Instructions
In a large mixing bowl whisk together the flour, sugar, salt, and yeast. In a second small mixing bowl combine the yogurt, melted vegan butter (or coconut oil), and warm water until smooth. Add the wet to the dry and combine with a wooden spoon to form a wet dough.
Knead with your hands for about 1-2 minutes. The dough will be very sticky, if it feels soupy, add a bit more flour until it's sticky but not runny. Otherwise, you can wet your hands to prevent the dough from sticking too much. Shape the dough into a rough ball and turn seam-side down. Cover the bowl and place it in a warm spot, like a cold oven with the light turned on. Let the dough rise 30-40 minutes until swollen 1 1/2 - 2x in size. Alternatively, you can put the dough in the refrigerator for 2-24 hours to rise.
Turn the dough out onto a clean and flour dusted counter. Divide the dough into equal 4 pieces and shape into balls, dusting with flour as needed to prevent sticking. Set the dough balls on a floured plate, and sprinkle more flour on top. Cover with a lint free towel and let rise while the oven preheats.
Preheat the oven to 550 ºF, or as hot as your oven goes with a rack positioned 1/3 from the top of the oven. If you have one, place a baking steel or baking stone on that rack to preheat. Let the oven preheat for at least 45 minutes to saturate the sides and baking steel or stone (if using) with heat.
After the second rise, roll the dough with a rolling pin to shape it into a teardrop shape--roll into a rough circle, then roll one part of the circle or stretch it to make a more triangular shape. Brush the top with melted butter (or coconut oil) and sprinkle on minced garlic if making garlic naan.
Prepare 2 naan and then carefully transfer them to the hot oven. If you'd like you can place the shaped bread onto parchment paper, and slide the whole thing onto the baking steel with a pizza peel or a baking tray (use the backside if rimmed). If not using a baking steel or baking stone, place the dough on a parchment lined baking tray to place directly in the oven.
Bake for 3-5 minutes until there are some golden spots on the bubbled surface. If desired, turn on the broiler for 1-2 minutes after 3-4 minutes of baking.
Repeat with remaining dough. For restaurant style presentation, brush the hot dough with some more vegan butter, the butter will melt on contact. If desired, sprinkle with cilantro to serve.
Notes
*You can substitute active yeast for instant yeast, but mix the yeast in with the wet ingredients and let it dissolve and proof for 5-10 minutes before adding to the dough.
*If using coconut oil, add 1/4 tsp salt to the dough.
Recipe adapted from Vah Reh Vah.
Recommended Products
As an Amazon Associate and member of other affiliate programs, I earn from qualifying purchases.