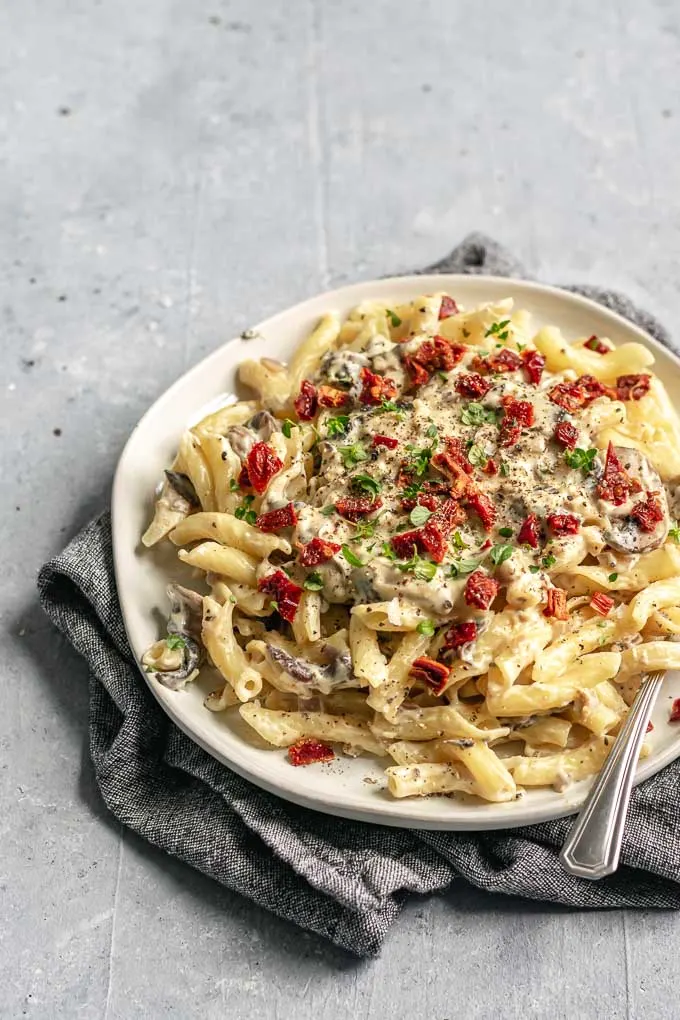 This creamy mushroom pasta dish is from the cookbook Vegan Reset: The 28-Day Plan to Kickstart Your Healthy Lifestyle by Kim-Julie Hansen of Best of Vegan. It's a delicious and incredibly easy pasta meal, full of garlicky mushrooms a luscious cream sauce.
Vegan Reset is a cookbook designed for people looking to eat a healthy and whole foods diet, whether you are new to eating vegan or just want to focus on eating well. It has a 28-day meal plan, complete with breakfasts, lunch, dinner, and snacks! It's also a really beautiful book full of gorgeous photos. Kim-Julie includes a photo for each day of the meal plan showing breakfast, lunch, dinner, and snack for that day.
The book is organized around smart meal prep on weekends, where the vegetables and grains you prep are used in different ways throughout the week so you're never eating exactly the same meal. There's also a ton of standalone recipes, including beverages, breakfasts, entrees, and desserts, which is perfect place for healthy recipe inspiration.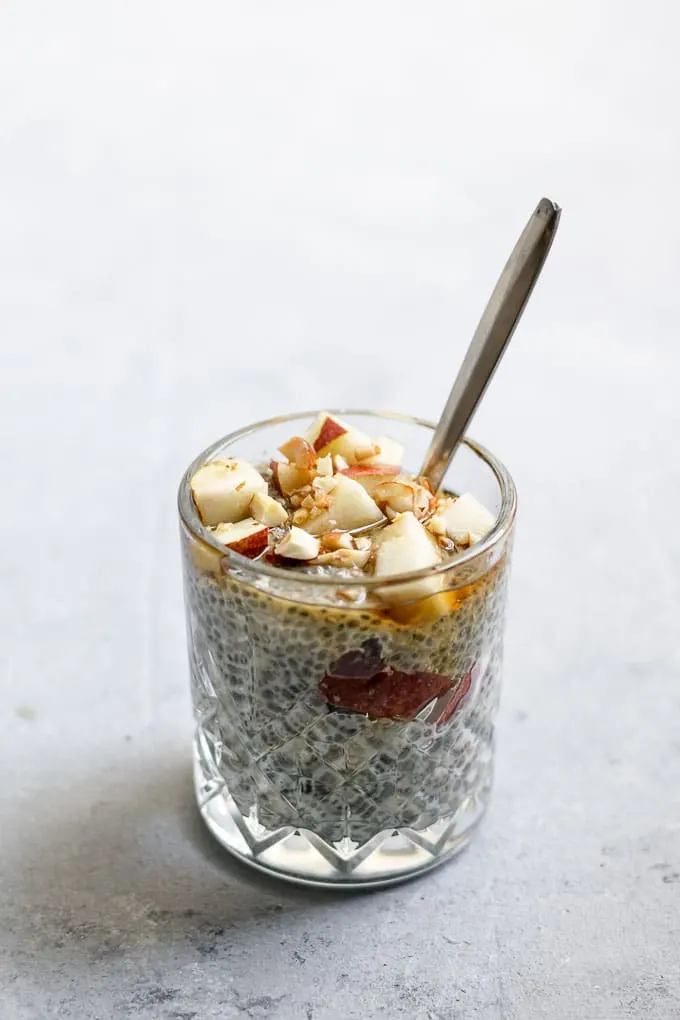 There's even a section in the book on why you should consider veganism (if you aren't already) and the vegan lifestyle. This part includes recipes for beauty products (coffee & coconut oil scrub anyone?) that I am dying to make!
To do a full review of this book is nearly impossible, as there are so many great looking recipes I want to try! While my blog is full of comfort foods, at home I do like to eat a variety of meals with a heavy dose of healthy and vegetable filled ones. Kim-Julie makes this style of eating super accessible in her recipes.
While my job as a recipe developer & food blogger makes it hard to do a four week long meal plan, I did want to test a few different recipes and so chose to do one full day of the meal plan. I randomly landed on Day 24. And I'll admit I ate over 3 days for schedule and food photography purposes, but it was still a great introduction to the book.
First, I enjoyed a Chia-Pear-Vanilla-Pudding for breakfast and it might have been my favorite meal of the day! I'm typically a toast for breakfast every day, homemade bread & thick on the cashew cream cheese, but sometimes you just need to satisfy your sweet tooth at breakfast and this is the perfect way to do it!
The chia pudding is mixed together the night before so all you have to do in the morning is add some freshly chopped pears and chopped nuts (the recipe calls for cashews but I used hazelnuts). It's perfectly sweetened with just a hint of maple syrup and the whole thing came together beautifully.
For lunch we enjoyed a Tempeh Bowl. Meal prep for this recipe included making the miso-ginger tempeh in advance then using some of the tempeh in this recipe. I did struggle a little getting the miso to mix into the tempeh and had to add some water to dissolve the clumps of miso after it was added to the pan. To make this again I would whisk together the miso and ginger with some water to make a paste before adding.
For having such a short ingredient list, I was super surprised by how flavorful this recipe was! It really hit the spot for a healthy and filling lunch. I did add a little bit of chopped pecans to serve, along with freshly ground black pepper and some flaked sea salt.
Dinnertime meant the Bell Pepper Coco Turmeric Stew. This stew uses some previously prepared cauliflower and kale as well as prepped quinoa for a super speedy dinner.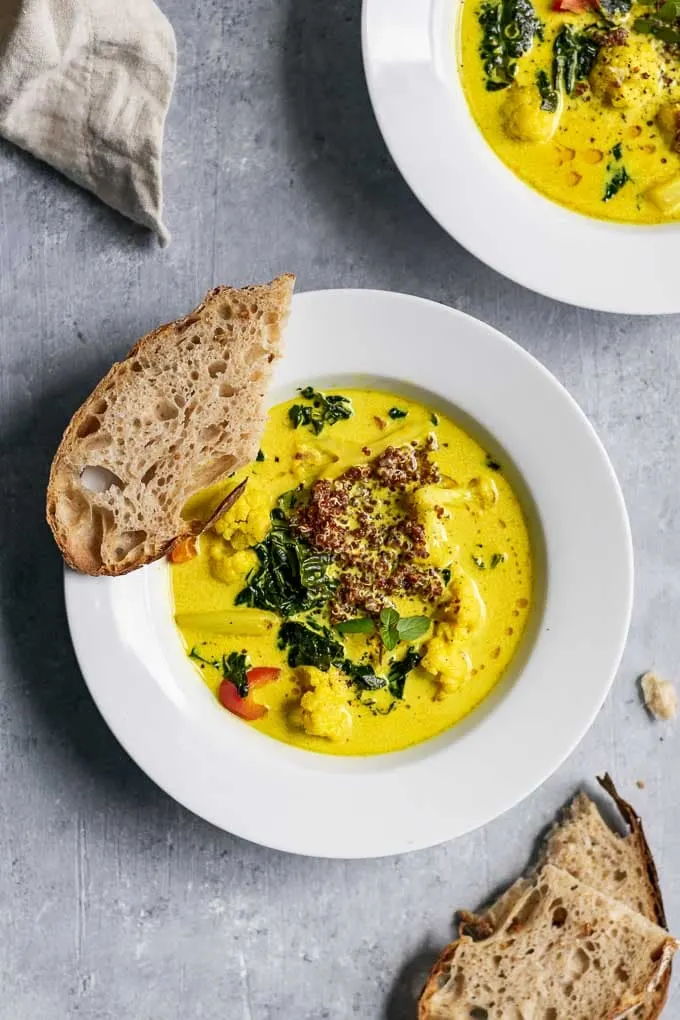 A little sautéing, then add your prepped veggies, quinoa, liquid, and lots of turmeric and you have a healthy and filling soup. I found the turmeric to be a bit strong and therefore bitter in this soup, but added some hot sauce and my homemade chili oil to serve and that balanced the flavors perfectly, you could always start with less turmeric and add to taste.
The snack for this day included fresh berries and nuts.
All in all, I found the portion sizes to be generous (as in, I had trouble eating that much in one sitting!) and the food filling and satisfying. The calories for the day added up to just shy of 2,000. This is the case for each day of meal plans as they are based on the average 2,000 calorie diet.
There's a huge variety in the recipes throughout the meal plan, so you're not likely to get bored in the 4 weeks. I was also impressed by how short the ingredient lists and simple the recipe instructions were. I think if you're newer to cooking (or at least cooking vegan recipes) this book is a great place to start!
Lastly I made the Creamy Mushroom Penne, a recipe from the standalone section of the book, and the publishers have generously allowed me to republish the recipe for you!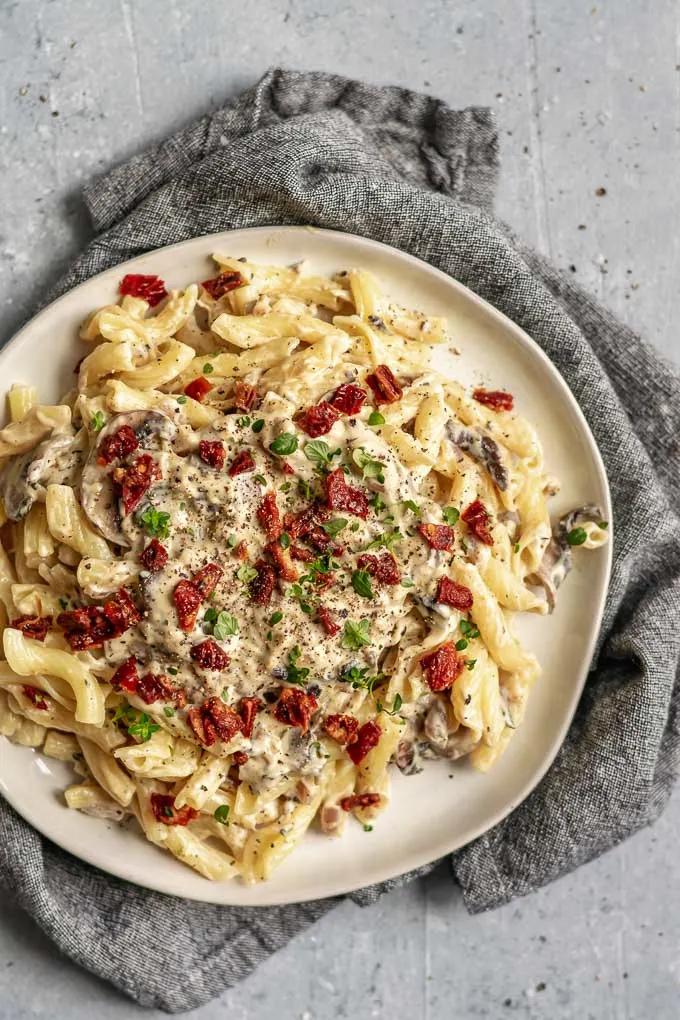 This pasta dish is super simple and straight forward to make. Thinly slice a bunch of mushrooms, the recipe calls for a mixture of shiitake, cremini, and button. I have a particular dislike of button mushrooms so went ahead and substituted that with extra cremini mushrooms.
Sautéed with garlic and shallot until the mushrooms are tender and all their water has cooked out, then an easy savory cashew cream is poured over and the mixture is cooked until thickened.
To serve the pasta is tossed with sun dried tomatoes and fresh herbs. The recipe calls for fresh oregano but I harvested (aka trimmed) some lemon thyme from my garden for it.
We loved this recipe (and I say this as someone who doesn't really like mushrooms even)! It came together so easily and quickly, which was a trend I noticed in all of Kim-Julie's recipes.
So if you're looking for healthy, plant-forward vegan meals, a meal plan that you can follow which allows for advance meal prep, quick and simple recipes then I definitely recommend this book! It's a treasure trove of information for the new vegan and the seasoned vegan, and I personally love that it's about more than just recipes!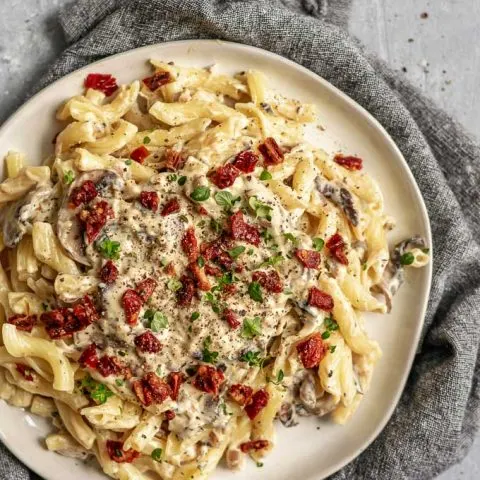 Creamy Mushroom Penne
Excerpted from VEGAN RESET © 2018 by Best of Vegan LLC. Reproduced by permission of Houghton Mifflin Harcourt. All rights reserved.
Ingredients
Mushrooms & Pasta
1 cup cremini mushrooms, thinly sliced
1 cup shiitake mushrooms, stems discarded, thinly sliced
1 cup white button mushrooms, thinly sliced
1 cup shallot, chopped
1 garlic clove, minced
1 tablespoon olive oil
6 ounces dried regular or gluten-free pasta
Sauce
2 cup vegetable broth, or 2 cups water mixed with 2 teaspoon bouillon paste
1/2 cup cashews, soaked in water
1 tablespoon nutritional yeast
1 tablespoon olive oil
Juice of 1/2 lemon
Pinch of sea salt
Pinch of ground black pepper
1 tablespoon fresh oregano leaves
1/2 teaspoon dried basil
6 sun dried tomatoes
Instructions
Sauté all the mushrooms, the shallot, and garlic in the oil in a large pan over medium heat for 7 minutes.
Bring a pot of water to a boil and cook the pasta according to the package instructions.
To make the sauce, blend 3/4 cup of the broth, the cashews, nutritional yeast, oil, lemon juice, salt, and pepper in a blender until smooth.
Add the sauce, dried basil, and the remaining 1/4 cup of broth to the pan with the mushrooms, stir well, and lower the heat to low. Cook for another 3 minutes.
Serve the pasta with the mushroom-sauce mixture, sun dried tomatoes, and oregano.
Notes
*Brush or peel the mushrooms to clean them, but don't wash them.
Recommended Products
As an Amazon Associate and member of other affiliate programs, I earn from qualifying purchases.