This sweet corn risotto is ultra creamy and so incredibly delicious. It's the perfect comfort food meal, and it just so happens to be vegan and gluten free. Well, it's vegan because I am, but it's gluten free because it's naturally so!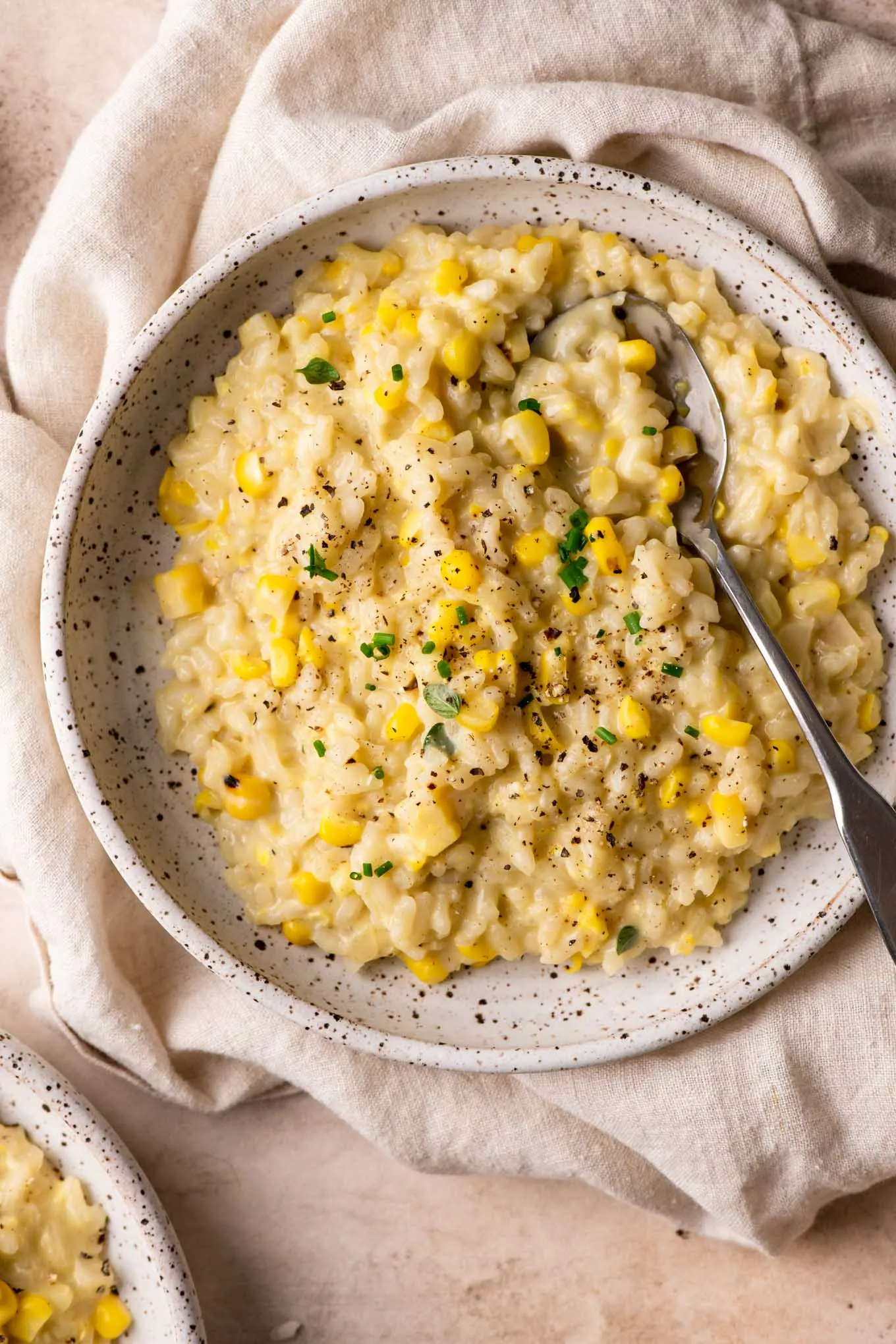 This may be the Illinois girl in me, but there is nothing as good as late August sweet corn. Did I grow up in the town where the most popular "super sweet" variety of corn we eat today was developed? Well, maybe. Can I identify fields of corn from a mile away? I mean… who can't?
I dearly miss local Illinois grown corn, best purchased and eaten the same day it was picked! And though I may be eating less incredible supermarket corn these days–shipped in from Florida or some other produce growing state–the recipes I create with that corn are still incredible!
Like this sweet corn risotto for instance. The gentle sweetness of the corn pairs so well with creamy risotto, it's a match made in Midwestern heaven!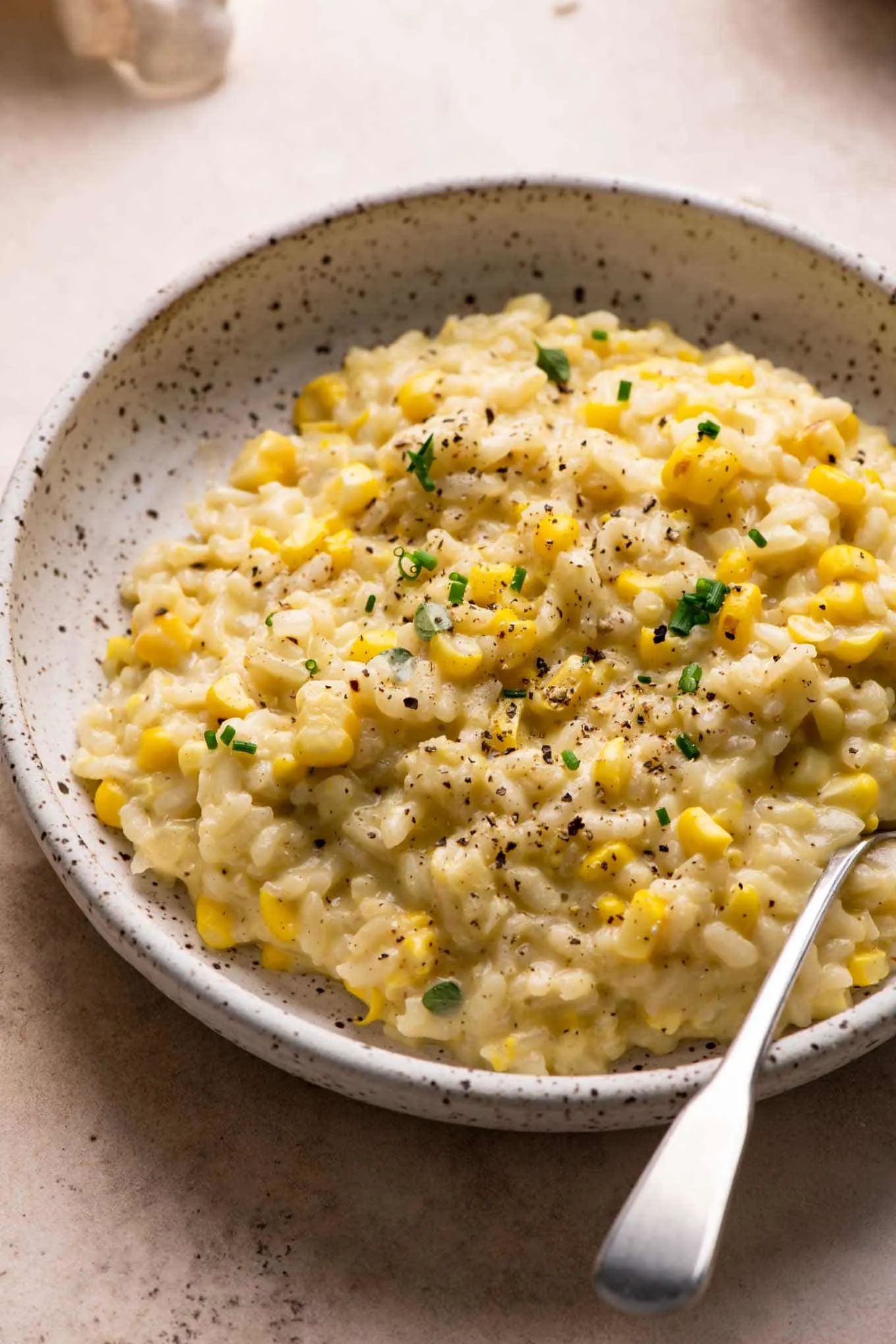 I know risotto can be intimidating but it doesn't need to be. You pretty much have to break all the rice making rules that you know and you're golden!
More specifically, you:
Don't rinse the rice,
Stir the pot regularly,
Add the liquid slowly, and
Cook over a medium-low heat.
It does require more hands-on care than some recipes, but the results are always worth it in my opinion!
Ingredients for a vegan risotto:
First we need to make sure you have the right kind of rice. Specifically for risotto you want to choose arborio rice. Arborio rice is a starchy short-grain Italian rice and it's the high starch content that gives the creamy texture of risotto.
Next up you need a little vegan butter (or you can substitute olive oil) to soften the onion in and coat the grains of rice before the liquid is added.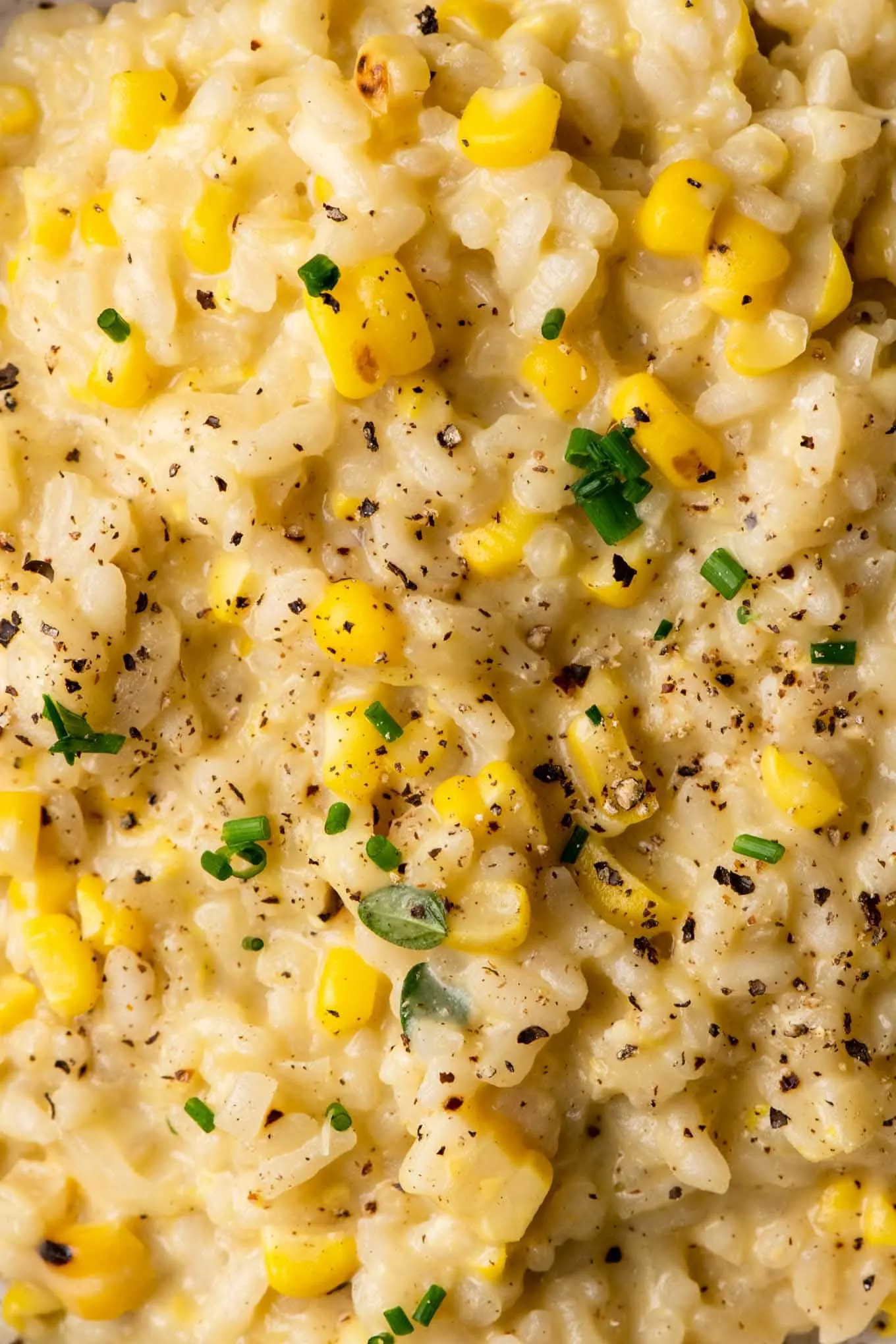 Speaking of liquid, there are three sources in this recipe: white wine, vegetable broth, and cashew cream.
The white wine gives an extra savory quality to the rice, and brings a delicious depth of flavor. For vegetable broth, I recommend using a "chicken-style" broth if possible as these are lighter in color. But it's no problem if all you have access to is regular old vegetable broth.
The cashew cream is luscious like heavy cream, and takes this dish to the next level. It thickens and enriches the risotto so that it will please any palate. Once you have risotto with cashew cream you'll never want to go back!
Lastly, I like to add a bit of store bought vegan parmesan to the dish. It adds an extra oomph of salty savoriness and will remind you more of a classic risotto. You can add this vegan cheese to taste, or use nutritional yeast to substitute if you prefer.
Speaking of substitutes, if you have dietary needs to substitute the following here's how:
Substitute for white wine:
If you need to substitute the wine then replace it with vegetable broth and add a splash of white wine vinegar. Or if this is okay with your situation, you can try using a de-alcoholized (aka non alcoholic) white wine.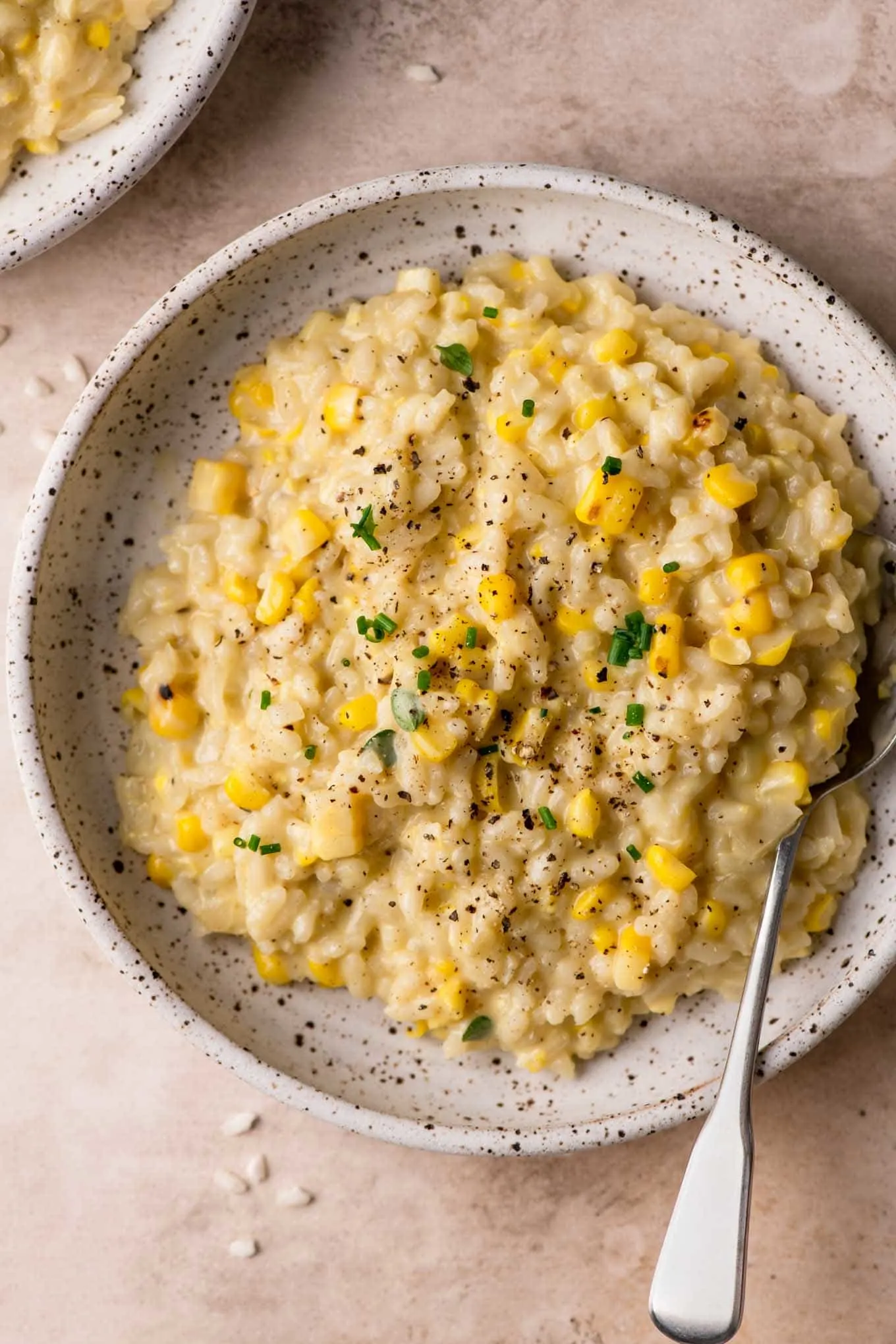 Substitute for cashew cream:
While nothing really compares to the smooth creaminess of cashew cream, you have a couple of options if you can't eat cashews. Instead you can use coconut cream or coconut milk (specifically the kind in the can, not coconut milk beverage which is thin watery and often sweetened).
Alternatively you can substitute silvered almonds for the cashews or sunflower seeds. Slivered almonds never get quite as smooth as cashews when made into cream but I do love the flavor. Sunflower seeds have a stronger flavor than cashews or almonds but I personally love the taste of sunflower cream!
Preparing the corn on the cob:
If corn is in season then I recommend you make this recipe with fresh corn on the cob. When purchasing corn from the supermarket look for fresh looking ears. Peel pack the very top of the husk to reveal the upper kernels of corn. These should be very plump and juicy. It's ok if some at the very top are shriveled or not developed, I'm talking about the first full kernels.
Shuck the corn before cooking it, peeling back the husk and removing the fine silky threads. Rub the corn with a bit of oil then place it on a grill, grill pan, griddle, or large skillet over a medium high heat. Cook until it's lightly charred, turning as needed to cook evenly.
Let the corn cool then cut the kernels off of the cob. Now this is important! You've just left behind a lot of flavor on that cob! So grab a spoon and scrape it down the cob over a bowl. This will squeeze out the corn juices and the small bits of kernel left behind on the cob. Combine this with the kernels you cut and you have your corn!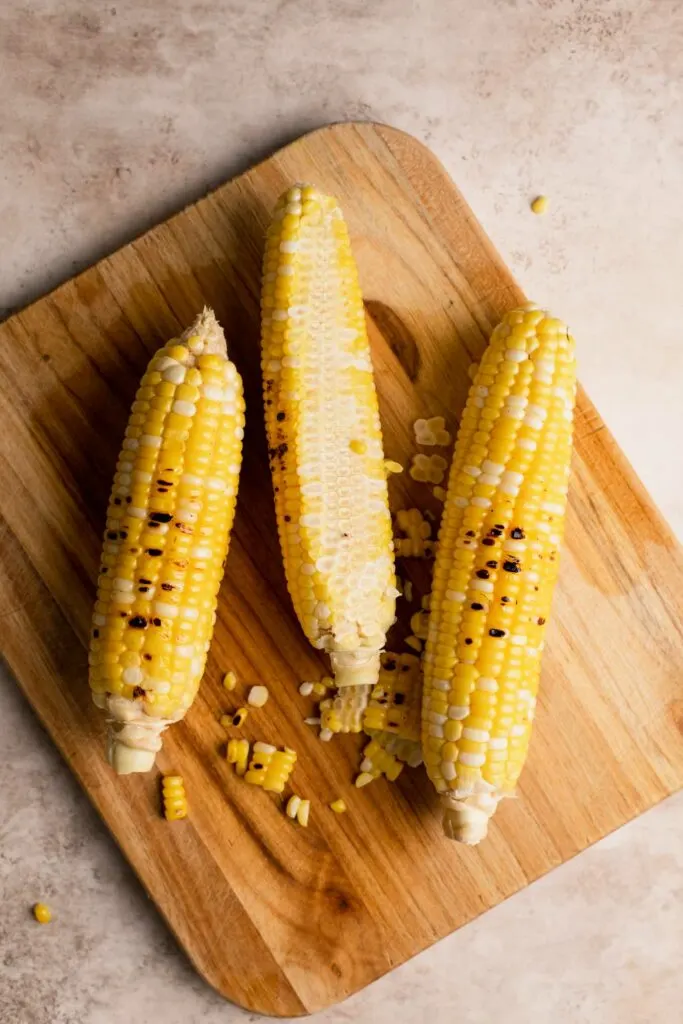 What if corn isn't in season?
If corn isn't in season you can use frozen corn or even canned corn. If using frozen corn, defrost the corn first. You can even buy roasted frozen corn if you don't want to miss out on the roasted flavor!
Assuming you do not have roasted prepared corn, then you can either a) roast the corn kernels or b) enjoy the risotto without the slight smoky roasted corn flavor.
To give the corn a bit of char, defrost the corn if frozen or drain if canned. Heat a skillet over medium-high heat and add a drizzle of oil. Cook the corn until it is charred in spots, then remove from heat.
Cooking the risotto:
As I mentioned earlier cooking risotto isn't hard, but does require some attention.
You will want to have two pots on the stove. One large, wide pot for cooking the risotto and a second smaller pot for heating the broth.
Heat the broth while you cook and soften the shallot. Then add the rice to the softened onion and stir to coat the grains of rice in the vegan butter (or olive oil).
Next you add the white wine and let that absorb into the rice. Once the wine has mostly absorbed, you'll start adding the hot vegetable broth one cup at a time. Between each addition you'll let the rice cook and almost fully absorb the liquid.
Stir the rice frequently as it cooks, especailly as the liquid absorbs because the rice will start to stick to the bottom of the pot otherwise.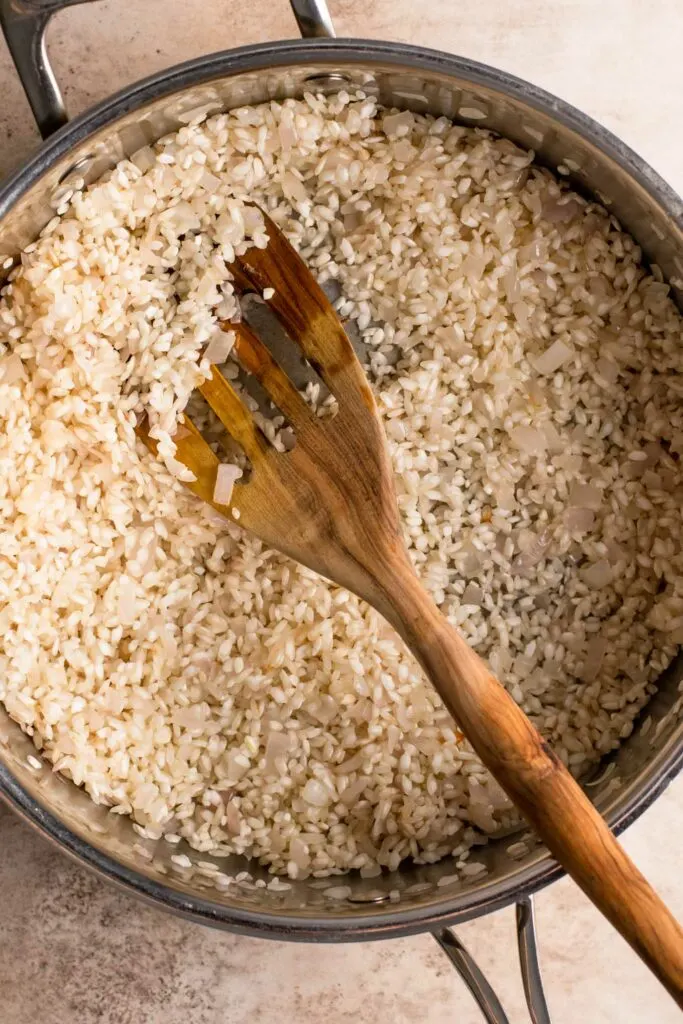 Once all the broth has been added wait for it to absorb into the rice then taste the rice. It should be fully tender at this point. If it isn't then add some water (or more broth) 1/4 cup at a time and cook until the rice is fully tender.
There's nothing worse than undercooked slightly chewy risotto!
Once the rice is tender, add in the corn and coconut cream, as well as the vegan parmesan. Let the risotto cook a few more minutes to thicken the cream and finish cooking the corn.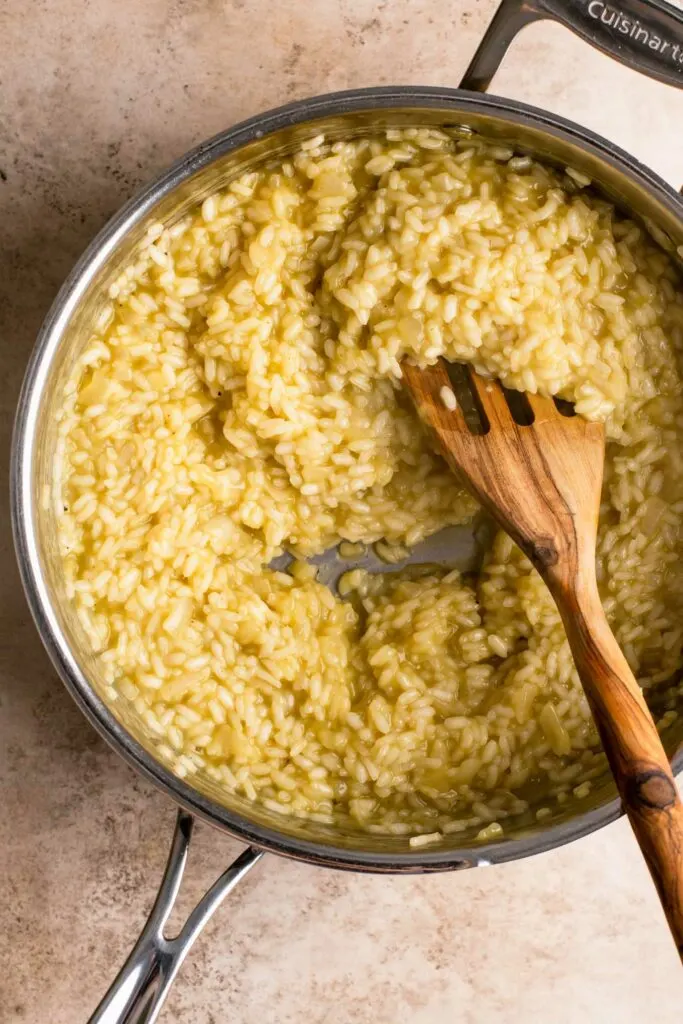 At this point the corn will still have a bit of a crunchy, juicy fresh texture (unless you've used frozen or canned corn). Raw sweet corn is great and I love this bit of textural contrast in the dish. However if you prefer super cooked tender corn then I recommend adding the corn at the halfway point of adding the vegetable broth. This will give the corn time to fully cook.
Make sure to taste the risotto and add salt, pepper, and even more vegan parmesan cheese to taste! To finish it off I recommend garnishing with some fresh herbs, such as chives, thyme, or basil.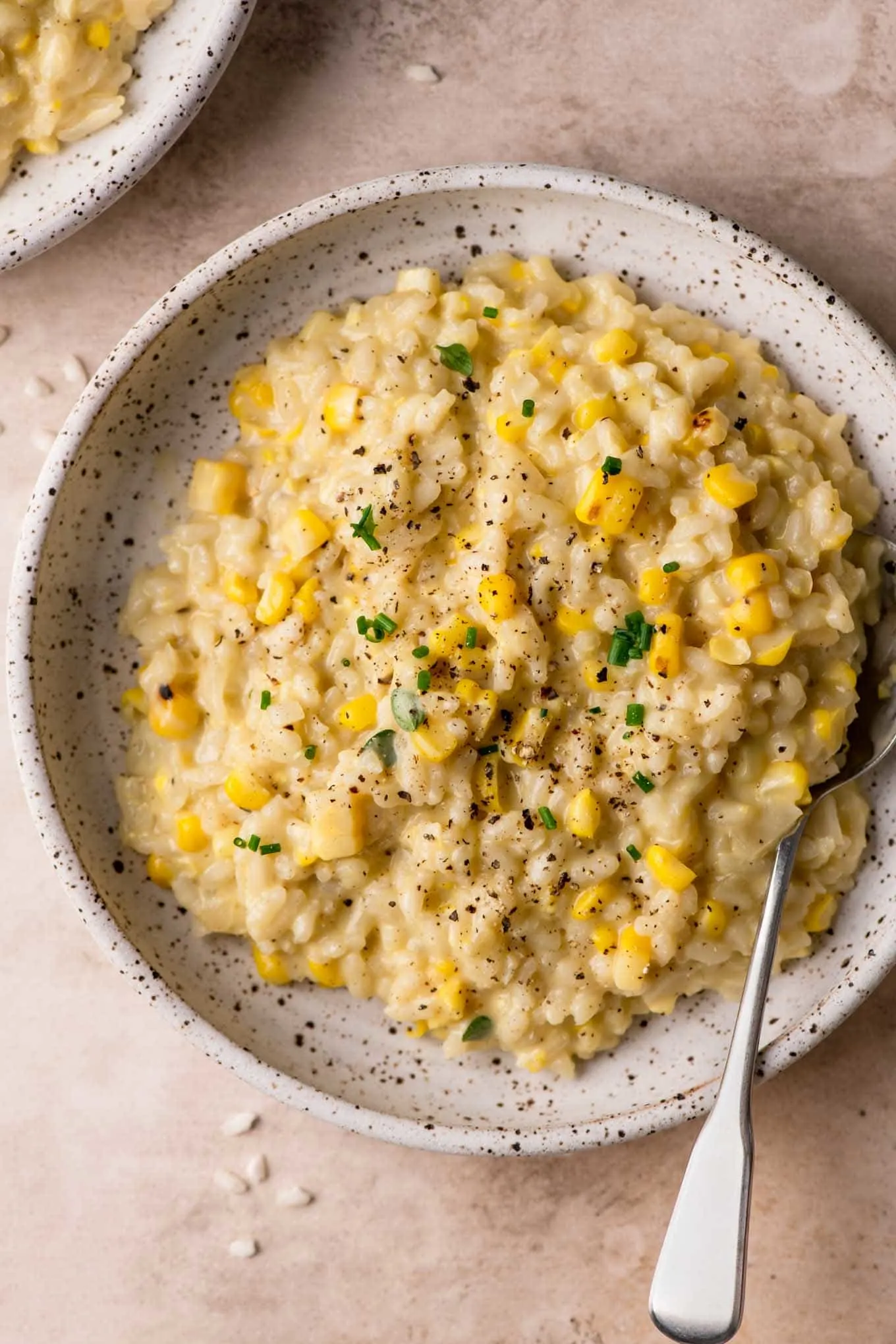 Calling all corn lovers, here are more delicious recipes featuring corn!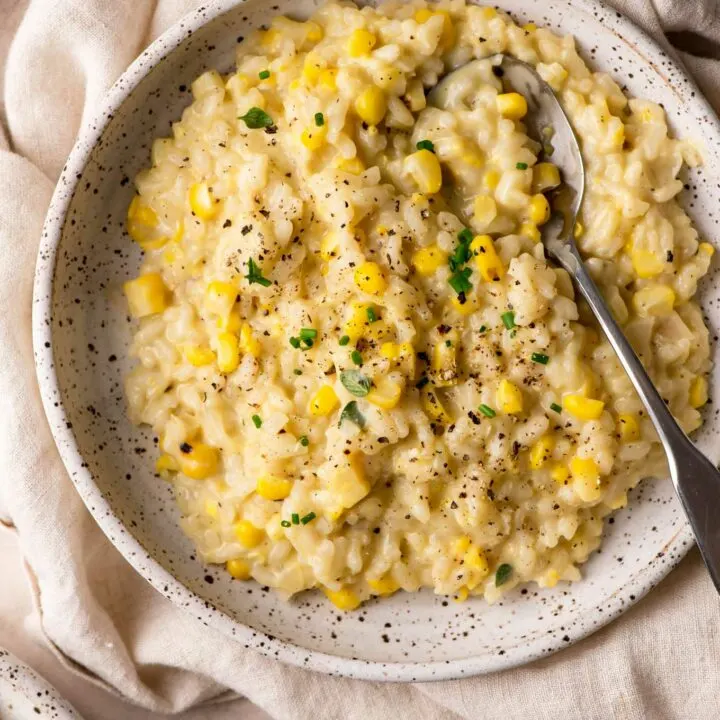 Sweet Corn Risotto
This creamy, rich tasting sweet corn risotto is an incredible way to prepare sweet corn! Made with roasted corn kernels and luscious cashew cream this is a crowd pleasing dish!
Ingredients
3 ears of corn on the cob, or 2 cups corn (around 350g)
1/2 cup raw cashews*
1 cup water
4 cups vegetable broth, ideally no-chicken style
1 tbsp vegan butter or extra virgin olive oil
1 cup finely chopped shallot or sweet onion (~4 cloves shallot)
1 1/2 cups (300g) dry arborio rice
1/2 teaspoon salt, more to taste
black pepper, to taste
1 cup dry white wine
1/4 cup vegan parmesan, more to taste
fresh herbs for garnish (e.g. chives, thyme, basil)
Instructions
Shuck the corn and remove husk and silky threads. Rub the corn with a little bit of olive oil, then cook on a grill, grill pan, skillet, or griddle over medium high heat until the corn is charred. Turn to cook evenly. Let cool down then cut the kernels off the cob. Using a spoon with the cob positioned over a bowl, scrape down the cob to collect the remaning kernels and corn juice.
If using frozen or canned corn: defrost or drain, respectively, and then cook in a skillet over medium-high heat until lightly charred. Use 2 cups of corn.
In a blender, combine the cashews and water and blend on high until smooth. Set aside until ready to use.
In a small pot heat the vegetable broth until hot. Keep broth covered and on low heat while you make the risotto.
Heat a large heavy bottom pot over medium heat and add the vegan butter or olive oil. Add the shallot with a pinch of salt and sauté until they are soft and translucent, about 3-5 minutes.
Add the arborio rice (do not rinse first!) and stir to coat the rice in the vegan butter.
Pour in the white wine, 1/2 teaspoon of salt, and a few grinds of black pepper. Cook until the wine has absorbed into the rice.
Add the vegetable broth 1 cup at a time, stirring frequently and letting the liquid absorb into the rice almost fully between each addition. This will take about 15-20 minutes to fully cook the rice.
Taste the rice and check that it is tender. If it is still chewy then add water 1/4 cup at a time, letting it cook into the rice until the grains are tender and risotto is thick.
Add the corn and corn juice, cashew cream, and vegan parmesan. Let cook for a few more minutes to thicken the risotto and soften the corn. Add salt and pepper to taste, depending on how salty your broth is you may need a good amount more salt. Stir in more vegan parmesan if desired. Garnish with fresh herbs to serve.
Notes
*If not using a high-powered blender soak your cashews in cold water for a couple of hours (or 30 minutes in boiling hot water) to soften the nuts. Drain then use in recipe.
See blog post for cashew substitutes. If substituting with coconut milk or cream, or a storebought plant cream use 1 1/4 cups.
Recommended Products
As an Amazon Associate and member of other affiliate programs, I earn from qualifying purchases.
Nutrition Information:
Yield:

6
Serving Size:

1
Amount Per Serving:
Calories:

261
Total Fat:

9g
Saturated Fat:

2g
Unsaturated Fat:

6g
Sodium:

662mg
Carbohydrates:

35g
Fiber:

3g
Sugar:

7g
Protein:

6g
Nutrition is calculated automatically so should be used as an estimate.