This fresh tomato and sweet corn salad is best made and enjoyed during late summer, when tomatoes and sweet corn are in season and at their best. It's a light and flavorful salad that will blow you away!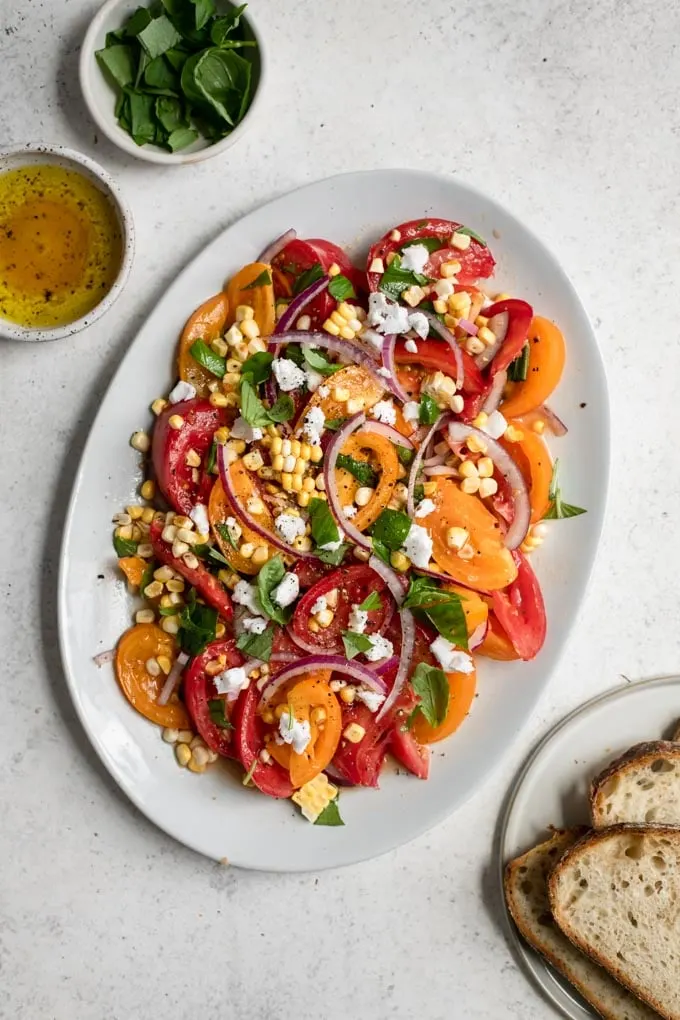 This is a salad where the tomato is the star, corn plays the supporting role, and nary a leafy green is in sight.
It's dressed with a drizzle of extra virgin olive oil (this is what you save the good stuff for) and red wine vinegar with salt and pepper added to taste. The simplicity highlights the clean flavors of the tomatoes and corn.
A tempered crisp bite of thinly shaved red onion and lots of herbaceous basil round out the salad.
It's perfect for making after a trip to the farmer's market, while the produce is still warm from the summer sun, or with fresh seasonal produce from the grocery store.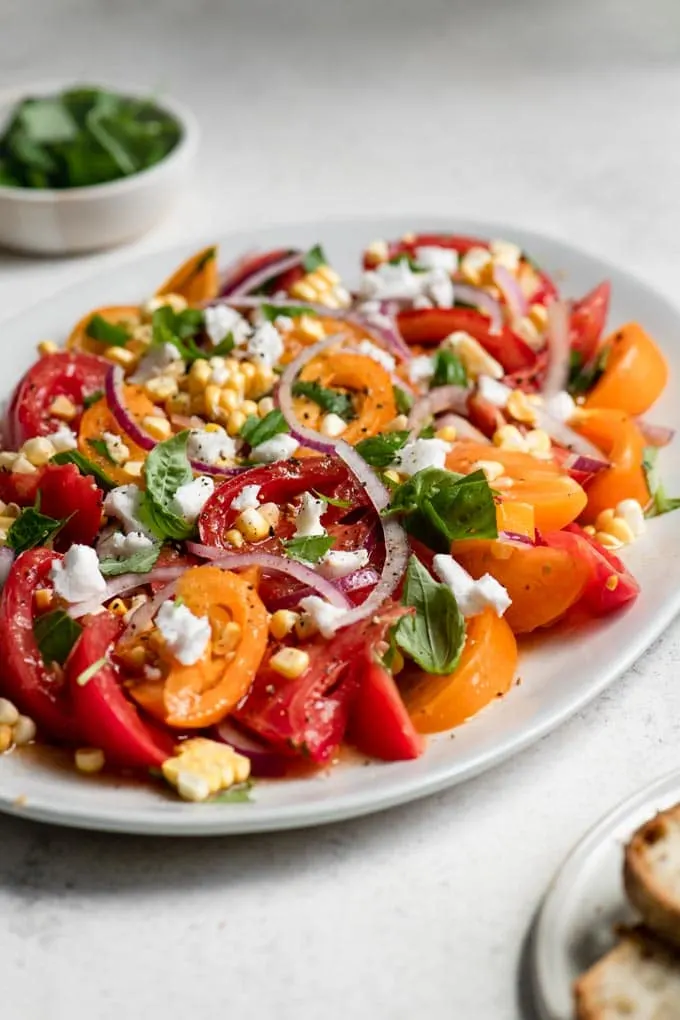 This salad isn't fancy, but it doesn't need to be! It's all about taking advantage of summer's delicious bounty.
Choosing your tomatoes:
When you are eating tomatoes fresh and as the main event, you really only want to use the best of the best.
This means this isn't a salad you want to make in the dead of winter when tomatoes are grown far away or in green houses and picked well before peak ripeness to ship long distances. Winter tomatoes tend to be mealy in texture and lacking in flavor.
Tomatoes come into season in mid summer. Picked when their fruits hang heavy and ripe on the vine, these tomatoes are juicy, have a beautiful texture, and are so incredibly flavorful.
Even if you don't have access to a farmer's market or a grocery store that sources local produce, summertime tomatoes will still be better than their winter counterparts!
I love using heirloom variety tomatoes in this salad, they're big and fleshy and juicy. I think the salad is so pretty with more than one color of tomato as well.
It's also fine to use roma tomatoes or tomatoes on the vine. It's going to be enjoyable any which way!
Choosing your corn:
I grew up in Illinois, so I take my corn pretty seriously. I'll admit, I have not had as good sweet corn in Washington, DC but you know, I'll take it.
Corn is best enjoyed as soon as possible after it's been harvested. In Illinois you would always buy from stalls where it was harvested that very morning.
Alas, that's not always an option these days as it's not as popular a crop here in the mid-Atlantic region.
Corn quickly dries out after it's been harvested, and the kernels get starchier.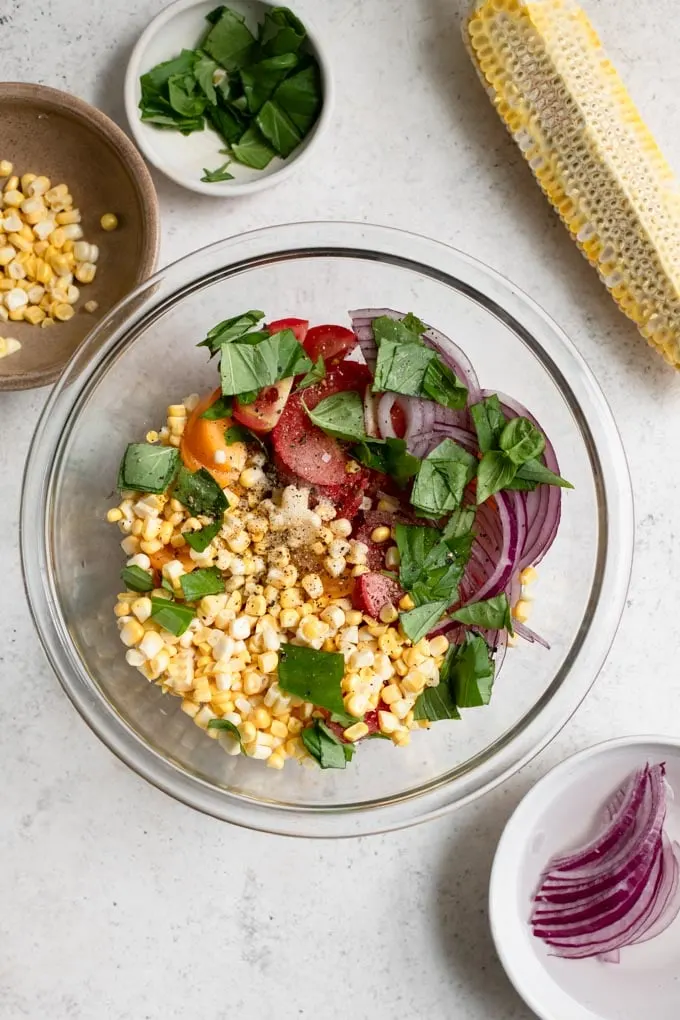 Since the corn in this salad is raw, it's extra important to get fresh corn!
Buy corn on the cob, still in its husk. To check that the corn is fresh, peel back some of the husk until you've uncovered the top of corn and exposed some of the kernels.
Moving past any kernels that are obviously under developed, you want to see plump kernels. Stick your thumbnail into one and it should burst with juice. If this doesn't happen, it's a bad ear of corn and not worth your time!
It's a bit tedious to do this with every ear of corn, but it's not something I personally skip!
Then when I get home, I try to use the corn within one or two days. Keep it refrigerated in the meantime and leave it wrapped up to keep from drying out.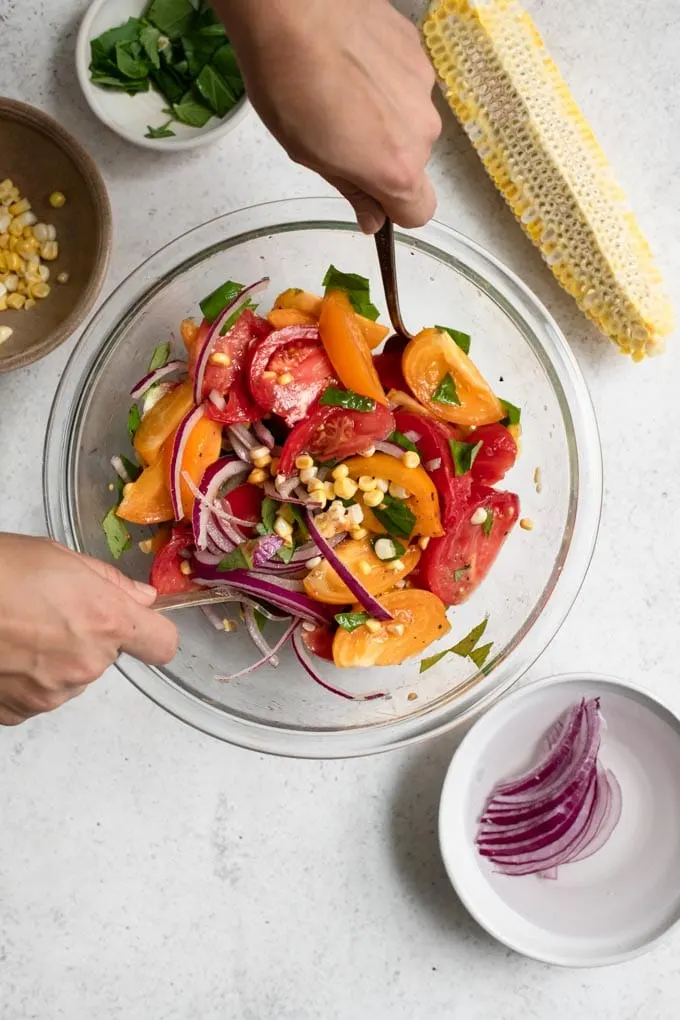 Everything else:
For the red onion, I just thinly slice it and let it sit in ice water for 10-15 minutes before adding to the salad.
Soaking the red onion in cold water helps soften its sharp bite. If you have trouble digesting raw onion it can help with that. I personally don't enjoy eating raw onion unless I've done this ice bath step!
I add lots of fresh basil to this salad, and you could even add other fresh herbs if you have some on hand. Complementary herbs could include parsley, thyme, or oregano.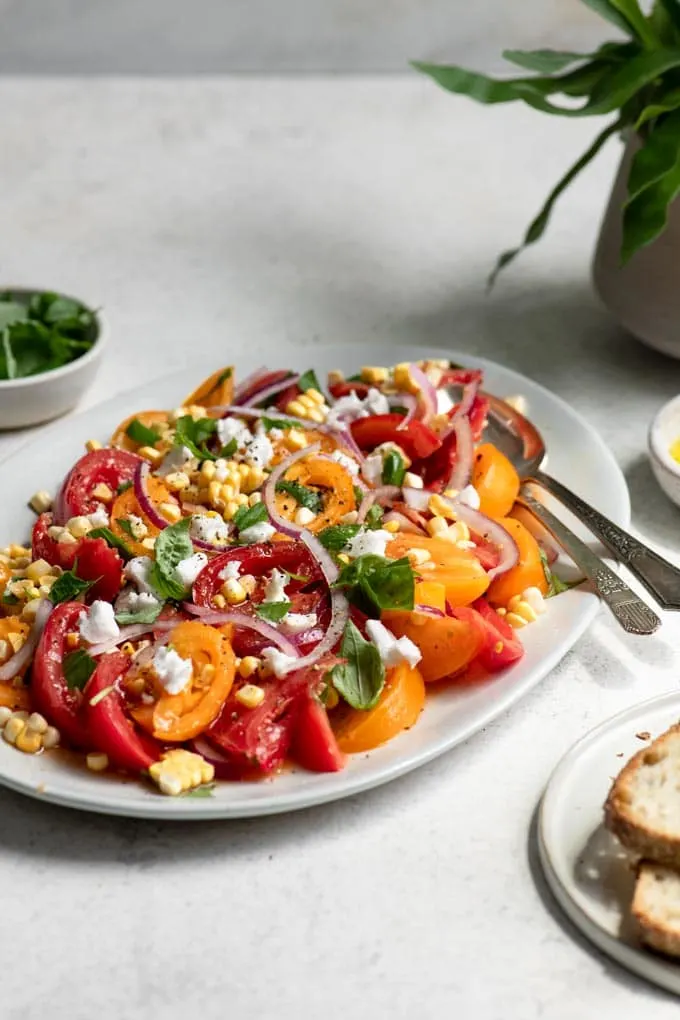 Use good quality extra virgin olive oil and red wine vinegar, as you're not going to be masking them with stronger flavors in this tomato sweet corn salad.
This salad is great as is, but if you want to go a bit above and beyond, finish it off with some crumbed vegan feta. I used Violife brand vegan feta in these photos, but any will be delicious!
If you want a homemade option for the vegan cheese, I recommend you use my homemade vegan queso fresco. It's delish!
Making the salad is as simple as mixing all the ingredients together.
Then once mixed, let it sit at room temperature for about 30 minutes before eating. You can eat it a bit sooner, but it really becomes so good after it's sat for a bit!
The salt seasons the salad but also draws out moisture from the tomatoes and the tomato juice mixes with the olive oil and vinegar to make such a delicious dressing that you will want some bread on the side to sop up every last bit!
Otherwise, you may find yourself holding the empty plate to your lips and sipping it–not that I'd know from experience or anything…
For off-season tomato sweet corn salad cravings:
If you find yourself craving this salad out of season, well, it's not going to be the same, but I get it, it's good and you want some!
Instead of trying to find ears of corn, which likely is impossible at the wrong times of year, use canned corn or frozen corn (defrost first).
For the tomatoes, choose the best ones you can find. If possible stick with vine ripened tomatoes and let them get as ripe as you can at home before using!
If you make this fresh tomato sweet corn salad, leave a comment below and rate the recipe on the recipe card. And please share your photos with me on Instagram, tag @thecuriouschickpea and #thecuriouschickpea. I love seeing your recreations!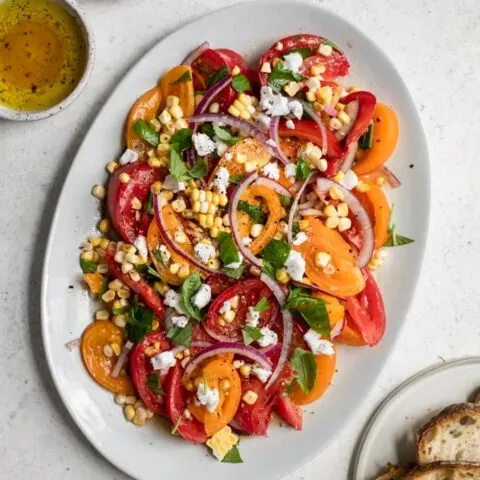 Tomato Sweet Corn Salad
Inactive Time:
30 minutes
This simple salad makes the most of summer produce with juicy ripe tomatoes and fresh corn on the cob. It barely needs a recipe, so use the listed amounts as a suggestion and tweak to your liking.
Ingredients
1/2 red onion, thinly sliced into half moons
3 large heirloom tomatoes, cut into 1/2-inch slices
1-2 ears of corn, kernels cut off the cob
1/4 cup basil, chopped
1-2 tbsp extra virgin olive oil
1-2 tbsp red wine vinegar
salt and pepper to taste
vegan feta for garnish (optional)
Instructions
Place cut red onion in a bowl of ice water and let sit for 10 or more minutes before draining.
Combine the tomatoes, corn, basil, and red onion in a mixing bowl. Drizzle on extra virgin olive oil and red wine vinegar, and sprinkle over salt (I use about 1/2 teaspoon) and black pepper to taste. Add more olive oil or vinegar if needed.
Let sit for about 30 minutes at room temperature before serving. Top with vegan feta and enjoy with a side of bread!
Notes
If you make it in advance, or have leftovers, leave it out for 20-30 minutes before serving to take off the chill. This salad is best enjoyed at room temperature so you can experience all of those delicate flavors!
To substitute a homemade cheese, use my vegan queso fresco recipe.
Nutrition Information:
Yield:

6
Serving Size:

1
Amount Per Serving:
Calories:

86
Total Fat:

5g
Sodium:

199mg
Carbohydrates:

10g
Fiber:

2g
Sugar:

4g
Protein:

2g
Nutrition is calculated automatically so should be used as an estimate.