Let me tell you about these incredible vegan pumpkin muffins. They're soft and pillowy, deliciously pumpkin-y, well spiced, and finished off with a tangy and sweet cream cheese frosting. They are obsession worthy, making me count down the days til fall baking, and rightly so!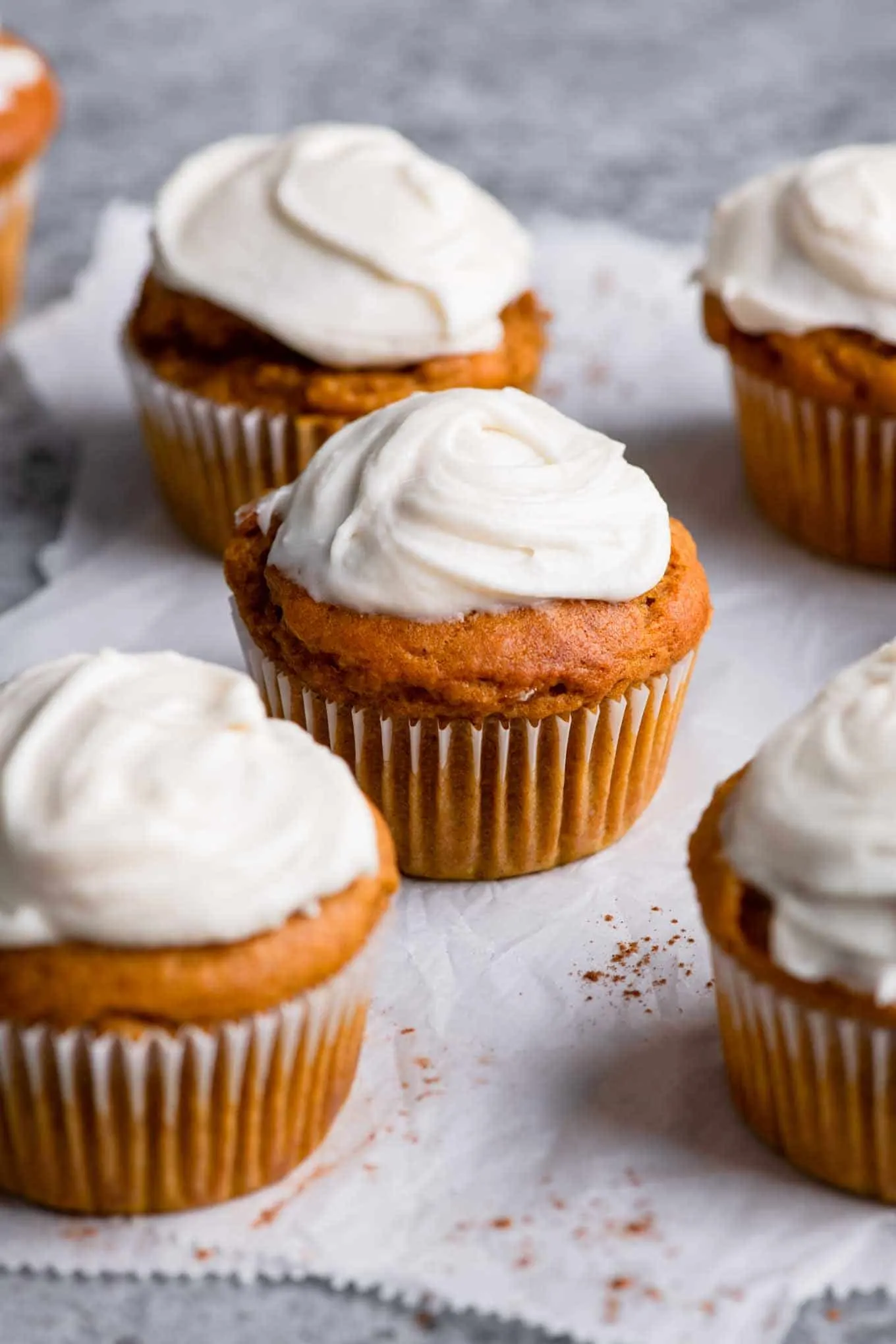 My cravings for pumpkin begin with the first days of crisp air and last at least through December. And what better way to enjoy fall's harvest than with delicious soft pumpkin-rich muffins? I mean, you definitely want your baked goods to coordinate in color with your trees leaves, right! (Kidding! Eat pumpkin treats year round if it pleases you!)
These pumpkin muffins are frosted, which may or may not spill them into cupcake territory, but in my heart these are muffins so we can keep that between ourselves!
The vegan pumpkin muffins:
I wanted to go big with the pumpkin in these muffins. The last thing you want is a pumpkin muffin that isn't ultra pumpkin-y!
This also means not skimping on those warming pumpkin spices. You want plenty of cinnamon, a healthy helping of ground ginger, a big pinch of allspice, and freshly ground nutmeg.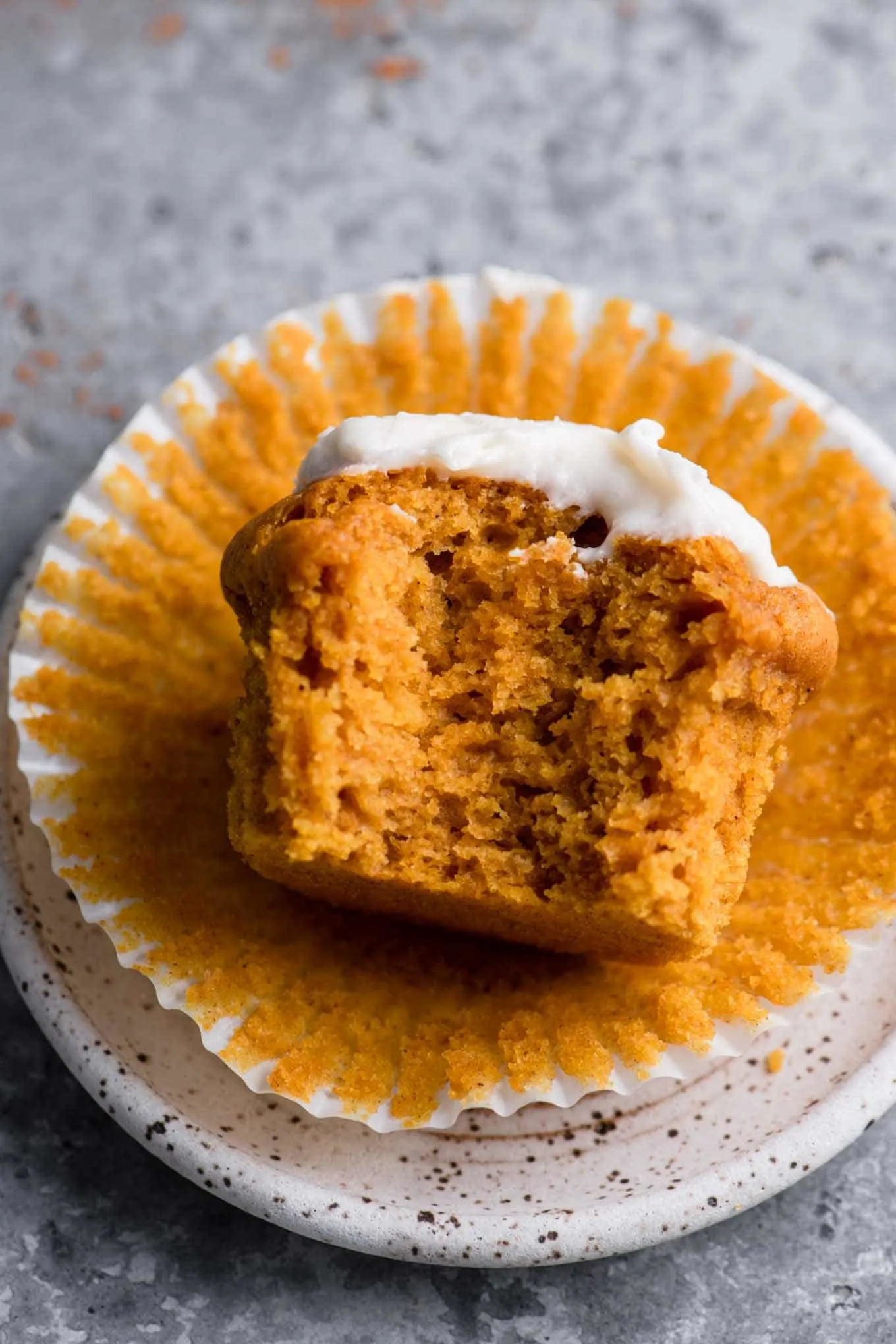 Making the muffins is easy. Mix together the wet and dry ingredients in separate bowls, using a whisk to blend them both smooth. Then, add the dry ingredients into the wet and mix with a wooden spoon until the batter is just combined.
It's better to have a slightly lumpy batter than one that is over mixed!
The dry ingredients:
There are only a few dry ingredients needed for this recipe, and well, half of them are spices!
You need all purpose flour, salt, baking powder, baking soda, and cinnamon, ginger, allspice, and nutmeg. You can substitute a pumpkin spice blend for the individual spices if you prefer. I personally happen to have all these spices on hand at all times. 🙂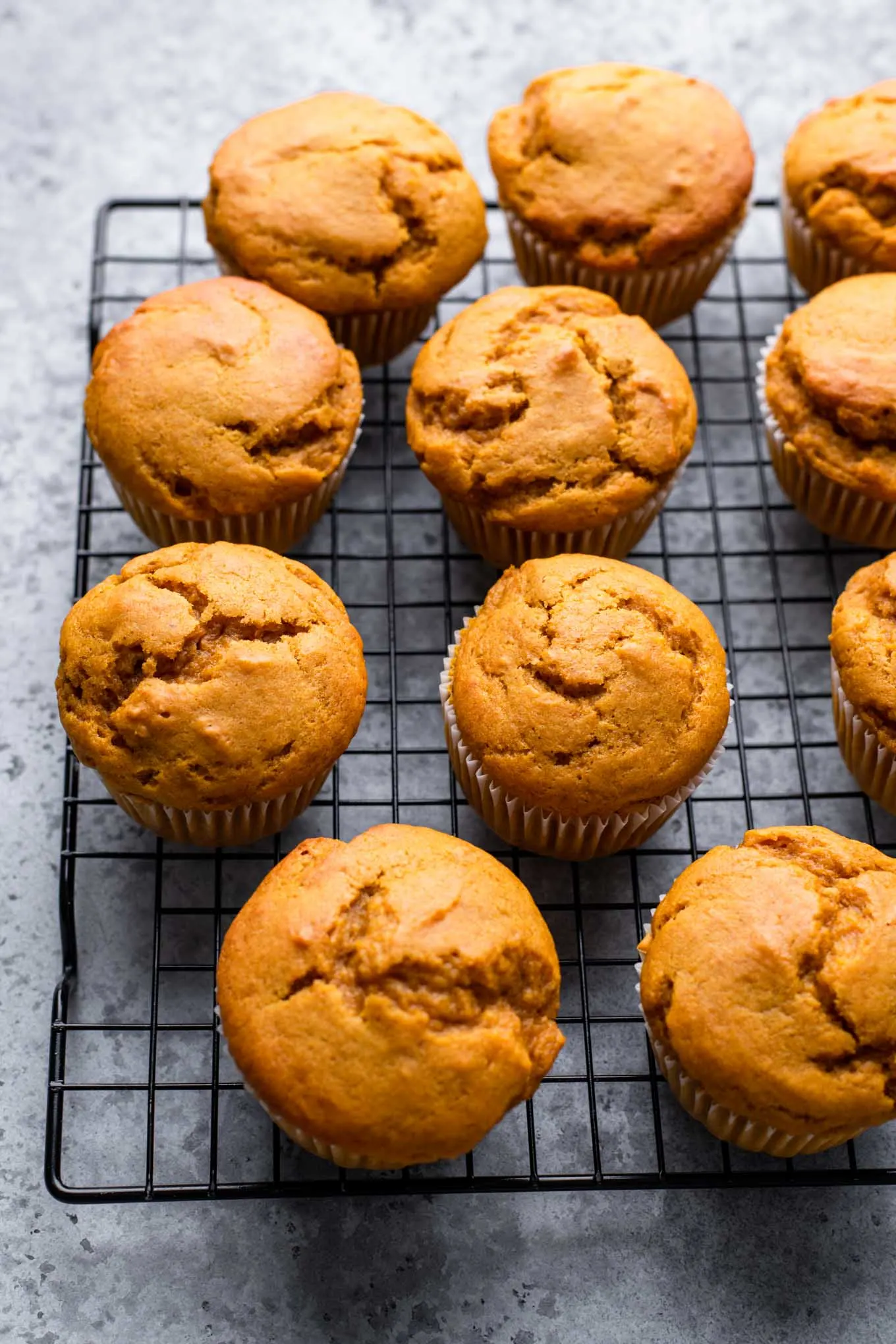 When it comes to ground nutmeg, if you can get whole nutmeg and grate it with a microplane grater I highly recommend doing so. Nutmeg loses flavor quickly once ground and so purchased ground nutmeg just can't compare.
Instead buy whole nutmeg (they kinda look like mini walnut shells) and they will last you for years! Just grate a bit as needed.
The wet ingredients:
Did you know that pumpkin purée can act as an egg replacer? It may not be my favorite egg replacer in baking as it has such a strong flavor, but it is useful in these muffins!
I use basically an entire can of pumpkin puree for this recipe. You may have a little bit more pumpkin in the can, but save that for another use. You can add it to a smoothie, any savory sweet potato or winter squash dish (like my butternut squash almond bisque, pumpkin mole, or butternut squash queso), or my personal favorite, top your dogs food with it at their next meal!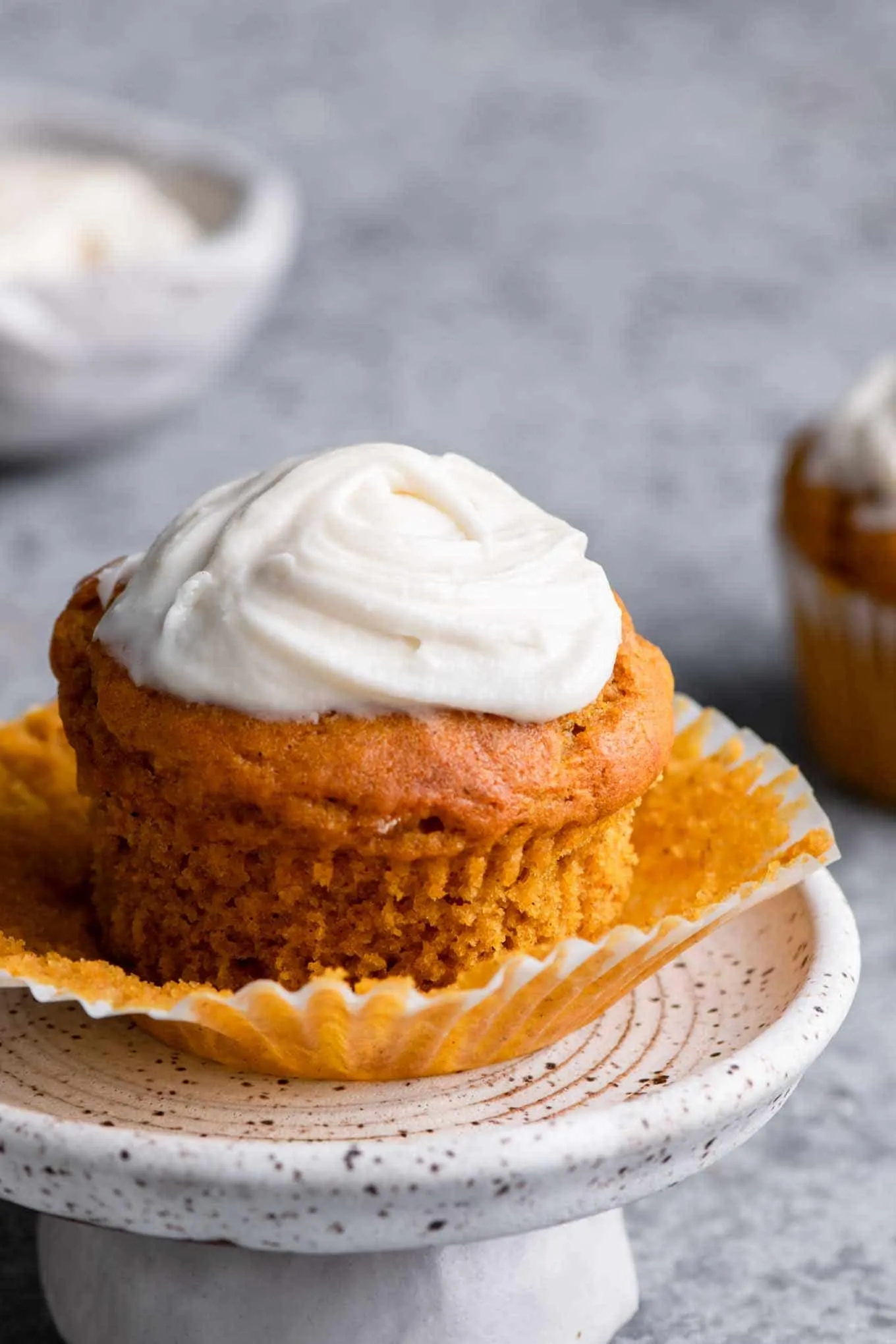 Make sure to use pumpkin puree and not pumpkin pie filling. We want pure pumpkin for these muffins!
You can also make your own pumpkin puree if you'd like, but note that the liquid content may vary for homemade puree so results may vary.
Along with the pumpkin, add granulated sugar (I recommend buying organic sugar as that ensures it is vegan and not processed with animal bones to bleach it), plant milk, canola oil or another neutral flavored oil, and apple cider vinegar.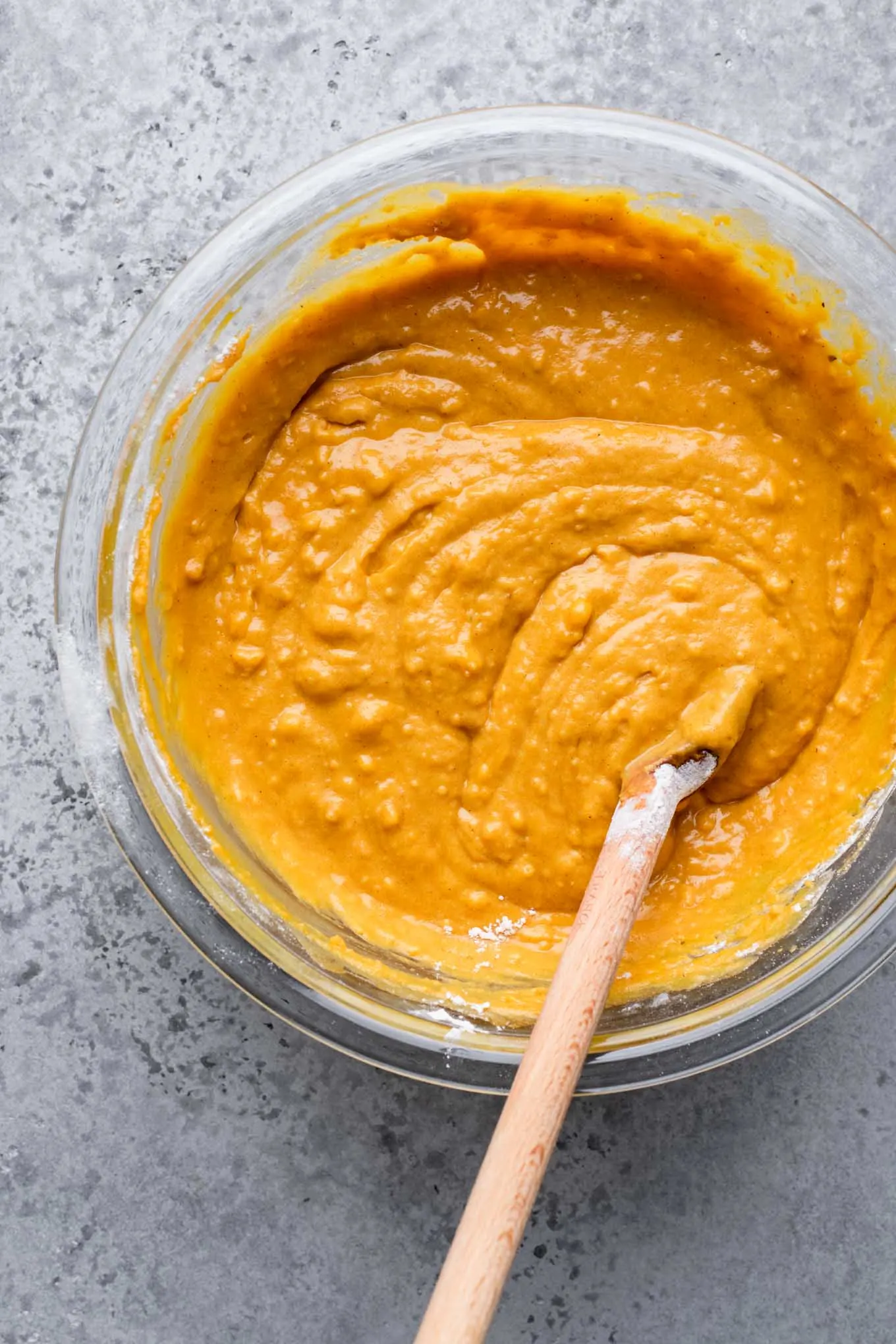 What type of plant milk? Well, whatever you have on hand! I like to use soy milk best, but oat milk, cashew milk, almond milk, hemp milk, rice milk–you get the idea– will work. It especially doesn't matter because its such a small amount being added to the batter.
Why vinegar? It's there to react with the baking soda in the mix to bump up the leavening of the muffins. It also tenderizes the cake even further.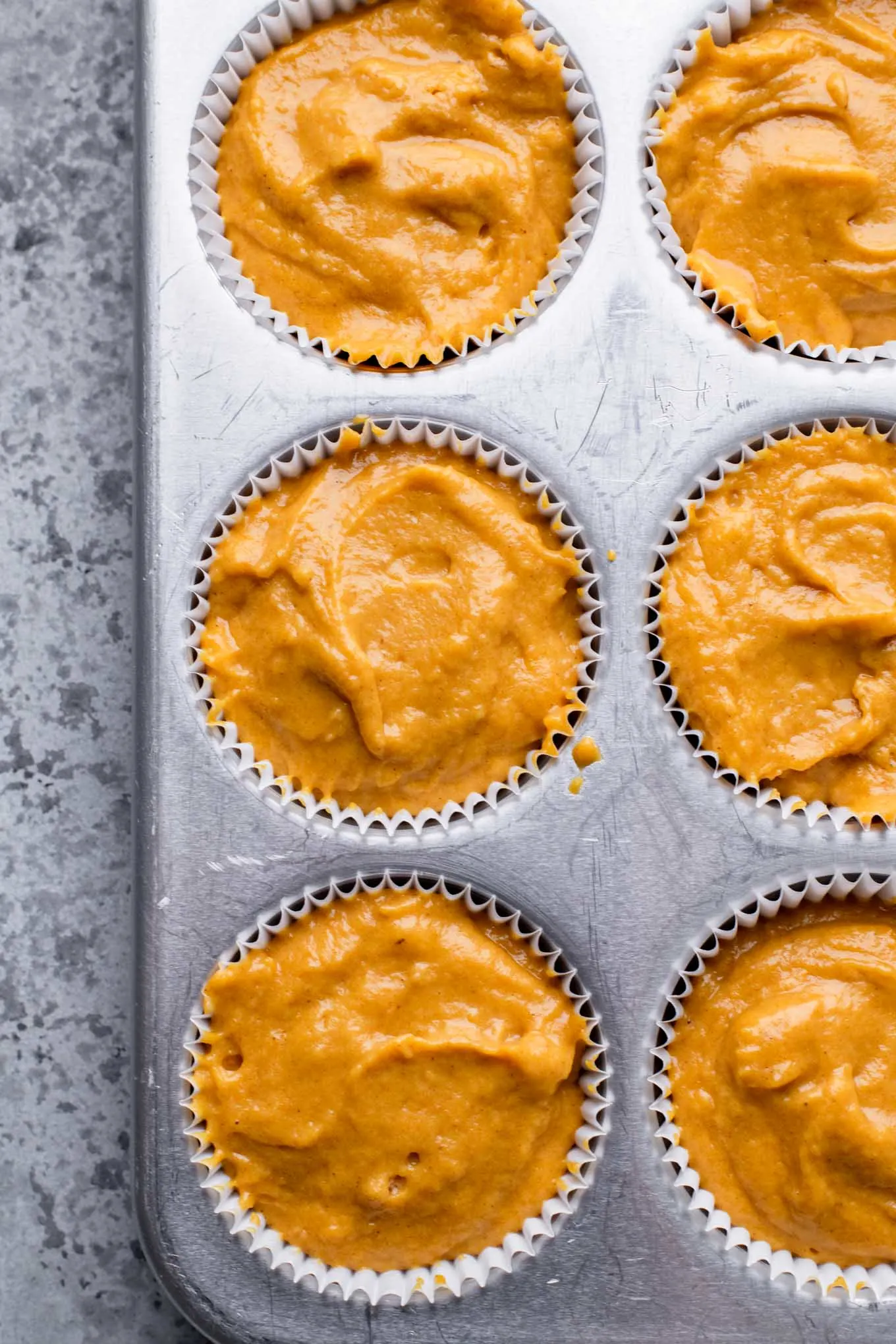 Fill the each muffin to almost the top with batter!
You can bake the muffins either in a greased muffin tin or using liners. But whichever way, fill those tins up!
The difference between a muffin and a cupcake is a bit murky. But for me a big part of it is that muffins are mounded at the top, spilling over the edges a bit, while cupcakes are more delicate and rise a bit above the liner but don't mound dramatically.
We achieve this mounding with muffins by filling batter up more than 3/4 of the way full in the cups. Yes, it's as simple as that!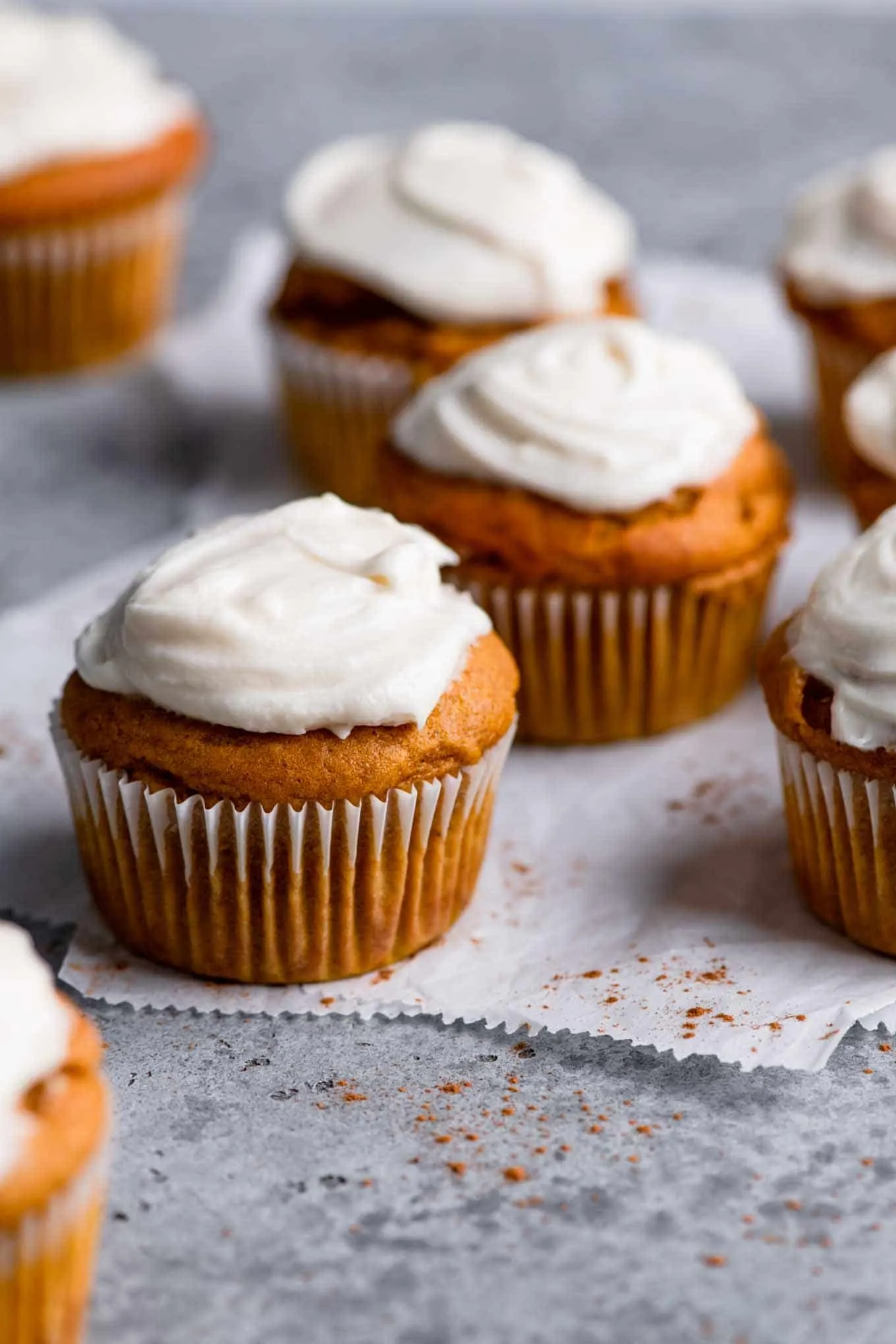 The vegan cream cheese frosting:
This is a soft and fluffy frosting and very easy to make. Whip vegan cream cheese and vegan butter together until fluffy. Then add powdered sugar, 1/2 cup at a time. Finally, whip in some vanilla extract.
The frosting should be perfectly spreadable and light. Not too sweet, and with a complementary tang from the cream cheese.
I love a rustic finish to these pumpkin muffins, so spread the frosting on top with an offset pastry spatula or butterknife. If you prefer a more polished look you can pipe the frosting on top!
If you want to pipe the frosting, then I recommend you double the frosting recipe so that there is plenty to mound on top!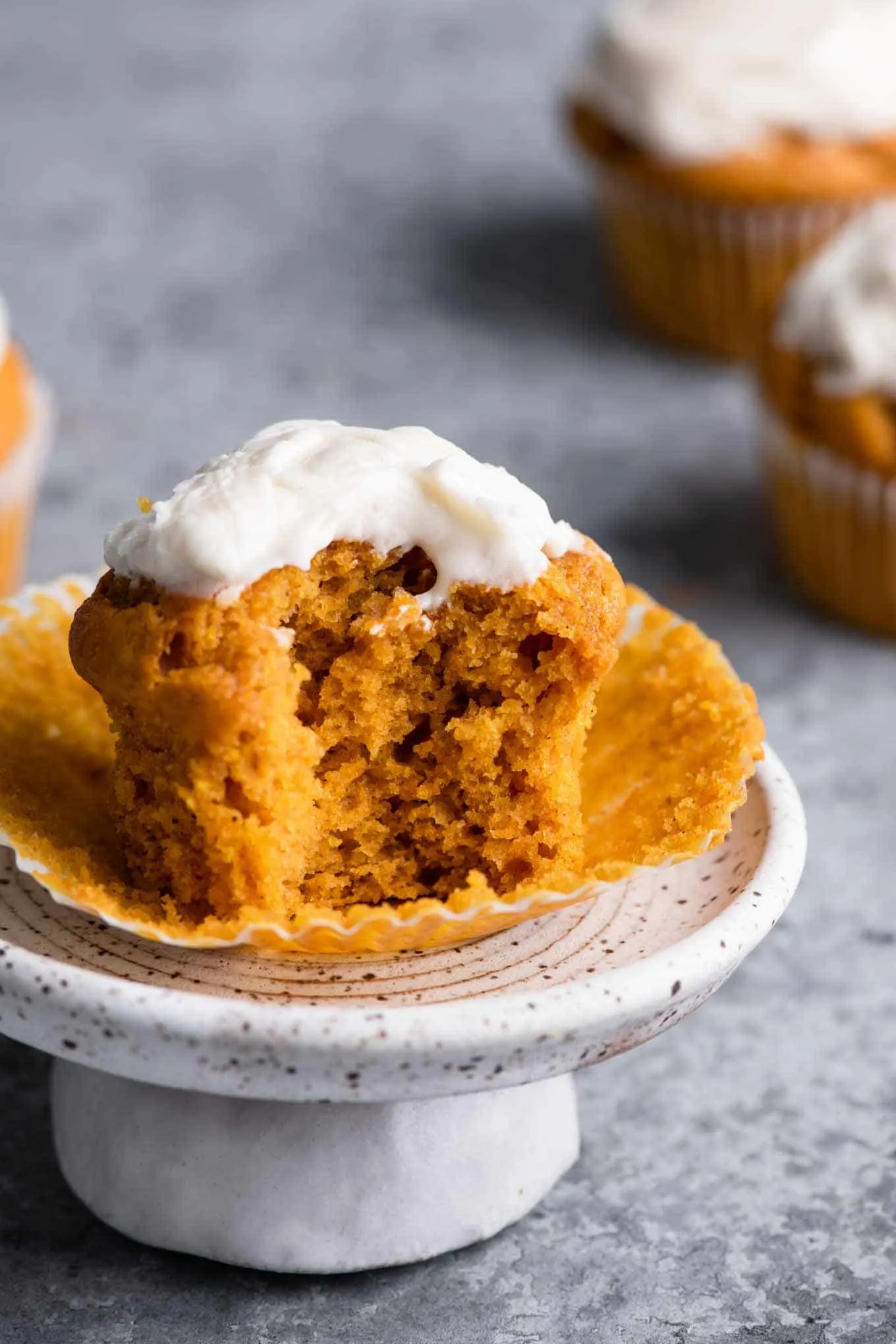 If you make these vegan pumpkin muffins with cream cheese frosting, leave a comment below and rate the recipe on the recipe card. And please share your photos with me on Instagram, tag @thecuriouschickpea and #thecuriouschickpea. I love seeing your recreations!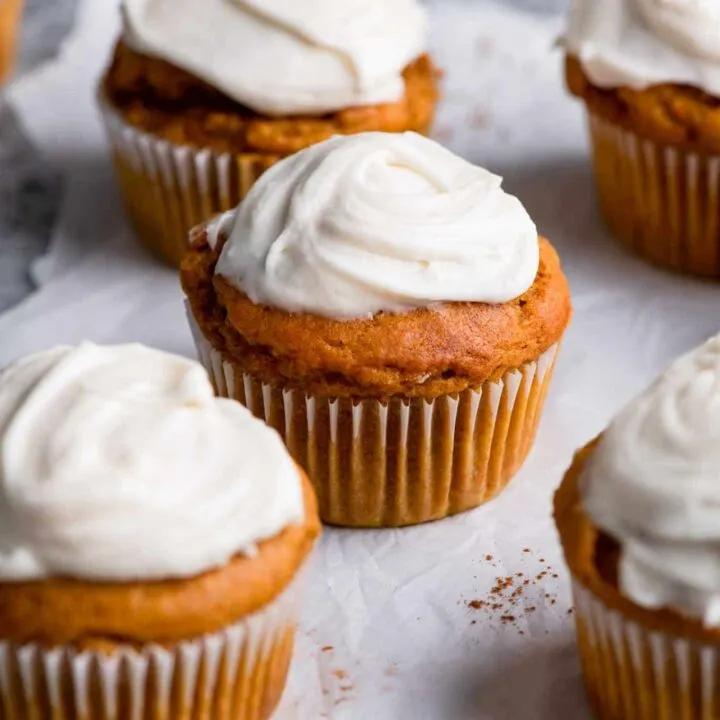 Vegan Pumpkin Muffins with Cream Cheese Frosting
Soft and fluffy pumpkin muffins are the perfect afternoon treat or fall themed dessert! You can frost them with the cream cheese frosting, or leave them bare for a less sweet treat.
Ingredients
Pumpkin Muffins
1 1/2 cups (390g) canned pumpkin puree
1 cup (200g) granulated sugar
1/4 cup (58g) plant milk
1/4 cup (52g) canola oil
1 tsp (5g) apple cider vinegar
1 3/4 cups (235g) all purpose flour
1 tsp salt
1 tsp baking powder
1/2 tsp baking soda
1 1/2 tsp ground cinnamon
1/2 tsp ground nutmeg
1/2 tsp ground ginger
1/4 tsp ground allspice
Cream Cheese Frosting
1/4 cup (57g) vegan butter, softened
4oz vegan cream cheese
2 cups (240g) powdered sugar
1/2 tsp vanilla extract
Instructions
Make the pumpkin muffins:
Preheat the oven to 375 ºF and prepare a muffin tin by lining with paper liners or spraying with oil.
In a large mixing bowl whisk together the pumpkin, sugar, plant milk, oil, and apple cider vinegar until smooth.
In a second mixing bowl whisk together the flour, salt, baking powder, baking soda, and spices.
Add the dry ingredients to the wet and mix together with a wooden spoon until just combined but still somewhat lumpy. Be careful not to overmix!
Transfer the batter into the prepared muffin tin, filling to almost the top.
Bake for 18-22 minutes or until a tester comes out clean. Let cool for 5 minutes in the pan then transfer to a wire rack to cool the rest of the way.
Frost the muffins when completely cooled.
Make the cream cheese frosting:
Add the softened vegan butter and cream cheese to a large bowl and using electric beaters mix together until combined and fluffy. Pause to scrape the sides as necessary.
Add the powdered sugar 1/2 cup at a time, whipping it in on low speed between each addition.
When all of the powdered sugar has been mixed in, add the vanilla extract and beat into the frosting.
Notes
For a less sweet muffin cut the sugar back to 2/3 cup (135g).
This makes enough frosting for a lightly frosted muffin, if you want to pipe the frosting then double the recipe.
Use any neutral flavored oil, such as canola, safflower, sunflower, grapeseed, etc.
Feel free to use any plain or unsweetened plain non-dairy milk. I prefer to use soy milk.
You can substitute the spices for 3 teaspoons prepared pumpkin spice mix.
Recommended Products
As an Amazon Associate and member of other affiliate programs, I earn from qualifying purchases.
Nutrition Information:
Yield:

12
Serving Size:

1
Amount Per Serving:
Calories:

317
Total Fat:

12g
Sodium:

299mg
Carbohydrates:

52g
Fiber:

1g
Sugar:

36g
Protein:

3g
Nutrition is calculated automatically so should be used as an estimate.