This delicious vegan ramen is made with an easy miso tahini broth for a rich and flavorful noodle soup. It's served with charred corn and carrots, and is quick and weeknight friendly!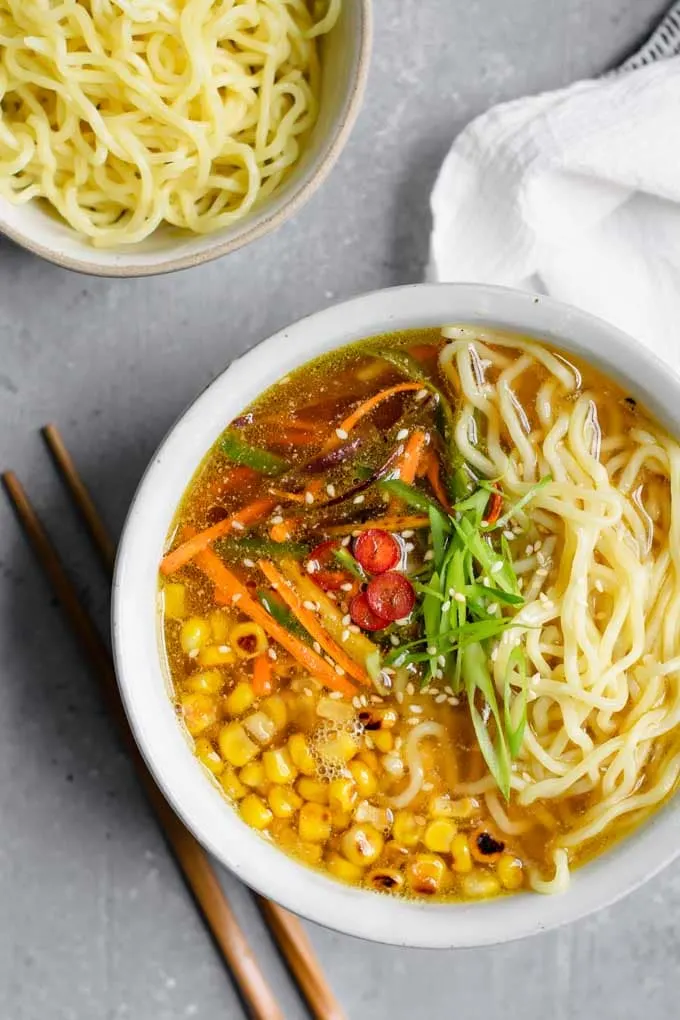 The first time I made ramen, it was a rather long process. I started with a homemade dashi broth, each component involved a lot of steps, and the whole process took a few hours. And the end result was fine, but nothing I needed to make again anytime soon.
But this ramen is something different. It came of a lazy clean out the fridge meal when I was craving something slurpy, salty, hot, and brothy. I wanted all the flavor without all the effort.
And you guys, it came out so perfectly that I had to remake and refine the recipe for you! We can't get enough of this slurpy noodle soup.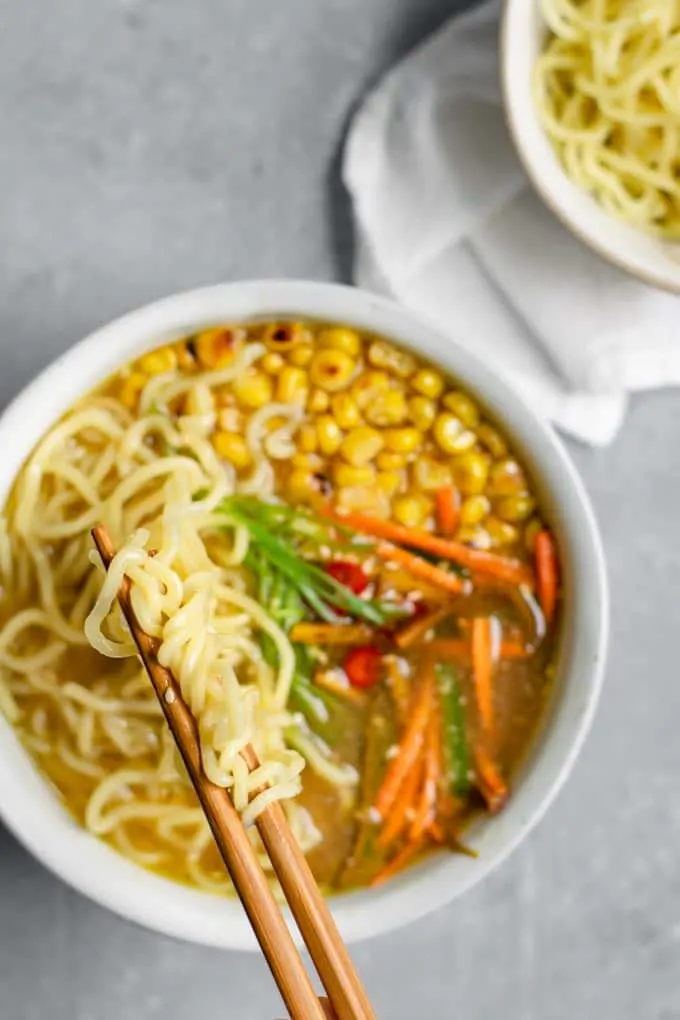 This recipe was influenced by the Northern Hokkaido style ramen, with particular influences by the rich Sapporo-style miso ramen.
With such a rich tasting broth I often like to go a bit lighter on the add-ins, with the bulk of it being noodles, corn, and carrots. It fills you up without actually being heavy.
Let's start with the broth.
We need it to be easy, and packed with flavor. Instead of making broth from scratch, we use a store bought one. You can use a carton (or two) of prepared broth, Better Than Bouillon paste, or bouillon cubes.
And it's not that I'm going to stop you from using a homemade broth, be my guest! But there's no need–we [vegan] beef up the broth with extra flavorful add-ins.
Through these add-ins we enhance and layer the store bought broth for a complex and delicious soupy broth that you'll be hard put not to sip straight from the pot!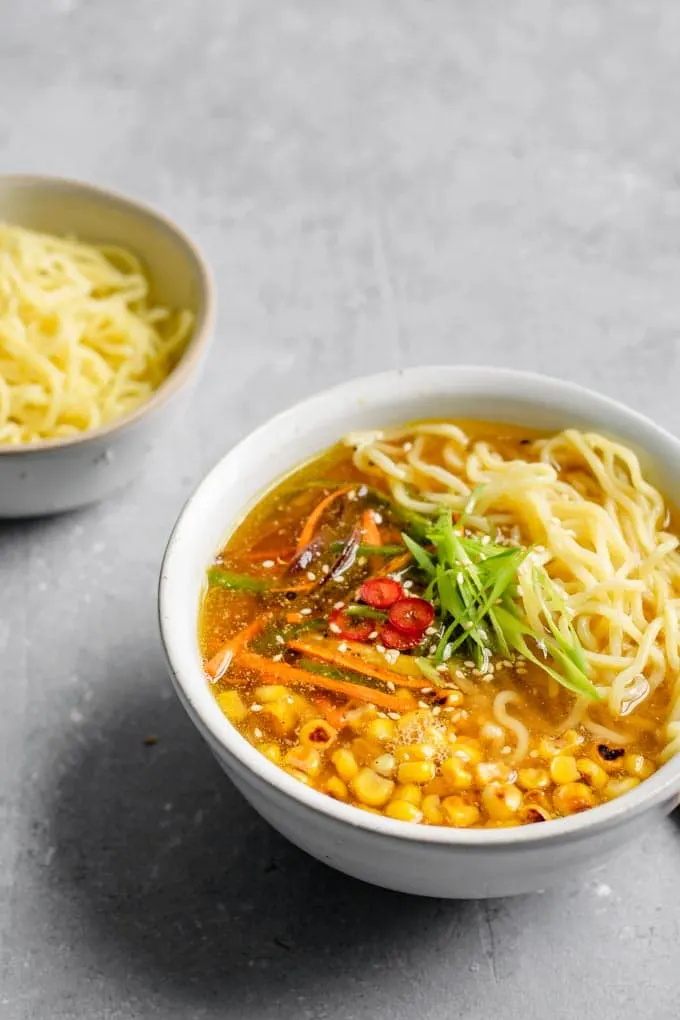 First, we fry up the aromatics. Scallions, garlic, and ginger will add a lot of zip to any asian broth.
For the scallions, we use just the white and light green parts, saving the darker greens for garnish at the end. Cut the lighter parts into bite sized matchsticks, it's a bit fussier than the typical slices, but works really well in the soup.
Once the aromatics are softened in a bit of hot oil, we add the broth. Bring everything to a boil, then once boiling we add in the two kinds of miso and the tahini.
To ensure everything dissolves, remove about a cup of broth and whisk the miso and tahini into this before adding it back to the pot.
Let it simmer for a few minutes to get everything infused and well incorporated, then turn off the heat, and immediately add the mirin, soy sauce, salt, and toasted sesame oil. Cover the pot and let it stay warm until you're ready to serve. You can always reheat when you're ready for it!
The miso and tahini naturally settles as the ramen broth sits, but a quick stir will fix that!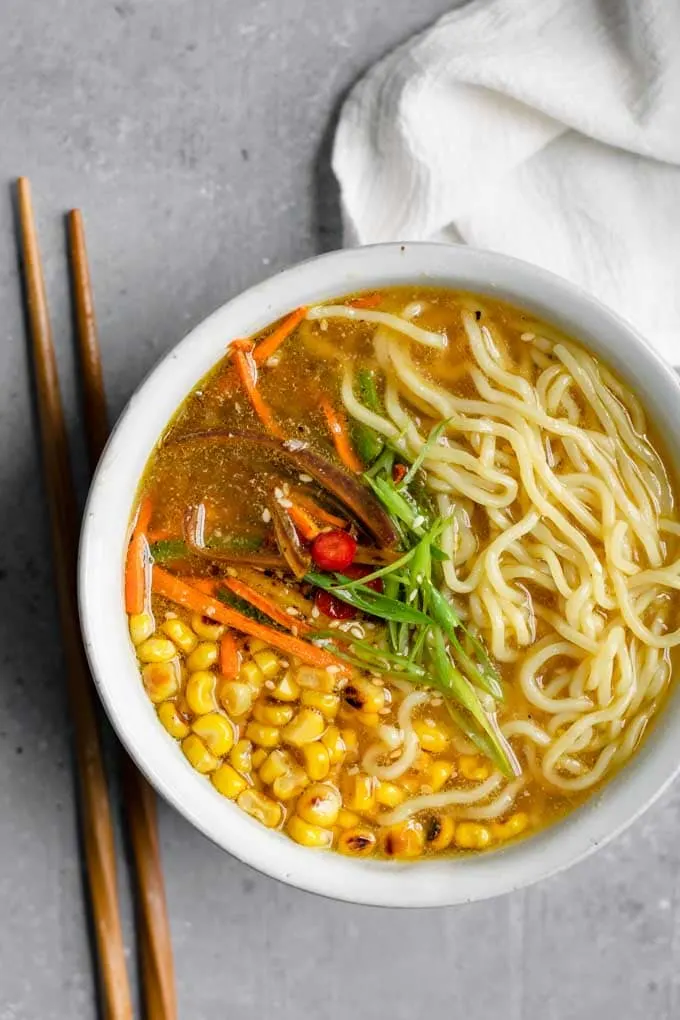 Next, we work on the veggies.
Corn has become one of my favorite ingredients in ramen. It's more common in the Northern Hokkaido style ramen and pairs really well with the salty and rich miso tahini broth.
The sweet juicy bursts of flavor from the corn balances the savory broth. I give it a quick fry in the wok (or fry pan). Over a high heat the corn gets some char on it without drying out. You can do this with frozen corn or fresh.
Next, I fry up some matchstick cut carrots and some green chiles, jalapeño or serranos work, or whichever peppers you can get at your local store! Seed the peppers for a more mild soup, or leave those seeds in for a bit of kick to your ramen.
Either way, fry the carrots and peppers in just a drizzle of oil until they are also a bit charred.
Set the veggies aside to add to individual bowls. You can add them to the broth at this point, but you won't be able to design your bowl as well when serving. Which is just fine. ?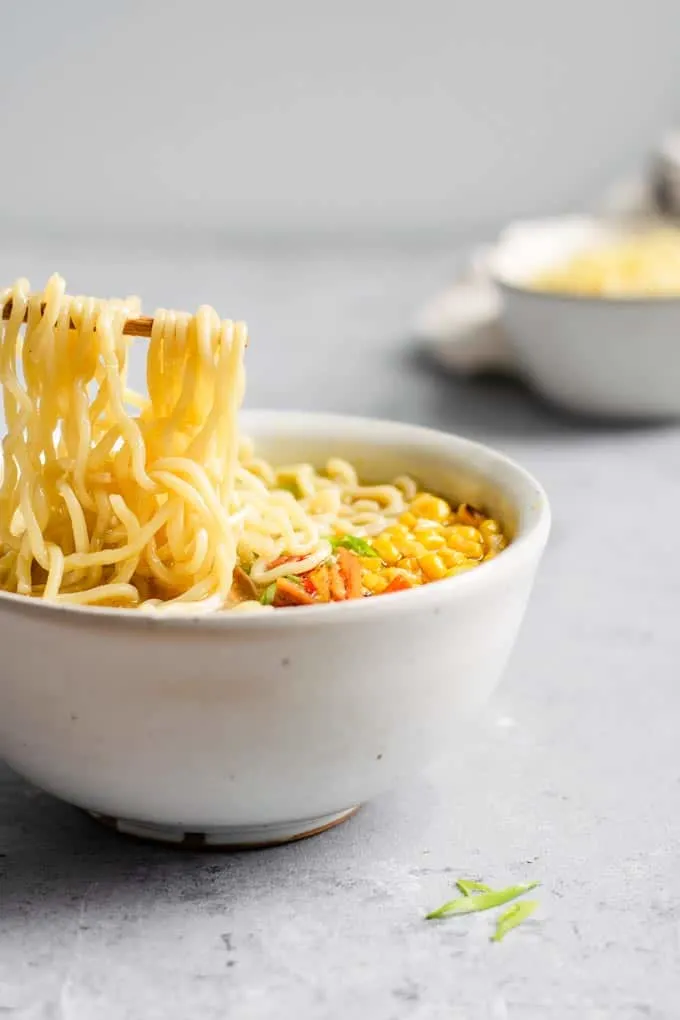 Lastly, we cook the noodles.
How the noodles cook depends a lot on if you're using fresh or dried noodles. It doesn't matter which one you use. Of course fresh ramen noodles are very special and if you can find them, do use them!
But if dried ramen noodles are all you have on hand or are able to find, that's totally cool.
Either way, cook them to the package directions. For fresh this usually means drop in boiling water for 1-2 minutes. For dried you're probably looking at closer to 8 minutes of cooking time.
Ramen noodles usually call for rinsing in cold water after cooking so that they don't overcook. Do this before dropping the cooked noodles into bowls of broth and veggies.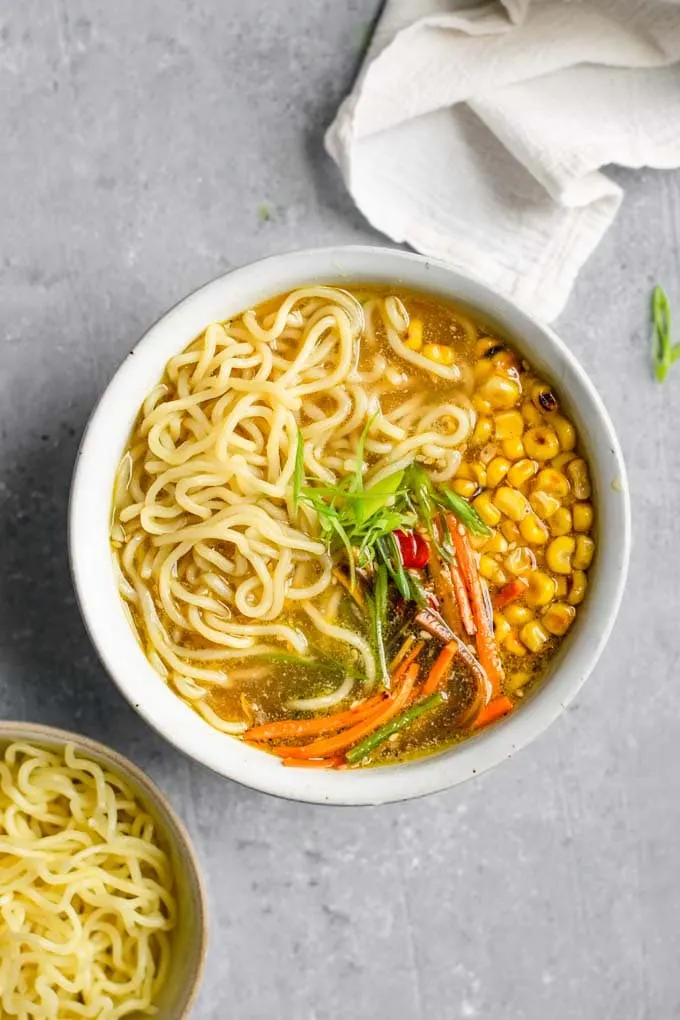 Don't put the noodles into the soup until serving. We don't want overcooked mushy noodles. Ramen is at its best when the springy noodles remain chew. This means I'll store any leftover noodles separately in the fridge. Even better, only cook as many noodles as you're going to eat in one sitting.
Just a quick note about ramen noodles. Typically ramen noodles are made without egg. They do taste a bit eggy thanks to the basic water (called kansui) they are made with, and this gives them both their color and springy texture.
But occasionally, instead of the alkaline water the ramen is made with egg. This ramen tends to have more influence from Chinese noodles, but it's something to keep in mind and check whether you're buying noodles at the store or ordering ramen at a restaurant.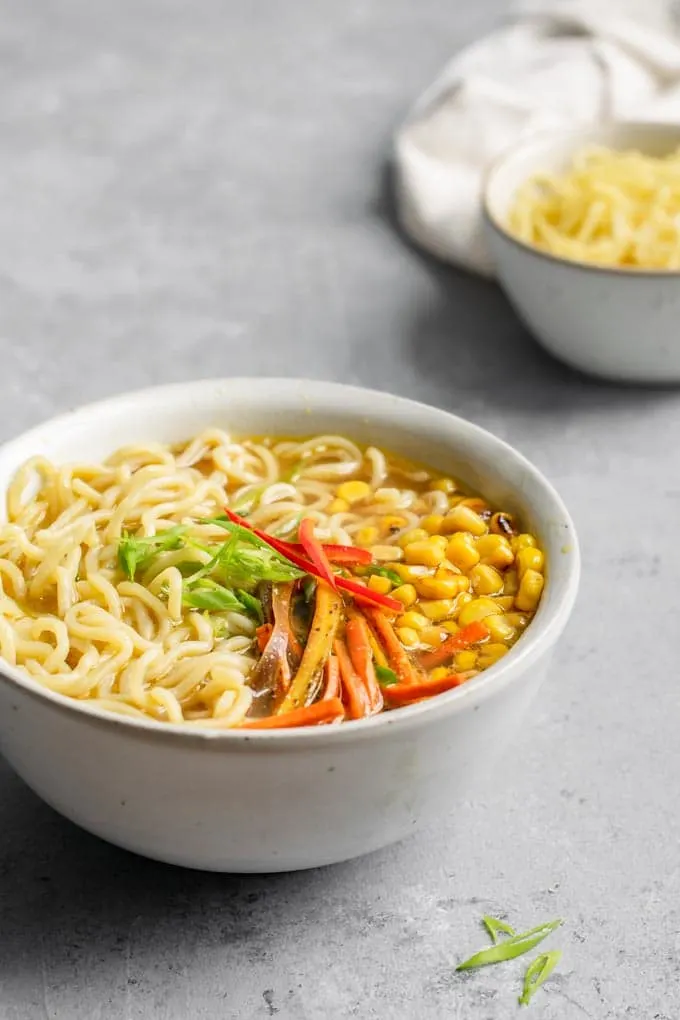 About that nori.
I don't like seaweed. I try, but I just can't get behind it. So, in true Eva-fashion, I completely forgot about adding it to this recipe for those of you who do love seaweed (which I'm sure is most of you!).
So the thing with nori, is you want to add it in small sheets and only add it when serving. You want to eat it while it's still crisp and not soggy.
I will note, that my nori loving husband did not think to add any to his ramen either, so.. it's not exactly missing anything without it! But adding some is always an option!
How to time this dish for the quickest dinner:
Get everything chopped and all of the ingredients out. Pre-measure what you can.
Get a pot of water going for the noodles, but you won't want to cook those until everything else is about ready. If using the fresh noodles that cook in 1-2 minutes do this once everything else is ready. If cooking dried noodles, you can just do it about 5-10 minutes before everything else finished up.
Fry the aromatics for the broth, then add the vegetable broth and bring things to a boil.
While that's happening you can get going on the vegetables. Char the corn and the carrots & green chiles.
Mix in the miso and tahini into the broth. You might still be finishing up the vegetables if you like to multitask, otherwise finish the vegetables before continuing with the broth. This is also a good time to cook the noodles if they're dry.
Add the final ingredients to the broth (mirin, soy sauce, salt, toasted sesame oil).
Cook those noodles if they're fresh.
Assemble your bowls of soup! Layer the broth, vegetables, and noodles. Garnish with some scallion greens and sesame seeds.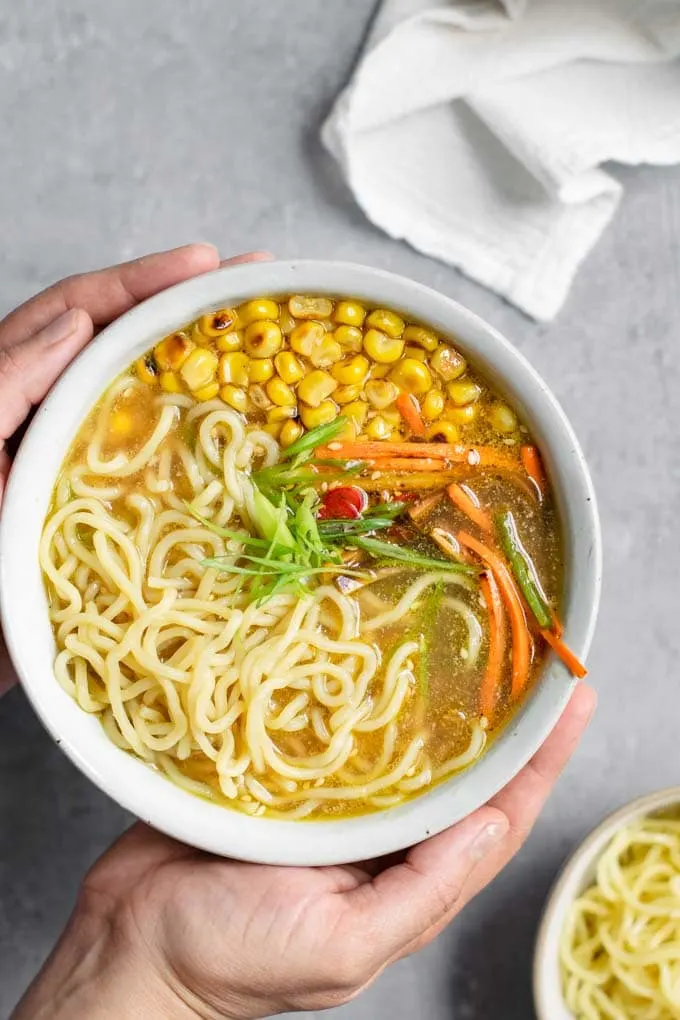 ---
If you make this vegan ramen with miso tahini broth, leave a comment below and rate the recipe on the recipe card. And please share your photos with me on Instagram, tag @thecuriouschickpea and #thecuriouschickpea. I love seeing your recreations!
---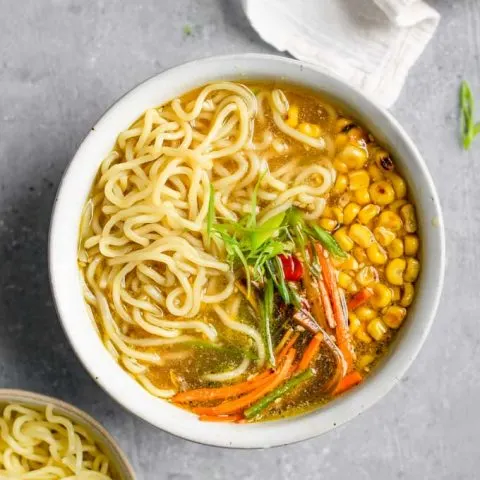 Vegan Ramen with Miso Tahini Broth
This delicious ramen is full of charred corn and carrots, and made with an easy miso tahini broth for a rich and flavorful noodle soup.
Ingredients
Miso Tahini Broth
1 tsp oil
4 scallions, white and light green parts cut into 1" matchsticks, dark green tops thinly sliced
2 garlic cloves, minced
1 tbsp minced ginger
8 cups vegetable broth
1 tbsp white miso
2 tbsp red miso
1/3 cup tahini
1/2 cup mirin
1 tbsp tamari soy sauce
1/2 tsp salt
1 tbsp toasted sesame oil
Everything else
10oz ramen noodles, cooked to package directions
2 tsp oil, divided
2 cups corn, fresh or frozen
2 carrots, cut into matchsticks
1 jalapeño or serrano, cut into matchsticks (remove the seeds for less heat)
sesame seeds, for garnish
nori cut into small sheets, optional
Instructions
Make the miso tahini broth:
Heat a large pot over medium heat and add the oil, the matchstick cut scallions (save darker green tops for garnish at end), garlic, and ginger and sauté for about 1-2 minutes until softened. Add the broth and bring to a boil.
Remove about 1 cup of broth and add the white and red miso pastes as well as the tahini. Whisk until smooth, then add back to the pot. Let simmer for a few minutes to fully integrate.
Turn off the heat and add the mirin, soy sauce, salt and toasted sesame oil.
Cook the vegetables:
Heat a wok or large skillet over medium-high heat. Add a teaspoon of oil, then the corn. Cook for about 5 minutes, stirring just a couple of times, until the corn is lightly charred in areas. Remove from heat.
Add the second teaspoon of oil along with the carrots and chili pepper and cook 2-3 minutes, stirring just once or twice until they get a bit of charred color in spots. Remove from heat.
Assemble the bowls of ramen:
Add hot broth to individual bowls and add the corn, carrot and jalapeño mixture, and cooked ramen noodles. Top with thinly sliced scallion greens and some toasted sesame seeds. If you'd like, also add small sheets of nori to add just as you serve.
Notes
To make gluten free, use rice noodles and gluten free certified miso.
For best flavor use both kinds of miso, but if you are unable to find both or only have one in your fridge, go ahead and still make the soup using the one kind of miso for both flavors (ideally red miso as is has a stronger flavor). It will still be delicious!
Recommended Products
As an Amazon Associate and member of other affiliate programs, I earn from qualifying purchases.
Nutrition Information:
Yield:

6
Serving Size:

1
Amount Per Serving:
Calories:

364
Total Fat:

16g
Saturated Fat:

2g
Unsaturated Fat:

13g
Sodium:

1563mg
Carbohydrates:

46g
Fiber:

5g
Sugar:

14g
Protein:

10g