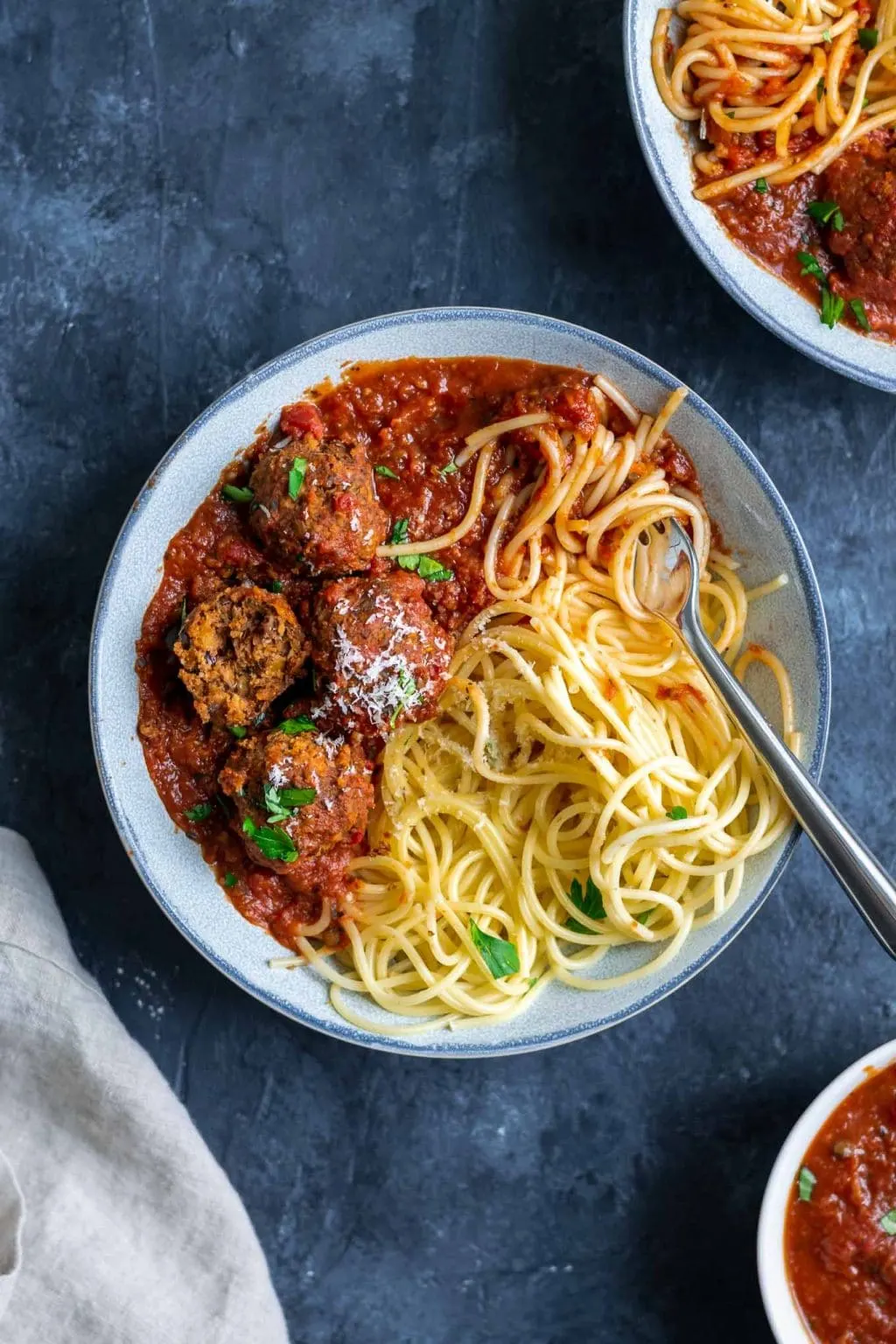 This meal is a bit of a mouthful. Both to say and to eat. Spaghetti with roasted eggplant marinara AND vegan lentil meatballs.
It's also my favorite kind of meal too, both comfort food and bursting with delectable flavor. Slow simmered marinara is made with roasted garlic and roasted eggplant with a splash of red wine for good measure.
The roasted eggplant and roasted garlic cook into the sauce, melting into the tomatoes to make a delicious and sneaky-veggie laden marinara.
The lentil meatballs ("meatballs" or lentil balls or whatever you wanna call them) are made with lentils (surprise! j/k), pecans, and sun dried tomatoes. Top some spaghetti with the marinara and meatballs and you're ready for your Lady and the Tramp moment.
We eat a lot of red tomato sauces over here. Almost as much as we eat cream sauces (just peruse the pasta recipes see for yourself how much I love creamy pastas). Usually my red sauces go on pizza, but I also love a good marinara over pasta.
This marinara is a little more effort or time than my typical instant gratification pasta desires, but it's so worth it.
Plus it's really easy, you just have to wait through the whole roasting eggplant and garlic process. No biggie!
Eggplant and garlic conveniently roast at the same temperature, in about the same amount of time. Then when cool enough to handle, scoop out the eggplant flesh and pop out those roasted cloves of garlic.
Chop them up either in a food processor for a smoother textured marinara or by hand with a knife for a chunkier sauce.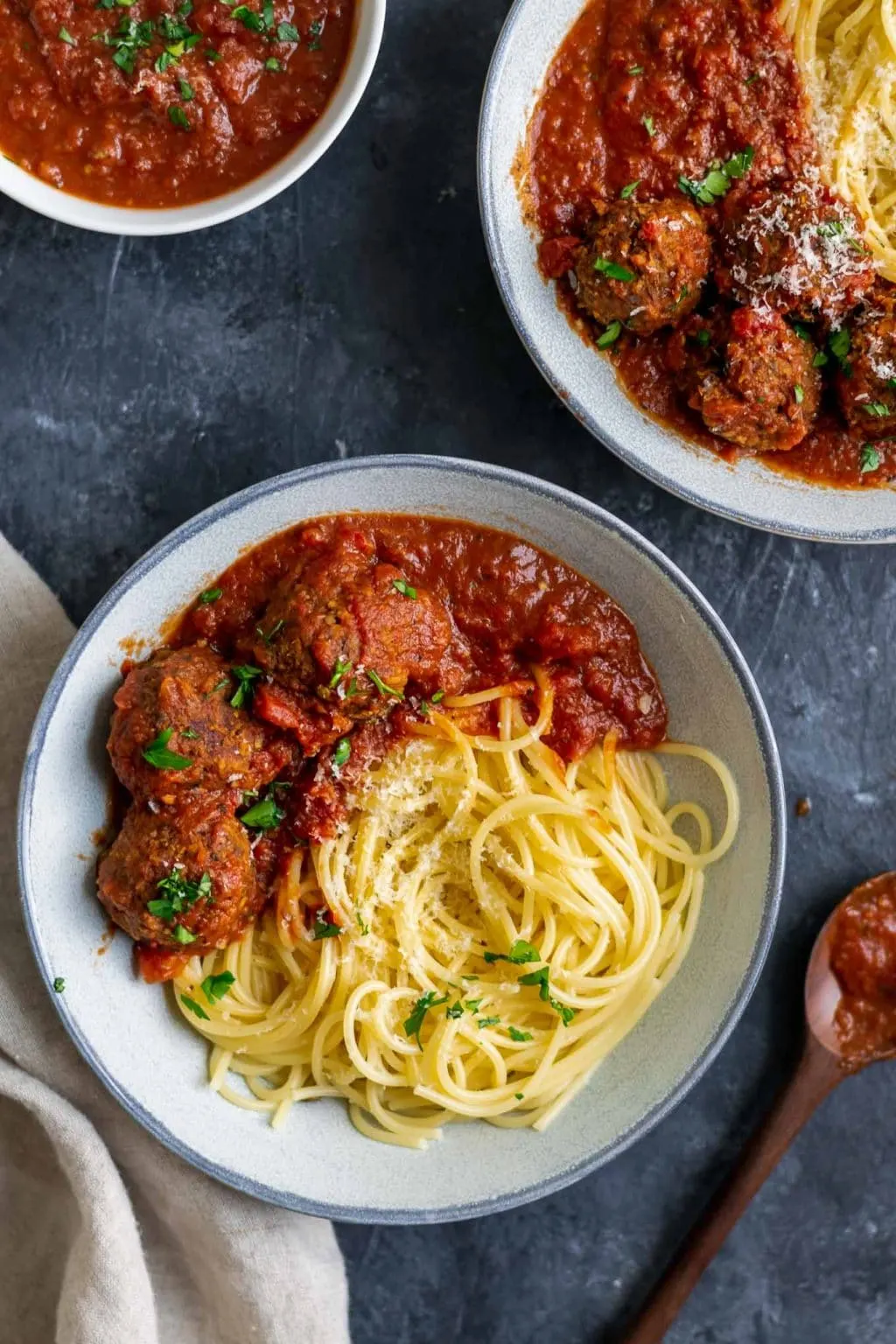 Finish up the sauce by adding all the ingredients to a pot: tomatoes, broth, red wine (though you can sub more broth for an alcohol-free* meal), herbs, salt, and pepper.
Then let the sauce simmer away for at least 25 minutes. The longer you simmer the better the sauce tastes, so feel free to simmer it for up to an hour! My patience usually starts to give out before then though, haha.
Sometimes the tomatoes are a little tart and you'll want to add a little bit of sugar to taste (coconut sugar or brown sugar are nice here, but use whatever sweetener you'd like).
*For those thinking that alcohol cooks off during cooking, that's not quite true. Alcohol and water form an azeotrope and boil off at essentially the same rate. You have to cook something for quite a long time for most of the alcohol to boil off.
I used canned tomatoes for marinara because, unless it's late summer I don't love what I can buy at the store. But even in tomato season, I don't want to deal with the extra step of blanching and peeling tomatoes.
If you buy good quality and organic san marzano or san marzano style tomatoes then the canned stuff is really good and consistent.
For best results always buy whole peeled tomatoes, those are the highest quality canned tomatoes. However, if you want to skip the extra step of chopping them up by hand or blitzing them in the blender or food processor then you can get crushed tomatoes for your sauce making.
Because I want to make one part of your life a little simpler, I call for crushed tomatoes in the recipe.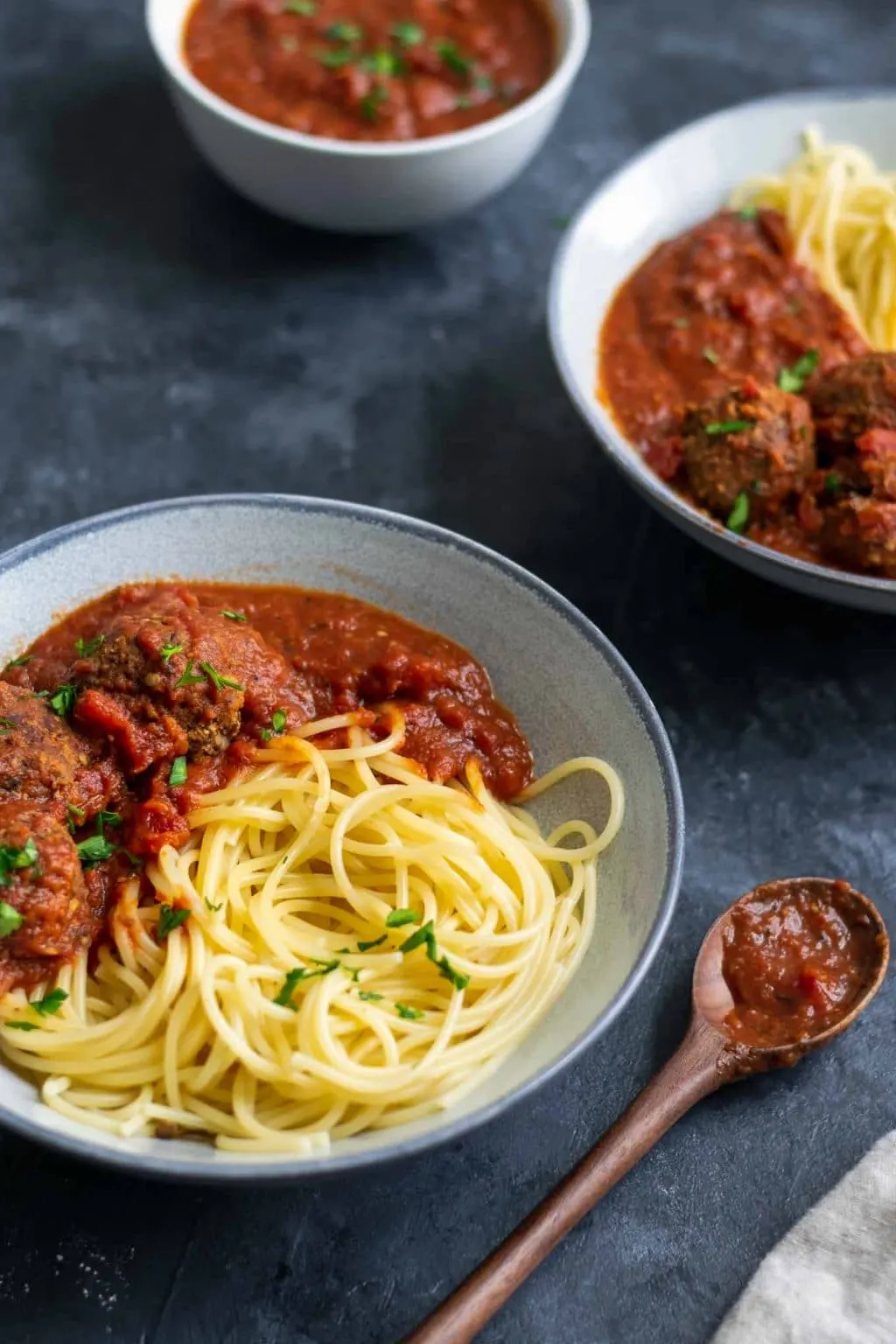 Do you ever find yourself with extra cooked lentils in the fridge that need using up? Me too. And then have you made lentil meatballs with said lentils and enjoyed them so much you started cooking lentils just for making lentil meatballs? Me too.
I love vegan meatballs. They're so good on pizza, on creamy pastas, and even spiced up for the best Indian curries. And these lentil-based meatballs are no exception.
I use lentils du puy, as they have a nice firm texture when they cook up and I happen to love their earthy flavor. I've also made these meatballs with black lentils, and I bet brown lentils would work beautifully as well.
I love adding nuts for their texture as well as their flavor. Here pecans chop up to a nice meaty texture and lend a richness and subtle nuttiness to the meatballs.
Sun dried tomatoes are my favorite concentrate flavor bombs and they add a nice umami bite. Use oil-packed ones for quick work, or rehydrate dry-packed ones in boiling hot water.
A little marinara moistens the lentilballs so they don't dry out. And then we have our usual suspects: garlic, onion (in the form of dried onion powder), salt, and pepper. Stick in a flax egg for binding and breadcrumbs to firm the mixture up.
I like to bake the lentil meatballs as the oven is already hot from roasting the eggplant and they come out perfectly! Serve with freshly cooked spaghetti–I like to cook only as much spaghetti as I'm going to eat at a time. The marinara and lentil meatballs reheat nicely, but nothing beats freshly cooked pasta.
I do hope you guys love this recipe as much as we did! If you make it (or just the lentil meatballs, or just the roasted eggplant marinara) leave a comment below, tag me on Instagram (@thecuriouschickpea or #thecuriouschickpea), or share with me on Facebook.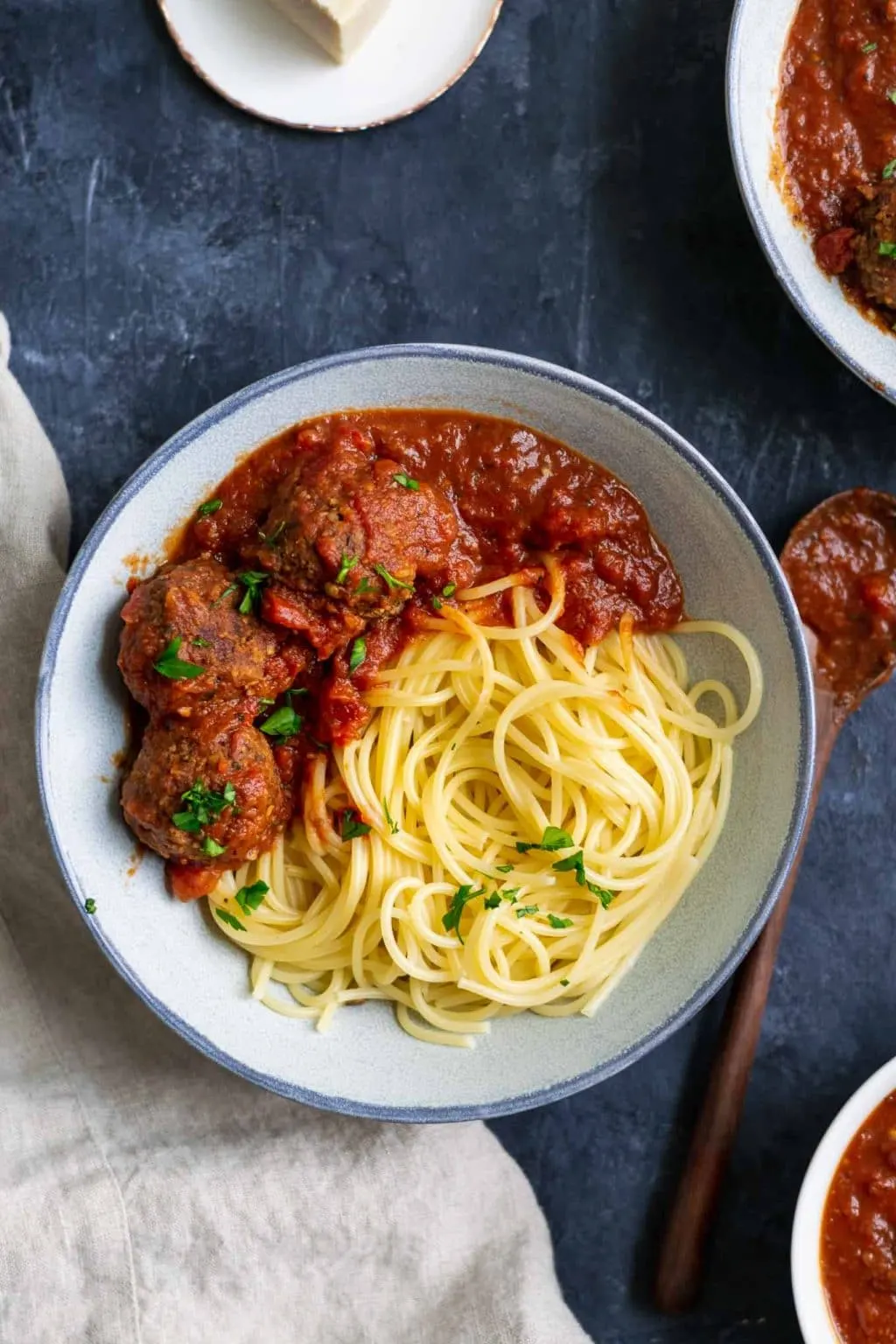 Notes:
Streamline the recipe: Start by roasting the eggplant and garlic. While those are roasting cook your lentils (if they're not already cooked). Turn the oven down to 375 ºF after the eggplant and garlic are done. While the marinara is simmering, make the lentil meatballs, shape and bake them. While the lentil meatballs are baking and the sauce is finishing simmering, bring a pot of water to a boil and cook the pasta. Then everything is done at about the same time!
You can substitute brown lentils or black lentils for lentils du puy.
For nut-free lentil meatballs, try substituting sunflower seeds or pepitas.
For a gluten-free meal use gluten free spaghetti and gluten free breadcrumbs.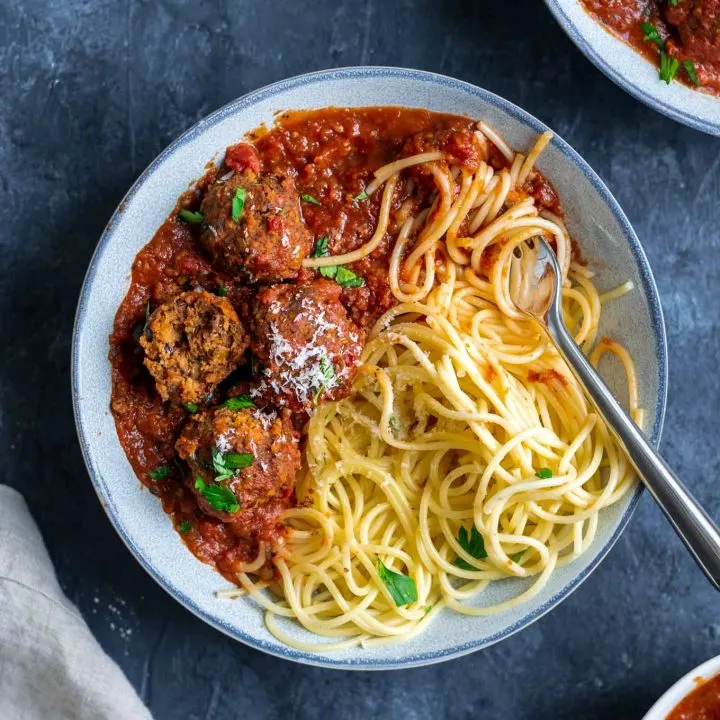 Spaghetti with Roasted Eggplant Marinara and Vegan Lentil Meatballs
Cook Time:
1 hour
15 minutes
Total Time:
1 hour
30 minutes
Enjoy your spaghetti with a red wine-infused marinara made with roasted eggplant and roasted garlic along with vegan lentil meatballs. Garnish with some vegan parmesan and minced parsley or fresh basil.
Ingredients
Roasted Eggplant Marinara
1 tbsp olive oil, divided
1 medium (~14oz) eggplant, cut in half lengthwise
1 head garlic
salt
pepper
1 28 oz can crushed tomatoes
1 1/2 cups vegetable broth
1/2 cup red wine, or additional vegetable broth
1 tsp dried oregano
1 tsp dried basil
1/2 tsp dried rosemary
1/2 tsp salt
freshly ground black pepper
1-2 tsp brown sugar or coconut sugar, optional
Lentil Meatballs
1 tbsp ground flaxseed
3 tbsp water
2 cups cooked lentils du puy*, divided
1/2 cup pecans, coarsely chopped
1/4 cup chopped sun dried tomatoes, oil packed or soaked dry packed
2 tbsp roasted eggplant marinara
1 clove garlic, chopped
1 tsp onion powder
1 tsp salt
freshly ground pepper
3/4 - 1 cup bread crumbs, gluten free if desired
Everything else
Spaghetti, gluten free if desired
parsley or basil for garnish
vegan parmesan, optional
Instructions
Make the roasted eggplant marinara
Preheat the oven to 425 ºF.
Brush the cut sides of the eggplant with 1 tsp of olive oil for each side and sprinkle with salt and freshly ground black pepper. Place cut side down on a parchment lined baking tray. Bake for 30-35 minutes, or until the eggplant is very tender and the cut side is browned golden.
Roast the head of garlic alongside the eggplant. Remove the excess papery skin and cut off the top of the head of garlic to expose the cloves. Pour a little olive oil over the top of the bulb and wrap in aluminum foil. Bake for 35-40 minutes.
Once the eggplant and garlic are roasted wait until they are cool enough to handle. Scoop the flesh out of the eggplant and the roasted cloves from the head of garlic. Either chop them up on a cutting board for a chunkier marinara, or add to a food processor to make a puree for a smoother sauce.
In a large pot add the tomatoes, broth, wine (or more broth), oregano, basil, rosemary, salt, and pepper, along with the roasted eggplant and roasted garlic. Turn the heat up to medium-high and bring to a simmer, lower the heat and cover the pot with the lid ajar. Let the sauce simmer for at least 25-30 minutes to allow the flavors to meld and the sauce to thicken. Taste and add the sugar if the sauce is a little tart.
Make the lentil meatballs
Preheat the oven to 375 ºF (or just turn it down from roasting the eggplant & garlic).
Mix together the ground flaxseed and water and set aside for 10 minutes to make a gloopy gel. Alternatively microwave the mixture for 30 seconds to speed up the process.
In a small food processor add 1 1/2 cups of the cooked lentils, pecans, sun dried tomatoes, the marinara sauce (don't worry if it's still simmering away, it's still good to add!), garlic, onion powder and the flax mixture. Process until it's well combined and somewhat mushy. The mixture shouldn't be a smooth puree, but won't have much texture left. Transfer the mixture to a mixing bowl and add the remaining 1/2 cup of lentils and 3/4 cup of bread crumbs. Mix together to form a firm and non-sticky mixture. Add the remaining 1/4 cup of bread crumbs if needed.
Shape into balls using a heaping tablespoon or a cookie scoop. Place shaped balls on a parchment lined tray that's been sprayed with oil (reuse the one from the eggplant) and then spray the tops with oil. Bake at 375 ºF for 20 minutes, then flip and bake another 5-10 minutes until browned and firm to the touch.
To serve
Cook the pasta according to package directions. Serve hot topped with warm roasted eggplant marinara and lentil meatballs. Spoon sauce overtop the meatballs. Garnish with parsley or basil and top with some vegan parmesan if desired. Enjoy!
Notes
*To cook the lentils: 1 cup lentils, sort for debris and stones, rinse well. Place lentils in pot and cover with 2" of water. Bring to a boil, then lower heat to a simmer and cook for 20-25 minutes until tender. Drain and set aside until ready to use. This will make about 2 1/2 cups of lentils.