Aloo matar is a delicious Indian dish with potatoes and peas in a spiced tomato sauce. It's incredibly easy to make, even if you've never cooked Indian food before! This recipe is vegan and gluten free.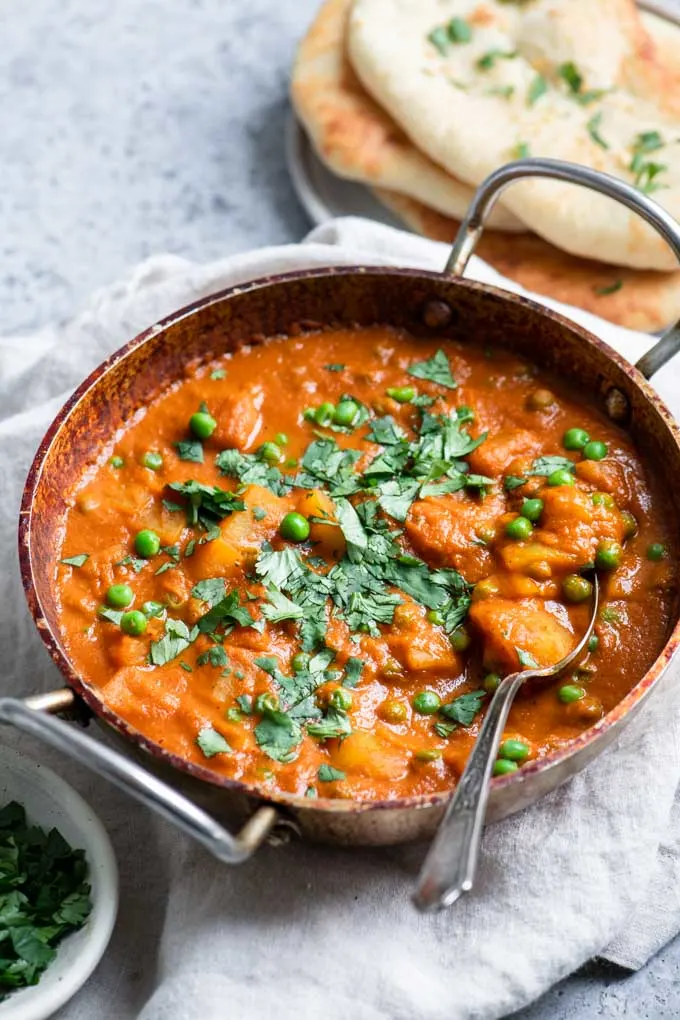 This recipe was sponsored by Pacific Foods.
---
When it comes to Indian comfort foods there are many, but one of the most popular ones is aloo matar. Tender potatoes and juicy green peas are tucked into a richly flavored tomato curry and the results are simple and divine.
Aloo matar (which translates to potato and peas) is one of those dishes that's equally loved by fussy children, those newer to Indian cuisine, and of course Indians.
Note that matar can also be spelled mattar or mutter or muttar, as it's a transliterated word, there is not a single correct way to spell it in English.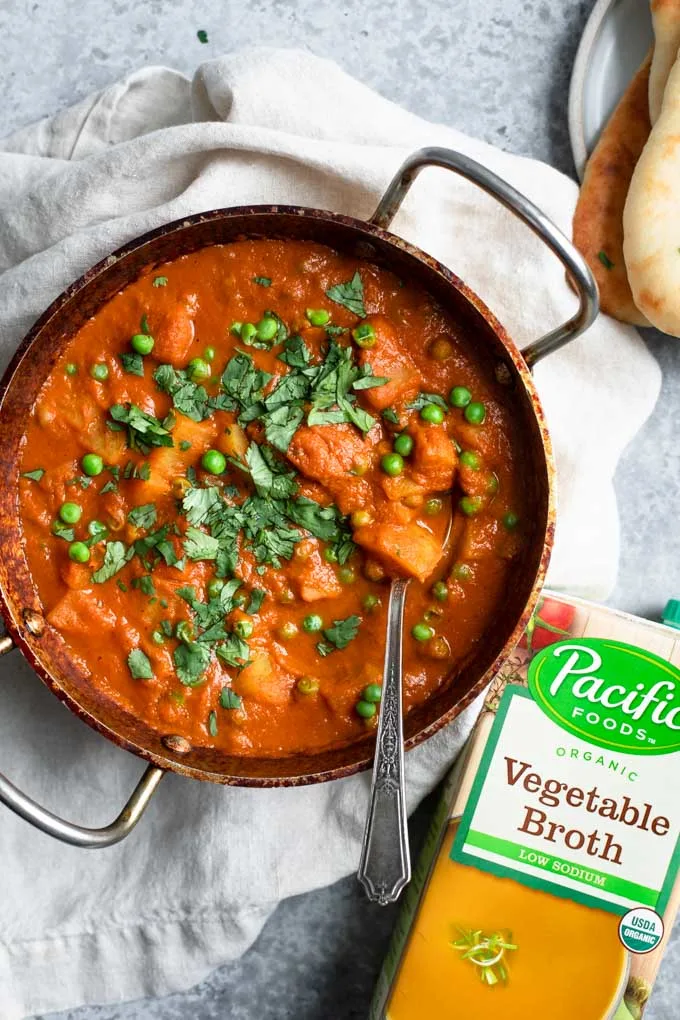 Aloo matar is a recipe from the region of Punjab, which is where most of the popular Indian cuisine in the United States is from– and certainly just the tip of the iceberg when it comes to the diverse cultures and cuisines from that part of the world!
Like most Indian dishes there are hundreds (thousands?) of ways to make aloo matar, but you'll find commonalities in most recipes.
The aloo matar spiced tomato sauce:
The sauce is tomato-based, and how saucy it is versus how dry (meaning less sauce) depends on the recipe and the person. Personally, I love sauce!
Aromatics make the base of the flavor of the sauce, and in the case of this recipe that's onion, garlic, and ginger.
There will always be some spice, but this can be from fresh hot chili peppers or from ground chili powder (e.g. cayenne). I use cayenne pepper in this recipe because I love the flavor, and it's easier to control the heat.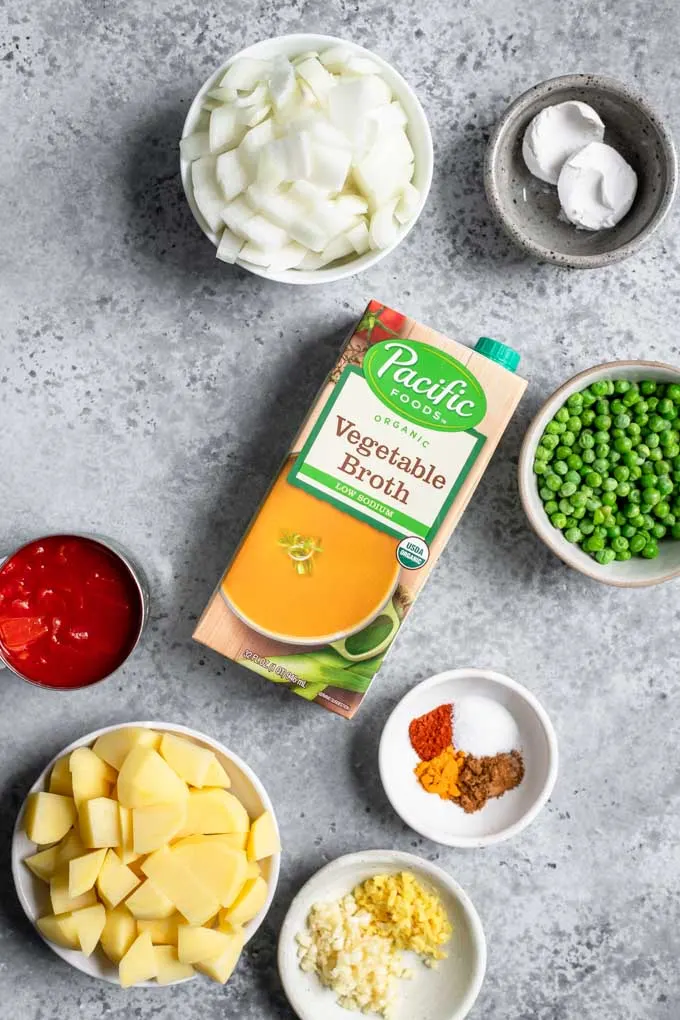 The tomato sauce is typically spiced with cumin and turmeric, along with other spices which vary based on the recipe.
I use garam masala in my aloo matar. Garam masala is the most popular spice blend from India, and a delicious combination of cumin, coriander, cardamom, and warming spices like cinnamon, nutmeg, clove, and mace.
You can buy pre-made ground garam masala blends, or make your own ground from whole spices.
As garam masala includes cumin as a main spice, I did not add extra cumin to the recipe.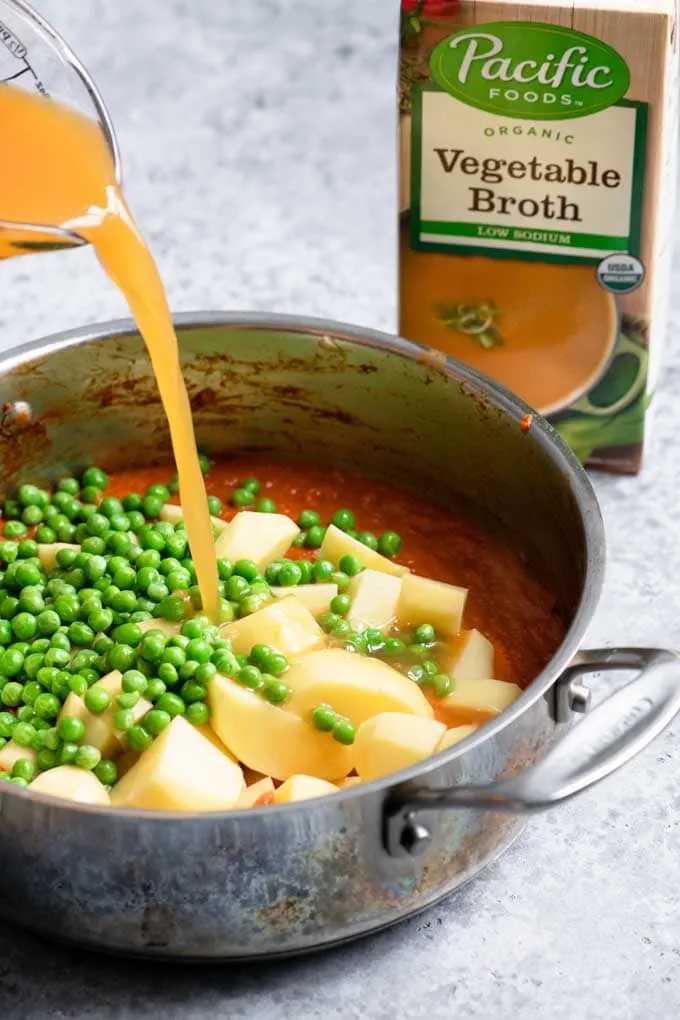 Along with the spices and the tomatoes, you need to add vegetable broth for cooking the potatoes.
I love Pacific Foods Organic Low Sodium Vegetable Broth. It's full of flavor and, well, low in salt so you don't accidentally go overboard! Pacific Foods Organic Vegetable Broth is also a great choice, and you still can adjust the added salt to your liking.
Aloo matar regularly has some cream added into the dish, and for my vegan aloo matar I use a spoonful of coconut cream.
Coconut cream is the creamy white solid that collects at the top of a can of coconut milk. Simply scoop some off and add it in!
If your coconut milk has not separated that's fine too, you can use coconut milk instead.
Cream is optional in aloo matar. If you prefer you can leave it out, but that little bit of coconut cream enhances the flavors and makes for the most delicious aloo matar!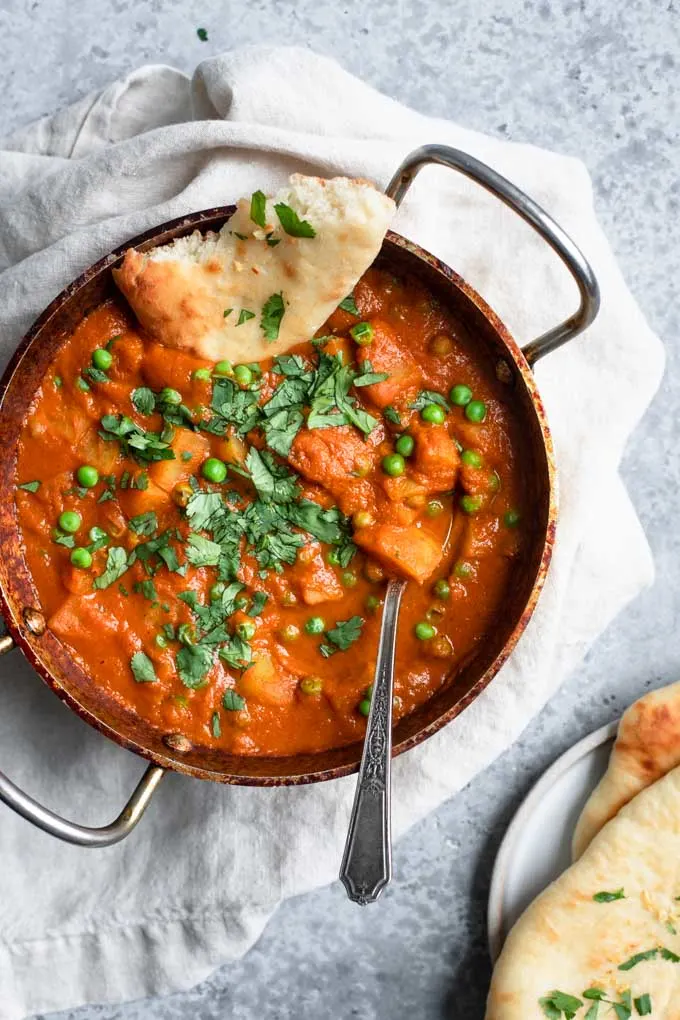 How to cook aloo matar:
We start with sautéing our aromatics–onion, garlic, and ginger. Cook the onion until soft before adding the garlic and ginger so that the latter two don't burn.
Next, add the spices and some salt. Stirring them in before adding liquids helps release their flavors as most spices have fat soluble flavor molecules.
Once that's done, add the tomatoes and let them simmer until they break down and become soft and juicy. With canned tomatoes this only takes about 5 minutes.
Aloo matar has a smooth tomato sauce, so once the tomatoes are softened, we blend the mixture up. You can use an immersion blender, or for even smoother results, an upright blender.
Add the tomato sauce back to the pot, then add the potatoes, peas, and Pacific Foods Organic Low Sodium Vegetable Broth. Bring the mixture to a simmer, cover the pot, and let it cook until the potatoes are soft. This depends slightly on the size of the potatoes, but about 10-15 minutes.
Because the potatoes are cooking in a tomato sauce, which is slightly acidic, they won't turn to mush and keep a nice firm texture. They do get tender, but also keep their shape! It's the best of both worlds!
When the potatoes are done, stir in the coconut cream so that it melts into the curry, and then taste and adjust any salt or seasonings you want!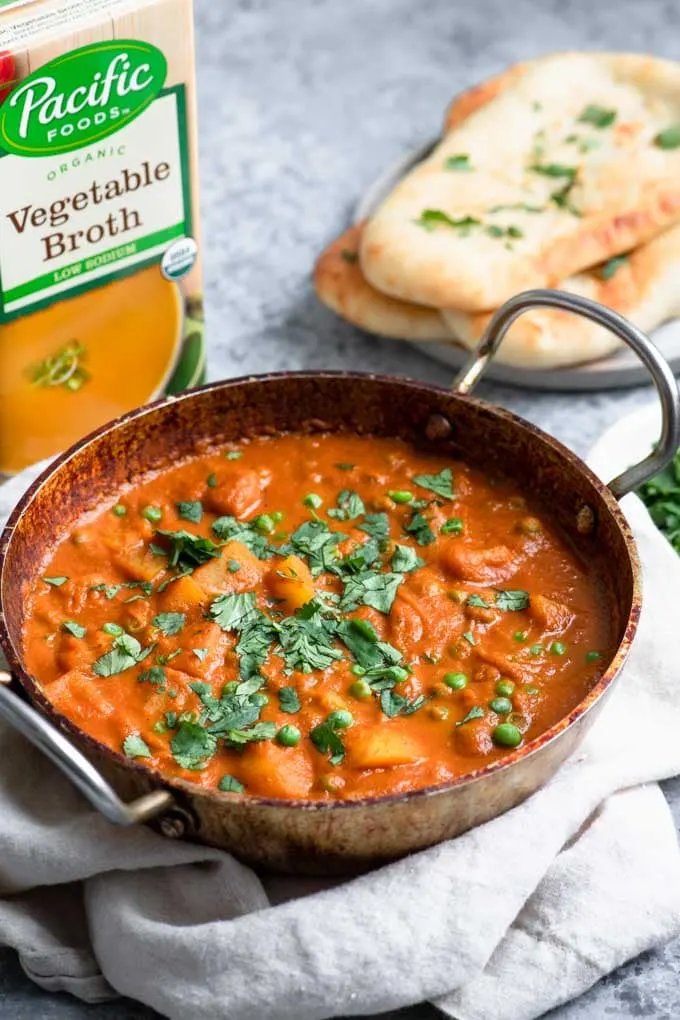 How to serve aloo matar:
Garnish the dish with cilantro, and serve with a side of basmati rice or some homemade garlic naan.
This recipe goes wonderfully alongside dal, such as my masoor dal tadka, dal makhani, or garlic urad dal fry.
Honestly any of my Indian recipes would be great alongside this aloo matar!
If eating this recipe on its own (with rice or naan) you'll end up with about 4 servings, but if you eat it alongside another dish you'll have 6-8 servings!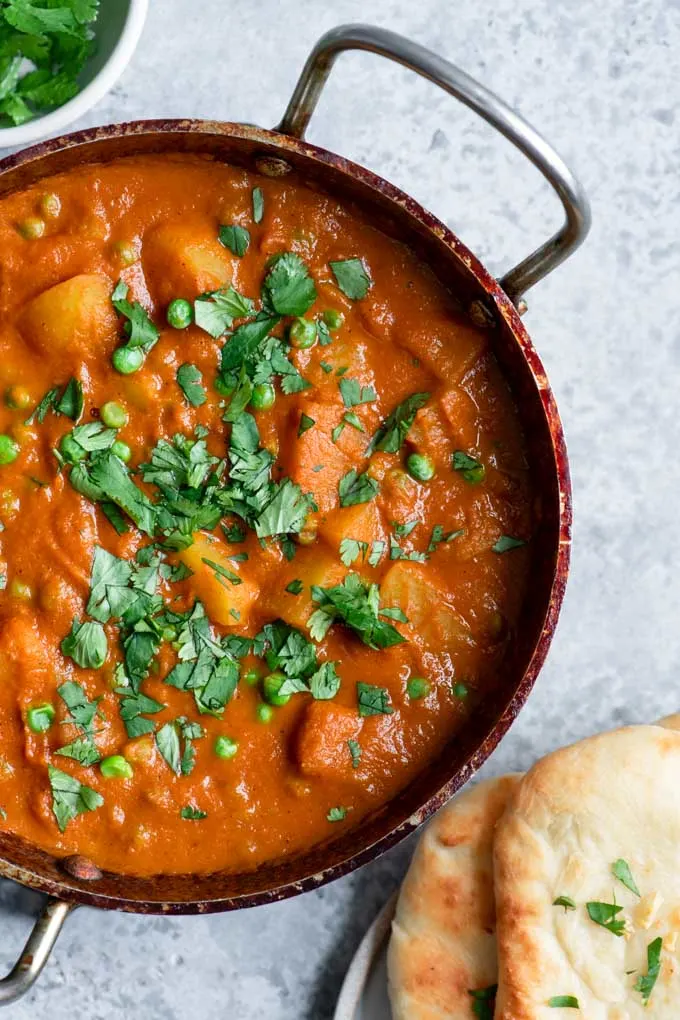 If you make this restaurant style aloo matar, leave a comment below and rate the recipe on the recipe card. And please share your photos with me on Instagram, tag @thecuriouschickpea and #thecuriouschickpea. I love seeing your recreations!
Thanks to Pacific Foods for sponsoring this recipe!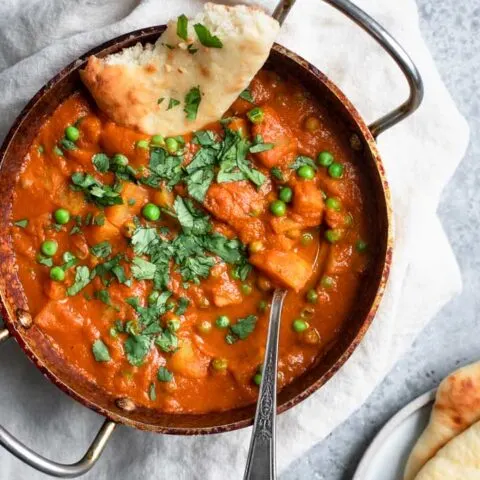 Restaurant Style Aloo Matar
This mouth watering Indian curry is made with potatoes and peas and cooked in a spiced tomato sauce. It's so quick and easy to make! Serve with basmati rice, naan, and if you like alongside other Indian recipes. It serves 4 as a main dish, or 6-8 as a side dish.
Ingredients
1 tsp oil
1 large yellow onion, diced
4-6 garlic cloves, minced
1 tbsp minced ginger
1 tsp garam masala
1/2 tsp turmeric powder
1/4 - 1 tsp cayenne pepper, to taste
1 tsp salt, or to taste
1 15oz can tomatoes, whole or diced (or 3 tomatoes chopped)
1 lb yukon gold potatoes (4-5 small potatoes), peeled and cut into 1/2" pieces
1 cup green peas, fresh or frozen
2 tbsp coconut cream (optional)
cilantro for garnish
Instructions
Heat the oil in a large pot over medium heat and add the onion and a pinch of salt. Sauté until soft, about 5 minutes. Add the garlic and ginger, and let fry for about 1 minute.
Add the garam masala, turmeric, cayenne, and salt and stir to coat the onion mixture, then add the tomatoes. If using whole tomatoes break them into chunks with a spatula. Sauté until the tomatoes have softened and turned juicy, starting to break down, about 5 minutes. Blend the sauce until smooth with an immersion blender or upright blender and return to pot.
Add the potatoes, peas, and vegetable broth. Turn the heat up to bring to a low boil, then turn the heat down, cover, and let simmer until the potatoes are tender, usually 10-15 minutes.
Add the coconut cream and stir to combine. Taste and adjust salt as needed. Garnish with cilantro to serve.
Notes
If not using low sodium vegetable broth you will want to start with less salt. You can always add more to taste at the end.
Nutrition Information:
Yield:

6
Serving Size:

1
Amount Per Serving:
Calories:

151
Total Fat:

2g
Sodium:

592mg
Carbohydrates:

30g
Fiber:

5g
Sugar:

9g
Protein:

5g
Nutrition is calculated automatically so should be used as an estimate.