Broccoli is extra delicious in these roasted broccoli bowls! Piled with quinoa, vegan sausage, fresh herbs, and an easy roasted red pepper sauce this recipe is hearty, healthy, and so good!
Sometimes my recipes come about because I want to experiment in the kitchen–I like to work on new techniques or discover new flavors. Other times, I'm just craving loads of roasted broccoli! As in, it's all I want to eat right now.
Broccoli roasts up to get crispy little florets and the most succulent stems. It rivals cauliflower for the best roasted vegetable. And maybe brussels sprouts.. and sweet potato… and well, maybe let's just admit that roasting vegetables is a magical preparation!
I can eat roasted broccoli straight from the baking tray. I like to dig in quickly as it comes out of the oven, when those crispy bits practically melt in your mouth.
And while I've been known to eat a load of broccoli and try to call it a meal (which usually leads to a slice or two of sourdough later because ya know I need my carbs), I thought I'd plump it out to make a simple but epic bowl for you to enjoy!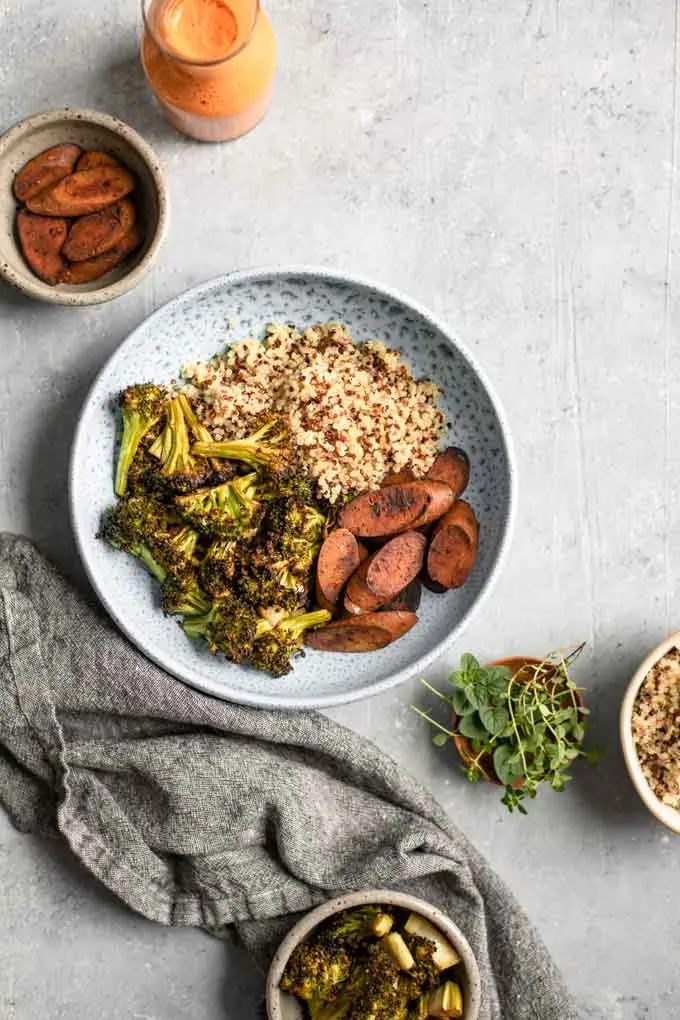 We start with lemony roasted broccoli piled atop a bed of quinoa, toss in some vegan sausage, then drizzle to drown (chef's choice) with the easiest roasted red pepper sauce!
Easy, peasy, healthy, hearty, and so so delicious!
The most important part of this bowl is the roasted broccoli.
Like, that goes without saying right? Life is just an ode to those roasted green florets. Ok, I joke, but I really am obsessed!
You know how when you buy broccoli, sometimes you buy just the crowns and other times you can buy the crowns with more of the stems attached? Well definitely if given a choice buy the ones with the stems.
First of all, these stay fresher longer. But also, they stem is really good and definitely a part of the vegetable that you should be eating!
I trim the end of the stems where they're drier and possibly a bit woody, then dice up the more tender part of the stem. For the florets, just cut or break them apart to be bite sized. Personally, I don't mind having slightly different sizes to the florets, this lets some get more crispy when roasted.
The broccoli gets tossed in just a bit of olive oil, salt, pepper, and perhaps most importantly lemon juice. Then spread it out over a parchment or silicon mat lined baking tray, and roast in a hot oven until tender and the edges are turning nice and crisp. Stir it halfway through for even roasting.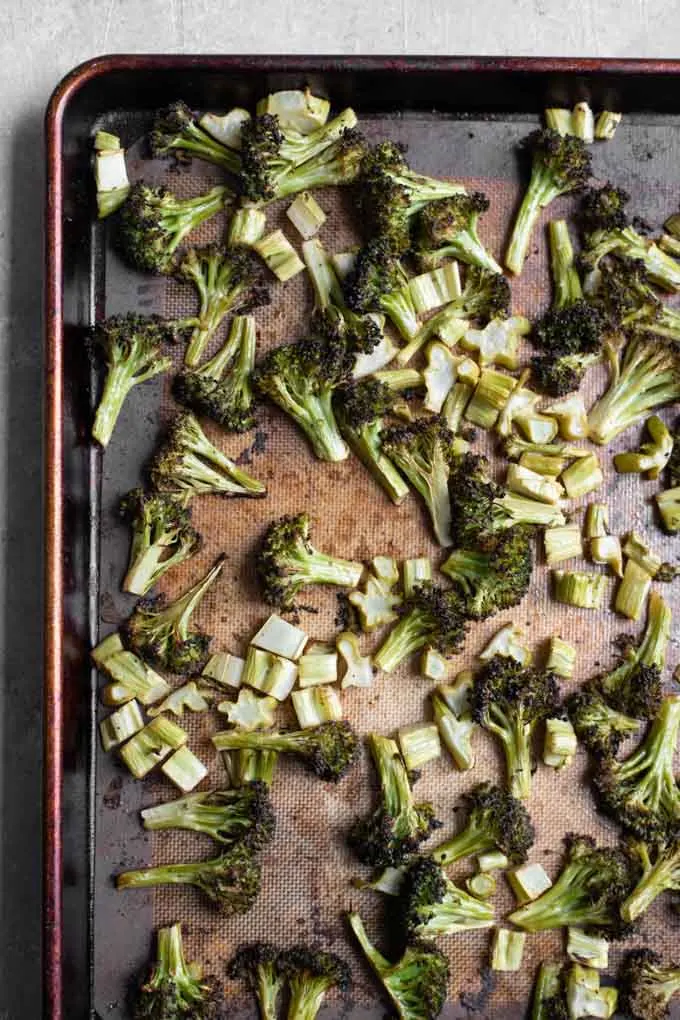 While the broccoli cooks, you can cook your grain.
I used quinoa when making this dish because I had it in my cabinet, and I like its nutty flavor. I highly recommend it paired with the rest of the roasted broccoli bowls, but if you prefer to use rice or a different grain go ahead!
To cook your quinoa, first rinse it really well. Swish it around and let the water run until its clear. Then, heat a pot with a drizzle of oil and toast your quinoa for 2-5 minutes.
Add water, I use 1 3/4 cups water (or a scant 2 cups) to 1 cup of quinoa, and bring it to a boil. Turn the heat down to the lowest heat, cover it and let it steam for 15 minutes. Turn the heat off and leave the lid on for about 5 minutes, then fluff it with a fork and enjoy–or cover back up and let it stay warm until you're ready to eat it!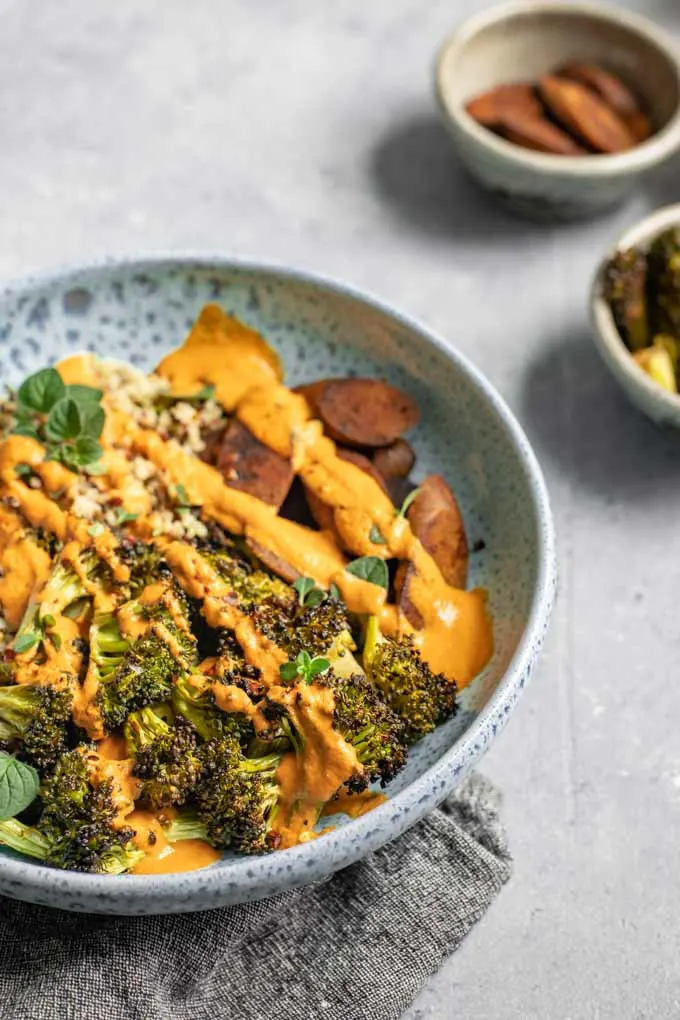 Next, prepare the roasted red pepper sauce.
This roasted red pepper sauce is the most simple sauce. There are just 5 ingredients: [shelled] sunflower seeds, water, roasted red pepper, salt, and red pepper flakes.
I used sunflower seeds because I'm trying to incorporate more of them into my diet. If you'd prefer to use cashews that's fine too!
If not using a high speed blender, you'll want to soak your sunflower seeds to soften them. Simple immerse them in cold water for a couple of hours, then drain them and they're ready to use!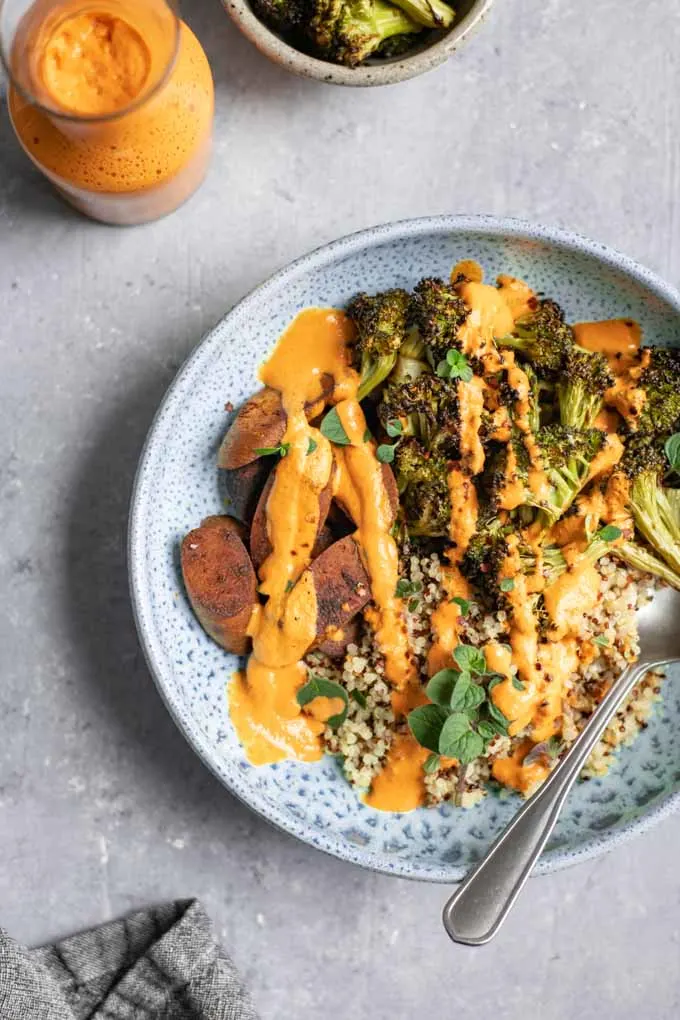 Blend the sunflower seeds with the water to make a smooth cream. Then add in the roasted red pepper, salt and a pinch of red pepper flakes and blend again until smooth.
It's a simple sauce, but the nutty flavor of the sunflower seeds combines with the roasted red pepper to make a rich tasting dressing. It combines with the acidity of the lemon roasted broccoli to become something extra special!
Last, fry up some vegan sausage!
I like an Italian seitan sausage paired with this recipe. But, if you have another vegan protein on hand feel free to substitute it! I recommend using something spiced like a sausage, but since there's a tasty dressing its not necessary.
Slice it up then pan fry it with a bit of oil to turn the edges nice and crispy. I do this right in the last several minutes of the broccoli cooking, about right after stirring the broccoli.
And now build the roasted broccoli bowls.
Pile quinoa, roasted broccoli, and some vegan sausage into a big bowl. Drizzle with the red pepper sauce, and then add some fresh herbs! I used some fresh lemon thyme and fresh oregano from my garden to top these bowls.
The fresh herbs take the bowls from tasty to special. If you don't have thyme or oregano, you can use herbs you have on hand. It could be dill, chives, parsley, cilantro, basil, marjoram, or some combination.
Fresh herbs amp the, well, freshness of the bowl. It complements the lemon and earthiness of the roasted broccoli and quinoa.
Top with some more red pepper flakes, any salt to taste, toss everything together and dig in!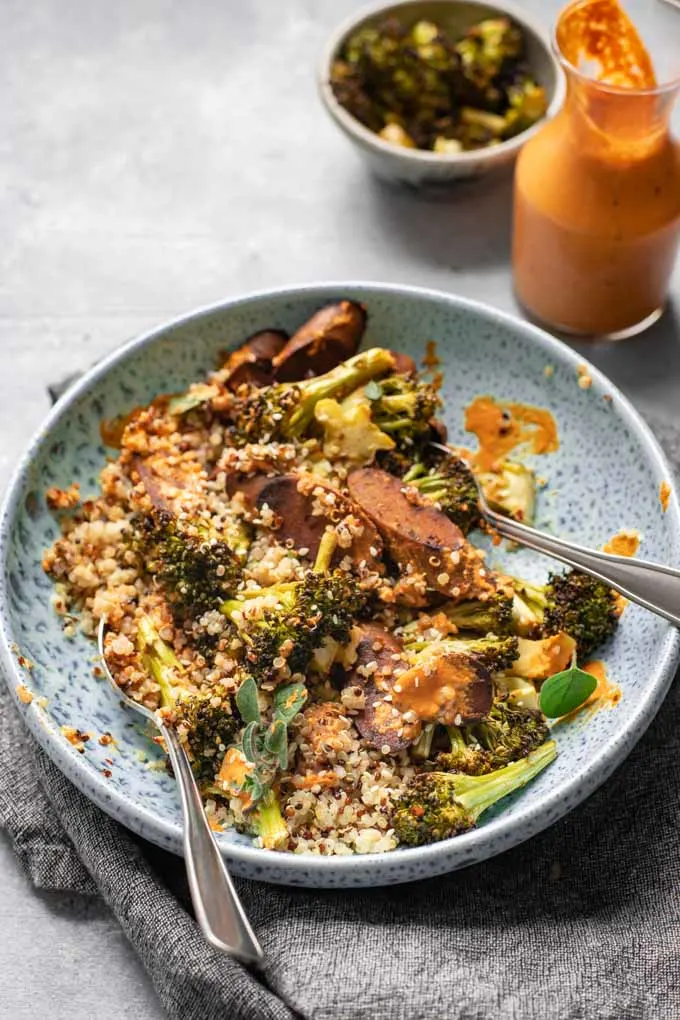 ---
If you make these roasted broccoli bowls, leave a comment below and rate the recipe on the recipe card. And please share your photos with me on Instagram, tag @thecuriouschickpea and #thecuriouschickpea. I love seeing your recreations!
---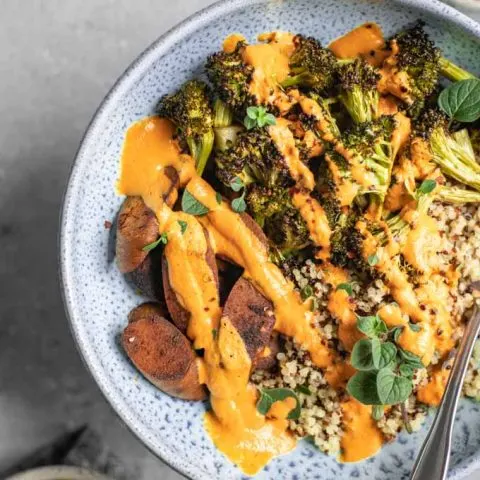 Roasted Broccoli Bowls
Broccoli is extra delicious in these roasted broccoli bowls! Piled with quinoa, vegan sausage, fresh herbs, and an easy roasted red pepper sauce this recipe is hearty, healthy, and so good!
Ingredients
Roasted Broccoli
1 large bunch (1 1/2-2 lbs) broccoli, about 9 cups when chopped
1 tbsp olive oil
2 tbsp fresh lemon juice (~1/2 lemon)
1 tsp salt, or to taste
black pepper to taste
Roasted Red Pepper Sauce
1/2 cup (68g) shelled raw sunflower seeds*
1 cup (225g) water
1/2 cup (108g) roasted red pepper
1/2 tsp salt, more to taste
pinch of red pepper flakes
Everything else
3 cups cooked quinoa or other grain
12oz vegan seitan sausage
fresh herbs, such as thyme, oregano, chives, or basil
Instructions
Preheat the oven to 425 ºF. Trim and discard the ends of the broccoli, then chop the tender stems and cut the crowns into florets. In a large mixing bowl toss the broccoli with the olive oil, lemon juice, salt and pepper. Transfer them to a parchment or silicon mat lined baking tray and bake until the edges are crispy and bordering on burnt and the stems are tender, about 25-35 minutes, stirring halfway through.
In a blender combine the sunflower seeds and water and blend until smooth and creamy. Add the roasted red pepper, salt, and a pinch of red pepper flakes and blend until smooth. Makes about 1 1/2 cups sauce.
Slice the seitan sausage and fry in a little bit of oil to warm up and get a little color.
Assemble the bowls. Add quinoa, roasted broccoli, and pan fried vegan sausage to each bowl, drizzle with sauce and finish with fresh herbs and red pepper flakes. Toss together before eating!
Notes
If you're not using a high speed blender, soak your sunflower seeds in cold water for 2 hours. Then drain and use in the recipe.
For gluten free, substitute an appropriate vegan protein.