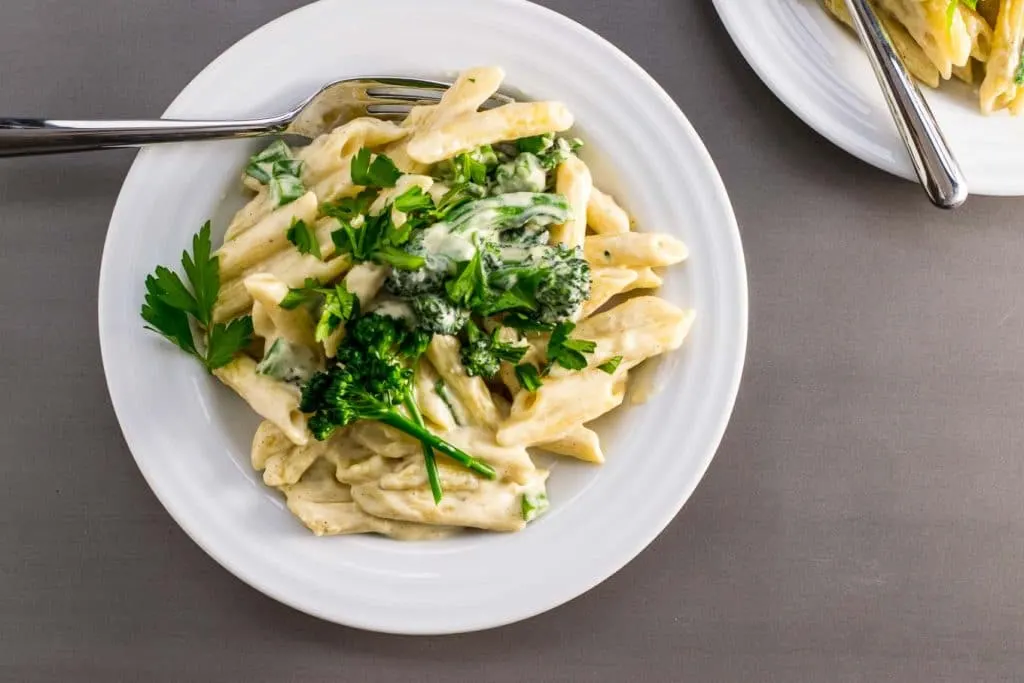 This recipe is one of my lazy girl recipes. How can something with such a fancy name, be a lazy girl recipe you ask? Well, because it's ready in under a half an hour and doesn't make a huge mess, so clean up is minimal. Plus it's an easy way to include your veggies for a complete meal.
The sauce is designed to bring out the best flavor in each step. Sautéing thinly sliced garlic over low heat lets it get golden and caramelized, mellowing the sharp bite and giving a subtle roasted garlic taste. Toasting the sage and white pepper brings out extra aroma and even more flavor. Heating the white wine with the spices and garlic infuses it with flavor. Cashews provide creaminess, miso and vegetable broth an umami rich depth. Nutritional yeast brings some nutty, cheesy, savory flavor to the sauce. Starch thickens it and gives a slight stretchy texture.
Broccolini is a fun alternative to broccoli. That being said, it tends to be pricier and can be harder to find, so you can certainly substitute broccoli and cook it in the same manner (and to be honest, this is what I'll regularly do, as I'm more likely to stock broccoli than broccolini). Now, when it comes to cooking vegetables, boiling and steaming is not my go-to method. I really like to roast veggies. However, this dish is one exception. When tossed in for the last 1 to 2 minutes of cook time for a quick blanching, broccolini (or broccoli) turns bright green and becomes tender, while maintaining a slight crunch. Once tossed in the sauce, the florets are filled with the creamy white wine sauce. Once on your plate, each juicy bite of broccoli is savored and you might wonder why you even bothered with the pasta. Except that you won't, because chewy noodles doused in an umami-rich, downright cheesy sauce are to die for.
If you make this dish, let me know in the comments, rate it, and/or tag me on Instagram!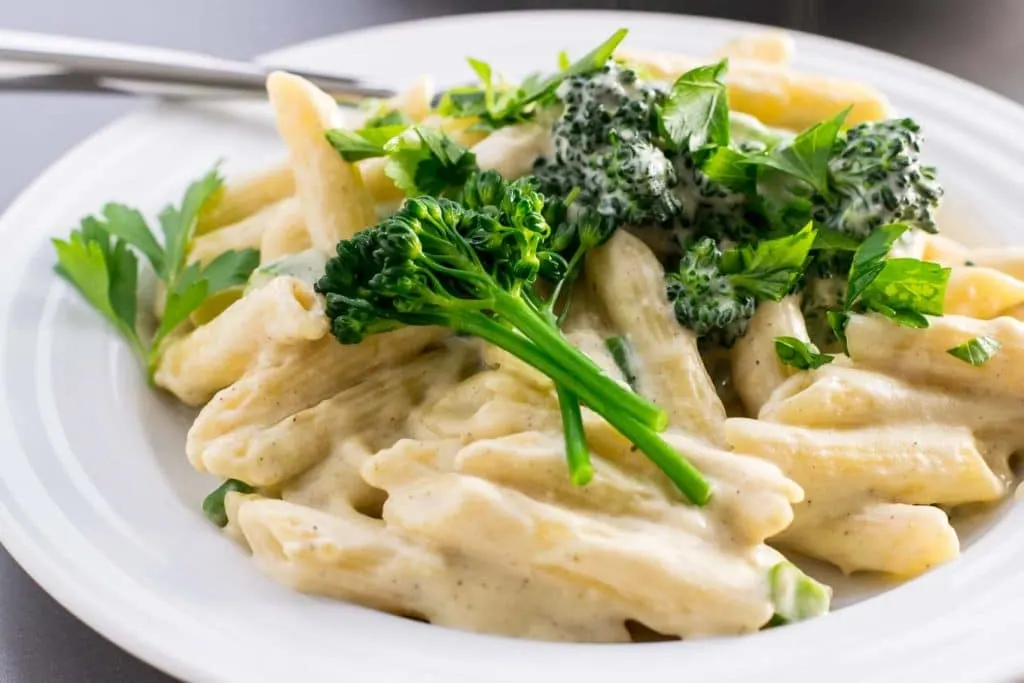 Notes:
Soy free option: use chickpea miso
Gluten free option: use gluten free pasta
You can substitute broccoli for broccolini, and cook the same way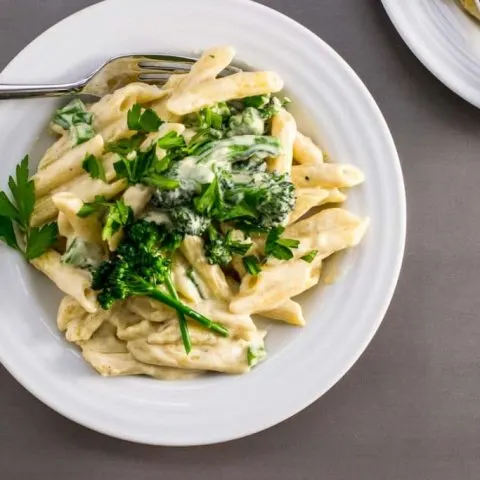 Penne with White Wine Cream Sauce and Broccolini
Penne and broccolini are smothered with a creamy vegan white wine sauce in this quick and easy dinner recipe.
Ingredients
2 tbsp olive oil
3-4 cloves garlic, thinly sliced
1 tsp dried sage
1/2 tsp white pepper
1 cup dry white wine*
1 cup cashews, soaked if not using a high speed blender
1/4 cup nutritional yeast
2 tbsp arrowroot starch*
1 tbsp white or chickpea miso
1 1/2 cups vegetable broth, ideally no-chicken style
1/2 tsp salt, or to taste
3/4 lbs broccolini, cut into florets and stems trimmed and diced
1 lb penne pasta, gluten free if desired
flat leaf parsley, for garnish (optional)
Instructions
Bring a large stock pot of salted water to a boil.
Meanwhile, in a large heavy bottomed pot, heat the oil over low. Add the thinly sliced garlic and fryuntil golden, 3-5 minutes, stirring occasionally. Add the sage and the white pepper and stir to coat. Then pour in the wine and mix to combine. Let heat for 1 minute.
In a blender, add the cashews, nutritional yeast, arrowroot starch, miso, broth, and salt. Pour the wine and garlic mixture into a blender, and set the pot aside. Blend until smooth.
Pour the mixture back into the same pot, and bring to a simmer over medium heat, stirring almost constantly. Turn heat to low and while stirring regularly, allow the mixture to simmer until nice and thick, 3-5 minutes. Turn heat off and set aside until the pasta is cooked.
When the pasta water has come to a boil, cook pasta according to package directions. Add the cut broccolini for the last 1-2 minutes of cooking. Scoop out ~1/2 cup of pasta water, then drain the pasta and broccolini. Add the pasta to the sauce (or the sauce to the pasta pot, if you need more space), and over low heat stir to combine for about 1 minute, adding reserved pasta water to thin if needed.
Notes
*If avoiding wine, you can substitute more vegetable broth instead along with a teaspoon of a light colored vinegar (such as sherry, white wine, white baslamic, coconut, champagne, etc), just note that the wine does add a lot of depth of flavor.
*can substitute tapioca starch or gluten free flour blend for the arrowroot. Cornstarch will thicken the mixture but the texture will not be as stretchy.