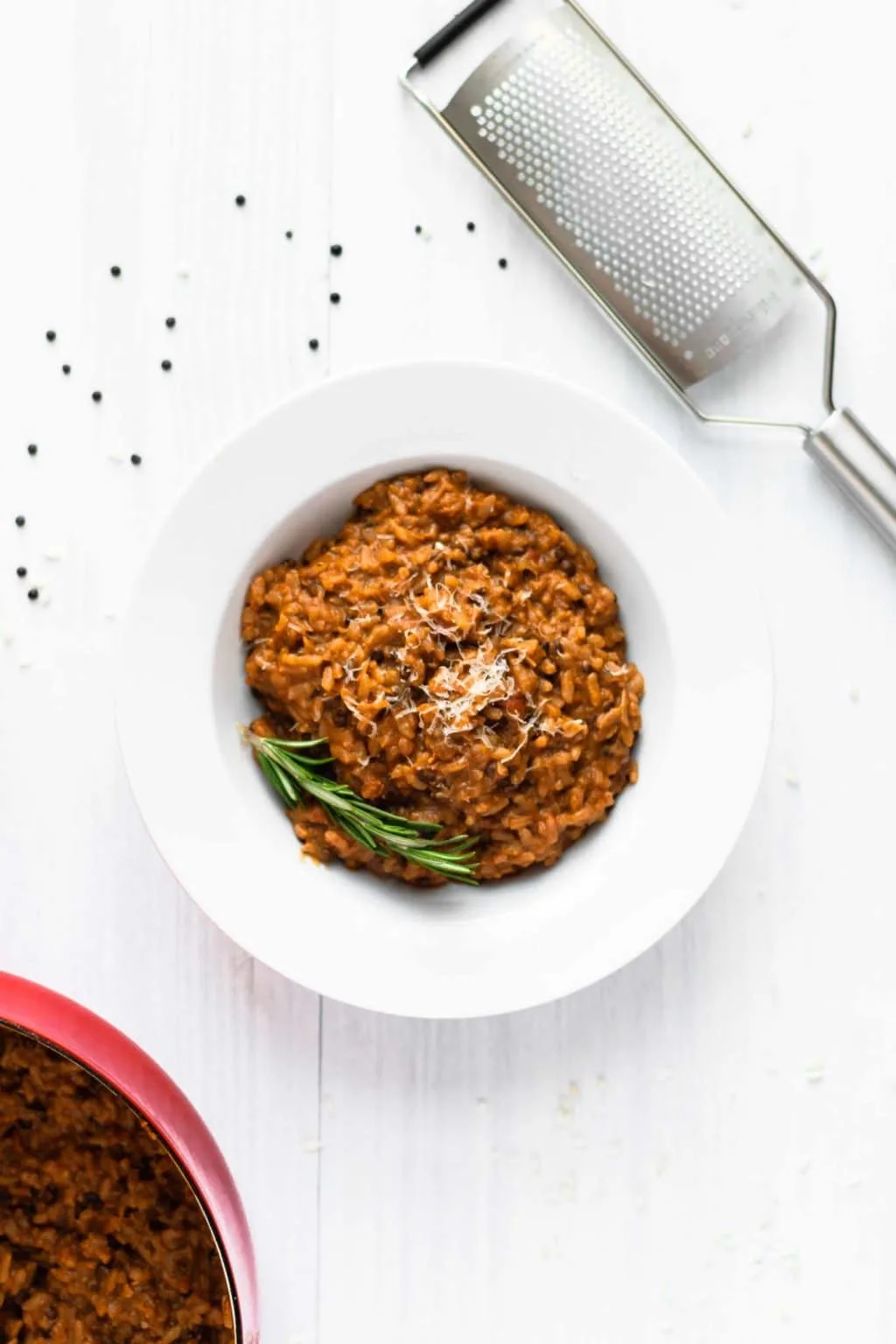 Happy New Year everyone! I'm a little late to the draw here, as we're officially more than halfway through the month, but I spent the first part of my new year soaking up the sun in Hawaii and it was glorious. I was so not ready to come back home to cold weather, though I did miss our pets! I also owe you a little bit of an apology, as I had meant to share this recipe for vegan risotto bolognese with you before the new year and close on the heels of my mouth watering black lentil bolognese, but it was so delicious I went into a holiday-no work allowed-food coma. Oh well, if you already made a batch of bolognese you're probably missing it by about now (I know I am!) and ready for round 2 with this delectable risotto!

Are you intimidated by making risotto? If you are, you really shouldn't be! It's so simple when you break it down. All you're doing is adding hot liquid into rice slowly in increments, stirring until it's absorbed before adding more, and just letting it cook with more and more liquid until the rice is fully tender. If you're not sure if the rice is tender, it probably needs a little more time and liquid, and if you run out of broth, you can totally use hot water at the end!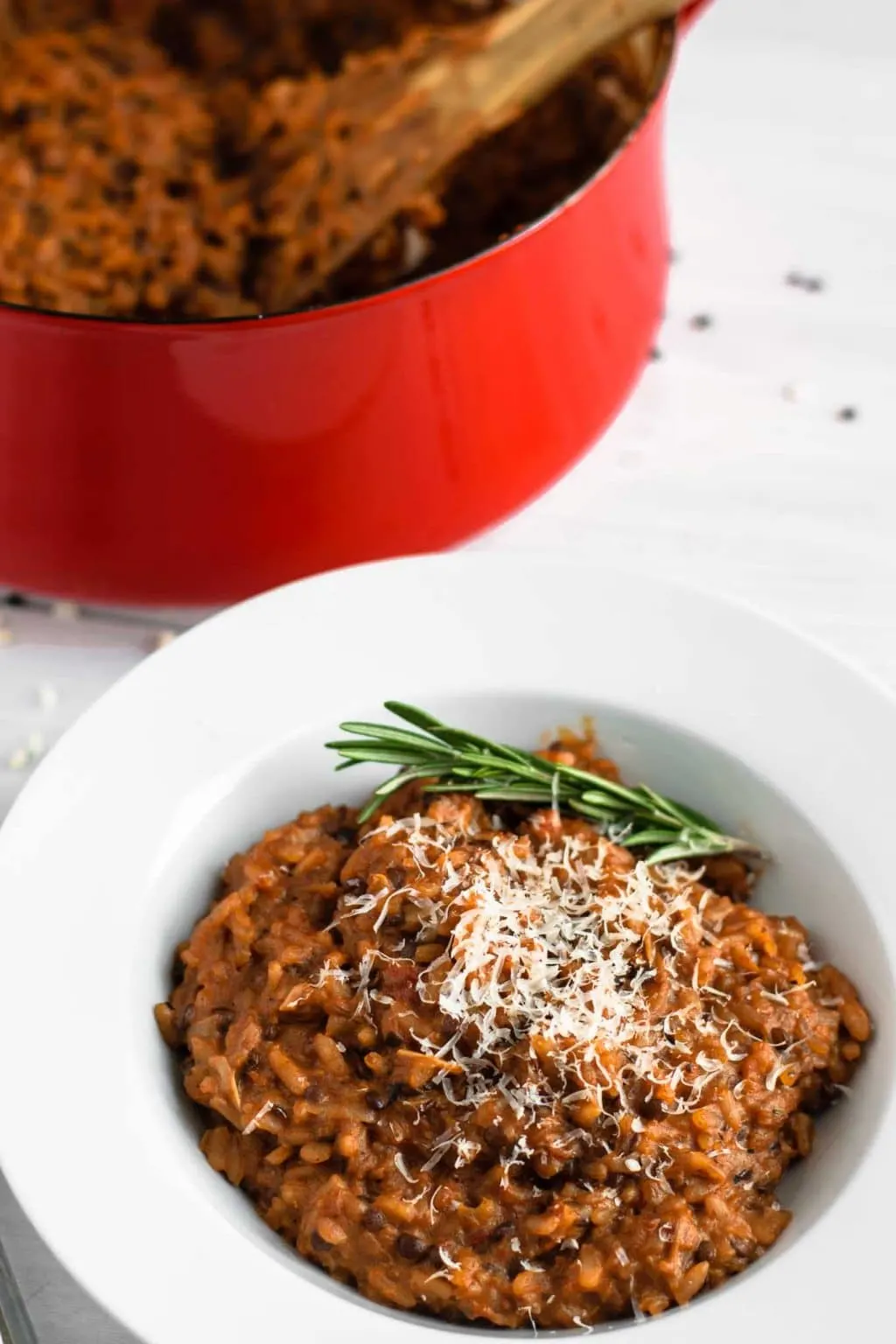 Then there's the issue with that annoying set of directions where you're told to stir the rice the ENTIRE time non-stop while cooking it. In one recipe I made, it said that you had to stir it in the same direction the entire time–as in you better choose clockwise or counter clockwise and stick with it! Well, that's just crazy talk. I mean, I did exactly that, and stirred my risotto counter clockwise for somewhere between 30 and 45 minutes until I thought my arm would fall off, but it's so over the top and not necessary! You do need to stir your risotto while it cooks, (1) it helps break down the kernels of rice so they release their starches that make the risotto so darn creamy, and (2) it keeps the rice from sticking to the bottom of the pot, especially important towards the end of cooking when the rice is plump and especially sticky. But you do not need to stir constantly, and it will be just fine if you switch the direction you're stirring in, promise.
I like to stir the mixture frequently as it cooks, like once or twice in the first few minutes after each addition of broth, then I'll stir more constantly for the last minute or two as it's absorbing up the last bit of broth and thicker, therefore more likely to stick to the bottom of the pot. I also stir more frequently as we get towards the end of the broth and cooking time. The main thing is, don't stress it, you can step away from the pot and if you come back and things are sticking a bit, just add more liquid and stir it to loosen the rice from the bottom, and next time come back to the pot a little sooner.
I think risotto is quite fun to make, and it's one of my favorite things to eat. This vegan version of risotto bolognese has the benefit of being quite a healthy dish, especially when compared to your typical dairy and meat laden risotto. This recipe only requires NINE ingredients, though, admittedly, one of those ingredients is a complete second recipe (but sooo worth it, and it makes a ton so you get to eat all the vegan bolognese you want!). It's so fancy tasting, with the deepest, richest savory flavors, and the perfect accompaniment to creamy rice. I add just a splash of cashew cream right at the end, and it pulls together all the flavors, mellows the tomatoes and enhances the Italian herbs of the bolognese, while making the whole dish even creamier.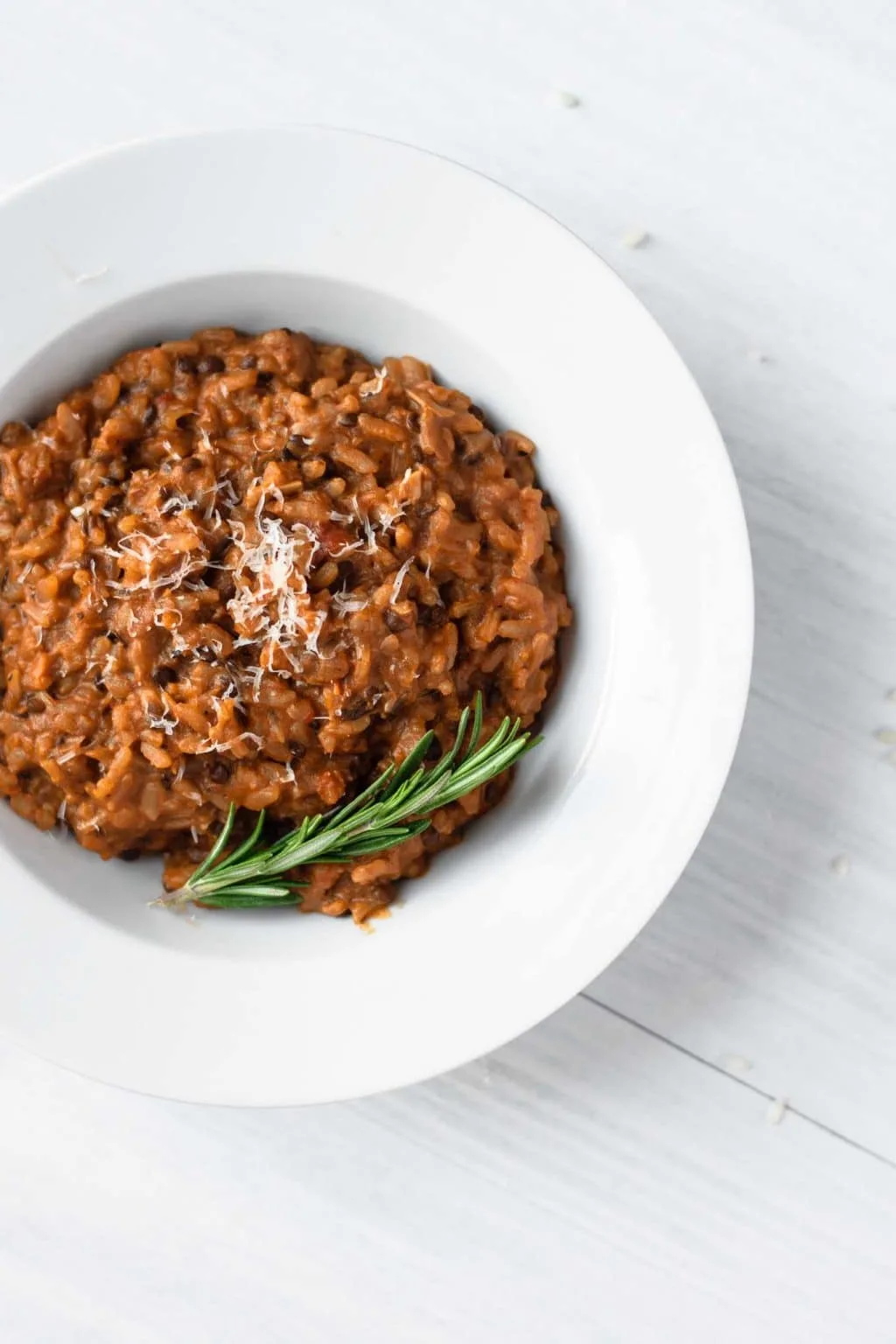 To serve, I topped it off with a little vegan parmesan (have you tried violife yet? I brought some home from London in October, and it's SO GOOD. I'm obsessed. And btw it is sold in the US now, just not that close to me.) and more freshly ground pepper. This would make a wonderful entree at any dinner party, or be perfect for a romantic date night in (I hear Valentine's day is coming up). Serve it with a light salad, because you'll want plenty of room in your belly for seconds and maybe thirds. If you make batch of black lentil bolognese just for this risotto, you'll find you have plenty of extra, so you can make a second batch of risotto later in the week, or enjoy with pasta for quick and easy weeknight meals.
I hope you guys try this recipe, it's too delicious to not try it, frankly. I'm over here debating with myself because I want to make it again right now, but also, I'm supposed to be moving on to new recipes for you! Ah well, I'll definitely be eating it again soon! Let me know if you make this vegan risotto bolognese! Leave a comment below, and tag your photos @thecuriouschickpea and #thecuriouschickpea on Instagram, or share with me on Facebook. Also, as an aside, I was sharing some of my vacation shots (like, there were dolphins and sea turtles and lava!!!! and gorgeous sunsets) over on my instagram stories, so if you're interested in some occasional non-food aspects of my life, make sure you follow me over there and say hi!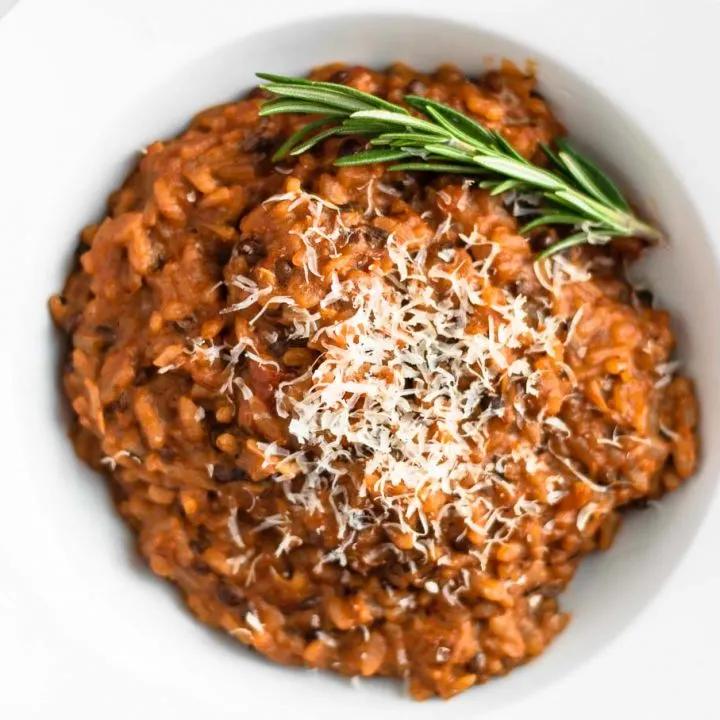 Vegan Risotto Bolognese
Creamy risotto is cooked with delicious, savory homemade bolognese for a delicious and gluten free entree that tastes so indulgent, without packing in the calories.
Ingredients
5 cups vegetable broth
1 tbsp olive oil
2 cloves garlic, thinly sliced
1 1/2 cups arborio rice
1/2 cup red wine
freshly ground black pepper, to taste
1/4 tsp salt, to taste
1/2 cup cashew cream*
Instructions
Heat the broth in a small pot and leave covered over low heat to stay warm.
Heat a second heavy bottomed large pot over medium heat and add the oil and garlic. Cook the garlic, stirring constantly, until just lightly golden in spots, about 30-60 seconds. Add the rice, and stir to coat in oil.
Pour in the red wine, freshly ground black pepper, and 1/4 tsp of salt, more if you're using an unsalted or low sodium broth. Stir the rice until the red wine is absorbed, about 2-4 minutes. Turn the heat down to medium-low.
Add hot broth by increments of about 1 cup and cook on medium low heat, stirring frequently until mostly absorbed, typically 5-7 minutes each. Continue until 3 cups of broth have been absorbed by the rice. Then add the 2 cups of bolognese and stir until it's evenly mixed. Then, add another cup of broth and stir until it's absorbed. At this point taste your risotto for doneness, and add another 1/2 to 1 cup of broth and cook, stirring until absorbed and the risotto is tender.
Lastly add 1/2 cup of cashew cream and stir in to the risotto. Taste and add salt and black pepper as desired.
Serve warm with a little vegan parmesan if desired.
Notes
*To make cashew cream use a 1:1 ratio of soaked cashews in water and blend until creamy. Alternatively, you can use a store bought plain, unsweetened plant milk creamer or canned coconut milk.