These delicious gochujang tofu dumplings have a spicy Korean-inspired filling and make a great snack, appetizer, or eat more and make it a meal! Their crispy sesame seed coated bottoms makes them extra special.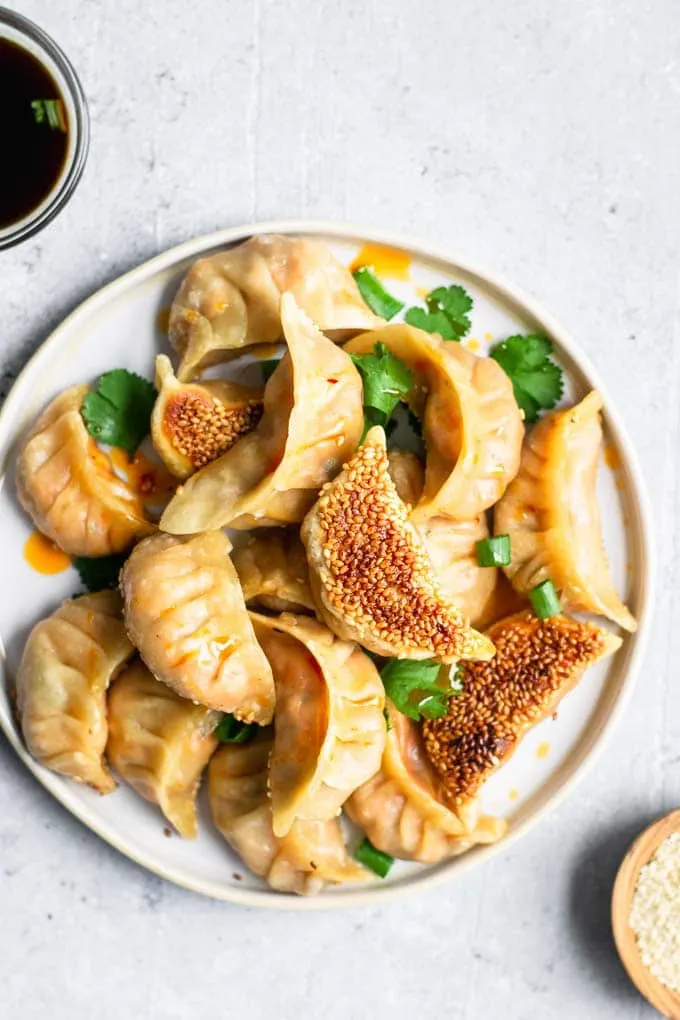 If you love dumplings (aka if you're human) then you need this recipe in your life. With crispy sesame seed bottoms and a spicy Korean pepper paste (gochujang), creamy crumbled tofu, and juicy cabbage filling. They're SO good!
Possibly even the most perfect two-bite sized food there is! They're just bursting with flavor and perfect for dipping.
If you've resisted the allure of making your own dumplings/gyoza/potstickers from scratch in your very own kitchen for your eating pleasure, it's now time to change that. And if you're a seasoned dumpling maker, you know how incredible homemade ones are and need to add this recipe to your to-make list!
Homemade dumplings might not be the quickest food to make, but there's nothing difficult about it either. A little patience, some music or TV on in the background, and if you're lucky some dumpling-shaping company, and you'll have them done before you know it!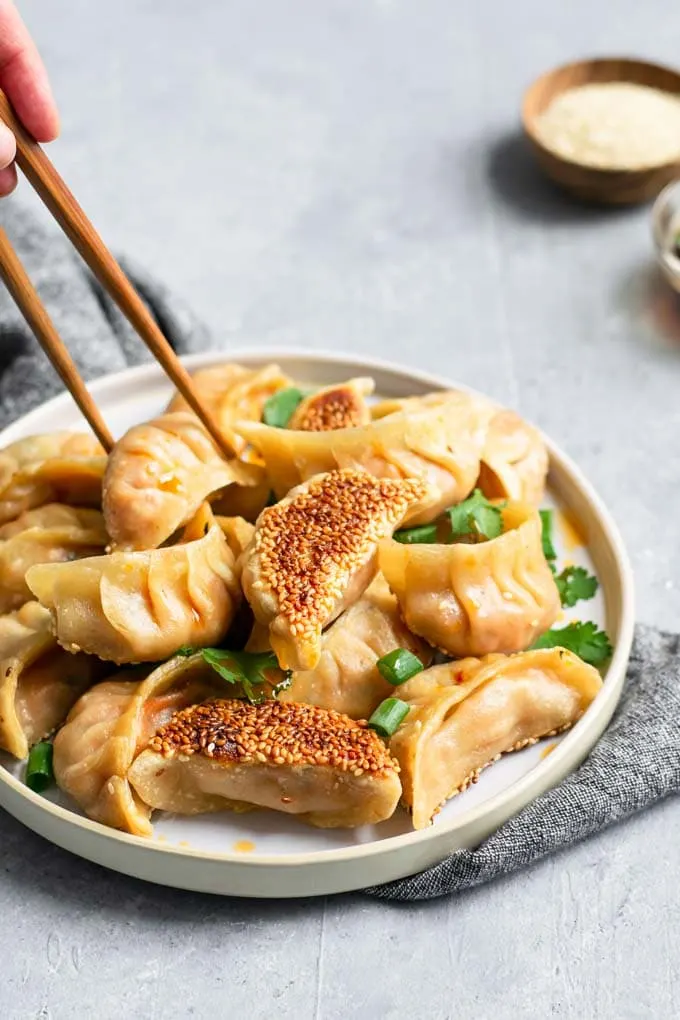 For streamlined dumpling making follow these steps:
Press the tofu and chop & measure the filling ingredients.
Prepare the dumpling dough, and then leave it to rest.
Cook the filling, then leave it to cool to room temperature.
Roll out the dumpling dough, fill and shape the dumplings.
Cook the gochujang dumplings & eat them!
If you'd prefer you can make the filling in advance and then make the dough the day you want to cook them. You can also make and shape them in advance and freeze them until you're ready to eat. If frozen, they will take longer to cook!
The gochujang tofu filling:
The Korean-inspired filling for these dumplings couldn't be easier to make. There are just 11 ingredients and it takes about 10 minutes to cook.
The bulk of the filling is tofu and cabbage. Choose a firm or extra firm tofu, and press it to squeeze out extra water before cooking.
Pressing tofu is a cool trick to make for a firmer and less delicate, easier to cook, and just gives it a better texture. Take a block of tofu, wrap it in a lint-free towel or paper towels, and then put something heavy on it. Let it sit for 20 minutes or more to press out the excess water, then crumble up the block of tofu.
If you're in a hurry, you can give the block of tofu a good squeeze between your hands over a bowl to get rid of excess water, and then note it may need a bit longer to cook so it's not too wet of a filling.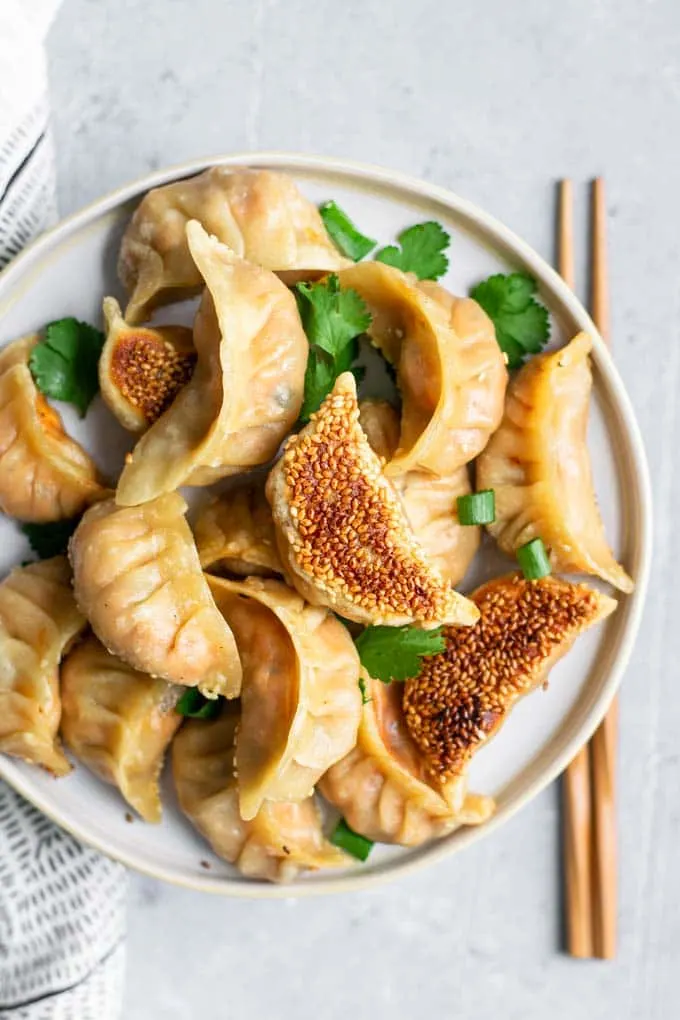 Prep your other veggies: finely shred the cabbage and chop up the green onions, garlic, and cilantro. Whisk together gochujang, hot water to thin, toasted sesame oil, and soy sauce and set it aside.
If you're unfamiliar, gochujang is a Korean hot pepper paste. It's sweet, salty, fermented and amazing. The spice level in gochujang varies a lot by brand, I've found spicy ones at Asian grocery stores and mostly mild ones in the International foods section of my local grocery stores.
Personally, I'm a huge fan of the spicy ones, but if you're spice sensitive then feel free to start with less and add more to taste!
Once all your ingredients are prepped and sauce is mixed together, cook it up! Fry the crumbled tofu, add the cabbage, garlic, and green onions and cook those as well. Then toss in the sauce and let it cool.
Homemade dumpling dough:
In my dream life I live near a place where I can buy egg-free dumpling/wonton wrappers so I can make dumplings as often as I want. But I don't, and honestly making dumpling dough is easy!
You need 4 ingredients: flour, salt, a little bit of oil, and boiling hot water. A stand mixer makes it easy to bring the dough together, but you can also knead by hand.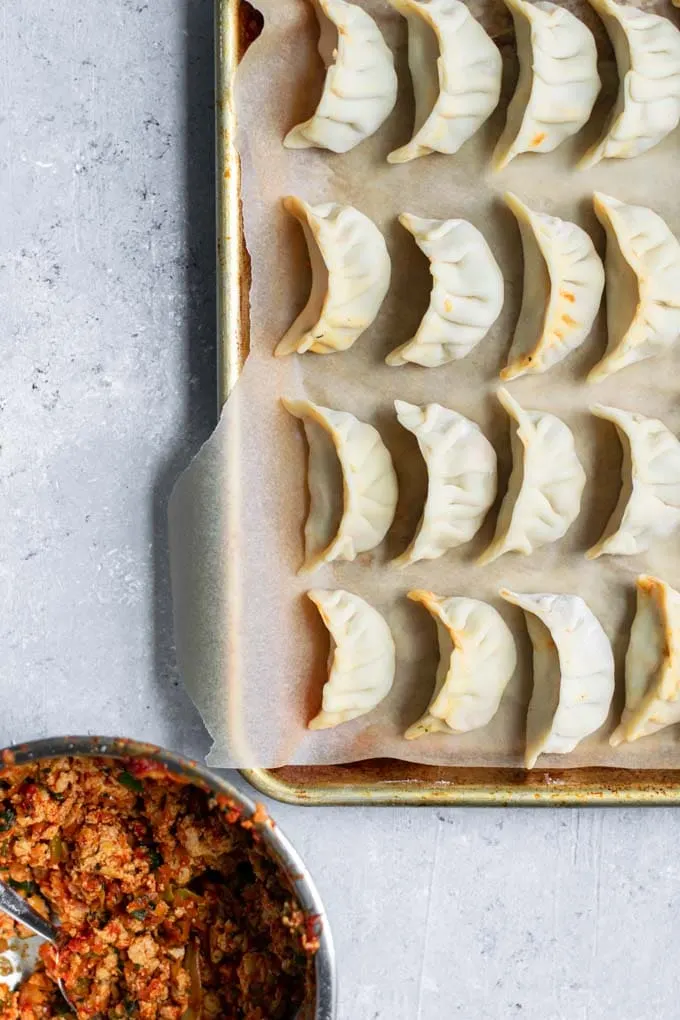 Knead the mixture into a soft and supple dough, then let it rest for 20 or so minutes before dividing it into pieces and shaping the dumplings. The resting time allows the flour to fully hydrate and the gluten (protein structure of wheat) to relax for easy rolling.
For my Tibetan momos I rolled out the dumpling dough in big sheets and then cut it into circles. For these I divided the dough into small walnut-sized portions and rolled each one out individually. Either way works and you can use either method for these, but we'll proceed with the latter instructions.
Roll out each piece of dough into about a 4″ circle, dust the surface with flour and the dough so that it doesn't stick. It doesn't need it to be a perfect circle, any imperfections and lopsided edges will be hidden when you shape the dumplings.
Shaping the dumplings:
If you're new to shaping dumplings, start with rolling and filling one or two wrappers at a time. This way you can make adjustments with rolling the dough out thinner or thicker with subsequent pieces of dough as well as figuring out how much filling to add.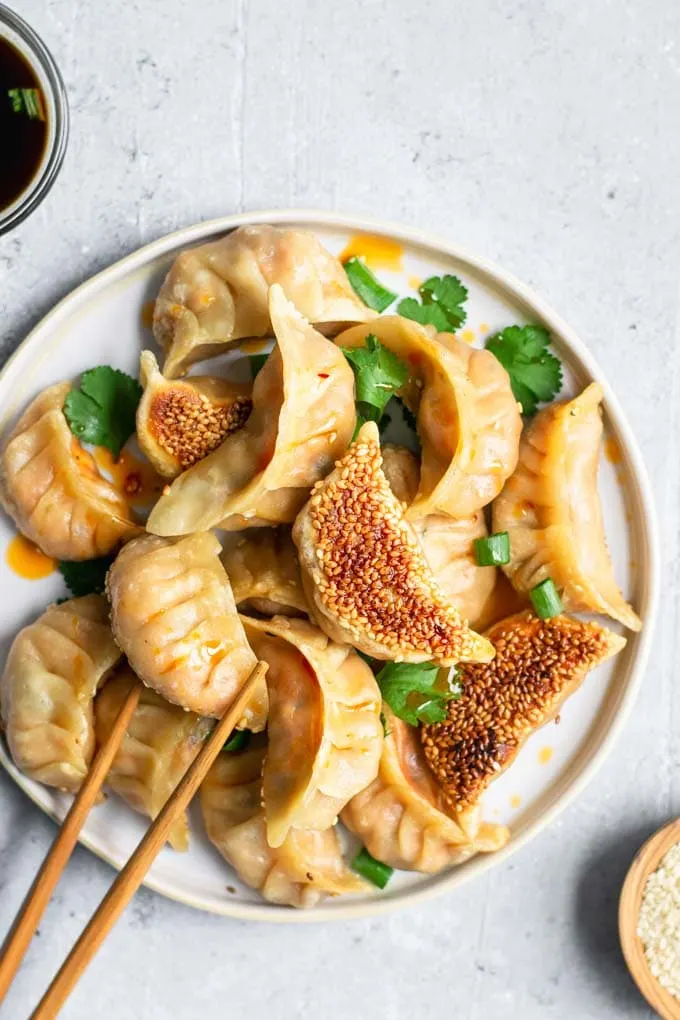 Before you fill any dumplings, it's helpful to watch some videos of other people shaping dumplings. I meant to film one for you, but ran out of time (probably just an excuse to remake this recipe asap)! Until I do, check out this dumpling shaping video on youtube (note: the filling is definitely not vegan). I like the 'one direction crescent moon' and 'two direction crescent moon' shapes.
You can also always shape them similarly to how I shaped my Tibetan momos, and I did share a video of how I shaped those, so go ahead and check it out if you'd like!
For a written explanation of how to fold let's first start with the two direction pleated crescent moon shape. I found this method to be easier as a beginner dumpling shaper.
Wet the outer rim of the dumpling wrapper and put a heaping teaspoon of filling in the center.
With the wrapper in one hand pinch the outer edges of the wrapper together over the middle of the filling.
Keeping one side of the wrapper flat, make a pleat with the other side folding towards the center of the dumpling and press it to seal against the flat side. Move a little down the wrapper and repeat the pleating until you've fully sealed in one side.
Repeat this process with the second side.
Pinch the entire edge of the dumpling to ensure that it has a good seal.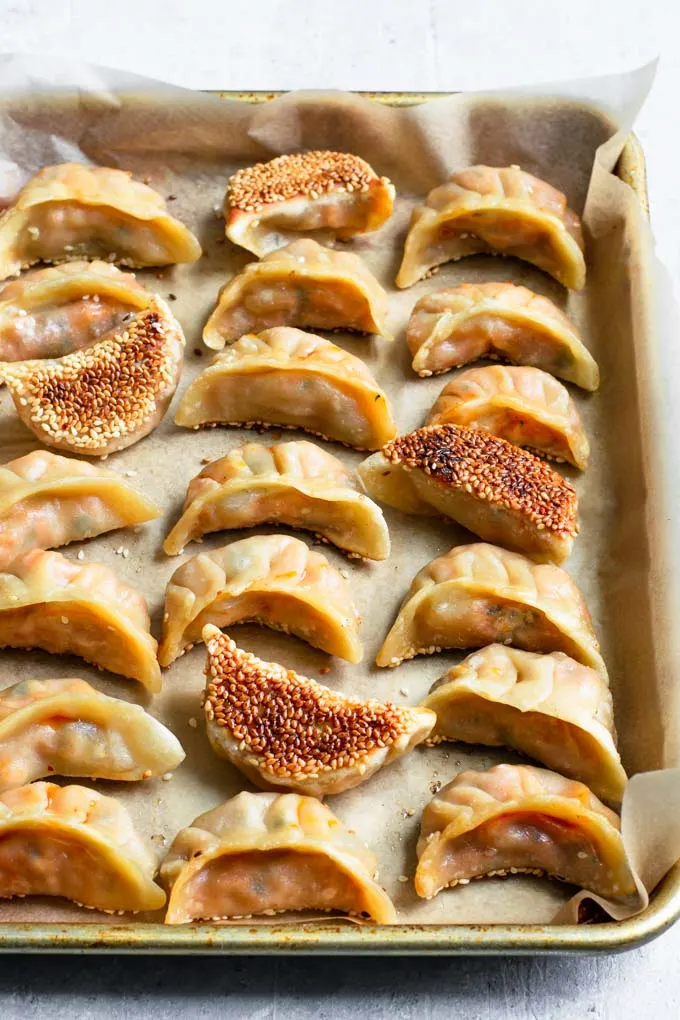 To make the one direction pleated crescent moon shape:
Wet the outer rim of the dumpling wrapper and put a heaping teaspoon of filling in the center.
With the wrapper in one hand pinch the outer edges of the wrapper together at one end, this will be the corner of your dumpling.
Keeping one side of the wrapper flat, make a pleat with the other side folding towards the first corner of the dumpling you made and press it to seal against the flat side. Move a little away from that first pleat and repeat the pleating until you've fully sealed the dumpling, just pressing the last edge together to seal.
Pinch the entire edge of the dumpling to ensure that it has a good seal.
Place shaped dumplings on a piece of parchment paper so that they are not touching to prevent any sticking. Continue shaping, making adjustments to your technique as you go for streamlined dumpling making. No matter how pretty (or not) they come out, they will be super delicious!
Cooking the gochujang tofu dumplings:
If you're like me, you enjoy a nice crispy bottom to your dumplings, but also appreciate the chewy texture that steamed dumplings get. Luckily there's a great combo cooking method that takes the best of both worlds (aka dumpling cooking methods). Best part: no fancy equipment needed! Just a skillet and a lid or something that functions like a lid (anyone else use baking sheets as lids for their large skillets? Just me? Note to self: buy XL lid).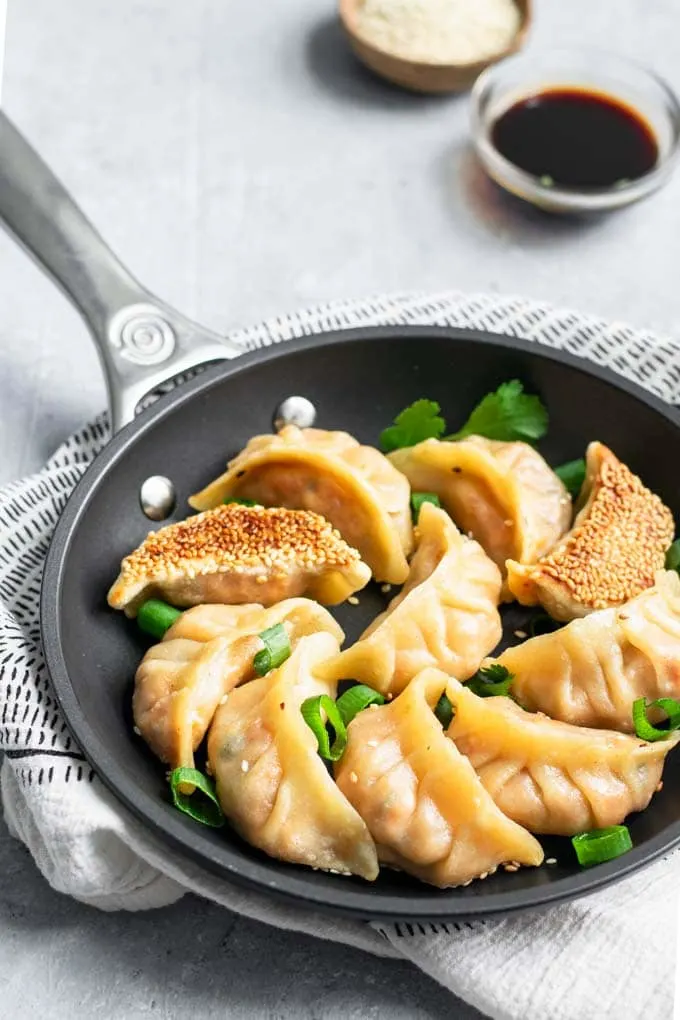 But first, if you're using this method, you have the option of coating the bottoms of your dumplings in sesame seeds. To do so, dip the shaped potstickers in a water just to dampen the bottom, then dip it into a plate covered in sesame seeds. Place back on the parchment paper and repeat until all your dumplings are properly sesame seeded up!
Ok, now we heat up a skillet over medium, drizzle in oil to lightly coat the bottom of the skillet, and place your dumplings in sesame seeds down (or bottoms down if you're skipping the sesame seeds).
Let the dumplings fry for a couple of minutes, then pour in water and cover. The water will splatter when it hits the hot oil, so I recommend putting the lid down so it's slightly ajar in a direction that is facing away from you, then pouring the water in and immediately closing the lid completely.
Let the gyoza steam for about 5 minutes (add a minute or two if cooking from frozen), then take the lid off. At this point check the bottoms of your dumplings, if they're nice at golden you're done! If they aren't quite there, let them cook with the lids off until they reach the desired level of crisp.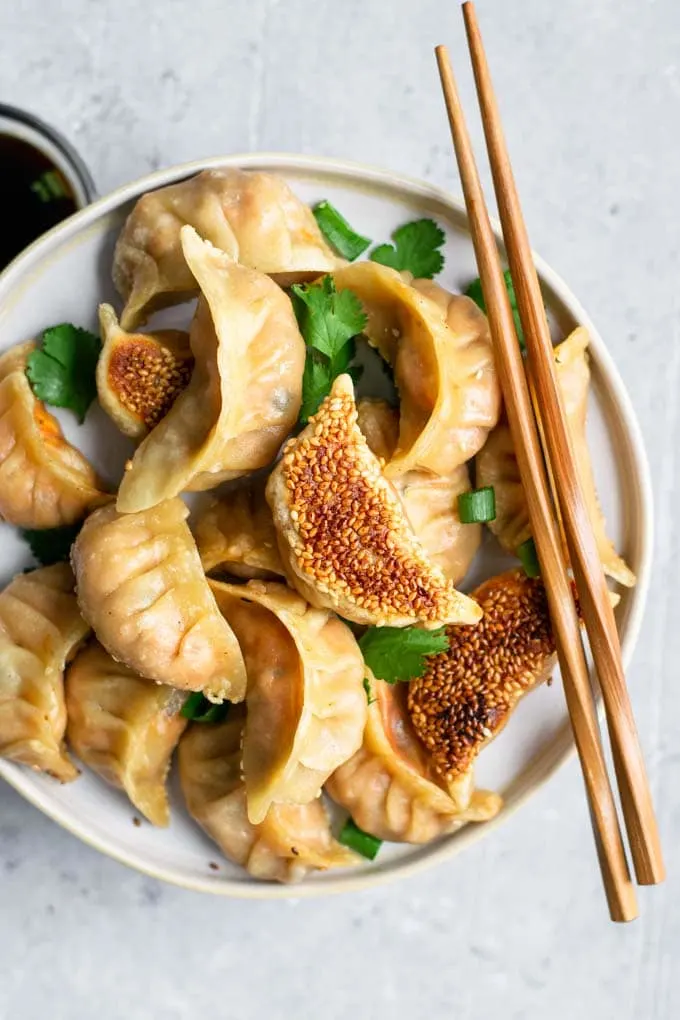 Dipping sauces!
There's nothing like enjoying hot, spicy, crispy bottomed-chewy dumplings dipped into a salty rice vinegar-spiked soy sauce. The dumplings themselves are not overly salty, and soaking up some salty sauce just makes them that much better.
I'm not giving an exact recipe for dipping sauces with this post. Mostly because I never really measure when I'm making soy sauce dipping sauces, but also because ya don't need a full recipe!
You're welcome to do your own thing but this is what I did. Mix together soy sauce, with a small drizzle of rice vinegar (I love vinegar so I often add a bit more than a drizzle), and an even smaller drizzle of maple syrup (or date syrup, or even regular sugar but you'll have to work a bit harder to dissolve it). Taste and adjust the ratios to your liking, then add some sliced scallion greens and a sprinkling of sesame seeds.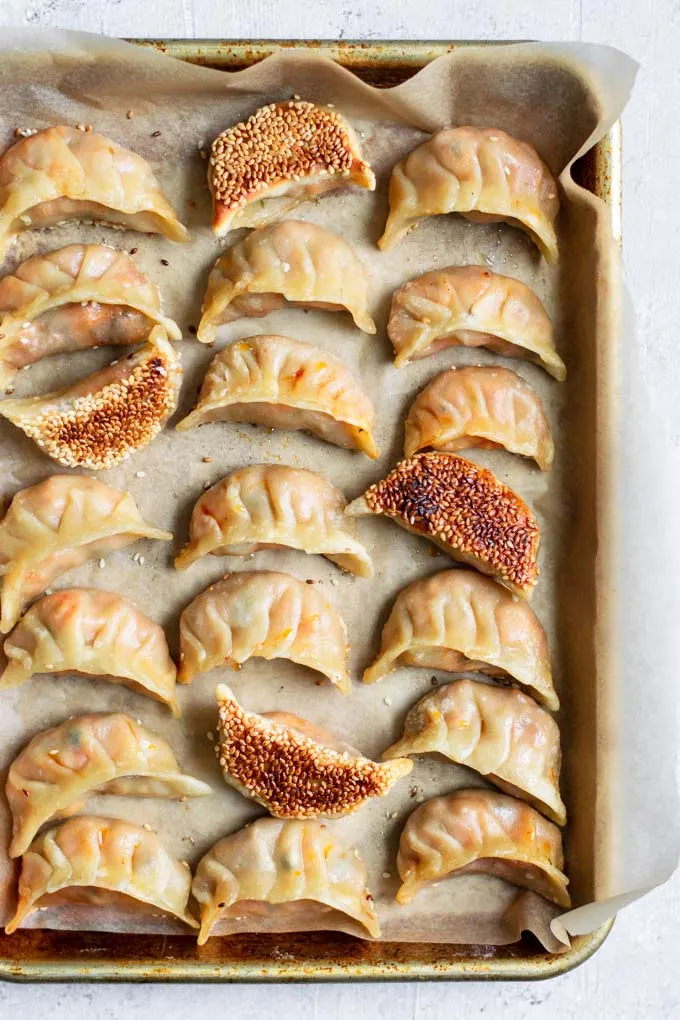 Note: For the soy sauce, I always use reduced sodium tamari, if you use full sodium tamari or shoyu you may want to dilute a smidge with water.
Other options include adding a few drops of chili oil or toasted sesame oil to the dipping sauce (be careful not to add too much or it will taste oily), or a squirt of hot sauce or a spoonful of gochujang. It's really whatever you like!
Alright, this turned into a super long post, but hopefully it's filled with helpful tips and instructions so you feel confident enough to tackle dumpling making! It's really quite fun to do, and I find the repetitive task of filling and shaping the gyoza to be quite relaxing and cathartic.
---
If you make these gochujang tofu dumplings, leave a comment below and rate the recipe on the recipe card. And please share your photos with me on Instagram, tag @thecuriouschickpea and #thecuriouschickpea, I love seeing your remakes!
WANT MORE DELICIOUS VEGAN RECIPES? FOLLOW ME ON INSTAGRAM, FACEBOOK, AND PINTEREST!
---
Notes:
You will likely have leftover filling, you can either increase the amount of dumpling dough you make or enjoy the leftover filling with rice for a tasty snack or light meal.
To freeze the dumplings: set them on a parchment lined plate or tray and stick them in the freezer. Once frozen through and hardened, transfer to a freezer safe storage (tupperware, ziplock bag). Cook them straight from frozen, just note they will take longer to cook!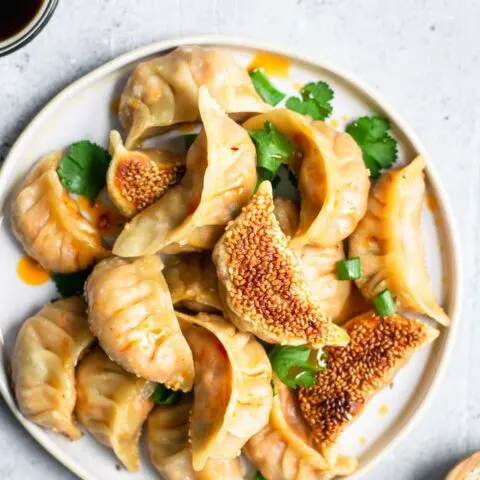 Gochujang Tofu Dumplings
Total Time:
1 hour
25 minutes
These delicious gochujang tofu dumplings have a spicy Korean-inspired filling and make a great snack, appetizer, or meal! Their crispy sesame seed coated bottom makes them extra special!
Ingredients
Dumpling Dough
2 cups (260g) all purpose flour
1/4 tsp (1.5g) salt
1 tbsp (12g) oil
3/4 cups + 1 tbsp (185g) boiling hot water
Dumpling Filling
1 tbsp oil
14oz extra firm tofu, pressed* and crumbled
2 cups (180g) green cabbage
1/2 cup (50g) chopped green onions
3-4 cloves garlic, minced
1/4 cup chopped cilantro (leaves and stems)
1/4 cup (75g) gochujang paste
2 tbsp hot water
1 tbsp toasted sesame oil
1 1/2 tsp soy sauce
sesame seeds for the bottom of the wrappers (optional)
Instructions
Prepare the dumpling dough: in a stand mixer bowl combine the flour, salt, oil, and boiling hot water. Stir with a wooden spoon to combine bring into a rough dough. Using the dough hook on a stand mixer knead on low speed for 3 minutes, turn off and let the dough rest for 5 minutes, then knead an additional 3 minutes on low speed.
Turn out onto the counter and knead by hand for about 1 minute and make any last adjustments with flour or water to make a smooth and supple dough that's slightly tacky (but not sticky) to the touch. Cover with a damp towel and let the dough rest for about 20 minutes while you prepare the filling. Alternatively you can knead by hand, just let the dough cool enough to not burn your hands and follow the same knead 3m, rest 5m, knead 3m pattern, making adjustments with flour as you knead.
Prepare the filling: Heat a skillet over medium heat, add 1 tablespoon of oil and add the tofu. Fry for 4-5 minutes, stirring occasionally. Add the cabbage, green onion, garlic, plus a pinch of salt and let cook 5-6 minutes until the cabbage has released its water and the mixture has cooked down.
In a small mixing bowl, mix together the gochujang paste, hot water, toasted sesame oil, and soy sauce to form a smooth sauce. Add the sauce to the tofu mixture along with the cilantro, stir to combine then turn off the heat and let cool to room temperature. You can transfer to a plate and put in fridge to speed up the process.
Fill and shape the dumplings: Divide the rested dumpling dough into 32 pieces: cut in half, then each half into quarters, and each quarter into quarters to get 32. Keep them covered under the damp towel in the bowl, working with just a few at a time.
Lightly dust the counter and roll out each piece of dough individually to make a thin circle, about the size of your palm. Using your finger or a pastry brush, brush a little water just around the edge of the circle, about 1cm thick. Put the wrapper in one hand, and place a heaping teaspoon of filling in the center of the wrapper. With your other hand fold the wrapper in half and pinch in the center so it seals, then working towards the edge, pleat one side and press to seal against the opposite side, then work down the other side. You can also create folds starting from one edge and working to the others so that all the pleats fold in the same direction, but this method is a bit more challenging for a beginner. Set aside onto a piece of parchment paper and repeat with remaining pieces of dough.
When the dumplings are all shaped, put a thin layer of water in a bowl and pour sesame seeds to cover a small plate. Dip the dumplings in the water then dip into the sesame seeds (this step is optional) and return to the parchment paper.
Cook the dumplings: heat a skillet over medium heat. Add a tablespoon or so of oil to coat the bottom of the pan in a thin layer. Add dumplings in batches, being careful not to overcrowd the pan. Let cook for about 2 minutes, then add 1/4 cup of water (be careful of splattering, hold a lid up to protect you as you pour) and immediately cover the skillet. Let steam for 5 minutes. Remove the lid and if the bottoms are still too light in color, let them continue to cook until golden.
Repeat with second and if needed, third batch of dumplings and eat while hot!
Notes
*To press tofu wrap in paper towels or a lint free towel and place a plate or cutting board and some heavy items on top. Let sit for 20-30 minutes to press out excess water.
Make an easy dipping sauce with soy sauce, a small drizzle of rice vinegar, and a little maple syrup or other liquid sweetener. Add some sliced scallions and sesame seeds. Adjust ingredients to taste!
Recommended Products
As an Amazon Associate and member of other affiliate programs, I earn from qualifying purchases.
Nutrition Information:
Yield:

32
Serving Size:

1
Amount Per Serving:
Calories:

66
Total Fat:

3g
Sodium:

146mg
Carbohydrates:

9g
Fiber:

1g
Sugar:

2g
Protein:

2g
Like Gochujang? Check out these recipes!
Gochujang Peanut Noodles with Patty Pan Squash