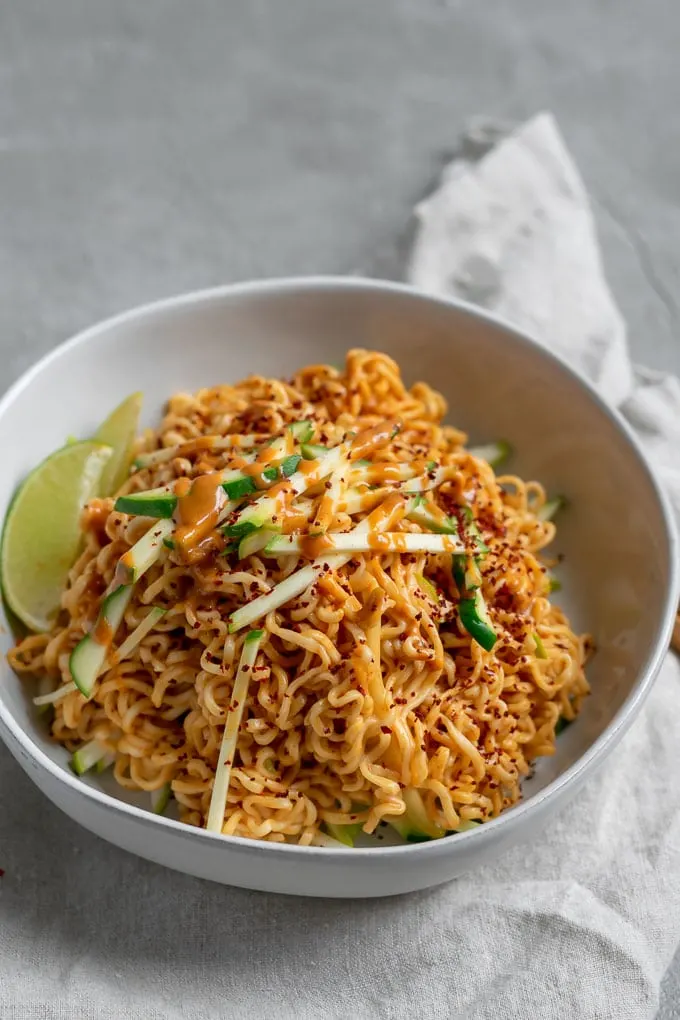 Ok, this is it, the perfect summertime meal–easy and bursting with flavor. Minimal cook time and delicious hot or cold. Hungry friends, meet these gochujang peanut noodles with patty pan squash! If you like quick and simple dinners then this recipe is calling your name!
These spicy, slurpy noodles are so easy to throw it barely counts as a recipe. It's a Korean-twist on Thai peanut noodles. Which led me to wonder if peanut noodles are actually a Thai recipe or if they are just an Americanized Thai dish similar to say, Chop Suey in American Chinese Cuisine? Seems like they are maybe a bit fusion!
Personally, I love what happens when two or more cuisines meet, combining flavors, textures, and ingredients to create something quite special!
Sweet, salty, slightly spicy gochujang meets creamy, salty, tangy peanut sauce. Gochujang is a fermented Korean pepper paste that has a super rich flavor thanks to fermented soybeans, glutinous rice, and Korean chile peppers.
Gochujang has become one of my favorite ingredients since I first tried it and has been the inspiration behind a lot of recipes and casual cooking. I've tried several brands at this point, and most tend to be rather mild in heat (at least in the US), making it a great ingredient for spice-sensitive folk. For spicy food lovers, you should definitely seek out gochujang from a Korean or Asian market, I've found the brand Haechandle to have a nice spicy flavor.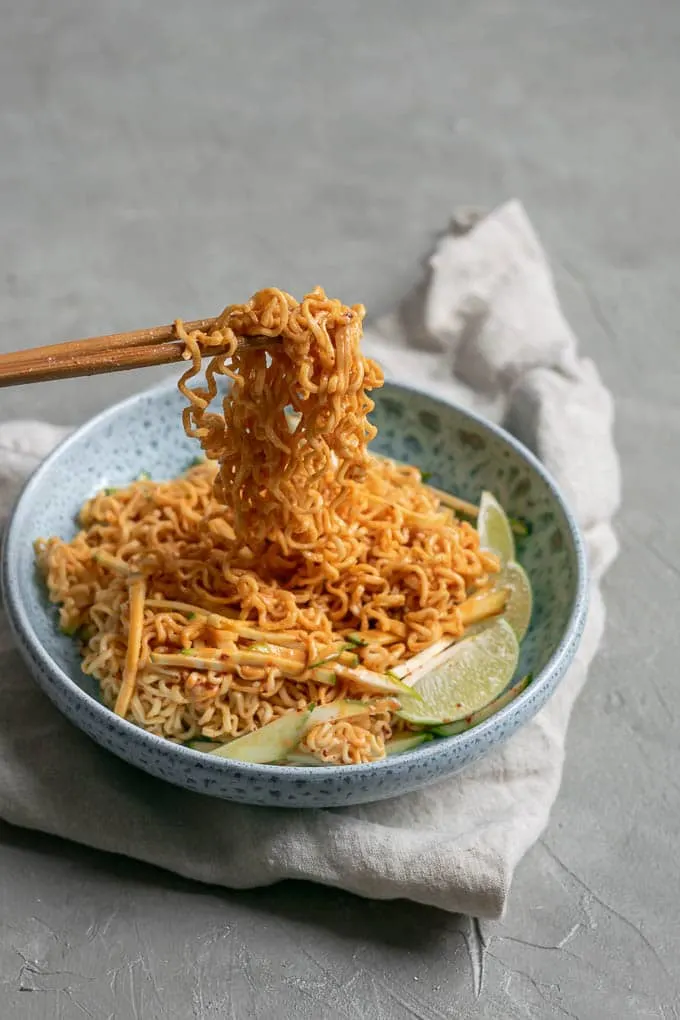 This gochujang peanut sauce pairs so beautifully with raw sweet patty pan squash. Patty pan squash are a super seasonal ingredient, only available for a few short months of the year. They're the perfect summer farmer's market find, though these days I'm usually able to find them at natural foods grocery stores too.
I usually cook my summer squash (zucchini being the most common), but when it comes to patty pan, they have such a great texture and flavor which really shines through when left raw! If you've never tried fresh, uncooked patty pan, you really should try it! Like, probably with this recipe 😉 !
Patty pan are delightfully juicy and have a lovely crisp bite. You could just toss cut patty pan in gochujang peanut sauce and call it a day, but, it's way more fun to eat with some chewy noodles!
If you can't find patty pan, you can definitely substitute zucchini or yellow summer squash! But it's worth seeking out patty pan if possible for this recipe.
Alright so all this recipe needs is for you to chop up some squash, whisk together a quick gochujang peanut sauce, and cook some noodles! I love how fast cooking asian noodles tend to be, so this recipe really comes together in no time! Like, the noodles pictured here cooked in just 3 minutes. THREE! I know.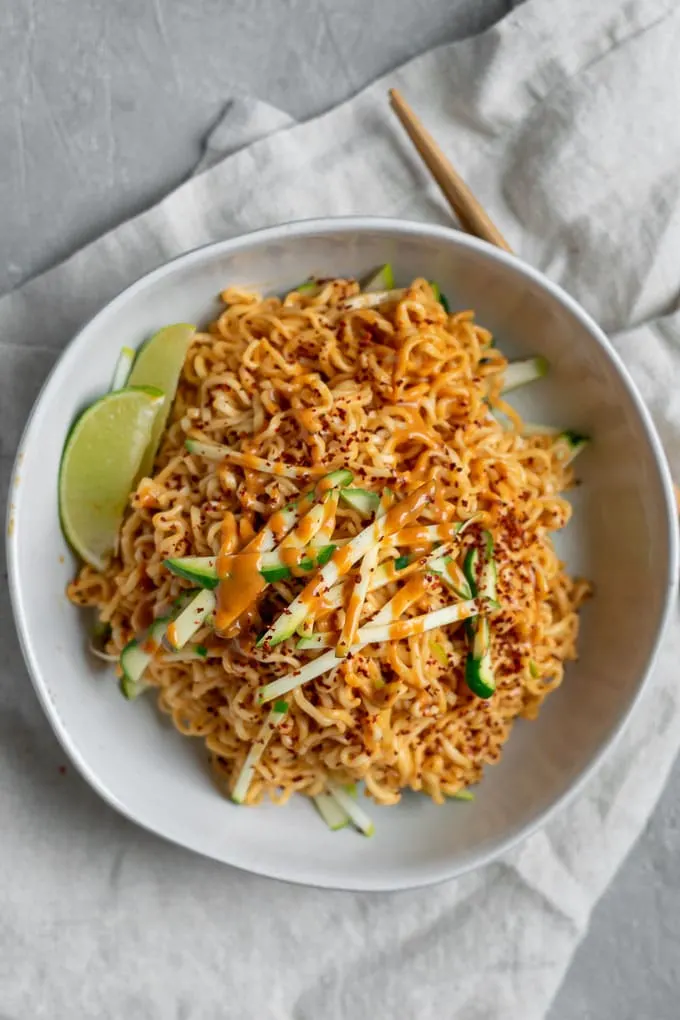 The peanut sauce is so simple, requiring only 8 ingredients and a few minutes to mix and whisk it all together! Peanut butter, gochujang, and hot water combine into a creamy smooth sauce, which is then seasoned with soy sauce, rice vinegar, garlic powder, some additional heat from hot sauce or chile oil, and optional miso for a bit of extra umami depth.
This Korean peanut sauce is pantry friendly and one of our go to stir fry sauces for easy, last minute meals! And I mean, just make it and you will see why!
I love this sauce with curly wheat noodles (just check that there's no egg in the ingredients), but it works beautifully with rice noodles or glass noodles for a gluten free meal. It can even work with spaghetti or with one of those black bean or chickpea pastas! We might as well combine as many cuisines as possible, right? 😛
If you want to add a bit of protein to this meal, you can always throw in some baked or panfried tofu or tempeh, or some sautéed seitan. It's super easy to adjust this meal to what you have on hand!
It's a great recipe to take on a picnic or for a to-go lunch, as these noodles are as tasty cold as they are hot! I really hope you guys enjoy this recipe for gochujang peanut noodles with patty pan squash! It's delish and just perfect for late summer. Mmm…
If you make this recipe, leave a comment and rate it below! And don't forget to tag your recreations @thecuriouschickpea and #thecuriouschickpea on Instagram! I love seeing your photos!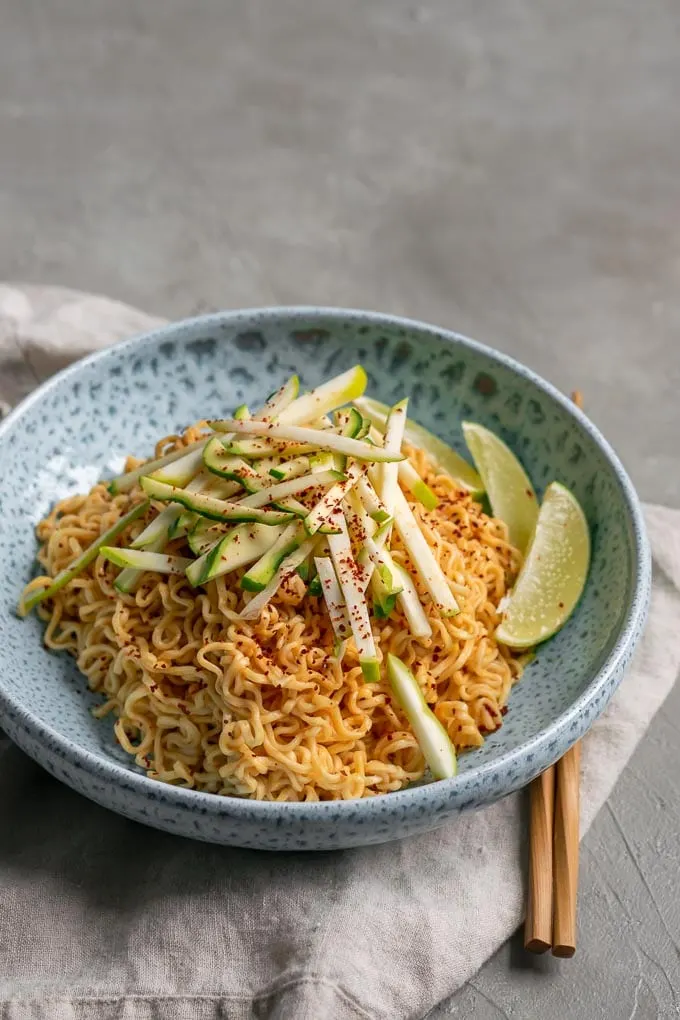 Like what you see? Follow along on Instagram, Facebook, and Pinterest!
Notes:
For gluten free, use gluten free noodles, tamari for the soy sauce, and a gluten free certified gochujang.
Add as much squash as you'd like! You could even have a 1:1 or 2:1 patty pan to noodle ratio.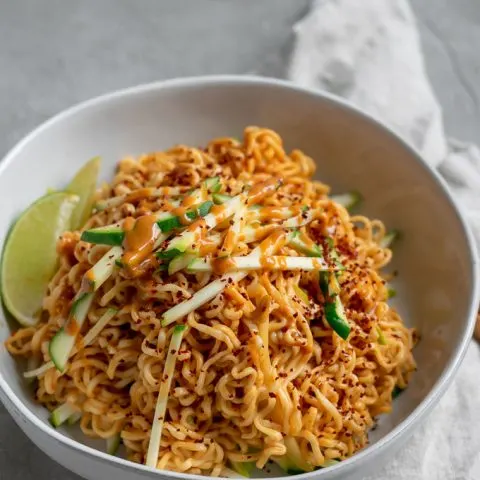 Gochujang Peanut Noodles with Patty Pan Squash
These gochujang peanut noodles with patty pan squash are a delicious and super easy meal! These nutty, spicy noodles are bursting with flavor and great hot or cold! A perfect summertime meal.
Ingredients
Peanut Gochujang Sauce
1/2 cup creamy peanut butter
3/4 cups hot water
2 tbsp gochujang paste
2 tbsp soy sauce
1 tbsp rice vinegar
1/2 tsp garlic powder
1-3 tsp sriracha or hot chili oil
1 tsp miso (optional)
Everything Else
10 oz noodles
2-3 patty pan squash, sliced into matchsticks
gochugaru (Korean chile powder) or hot sauce to serve
Instructions
Make the gochujang peanut sauce: Whisk together all the sauce ingredients until smooth. Thin with additional water as needed.
Cook the noodles according to package directions.
Toss the noodles in the sauce along with the patty pan squash, setting some aside to top for garnish.
Serve with chile powder, hot sauce, or hot chile oil. Enjoy warm or cold.
Notes
Cook time depends on type of noodles.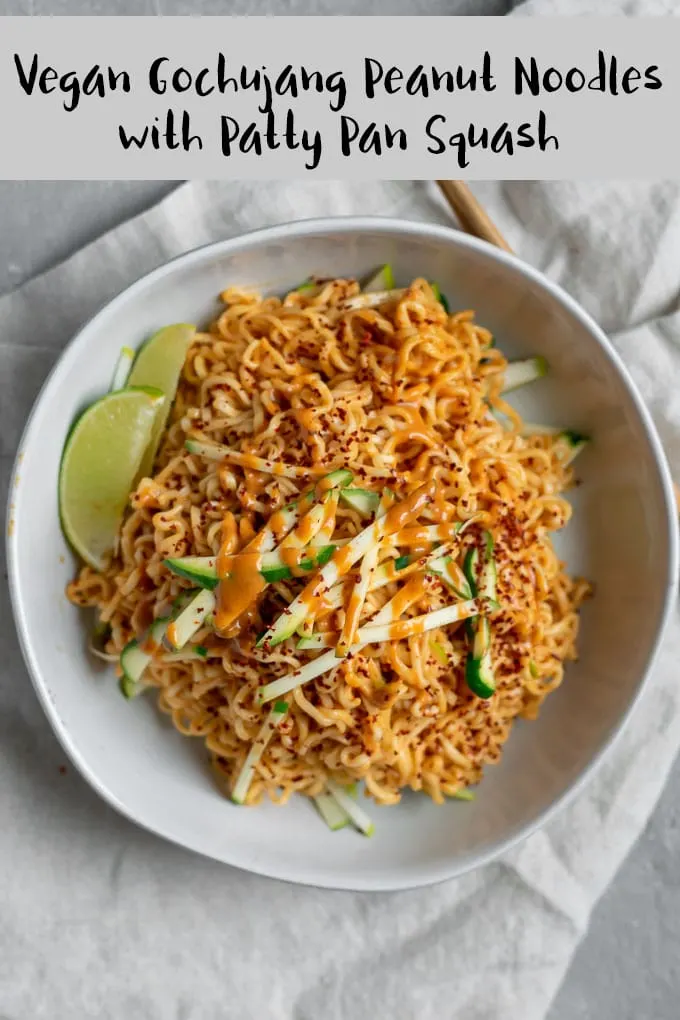 Love gochujang? You've got to try these gochujang tempeh wings!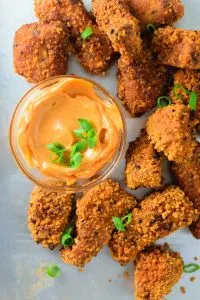 Or maybe these vegan gochujang bean burgers!