These chewy peanut butter oatmeal chocolate chip cookies are a mouth watering and delicious vegan treat. Make any day special by baking a batch!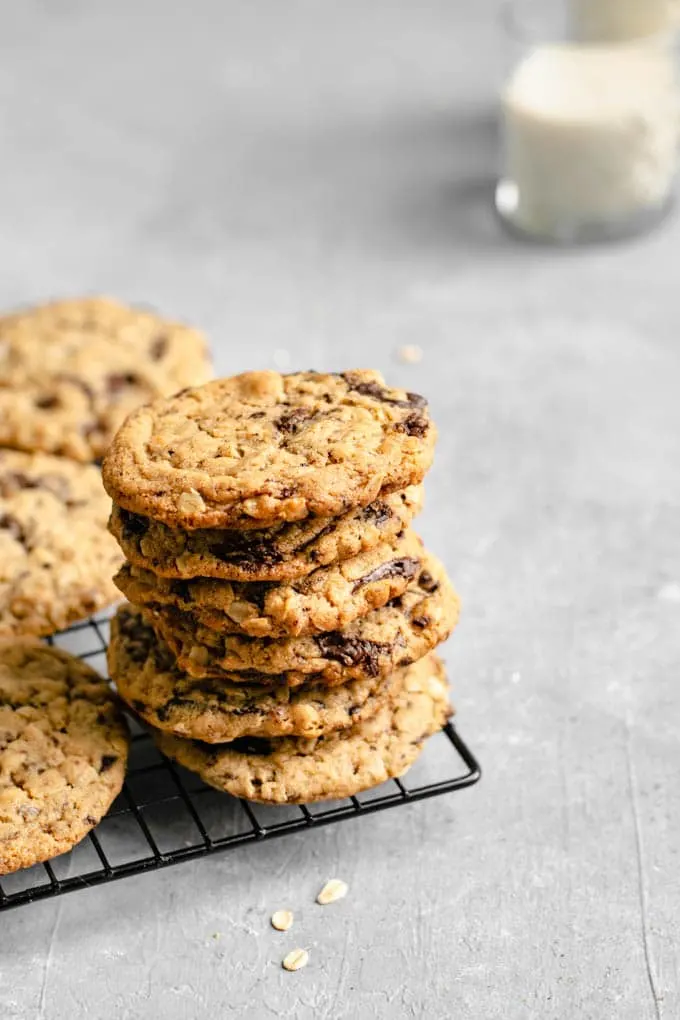 When it comes to the perfect cookie, it (1) should be chewy in the center, (2) have slightly crisp edges, and (3) be full of flavor (i.e. ideally contain chocolate). These vegan peanut butter oatmeal chocolate chip cookies are all that! Plus in a nice large size for your eating pleasure.
Peanut buttery with hints of caramel, puddles of chocolate, and chewy rolled oats, these cookies are ultra dreamy! And nice and easy to make, meaning cookies in your belly with (almost) no effort and (almost) no time!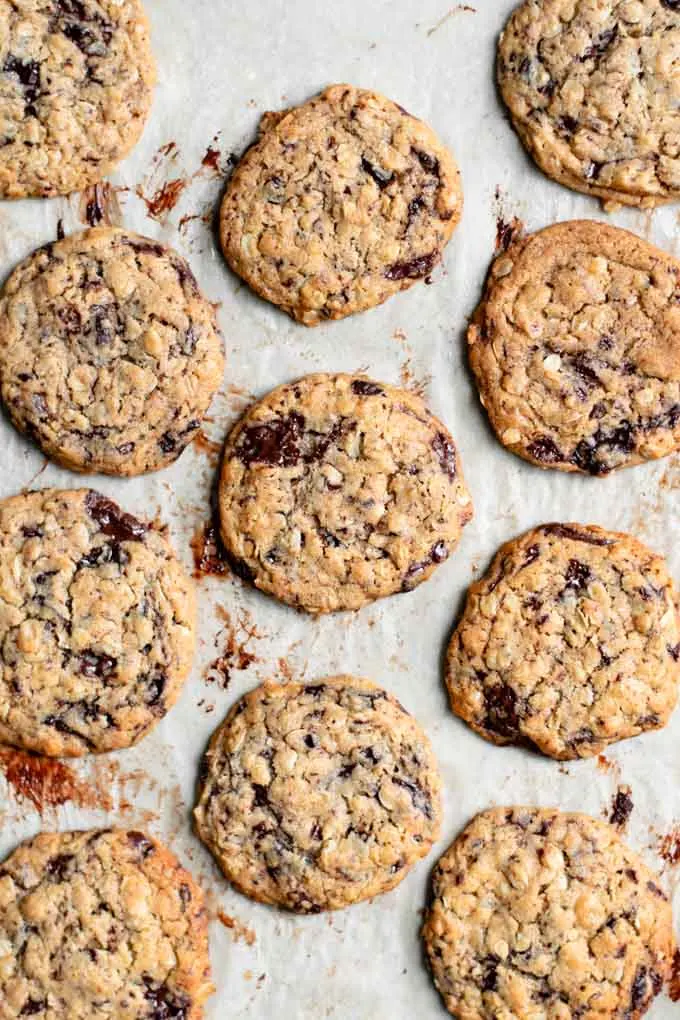 Veganizing your favorite cookies:
In traditional baking, eggs provide structure, moisture, and leavening to the product. In vegan baking we take advantage of chemical leaveners (baking powder & soda) for rise, gluten and starches for binding, and liquid (plant milks!) for moisture.
With cookie making, [dairy] butter is whipped with sugar to incorporate air and lightness into the final bake. Making them vegan is as simple as swapping out dairy for plant based butter. For this purpose, sticks of vegan butter behave exactly like dairy.
The exact ingredients you choose to make the perfect vegan cookie will depend on the recipe. This recipe is simple, vegan butter and plant milk do the trick!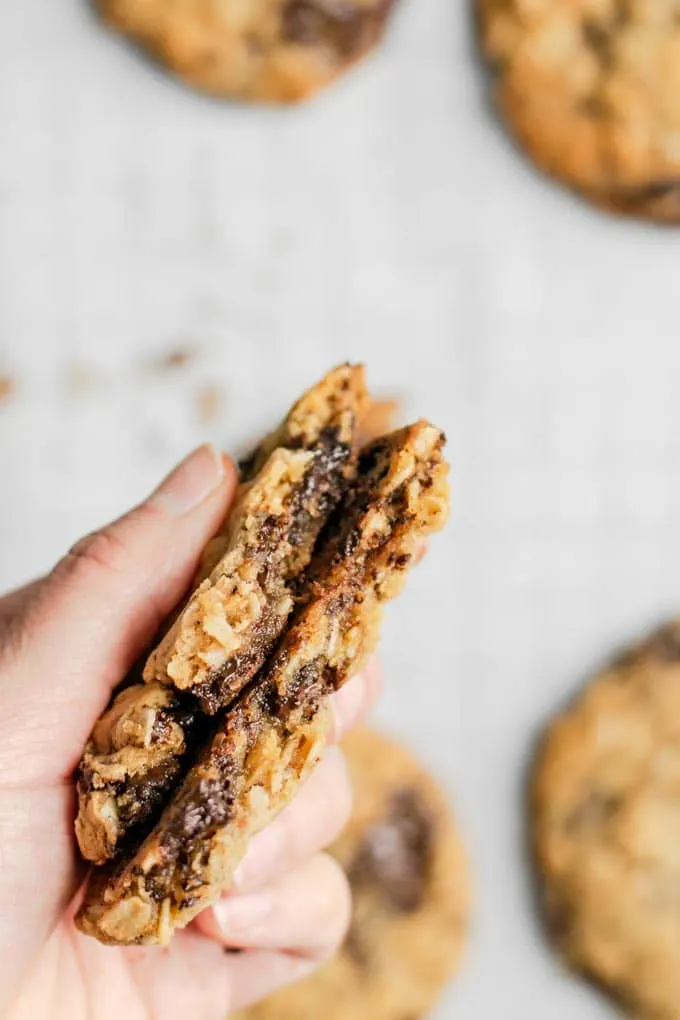 Making these peanut butter oatmeal chocolate chip cookies:
If you've ever made cookies before, the instructions will sound familiar. Mix together your dry ingredients: flour, baking powder, baking soda, and salt.
Then whip your vegan butter with the brown sugar and granulated sugar until fluffy. Add the peanut butter, plant milk (any will do), and vanilla extract and whip some more until you have a smooth, sweet, peanut buttery cream.
Add the dry ingredients to your wet and blend with your electric mixer some more to combine. Scrape down the sides as needed to get everything nice and mixed.
With cookies, I don't worry too much about over working the mixture. First off, there's enough fat in the cookie dough that will keep the gluten from getting over developed and turning to a tough cookie. Second, a little bit of gluten formation is good because it helps give the cookie structure.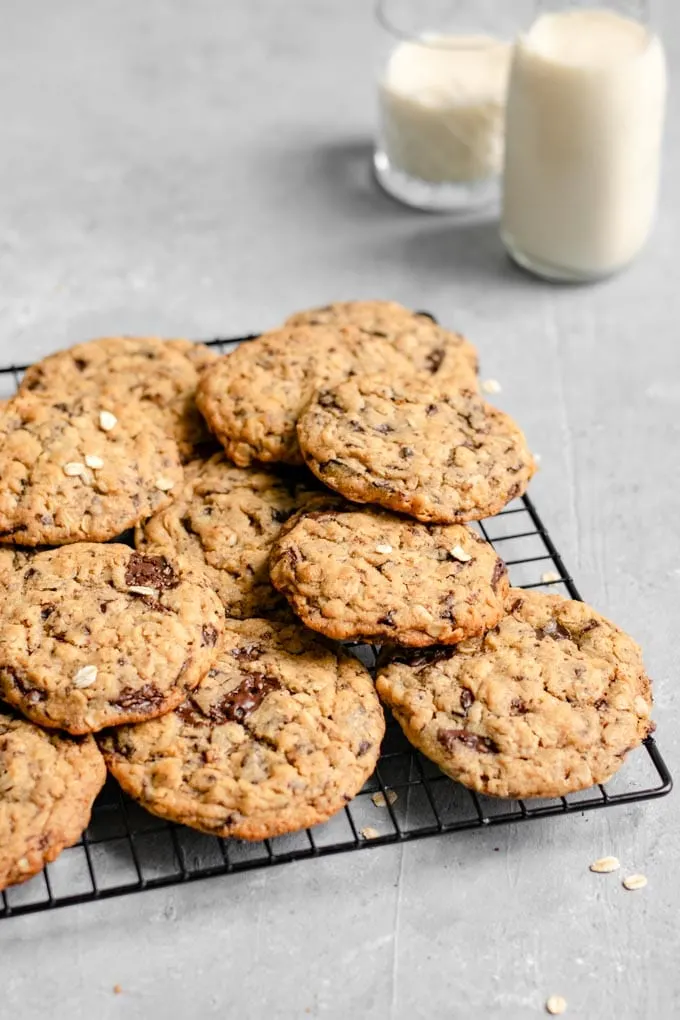 At this point the mixture is a bit wet and soft for a cookie dough. But that's because next we mix in the rolled oats and the chocolate. The dry, old fashioned rolled oats will soak up extra moisture from the cookies. Too little moisture in the dough and you get a crumbly, slightly dry cookie.
When the oats and chocolate are mixed in, form the dough into balls, about 2 tablespoons each. You can wet your hands a bit to keep the mixture from sticking as your roll them into balls.
Now stick the shaped dough into the fridge for at least 20 minutes and preheat your oven. This 20 minutes is when the liquid absorbs into the oats and flour and keeps the cookies from overly spreading.
You can also make the dough ahead of time and bake as desired over the course of a few days.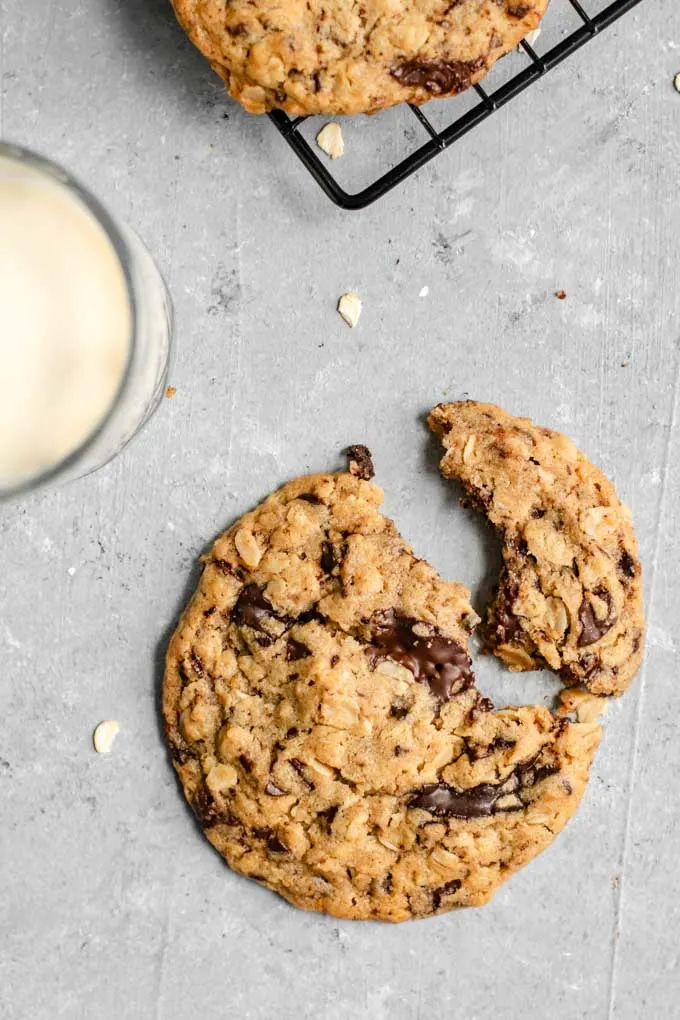 Some ingredient troubleshooting:
When it comes to baking, ingredients matter. This means you can't use quick or instant oats instead of old fashioned rolled oats and expect the same results.
If you struggle with the consistency of the cookie dough, it could be the peanut butter. Smooth (as in oil isn't separated, chunky pb is ok!), emulsified peanut butters are easier to work with. Unfortunately they usually have palm oil and/or sugar in them, so it's up to you if you'd rather stick the the peanuts + salt only butters. If your natural peanut butter is very runny you may want to decrease the plant milk in the recipe by 1-2 tablespoons.
When using vegan butter in baking choose the kind that comes in stick form. The spreadable tub [plant based] butters have higher liquid contents and don't come out well. If you can't find/don't use vegan butter continue reading for tips swapping it for coconut oil.
You can use either chocolate chips or a chopped up bar of chocolate in this recipe, both are delicious! I tested both ways and enjoyed both! Chocolate chips are semisweet chocolate, so are sweeter than say 70% dark chocolate. You can use less dark chocolate for sweeter and milder taste, or embrace the rich chocolatey goodness of dark chocolate.
I haven't tested every variation of this recipe, and it's not going to be foolproof through every change. I can't say for certain without testing that it will work out if you swap peanut butter for almond, or if you make more serious changes like baking with a gluten free flour or swapping apple sauce for the butter.
With that said, I feel pretty confident that these cookies would come out well with an all purpose gluten free flour blend. Generally that swap works really well with cookies. If you do try them gluten free, please report back with what works or doesn't work!
And in the end, unless you make crazy changes, these cookies will come out and you really can't go wrong with the taste!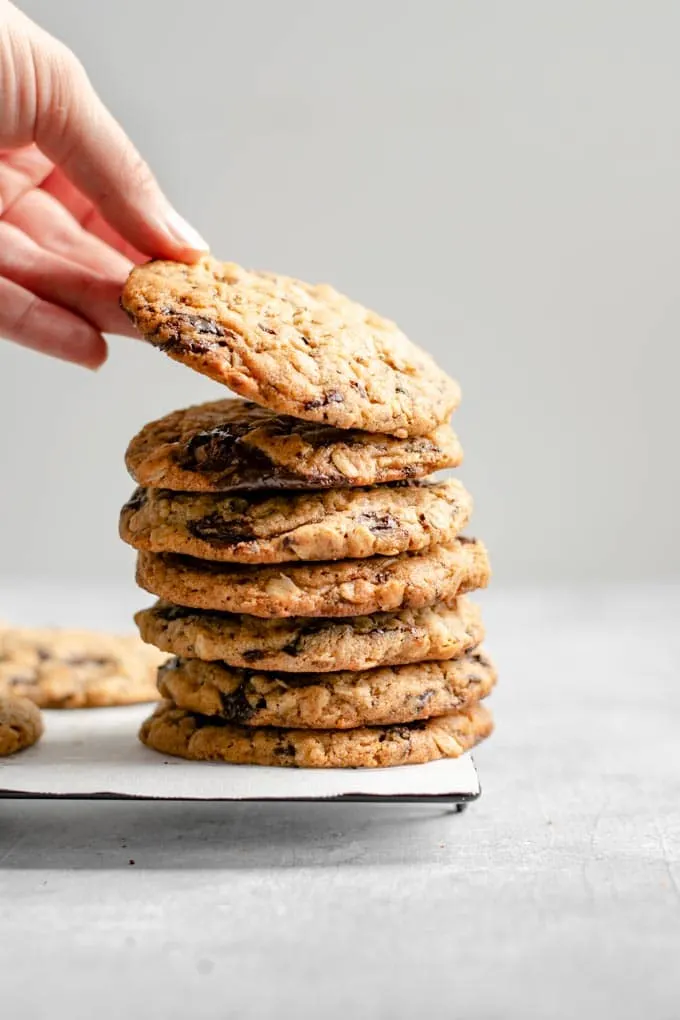 Swapping coconut oil for vegan butter:
If you're trying to avoid vegan butter for any reason and prefer to use coconut oil, I did test the recipe that way as well. Swap out the butter 1:1 for coconut oil. As written use 1/2 cup (113g) coconut oil. I typically choose refined coconut oil as it is odorless and neutral in flavor. If you like some coconut flavor, you can use the unrefined stuff.
Coconut oil is more finicky to work with than vegan butter. It's very temperature sensitive and has a melting point around room temperature. For best results you want solid but scoopable coconut oil. If it's melted it should still work, but sometimes doesn't play well with the oil in the peanut butter in my limited experience (I can only make so many batches!).
Compared to butter cookies, coconut oil is prone to spreading around the edges making for a lacy finish. If you make the swap and this happens, you can use an inverted glass or round cookie cutter to trim away the crispy lace and you're still left with a great cookie.
I find when working with coconut oil it can help to add a tablespoon of cornstarch to the dough. The oats in these cookies act a bit like a starch, so one tablespoon should do the trick. When testing these cookies with coconut oil, I skipped the cornstarch they were a bit delicate. Next time I make them, I'll re-test the coconut oil version and update if it works!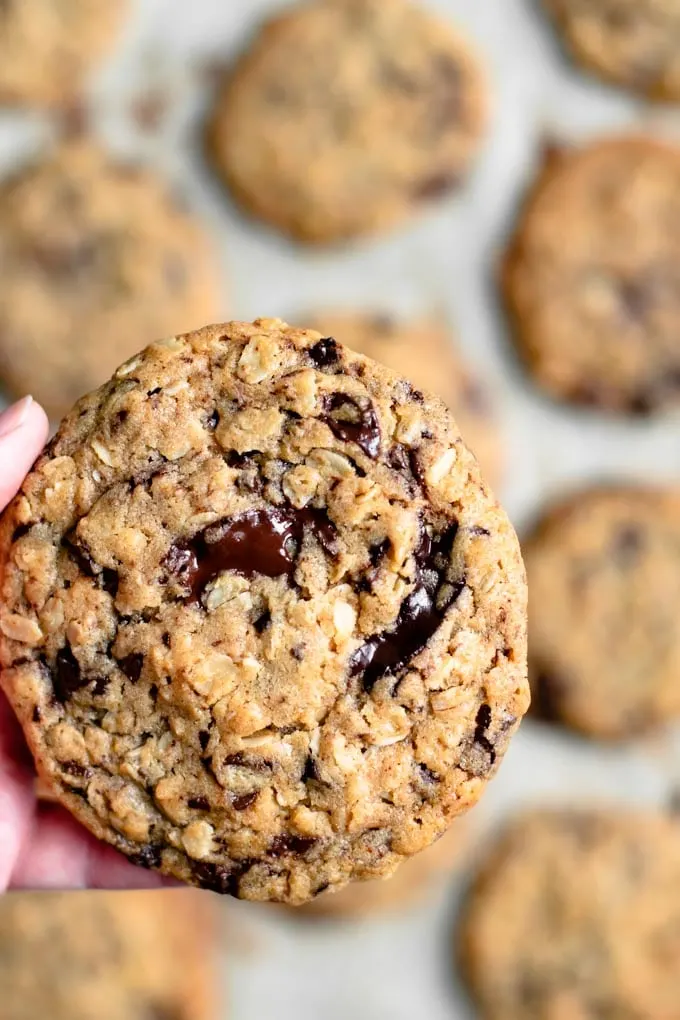 ---
If you make these vegan peanut butter oatmeal chocolate chip cookies, leave a comment below and rate the recipe on the recipe card. And please share your photos with me on Instagram, tag @thecuriouschickpea and #thecuriouschickpea, I love seeing your bakes!
WANT MORE DELICIOUS VEGAN RECIPES? FOLLOW ME ON INSTAGRAM, FACEBOOK, AND PINTEREST!
---
Notes: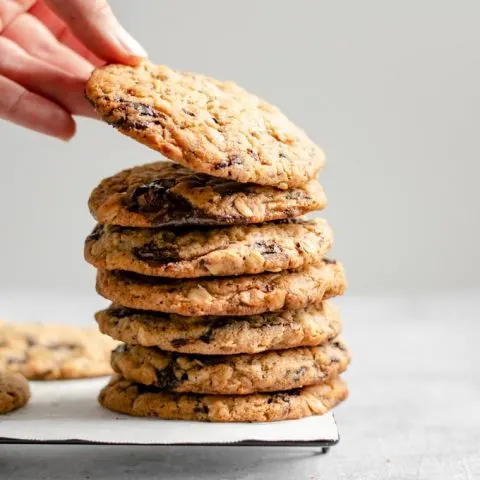 Vegan Peanut Butter Oatmeal Chocolate Chip Cookies
These chewy peanut butter oatmeal chocolate chip cookies are a mouth watering and delicious vegan treat. Make any day special by baking a batch!
Ingredients
3/4 cups (90g) all purpose flour
1/2 tsp (2g) baking powder
1/2 tsp (2g) baking soda
3/4 tsp (4g)salt
1/2 cup (113g) vegan butter (see post for coconut oil swap)
1/3 cup (60g) brown sugar
1/2 cup (95g) granulated white sugar
1/2 cup (128g) peanut butter
1/4 cup (60g) plant milk
1 tsp (5g) vanilla extract
1 cup (100g) old fashioned rolled oats (not quick/instant oats)
1 1/4 cup (195g) chocolate chips or chopped dark or semisweet chocolate
Instructions
In a small mixing bowl whisk together the flour, baking powder, baking soda, and salt.
In a large mixing bowl using electric beaters or using a stand mixer beat the vegan butter, brown sugar, and granulated sugar until combined. Add the peanut butter, plant milk, and vanilla extract and beat until light and fluffy.
Add the flour mixture to the and using the electric mixer beat until the flour is combined to make a smooth and soft dough. Pause to scrape down the sides of the bowl as necessary. Once mixed in, add the rolled oats and chocolate and mix in with a wooden spoon to combine.
Form the cookie dough into 2 tablespoon balls, rolling between your hands to shape. Wet your hands to prevent sticking as necessary. Chill the formed cookie dough balls for at least 20 minutes in the refrigerator or up to 4 days.
Preheat the oven to 350 ºF. Place the cookie dough balls 2" apart on a parchment or silicon mat lined baking tray or divided across two trays. Bake for 14-16 minutes or until the edges of the cookies have turned a bit golden. Remove from the oven and let cool on the baking tray for 5 minutes before transferring to a cooling rack to cool completely.
Recommended Products
As an Amazon Associate and member of other affiliate programs, I earn from qualifying purchases.
Nutrition Information:
Yield:

15
Serving Size:

1
Amount Per Serving:
Calories:

283