You need to make this dumpling dipping sauce for the next time you serve up some dumplings! Whether you're cooking them from frozen, or making them from scratch, your dumplings deserve the spicy, flavorful sauce that is this homemade dipping sauce!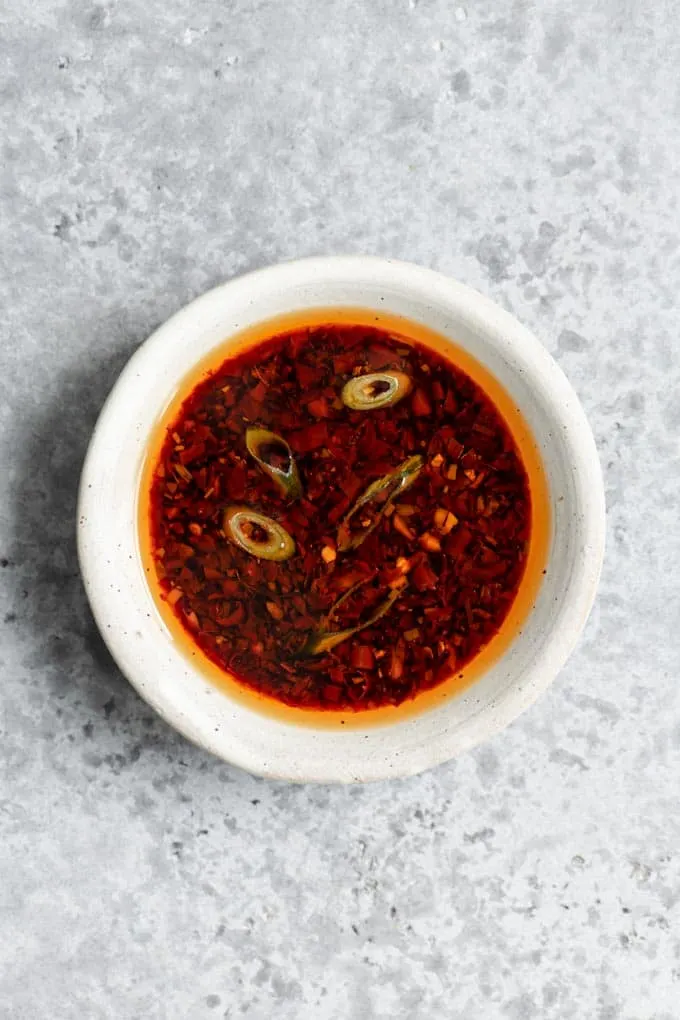 This spicy dipping sauce is loaded with flavor. It's spicy, salty, gingery, and garlicky, with just the right amount of sour to balance.
You can use it to dip any of your favorite store bought or homemade dumplings, wontons, gyoza, or momo into. Or you can use it as a spicy condiment to top any stir fry or curry.
This recipe is for those who can tolerate some heat as it does pack a punch, but you can make it more or less spicy to match your tastes.
You only need 6 pantry friendly ingredients to make this asian dipping sauce, and just a few minutes of your time.
First make the hot chili oil:
Chili oil makes the base of this recipe. My chili oil is loaded with dried chiles, minced garlic, and minced fresh ginger.
I use dried Thai chiles for my sauce, which I first hydrate to soften to improve on their texture and release some of the flavor.
You can hydrate dried chiles in boiling hot water. Just submerge and let sit for 20-30 minutes or so until they're plump and softened.
Alternatively you can hydrate them in cold water. It'll just take longer, at minimum give it a couple of hours.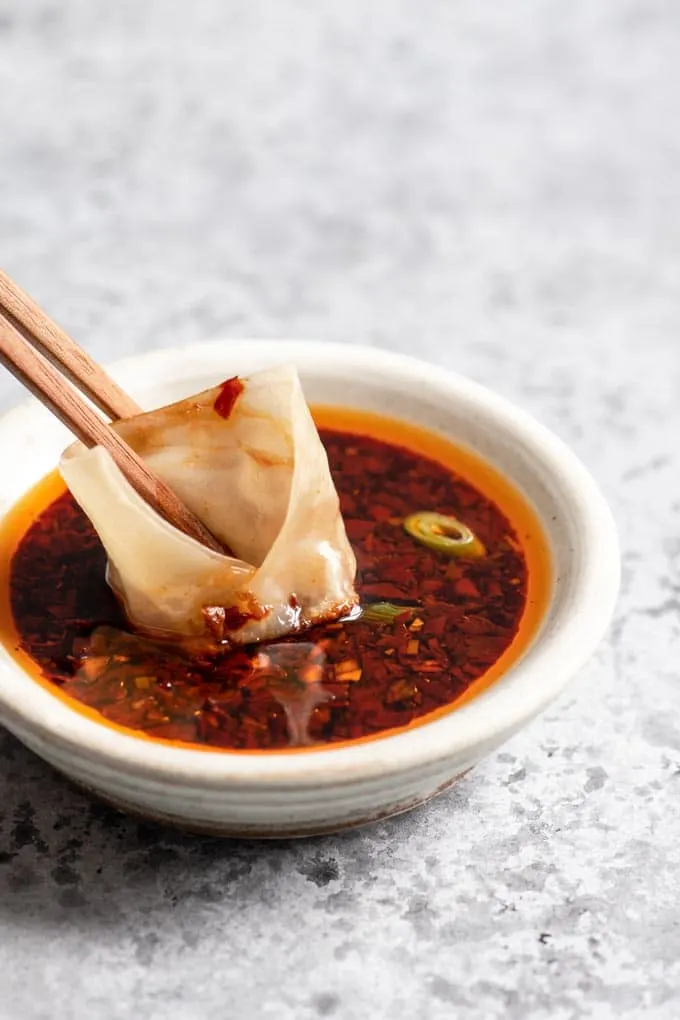 Once hydrated, the chiles are as easy to chop up as fresh, so mince them up and add them to a heat safe bowl along with the ginger and garlic.
Then you heat up the oil until its hot, and pour it over the aromatics. You should hear a nice sizzle. This is a great way to cook out some of the rawness of the delicate ingredients without worrying about burning them.
Substitutes for Thai Chiles:
If you don't have dried Thai chiles you can use other dried chiles, which ones you use will change the flavor and spiciness of the chili oil.
For example you could use dried Indian hot red chiles, or use Mexican chiles. For Mexican peppers I recommend chiles de arbol as these will be more similar in size and spice level.
You can certainly use fresh hot peppers to make the chili oil if you prefer. The flavor will be different again but it's certainly delicious this way as well!
Fresh Thai chiles, serrano peppers, jalapeños are just some of the peppers you can try.
No matter what pepper you use, if you use a larger sized pepper then use less, we aren't trying to have a huge volume of pepper here, so keep that in mind.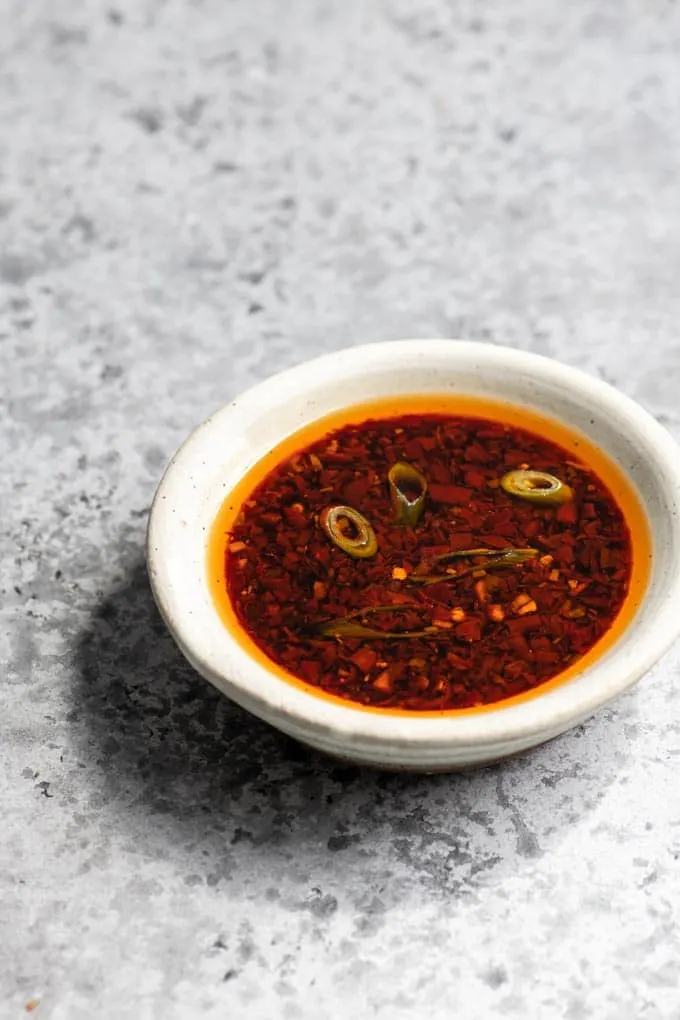 The rest of the dipping sauce:
Once your chili oil is made, all you do is add some soy sauce and rice vinegar (rice wine is also good) to the oil.
You can now serve your chili dipping sauce, or refrigerate it until ready to serve!
If you'd like, you can add a few slices of scallion greens for garnish. Or add it to sizzle in with the ginger, garlic, and chiles.
This dipping sauce is sooo good and addictive. It may heat up your mouth but you can't help but go back for more! When more sauce means more dumplings, well, I see no problems in that!
Looking to make some homemade dumplings to try with the sauce?
I'm a big fan of the homemade dumpling! Check out one of my recipes if you'd like!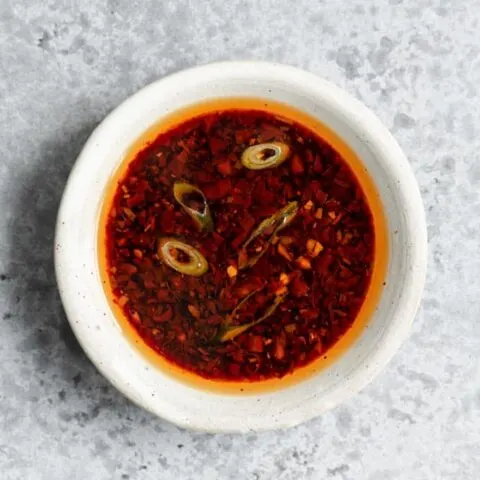 Dumpling Dipping Sauce
This fiery dumpling dipping sauce is loaded with flavor. Full of chiles, garlic, and ginger, with just the right amount of saltiness and a hint of sour to balance it out.
Ingredients
4-8 dried Thai chiles, or see note
1-2 cloves garlic, minced
1 tsp minced fresh ginger
2 tbsp oil
3 tbsp tamari or soy sauce
2 tsp rice vinegar
a few slices of scallion greens (optional)
Instructions
Cover dried chiles with boiling hot water and let sit until soft, about 20-30 minutes. Drain water then mince the peppers.
Add the peppers, garlic, and ginger to a heat proof bowl. Heat the oil on the stove until hot, then pour over the aromatics. Let sizzle and then cool slightly.
Add the soy sauce (or tamari) and rice vinegar. Taste and adjust seasoning as desired.
Garnish with scallions if doing so, and enjoy immediately or store in sealed container the fridge for up to 2 weeks.
Notes
Use more or less chiles to make it more or less spicy. You can also change the type of pepper to make it hotter or milder.
You can substitute other dried chiles, such as dried Indian hot red chiles or use Mexican chiles (I recommend chiles de arbol). Or use fresh hot peppers such as fresh Thai chiles, cayenne peppers, serrano peppers, or jalapeños.
If you use a larger sized pepper, then use less of it as we don't want a large volume of pepper here.
Recommended Products
As an Amazon Associate and member of other affiliate programs, I earn from qualifying purchases.
Nutrition Information:
Yield:

8
Serving Size:

1
Amount Per Serving:
Calories:

38
Total Fat:

4g
Saturated Fat:

0g
Trans Fat:

0g
Cholesterol:

0mg
Sodium:

378mg
Carbohydrates:

1g
Fiber:

0g
Sugar:

0g
Protein:

1g
Nutrition is calculated automatically so should be used as an estimate.