These delicious homemade vegan wontons are stuffed with a meaty TVP filling and make a great appetizer or snack! Plus they're easy and fun to make, especially if you have a helper or two to shape!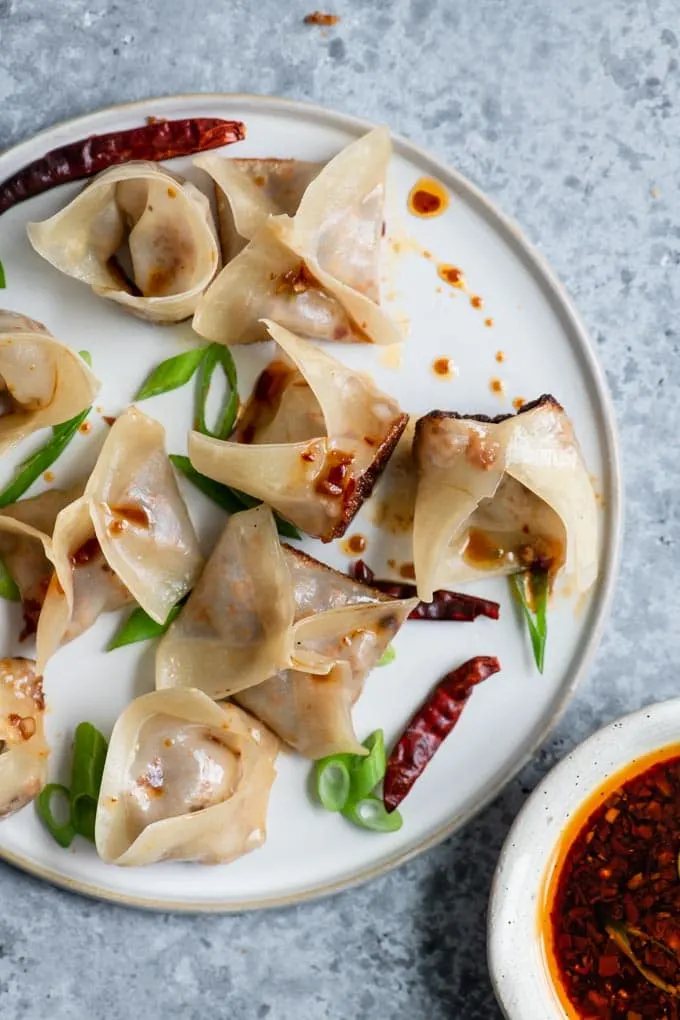 Sometimes you have a good story to preface a blog post, and then the internet yells at you for daring to write on your very own website for the recipe that they are hoping to make.
Other times, you just get excited about finding vegan wonton wrappers at your local grocery store and can't. stop. buying. them. What's a girl to do when she's got stacks on stacks of pre-made wonton wrappers in her fridge?
Well, make some vegan wontons obviously!
You know as well as I do that there are never ending ways to stuff your dumplings (if you don't, please, I invite you to explore the ever expanding dumpling section of my site).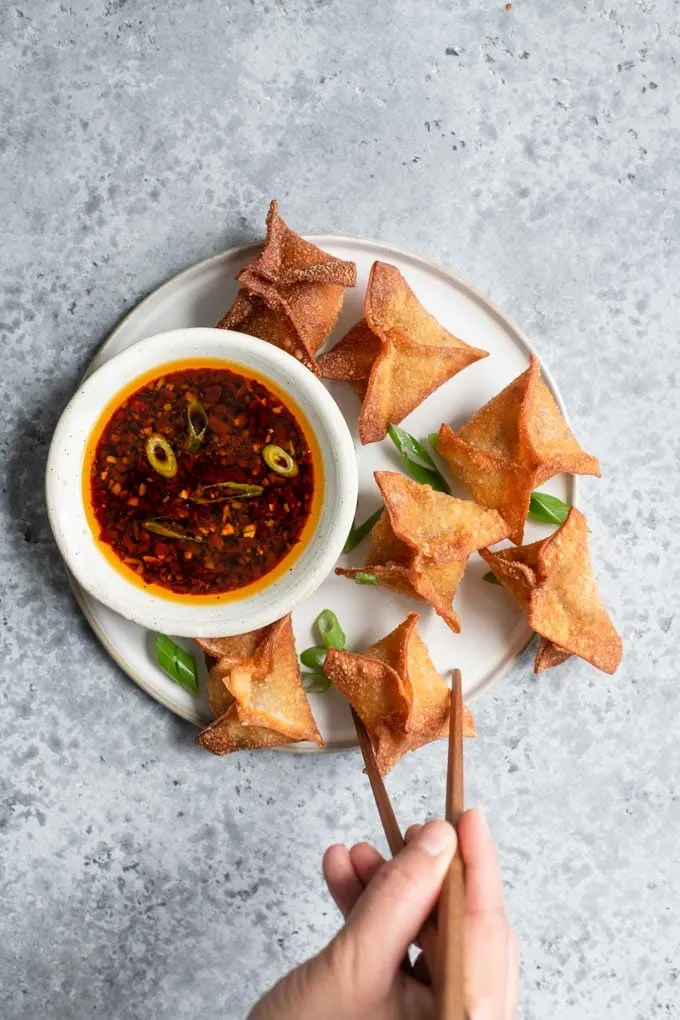 Now store bought dumpling wrappers are not necessary for this recipe, you can make your own dumpling wrappers like I do for my Tibetan Momo as well as my Gochujang Tofu Dumplings (peep either of those recipes for instructions in doing so).
But I digress, you see, the important thing is the delicious vegan meaty filling that the wrappers or dumpling dough is stuffed with!
The meaty vegan filling:
I have nothing against vegetable filled dumplings, nor tofu stuffed ones. But for these I wanted to up the chewy texture of the filling so turned to a great vegan protein: TVP.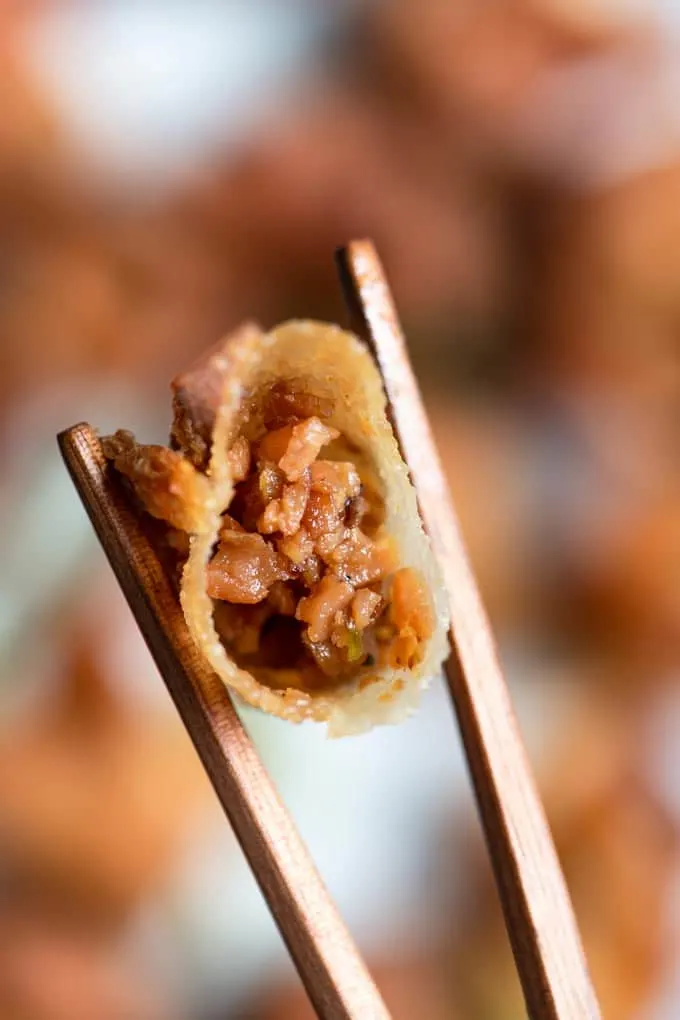 TVP, which stands for texturized vegetable protein, is made of soy flour that has been defatted. It comes dry which means it makes a great item to stock your pantries, and in a variety of shapes and sizes.
For this I use a small ground TVP. It's rather easy to find if your grocery store has a decent 'natural foods' section, as popular brands like Bob's Red Mill sells it.
To use TVP, soak it in boiling hot water until its softened. It'll soak up the seasoning you add to the filling and has a delightful chewy texture when cooked.
Substitutes for TVP:
If you want, you can substitute the TVP for another vegan ground meat product. If using something else, you will obviously skip the hydrating step and I would cut back or possibly even leave out the soy sauce because vegan ground meats are salty!
But otherwise it'll work the same and so feel free to make that substitute!
You could also use tofu, choose an extra firm or super firm tofu and squeeze out extra water. Then crumble it up and use the same way.
The seasoning:
Not a lot goes into the filling. You have your TVP (or vegan protein of choice) and some aromatic classics: scallions, garlic, and ginger.
These get fried lightly to remove the harshness of their flavors along with some red pepper flakes. You could use fresh chili if you prefer, as dumplings are nothing if not flexible in nature.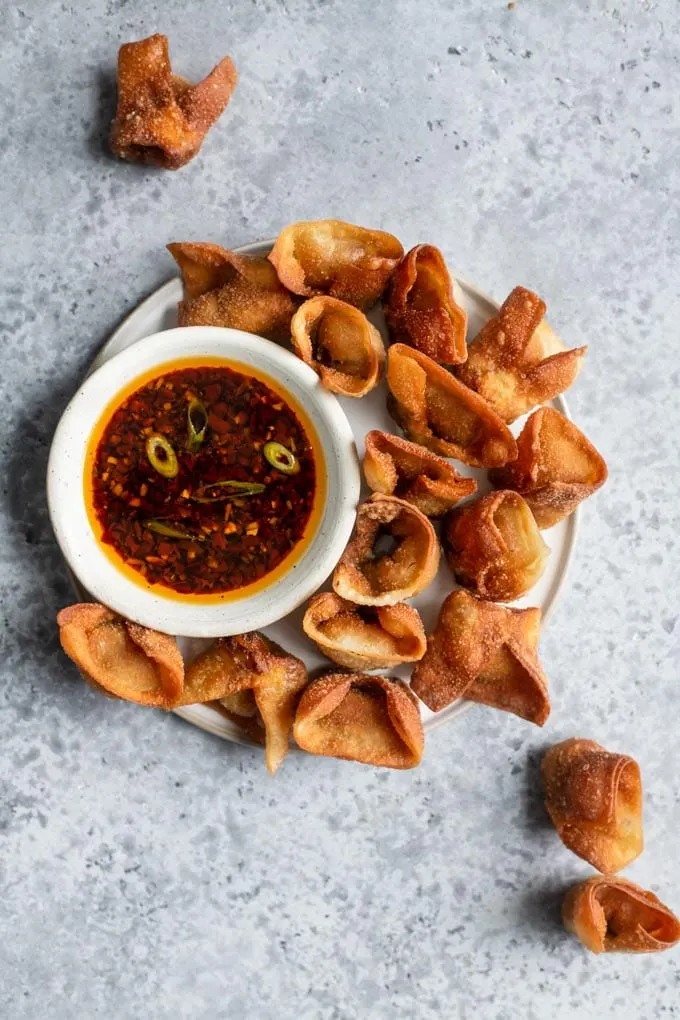 Once these have flash cooked, add the protein and let it cook enough to lightly brown. Add soy sauce and taste, add a bit of salt if you feel it needs it.
And that's it! Your filling is done!
Move on to shaping the vegan wontons:
Let the filling cool enough to handle before shaping your dumplings. If you're going to wait awhile before shaping, cover or seal up the filling so it doesn't dry out before you get a chance to wrap it up.
There are many ways to shape dumplings, and some of it depends on if you're using square or round wrappers.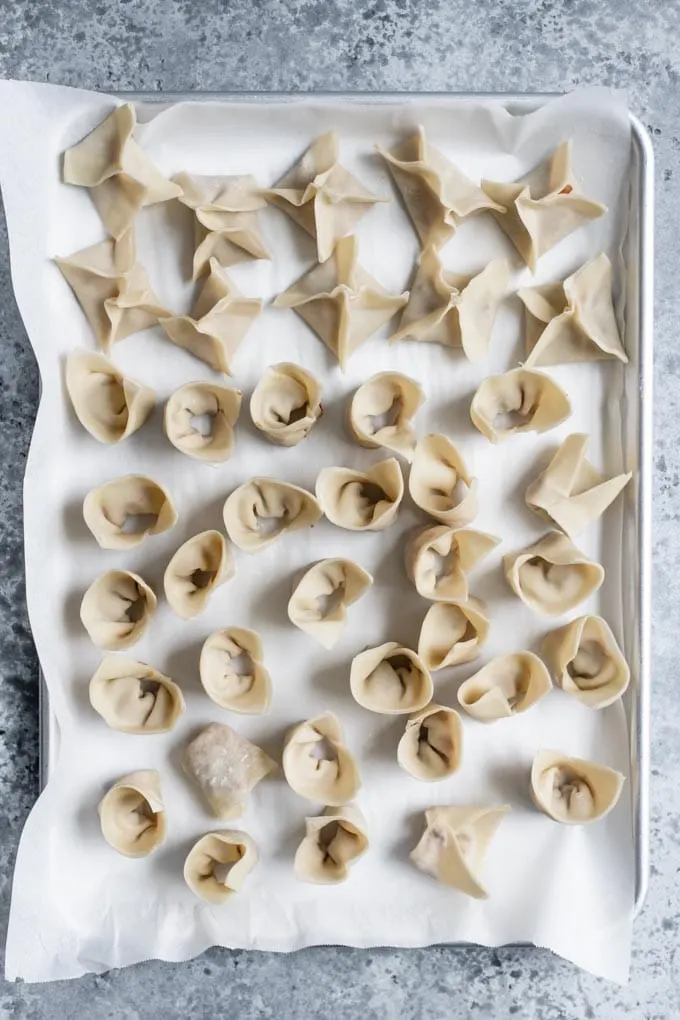 I used square wrappers and two different shaping methods, one a bit simpler and the other slightly more complex. Neither are difficult!
Refer to the photos and/or video for visual details on how to shape your wontons using square wonton wrappers. But I'm also going to try and explain using words along with giving some helpful tips!
The first step no matter what shape you choose is to place a dumpling wrapper on the palm of your non dominant hand.
Place about a teaspoon of filling in the center of the wrapper. Don't overfill your dumplings as this makes them hard to shape! Then proceed with your shaping of choice!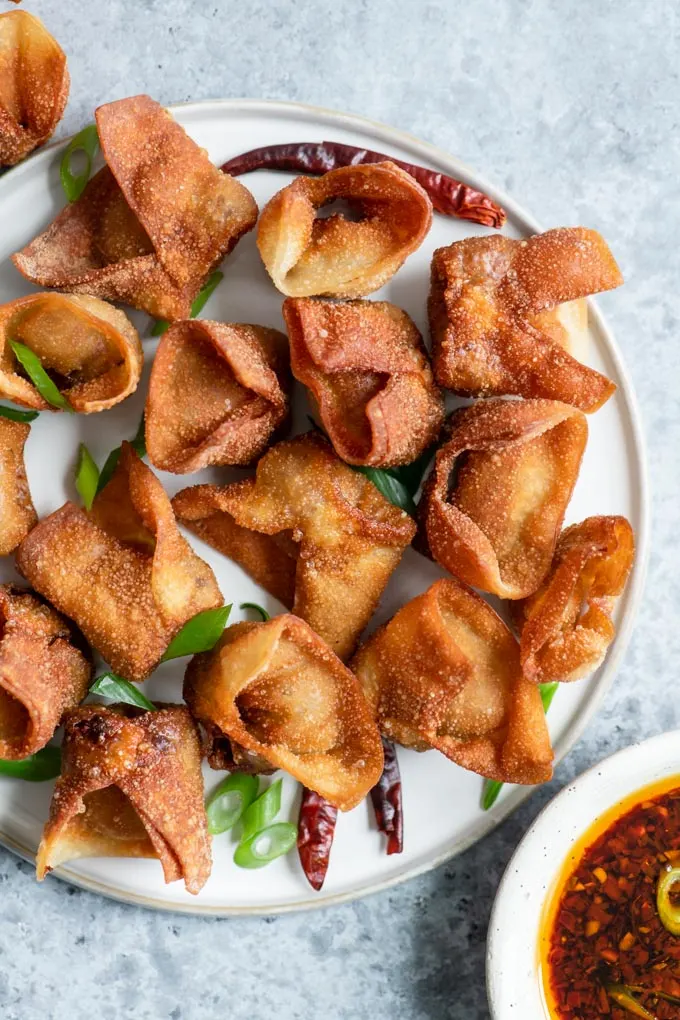 The "wonton" shape:
Ok, so I'm not good at giving clever names to my dumpling shapes. Oh well, let's move on!
So this is a classic "fancy" wonton folding shape. But it's easy!
Wet half of the edges of the wrapper with water using your finger. So half way up one side, all the way across the next side, and halfway down the third side working clockwise.
Fold the dumpling in half in a rectangle shape, and it should line up with the edges you just wet.
Press and seal these edges together, squeezing out any air as you do so (or do your best to do so!)
Take the bottom corners of your rectangle, the ones on the side the filling is sitting in, and wet the outer side of one and inner side of the other.
Fold the corners together until they just meet in the center of the filling, as if the wonton was giving itself a hug.
Pinch the corners to seal them together, then double check that the rest of the dumpling is sealed well and that you've done your best to squeeze most of the air out!
The "purse" shape:
Our next shape is the "purse shape" aka the crab rangoon shape aka I'm still bad at naming dumpling shapes! Maybe you'll find this one easier, maybe you won't!
Wet all the edges of the dumpling wrapper with water using your finger.
Take two opposing corners and pinch them together in the center overtop the filling.
Take the other set of opposing corners and bring them to meet in the center, pinching to seal.
Seal the dumpling along edges, squeezing out air as you do so. Ta-da!
Other dumpling shaping tips:
I really only have one main one–keep your wrappers covered under a slightly dampened lint free towel or paper towel while shaping.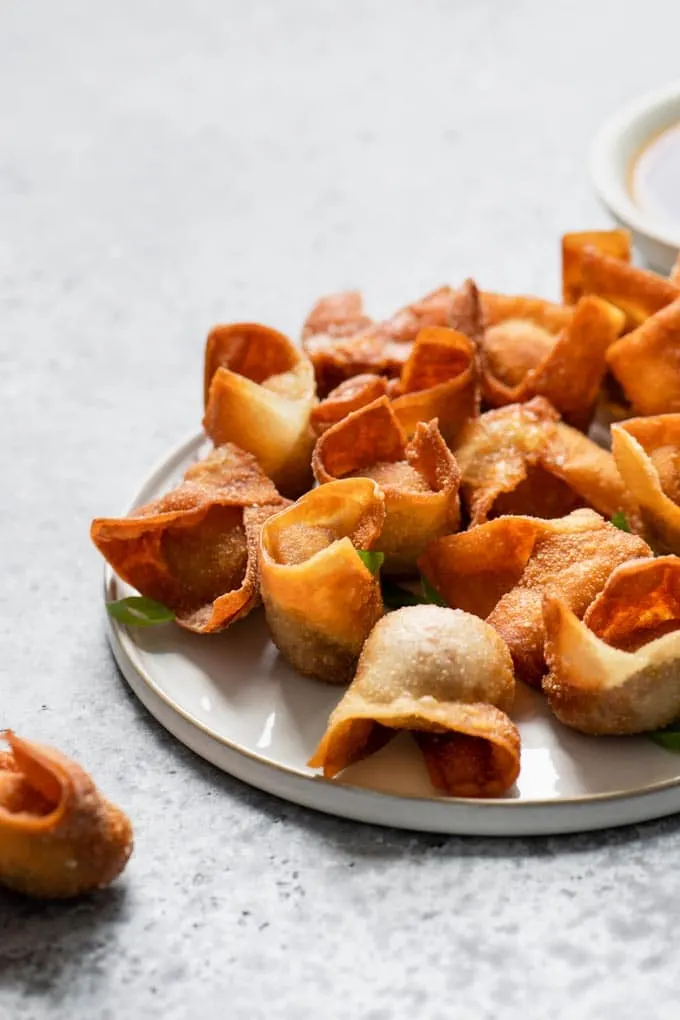 The last thing you want is your wrappers drying out as this will cause them to tear as you shape them!
If your wrappers do tear you should not deep fry those but can still steam them or use the pan fry/steam method.
A small tear or two might be patched with a torn up piece of wrapper, just wet it and seal it over the tear to cover it up. This isn't fancy, but should work.
If your wrappers are giving you difficulty, just fold the wrapper in half to make a triangle. Life goes on! They'll still taste good!
Also, place shaped wontons on a parchment lined baking tray to keep them from sticking!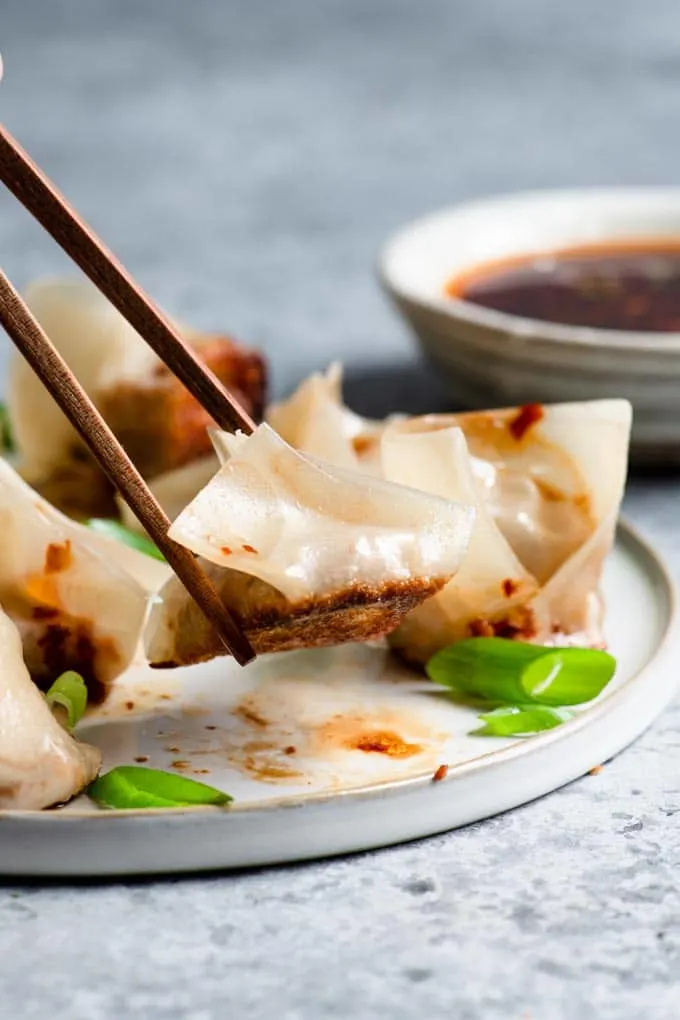 Cooking your Homemade Vegan Wontons:
Wontons can be deep fried, they can be steamed, heck they can even be boiled! My favorite is a pan fry and steam combo. The bottoms of the dumplings get crispy while the wrapper gets deliciously chewy!
Deep frying is certainly a treat, and not going to lie it would probably be my favorite if I didn't want to eat so many dumplings in one sitting!
Like I did, you can choose to deep fry some and pan fry others. You do you!
I highly recommend you make some of my fiery, flavorful, incredible dumpling dipping sauce to go along with these!
You can shape the dumplings in advance then store for cooking at a later time.
If its just a few hours or even overnight, you can store them in a single layer in the fridge. For longer storage, freeze your dumplings.
To freeze, lay in a single layer on a parchment lined baking sheet and let freeze solid. Then transfer them to a freezer safe bag! You can cook straight from frozen but they'll likely take a bit longer to cook this way.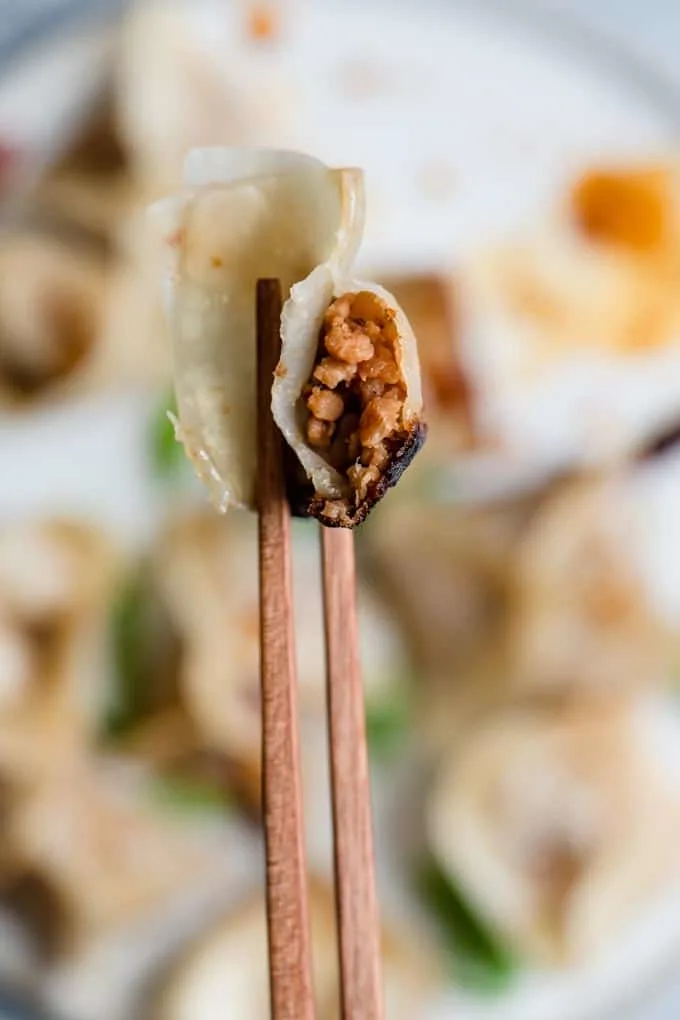 I'd like to end with some final words of wisdom: Vegan wontons are good. Make them. You're welcome.
If you make these homemade vegan wontons, leave a comment below and rate the recipe on the recipe card. And please share your photos with me on Instagram, tag @thecuriouschickpea and #thecuriouschickpea. I love seeing your recreations!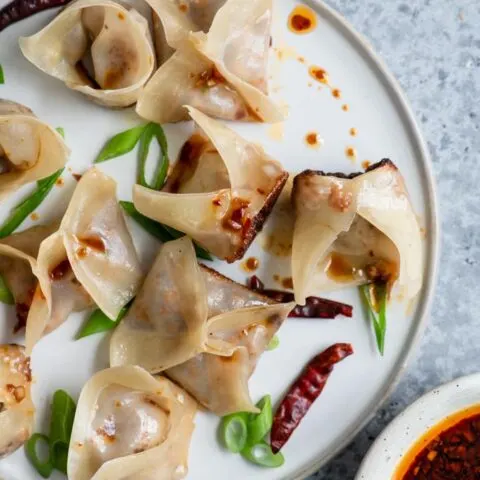 Homemade Vegan Wontons
These homemade wontons have a flavorful vegan ground meat filling and are fun and easy to make!
Ingredients
1 cup TVP
1 cup boiling water
1 tbsp oil
2 tbsp chopped scallions, white and light green parts
3-4 cloves garlic, minced
2 tsp minced ginger
1/2 tsp crushed red pepper
2 tbsp soy sauce
salt, to taste if needed
2 tsp toasted sesame oil
1 package vegan wonton wrappers (should contain ~48 wrappers)
Instructions
Combine TVP and boiling water in a heat proof bowl. Set aside to hydrate, about 10 minutes.
Heat a skillet over medium heat, add the oil, scallion, garlic, ginger, and red pepper. Sauté for about 30-60 seconds.
Add the hydrated TVP and sauté about 3 minutes until its lightly browned. Mix in the soy sauce, then taste and add salt if desired. Turn off the heat and add the toasted sesame oil. Set aside and let the filling cool enough to handle.
Shape the wontons: Place a wrapper in your palm and fill it with about 1 teaspoon of the filling. Rub water along the edge of the wrapper then fold the dumpling in half to make a rectangle. Add water to the bottom two corners, then bend them together to touch. Press to seal while pushing out air from the dumpling.
Alternative shape: Wet the edges of the wrapper and bring two opposite corners to touch, then bring the remaining two corners to meet in the center. Pinch the edges together to seal, pushing air out while doing so.
Dumplings can be cooked immediately or frozen to cook at a later time. To freeze, spread out on a baking tray in a single layer. Let freeze solid, then transfer to a sealable freezer bag. Cook from frozen, dumplings will take slightly longer to cook.
Deep Fry Instructions: Heat oil to 350 ºF and add dumplings a few at a time so as not to crowd the oil. Fry for 1-2 minutes or until golden. Flip or press them down in the oil using a spider strainer to cook evenly. Remove and let drain on a paper towel. Repeat until dumplings are cooked.
Steam & Pan Fry Instructions: Heat a large skillet over medium-low heat. Add oil then place the dumplings in a single layer. Let cook for 1-2 minutes or until the bottoms are golden, then pour about 1/4 cup of water into the pan and immediately cover to capture the steam. Let the dumplings steam about 1-2 minutes or until tender.
Serve warm with dumpling dipping sauce.
Notes
Keep the wonton wrappers covered with a lightly dampened towel or paper towel while shaping so they don't dry out. Dry dumpling wrappers are more prone to tearing when shaping. If they are delicate and tear easily, then don't bother with fancier shapes and just fold them in half into triangles!
You can make this with a vegan ground meat, or finely chopped seitan. Skip the hydrating step and jump right in with the sautéing. Also skip or cut down the soy sauce because it will be saltier.
Recommended Products
As an Amazon Associate and member of other affiliate programs, I earn from qualifying purchases.
Nutrition Information:
Yield:

12
Serving Size:

1
Amount Per Serving:
Calories:

129
Total Fat:

2g
Saturated Fat:

0g
Trans Fat:

0g
Unsaturated Fat:

2g
Sodium:

311mg
Carbohydrates:

20g
Fiber:

2g
Sugar:

1g
Protein:

7g
Nutrition is calculated automatically so should be used as an estimate.