When all you need is a sweet treat, look no further than these vegan chocolate chip marshmallow cookies! They're the perfect combo of chewy and crisp, and delicious paired with a glass of cool plant milk.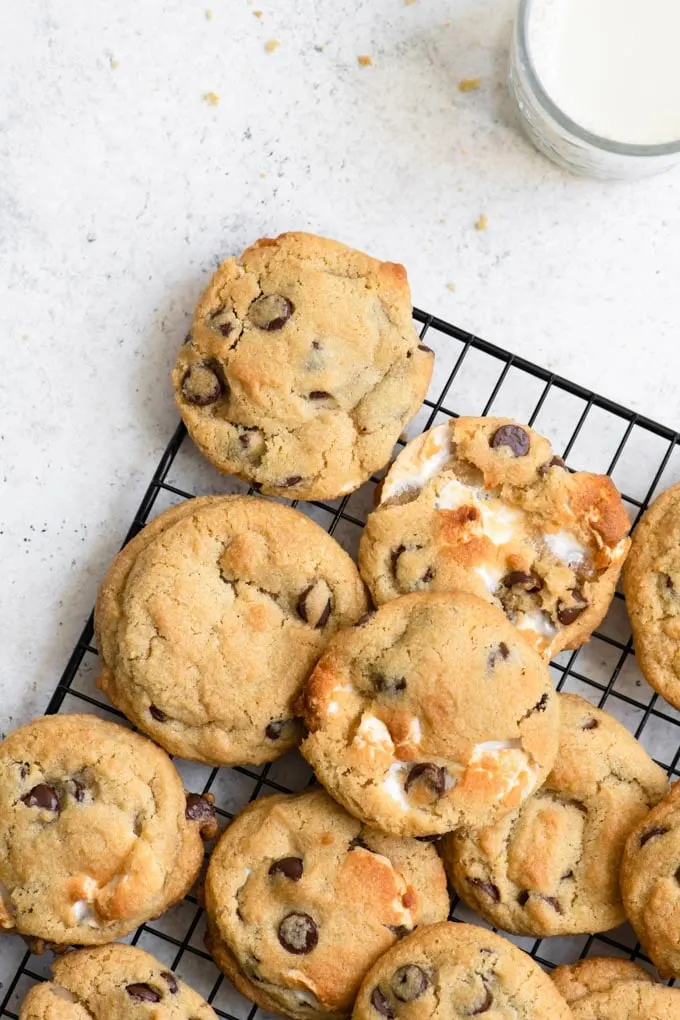 These vegan chocolate chip marshmallow cookies are so freaking perfect. We're talking a chewy cookie with crispy edges loaded with chunks of chocolate and pockets of melted sticky marshmallows.
They are irresistible hot out of the oven, but also mouth watering when fully cooled.
They're basically your classic chocolate chip cookie, but with marshmallows. It essentially answers the age old question, how do you make a chocolate chip cookie even better?
There I go, making up 'age old questions' for the sake of a sentence. It sounds good, okay!?
So how do we make the classic chocolate chip cookie vegan?
First let's identify the ingredients that may not be vegan: butter, eggs. Butter is easy, you can just use vegan butter!
For best results use the kind of vegan butter that comes packaged in a stick, not the softer spreading kind that is packaged in a tub. The latter often has a higher water content, which means more cookie spread-age.
And it turns out when it comes to cookies, eggs are easy to replace too. For the most part you can substitute 1 egg in a cookie dough recipe with some plant milk and get a really good cookie.
But the cookies get even better (that is, more chewy) when you substitute some aquafaba for the egg.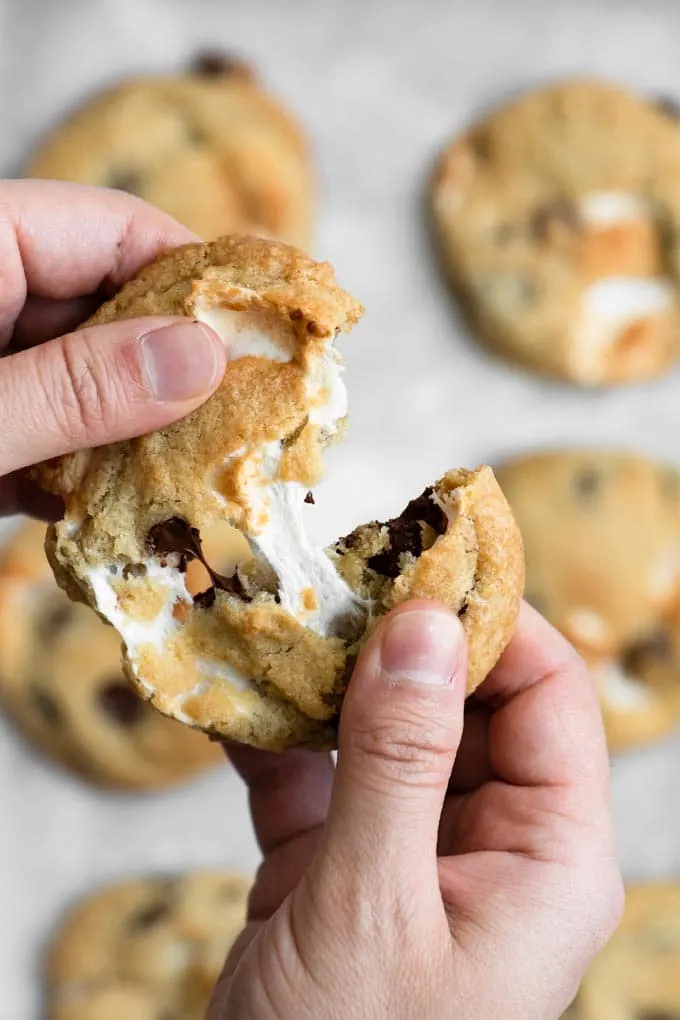 Aquafaba is the gloopy liquid that is collected from a can of beans. It is also made with the cooking water of beans.
Use aquafaba from a can of chickpeas or white beans for this recipe because they have the most mild flavor and won't affect the color of the cookies.
To get aquafaba, give your can of beans a good shake before opening, this distributes and loosens the starches that settle on the bottom. Then strain the liquid from the beans and that's your aquafaba!
You can freeze it until you're ready to use. Or if using within a couple of days keep it refrigerated.
In a pinch you can use some plant milk instead of the aquafaba in this recipe, but I really recommend you try them with the aquafaba! They're incredible that way.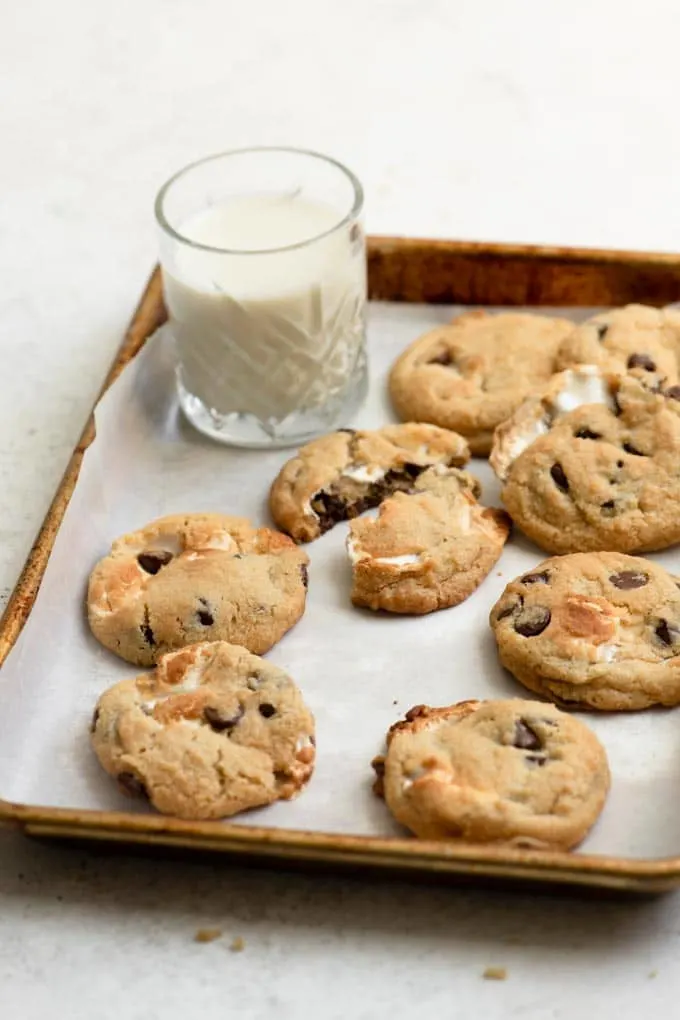 You also need to consider your chocolate chips. Semi-sweet chocolate is often vegan, but occasionally milk fat or some other small milk ingredient sneaks its way in so be sure to read the ingredients.
If we really want to get into things, I should note that not all sugar is vegan. Some cane sugar gets bleached with the bones of animals.
If you want vegan sugar buy organic. Beet sugar is also vegan, organic or not. And some cane sugar (such as the 365 Whole Foods brand) may be labeled vegan.
Okay, but these are chocolate chip marshmallow cookies! What about the marshmallows?!
Right, vegan marshmallows. Well those exist now! Haven't you heard?!
I use Dandies mini marshmallows in these cookies. Depending on where you live other marshmallow brands might exist.
If you don't have access to mini marshmallows, simply tear up full sized ones into smaller pieces.
Theoretically you can even make your own! I haven't done so, but there are certainly plenty of recipes out there if you want to do a search.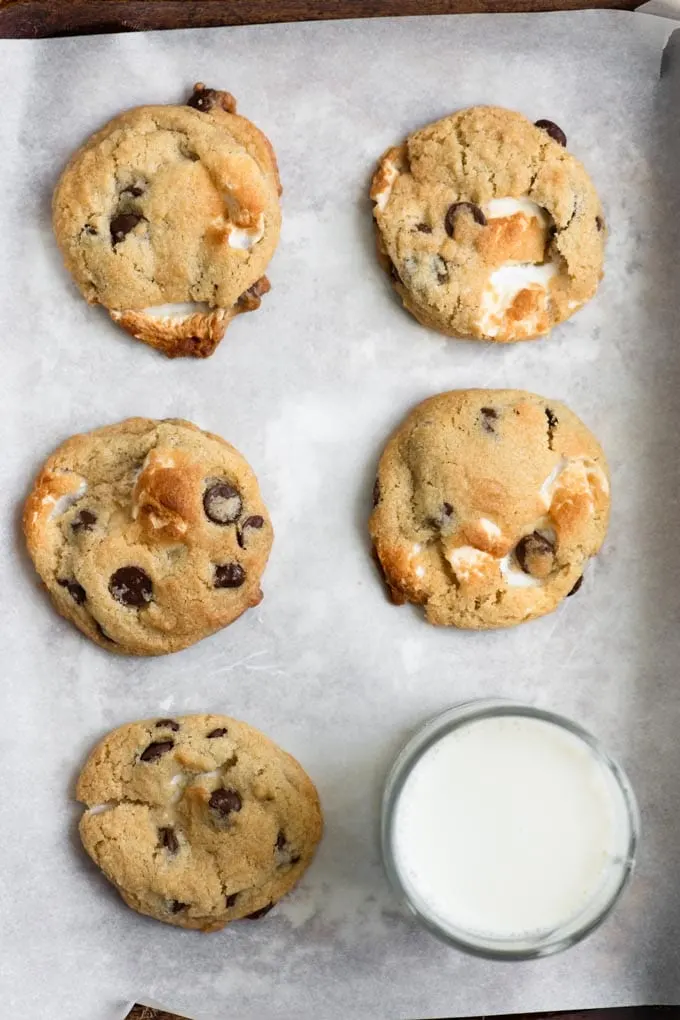 Using coconut oil instead of vegan butter:
I know that not everyone has access to or likes to use vegan butter for one reason or the other, so I also developed a version of these cookies with coconut oil.
First up: if you're going to make these cookies with coconut oil, use refined coconut oil. This stuff is deodorized, so your cookies won't have a coconut taste.
Next you'll want to add some ground flaxseed for its extra binding ability and chewiness. Coconut oil cookies like to spread, especially at the edges, so adding flax helps them hold their shape.
Use ground golden flax for its, well, golden color. It's less noticeable in the final cookies. But the regular old brown flax works fine if that's what you have!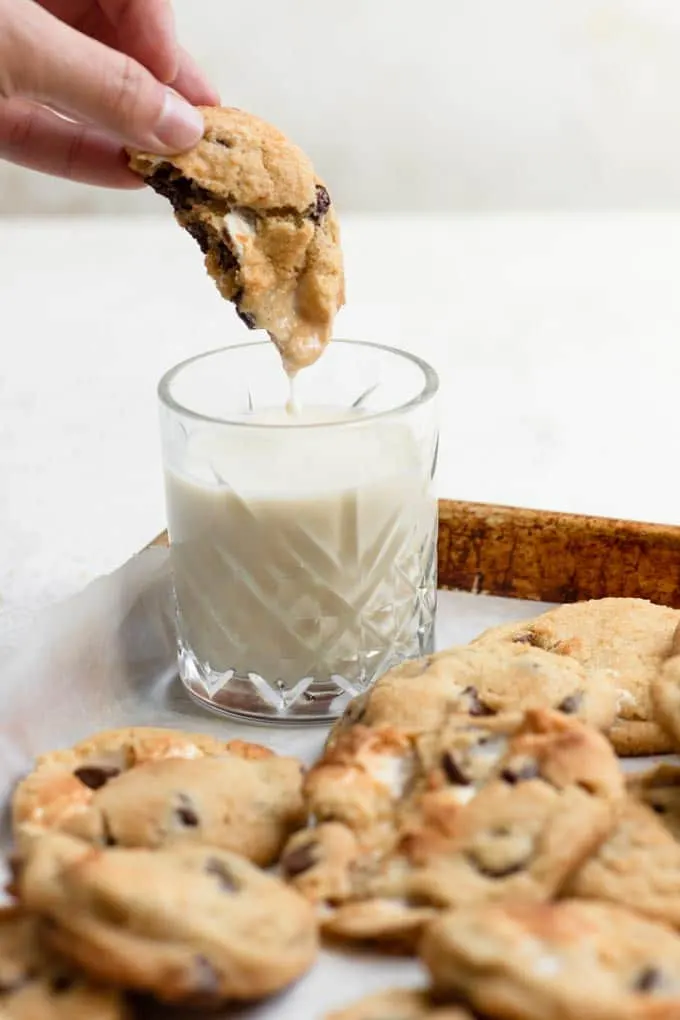 If using coconut oil to make these, you'll also want to up the salt a bit to maintain that perfect sweet-salty ratio.
The texture of the coconut oil-based cookies is slightly softer and less chewy, but certainly no less tasty.
To use coconut oil it should be at a solid but soft and easily scoopable texture.
If you go to grab your coconut oil and it's rock solid, then stick the closed jar in warm water until it softens. If it's liquid, then measure out the coconut oil you need and stick that portion in the fridge. Check it every few minutes, stirring once or twice, until it's that creamy texture.
If you make these vegan chocolate chip marshmallow cookies, leave a comment below and rate the recipe on the recipe card. And please share your photos with me on Instagram, tag @thecuriouschickpea and #thecuriouschickpea. I love seeing your recreations!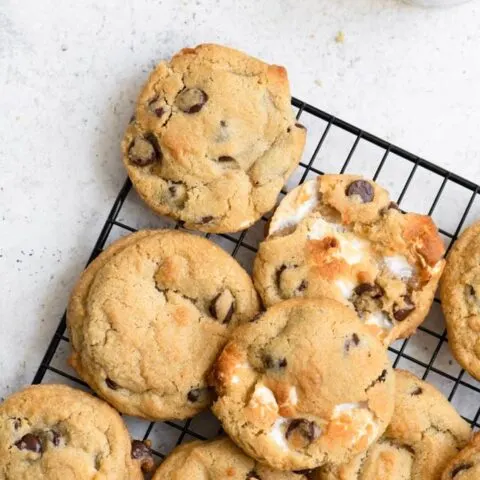 Vegan Chocolate Chip Marshmallow Cookies
These vegan chocolate chip marshmallow cookies are chewy with perfectly crackly edges, a generous proportion of chocolate chips, and melty marshmallows studded throughout.
Ingredients
1/2 cup (115g) vegan butter, softened
1/3 cup (66g) brown sugar
1/3 cup (66g) granulated sugar
2 tbsp (30g) aquafaba
1 tsp (5g) vanilla extract
1 1/4 cup (165g) all purpose flour
1/2 tsp salt
1/2 tsp baking soda
3/4 cups (125g) semisweet chocolate chips
1/2 cup (55g) vegan mini marshmallows
Instructions
Preheat the oven to 375 ºF
Beat vegan butter, brown sugar, and granulated sugar with a stand or hand mixer until creamy. Add the aquafaba and vanilla extract and beat another minute or so until smooth.
Add the flour, baking soda, and salt and beat until just mixed. Fold in the chocolate chips and marshmallows.
Drop by heaping 2 tbsp onto an un-greased or parchment lined baking sheet, placing cookies about 2" apart. Optional: freeze dough for 10 minutes before baking for a thicker cookie.
Bake at 375 ºF for 12-13 minutes. Rotate the cookie sheets halfway through for even baking.
Remove from oven and allow to cool for 2 minutes, then transfer to a cooling rack to cool completely.
Notes
You can make the dough in advance and refrigerate until ready to use, baking all of it or some of it as needed!
Aquafaba is the gloopy liquid that is drained from a can of chickpeas or the cooking liquid if cooking beans from scratch. You can also use aquafaba from white beans or pinto beans.
Coconut oil variation: for the vegan butter substitute 1/2 cup (115 g) coconut oil at room temperature (solid but soft and scoopable in texture). Add 1 tbsp (7 g) ground flaxseed at the same time as the aquafaba and increase the salt to 3/4 tsp. If preparing the dough ahead of time, pre-portion the dough into balls before refrigerating.
Recommended Products
As an Amazon Associate and member of other affiliate programs, I earn from qualifying purchases.
Nutrition Information:
Yield:

15
Serving Size:

1
Amount Per Serving:
Calories:

172
Total Fat:

9g
Sodium:

123mg
Carbohydrates:

23g
Fiber:

1g
Sugar:

14g
Protein:

1g
Nutrition is calculated automatically so should be used as an estimate.
This recipe was first published on May 11, 2017.