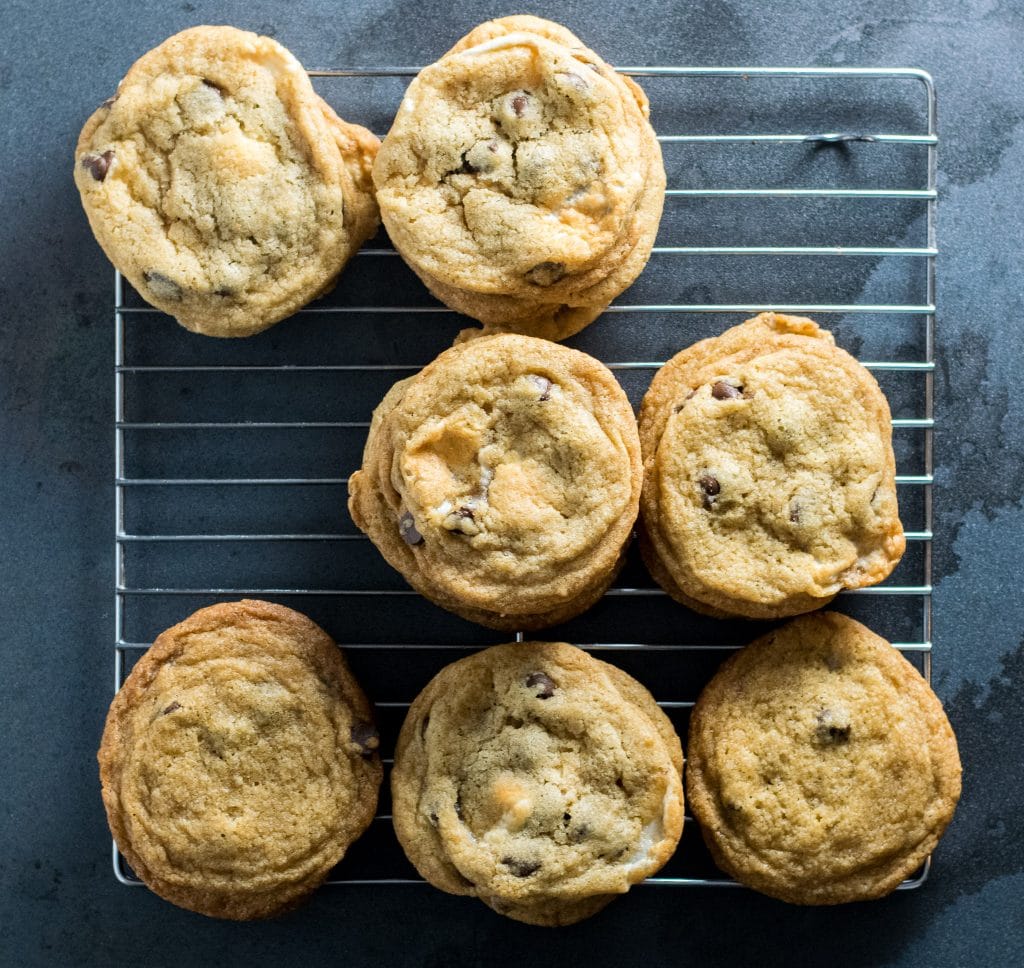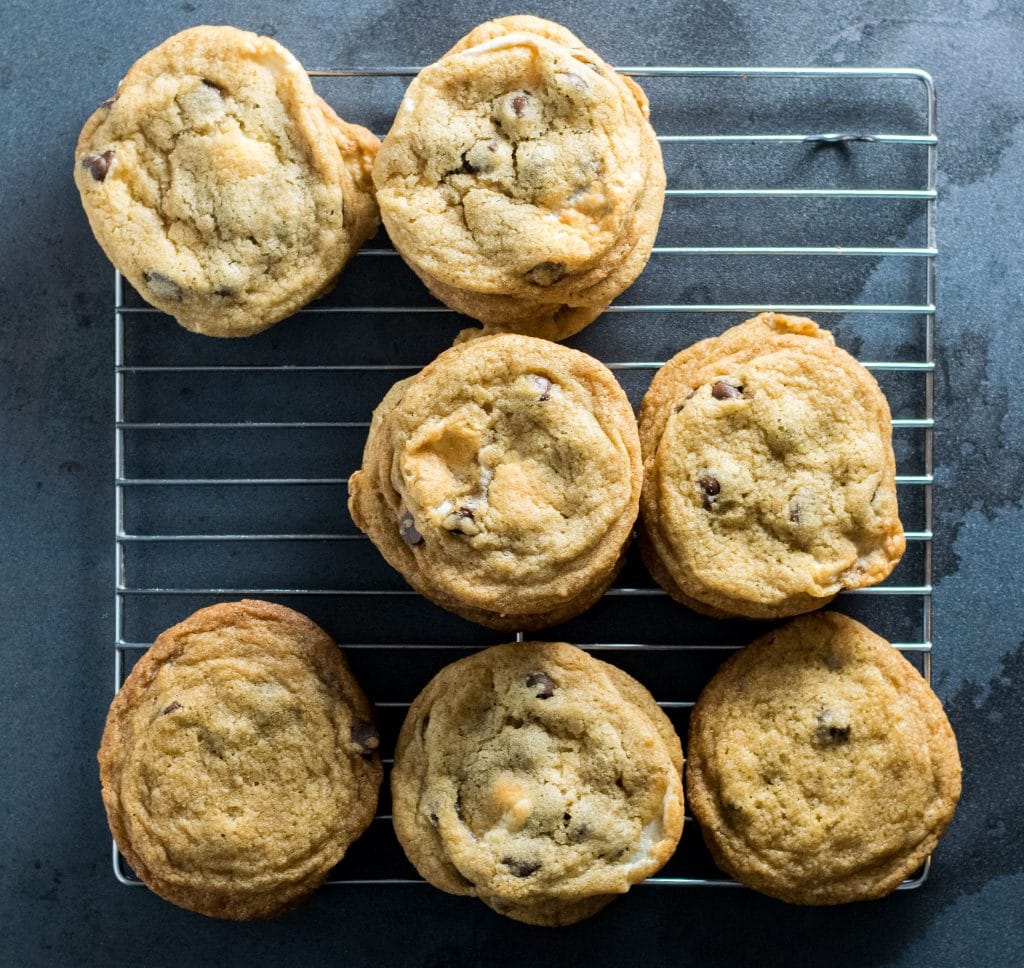 These vegan chocolate chip marshmallow cookies are so freaking perfect. Chewy cookie, crispy edges, chunks of chocolate and pockets of melted sticky marshmallows. Irresistible hot out of the oven, but also mouth watering when fully cooled. It's Mother's Day this Sunday, and I have to dedicate this recipe to my mom. Chocolate chip cookies are her favorite treat, and I can't look at a one without thinking of her! Wish I was able to eat a cookie or three with you on this Sunday Mom!
I didn't grow up eating marshmallows, because I was raised vegetarian and there were no vegetarian marshmallows when I was a kid. Instead at campfires I had to eat plain Hershey's chocolate (bleh) and dry graham crackers. At some point during my childhood my mom found gelatin-free marshmallow fluff, and she was so excited to share the experience of s'mores with us. All of us kids hated it. It was processed and chemically tasting, and super duper sweet (which, of course, is expected, as marshmallows are mainly sugar). And on top of that, we didn't have nostalgia driving any desire for s'mores. My poor mom was only trying to enjoy a special treat from her childhood with us!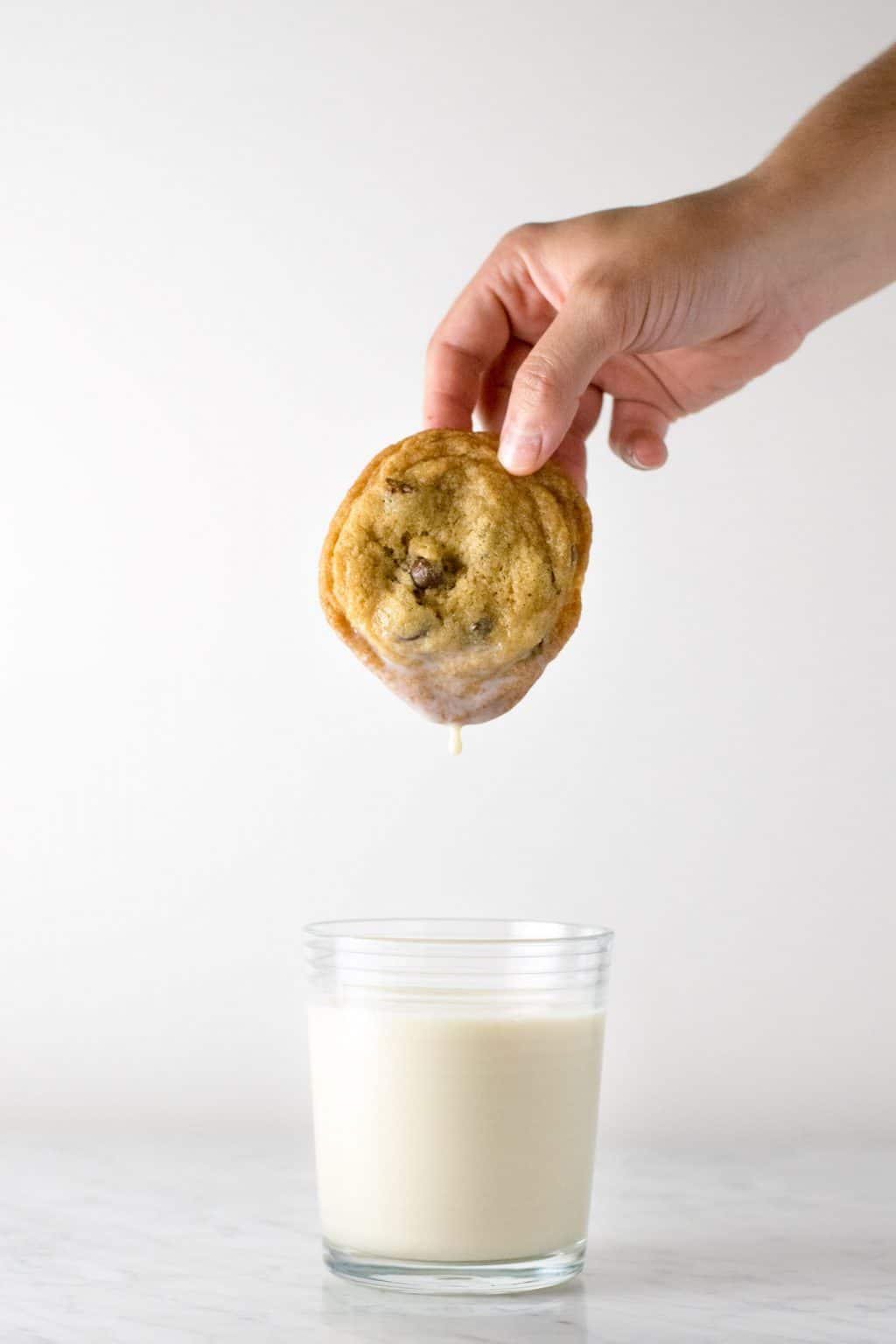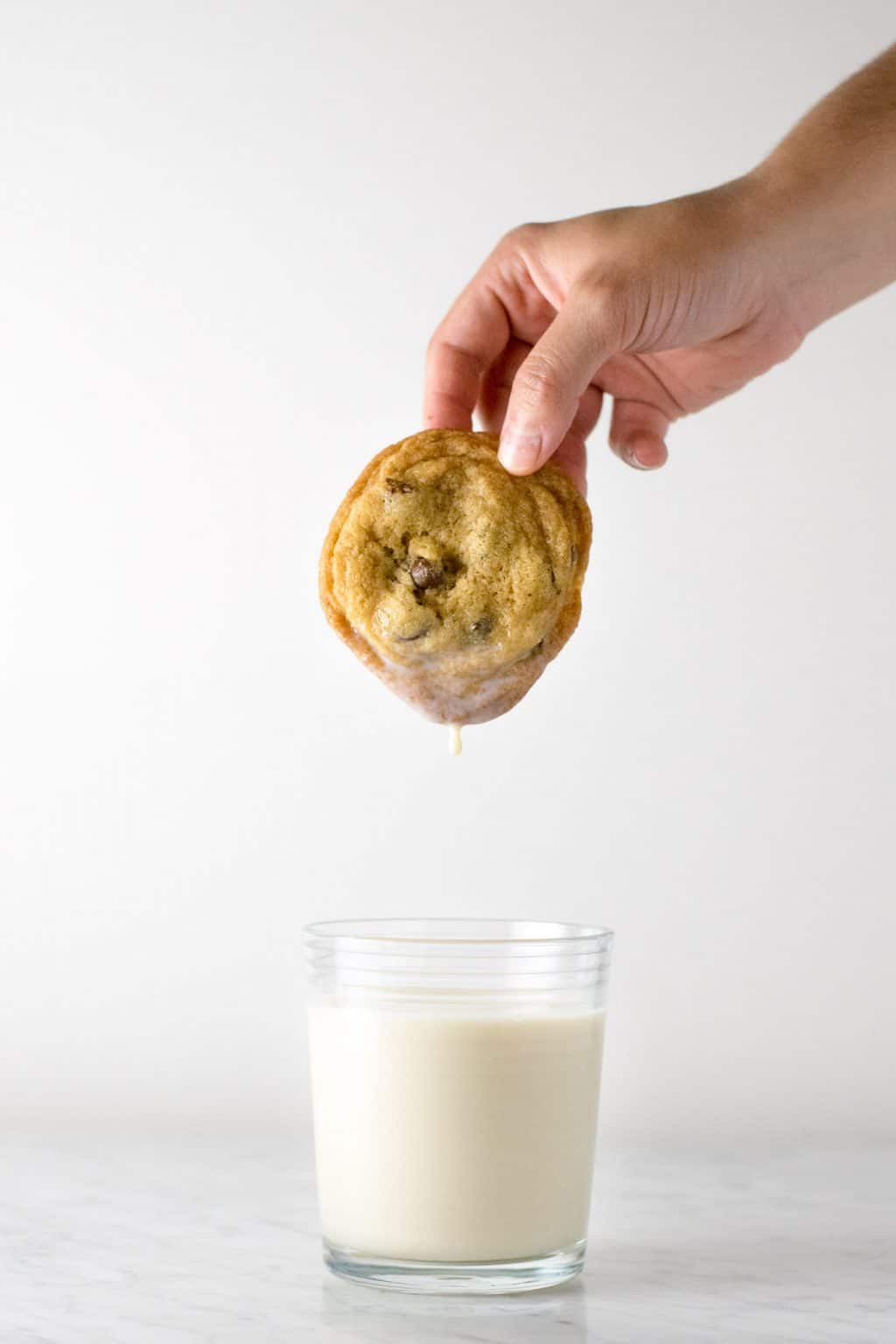 I went the next decade or so of my life thinking I would not like anything marshmallow. Vegan marshmallows started coming to the shelves of my grocery stores and I could not be bothered to pick up a bag. Then one day, in my mid-20s, my friend convinced me that I should really try s'mores again. So I picked up my first bag of Dandies, and some high quality dark chocolate, we set up a campfire and I had my first real s'more. And oh my god. It was delicious. Still very sweet, of course, and one was enough, but the dark chocolate cut through some of that sweetness, and everything was melty and sticky and chewy and just really fun to eat. It was that year that I had my first rice crispy treats too. Also very tasty.
I'll admit that marshmallows still aren't something I want all the time. For example, I only want coconut whipped cream on my hot chocolate. But there's usually a bag of them in the house these days, just so I can make these cookies if a craving strikes. There are many different companies out there making vegan marshmallows, and you can even make your own.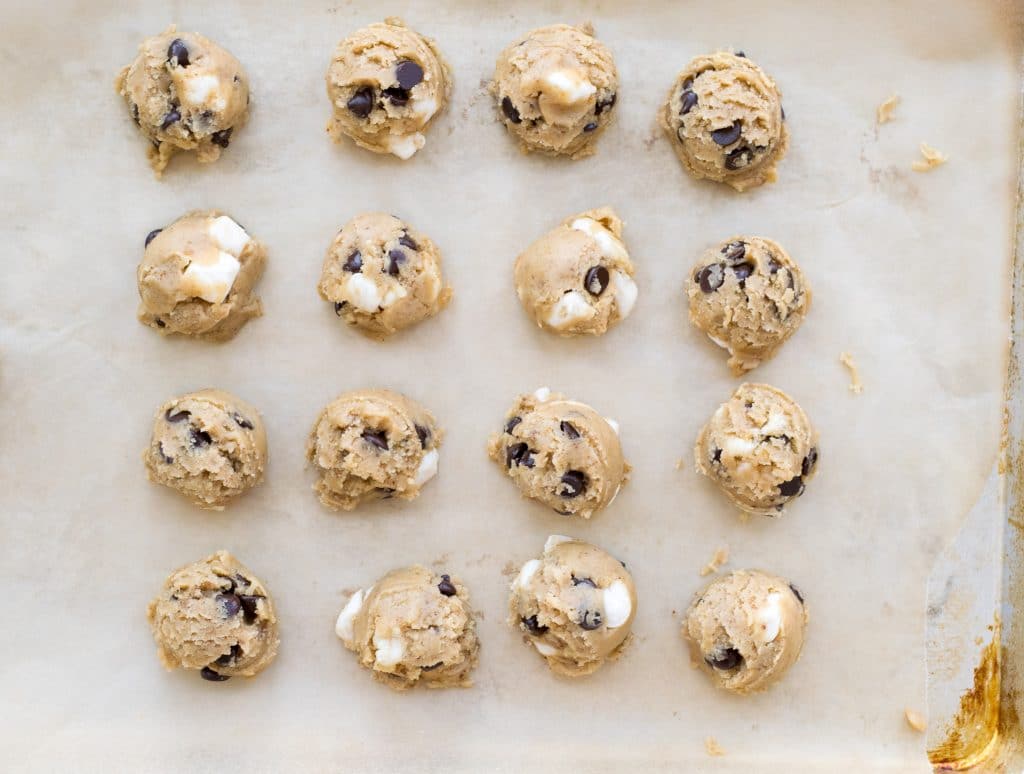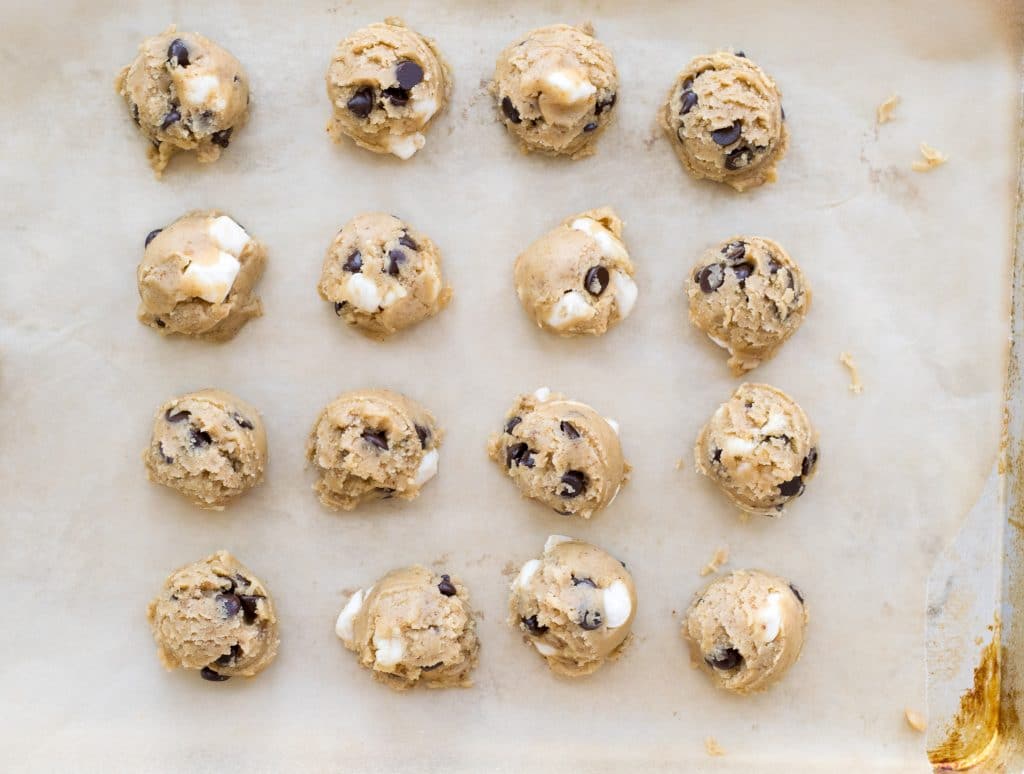 My favorite way to make these cookies is to use vegan butter. For me, it creates the perfect cookie. However, I know not everyone likes to use vegan butter for various reasons, so I've also included a version using coconut oil. When substituting coconut oil I found that you want to add some ground flaxseed for extra binding ability and chew, and increase the salt to maintain the perfect sweet-salty ratio. The texture of the coconut oil-based cookies is slightly softer and less chewy, but certainly no less tasty. I've shared both versions of this cookie with friends and family and both have received high praise.
Let me know in the comments if you make this dish, rate it, and tag me on Instagram!
Notes:
Aquafaba is the liquid from cooking beans. Chickpeas create some of the best aquafaba, and it's easiest to collect from a can. When separating the liquid from a can of beans, first shake the can to loosen and distribute the starches and proteins that settle on bottom. Then strain and freeze the liquid until you're ready to use it.
If you make the coconut oil variation, make sure the oil is at the correct consistency. You want it to be solid but soft and easily scoopable. If it's liquid, measure it out then stick it in the fridge, checking on it every few minutes. If it's too rock solid, stick the jar in some warm water until it softens.
If you don't have access to mini marshmallows, simply tear up full sized ones into smaller pieces.
The recipe doubles easily if you want to make a larger batch. This recipe makes 16 ~3″ cookies as written.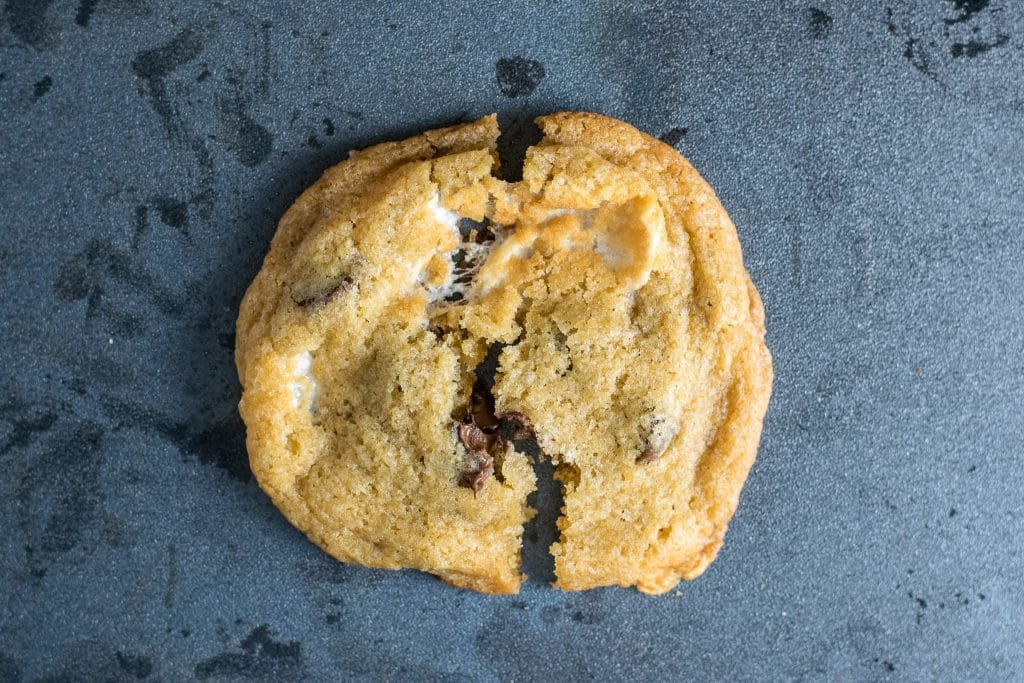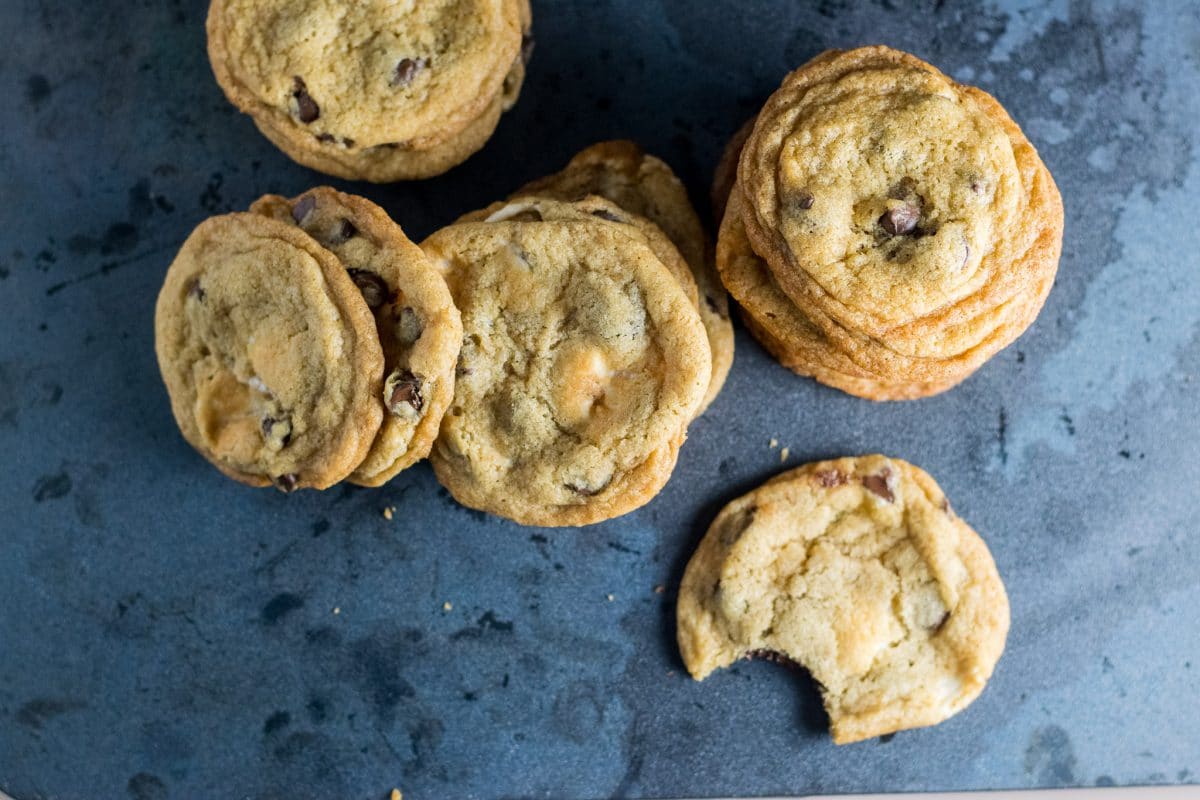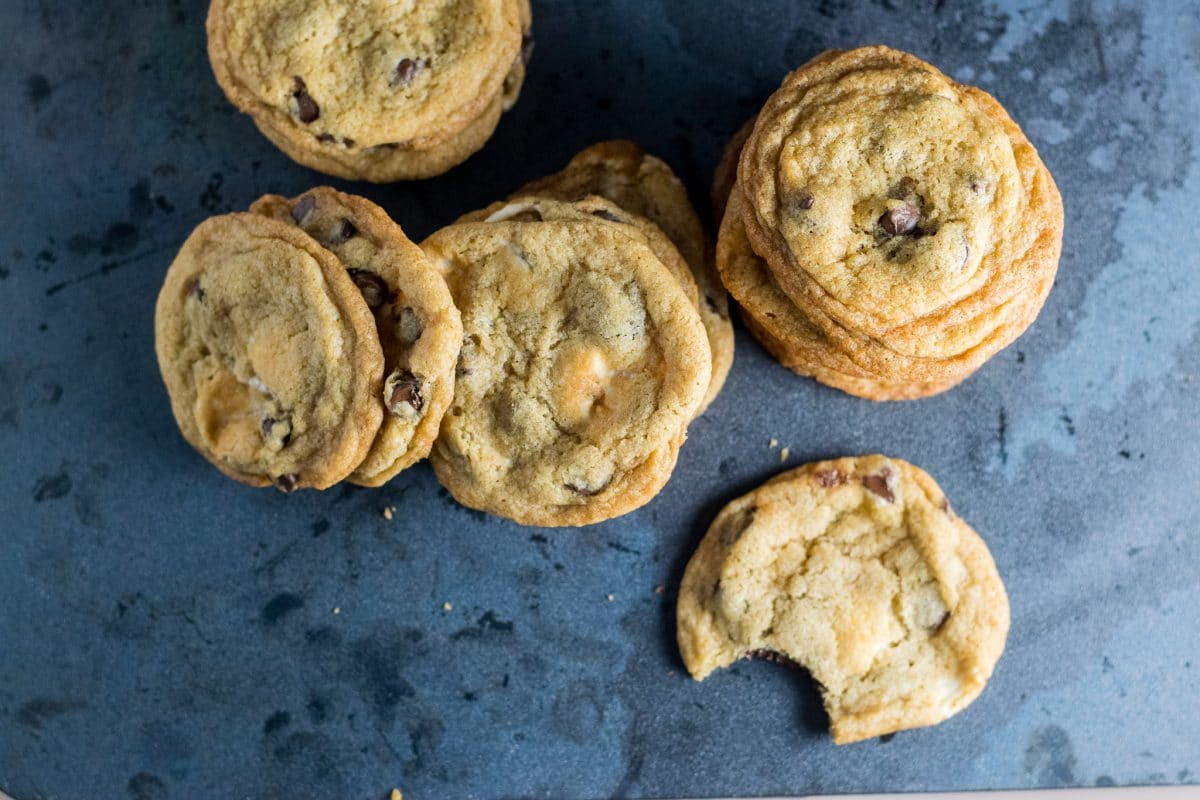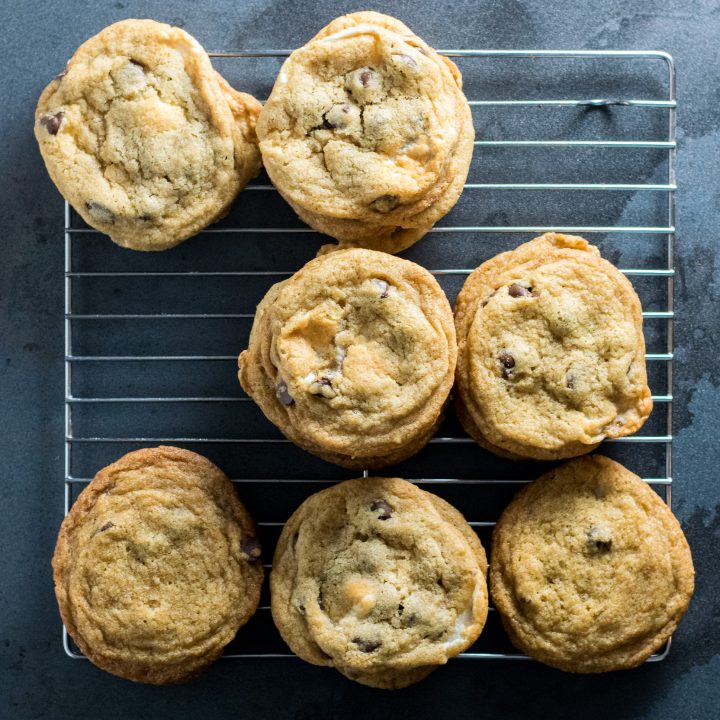 Vegan Chocolate Chip Marshmallow Cookies
Vegan chewy chocolate chip cookies with crackly edges, a generous proportion of chocolate chips, and melty marshmallows studded throughout.
Ingredients
1/2 cup (115 g) vegan butter*, softened
1/3 cup (66 g) brown sugar
1/3 cup (66 g) granulated sugar
2 tbsp (30 g) aquafaba
1 tsp vanilla extract
1 1/4 cup all purpose flour (165 g)
1/2 tsp salt
1/2 tsp baking soda
3/4 cups (125 g) semisweet chocolate chips
1/2 cup (55 g) vegan mini marshmallows
Instructions
Preheat the oven to 375 ºF
Beat vegan butter, brown sugar, and granulated sugar with a stand or hand mixer until creamy. Add the aquafaba (and flaxseed if making the coconut oil variation) and vanilla extract and beat another minute or so until smooth.
Add the flour, baking soda, and salt and beat until just mixed. Fold in the chocolate chips and marshmallows.
Drop by heaping 2 tbsp onto an un-greased or parchment lined baking sheet, placing cookies about 2" apart. This will take a couple of baking sheets. Either bake in batches (refrigerating dough as it waits), or switch pans halfway through baking for even heat.
Bake at 375 ºF for 12-13 minutes.
Remove from oven and allow to cool for 2 minutes, then move to a cooling rack to cool completely.
Notes
Adapted from the Tollhouse chocolate chip cookies recipe.
*Coconut oil variation: for the vegan butter substitute 1/2 cup (115 g) coconut oil at room temperature (solid but soft and scoopable in texture). Add 1 tbsp (7 g) ground flaxseed** with the 2 tbsp (30 g) aquafaba and increase the salt to 3/4 tsp. If preparing the dough ahead of time, pre-portion the dough into balls before refrigerating.
**I prefer using golden flaxseed for it's milder flavor and less noticeable color