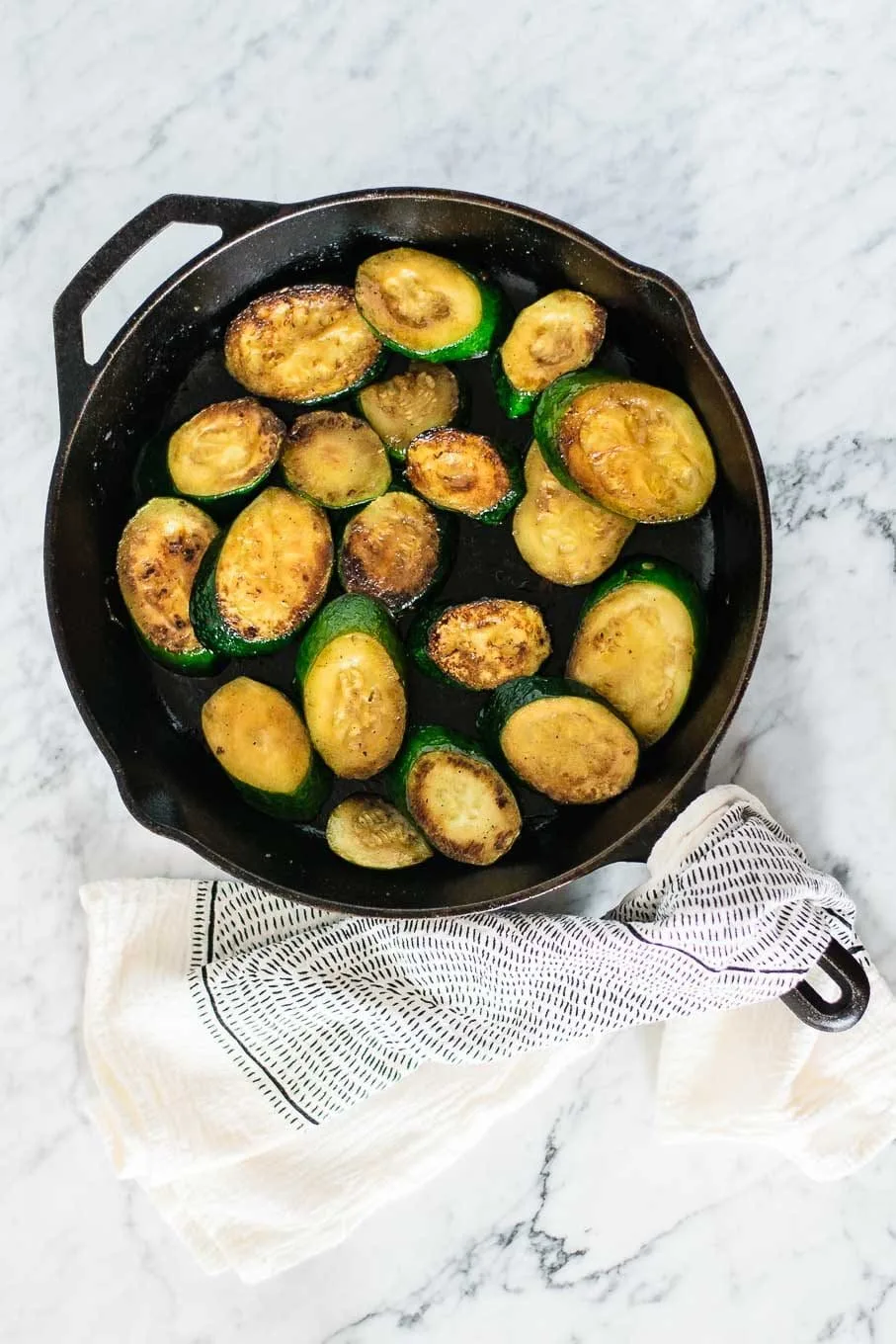 So, we bought a house last week! We are super excited about it. The house is in a neighborhood of DC that we love (only a few blocks away from our rental apartment), and we have a yard for the first time ever (as adults)! It's also been an incredibly busy and stressful time, with only 4 weeks from contract to settlement. Everything has been in high gear and I'm ready for a vacation–or rather, a staycation because I never want to leave our new house! We moved on Sunday and are 98% settled in, everything is unpacked but we still have artwork to hang and a few things left to arrange. Our dog Selkie loves her yard and all the squirrel watching she can do, while our cat Minx feels like she should be allowed outside as well. As for me, I'm so excited to cook in our beautiful new kitchen! I actually baked my first 2 loaves of sourdough bread this morning, and they came out SO perfectly!
One of the last things I cooked in our old rental kitchen was this beer braised zucchini. I've been making variations of it over the past several years, but don't think of it as a recipe really. It's so straight forward and there are only 4 ingredients. I made it recently to go alongside the vegan tinga tacos when we had friend's in town a few weeks ago, and they really enjoyed the zucchini. So much so, that when they returned home my friend was texting me about how to make it. I figured I shouldn't keep this to myself. Afterall, we can all use more simple and straight forward recipes to increase our veggie consumption, right? This recipe fits the bill so perfectly!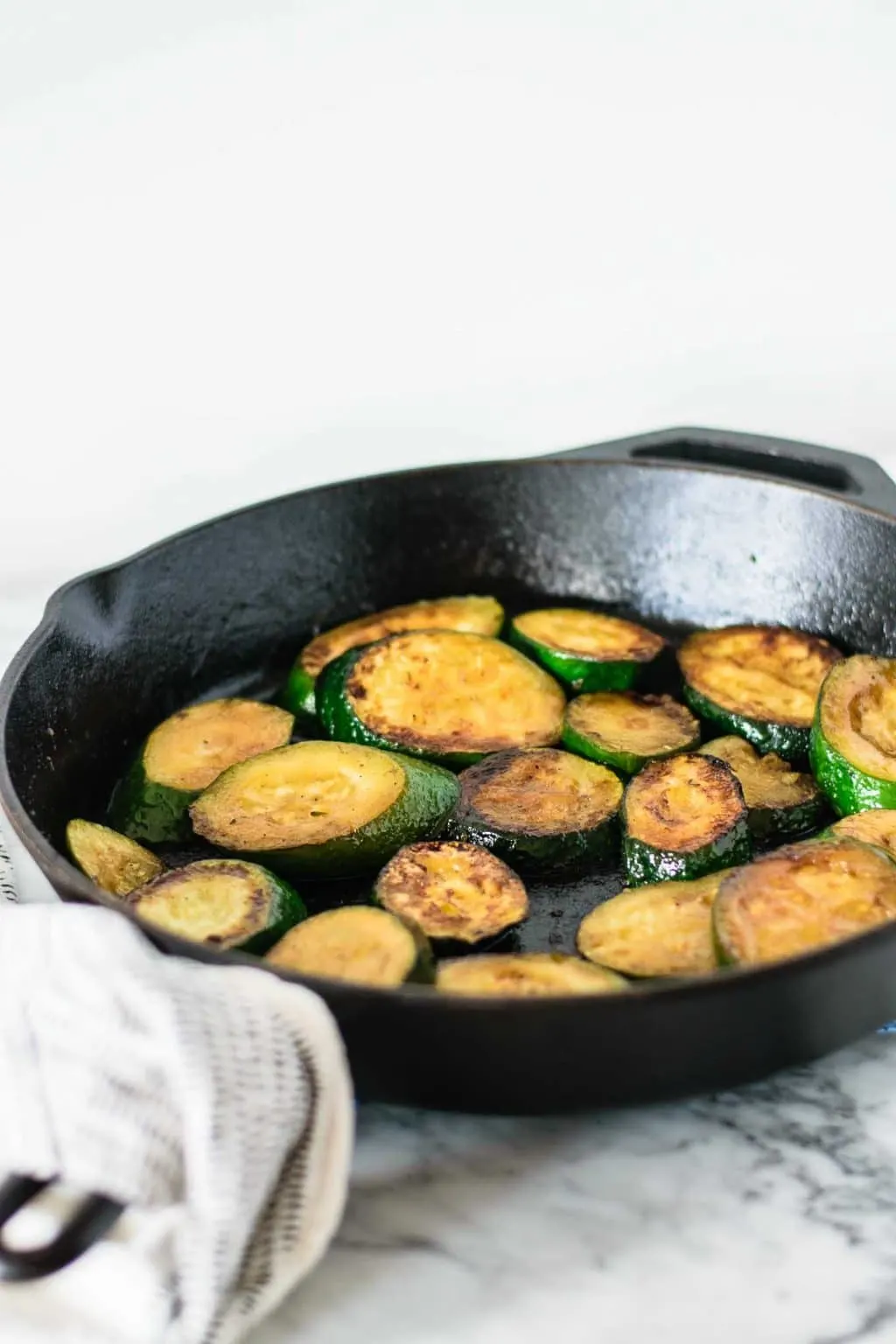 It's super easy, and takes at most 20 minutes to make (if even). It's quite hands off, as you need to give it plenty of time to brown on each side and constant stirring will prevent that. You can increase or decrease the recipe as needed, though you'll want to do it in batches or multiple pans if your pan gets too full, as you don't want to crowd your pan for optimal browning and texture.
This is an awesome barely-a-recipe to add to your repertoire! It's fast and delicious and as a bonus you'll get to finish that beer you opened to cook with! Make it for your friends and they might ask you for the recipe. It's great with tacos or pasta! Pizza or burgers! And perfect for the most delicious farm or garden fresh zucchini that's overflowing right about now.
Let me know if you make your own beer braised zucchini. Tell me what beer you used and how you liked it. Leave a comment and/or rate the recipe below, tag me on Instagram (or #thecuriouschickpea), or share with me on Facebook! Happy cooking and eating!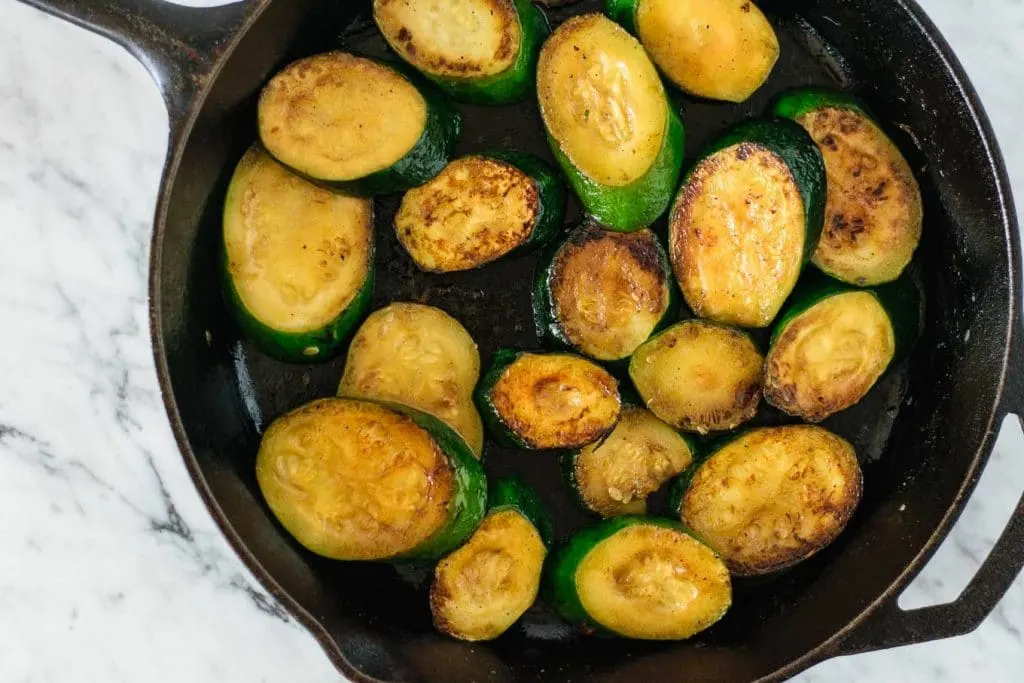 Notes:
For your choice of beer, pick one that has a nice robust flavor, as it's the only real flavoring in the dish. I've used amber ales and IPAs, I've also used Mexican beers for pairing with tacos. Just don't use a flavored beer–I tried that once and it was not my favorite.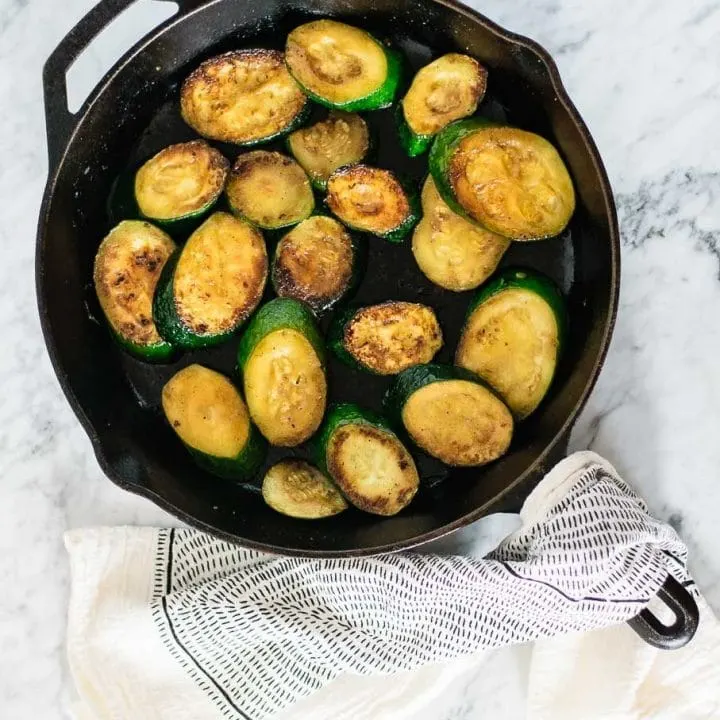 Beer Braised Zucchini
Beer braised zucchini is quick to make and delicious, only has 4 ingredients, and is the perfect accompaniment for so many summertime meals!
Ingredients
1 1/2 lbs zucchini (~2 large), sliced on a bias 1/2-3/4" thick
2 tsp oil
a pinch of salt, or more to taste
1/4 cup beer, an amber ale is a great choice
Instructions
Heat a large cast iron or non-stick skillet over medium heat.
Add the oil when hot, then the zucchini and the pinch of salt. Pan fry for 7-10 minutes, stirring occasionally, until golden and browned.
Add the beer, and cook until reduced, around 2-3 minutes, stirring occasionally.
Taste and adjust salt if necessary.
Nutrition Information:
Yield:

4
Serving Size:

1
Amount Per Serving:
Calories:

91
Total Fat:

3g
Saturated Fat:

0g
Trans Fat:

0g
Unsaturated Fat:

2g
Cholesterol:

0mg
Sodium:

42mg
Carbohydrates:

8g
Fiber:

2g
Sugar:

3g
Protein:

2g