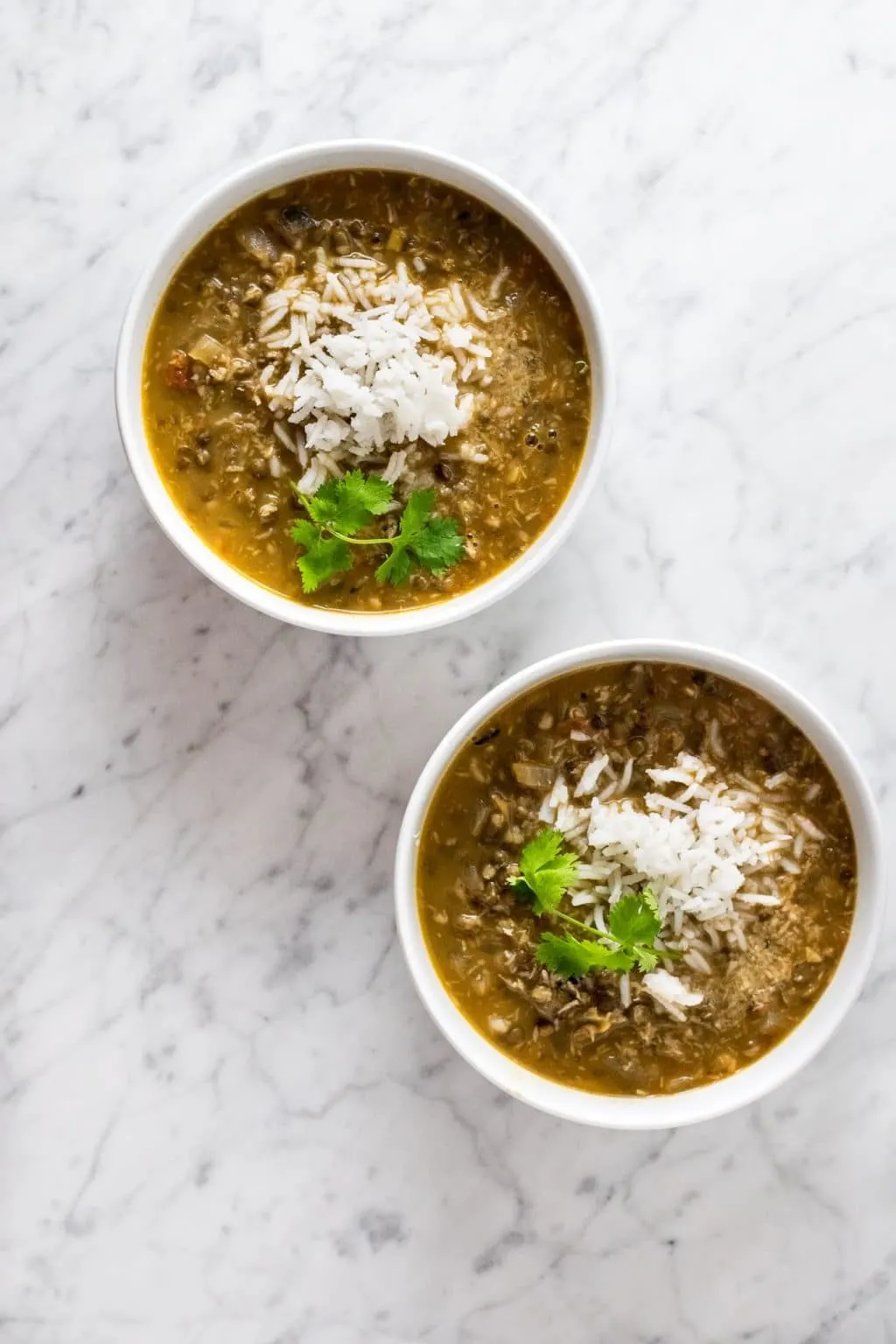 My family spent some time in India when I was a kid, and that was the first time I remember having whole urad dal (also known as black gram/black lentils).
I'm not sure why I didn't grow up eating it all the time but I became enamored of it. You might have had this variety of dal before if you've ever ordered dal makhani, as it is traditionally used in that dish. As an adult, it's a lentil I make sure to always have stored in my pantry.
I love dal/lentils. They are dirt cheap, high in protein, super versatile, a really good source of fiber (sometimes I pretend they are a vegetable to avoid cooking a second dish), and have a ton of really important vitamins and minerals in them. And all those health-benefits aside, I would eat them anyway, because they are delicious and so satisfying.
This recipe is just one way to enjoy urad dal. It is easy and fairly hands off to make, and super tasty.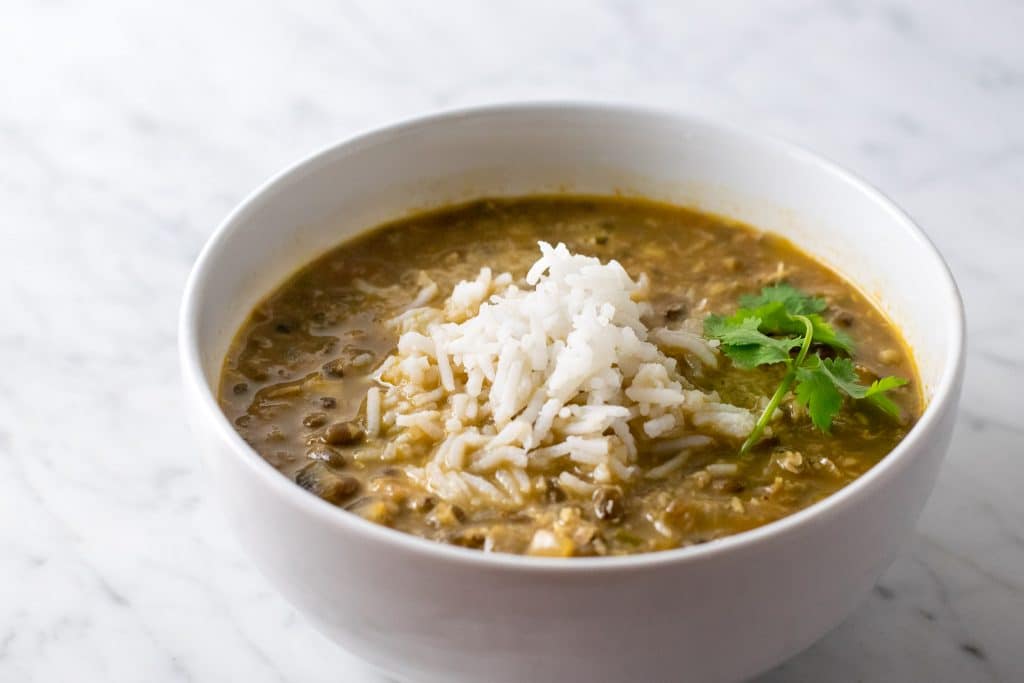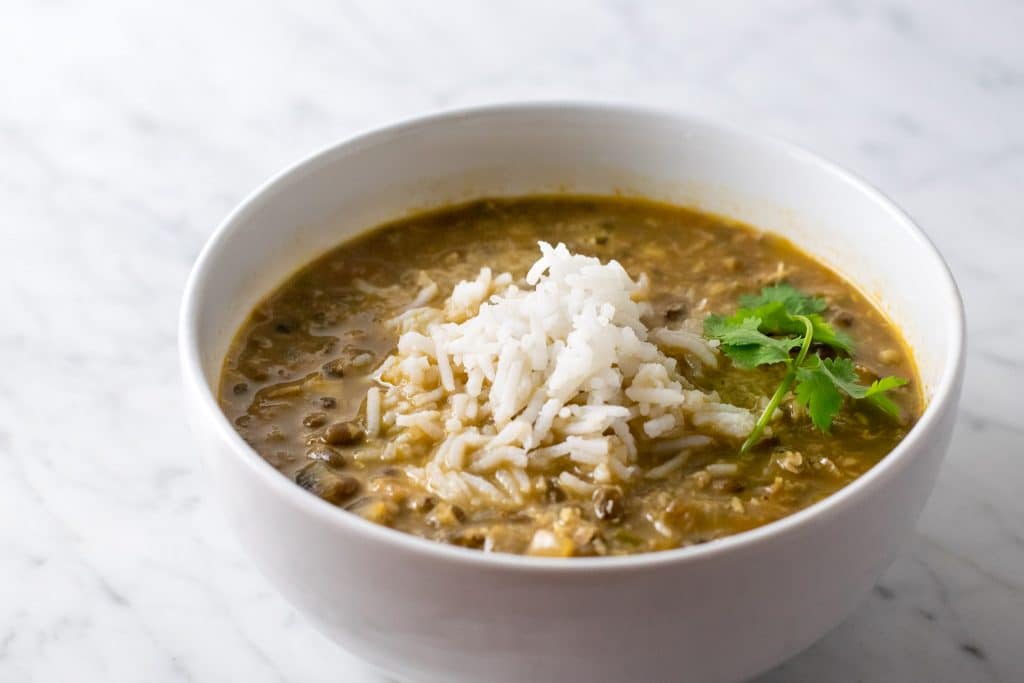 It's refreshingly gingery and a little spicy (amount of chiles can be adjusted to your personal heat-tolerance, of course). Spiced with curry powder and garam masala it is not only accessible to those with a smaller spice pantry, but it is brimming with that mouth watering Indian curry flavor.
Tomatoes provide sweetness and some mild acidity. Shredded coconut adds body to the final dish and some extra satiety (plus it's good for you!). A healthy squeeze of lemon at the end brightens the flavors along with a handful or two of cilantro (at least for the cilantro lovers out there–that's me!).
This dal can be enjoyed with basmati rice (brown or white!), as well as with Indian bread such as naan. You can throw some chopped spinach in the last 10 minutes of cooking for a fully complete meal. Or serve along side some curry roasted cauliflower (personal fave).
Let me know in the comments if you make this dish, rate it, and tag me on Instagram!
Notes:
If you don't have access to an Indian grocery store (where urad dal is easily purchased) try substituting a more common lentil that also holds its shape when cooked, such as brown, beluga (black), or french (du puy). Depending on the variety of lentil you substitute, you may have to adjust your cooking time.
Use less water for a thicker dal, you can always add more later if it gets too thick, but keep a closer eye on it if you do this.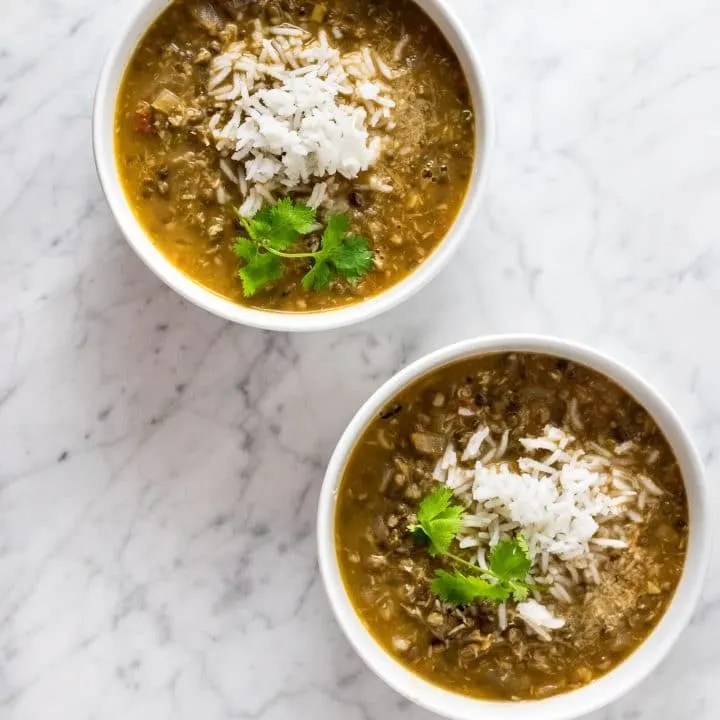 Black Lentil (Urad) Dal
A refreshingly gingery and curry spiced black lentil (urad) dal. This recipe is easy to make, has a pantry friendly ingredient list, and is super healthy!
Ingredients
2 cups (400 g) whole urad dal, soaked 6-8 hours, drained and rinsed
6 cups water
2 tsp salt, or to taste
1 tbsp coconut or neutral flavored oil
1 large onion, small dice
4 cloves garlic, minced
1 1/2" (2 tbsp) fresh ginger, minced
1-2 chiles, minced, seeded if desired
1 tbsp curry powder
1 tsp garam masala
1 1/2 cups diced tomatoes (or 15 oz can)
1/2 cup shredded coconut
1/4 cup fresh squeezed lemon juice
1/2 cup cilantro, chopped
basmati rice, for serving
Instructions
Cook the lentils: In a large stock pot, add soaked and rinsed lentils and 6 cups of water. Add 2 tsp of salt and bring to a boil. Lower the heat to a simmer and then cook partially covered for 30 minutes.
Meanwhile, heat a large skillet over medium heat. Melt the oil, and add the onion and a pinch of salt. Sauté for 7-9 minutes, or until the onions are golden and translucent. Add the garlic, ginger, and chiles and sauté an additional 1-2 minutes. Add the curry powder and garam masala and stir to coat, for about 30 seconds. Remove from heat.
When the lentils are soft, add the tomato, shredded coconut, and the onion mixture to the pot. Bring to a simmer and cook another 5-10 minutes uncovered, until desired consistency. If at any point the dal gets too dry, you can always add more water.
Squeeze in lemon juice, taste, adjust seasoning if desired. Add the cilantro to garnish, and serve hot with basmati rice.
Notes
To cook the urad dal using a pressure cooker: skip the soaking, combine the sorted and rinsed lentils to the pressure cooker with the water and salt. Cook on high pressure for 25 minutes and allow it to release pressure naturally for at least 15 minutes.
Recommended Products
As an Amazon Associate and member of other affiliate programs, I earn from qualifying purchases.
Nutrition Information:
Yield:

8
Serving Size:

1
Amount Per Serving:
Calories:

186
Total Fat:

9g
Sodium:

1005mg
Carbohydrates:

20g
Fiber:

6g
Sugar:

6g
Protein:

9g
Nutrition is calculated automatically so should be used as an estimate.