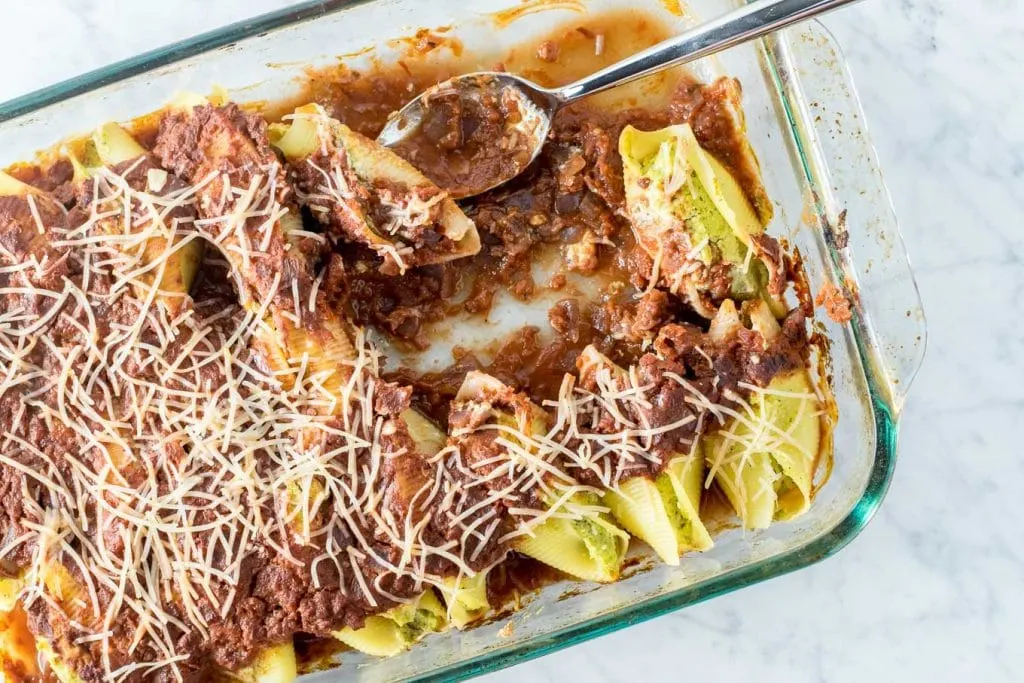 Last week I roasted and filled red bell peppers and was reminded how fun and easy and it is to make stuffed foods. It inspired me to make these pea ricotta stuffed shells with a red wine marinara not even a week later! Like lasagna or other noodle-based casseroles, the shells are great hot out of the oven as well as for leftovers. I moved this week, well specifically yesterday and today, and I wish I had some of these shells stored in the fridge for an easy lunch or dinner. Instead I had prepped a kale salad, which of course after a day spent moving heavy furniture I announced that there was no way I was having kale salad for dinner, I needed approximately 10x as many calories, OK? We had to order pizza instead. I suppose I'll be eating kale for dinner tonight (we have everything we need to make my husband's favorite salad after all!).
This post is supposed to be about these perfect stuffed shells though. So, anyway, I switched it up a little with the filling and whipped up a pea ricotta. Green peas sweeten a cashew and tofu-based ricotta. The recipe is so easy and can be made in advance. Simply throw all the ingredients into a food processor (or blender!). A couple of minutes later it's ready to go. As with many things, the hardest part is washing your food processor after (worth it).
The only other thing to make is an easy red wine marinara sauce to drench the shells with. Lightly caramelized onions, a healthy serving of garlic, crushed chiles for some subtle heat (pairs perfectly with the sweet pea ricotta), thyme and oregano for spicing, and a generous pour of red wine. Oh yeah, don't forget the tomatoes ;). Then let it simmer for 20 minutes for the flavors meld and to allow the sauce to go from good to perfection.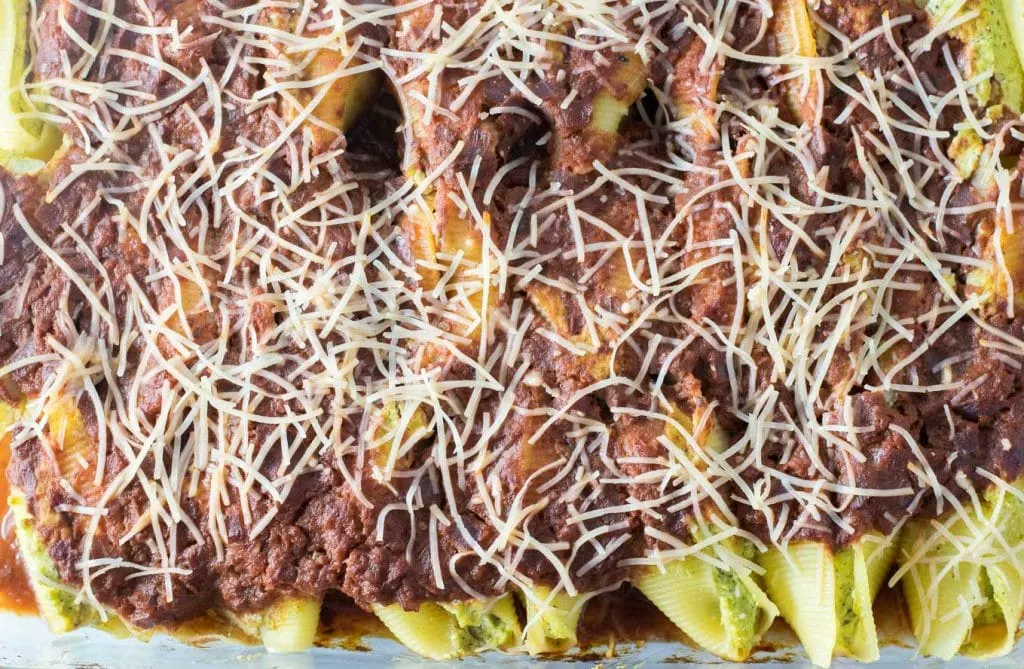 The sauce can also be made ahead of time! So basically if you are hosting a dinner party this is a pretty easy dish to make. You can make your components the day before and assemble the shells earlier in the day, and simply bake before your guests arrive! Or, you know, if you don't have a ton of time beforehand this is still super accessible. The components (sauce, filling, noodles) can all be made within about a half hour and then throw it in the oven and clean up, and maybe put together a side salad while it bakes. By the time you sit down for dinner you'll have a clean kitchen (I love it when that happens!).
Let me know in the comments if you make this dish, rate it, and tag me on Instagram!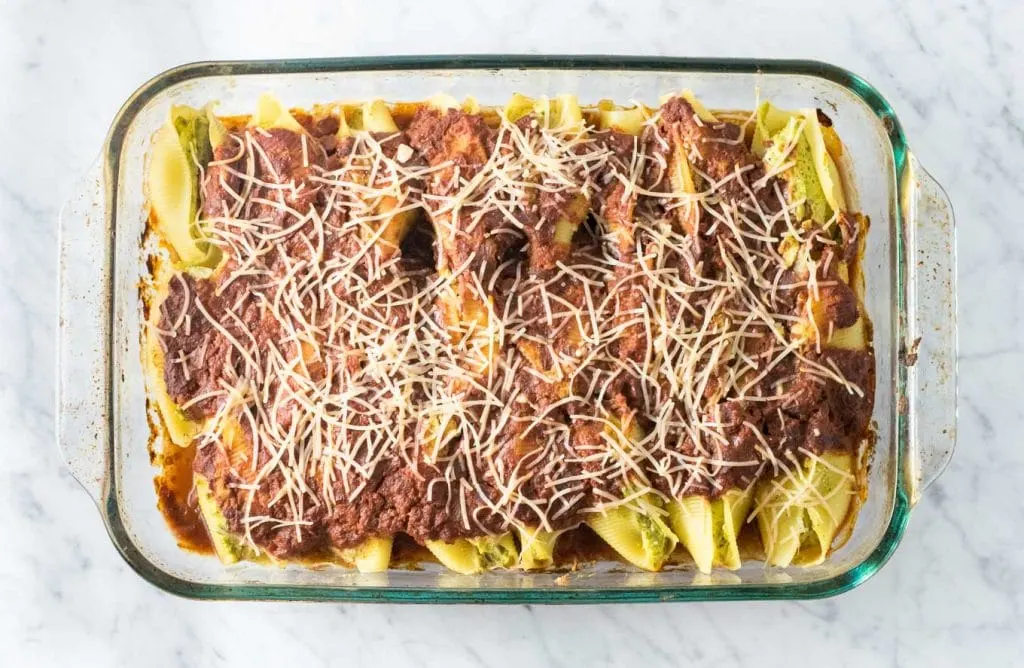 Notes: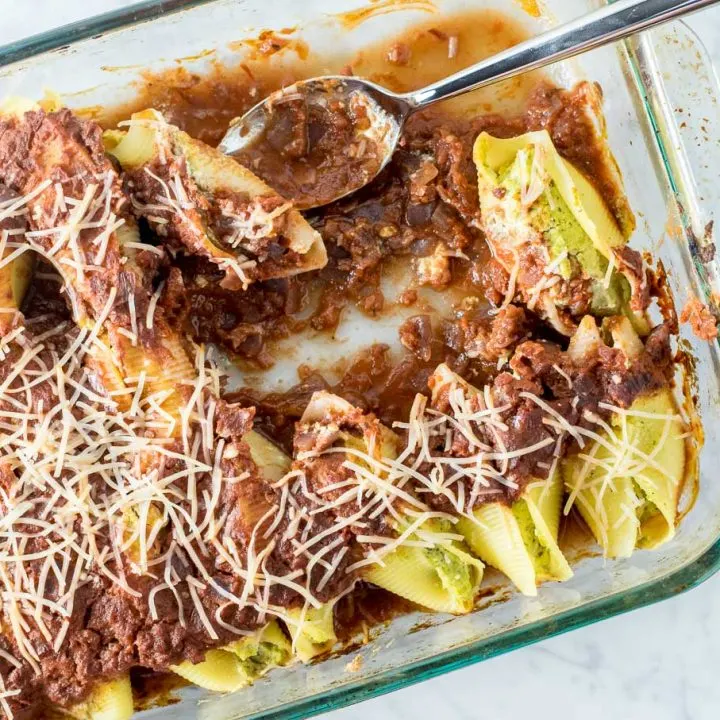 Pea Ricotta Stuffed Shells with Red Wine Marinara
Soft and creamy green pea cashew and tofu-based ricotta fills chewy jumbo pasta shells, which are then drenched in red wine marinara and baked until steamy for a tasty crowd pleasing dish.
Ingredients
12 oz jumbo sells
vegan parmesan (homemade or store bought)
Red Wine Marinara
1 tsp oil
1 small onion, small dice
2 cloves garlic, minced
1 tsp crushed red pepper
1/2 tsp oregano
1/4 tsp thyme
1/2 cup red wine
28 oz can crushed tomatoes
1/2 tsp salt
Pea Ricotta
1/2 cup cashews
1 lb firm tofu
2 cups frozen green peas, defrosted
2 tbsp olive oil
2 cloves garlic
1 1/2 - 2 tsp salt, to taste
2 tsp dried basil, or ~2 tbsp fresh basil
Instructions
Preheat oven to 375 ºF.
Cook the pasta according to package directions, drain and set aside until cool enough to handle.
Prepare the sauce
Heat oil in large heavy bottomed pot over medium heat. Add onion and cook for 6-7 minutes, stirring occasionally, until soft and lightly caramelized.
Add garlic, crushed red pepper, oregano, and thyme. Let cook 1 minute, then add the wine. Turn heat to low, and simmer for around 4 minutes. Add the crushed tomato and salt. Simmer partially covered for 20 minutes, stirring occasionally.
Prepare the pea ricotta
Put everything in a food processor, starting with 1 1/2 tsp salt, and process until smooth. Taste and add more salt or lemon juice if desired.
Stuff the shells
In a large baking pan, put ~1/2 cup sauce to cover the bottom.
Fill the shells with the pea ricotta and arrange them up in the pan. Pour sauce overtop to cover. Sprinkle on vegan parmesan if using.
Transfer to oven and bake for 20-25 minutes until heated through.
Notes
*Pea ricotta recipe adapted from cashew ricotta in Veganomicon